Brief: Best Twin Mattresses
Overview

Twin mattresses are popular for affordability and suitability for young adults, children, and guest beds.
Standard size: 39 inches width.
Easy to move, hence, called "twin size."

Top 5 Best Twin Mattresses

Nectar Memory Foam Mattress – Best Overall

Features: Gel memory foam, 365-night trial, Forever Warranty™, medium firmness (6.5/10).
Ideal for: Lightweight and average weight sleepers, couples, and back pain sufferers.

LUCID 10 Inch Memory Foam Plush Feel – Best Hypoallergenic

Features: Gel-infused memory foam, plush feel, ten-year warranty.
Ideal for: Side sleepers requiring pressure point relief and temperature regulation.

Brooklyn Bedding Signature Hybrid – Best Edge Support

Features: Latex memory foam, hybrid design, 120-night trial, ten-year warranty.
Ideal for: Comfort and support balance, including stomach sleepers.

Zinus 10 Inch Green Tea Memory Foam Mattress – Best Value

Features: High-density polyurethane foam, green tea-infused cover, medium firmness.
Ideal for: Budget-conscious shoppers seeking comfort and moderate support.

Saatva Classic Mattress – Best Affordable Luxury Mattress

Features: Eco-friendly CertiPUR-US certified coil system, plush pillow top, 15-year warranty, 180-night trial.
Ideal for: Supportive sleep with spinal alignment, edge support.

Twin Mattress Buying Guide

Sleeping Position: Crucial for comfort; side sleepers need pressure relief.
Quality Materials: Affects comfort and longevity.
Firmness Level: Subjective; balance between too hard and too soft.
Size: Usually 38 inches wide and 75 inches long.
Pressure Relief: Important for reducing soreness.
Mattress Type:

Hybrid: Combination of foam and innerspring.
Innerspring: Coils covered by fabric or foam.
Latex: Option of natural or synthetic; springier and durable.
Memory Foam: Contours to body, supports pressure points.

Who Is Best Suited To A Twin Mattress?

Ideal for single sleepers, children, college students, and small apartments.

FAQs

Size: 38 inches wide, 75 inches long.
Benefits: Ideal for limited space, suitable for children.
Suitability for Children: Yes, due to space efficiency.
Best twin mattresses are a common choice for people who are looking for an affordable sleeping solution. It has a width usually of 39 inches, and it is the smallest among the standard mattress sizes.
It is commonly used in bedrooms of young adults and children, and it also makes a great guest bed. Given their small size, the twin mattresses are very easy to move around, so they are also called "twin size."
---
Top 5 Best Twin Mattresses
#1
Nectar Memory Foam Mattress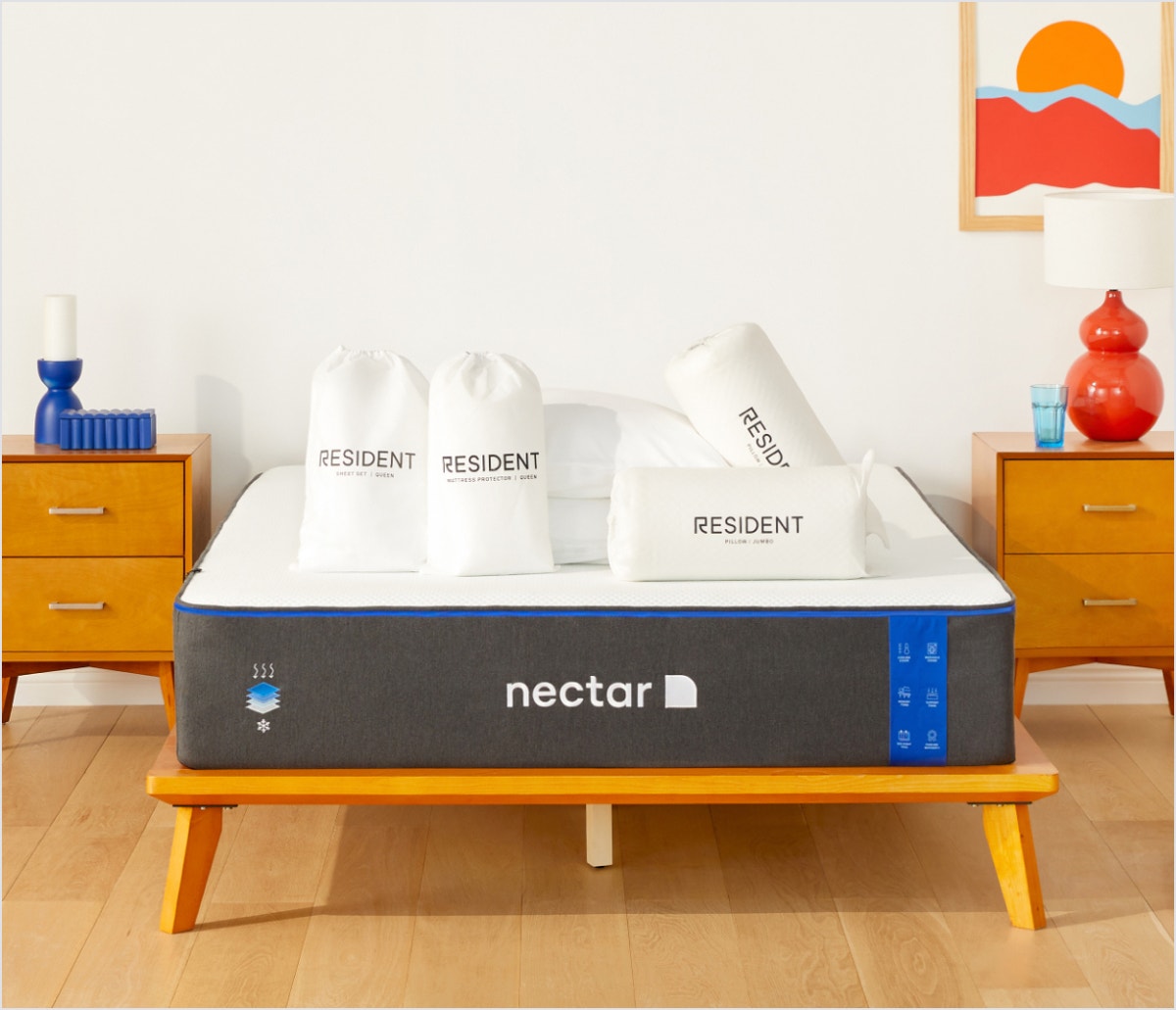 Get $100 Off
Mattress offers many advantages over traditional coil mattresses, including improved pressure relief and a cool sleeping surface.

Gel memory foam provides pressure relief with cushion and support in the most sensitive areas.

It is allowed to sleep through the night without feeling movement from the other person.
Trial period: 365-Night Home Trial

Warranty: Forever Warranty™

Shipping:
Free Shipping & Return

Firmness:
6,5/10

Price range: $$$$

Type: Foam
We recommend this mattress for the following sleepers:
Get $100 Off
---
As you may know, your mattress is the foundation of your sleep system. To get a good night's rest, your mattress must be comfortable and provide enough support. Not all mattresses are alike. You need to find one that suits your sleep style and sleeping needs.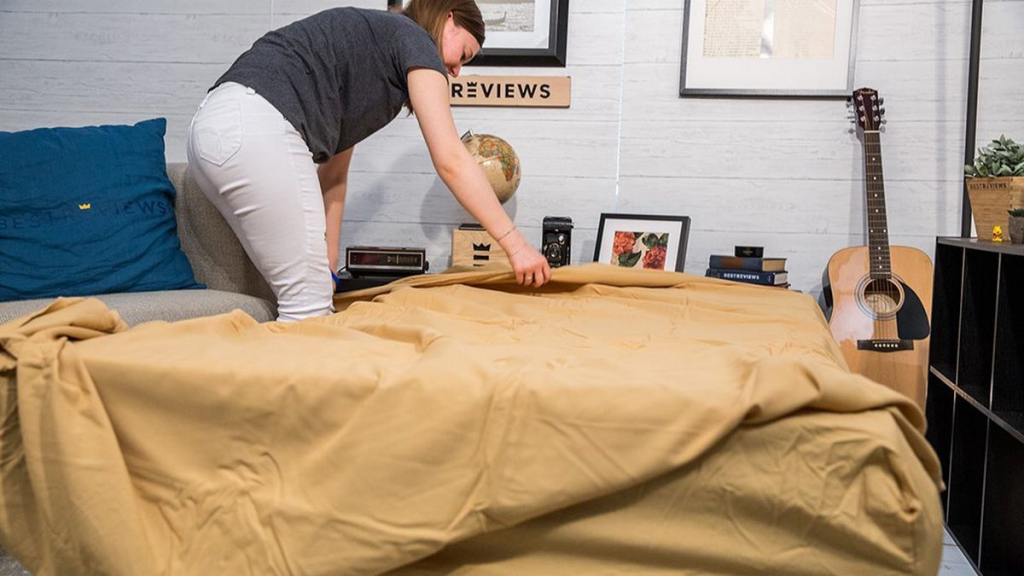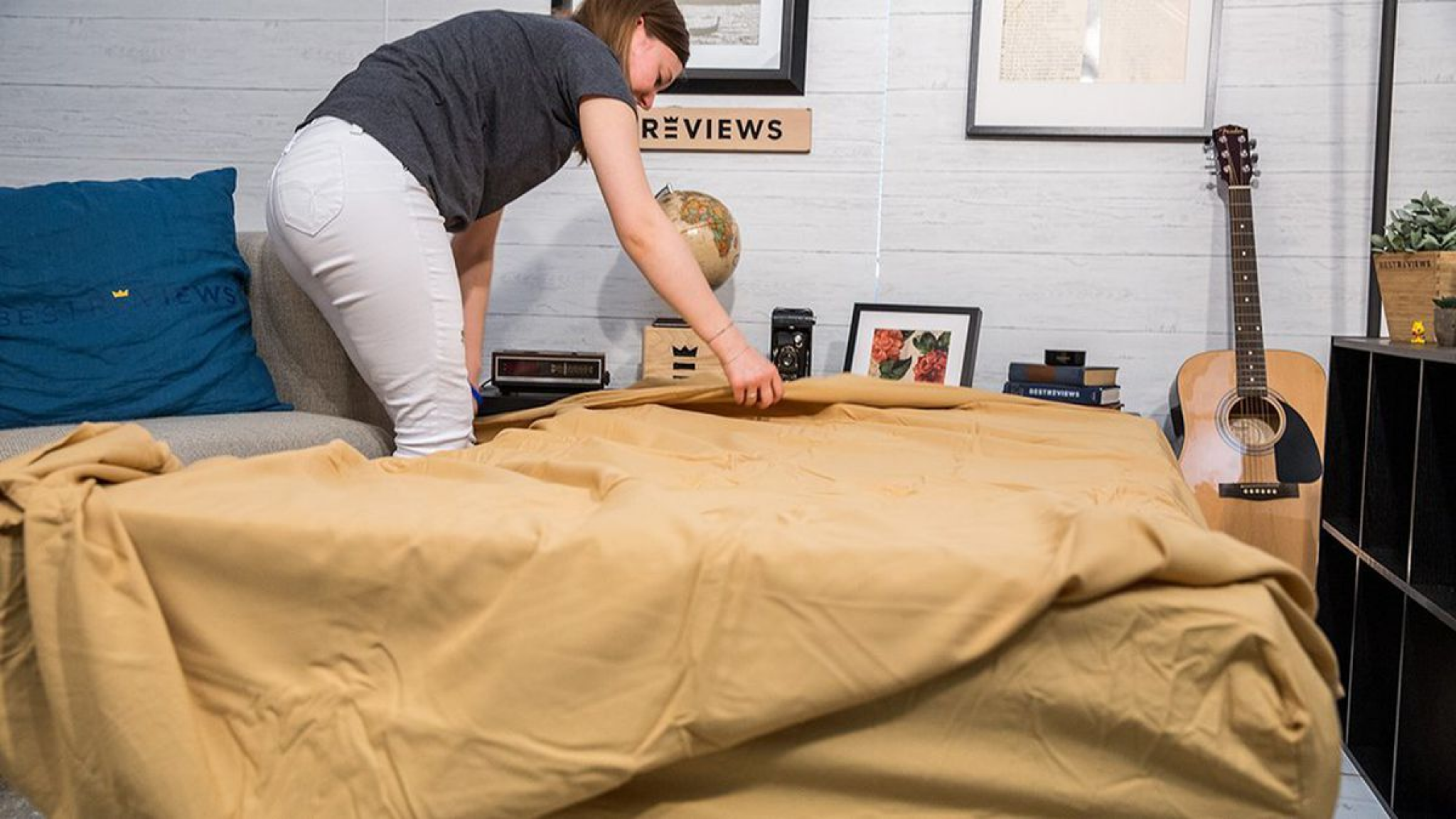 Twin mattresses are, in fact, smaller models of full-size mattresses. They are often used as a solution to the shortage of space in small rooms or dorms. The only problem with them is that it can be hard to find the best twin mattresses for your needs.
In this article, we will present you with a short and to-the-point review of 5 of the best twin mattresses.
---
Best Twin Mattresses Reviews
Nectar Memory Foam Mattress
Best Overall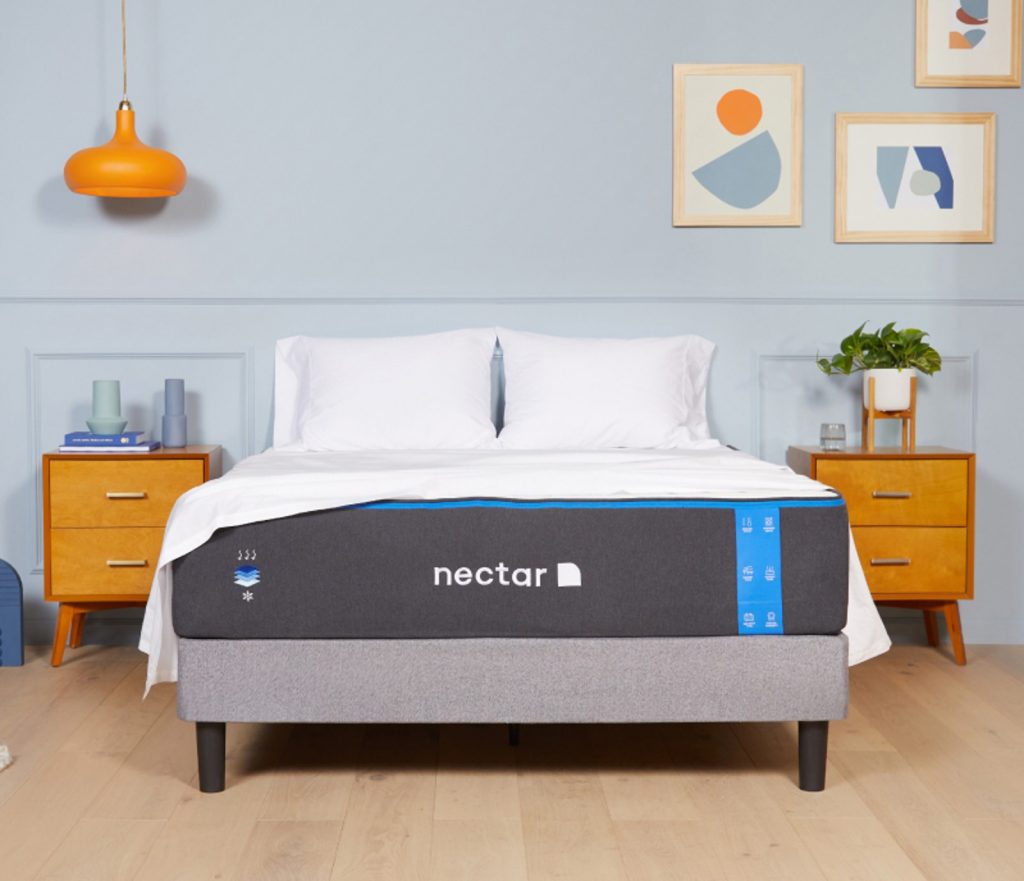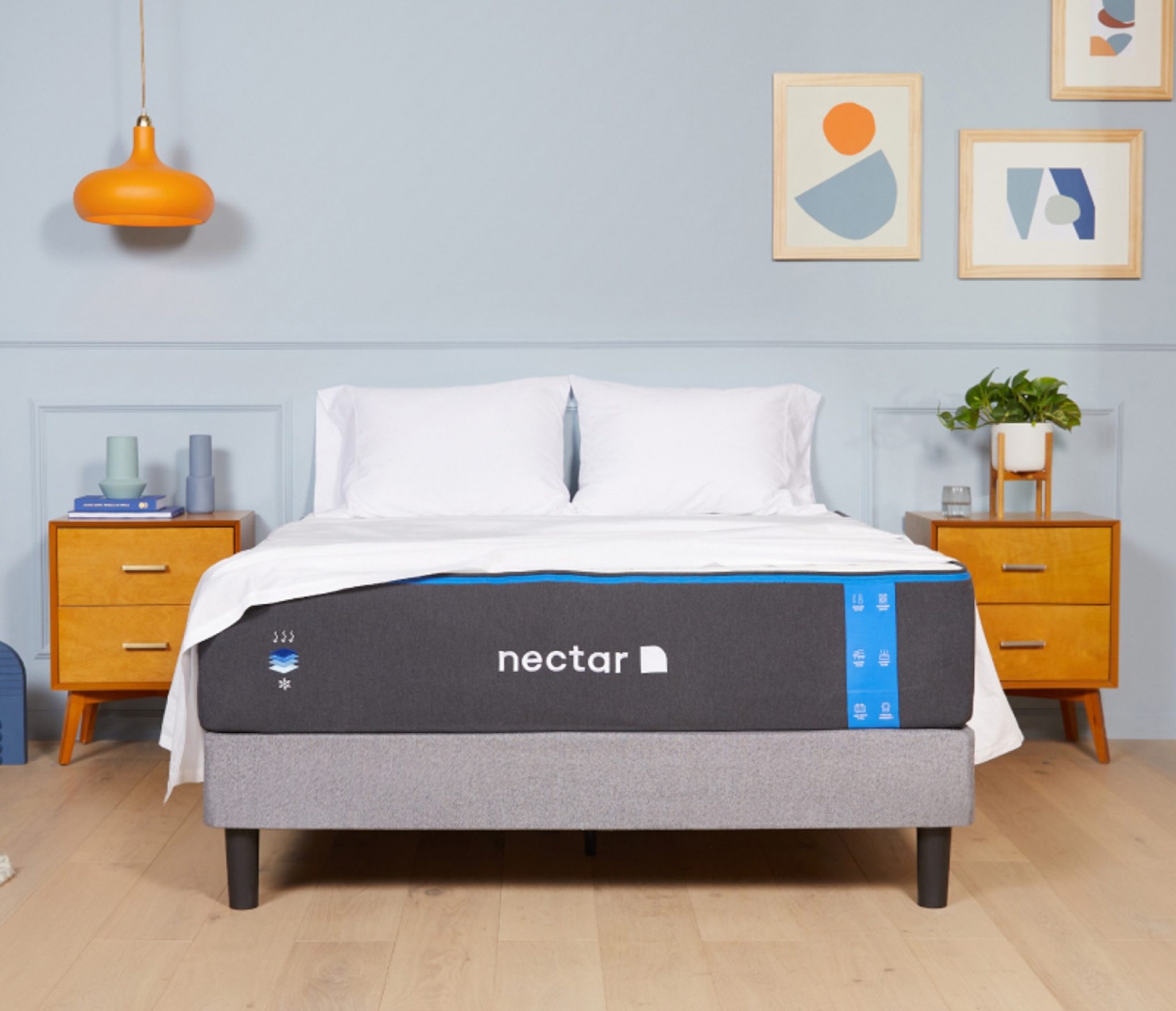 The Nectar mattress uses a 5-layer construction of gel memory foam, Tencel fabric, and a "Nectar's foams meet CertiPUR-US®" base.
The top layer is a gel memory foam designed to contour your body and provide the pressure relief needed for quality sleep.
What's different about the Nectar is that instead of one memory foam layer, there are two. This creates a softer top layer that is great for side sleepers.


This mattress is infused with cooling agents, which means it will be cooler than other memory foam mattresses. The cooling elements have been infused throughout the mattress, and it is made from a cotton-blend cover.
Nectar was made to provide pressure relief and provide appropriate support to your body. If you are looking for a mattress that will give you that bed-at-home feel, Nectar may be the one for you.
What I Like:
What makes Nectar unique is its weight distribution system that aims to provide you with the ideal support and comfort while you are sleeping.
This type of design offers many advantages over traditional coil mattresses, including improved pressure relief and a cool sleeping surface.
---
LUCID 10 Inch Memory Foam Plush Feel Mattress
Best Hypoallergenic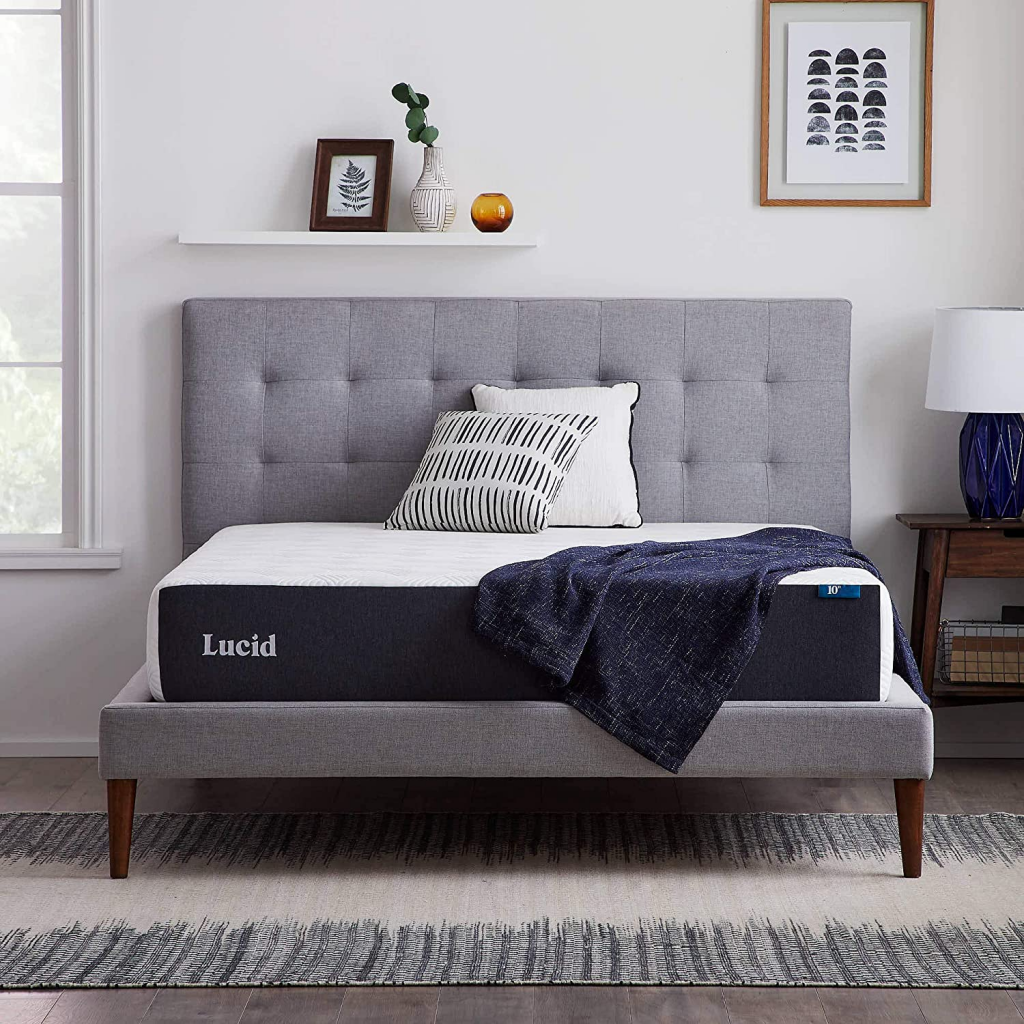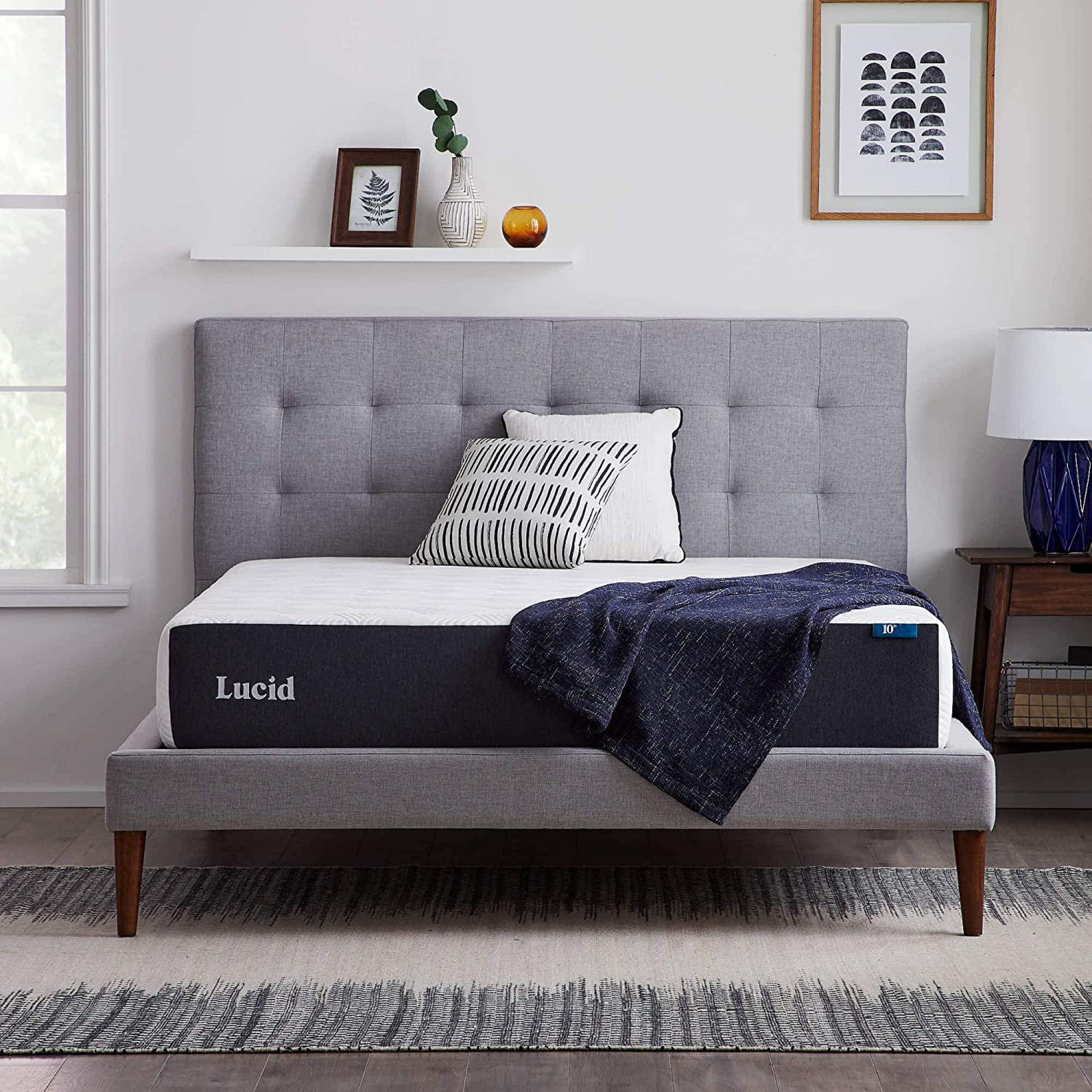 Waking up feeling refreshed with less neck and back pain is easy with the LUCID 10-inch Gel Infused Memory Foam Mattress. This mattress is the perfect addition to any home.
It will help you sleep better and get the rest you need every night.
This mattress provides a comfortable and supportive sleeping surface. It is designed to give your body the perfect amount of support. The three layers are designed to contour your body's natural shape.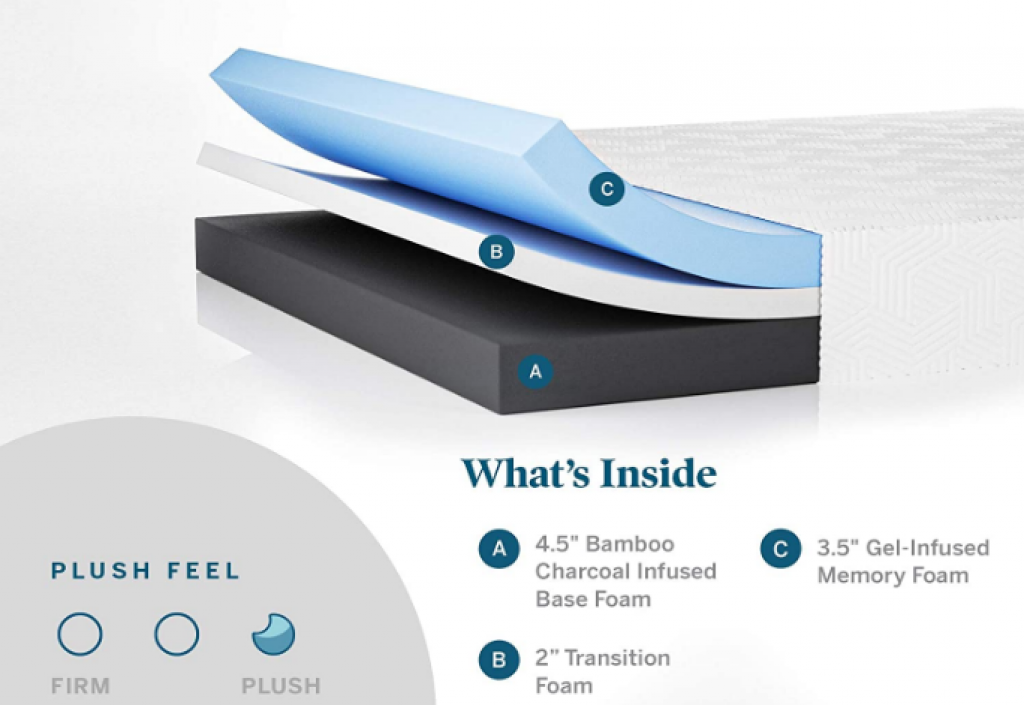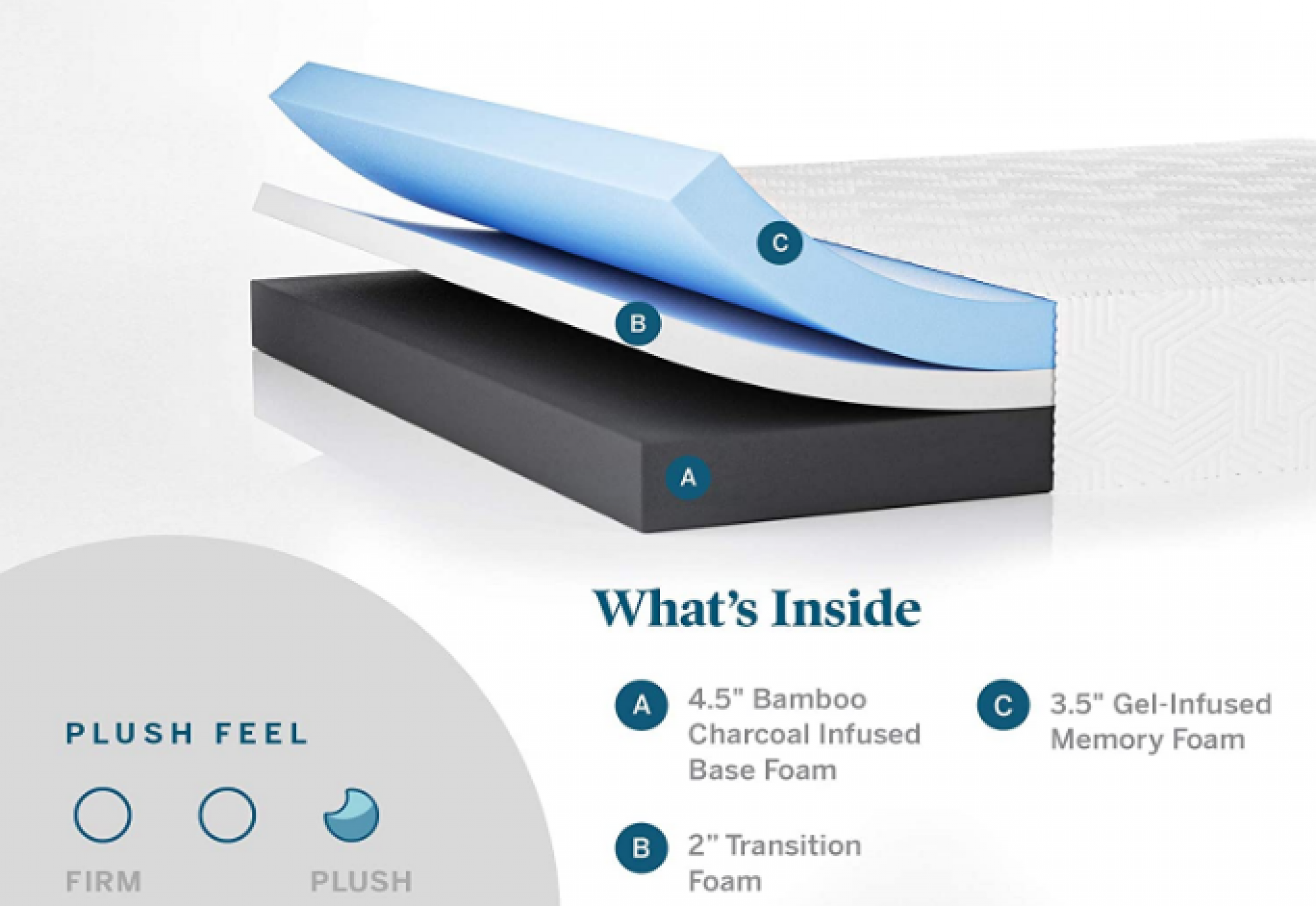 The Lucid 10″ Memory Foam Mattress offers a plush feel, especially for side sleepers. This Lucid mattress features memory foam, allowing the mattress to conform to your body's contours and relieve pressure points. The gel-infused memory foam of this Lucid mattress also helps to regulate temperature.
What I Like:
With its plush feel and cooling qualities, the Lucid Memory Foam Mattress is a good choice for those looking for a comfortable yet supportive product.
A ten-year warranty also backs it, so you can be confident that it will last.
---
Brooklyn Bedding Signature Hybrid
Best Edge Support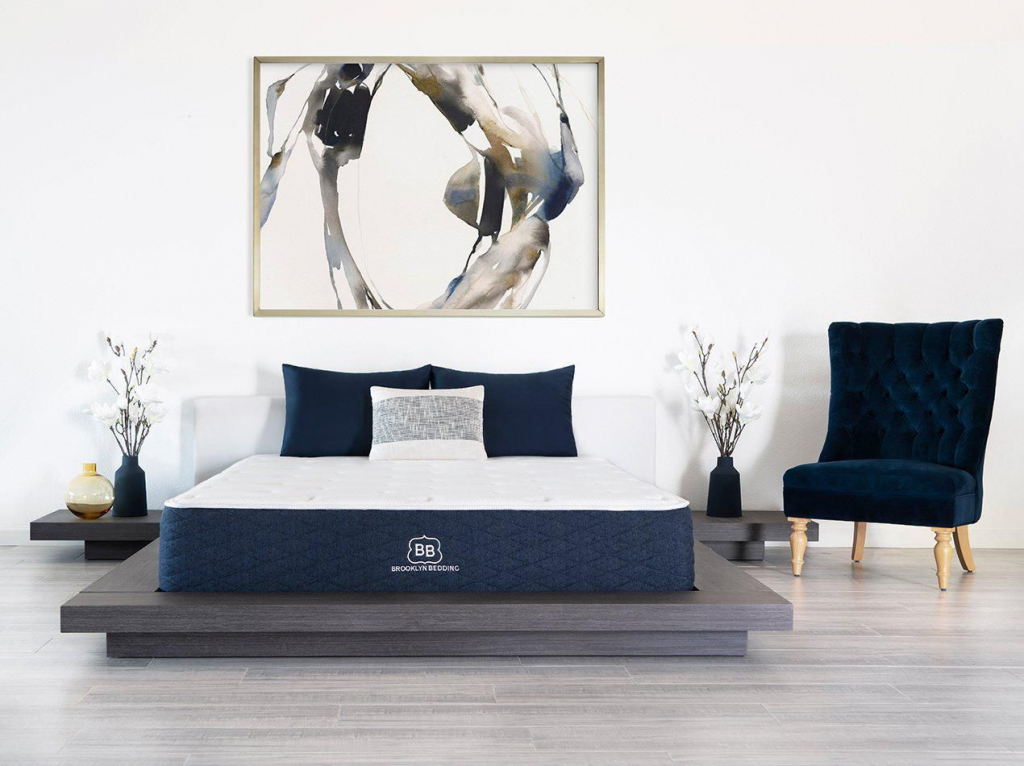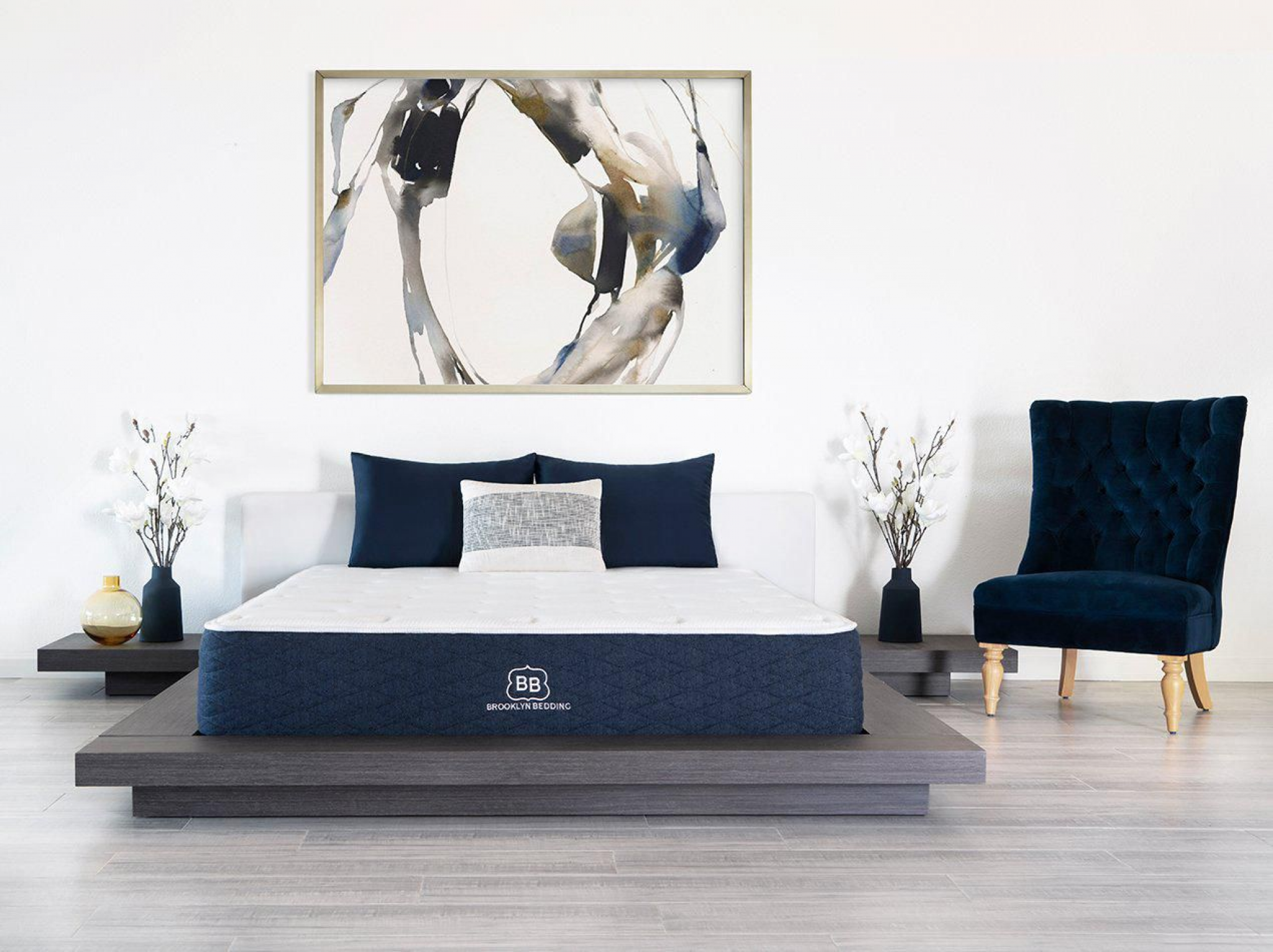 If you are looking for a bed with a great balance of comfort and support, the Brooklyn Bedding Signature Hybrid could be the right choice for you.
The look and feel of this mattress are extremely plush with a nice-looking pillow top. However, you can easily feel the coils' support, and it does not give you that sink-in feeling that many memory foam mattresses that are not a hybrid do.


The Brooklyn Signature Hybrid has a layer of latex memory foam, which gives the mattress a cooling effect.
The Brooklyn Signature Hybrid is definitely comfortable. It is not as thick as many memory foam beds, but it is thick enough to give you a nice feeling of support. The Signature Hybrid is also great for those who like to sleep on their stomachs.
What I Like:
The Brooklyn Bedding Signature Hybrid is an all-foam mattress with a high-density foam base, individually wrapped coils, three levels of firmness, and a 120-night risk-free trial.
The mattress is made in the U.S.A. and comes with a 10-year warranty.
---
Zinus 10 Inch Green Tea Memory Foam Mattress
Best Value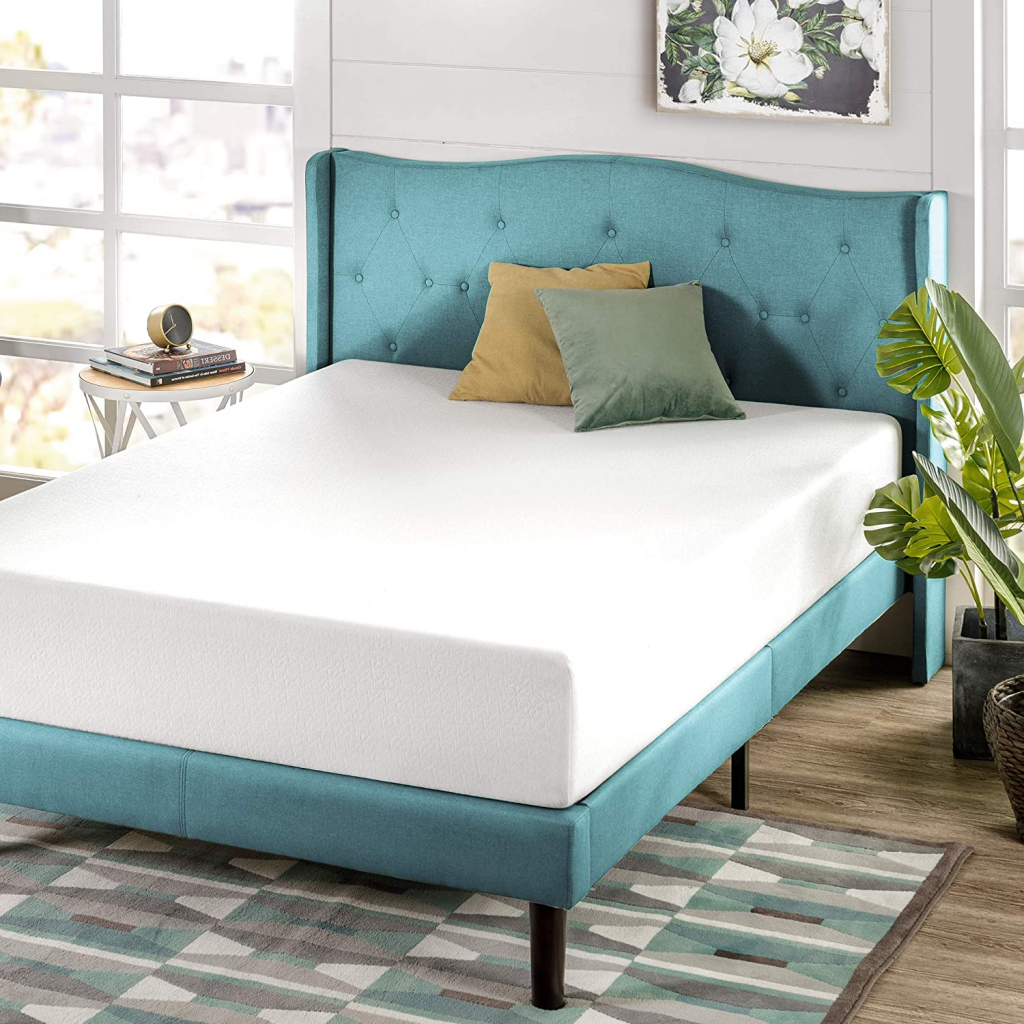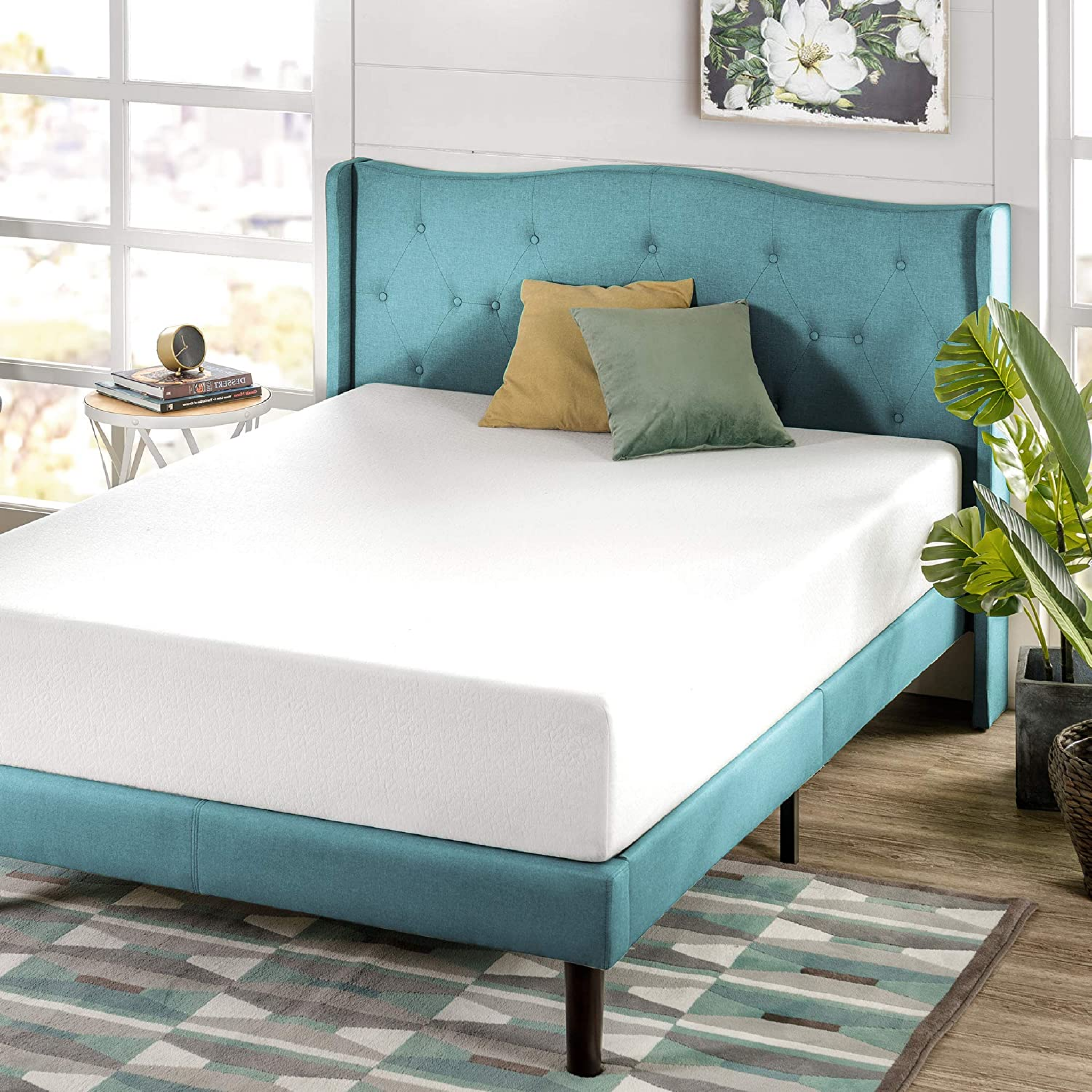 The Zinus 10-Inch Green Tea Memory Foam Mattress is a fresh take on a familiar product, one that takes a little of what made memory foam so popular and a bit of what makes green tea so healthy and blends them into one unique and beautiful mattress.
It features high-density polyurethane foam with open-cell technology to provide pressure-relieving support and comfort.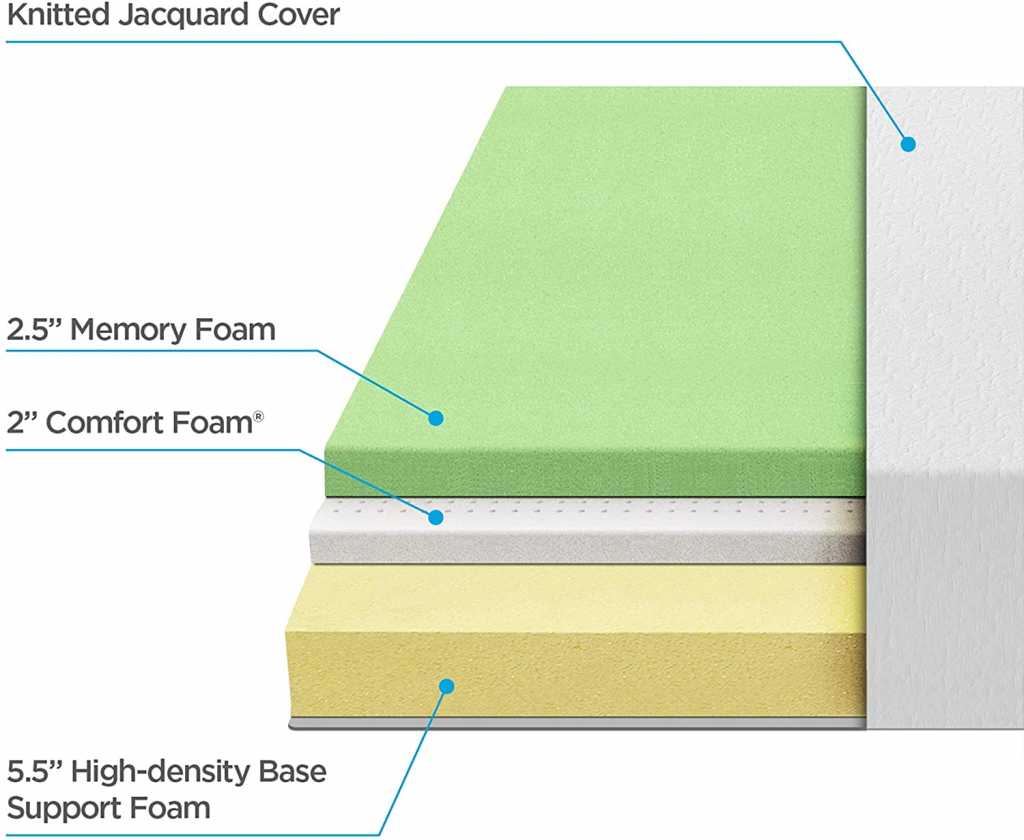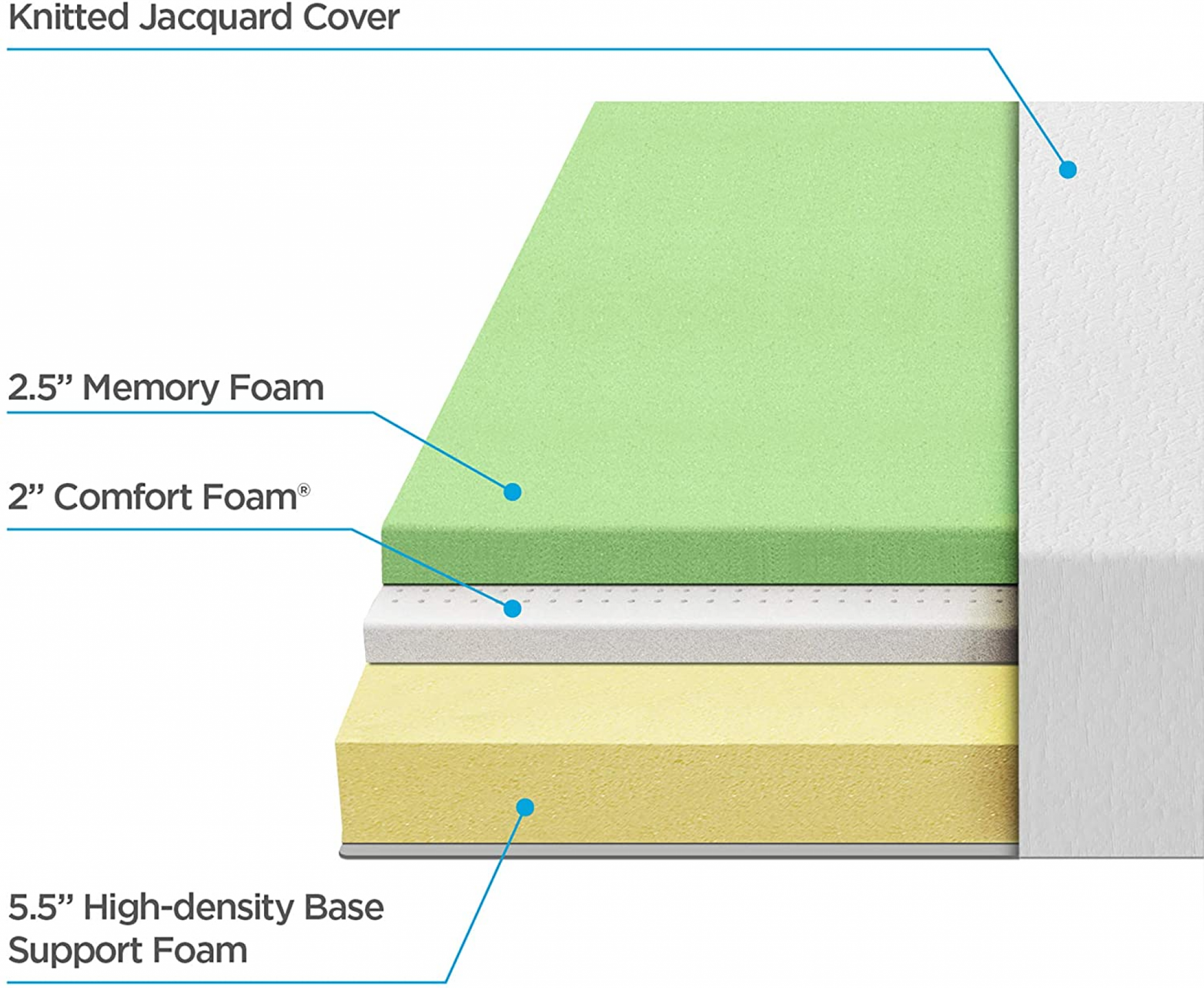 The Zinus 10 Inch Green Tea Memory Foam Mattress is a great choice if you are looking for something simple. This is a bed-in-a-box mattress that was designed to be shipped directly to your door. You can expect that this mattress is straightforward to set up, and it should provide you with a comfortable sleeping experience.
What I Like:
This memory foam mattress by Zinus is perfect for anyone looking to enter the world of futons. This mattress is affordable and comfortable.
It is quite bouncy, with medium firmness and moderately soft support.
The cover is made from a thin layer of fabric with an organic green tea scent that is quite strong.
---
Saatva Classic Mattress
Best Affordable Luxury Mattress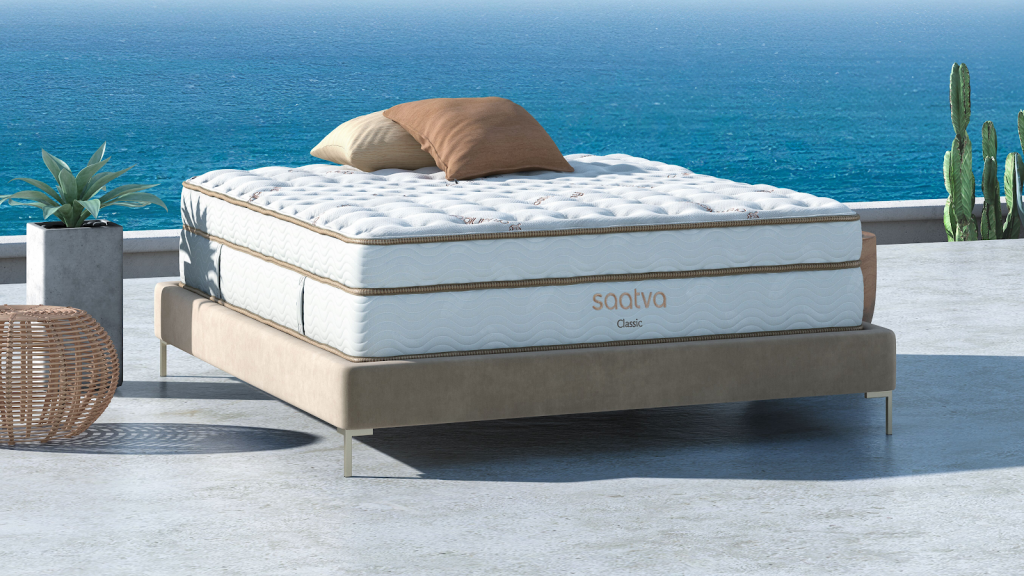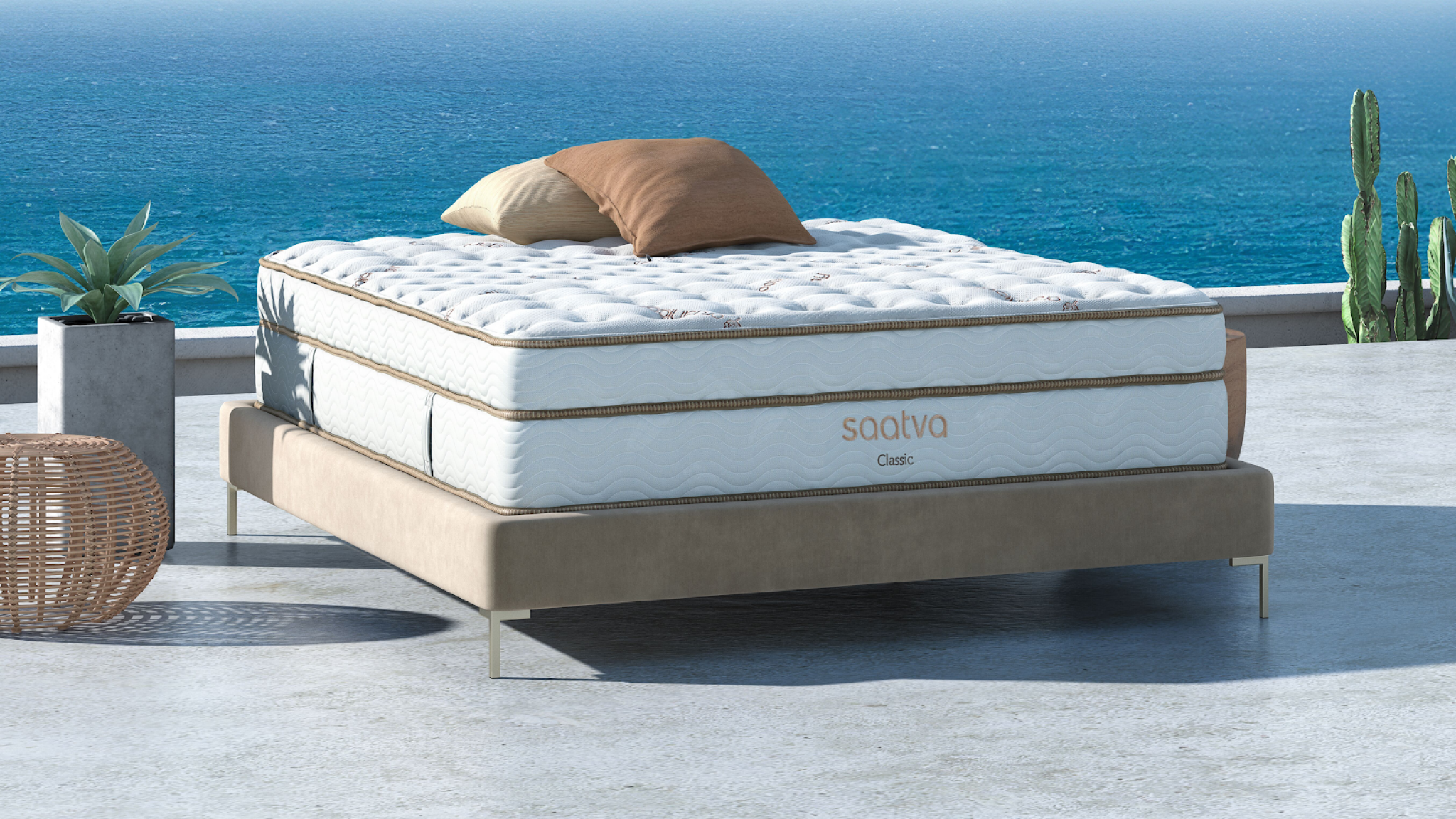 The Saatva mattress is a luxury memory foam mattress that contains an eco-friendly CertiPUR-US certified coil system to provide a durable, lasting mattress.
The mattress is in a classic style with a plush pillow top for a more comfortable feel. The mattress provides ample support and pressure relief, with a durable coil system for a supportive and comfortable mattress.


The Saatva Classic, which uses patented spinal zone technology to provide a level of support that aligns your spine for a more restful sleep.
It also has a 15-year warranty for the mattress and a 180-night trial period that allows the customer to try the mattress out for several months.
What I Like:
The Saatva mattress relieves pressure on your back, and the patented spinal zone technology supports your spine and shoulders.
The mattress has been engineered to provide the perfect balance of comfort and support.
Saatva's durable edge support system ensures that you will get the quality sleep you need regardless of how close you are to the edge of the mattress.
---
What to Look for in a Twin Mattress
Are you in the market for a twin mattress for you or one of your children? If so, you have probably noticed that numerous manufacturers make such mattresses and that they all come in various sizes, styles, and models.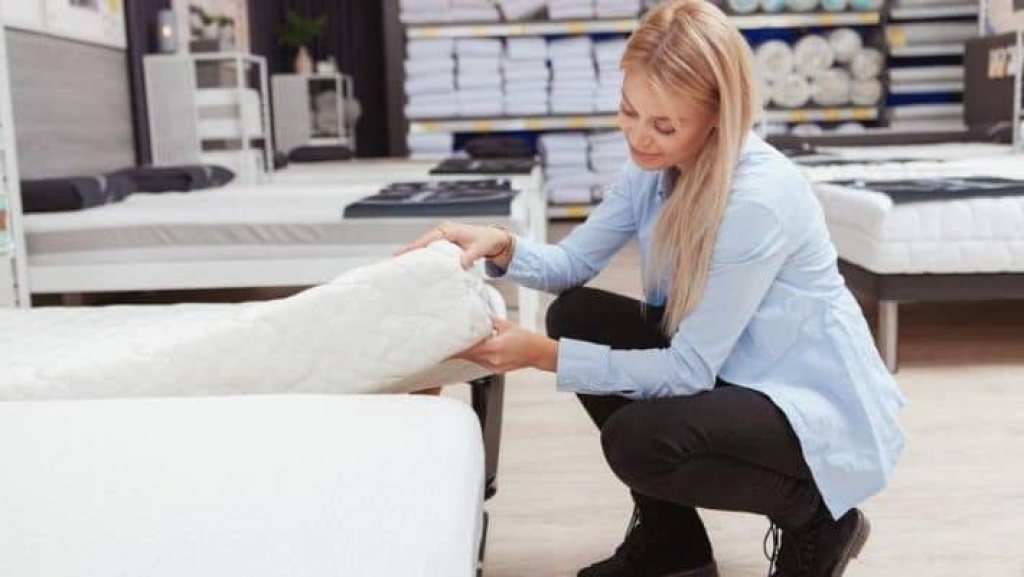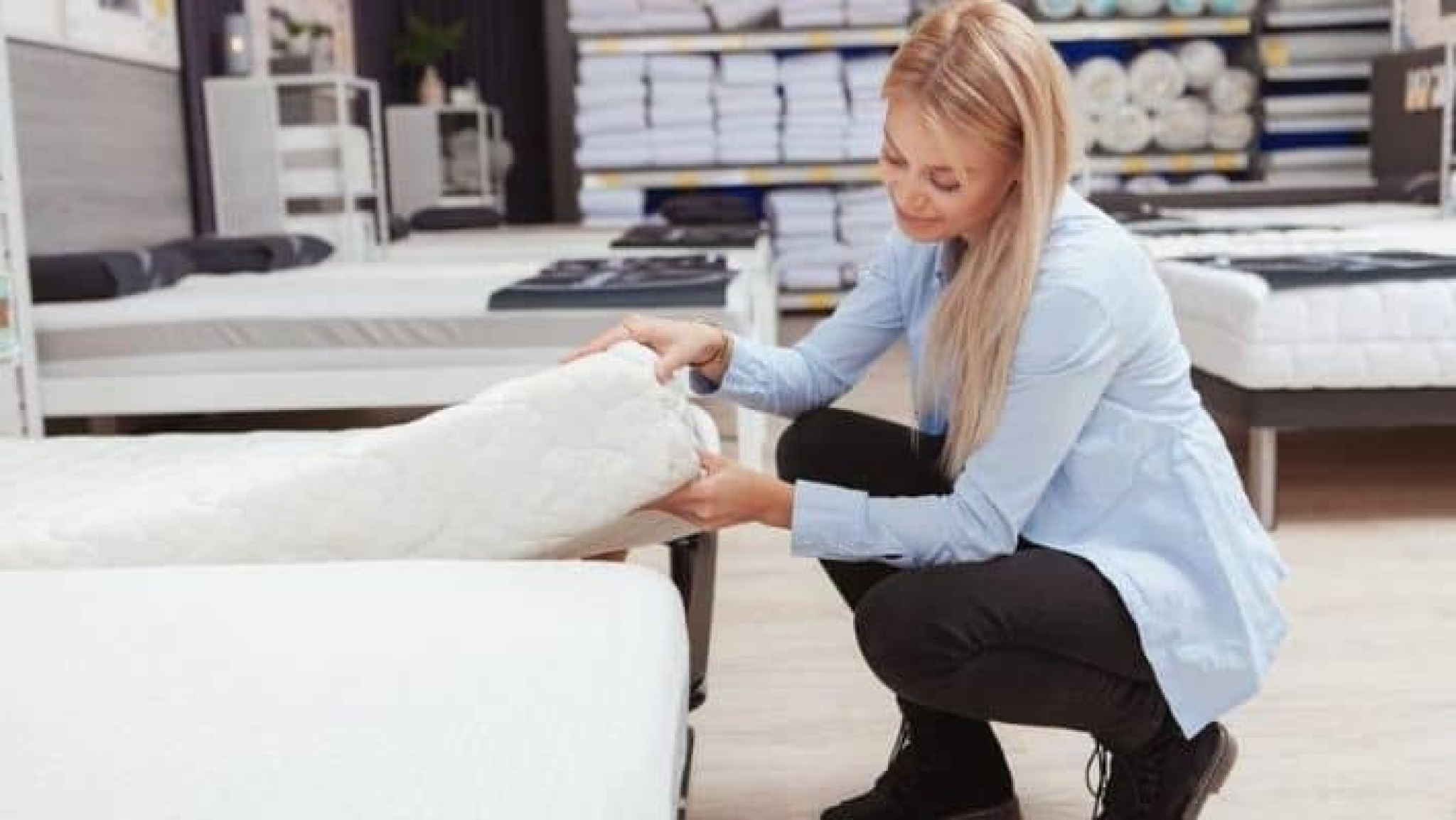 This can make it difficult to know what to look for in a twin mattress, especially if you are trying to save money. The good news is that there are a few specifications to look for that can save you from making a bad choice.
Sleeping Position
The sleeping position on a twin mattress is an essential thing to consider. Firstly, you will know the sleeping position is the most important factor in deciding which mattress to choose.


While sleep is a very personal activity, everybody should do a few things to be the most comfortable while sleeping.
While sleeping on your back or stomach will not be the most comfortable position for everyone, nobody should be sleeping on their side. Side sleepers can put a lot of pressure on the spinal discs in their backs, which can lead to stiffness and pain.
Quality Materials
Twin mattress brands are not that different from each other, but the mattress materials they used to make their mattress are.
What a mattress is made of is a lot more important than the brand name. Regardless of the manufacturer, the quality of the materials used will determine how comfortable the mattress will be and how long it will last.
You want something that has been built well, uses quality materials and will hold up over time.
Firmness Level
Twin mattress firmness is a very subjective topic. What one person likes, another finds intolerable. It is important to consider the mattress firmness for your health, however.


A mattress that is too soft won't support your back properly, leading to backaches and other problems. On the other hand, a mattress that is too firm is also bad for your back.
The key is to find the right balance between too hard and too soft.
Size
A twin mattress is a mattress that is specifically made for twin beds. As the name suggests, it is the smallest size of mattress available for a traditional style bed. Typically, the mattress is about 38 inches wide and 75 inches long. For comparison, the width of a full-size bed is 54 inches, and the length is 80 inches.


Pressure Relief
You need to know something about pressure relief. When you sleep, your body weight is evenly distributed over the mattress. The pressure at the hips and shoulders is much higher than it is on the small of the back of the heel area. If a mattress puts too much pressure on your hips and shoulders, you will wake up with a sore back.
Mattress Type
There are many twin mattress options available, so it's important to choose a mattress that is right for you. Twin mattresses come in many varieties and sizes, including memory foam, pillow top twin, organic, and latex mattresses.


Hybrid
Even if you already know a lot about mattresses, you probably don't know much about hybrid twin mattresses. If you're like most people, you just want a mattress that's comfortable and affordable. That's why hybrid mattresses are so popular. They combine the best qualities of foam and innerspring mattresses to deliver the most comfortable sleep for the lowest price possible.
This makes them attractive to almost any sleeper. Hybrid mattresses are considered to be medium-firm to firm.
Innerspring
An innerspring twin mattress is one of the most popular choices for mattress shoppers. These mattresses have coils covered by fabric or foam and use a combination of coils to help support the sleeper.
The top layer is typically the comfort layer, which often consists of a thin layer of padding of some sort. The middle layer is the support layer. The support layer is made up of springs, which are connected together in coils.
The support layer is what gives innerspring mattresses their bounce and their firmness. The bottom layer is made up of the border wire and the foundation. The border wire provides the mattress with its shape.
Latex
If you consider purchasing a latex twin mattress, you will need to determine whether you want a natural or synthetic latex mattress. Natural latex is harvested from rubber trees and is typically springier and more durable than synthetic latex.
Natural latex is more likely to be hypoallergenic, but there is some controversy about using natural latex in mattresses, as it may be carcinogenic.
Memory Foam
Memory foam twin mattresses have been around for some years now, but they are still a very popular choice for many people.
Memory foam mattresses are comprised of a material called Visco elastic memory foam, which is essentially a mixture of polyurethane and other chemicals that reacts to your body temperature. It gives you the proper support and shapes your body to ensure that your body's pressure points are properly supported.
---
Who Is Best Suited to a Twin Mattress?
Twin mattresses are the smallest size that is available on the market. They are also commonly referred to as single mattresses. However, they are not used as an alternative for a single bed. College-going students, as well as children, primarily use these mattresses.
Twin mattresses are also widely used in dormitories. They are also used by people who do not have much space in their homes. They are especially useful in small apartments. Twin mattresses are available in different sizes.
As a result, you can choose according to the size of your room.
---
F.A.Q.
What is a Twin Mattress?
A Twin Mattress is a mattress size typically measuring 38 inches wide and 75 inches long, making it ideal for single sleepers and people with tight spaces. 
What is the size of a Twin Mattress?
A Twin Mattress measures 38 inches wide and 75 inches long. 
What are the benefits of a Twin Mattress?
Twin Mattresses are ideal for single sleepers or people who have a limited amount of space as it takes up minimal space. Additionally, Twin Mattresses are excellent for children's rooms as they can grow with the child. 
Are Twin Mattresses good for children?
Yes, twin mattresses can be great options for children. The Twin Mattress is perfect for the growing child as it takes up minimal space.