Starting college is one of the most exciting times of your life, but the onset of new responsibilities can make it challenging to get a good night's sleep. Sleeping is not just a luxury or a means to pass the time. Good sleep can help you perform better in class, reduce stress, and strengthen your immune system.
Top 5 Best Mattresses For College Students
#1
The Nectar Memory Foam Mattress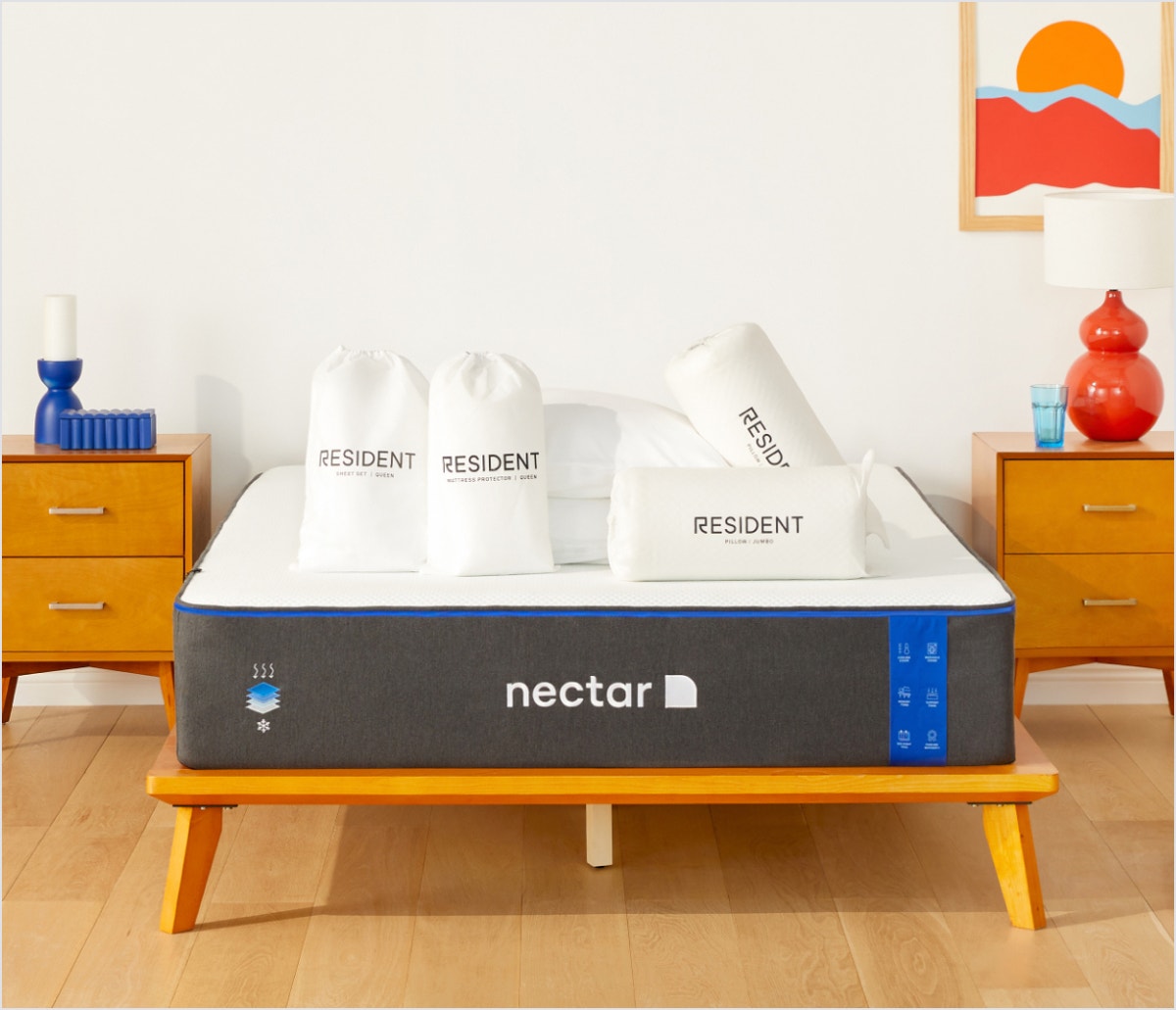 Get $100 Off
This mattress is perfect for almost anyone as it has the ideal ratio of softness, firmness, and support most people want.

With the Nectar Memory Foam Mattress, you get the most comfort and support.

The cooling poly-blend top cover with polyethylene is terrific because it stays cool on hot nights.
Trial period: 365-Night Home Trial

Warranty: Forever Warranty™

Shipping:
Free Shipping & Return https://media.nectarsleep.com/nectarsleep/home/icon-no-contact-delivery.svg

Firmness:
6.5/10

Price range: $$$$

Type: Foam
We recommend this mattress for the following sleepers:
Get $100 Off
Though most college students cannot afford a new mattress, it is necessary to get a new one. That's why shipping the best mattress for college students can be challenging. When you have to choose a bed that you have never slept on before, the decision is made a lot more complicated. You will have to rely on the description and other customers' experience. That's why you're here.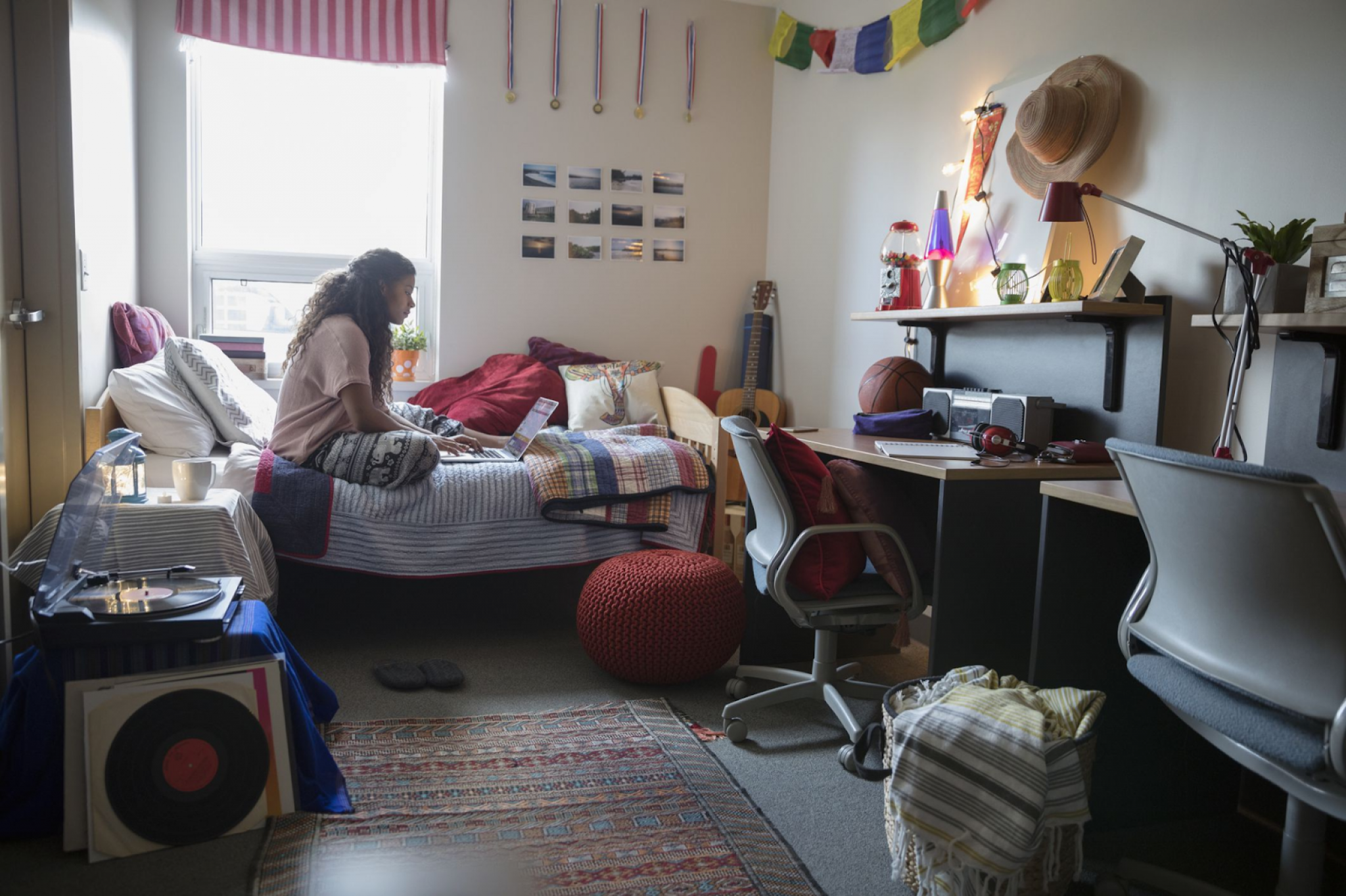 I reviewed numerous dorm mattresses and ready to provide you the list of the best mattresses for college students available on the market today. Below you can also find vast information about things to consider while shopping for a bed for your perfect sleeping experience.
---
Best Mattresses For College Students Reviews
The Nectar Memory Foam Mattress
Best Overall
When it comes to a night of comfortable sleep, you want your body to be in the correct position. When you use a Nectar mattress, you will be able to move around freely and easily without experiencing any issues. Since the mattress is made from suitable materials, it will conform to your body shape without causing you to sink in or feel suffocated by the cover.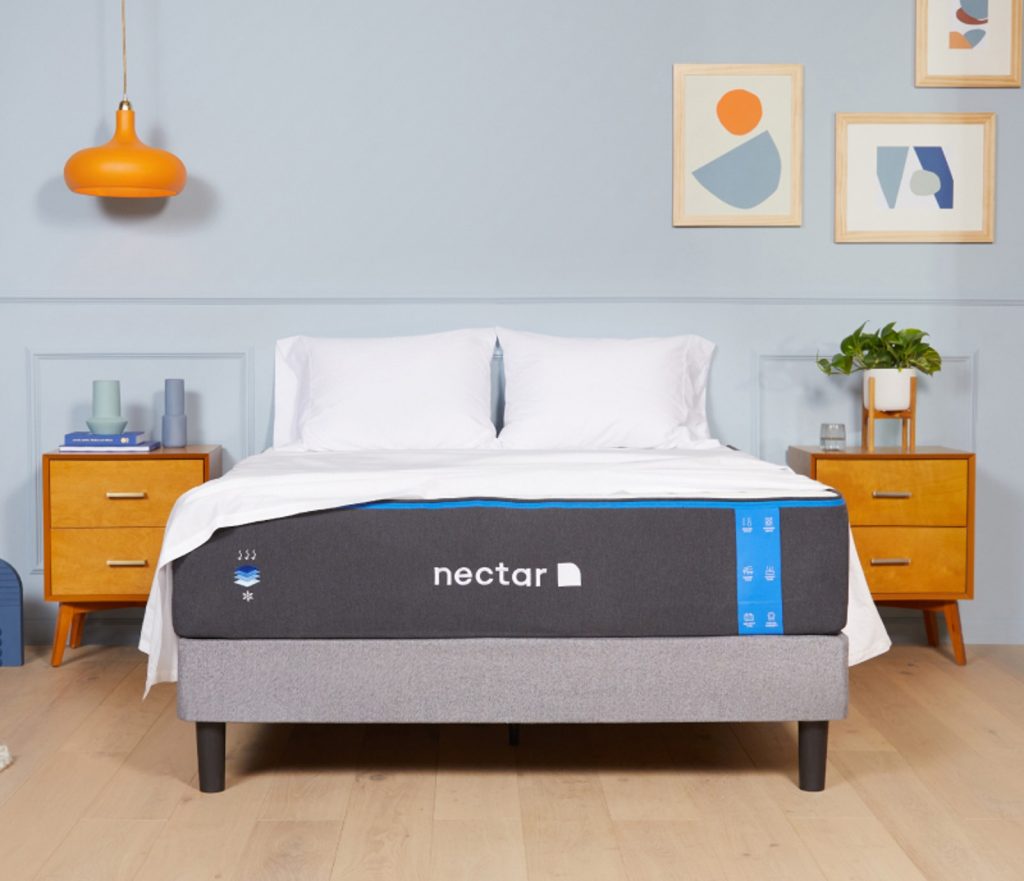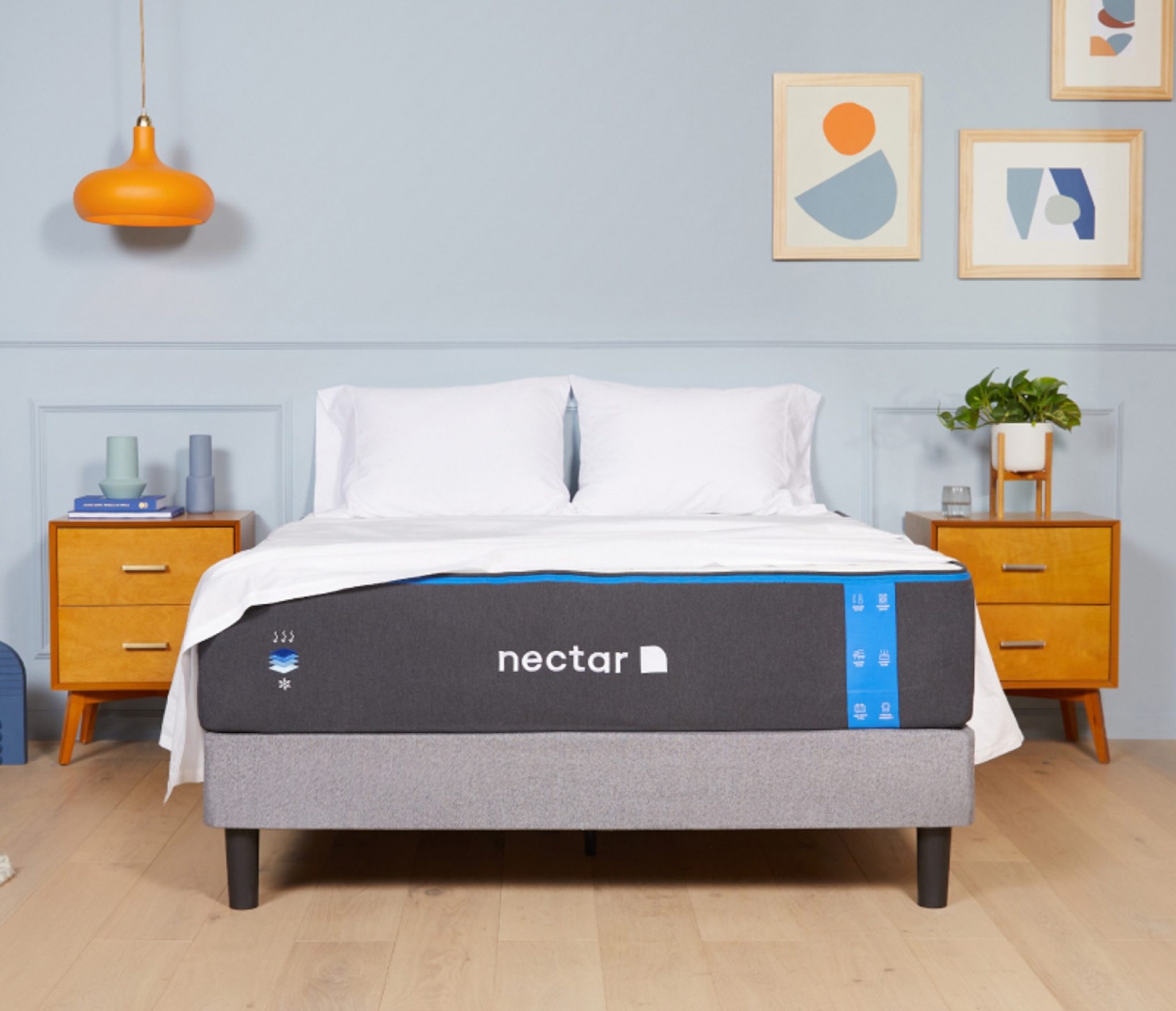 The combination of materials is also designed to make sure that your body stays cool throughout the night. Forget about waking up in the middle of the night with a sticky body or feeling like you're stuck in position because your body is glued to the mattress. Instead, the Nectar mattress will give your body the support it needs and allow it to move freely without it sticking.


The Nectar memory foam mattress is an excellent option for consumers looking to replace their old memory foam mattress or look for a new product. Gel memory foam is very supportive, and the Nectar mattress uses three inches of it. This should help to comfort the back and reduce pressure points. Nectar has a unique cover, which is soft and breathable. It should also help to keep you cool.
What I Like:
The Nectar mattress is a premium grade memory foam mattress that offers a great price compared to its luxury competitors. While memory foam is often a very personal choice, this mattress presents an excellent middle ground between firmer and softer memory foam products.
This mattress is perfect for almost anyone, and it has a 365-night home trial, free shipping, and free returns. The bed is available in a variety of sizes.
---
Tuft & Needle Original Mattress
Best Pressure Relief
When Tuft & Needle launched their original mattress, it was clear they had something special on their hands. T&N is a mattress company that seems to be all about transparency. First off, they'll send you absolutely anything for a trial period of 100 nights.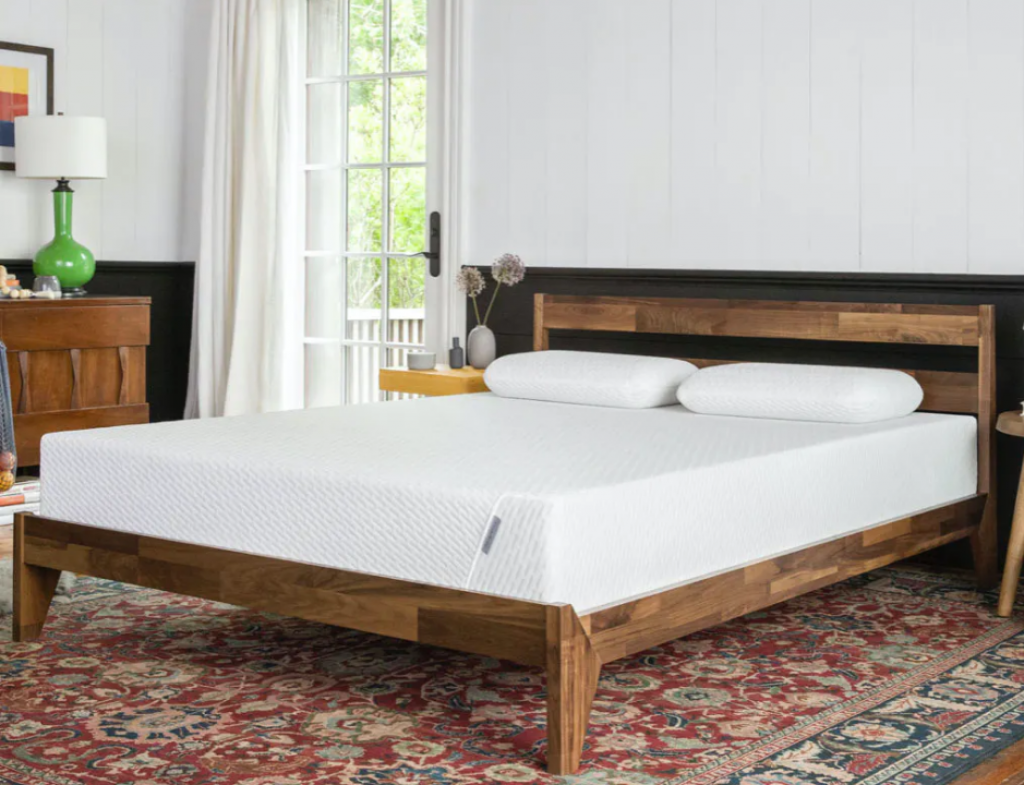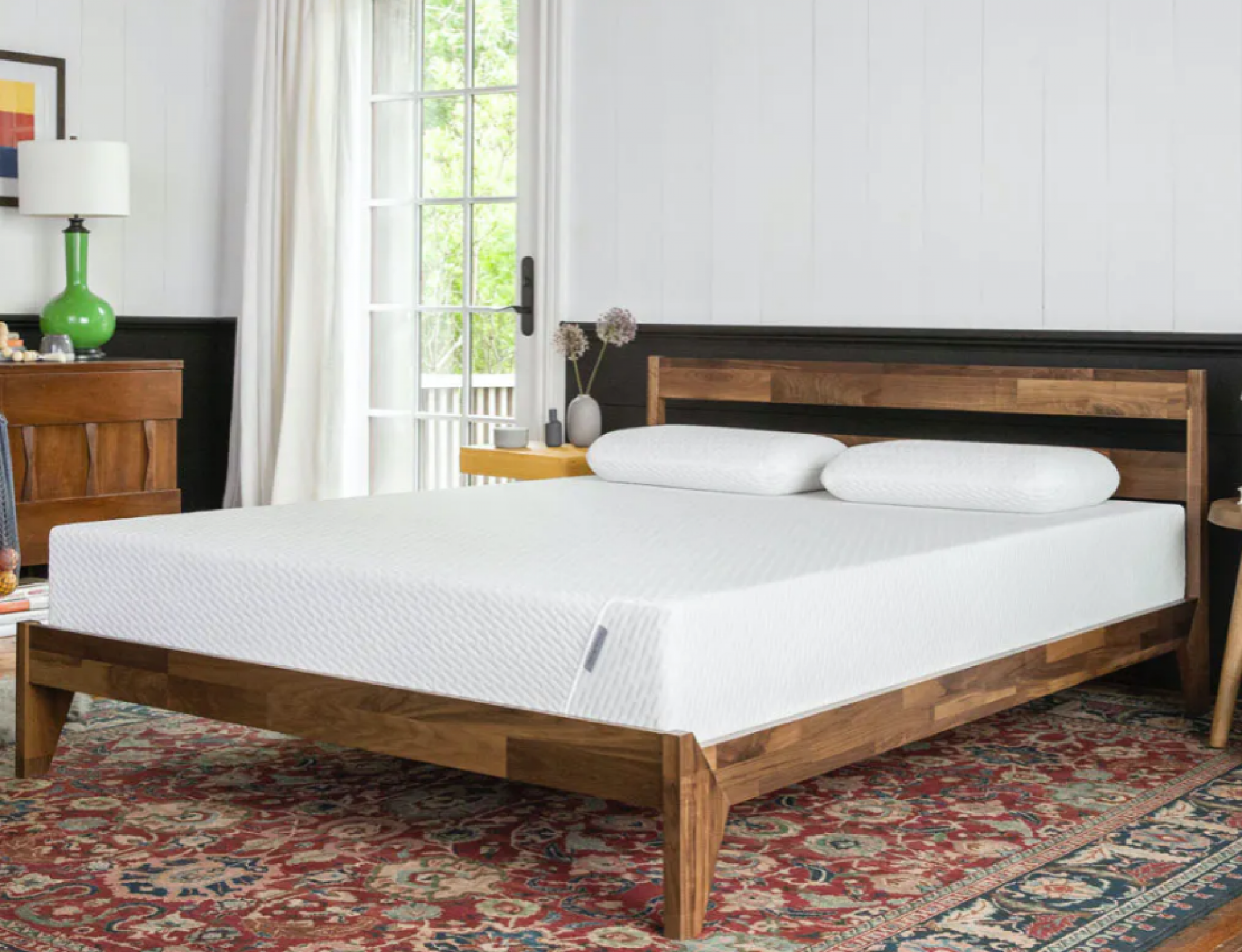 Afterward, if you don't like the mattress (which is doubtful given their stellar reviews), then you can just send it back for free, and you won't owe them a dime.
Second, the mattress comprises two top-quality foam layers, including cooling gel beads, to keep you from overheating. Third, the company has a 10-year warranty, which is pretty good for a mattress. Fourth, it's made in the USA, which is also a significant bonus.
What I Like:
The Tuft & Needle Original Mattress is a good option for those looking for an affordable, comfortable mattress.
The Original mattress is made with two layers of high-quality and open-cell foam. This type of foam is designed to conduct heat, making this mattress ideal for those who tend to run hot.
---
OkiFlex Hybrid Mattress
Best Edge Support
With the OkiFlex Hybrid mattress, it's no wonder why the company has a 5-star rating on Amazon. This bed is made of high-density memory foam and a pocket spring core, so it offers you the comfort you need when you're sleeping on your back and stomach. It is also motion-isolating and provides complete support. The Ice Yarn cover is also cool to the touch, and it's completely zero-turn. The OkiFlex Hybrid mattress might be the bed for you!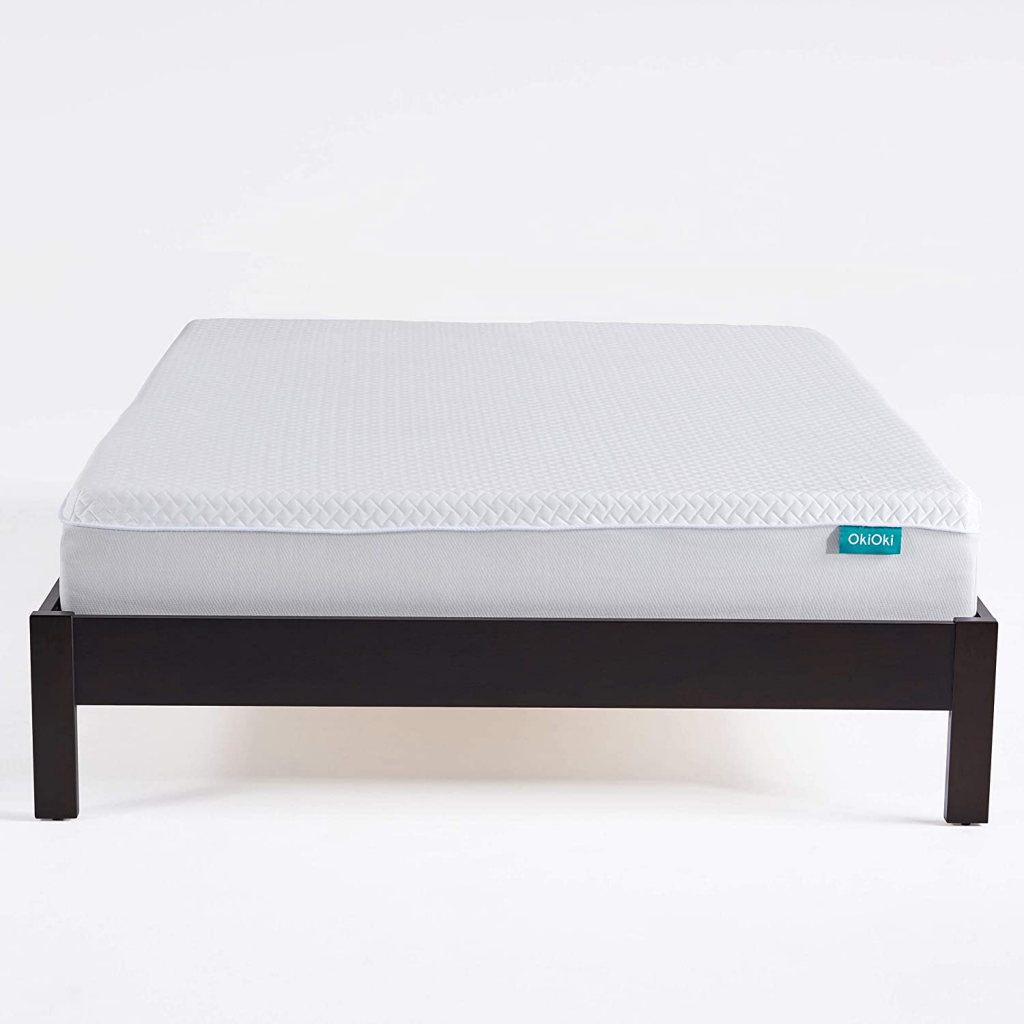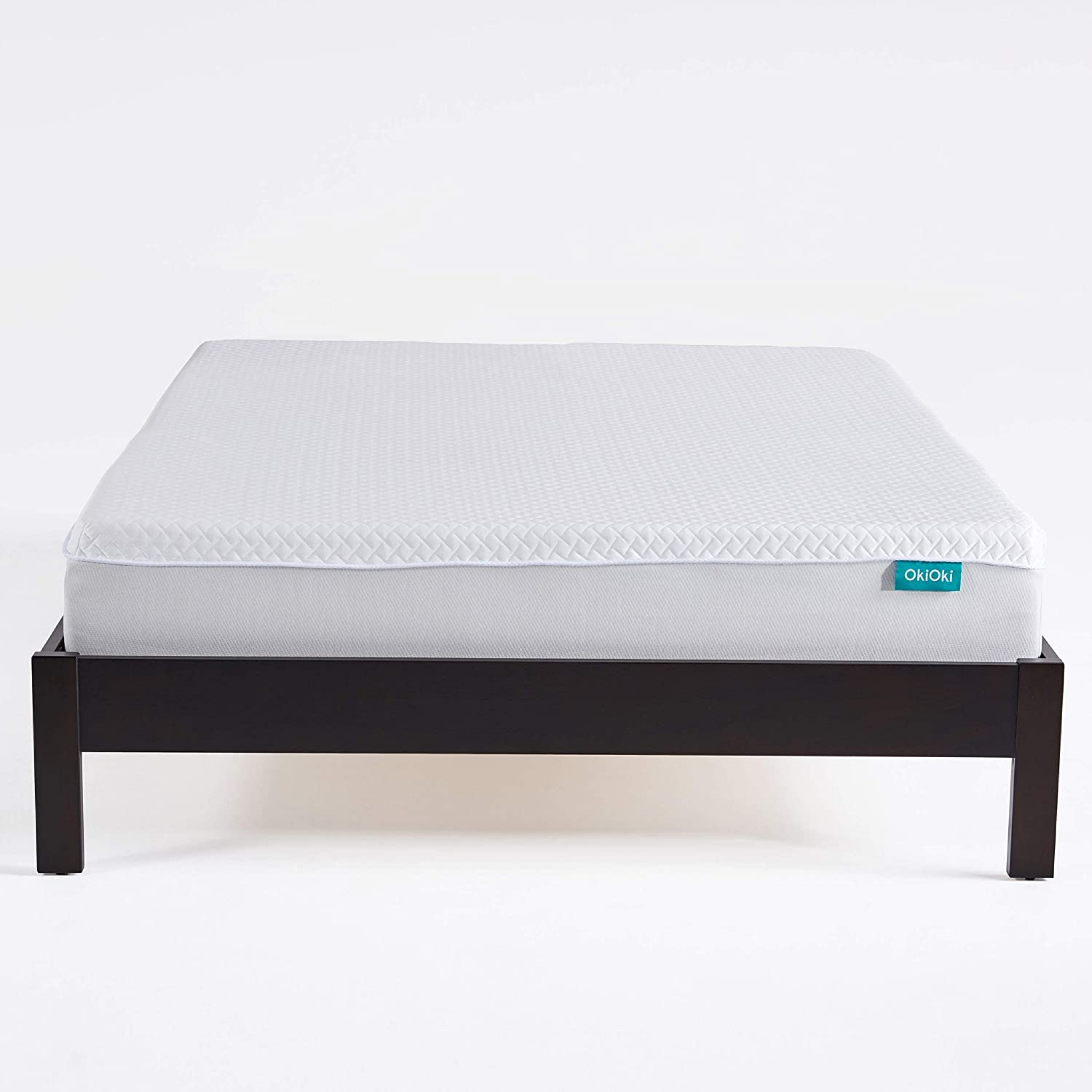 If you've ever had back problems, then you probably know how vital a quality mattress is. A good bed can mean the difference between waking up with a backache and waking up refreshed and ready to take on the day. While some mattress companies over-hype their products, the OkiFlex Hybrid Mattress is a mattress that actually delivers on its promises.


If you're looking for a super-comfortable mattress, you may be interested in the OkiFlex Hybrid Mattress from OkiComfort. It uses a special material called "Ice Yarn," which makes it cooler than most mattresses and great for hot sleepers.
What I Like:
The OkiFlex mattress comprises several layers where you can find a high-density memory foam layer and a pocket spring core.
As well as its unique hybrid construction, the mattress's innovative Ice Yarn cover also sets it apart from competitors. This soft, breathable fabric is made from a material that provides a cool sleeping surface even during the hottest months.
---
Allswell Luxe Hybrid
Best Value
The Allswell Luxe Hybrid mattress is an excellent addition to their line of mattresses. It's comfortable, it's supportive, and it's a great value. In fact, it's a great value compared to most mattresses on the market. It's made with individually wrapped coils, which help to minimize motion transfer. The product also has edge support on all four sides.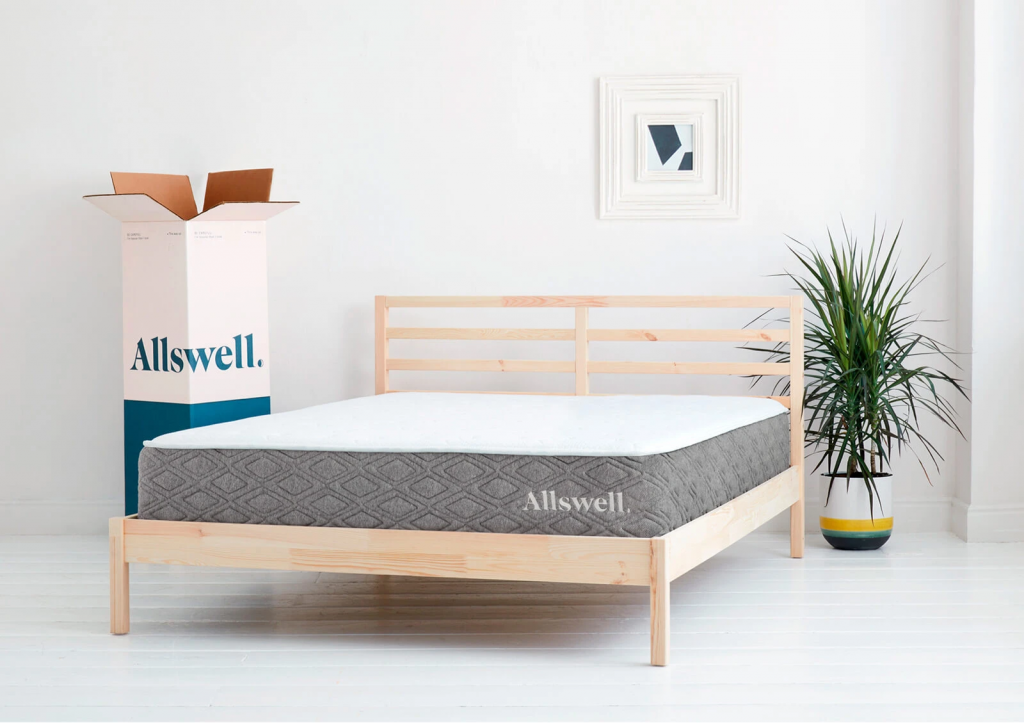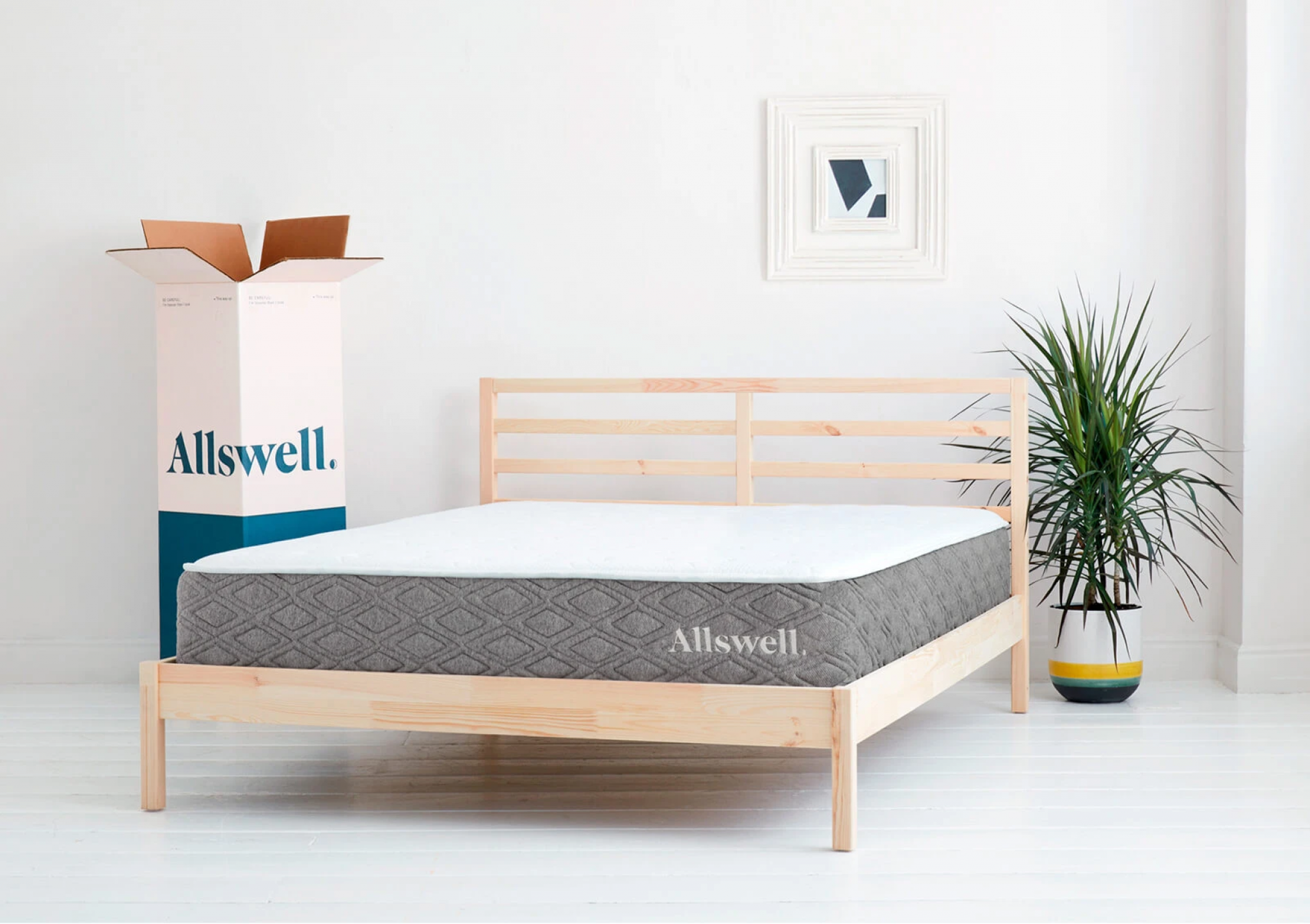 On top, you'll find a layer of high-density foam, which provides additional support and relief for joint and muscle pain. This mattress contains a layer of copper-infused memory foam, which destroys microbes and gives active relief to joint and muscle pain. The mattress topper is plushly quilted and includes a cooling swirl foam.


The Allswell Luxe Hybrid is a superb bed for back sleepers. It has a firmer feel, and it is reasonably responsive. Back sleepers may have a tough time getting in the proper position if used to sleeping on a softer bed, and stomach sleepers or those who like a flatter feel will find the Luxe Hybrid to be too firm. Side sleepers should find that this mattress sleeps excellent and provides enough support.
What I Like:
The Allswell Luxe Hybrid mattress is designed to provide some of the comfort of a memory foam mattress with a traditional innerspring mattress's support.
The Luxe Hybrid is the mattress with a top layer of swirl foam that uses swirling patterns to improve airflow and heat dissipation and an innerspring coil support layer that helps provide the support you need.]
---
Cocoon by Sealy Chill Memory Foam Mattress
Best Cooling Cover
Many different mattress options are available on the market today. Whether you are looking for a memory foam mattress, a spring mattress, or any other type, there are many sizes, shapes, and brands of mattresses to choose from. However, there are many, many pros and cons to these different types of mattresses.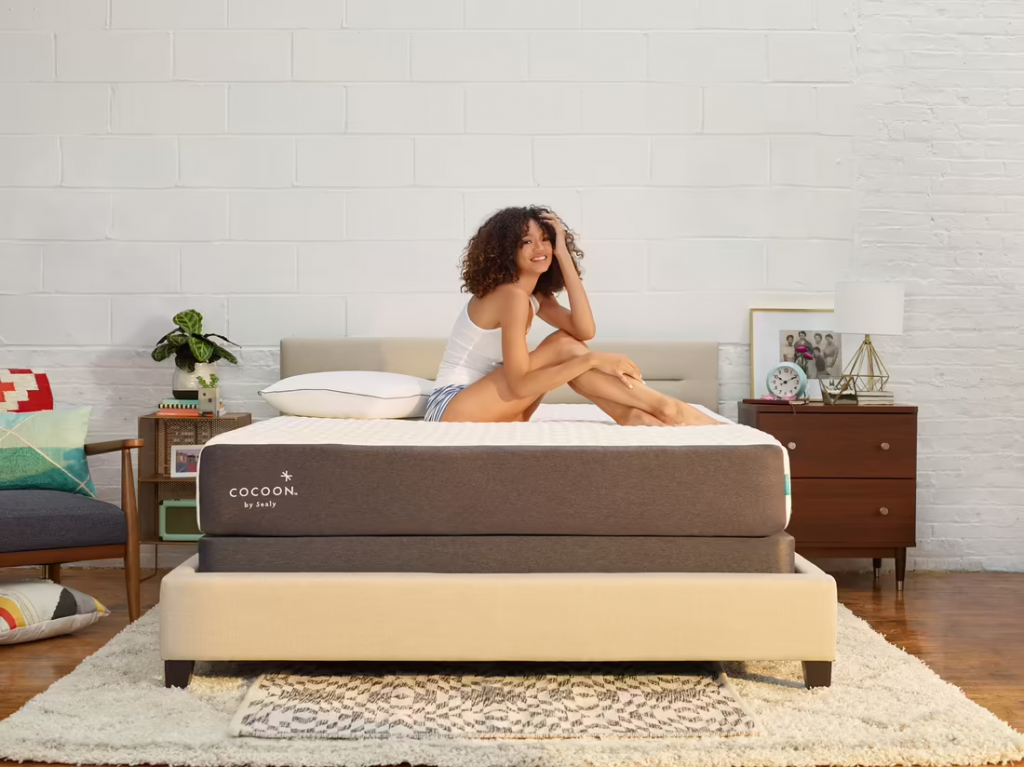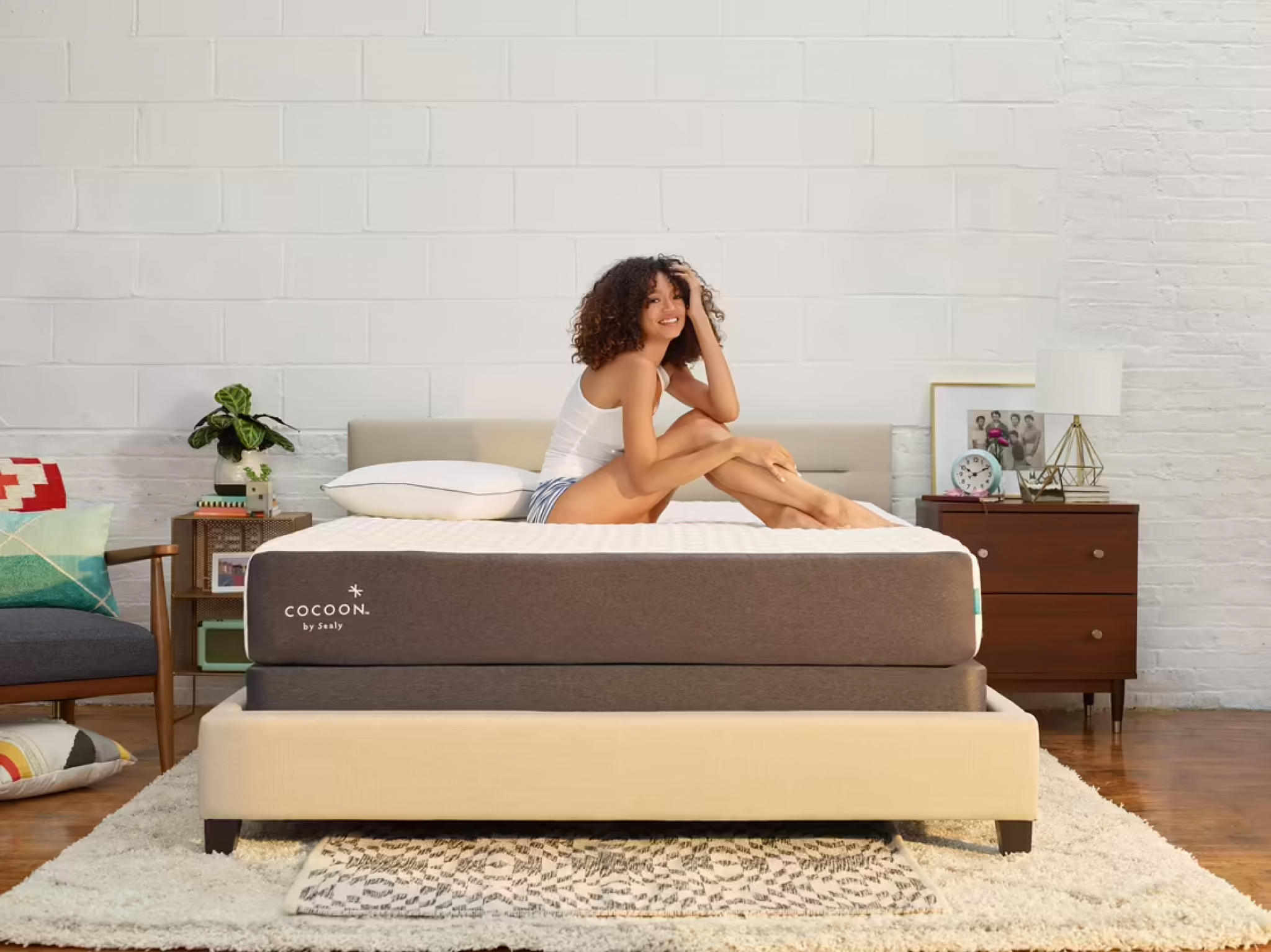 The Cocoon by Sealy Chill memory foam mattress is the mattress I have tried from Sealy, and I am happy to report that I'm enjoying it. This product contours your body in a better way, and you can sleep in any position you like without any pain or discomfort. Moreover, the memory foam absorbs almost all movements, so you wouldn't feel your sleeping partner roll over at night.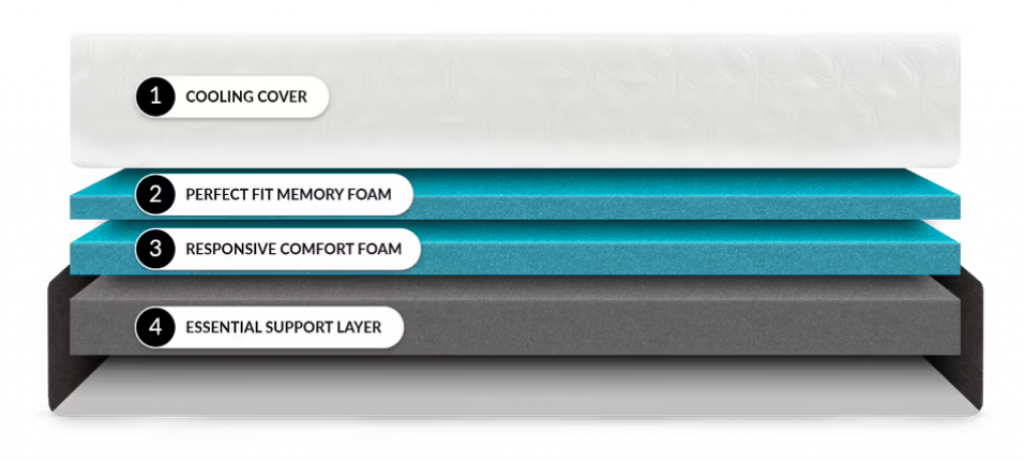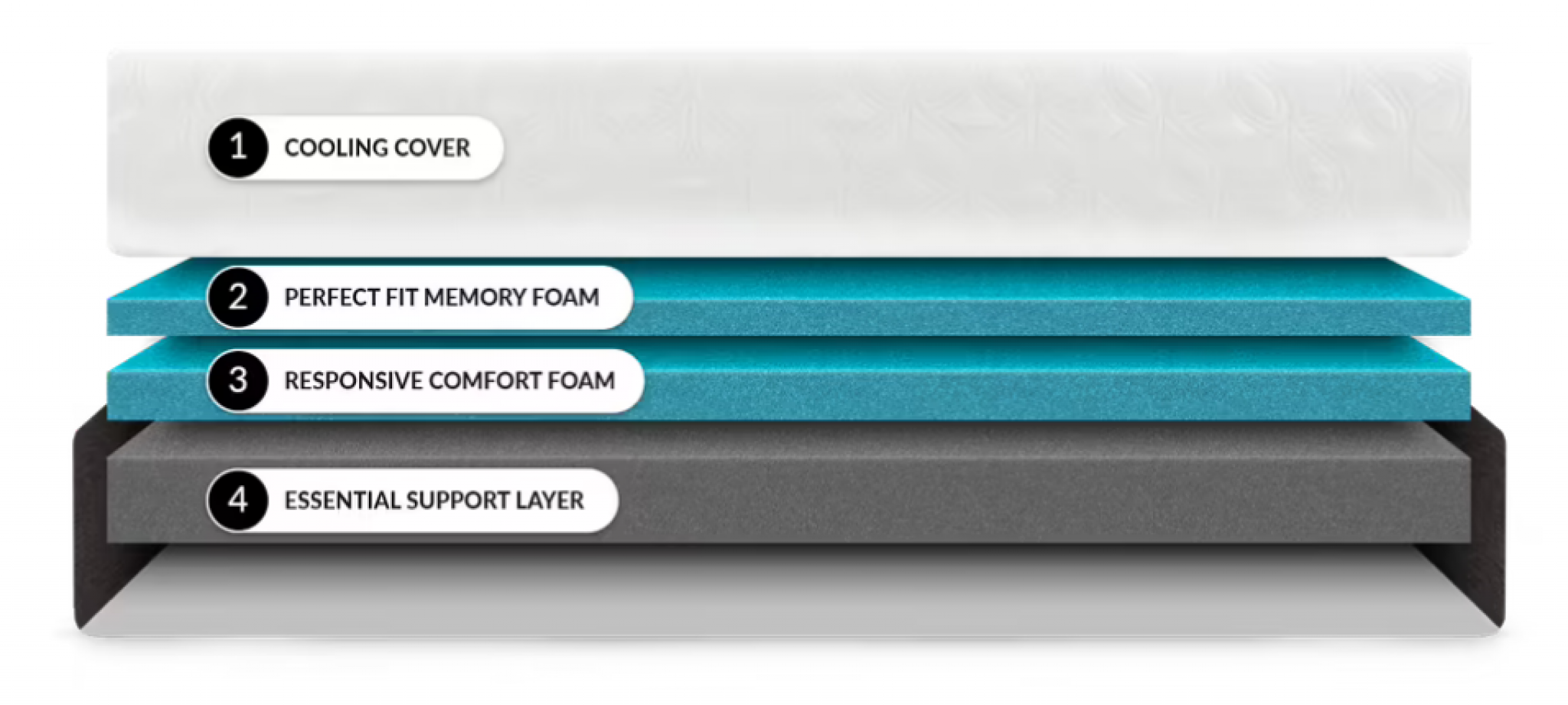 Cocoon by Sealy Chill Memory Foam Mattress is a product designed to help you get a good night's sleep. It is designed with a premium foam core designed to contour your body shape, providing you with the comfort you need. This foam core is paired with motion-isolating edge support foam designed to keep you sleeping in the middle of the bed while also keeping you cool. The product is designed to fit your needs and was made to provide you with a full one-year sleep trial, as well as a 10-year warranty.
What I Like:
The Cocoon by Sealy Chill Memory Foam Mattress is an innovative mattress that offers many unique features to improve your sleep.
This is an excellent addition to your bedroom. As with most memory foam designs, this mattress is firm but not stiff and quickly forms to your body shape so that you can have a restful night's sleep.
---
Buyer's Guide
Mattresses For College Students are a necessity for your dorm room. You want to make sure you get the right mattress for your needs. The best way to do that is to know what you are looking for. That's where I come in. I've constructed the perfect guide for college students looking for a mattress. Just follow the instructions below, and you will have your first college mattress.
---
Common Mattress Types For College Students
College students spend most of their time in the comfort of their dorm rooms, making the mattress an essential part of their daily lives. As a result, the mattress industry has driven the development of many different types of mattresses. Each type is designed to provide a specific set of benefits for a certain type of sleeper. You can find numerous mattress types on the market, like memory foam, gel-infused foam, latex, innerspring, hybrid, and other types. Some of them are better than others, so you can see all pros and cons in the material below.


Memory Foam Mattress
There are many other options for getting the best mattress for college students, and you should consider them all if you want to get a comfortable night's sleep. Foam mattresses come in many styles, sizes, and other features. You can go for a simple foam mattress, or you can get a foam mattress that is built into a bed frame. If you have more money to spend, you can go for a memory foam mattress that is more comfortable and durable than a regular foam mattress.
Latex Foam Mattress
Students who are living away from home for the first time might be interested in latex mattresses. The material that latex is made from is very flexible and can be used for many different purposes. When it comes to mattresses, it works well for the box spring and the bed since it is very supportive and has less chance of developing sags over time.
Air Mattress
For college students who have limited space, investing in an air mattress is one of the best ways to get some extra space for their dorm. Air mattresses are also a good choice for students who don't want to deal with traditional mattresses.
Innerspring Mattress
Thanks to their affordable price tag and convenient dorm-room storage, innerspring mattresses are the mattress of choice for most college students. These mattresses are also referred to as coil mattresses, box mattresses, and traditional mattresses, among other things.
Hybrid Mattress
Colleges can be a huge investment, but it doesn't need to cost you a fortune to get a good night's sleep. If you're starting at a new school or looking to upgrade from your dorm mattress, a hybrid mattress can be a good choice. A hybrid mattress is a combination of two types of mattresses on one base, often a memory foam mattress with a pocket coil system. The memory foam layer can be used for pressure relief while the pocket coils give you support. Many hybrids come with a cooling gel or memory foam layer for those looking for a little extra help getting to sleep.
---
What Should You Consider While Shopping For A Dorm Mattress?
There are few things more important to your college experience than a great mattress. Getting adequate sleep is key to performing well in the day, studying, and enjoying your social life. There are a lot of options out there, though, so how do you choose between them? Here are some things to keep in mind when shopping for mattresses for college students.
Weight
Mattress weight is an important factor to be considered when choosing a mattress for your college dorm room. A light mattress is perfect for people who just don't desire to lift a heavy bed when moving between rooms. A heavy mattress is a better choice if you are not going to be the person who carries the mattress often or if you just like the feeling of sleeping on a heavier bed.
Size
Most college students have to share a small room with multiple roommates, making it hard to fit a full-size mattress into space. Luckily, there are a few mattresses that are designed for the exact needs of college students. These mattresses are usually smaller than full-sized ones, and they can be stacked. Such products are great for fitting into different bed frames. They also have a low-medium firmness.
Firmness
A mattress's firmness is one of the most important aspects of comfort since the more firm a mattress is, the more support it will provide. A mattress that is too soft, on the other hand, will not only result in you rolling in the middle of the night, but it will also cause you to wake up in the morning with aches and pains that are the direct result of saggy support. The mattress firmness is described using a scale of 1 to 10, with one being very soft and ten being very firm. As a rule of thumb, the firmer the mattress, the longer it will last, but the more it will be suited for heavier people.

Durability
As a college student, you want to find a mattress that is comfortable and durable. You will be moving lots in your dorm room. You will want to make sure that your bed can withstand being moved around a lot.
Price
Mattresses are one of those things that people never give enough thought to. They are not something we tend to buy. We tend to accept what we are provided for the sake of convenience. That being said, most people don't consider the fact that mattresses can be expensive. College students, especially those who want a good bed for their dorm room, should consider the fact that mattresses can cost almost $1000 for a good quality mattress or even more.
---
FAQ
What Is The Best Mattress Type For College Students?
It depends on what you like. If you want a firm product, a memory foam mattress will likely be your favorite. However, if you like a softer mattress, a pillow-top mattress will likely be your favorite. You can get a firm mattress that will last for years or a soft bed that will not last as long.
Should I Get A Memory Foam Or Spring Mattress?
Generally speaking, I recommend memory foam mattresses to those who like to sleep on a soft mattress, but there are, of course, exceptions. For example, if you're a hot sleeper, a memory foam mattress may not be the best choice since it will retain more heat than a spring mattress. We'd also say that if you're looking for a bed with relatively firm support, a spring mattress is probably going to be more to your tastes.
How Much Should I Spend On A New Dorm Mattress?
Mattresses are a significant investment, so it's important to be smart about what you spend. If you are looking for a quality dorm mattress that will last, you should prepare from $500 to $1000. Some luxury brands can cost up to $2500. Many factors determine the quality and cost of a mattress, so one model may be far more expensive than another when it's the same size.
---
The Bottom Line
There are a lot of fantastic mattresses out there for people looking for a quality product. With so many brands and styles to choose from, it can be tough to know where to start. That's why I've put together this handy guide. I've reviewed the best mattresses for college students, so you don't have to. With my help, you can find the best bed for college students and know what to consider while shopping for a mattress for your comfortable sleep.