Brief: Best King-Size Mattresses
Introduction:

Popularity: King-size mattresses are highly popular, accounting for a large portion of mattress sales.
Importance: Suitable mattress selection is crucial for king-size beds due to their large dimensions.

Top 5 King-Size Mattresses:

Solaire Adjustable Mattress: 50 firmness settings, organic cotton, latex, excellent for all sleepers.
TUFT & NEEDLE – Original King Adaptive Foam Mattress: All-foam, proprietary adaptive foam, good for side and back sleepers.
Saatva Solaire Adjustable Mattress: Adjustable air chambers, memory foam, eco-friendly.
Nectar Memory Foam Mattress: Medium firmness, cooling technology, good for back sleepers.
Brooklyn Bedding Signature Hybrid Mattress: Suitable for all sleepers, cooling top layer, TitanFlex™ foam.

Buying Guide for King-Size Mattresses:

Types: Memory foam, latex, innerspring, hybrid.
Size Variations: Standard King, Eastern King, California King, Split King.
Key Factors: Sleeping position, mattress type, weight considerations.

FAQs:

What is a King-Size Mattress?: Dimensions 76″ x 80″.
Benefits Over Other Sizes?: More space, comfort, suitable for couples.
Firmness for King-Size?: Depends on personal preference, often firmer options preferred.
King-Size Fit in Standard Rooms?: Generally yes, but room measurements recommended.
Best King-Size Mattress?: Depends on individual needs and preferences.
Replacement Frequency?: Typically every 8-10 years.

Conclusion:

Emphasis on the importance of choosing the right mattress for comfort, space, and quality sleep.
Encouragement to consider personal preferences and specific requirements.
The king-size mattress is the most popular bed size sold today. In fact, this size is so popular that it accounts for nearly half of all mattress sales. If you have a king-size bed, you need to buy an appropriate mattress.
---
Top 5 Best King-Size Mattresses
#1
Solaire Adjustable Mattress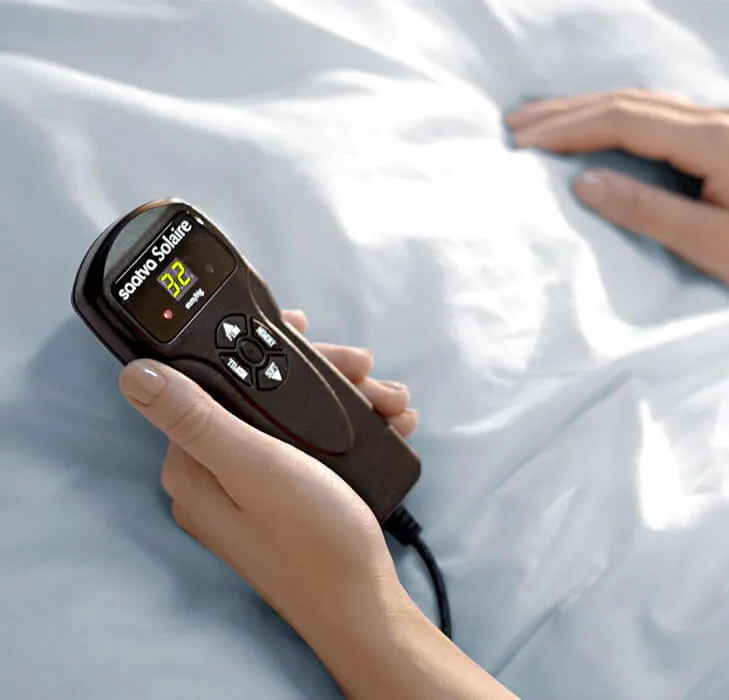 Get 10% off
The mattress has 50 precise firmness settings on both sides for your perfect comfort level in every sleep position.

Great for couples as virtually no motion transfer.

Certified organic cotton and natural latex give you ultimate breathability and cradle your body in perfect alignment.
Trial period: 180-night home trial

Warranty: 25-year warranty

Shipping:
Free in-room delivery & setup

Firmness:
50 firmness options

Price range: $$$$$

Type: Other
We recommend this mattress for the following sleepers:
Get 10% off
---
Because these mattresses are so large, they have to be carefully constructed so that there are no comfort issues when you rest your body on them.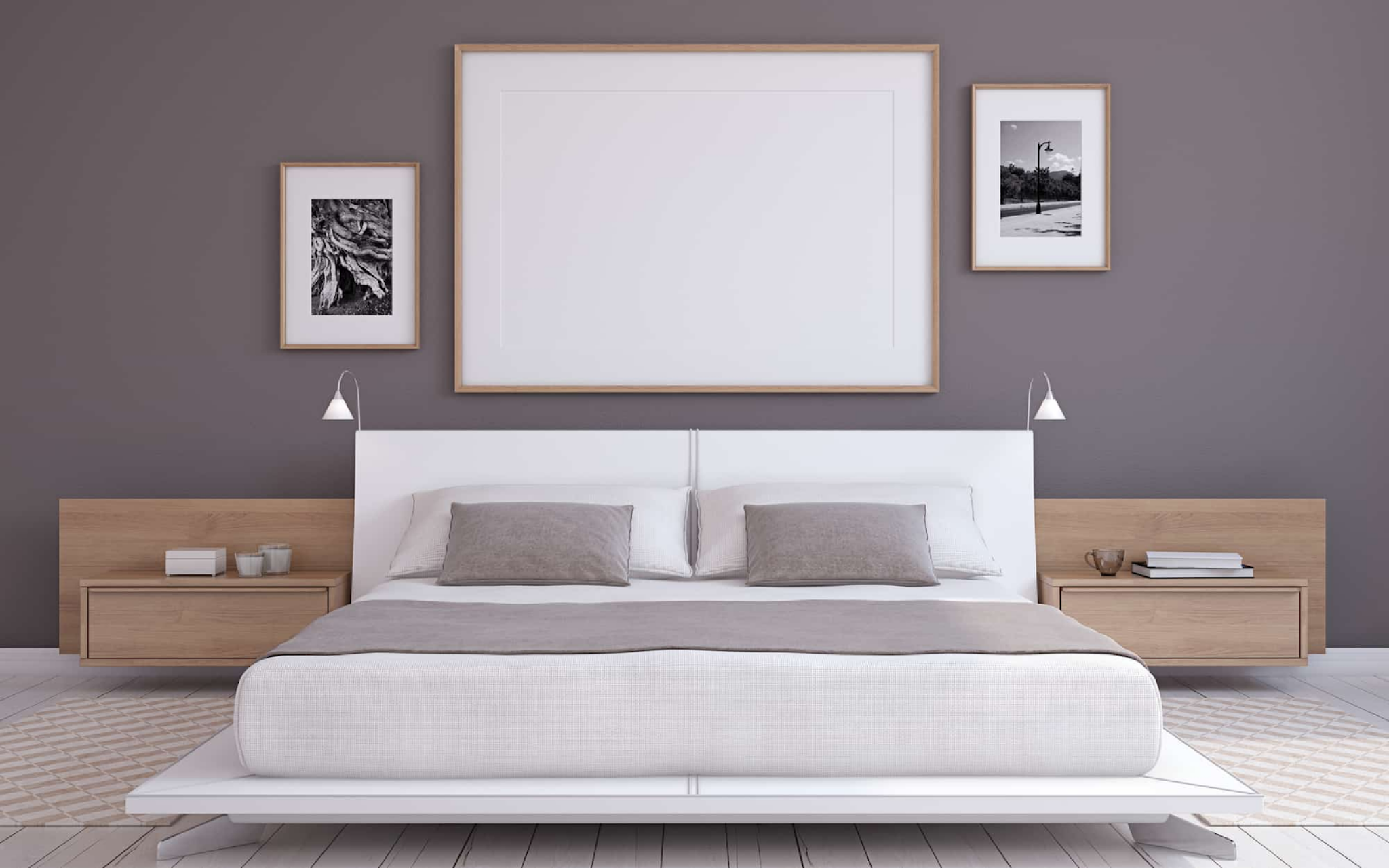 Therefore, choosing a suitable mattress can be quite difficult. I suggest you get acquainted with what you need to know before buying a bed for your home. I've also created a list of the top 5 best king-size mattresses just for you.
---
Best King-Size Mattresses Reviews
TUFT & NEEDLE – Original King Adaptive Foam Mattress
Best Overall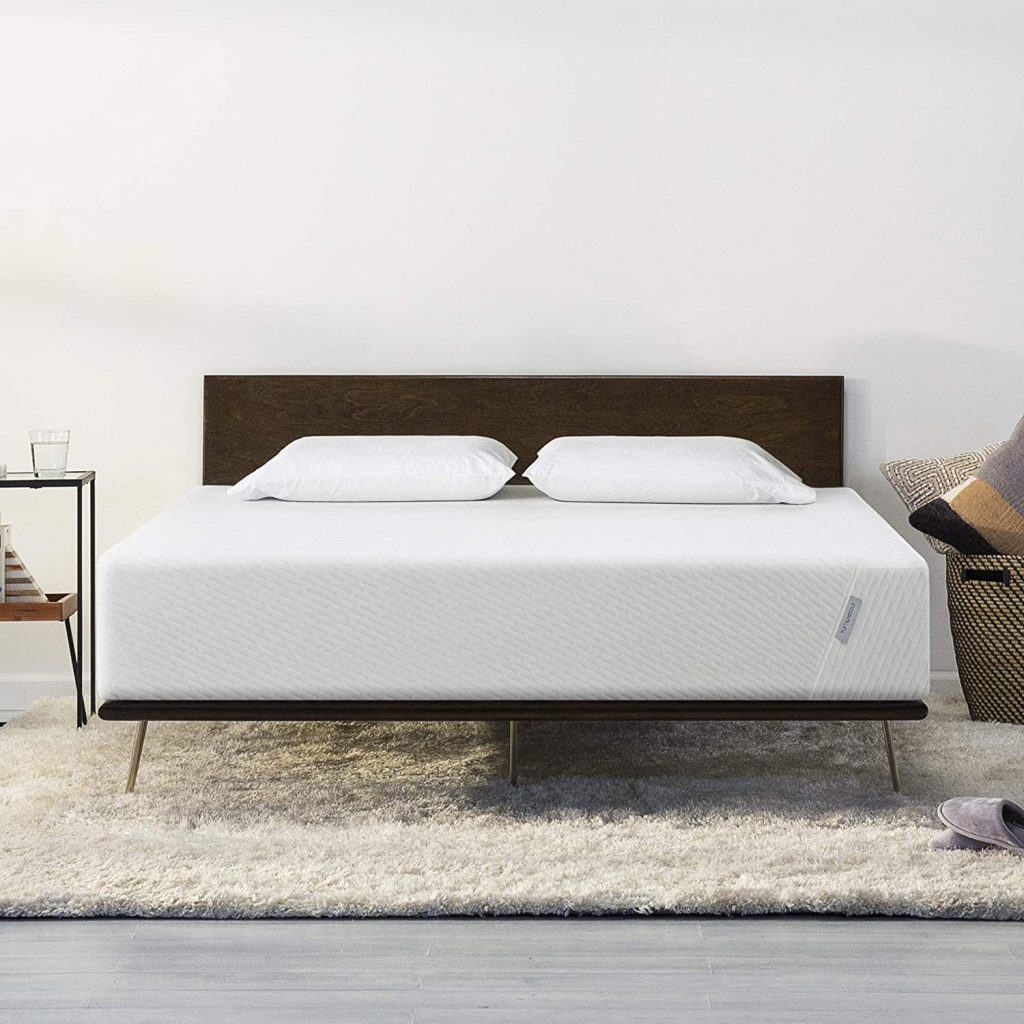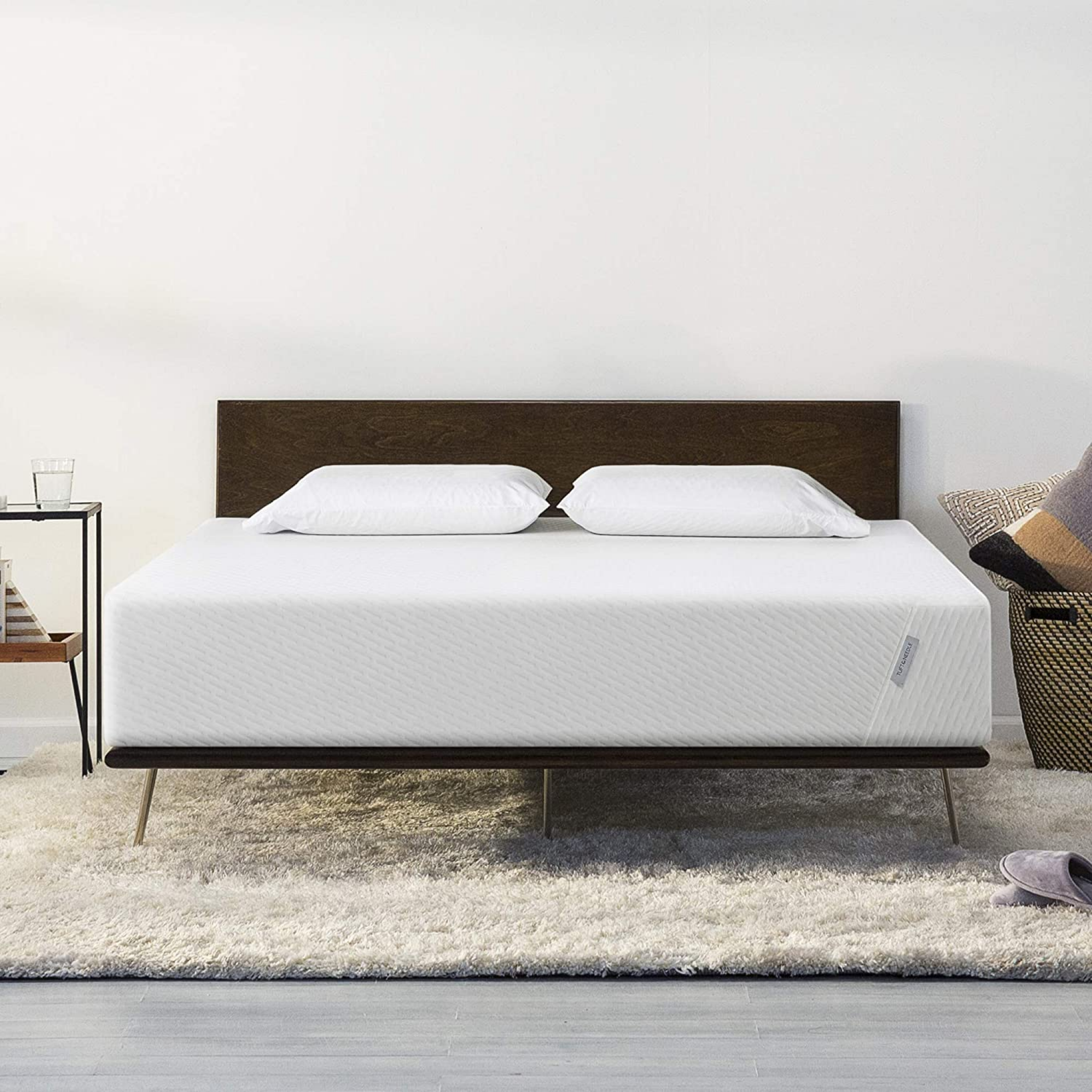 The TUFT & NEEDLE Original King Adaptive Foam Mattress is an all-foam mattress that features three different foam layers to accommodate various sleep preferences. The T&N Adaptive foam Mattress is designed to provide optimum comfort and support for side sleepers and back sleepers without being too firm or too soft.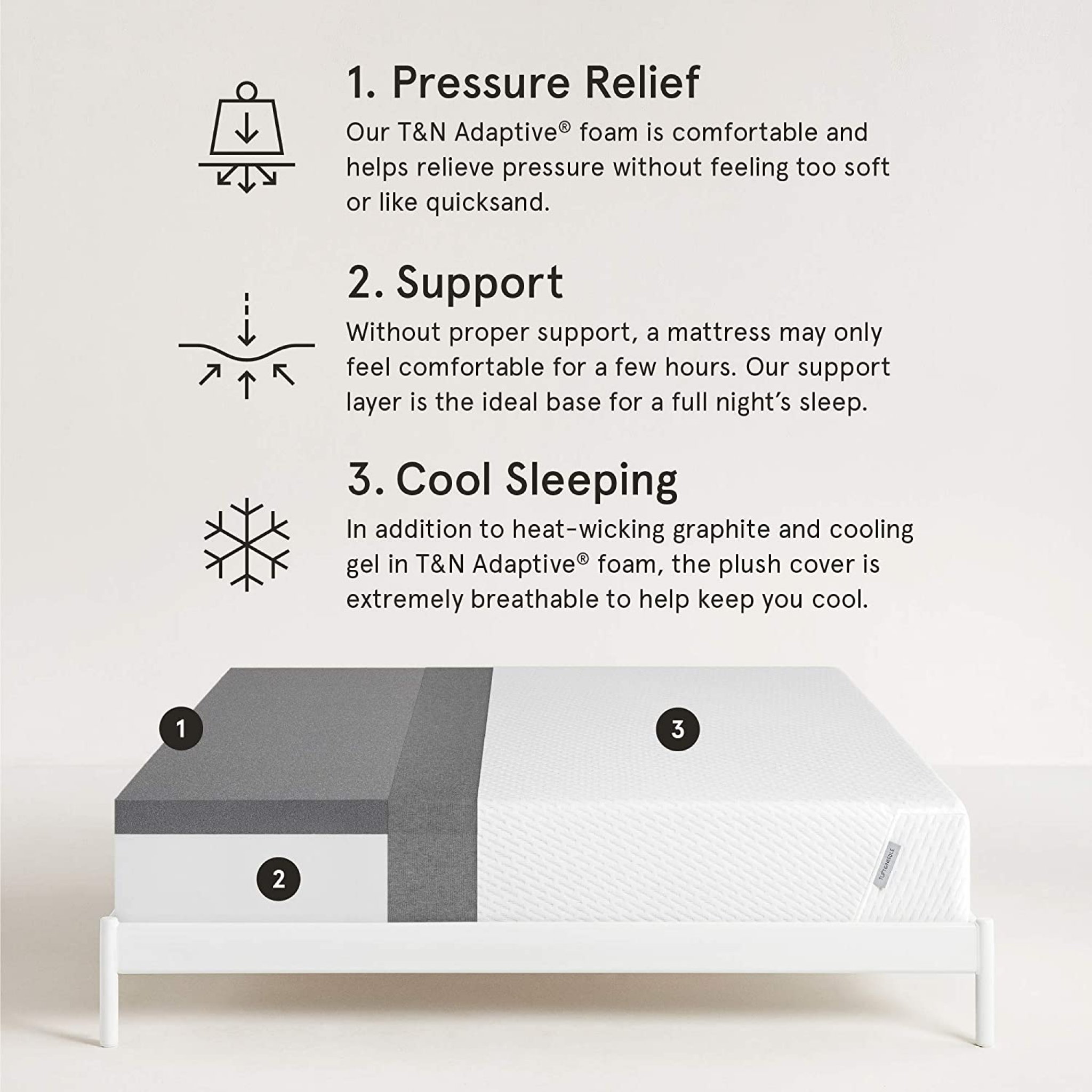 This product is a king-size mattress that is filled with a proprietary blend of adaptive foam. The idea of these types of foam mattresses is that it has a solid structure but can conform to every individual part of your body and provide firmness where needed and softness where needed. Adaptive foam is designed to contour to your body's unique shape, relieve pressure points, and enhance your sleep quality.
It also comes with a 10-year warranty and a 100-night sleep trial, which is incredible considering this mattress's price point.
What I Like:
The memory foam-based mattresses are produced with CertiPUR-US certified foam and sustainably sourced materials.
An Adaptive foam mattress is an excellent option for those looking for a firm mattress.
It is the perfect mattress for anyone suffering from back pain or just wants to be more comfortable at night.
---
Saatva Solaire Adjustable Mattress
Best Eco-friendly Materials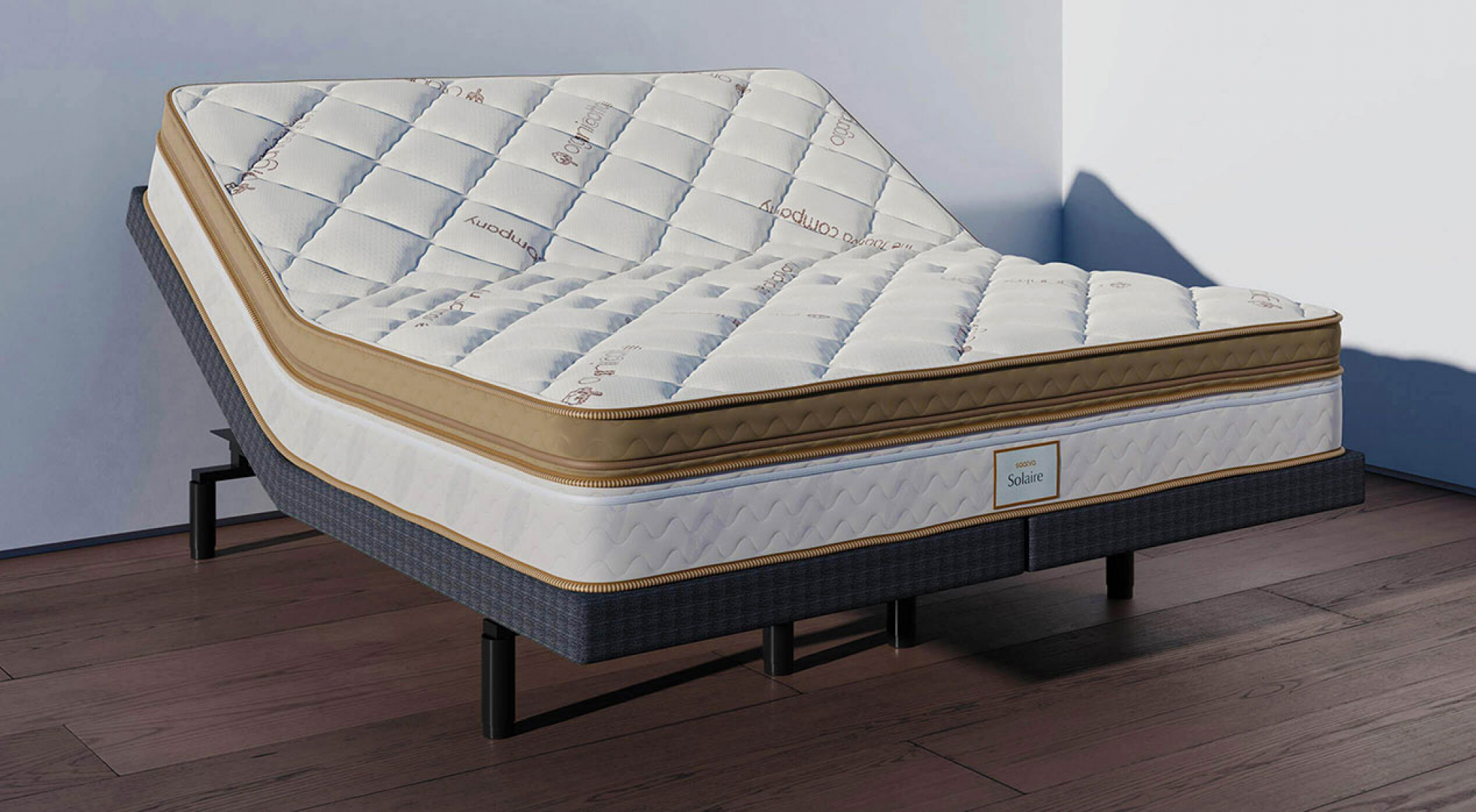 The Saatva Solaris Adjustable Air Mattress has become a popular mattress choice for many people. It is no wonder that Saatva has received so many great reviews. This product is one of the most popular mattresses on the market today, and it has some nice features.


Each side of the mattress has a remote-controlled air chamber so that you can control the firmness of your side of the bed. Additionally, the modular design of the Solaire means that each side of the mattress is made from one solid piece of memory foam for extra support and durability. This also means that there is no need for a middle support layer, so there is nothing extra for you to rotate around as you sleep.
What I Like:
The Saatva Solaire Adjustable Mattress is the perfect solution for those who don't want to compromise on their mattress comfort but also don't want to spend thousands on an adjustable bed or a luxury mattress set.
Saatva is a hybrid mattress that has separate air chambers on each side. One side is softer, and one side is firmer. You can adjust them separately to get the comfort that you want.
---
Nectar Memory Foam Mattress
Best for Back Sleeper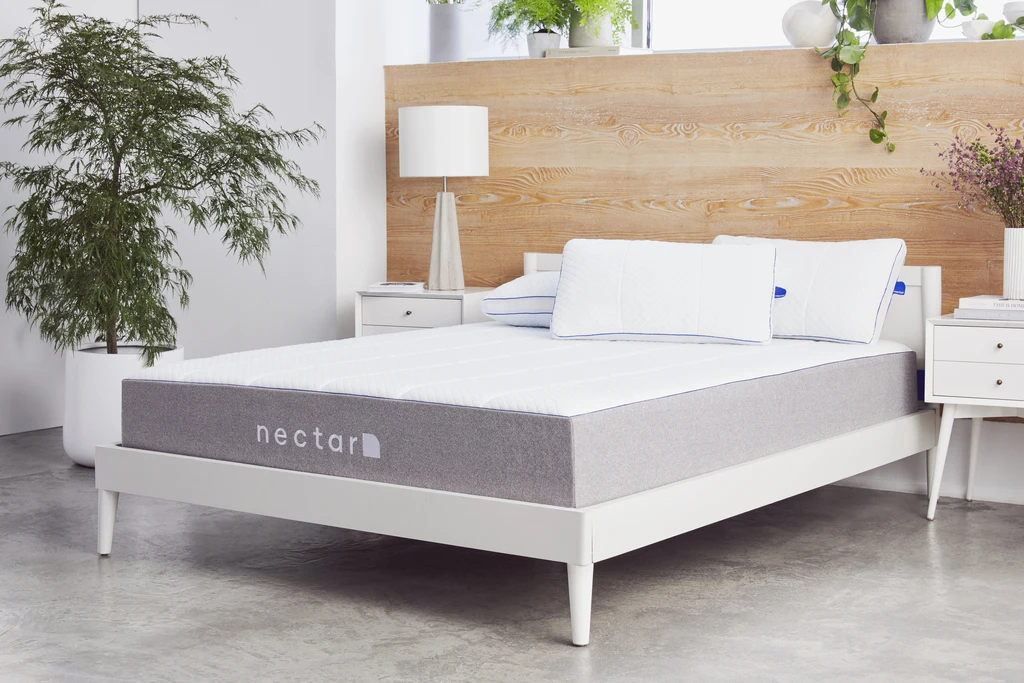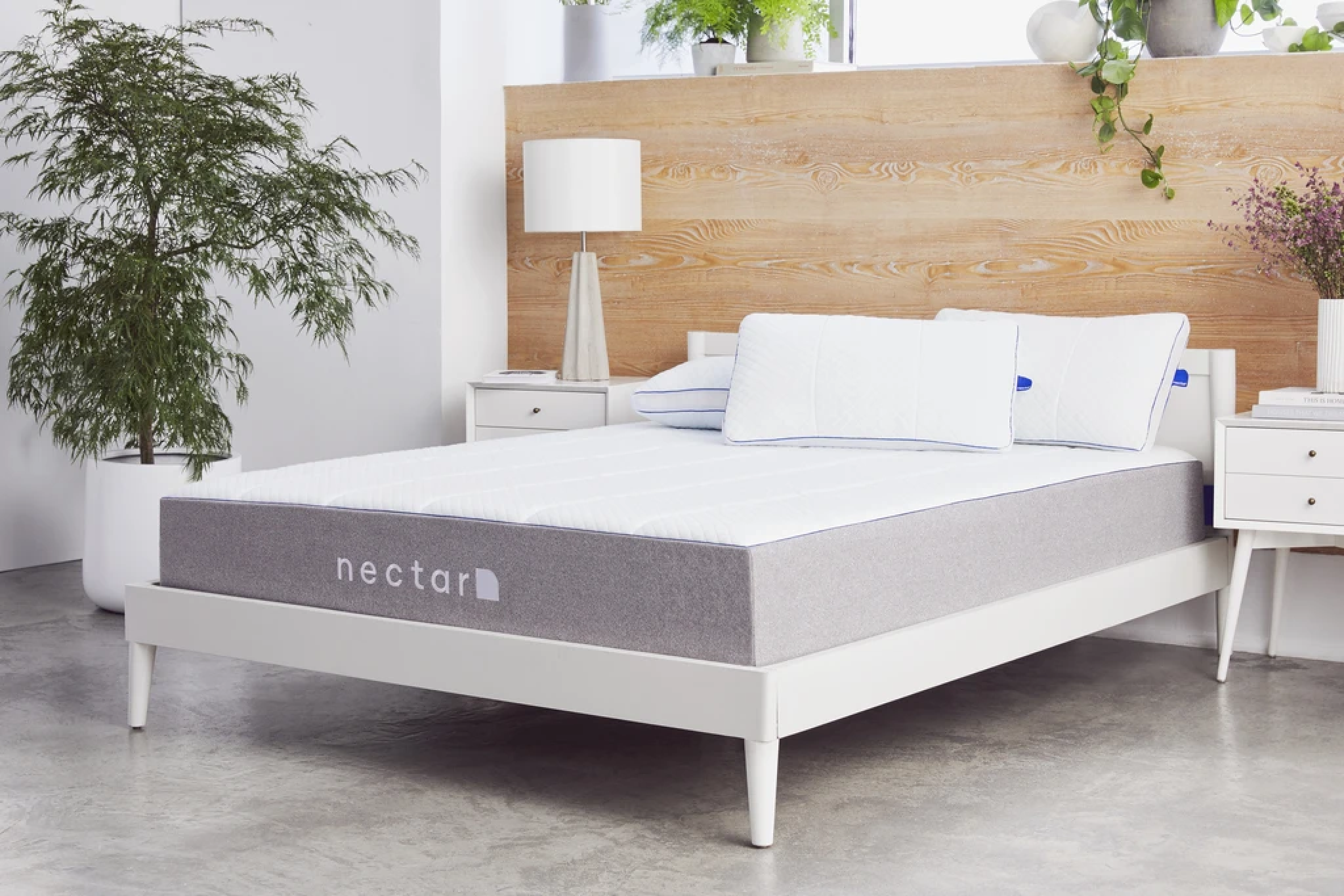 There is nothing worse than waking up in the morning with an aching back or a sore body, but many people do this every morning. The answer to this problem might just be the Nectar Memory Foam Mattress. While memory foam is often associated with being too soft, the Nectar mattress offers a medium level of firmness that should work for most people.
If you are after a top-quality mattress, that will give you and your partner enough support for a good night's sleep, but without the weight of a traditional memory foam mattress. You should take a look at the Nectar. This mattress is made of five layers, with its most important layer being the cooling technology Tencel mattress cover.


The Nectar is a great choice for you if you are looking for a higher quality mattress that will give you all of the benefits of a memory foam mattress, but with the weight of a traditional bed and without the high cost of a conventional mattress.
What I Like:
The Nectar mattress is a luxury memory foam mattress that provides a cooling sleep surface.
Made with premium memory foam, this mattress has a soft comfort topper with gel memory foam that keeps you cool and comfortable.
---
Brooklyn Bedding Signature Hybrid Mattress
Best for All Kinds of Sleepers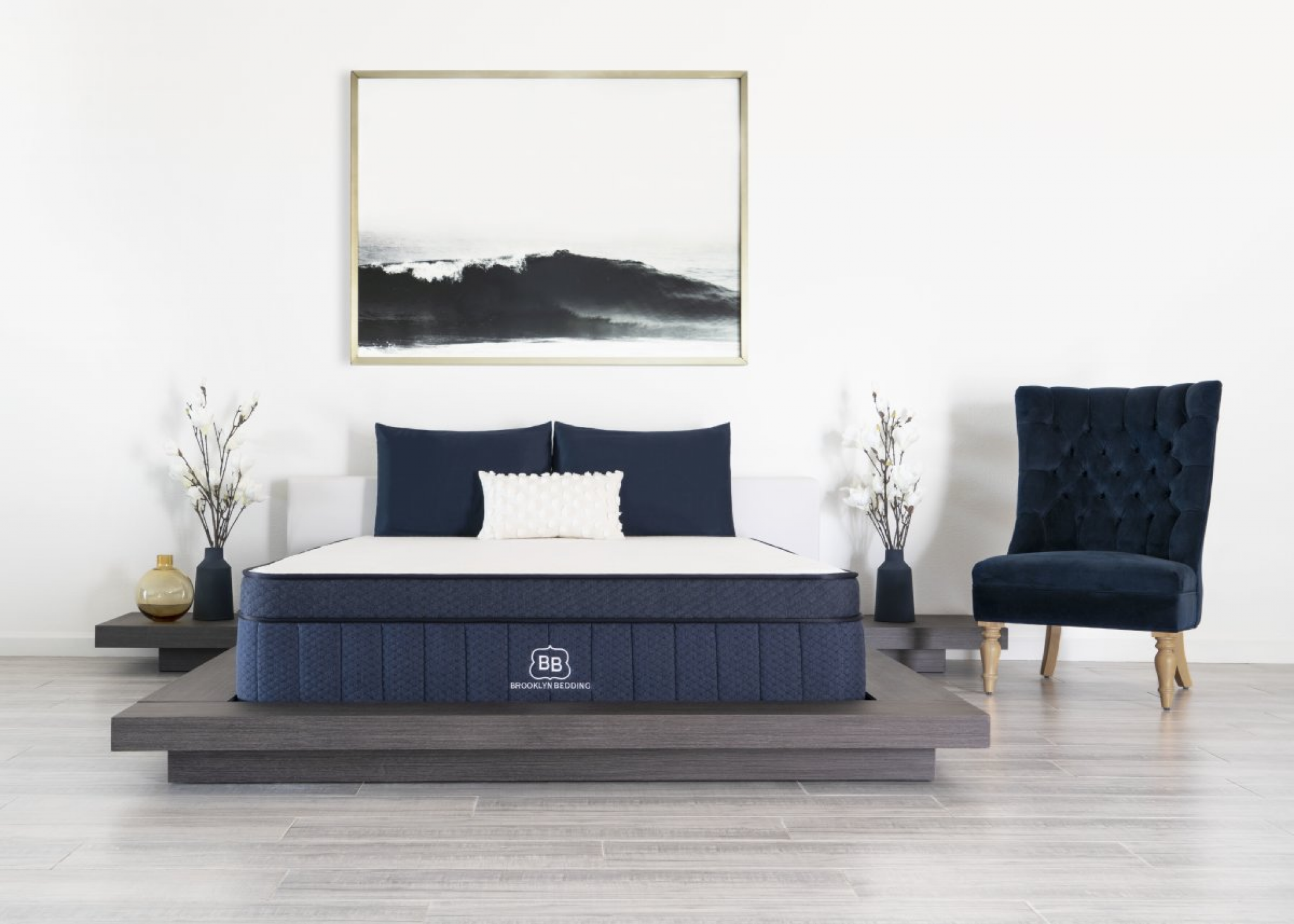 The Brooklyn Bedding Signature Hybrid Mattress is the type of mattress that can appeal to a wide variety of sleepers, which is one reason we awarded this mattress a Best Buy award. There are many different variations of the Brooklyn Bedding Signature Hybrid Mattress, each designed with a specific sleep type in mind. Some are firmer, while others are softer, but each is designed to provide optimal comfort for the sleeper most likely to enjoy it.
The Brooklyn Bedding Signature Hybrid Mattress is a king-size mattress designed to provide comfort for each customer. This mattress's top layer is made from a quilted top that provides optimal cooling while you sleep.


The middle tier of this mattress is made from a patented TitanFlex™ foam, which combines all the contouring properties of memory foam with latex responsiveness. The bottom layer of this mattress is made from a 6-inch base of individually encased coils. All these layers provide amazing comfort and an excellent sleep experience.
What I Like:
This Brooklyn Bedding Signature Hybrid Mattress is a mattress that has been designed to provide just the right amount of support for nearly any type of sleeper.
This mattress has been designed to provide optimal cooling while you sleep.
---
 Leesa Original Mattress
Best for a Cooler Sleep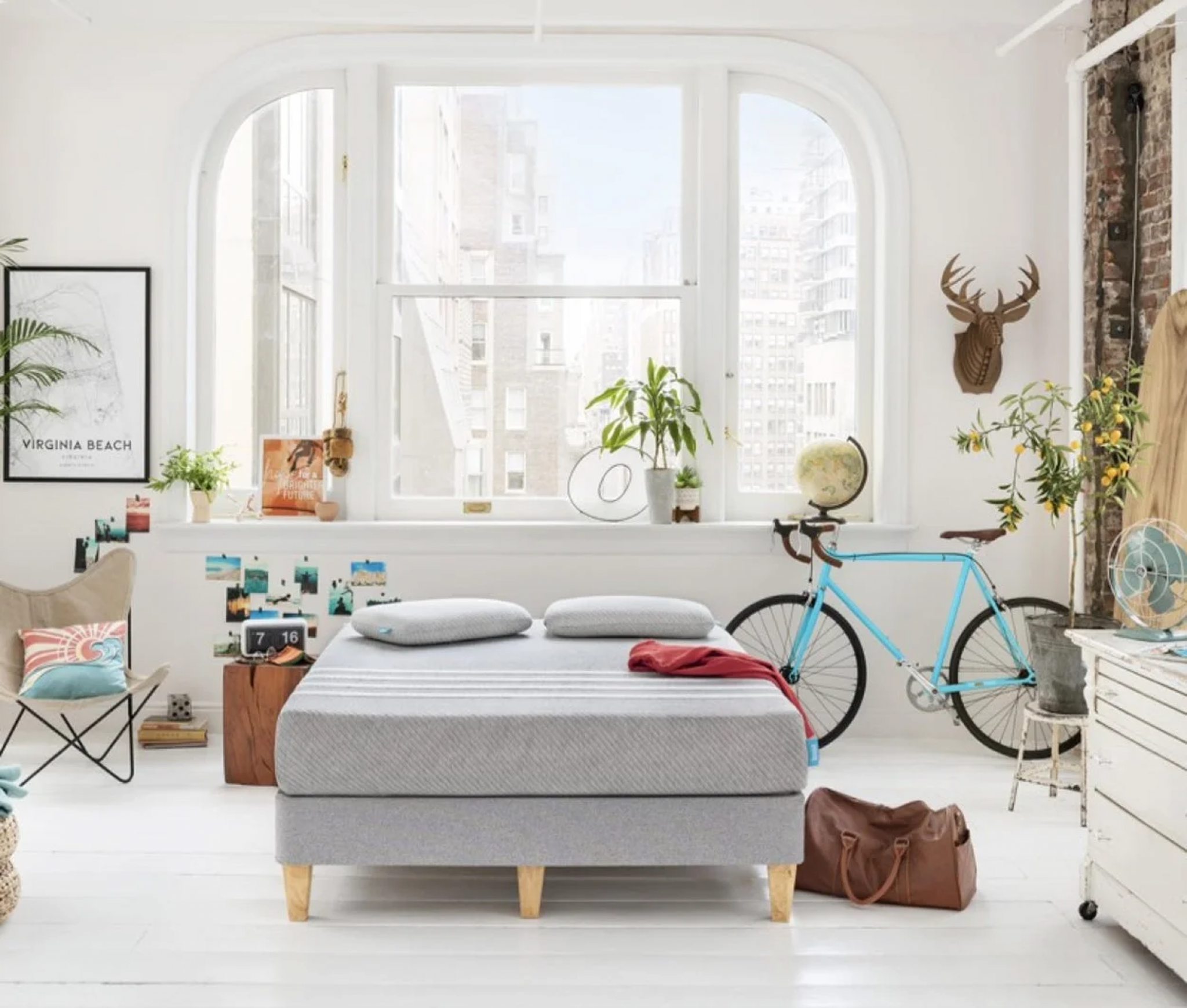 The Leesa mattress is the culmination of the knowledge gained over the years by a team of experts. It is the product of the team members' collective experience, which includes an orthopedic surgeon, a polyurethane foam manufacturer, and a sleep technologist. Each of these individuals has been instrumental in the creation of the mattress.

Known for its unique mattress that features a hybrid design, the Original mattress is an excellent choice for those who prefer memory foam but want the option of support from a traditional coil system. While the Leesa Original mattress is considered a medium-firm mattress, it is a good fit for most sleeping preferences.
This mattress contains three layers, including memory foam, breathable foam, and solid core support. Such configuration provides excellent support for all sleeper types and is also great for cooler sleep.
What I Like:
The Leesa is made from breathable foam and a signature core support system that delivers the perfect mix of bounce and support.
This is a comfortable king-size mattress on a budget.
---
Buyer's Guide
Larger mattresses offer a lot of benefits, but they aren't for everyone. When you're ready to move to a king-size bed, you should consider all the factors before making a decision. The most significant benefit of king-sized mattresses is obvious: they are larger and allow you to sleep more comfortably. King-size beds are also suitable for couples or if you have a larger body. So let's deep into the large mattress world and learn everything about this type of mattress.
---
Types of King-Size Mattresses
King-size mattresses are a modern type of bed that offers a lot of comfort and space to sleep in. These mattresses are large, and they are available in different styles.


First of all, I want to mention the materials from which they are made:
These mattresses also have different sizes: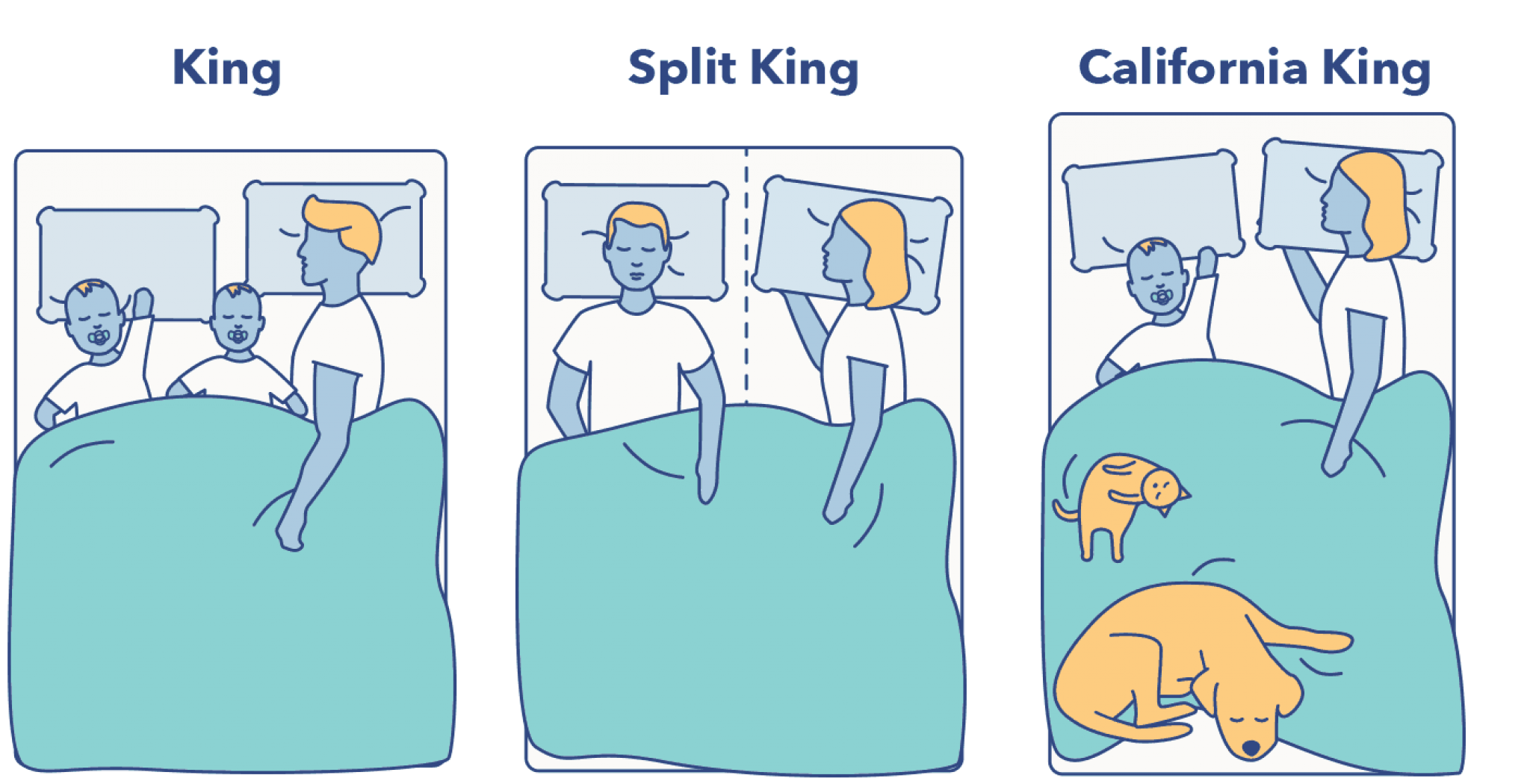 King. This mattress comes in some of the largest sizes available, often measuring 80 inches or longer in length and 60 inches or more in width. This makes for a huge amount of space to fill. I provide plenty of space for a couple to sleep comfortably together.
Eastern King. The Eastern King mattress dimensions are approximately 75″ x 78″ x 9″. This allows them to fit in the same size box spring as full mattresses, and therefore Eastern King mattresses can be used on the same bed frames as full mattresses.
California King. Most California king mattresses are about 84 inches long and 72 inches wide. The extra length makes sleeping more comfortable for taller individuals.
Split King. A split king mattress is separated into two pieces for easier delivery and handling. Split king mattresses are generally 80 inches wide and 75 inches long.
---
What To Look For In A Mattress
When you're in the market for a new mattress, there are many options to choose from. Whether you're in the market for a bed for purely ergonomic reasons or you're also concerned about environmentally-friendly materials, the selection can be overwhelming. Since the mattresses available can have different firmnesses, types of support, and materials, it's challenging to know which factors are most important to consider.
Sleeping Position
Depending on your sleeping position, you should choose the type of firmness of the king-size mattress. For example, a medium-firm bed is good for side sleepers. For those who prefer to sleep on their back, it is better to choose a soft mattress, which reduces pressure and allows you to relax your back, neck, and shoulders. For stomach sleepers, a firmer bed is suitable. It does not allow you to fall as in a cloud.
Mattress Type
King-size is the best mattress for couples. It offers good support to the hips and shoulders. The mattress type is an important thing to be considered when purchasing a king-size bed. If you are still looking for the best mattress type, then a king-size memory foam mattress is probably your best option.
Weight
The king-size bed is one of the most popular bed sizes in the US, and it's easy to see why. If you have space, nothing beats lying down at the end of the day and sinking deep into a soft, comfy mattress. But king-size beds are big and heavy, and that's why it's essential to make sure you have the right one for your home. So you need to consider the mattress's weight before buying.
---
FAQ
What is a king-size mattress?
A king-size mattress is a mattress with dimensions of 76 inches (193 cm) wide and 80 inches (203 cm) long.
Are king-size mattresses better than other sizes?
Yes, they generally offer more space and comfort than other mattress sizes.
Are king-size mattresses suitable for couples?
Yes, king-size mattresses are designed to give couples the maximum amount of sleeping space, making them an ideal choice for couples.
Are king-size firm mattresses too hard?
It depends on personal preference, but a king-size firm mattress can be more comfortable than other size firm mattresses.
Do king-size mattresses provide enough space for couples?
Yes, king-size mattresses offer ample space for couples to sleep comfortably.
Do king-size mattresses last longer than other sizes?
Yes, king-size mattresses generally last longer than other sizes, due to their extra-large area, allowing for consistent support for the entire body.
Are king-size mattresses more expensive than other sizes?
Generally, yes. King-size mattresses are usually more expensive than other mattress sizes due to their size and extra comfort features.
Can king-size mattresses fit in standard rooms?
Yes, king-size mattresses usually fit in most standard rooms, although it is important to measure the room before purchasing to make sure the mattress will fit.
What is the best king-size mattress to buy?
The best king-size mattress to buy depends on individual needs and preferences. It is important to read reviews and compare mattresses to determine which one best suits your needs.
Is it worth buying a king-size mattress over a smaller size?
Yes, if you have the space and budget, a king-size mattress can be worth it for added comfort and space.
How often should I replace my king-size mattress?
A king-size firm mattress should typically be replaced every 8-10 years, or sooner, if it shows signs of wear and tear.
---
The Bottom Line
I'm sure you'll agree that finding the right mattress is a difficult task, and I hope this article has helped you better understand what makes for an excellent king-size bed. For a quick and easy overview of all the mattresses I reviewed in this article, take a look at the list above, where I've summarised the best king-size mattresses on the market.
Also, I hope that the information provided in my buyer's guide will help you when choosing the best king-size mattress for your home.