Brief: Best Orthopedic Mattresses
Introduction:

Importance: Orthopedic mattresses provide support to alleviate pain in pressure points, essential for those with joint, back, or neck pain.

Top Orthopedic Mattress Brands:

Saatva Classic Mattress: Offers lumbar zone support for spinal alignment.
Snuggle-Pedic Original Ultra-Luxury Hybrid: Delivers pressure relief with a hybrid design.
Helix Dusk: Features a breathable cover and a four-layer design for comfort.
Nectar Memory Foam Mattress: Known for its cooling effects and supportive memory foam.
DreamCloud Premier Mattress: Provides luxury with memory foam and pocketed coils.

Detailed Reviews:

Saatva: Combines innerspring support with memory foam comfort.
Snuggle-Pedic: Offers a balance between firm support and plush comfort.
Helix Dusk: Tailored for various sleepers with edge support and cooling technology.
Nectar: Has a quilted cover and gel-infused foam for temperature control.
DreamCloud: Features a luxury build with a balanced medium-firm feel.

Buyer's Guide:

Consider firmness, motion isolation, and edge support for optimal orthopedic support.

FAQs:

Orthopedic mattresses are not always firm; they come in various firmness levels for tailored support.
Suitable for those with musculoskeletal complaints.
They offer benefits like enhanced support, spinal alignment, and muscular relief.

Conclusion:

An orthopedic mattress is crucial for those needing extra support due to medical conditions.
They are typically more expensive due to specialized design and materials.
Choose sheets made of natural fibers for the best comfort with an orthopedic mattress.
If you have ever slept on a mattress with a sagging middle, then you are probably familiar with the pain that a mattress can cause. With a sagging bed, your weight is redistributed unevenly across your body, and this can cause pressure points that lead to back pain. The best orthopedic mattress is designed to support your body evenly so that you can have a better night's sleep.
They are ideal for people with arthritis or other medical conditions that cause joint pain and back or neck pain. An orthopedic mattress is designed to be used by someone who has an existing medical condition. It is a mattress that helps relieve pressure points to help reduce pain and increase comfort.
---
Top 5 Best Orthopedic Mattresses Brands
#1
Get 10% off
Saatva mattress is a handcrafted mattress made in America with care and pride, using only the highest quality.

It is features certified eco-friendly materials.

Lumbar zone support layers ensure healthy spinal alignment and Relief for achy backs and joints.
Trial period: 180 nights

Warranty: 15-year warranty

Shipping:
Free in-room delivery & setup

Firmness:
5-7/10

Price range: $$$$$

Type: Innerspring
We recommend this mattress for the following sleepers:
Get 10% off
---
The right mattress can be beneficial to your health because it can help prevent muscle and joint aches and pains. The right mattress can also reduce the risk of developing a painful condition called Sleep Apnea.


Those who suffer from sleep apnea stop breathing while they sleep for short periods and can have a hard time waking up. If you have a medical condition and wake up with a sore and achy body, the right orthopedic mattress can alleviate your pain.
While choosing the proper mattress can be difficult, I did all the work and provided the list of the best orthopedic mattresses on the market. Below you can also find vast information about things to consider while shopping for a bed for your comfortable night's sleep.
Just to make your research easier, here are the five best orthopedic mattress brands recommended by chiropractors:
Now, let's get into the detailed reviews and see what mattress fits your needs best!
---
Best Orthopedic Mattresses Reviews
Saatva Classic Mattress
Best Overall
Are you searching for a new mattress? There are many to choose from, especially online, where you have a wide variety of brands and models to choose from. But how do you know you're getting the best mattress for your needs?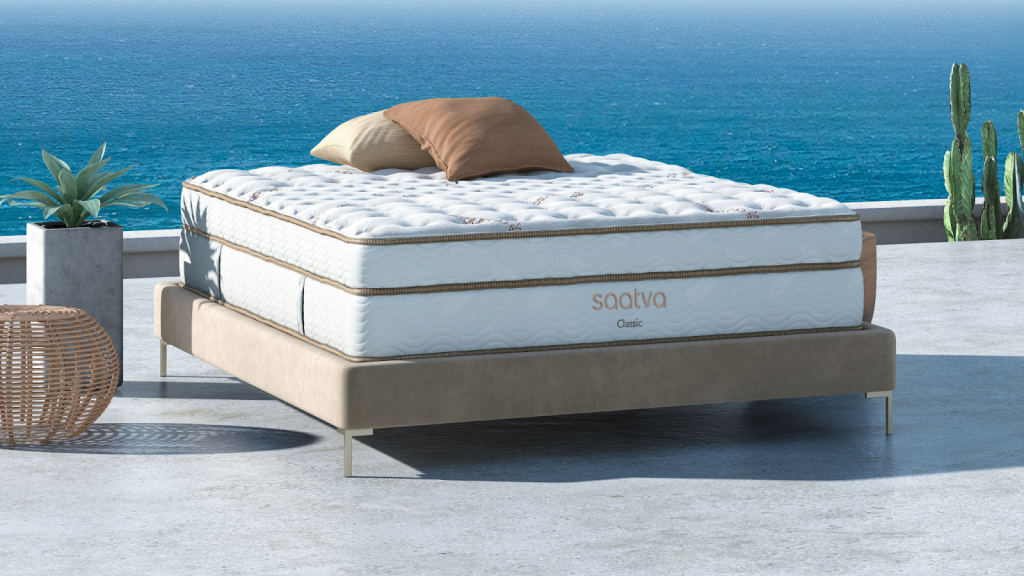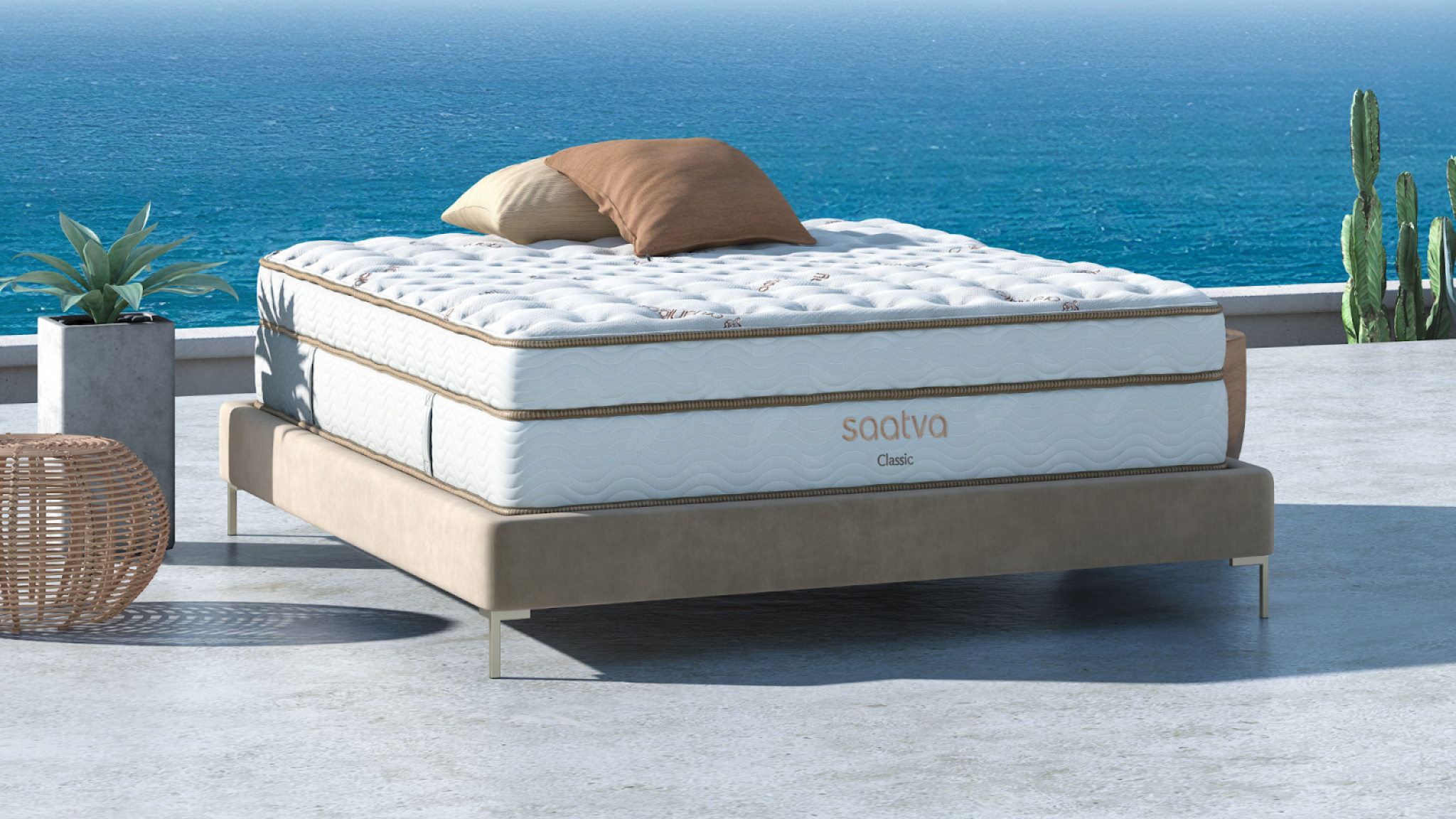 The Saatva Classic mattress is a hybrid innerspring mattress with a layer of memory foam over the top of the coil system. It is an excellent choice for sleepers who aren't looking for a particular firm or soft mattress and want a bed that can provide adequate back and joint pain relief.
The Saatva mattress is a 15-year warranty mattress. That is a big commitment for a manufacturer to make, yet they do make it. The mattress is made in America. It is a hybrid model, which means it has a coil system and a memory foam top layer. The coil system is designed to provide support to the body.


This mattress provides the perfect equilibrium between the firm and the soft. Those on one side of the spectrum will find that the mattress is firm enough to support the body's needs, while those on the other will find it soft enough to provide the comfort the body seeks.
What I Like:
The Saatva Classic mattress is a hybrid innerspring mattress that combines the best of both worlds: the classic feel of a spring mattress and the support and comfort of a memory foam mattress.
The Classic is a handcrafted mattress made in the USA that features multi-layer foam construction.
---
Snuggle-Pedic Original Ultra-Luxury Hybrid
Best Pressure Relief
The Snuggle-Pedic Original Ultra-Luxury Hybrid Mattress is a mattress that is 10 inches thick and the perfect mattress for any sleeper type. The product was designed to relieve pressure points, improve spinal alignment, and support the body's natural curves. The Snuggle-Pedic is made in the USA with the best quality, Eco-friendly, and V.O.C.-free materials.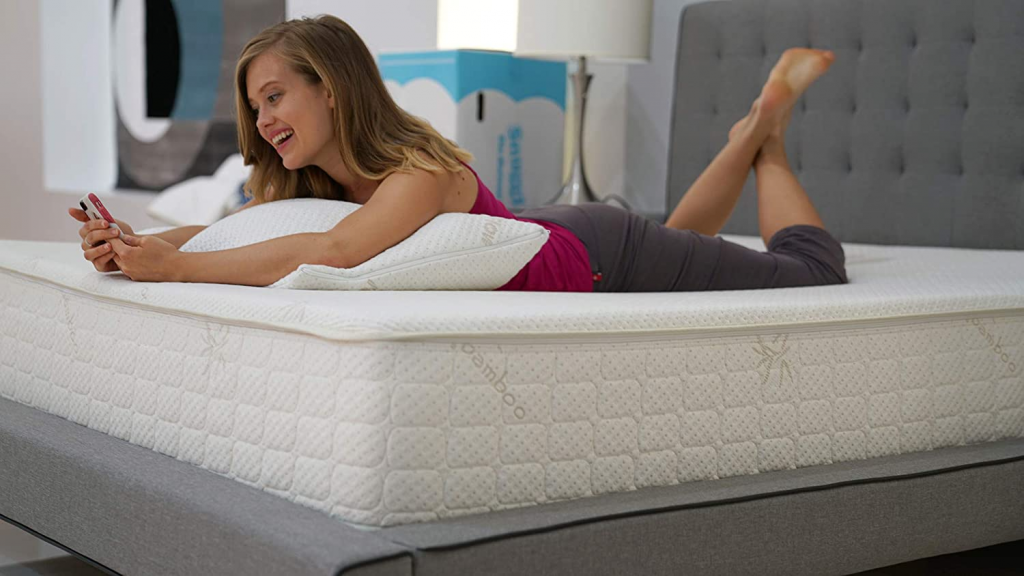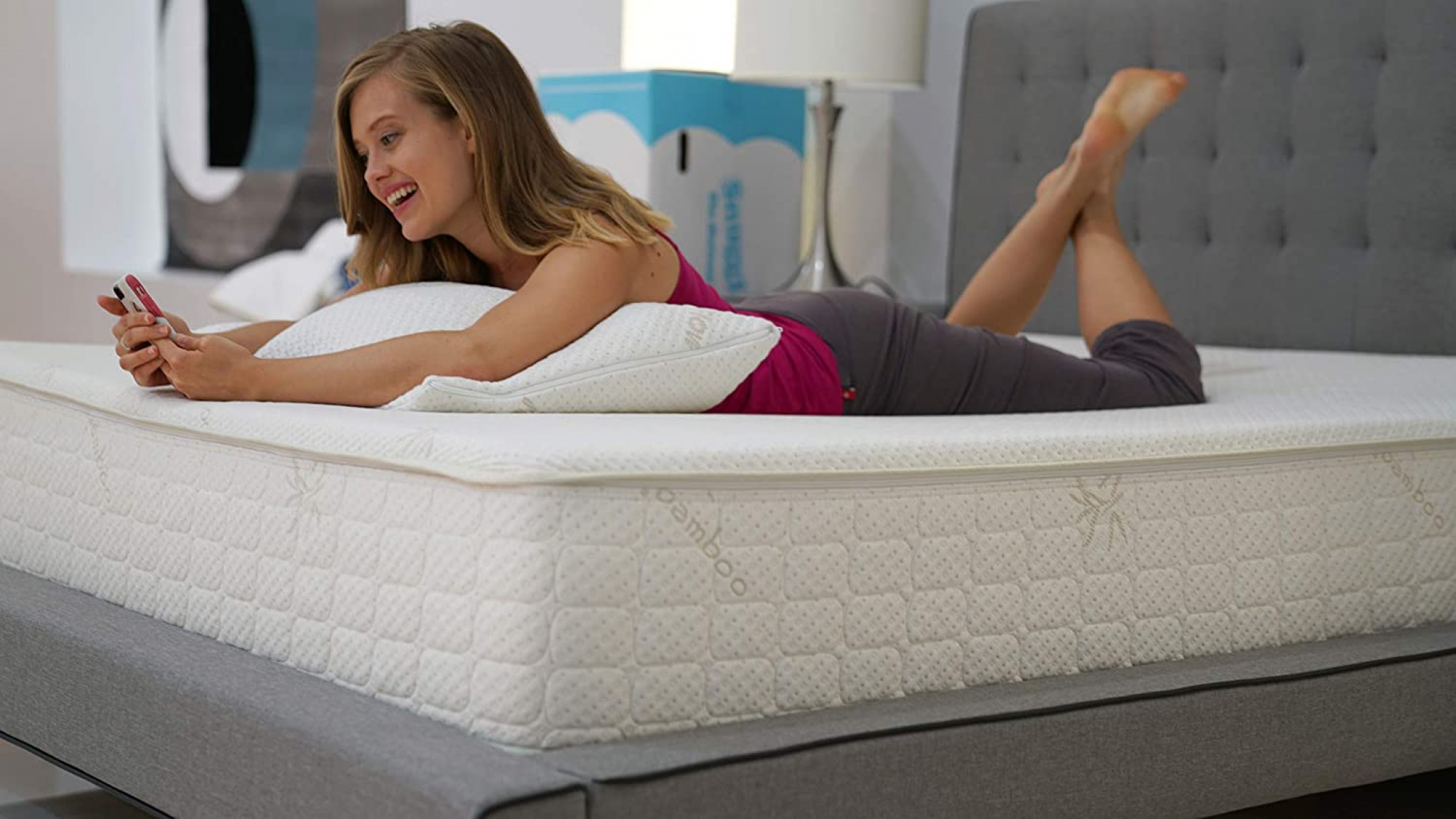 This is a unique hybrid mattress made for a good night's sleep. It has several features that are ideal for most people. The Snuggle-Pedic has a layer of gel memory foam that is highly supportive and comfortable.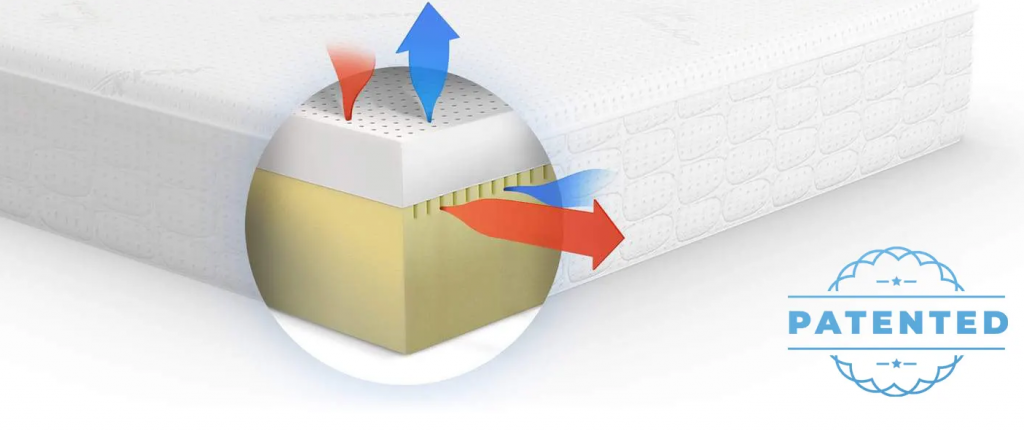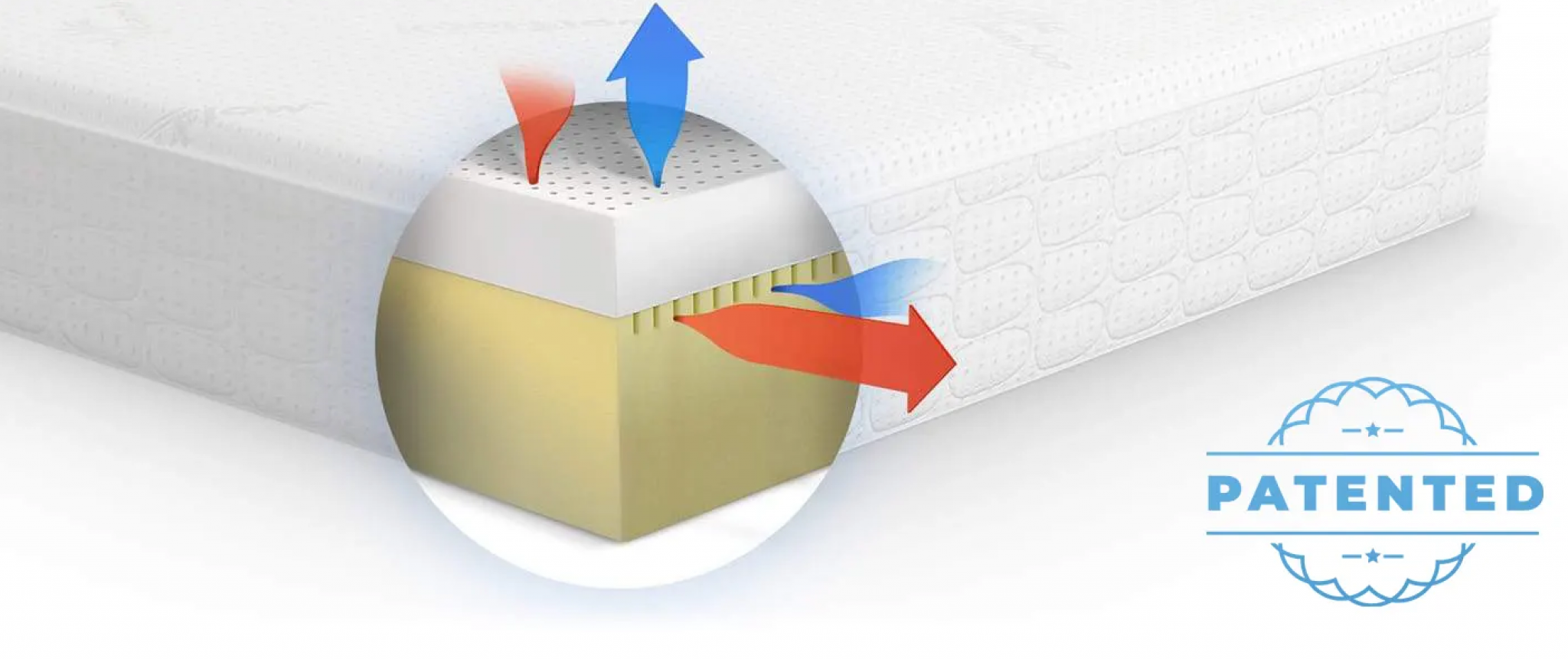 The item also has a layer of ultra-premium foam that also provides maximum durability. The coils inside the mattress are distributed evenly to support the body without causing pressure points. The bed is also specially designed to keep the body from overheating.
What I Like:
The Snuggle-Pedic Original Ultra-Luxury Hybrid mattress is the perfect mattress for those who are looking for a great night's sleep. It has the ideal balance between support and comfort.
The mattress comprises a unique composition of two separate layers that work together to provide the best sleeping surface possible. The top layer is made of gel-infused quilted foam that offers the comfort you would expect from a memory foam bed.
---
Helix Dusk
Best Breathable Cover
The Helix Dusk is a mattress aimed at consumers who want more pressure relief than a traditional mattress without sacrificing support. The product is designed with four layers instead of the standard two. The top layer is a medium-feel comfort layer designed to contour your body.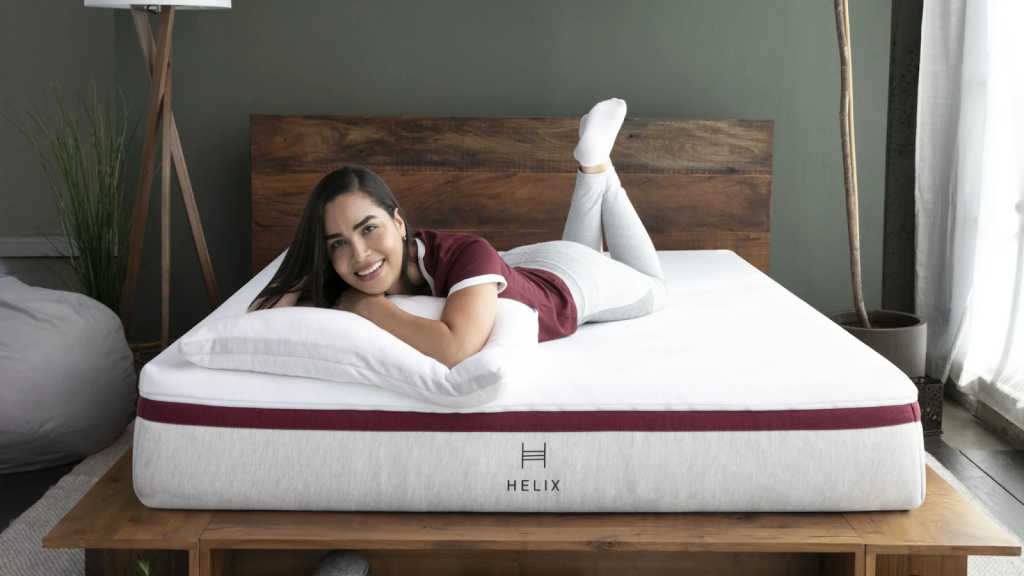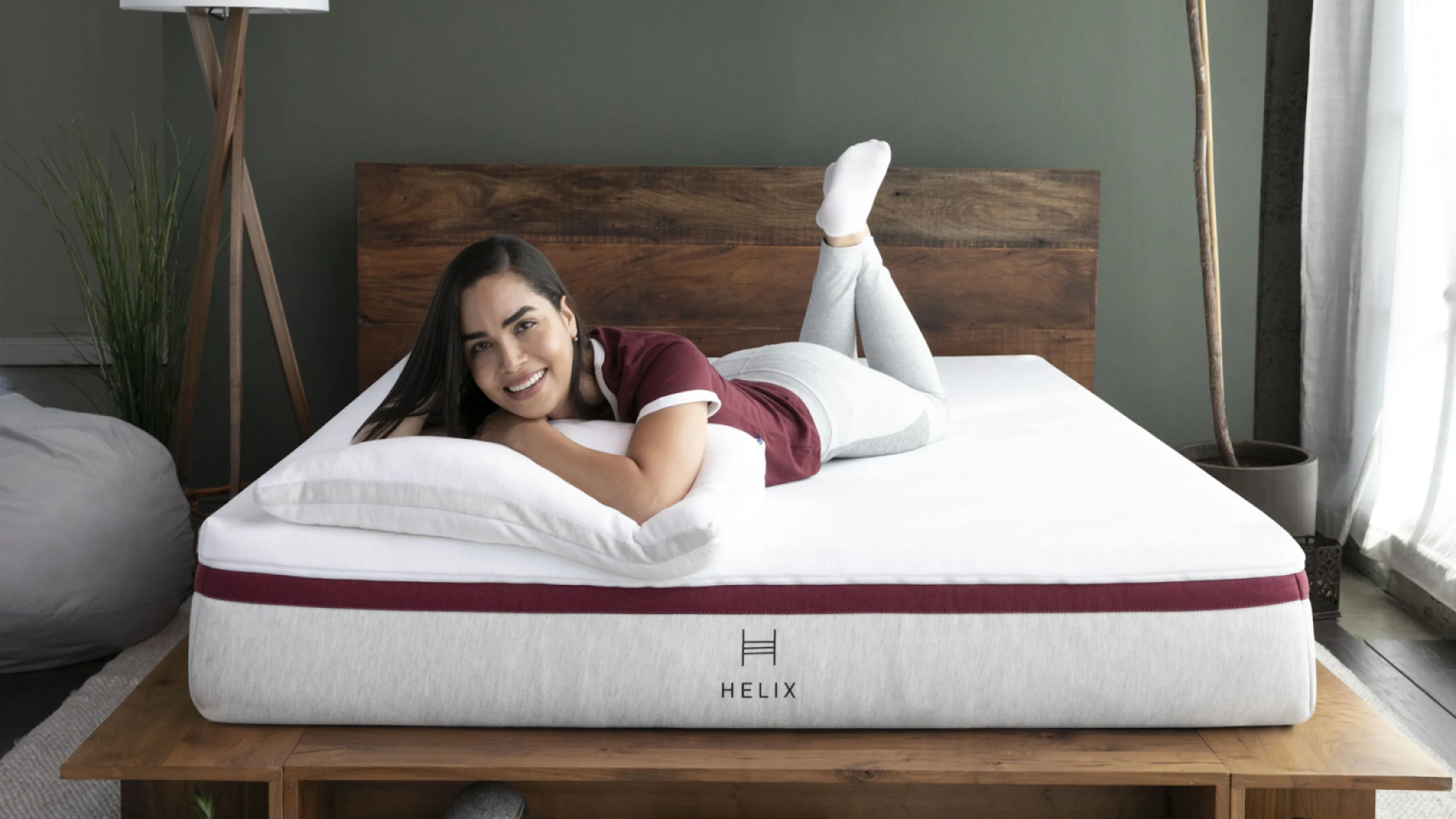 The second layer is made of memory foam, providing pressure relief. The following one is a pocket coil spring system that provides a decent amount of bounce for an innerspring. Then comes the bottom foam layer for maximum support and durability. The result is a mattress that can appeal to back, side, and stomach sleepers and couples.


One of the best features of the Helix Dusk mattress is its edge support. There's no doubt that a bed is great when it comes to providing support that won't collapse when you're sitting or sleeping near the edge. The Helix Dusk mattress is no different, and you'll feel much safer using the entire surface of the mattress without any fear that you might roll off the edge.
What I Like:
The Helix Dusk was designed with a variety of factors that both comfort and support. The pressure relief layers were also made in a way that was meant for you to be perfectly comfortable even if you were a back, side, or stomach sleeper.
Helix mattresses have found a way to solve the problem of couples not finding a mattress that fits their needs. The Helix Dusk's newest model is a mattress that works to meet every sleep position's needs.
---
The Nectar Memory Foam Mattress
Best for Back Sleeper
Nothing feels better than a good night's sleep after a long day at work, and that's why mattress review blogs are such a great idea. Mattresses that you sleep on every night should be comfortable enough to support your back and the pressure points in your body, so you wake up feeling energized.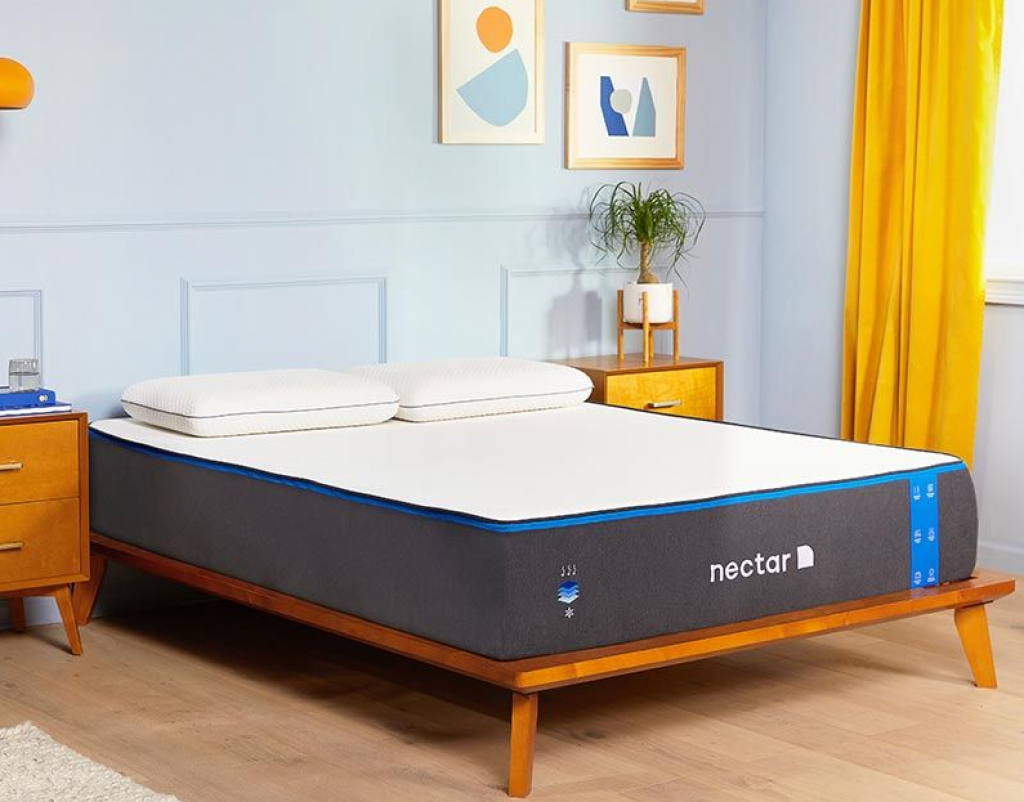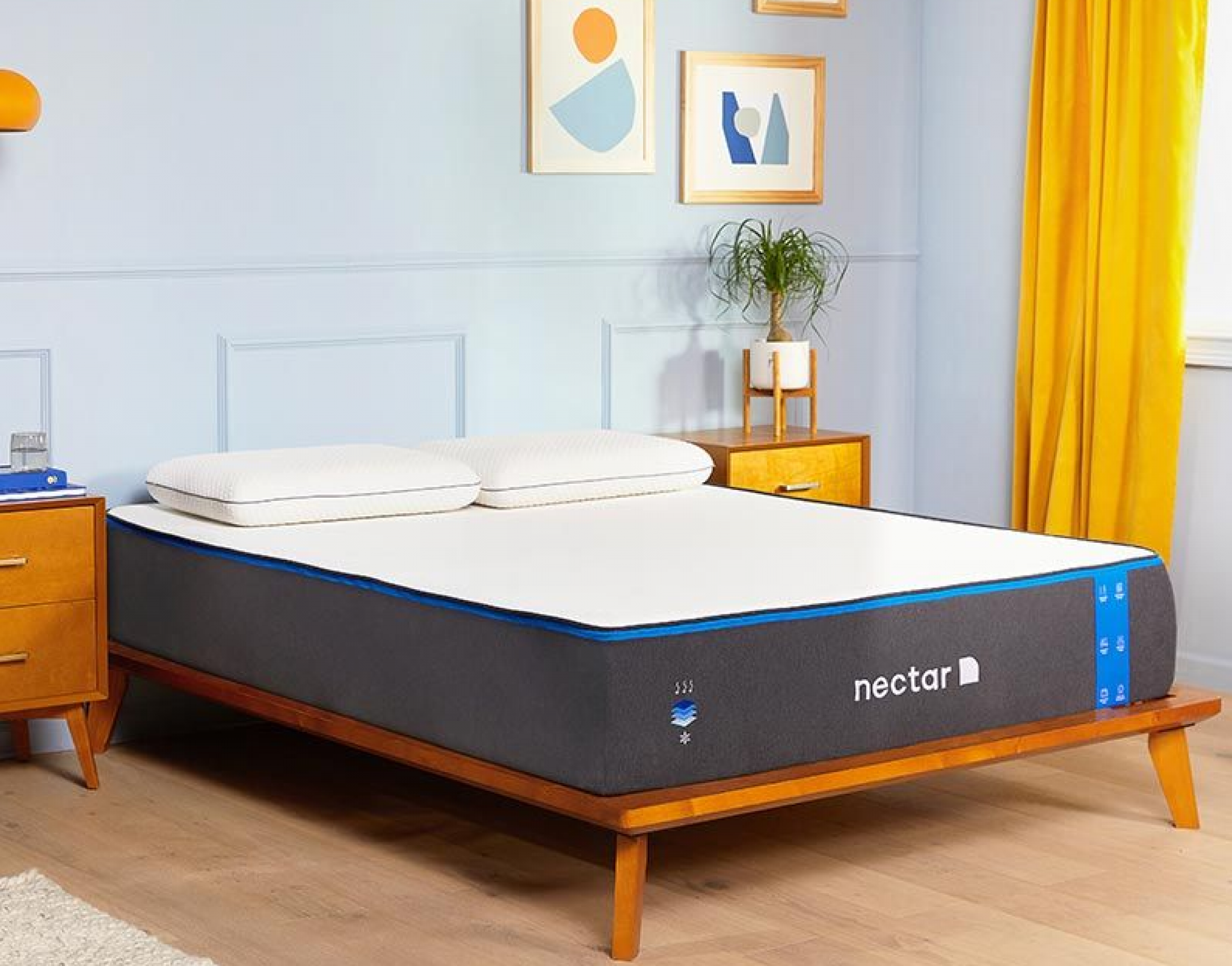 Many online mattress companies offer trial periods, so you can try their mattresses out for a few months and decide how you like them before buying. One of these mattress brands is Nectar.
The Nectar is a 12-inch memory foam mattress that is crafted from premium materials. Its quilted breathable cover helps keep your sleeping temperature regulated. Furthermore, it has a gel-infused memory foam that gently cradles you to sleep.


If you are a person who is looking for a mattress that has a significant cooling effect, then The Nectar is the right mattress for you. It has a temperature-sensitive memory foam that helps it to keep your body temperature regulated.
The mattress comes with great comfort unmatched by any other bed on the market today. It is also supported by its top-notch material that is beautifully fused with the latest gel memory foam and pocketed coils technology that is made to withstand the extensive durability test that the mattress has undergone. Ultimately, you will get up with a fresh feeling every morning once you have slept on this mattress.
What I Like:
The Nectar mattress is a memory foam mattress that is crafted from premium materials and provides cooling comfort, supportive pressure relief, and a breathable cover.
It is designed to give you the support and comfort you need for healthy, restful sleep.
---
DreamCloud Premier Mattress
Best Value
Sleep is one of the most important things we do. Our minds and bodies need it to function at their best. When we sleep, our bodies release growth hormones and repair cells, tissues, and organs. Memory improves, and skills are reinforced. Moods improve, and depression may lift. That's why getting a good night's sleep is so important.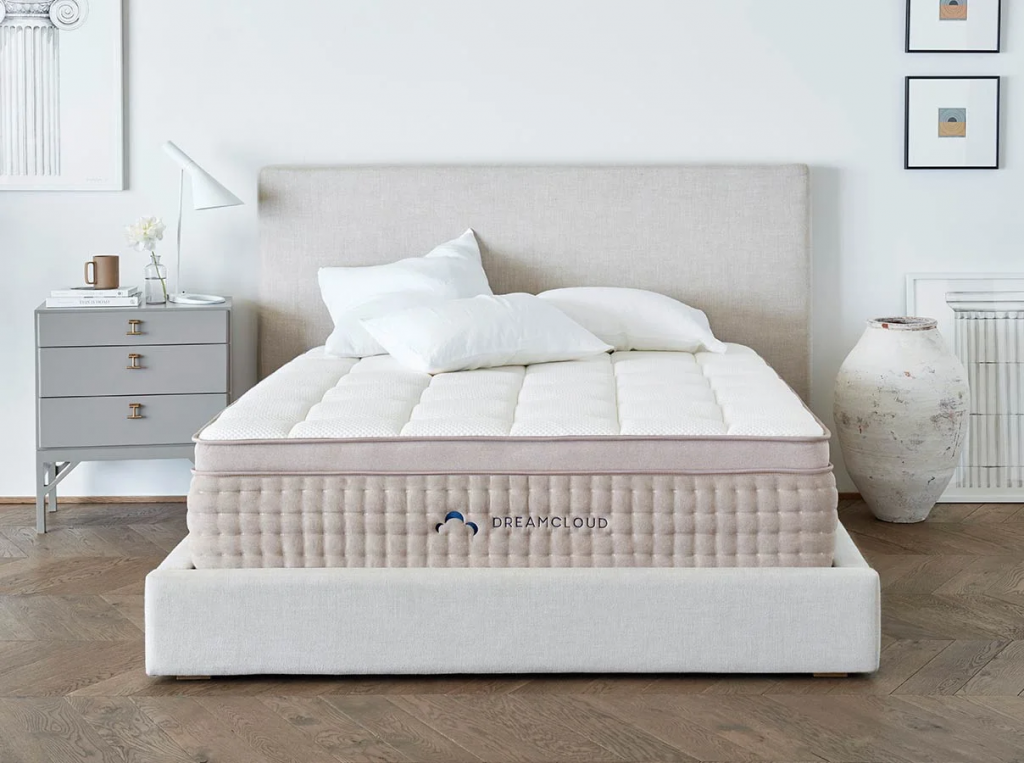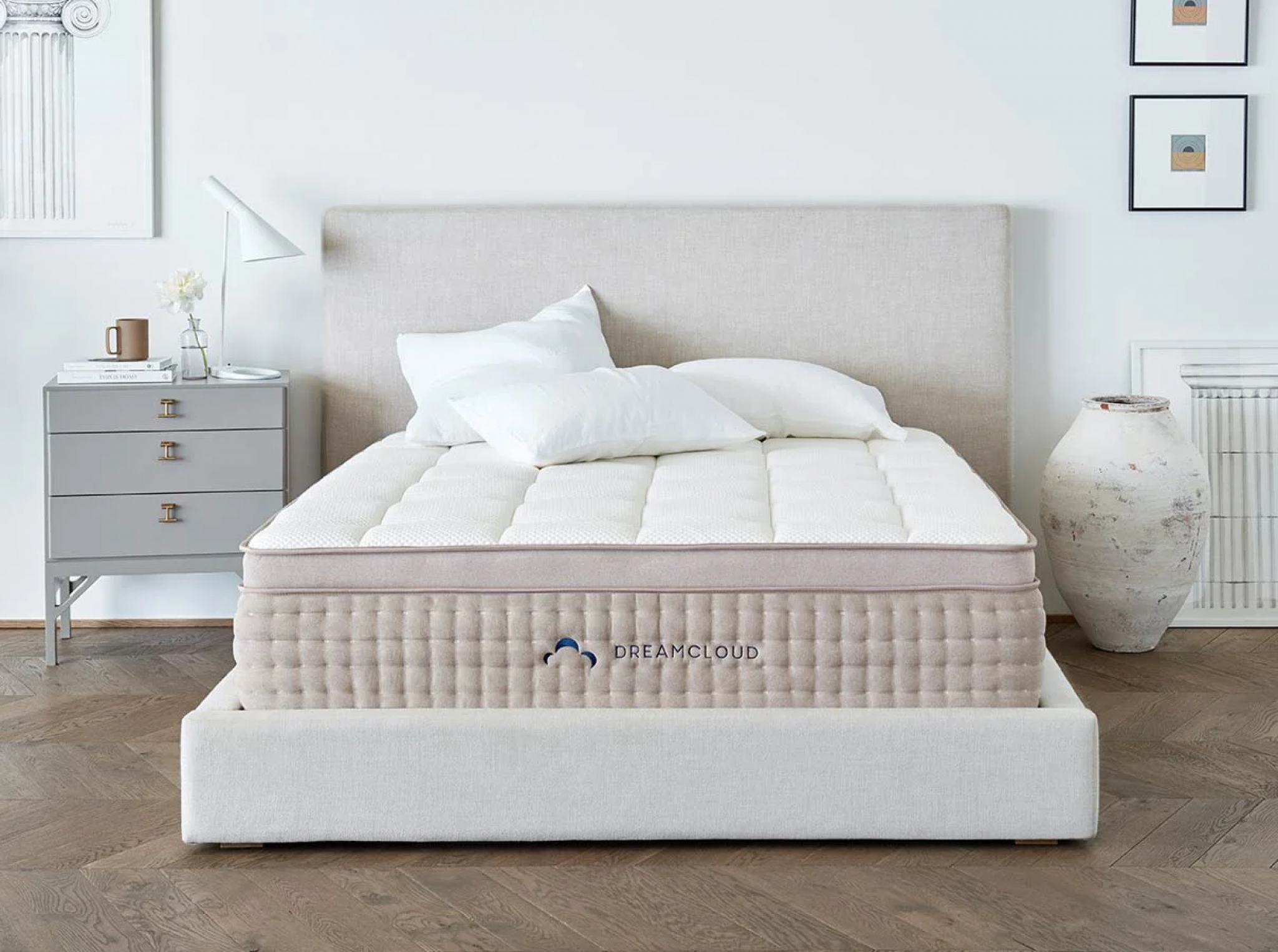 However, finding a good mattress can be a bit of a challenge. Most mattresses are created equal, but there are a few out there that stand out. One such mattress is the DreamCloud Premier mattress. But what makes it different from the crowd?


The DreamCloud is the company's premier model, with top-of-the-line features. It is a hybrid mattress that uses memory foam, springs, and gel layers to provide pressure relief and support. This product is made from high-quality materials. The DreamCloud Premier Mattress is a luxury memory foam mattress designed to provide the ultimate support.
The mattress is made from gel-infused memory foam that provides pressure relief and a cool sleeping surface. The mattress also uses a pocketed coil system which provides support and helps with motion transfer. The product comes with a 365 night home trial and lifetime warranty.
What I Like:
The first thing I noticed about the DreamCloud Premier mattress is its 15″ height. That makes it higher than the average mattress, which means more comfort and support during the night.
The DreamCloud Premier provides a medium level of firmness.
The foam top layer provides both comfort and support for your body. The pocketed coil springs allow the mattress to contour to your body as you move during the night.
---
Buyer's Guide
Buying an orthopedic mattress can be a daunting experience. There are many options, and it can be difficult to distinguish between foam, innerspring, and air mattresses. Here's a complete guide to the types of beds and what to look for when shopping.
---
What Is An Orthopedic Mattress?
An orthopedic mattress is designed to support a person's body while they sleep, helping them avoid pain in their joints, muscles, and back. An orthopedic mattress is made with unique support materials, typically memory foam, which gives you the ideal sleeping position and keeps you in that position all night long.
Such mattresses support your body and allow your muscles and bones to relax and get the rest they need, which is especially good for anyone suffering from arthritis or muscle or bone pain.


But all mattresses are not created equal, and finding the right mattress for your needs can be a big undertaking – especially if you suffer from chronic pain. There are many factors to consider when purchasing an orthopedic mattress, so this guide is designed to help you answer all of your questions.
---
Types Of Orthopedic Mattress
Usually, we don't think about what is inside the mattress or how it will work for us in the long term. There are a few different types of mattresses that you can choose from. The most common selections are innerspring, memory foam, and latex mattresses. But what is the best orthopedic mattress made from? Below you will find the answer to this frequent question.


Pocket Spring Mattress
The pocket spring orthopedic mattress is a type of bed that has been used in the medical field for decades. This mattress type is designed with pocket springs as well, but in a manner intended to help the body in several ways. Not only does the pocket spring orthopedic mattress provide support for those who are afflicted with back pain, but it also provides a layer of comfort that is intended to help those in need of a refreshing night of sleep to be had.
Open Spring Mattress
Open spring orthopedic mattress is a type of spring mattress that utilizes open coils for support. This type of mattress was among the first to appear and by far the most popularly purchased.
What makes open spring orthopedic mattresses better than other mattress types?
The first thing that comes to most people's minds when they hear the term "spring mattress" is the sagging and loss of support that is common in most spring beds.
But with an open spring orthopedic mattress, this is not an issue because the coils are spaced farther apart. They are always in a resting position (unlike some coil mattresses that have coils that are constantly straining), so they can naturally ventilate.
Memory Foam Mattress
A memory foam orthopedic mattress has become a popular mattress for many different types of people. People who suffer from back and neck pain often find relief with a memory foam mattress. People who have trouble getting out of bed in the morning love the comfort memory foam mattress offers. People who have problems with allergies often find that memory foam is hypoallergenic.
Latex Mattress
Latex orthopedic mattresses are one of the most comfortable materials on the market. There has been a huge surge in people looking to buy latex mattresses lately, and for a good reason. They are both environmentally and healthy choices.
Hybrid Mattress
Hybrid orthopedic mattresses have both memory foam and springs in them. These mattresses are designed to keep you cool while reducing pressure points. These mattresses can also reduce partner disturbance because the springs and foam work together to eliminate motion transfer. Hybrid mattresses are available in a different firmness, so you can choose the one that's right for you.
---
How To Choose A Good Orthopedic Mattress?
When trying to choose among the seemingly infinite options for orthopedic mattresses, it's essential to consider what will determine whether a mattress is right for you. Is it the mattress's comfort, the price, or perhaps the mattress type or brand? All these are essential factors, but maybe the most important factor is your personal preferences.
Firmness
Mattress firmness is a subjective thing and can vary from person to person. But what exactly does it mean? If a mattress is too hard, it can cause awakening during the night and cause some people to develop back pain. The American Chiropractic Association states that 87% of the population suffers from back pain at some time in their lives. To avoid back or neck pain, you need to choose the orthopedic mattress with the firmness you need.


Motion Isolation
Motion isolation can be defined as minimizing movement transfer through the mattress and into the sleeping surface. Beds with lower motion isolation will experience more disturbance as other areas of the mattress move. Mattresses with higher motion isolation will experience less disturbance as other areas of the mattress move.
Factors affecting the motion isolation of a mattress include the amount of motion at the sleep surface, the motion transfer through the mattress layers, and the motion isolation of the sleep surface.
Edge Support
If you have back or neck problems, you might be looking for a mattress with extra edge support to help keep you in place through the night. While supportive mattresses generally have firmer surfaces, not all of them provide enough edge support to keep you from feeling like you are sliding off the side of the product. If edge support is an important factor in your mattress search, you need to look for products with such features.
---
FAQ
What is an orthopedic mattress?
An orthopedic mattress is a type of mattress specifically engineered to support the body while providing pressure relief and optimal spinal alignment. 
Does an orthopedic mattress mean a "firm" mattress?
Not necessarily. Orthopedic mattresses range from soft to firm in terms of feel and can be tailored according to your specific needs for comfort and support.
Who should consider an orthopedic mattress?
An orthopedic mattress may be a great choice for those with chronic back pain, joint or muscle pain, or other orthopedic issues.
Is an orthopedic mattress the same as a memory foam mattress?
No, not necessarily. Memory foam is a type of mattress foam that can be used in an orthopedic mattress but not all memory foam mattresses are considered orthopedic mattresses.
What are the benefits of an orthopedic mattress?
Orthopedic mattresses offer greater support for the body, better alignment for your spine, and faster recovery time for sore muscles. They are designed to be comfortable but also supportive. 
Are orthopedic mattresses expensive?
The cost of an orthopedic mattress varies greatly and depends on the model, brand, size, and material. Generally, orthopedic mattresses are more expensive than conventional mattresses.
What kind of sheets should be used with an orthopedic mattress?
When buying sheets for an orthopedic mattress, look for sheets that are made of natural fibers such as cotton or linen, as these materials are better for breathability and wicking away moisture.
---
The Bottom Line
Mattress shopping is a long and exhausting process, and even after you decide which type of mattress to buy, you still have to choose which model to purchase. There are plenty of factors to consider, which is why I put together this handy guide to help you make an educated decision when it comes time to buy. I hope that using this guide will help you narrow down your search and find the best orthopedic mattress for you!