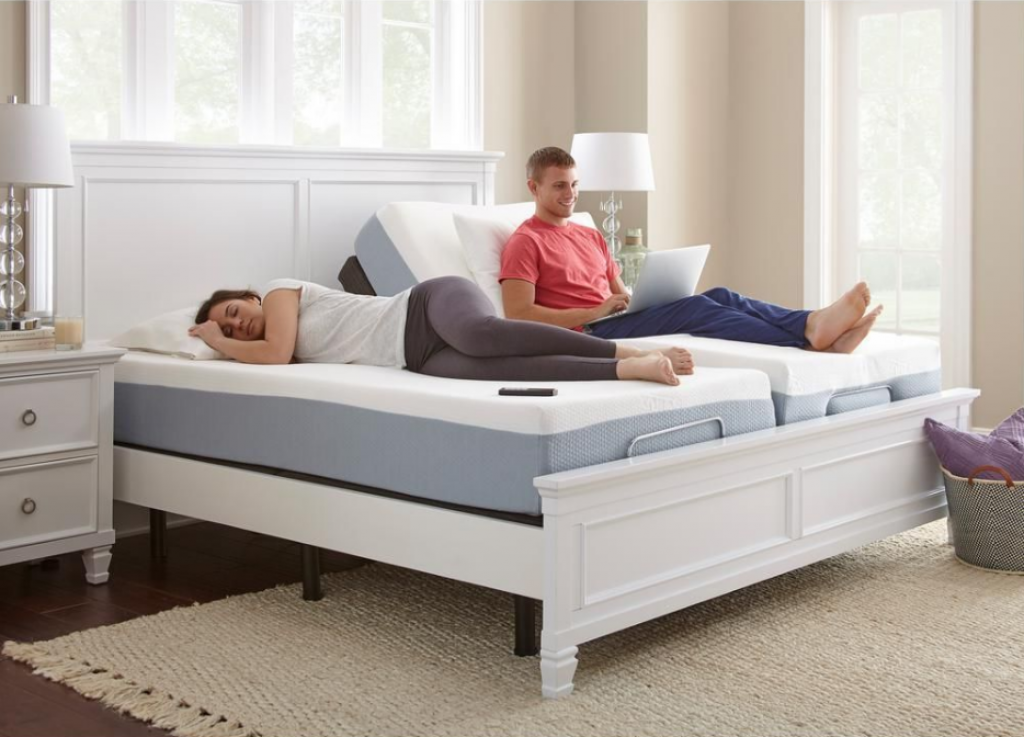 The adjustable bed base is gaining popularity and is beginning to be seen in more and more homes. Not only are they convenient, but they're also very comfortable. This article will give you some helpful information on the best mattresses for adjustable bases on the market today.
---
Top 5 Best Mattresses for Adjustable Base
#1
Saatva Solaire Adjustable Mattress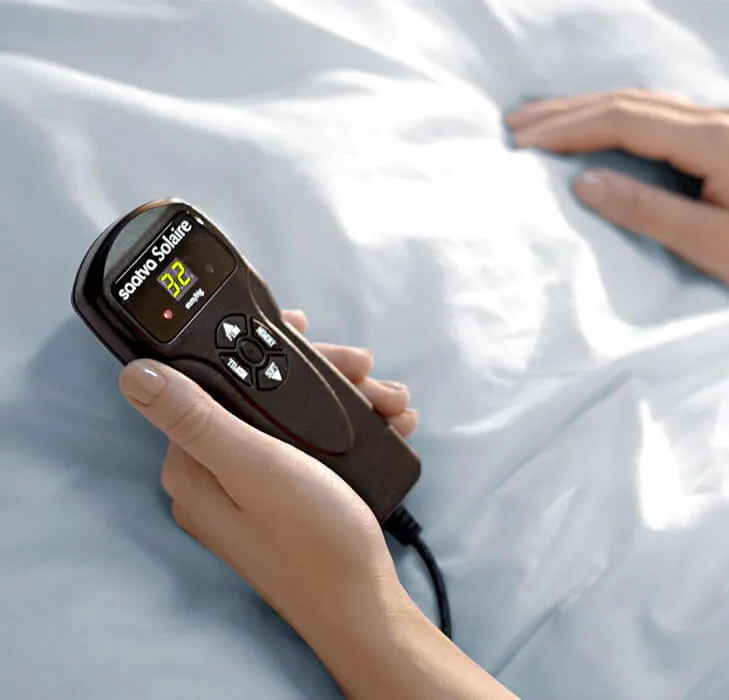 Get $225 – $525 off
Great for alleviating mild snoring, relaxing with a good book, or watching TV at the perfect angle.

Luxurious comfort mattress provides pressure-relieving support and suits those who sleep hot.

A mattress with a unique cooling layer is designed to keep you at an optimal temperature for excellent sleep comfort. It is engineered to deliver more breathability, contouring, and enhanced support for back pain.
Trial period: 365-night home trial

Warranty: Lifetime warranty

Shipping:
Free in-room delivery & setup

Firmness:
50 firmness options

Price range: $$$$$

Type: Other
---
When you buy a new adjustable bed, you will want to make sure you get the best mattress for an adjustable base. Not every mattress will work with adjustable beds, and there are some important things you need to consider when choosing your mattress.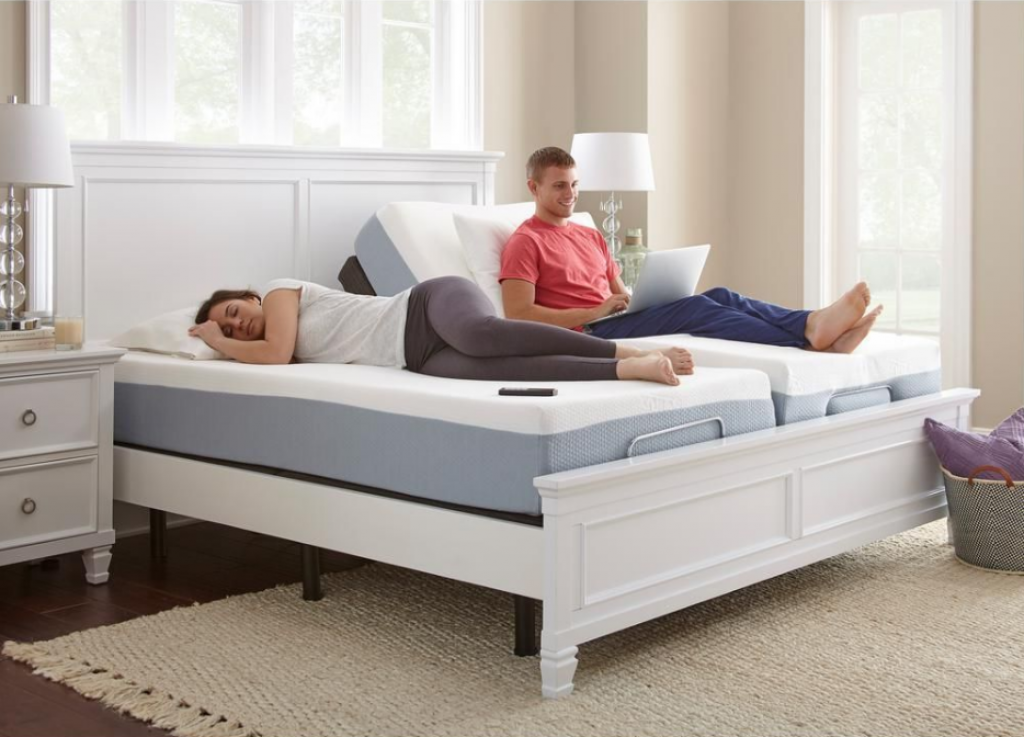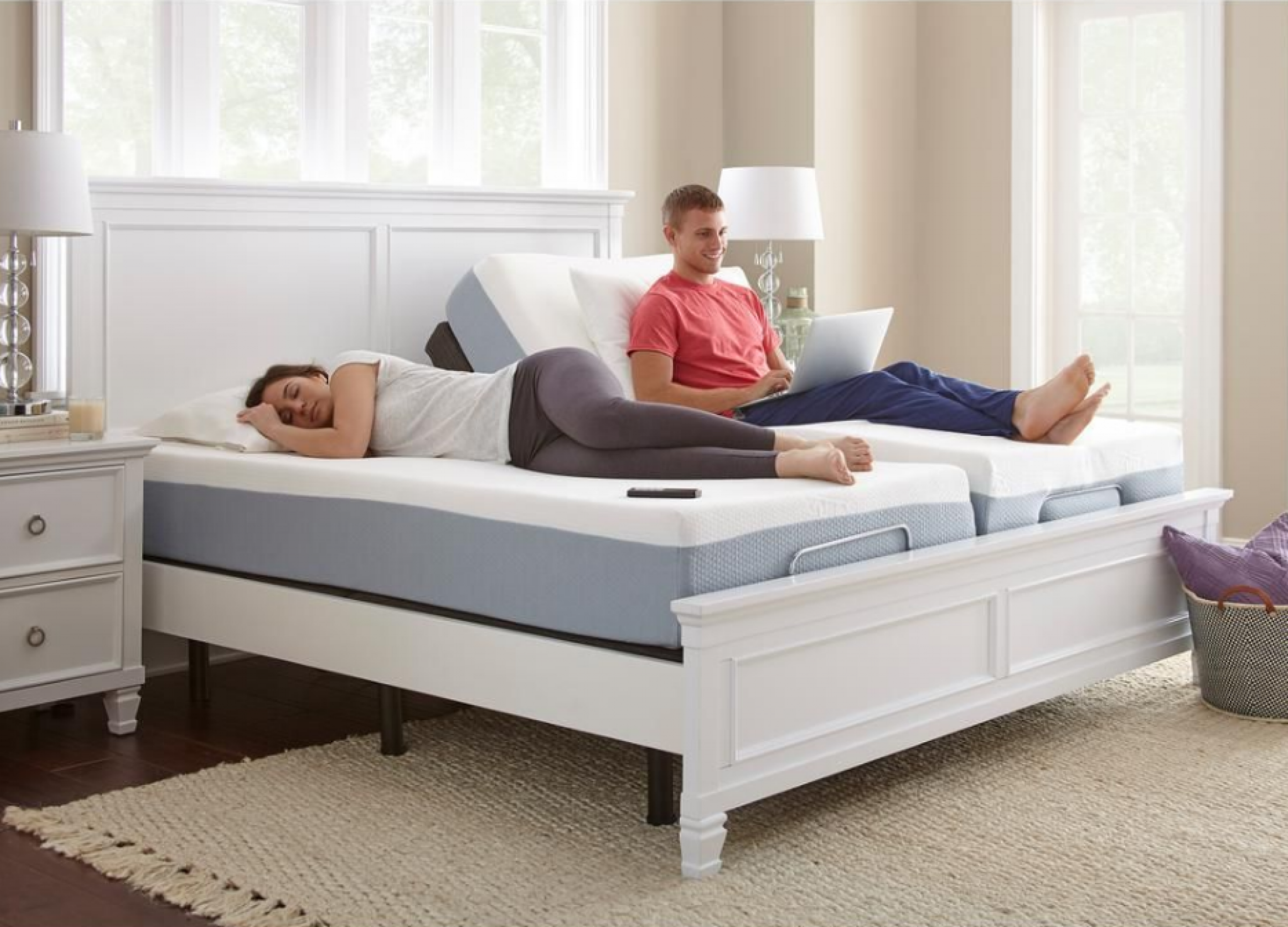 I gained much information about the best mattress for an adjustable base and things to consider before buying new sleeping stuff. But first, I want you to check my picks, my top 5 mattresses for adjustable base.
---
Best Mattresses for Adjustable Base Reviews
Puffy Lux Mattress
Best Overall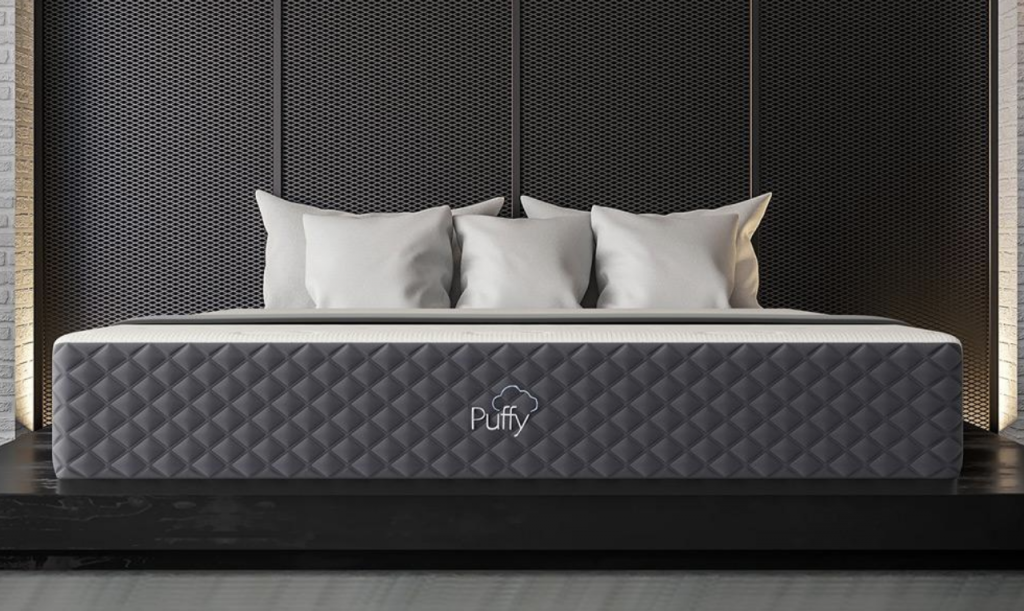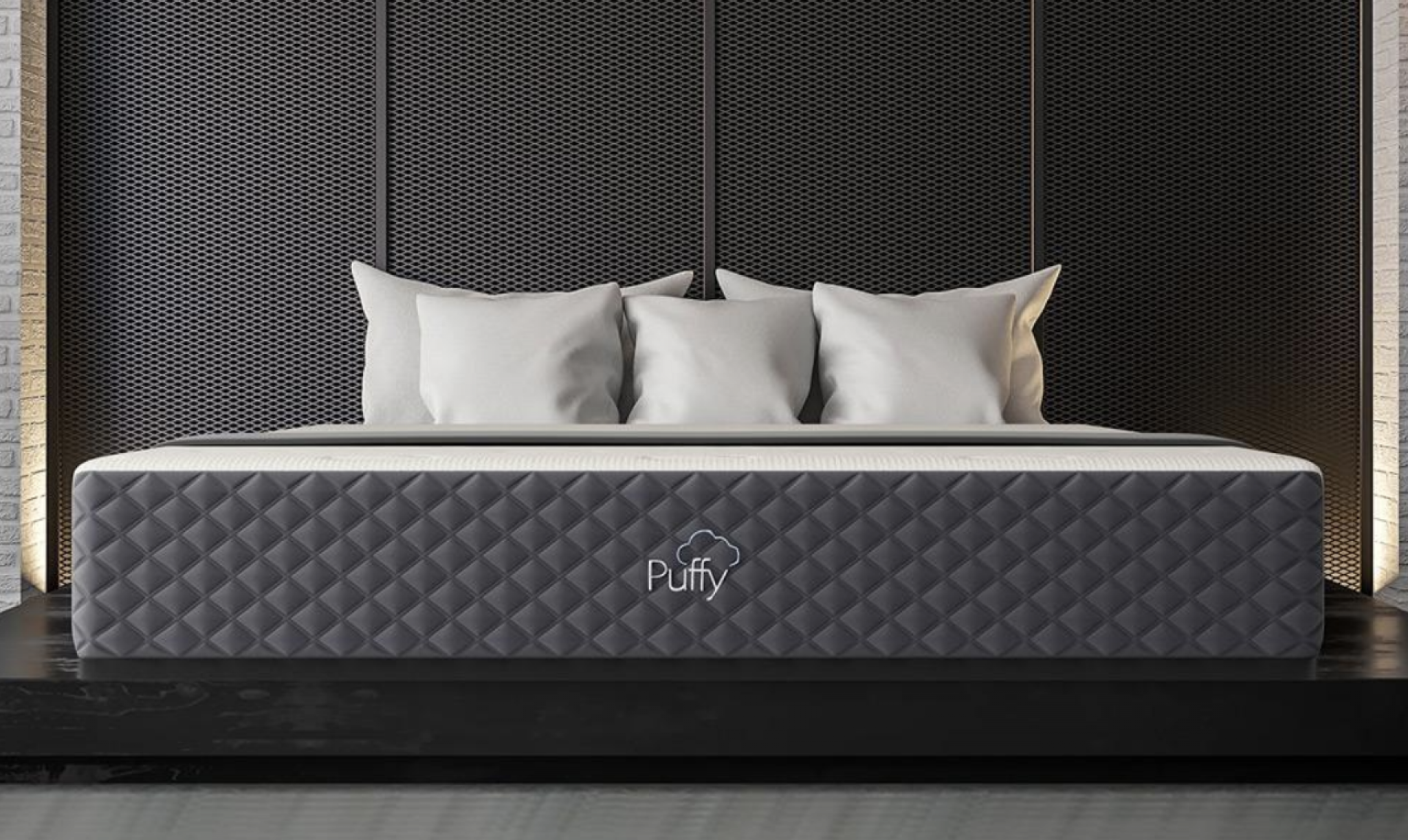 In terms of objective quality, Puffy Lux is a great mattress. In fact, it's one of the best I've reviewed this year. It's a great choice if you are in the market for a mattress that will be comfortable for all sleeper types and will help you sleep cooler than you would on most other memory foam mattresses.
The mattress is also very durable and should last you well into your retirement years. This is one of the few beds that I don't mind recommending to buyers who have had problems getting a good night's sleep in the past.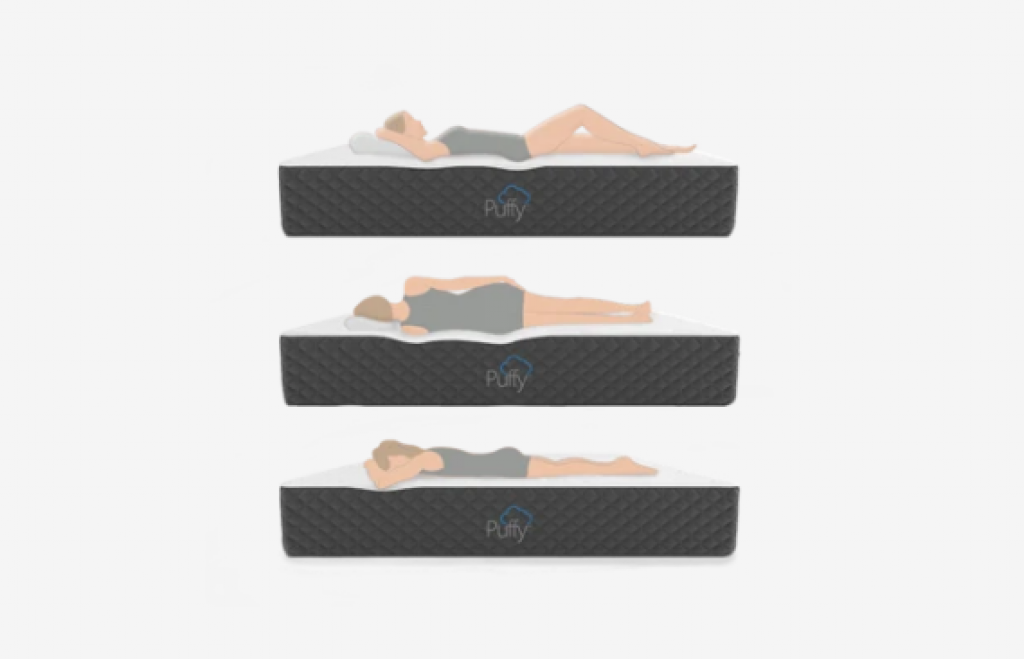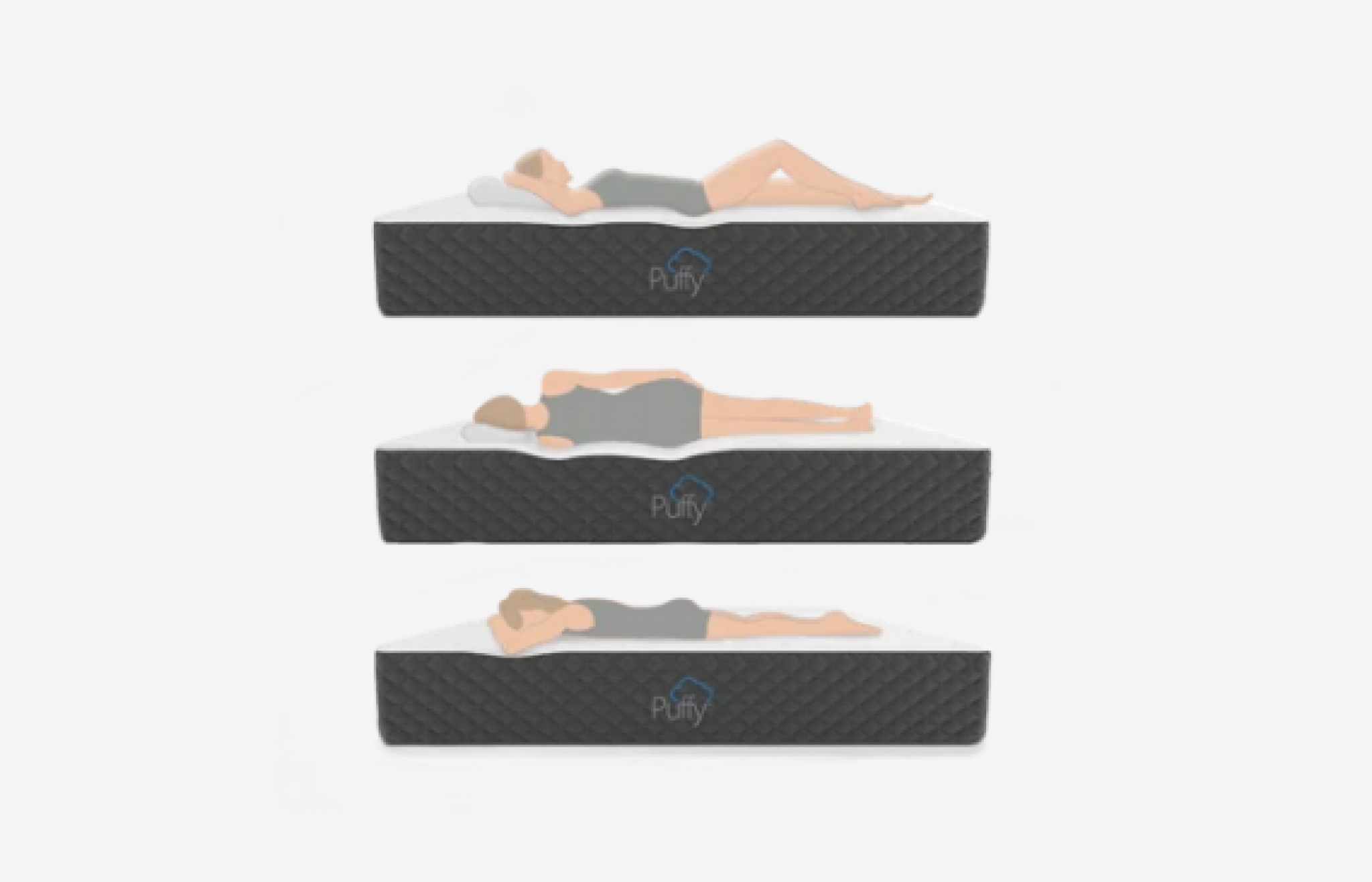 The Puffy Lux is a luxury mattress designed for those looking for a bed that will last a lifetime. Created with the average American in mind, the Puffy Lux has been built with multiple support levels to accommodate every body type and sleeping position.
From the back and stomach sleepers to the side and cool sleepers, the Puffy Lux takes into account all the different sleep types. Each Puffy Lux mattress comes with a 101-night sleep trial as well as a lifetime warranty. This mattress will not break the bank either, with its affordable price tag, shipping free to your door via FedEx.
What I Like:
The mattress is made of body-adapting dual-cloud foam and features a breathable and cooling cover.
The Puffy Lux is also hypoallergenic, stain-resistant, and designed to work with any frame or surface.
---
Saatva Solaire Adjustable Mattress
Best Value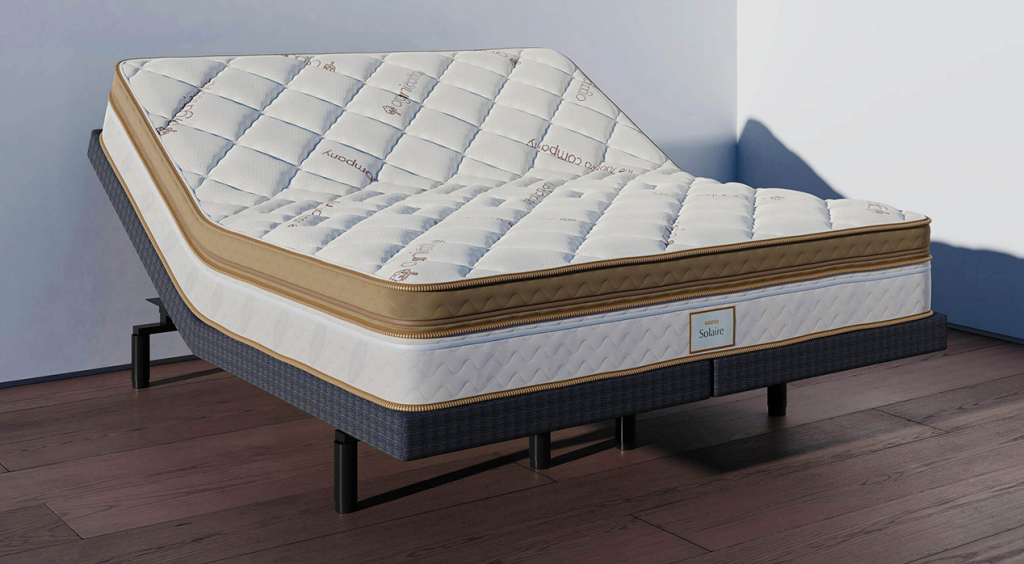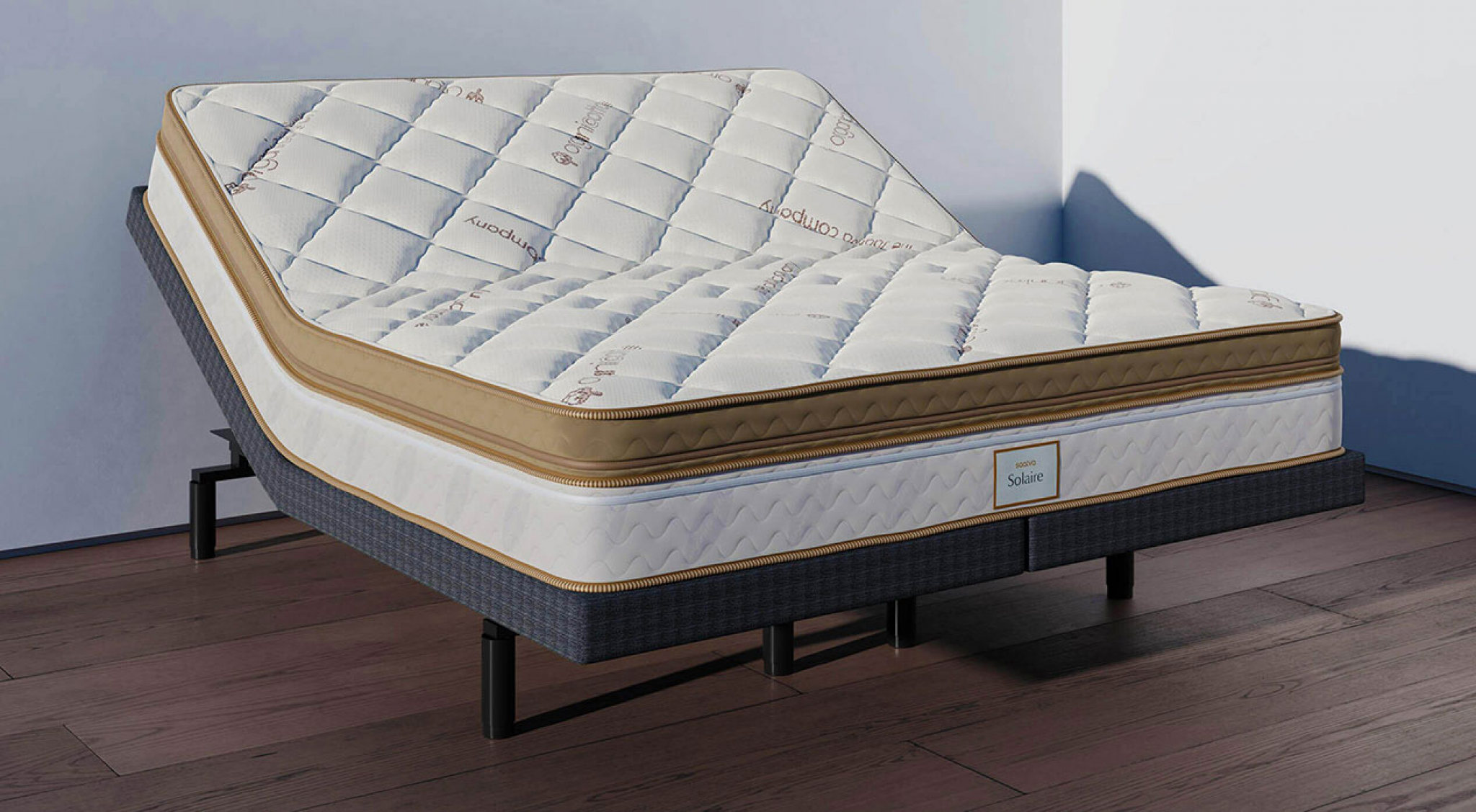 The Saatva Solaire Adjustable Mattress is one of the most unique adjustable mattresses on the market, and that's because of its hybrid design. Saatva combines 5-zone Talalay latex and memory foam in one bed, which means you get the best of both worlds.
This mattress is a great option, offering luxurious comfort, precision performance, and the ability to make your dreams come true with 50 different firmness options.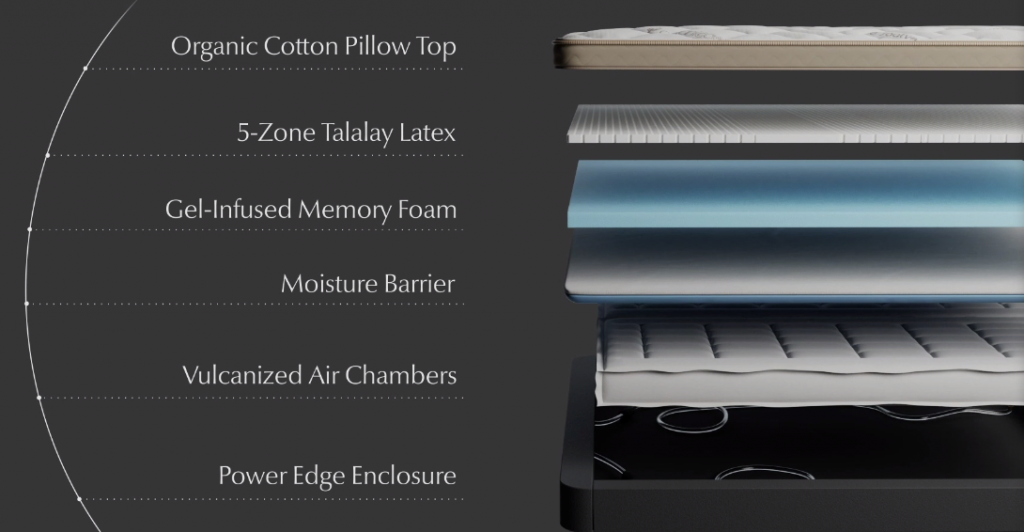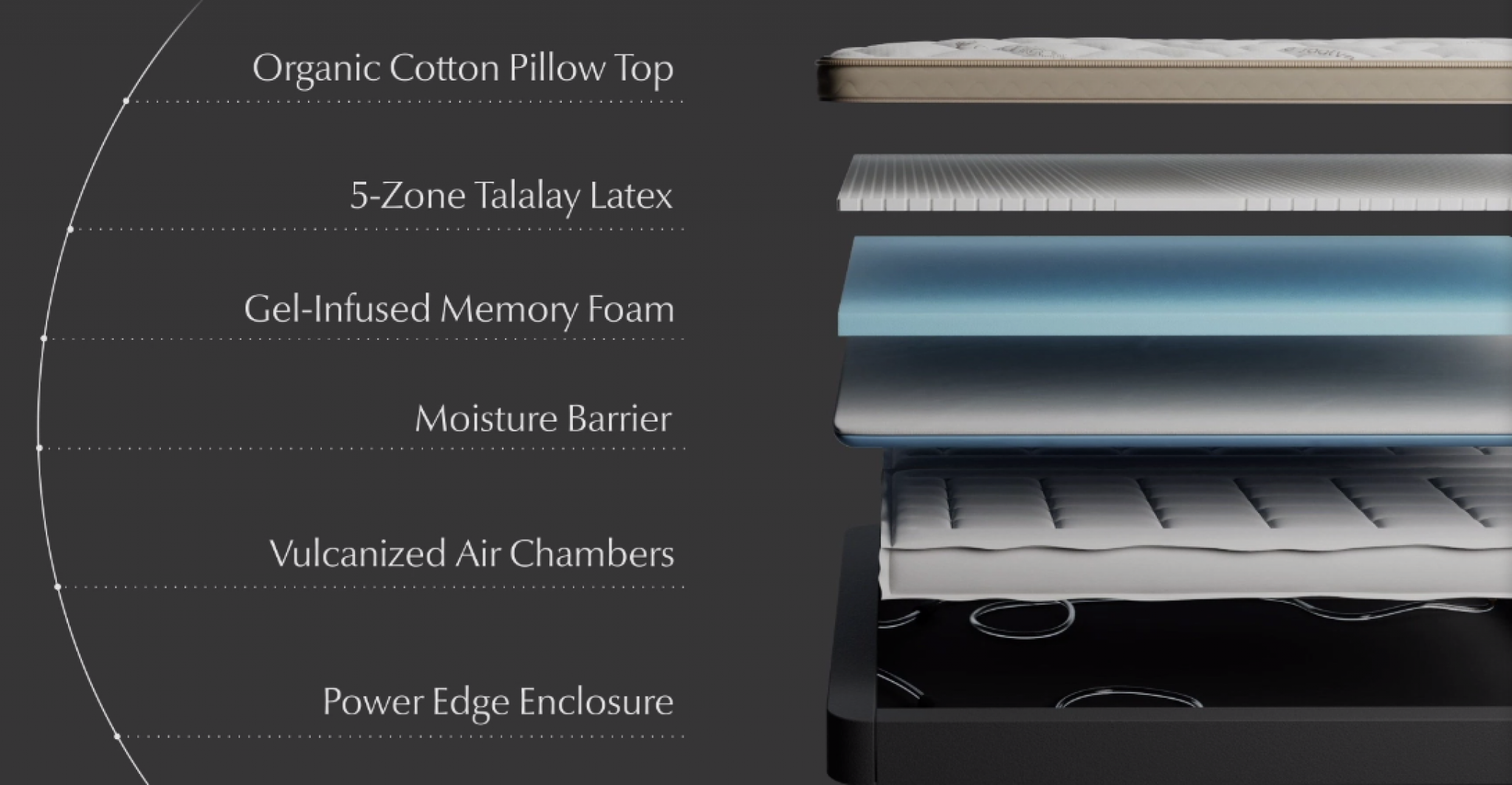 Saatva's top layer is made from premium foam. It's soft and lightweight, with just the right amount of bounce. The layer also has a cooling effect, helping to regulate body temperature. The middle layer is composed of gel memory foam. This foam contours to your body's shape, offering a level of support that's also incredibly soothing.
What I Like:
With six layers of comfort, the Saatva is designed to fit your style and your budget.
This mattress provides a personalized experience that is adjustable to your unique preferences.
The Saatva is certain about their product and offers a 180-night trial period, allowing you to see if the Saatva is right.
---
 Lucid L300 12 inch Mattress and Adjustable Base
Best for Pregnant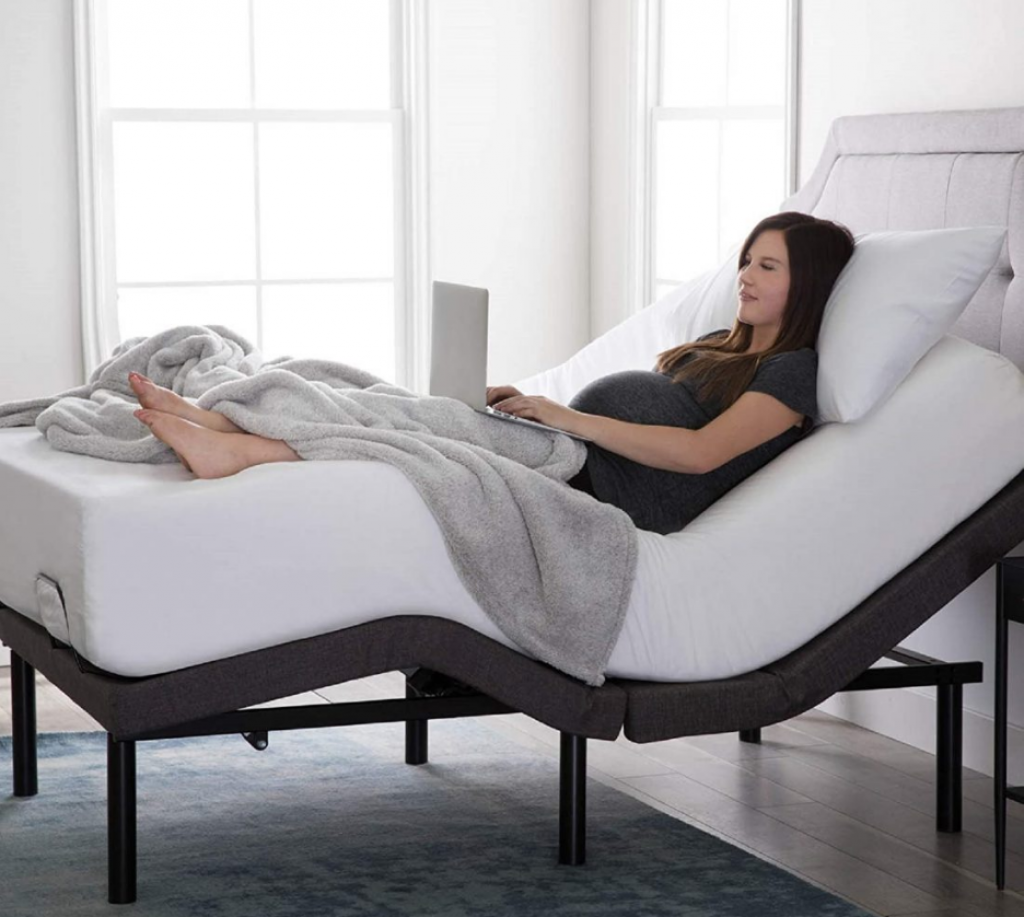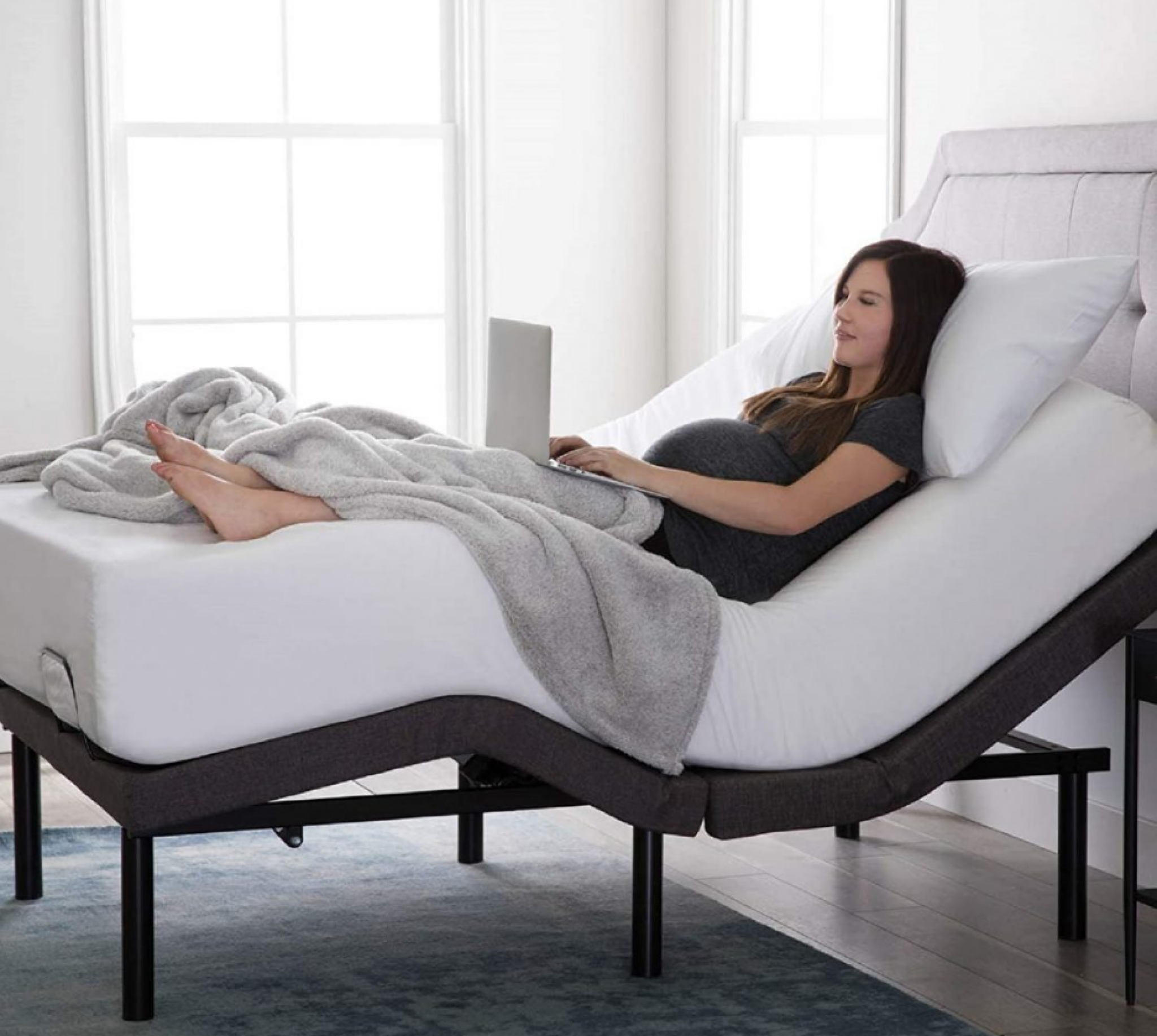 The Lucid L300 Adjustable Bed Base is our best-selling adjustable base, and it's easy to see why. Adjustable bases have become increasingly popular in the last decade for those seeking a better comfort level that traditional spring mattresses can't provide.
The L300 is a hybrid that includes both an adjustable base and a traditional spring mattress. This increases the bed's overall cost, but there are many reasons why the L300 is still a better alternative to a traditional bed.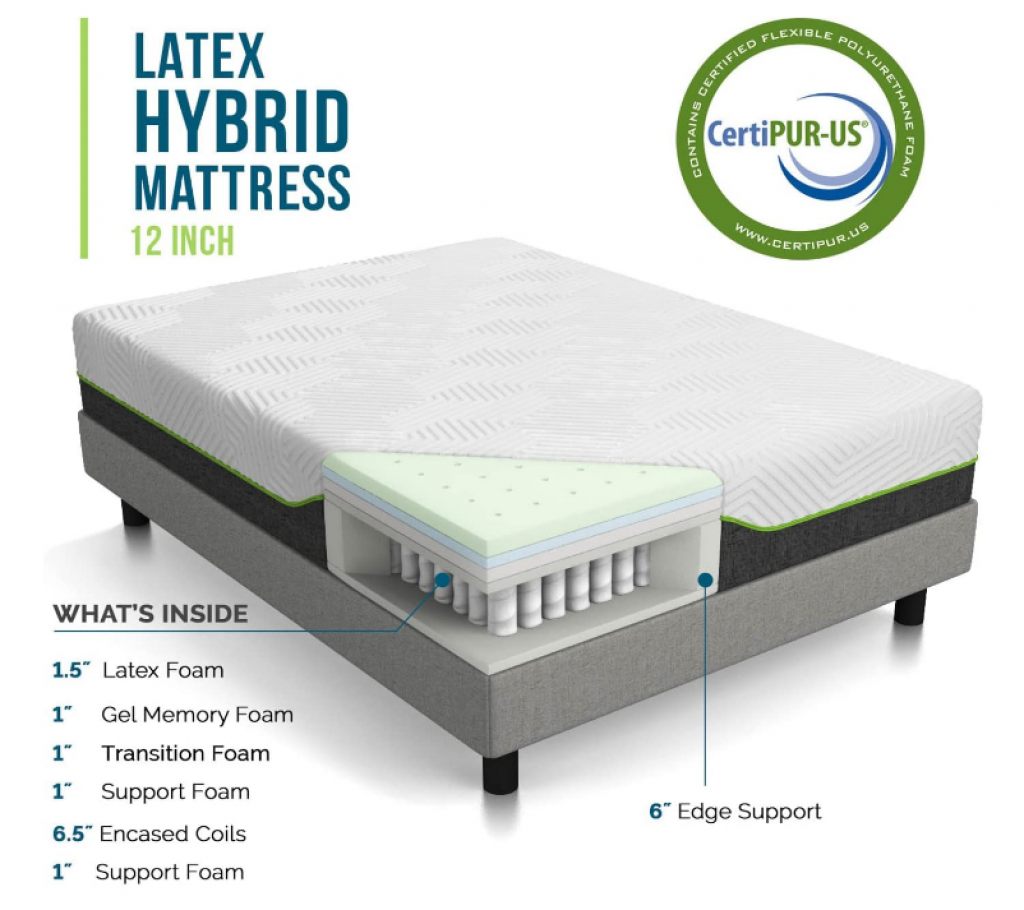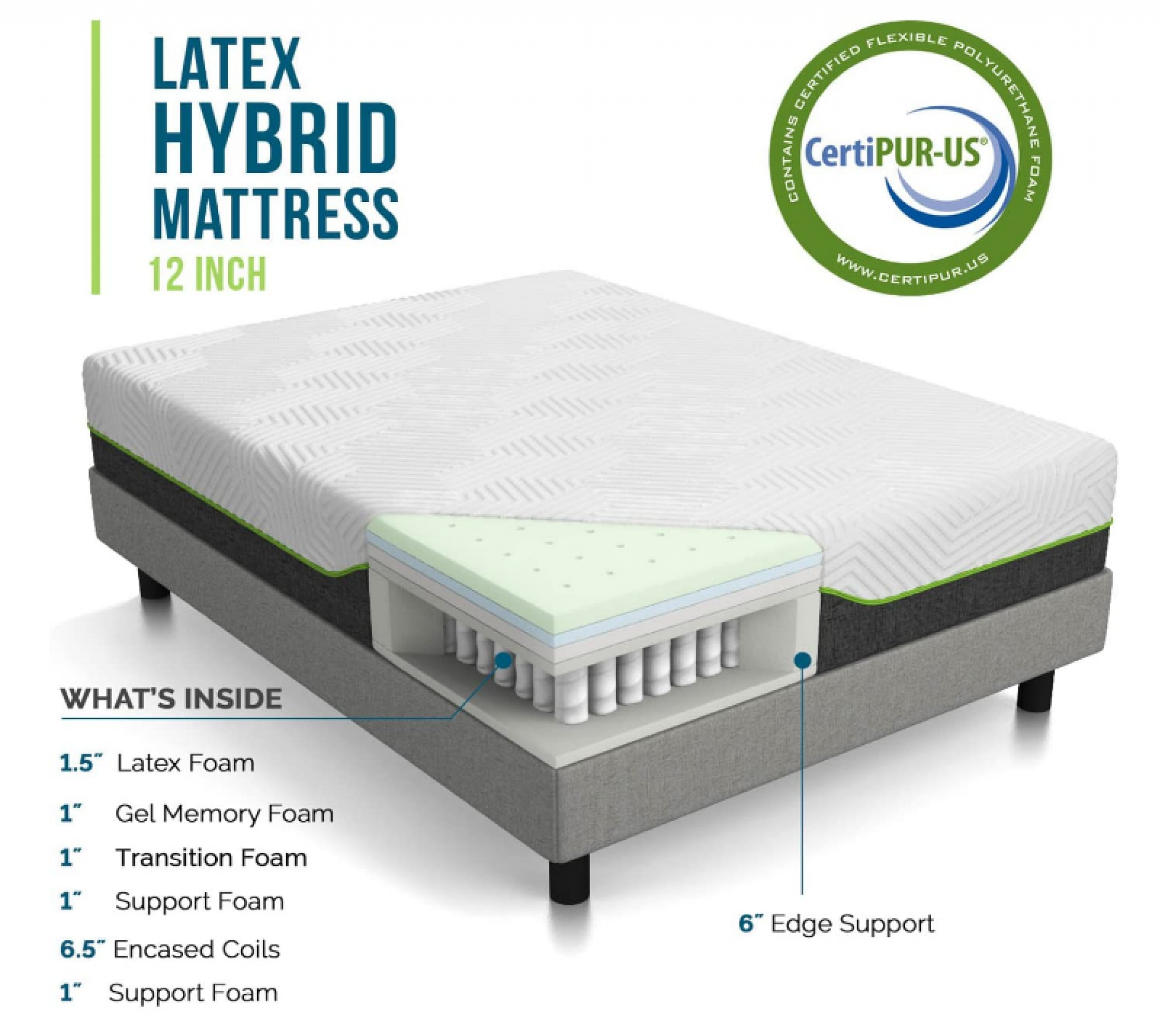 When you come across this Lucid adjustable bed, it would be perfect for helping you fall asleep because it lets you incline your head and foot independently. It also can save your favorite positions to the wireless remote.
What I Like:
With the L300, you can finally be comfortable in any position, at any time, in any room.
The L300 has a motorized footboard that can be adjusted to incline in either direction 0-45 degrees. The head can also be adjusted to incline 0-60 degrees.
The L300 is an excellent choice for people who suffer from acid reflux, chronic back pain, or sleep disorders like sleep apnea.
---
Nectar Memory Foam Mattress
Best Memory Foam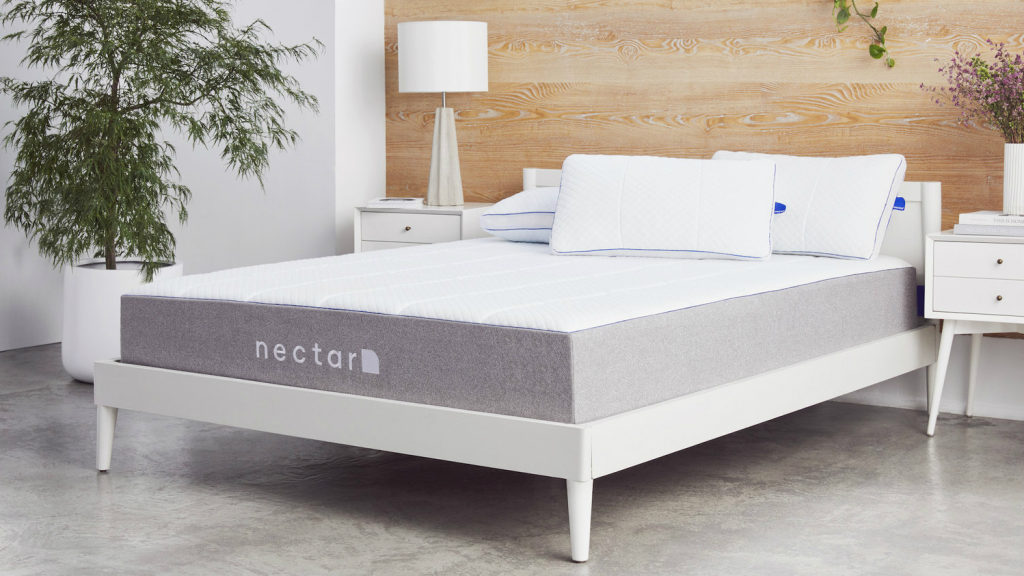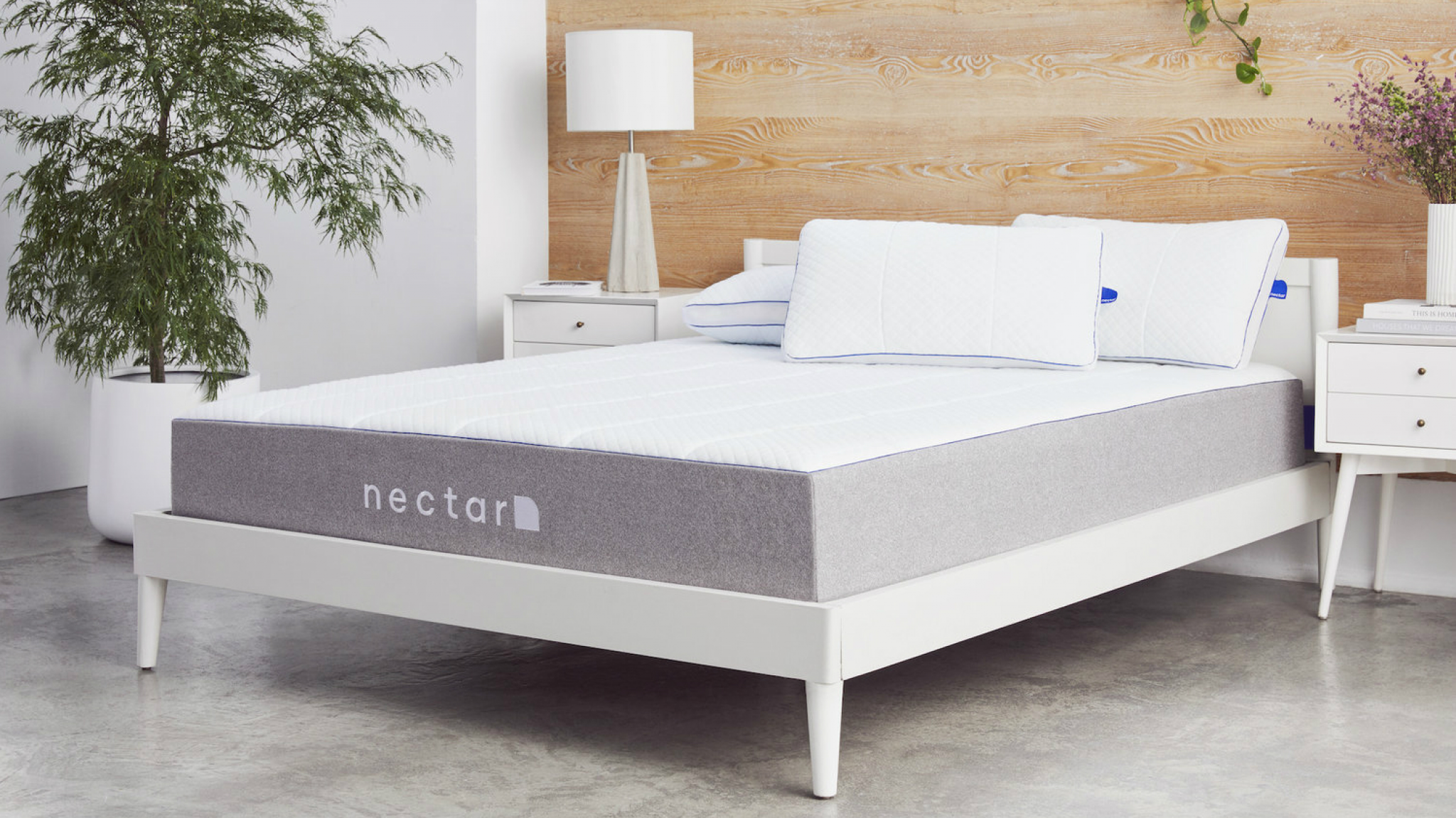 The Nectar mattress was designed with 5-layer construction, including four layers of foam and a Tencel cooling cover. The memory foam top layer provides pressure relief, while the adaptive transition foam layer gives the mattress a responsive feel.
The Nectar mattress has a soft, adaptive response memory foam that is comfortable and contouring. This mattress is suitable for all bed types. It is a perfect choice for people who want to sleep on their side, back, and stomach.


The Nectar Memory Foam Mattress has a 365 night home trial. It has free shipping and free returns.
What I Like:
The Nectar is a genuinely great mattress that offers the support and comfort you need for a great night's sleep.
The mattress has two layers of memory foam that help create a pressure-relieving mattress that adapts to your body's needs while reducing pressure points.
---
Zoma Mattress
Best for Relieve Back Pain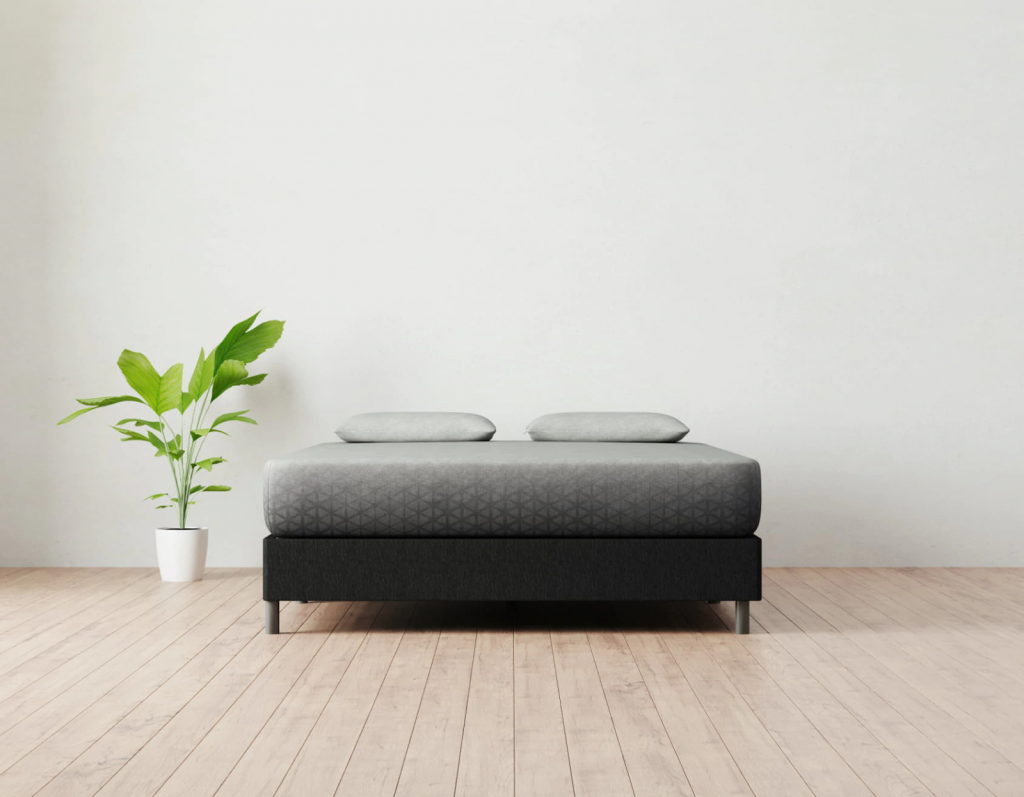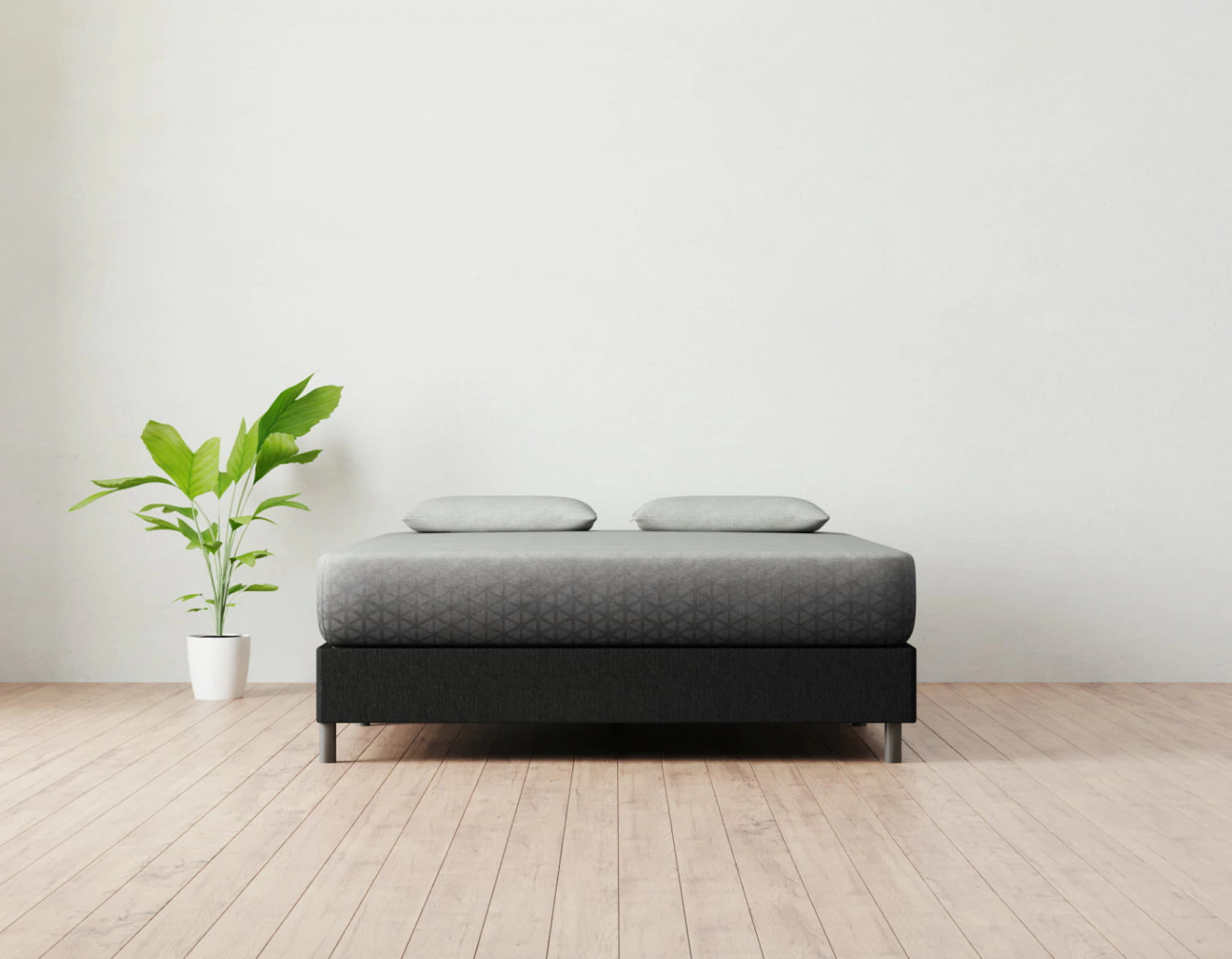 Whether you're sleeping with a partner, kids, or pets, you need a mattress that's going to support you no matter what. One bed that is ideal for all situations – and all sizes – is the Zoma Mattress.
This premium mattress has a Triangulex™ Zoned Layer that supports you no matter where you're lying, while the Reactiv™ Response Layer responds to your movements. The result is a mattress that supports you throughout the night, whether you're sleeping on your back, stomach, or side.


Staying cool is important in many ways. It's great for your overall comfort. It can make you more responsive to changes in your environment. Having a mattress that stays cool can prevent night sweats and other issues. The Zoma mattress is designed to do that very thing. It is a memory foam mattress that is built with special cooling technology.
What I Like:
The manufacturer offers sleepers three layers that work together to provide a unique combination of support and comfort.
The Zoma mattress uses Triangulex™ technology which allows for the bed to respond to your movements and change temperature.
---
Buyer's Guide
Mattresses had come a long way from the days when you had to buy a box spring and a mattress separately. This is a brand new wave in home mattresses that provides convenience and additional comfort.
---
What is an Adjustable Bed?
Adjustable bases allow you to raise the head of the bed and the feet of the bed at the same time. The height of the adjustable base can also be lowered. Adjustable bases have a motor that helps raise the bed's head and feet. The engine is usually controlled by a remote that can be mounted in a drawer.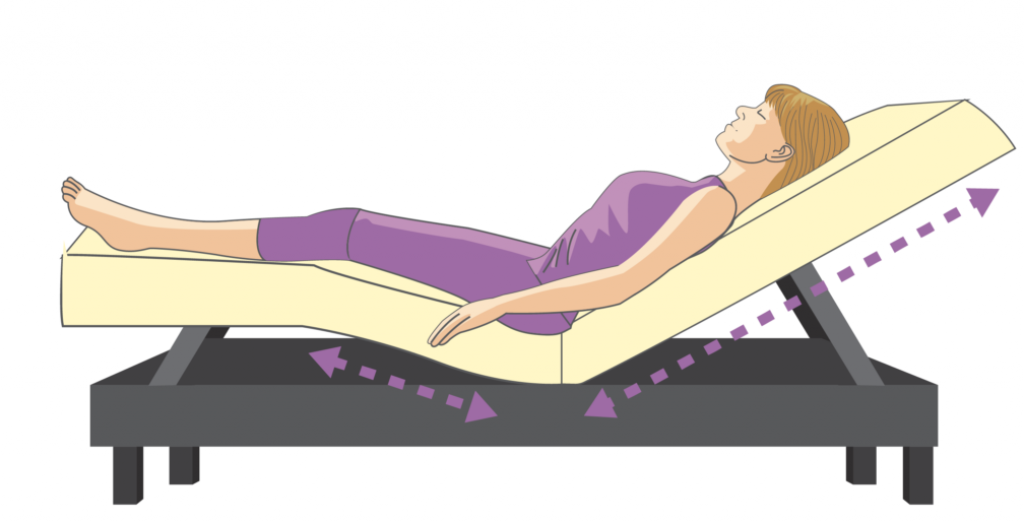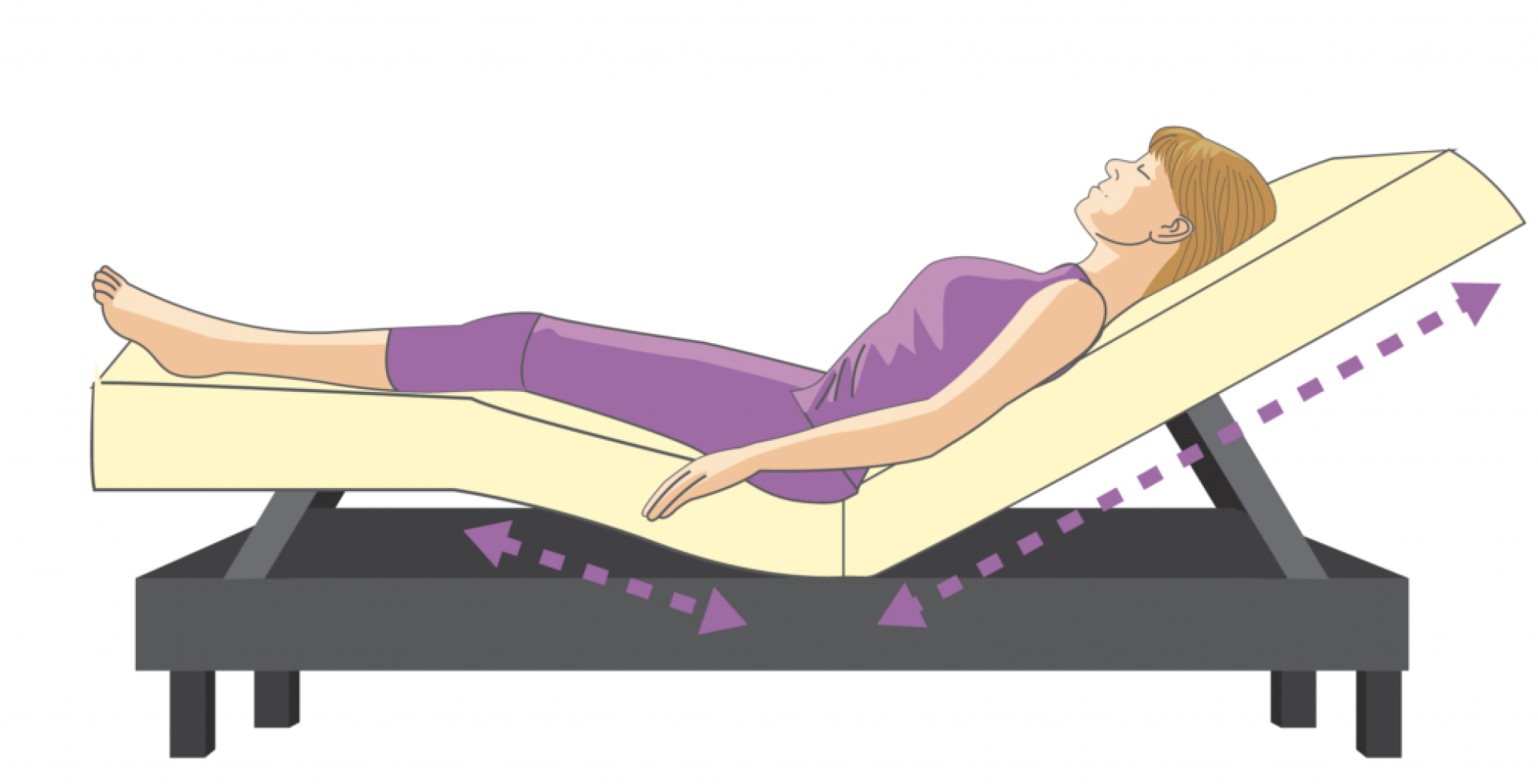 Adjustable frames and beds are typically used by people with health conditions such as fibromyalgia or heart problems. But nowadays such beds are becoming more and more popular for home-usage. Lying on the bed with a mattress for the adjustable base is very comfortable watching TV or reading your favorite book. Moreover, it is good for the body. You can even sleep on such a bed, and the body position allows you to fight to snore.
To choose the best mattress for an adjustable base, you need to understand the types of mattresses and their materials.
---
Best Types of Mattress For Adjustable Beds
The mattress comprises various components that combine to form a surface for the body to sleep on. These components work together to provide body support and comfort and absorb body heat and dissipate it away from the sleeper to maintain a comfortable body temperature.

The main components of a mattress are the comfort layer and the outer cover. The core is made of high-density materials that provide support to the mattress. The most common materials used are foam, natural or synthetic latex, innerspring. The mattress also can be hybrid and made of several main components.
Memory Foam
Memory foam mattresses are one of the most popular choices when it comes to a comfortable sleeping surface. These mattresses are made using a type of foam that conforms and shapes itself around the user's body. This is due to the open-cellular material that this foam is made from.
Also, the foam is made of polyurethane and is very durable. Without the support of springs or other materials, the memory foam mattress is given its shape and firmness by temperature and body weight. What makes these mattresses so popular is that they are unique. Most of the time, the mattress is very supportive and conforms around the person using it.
Innerspring
The innerspring mattress consists of a set of wires, also known as springs or coils, made from tempered steel coiled in various sizes and shapes. The coils are linked to the main cable that runs through the mattress's length and is attached to a base made of wood or metal. The bed can then be topped with various materials, including cotton, wool, latex, wool, foam, and feathers.
Latex
This mattress type is made of latex, a natural substance extracted from the rubber tree. Latex foam mattresses are made by mixing natural latex rubber with various other materials, such as cotton, to form a foam layer.
Among all the different mattresses, the latex type is considered a medium-firm bed and is regarded as one of the most durable mattresses. There are several types of latex mattresses available, including natural latex and synthetic latex.
Hybrid
Memory foam and coil springs mattresses make up the majority of the mattress market. Hybrid mattresses combine both worlds' best to create a more comfortable bed than either type of mattress.
A memory foam mattress is constructed of layers of memory foam, with coils underneath that help support the weight of the sleeper, while a coil spring mattress is made of springs that provide support.
---
Things to Consider Before You Buy Mattress For Adjustable Bed
When looking for a mattress for an adjustable base, you want to make sure that your specific adjustable base will work with your bed. Some adjustable bases have a "platform" where they don't have a box spring or foundation underneath them.
In this case, the mattress needs to be constructed in a certain way to ensure that it doesn't sag or fold when it is on an adjustable base that is not on a traditional box spring. There are also other things to consider before purchasing the mattress.
Thickness
The thickness is measured from the top of the mattress to its base. The usual thickness for an adjustable bed mattress is from 8 to 12 inches.
Weight Limits
An adjustable base is an excellent investment in your health and your sleep. The first thing you need to do is check the weight limits on your adjustable bed and mattress. The weight limit is usually stated by the manufacturer and is the maximum weight that the adjustable base can support. The weight limit should be shown on the adjustable base's instructions and should also be on the mattress box or tag.
Warranty
Before purchasing a mattress, you need to consider whether it is covered by the warranty if you use it with an adjustable base. Some manufacturers indicate that such cases are not covered or are partially covered by the warranty.
Mattress warranties typically cover the following: wear and tear, unexpected damage, delivery, and set-up.
Size
The size of the mattress you choose is one of the most important decisions you will make when it comes to your adjustable bed. You will need to consider a few things before you make a decision, including the size of your adjustable bed, how much clearance you will need around the sides of the bed, and what type of adjustable bed you have.
The regular adjustable bed mattress is designed to fit a twin bed, which measures 39 inches wide and 75 inches long. A twin XL bed measures 39 inches wide and 80 inches long. A queen bed measures 60 inches wide and 80 inches long. A king bed measures 76 inches wide and 80 inches long.
An adjustable bed mattress for a king bed will be large enough to fit a regular adjustable bed frame, but a standard adjustable bed mattress may be too small for a king bed. If you are purchasing an adjustable bed mattress for a king bed, you must make sure you purchase an adjustable bed mattress that is large enough to accommodate a king bed.
---
FAQ
What is an Adjustable Base?
An adjustable base is a type of bed frame that has an adjustable head and foot section, allowing for easy adjustment of your sleeping position. Many adjustable bases also offer massage, zero-gravity, and other customizable settings.
What are the Benefits of a mattress on an adjustable Base?
The combination of a mattress and an adjustable base gives you the ultimate comfort and support. With an adjustable base, you can enjoy the contoured support of a firm mattress, while also customizing your sleeping position for maximum comfort.
Does an Adjustable Base Make a Firm Mattress Softer?
No, an adjustable base does not make a firm mattress softer. However, an adjustable base can help you find a comfortable sleeping position and reduce pressure points, making it easier to sleep on a firm mattress.
How Much Weight Can a Mattress with an Adjustable Base Support?
Most mattresses with an adjustable base can support up to 600 pounds of weight. However, it is best to check the manufacturer's specifications to be sure.
Should I Rotate My Mattress with an Adjustable Base?
Yes, it is recommended to rotate your mattress with an adjustable base every 3 to 6 months to provide even support throughout the mattress.
Is a Mattress with an Adjustable Base Good for Stomach Sleepers?
Yes, a mattress with an adjustable base may be a good option for stomach sleepers, as it can help align the spine, reduce pressure points, and provide optimal support.
What is the Best Mattress for an Adjustable Base?
The best mattress for an adjustable base depends on your particular needs. Some popular choices include memory foam, hybrid, latex, and innerspring mattresses.
How Do I Choose the Right Firmness for my Adjustable Base Mattress?
When choosing the firmness level for your adjustable base mattress, it is best to consider your body weight, sleeping position, and any existing medical issues.
---
The Bottom Line
The adjustable bed mattress is the solution for anyone looking to keep a good night's rest. The mattress for an adjustable base is one of the most popular products on the market today, and with so many to choose from, it can be difficult to narrow down the choices.
Luckily, I have done all the hard work for you and have come up with this list of the highest-rated adjustable bed mattresses. I have broken down the features of each mattress and have compared them to others on the market.
I hope you will find the information provided here helpful and use it while choosing and purchasing the best mattress for adjustable base.