The pocket coil spring mattress is one of the most popular types of mattresses on the market. The pocket coil spring mattress may look like any other mattress until you look closely at the average person.
This is the mattress that features hundreds of tiny pocketed coils. One of the benefits of the pocket coil spring mattress is its durability. The pocketed coils offer support for any sleeper's size.
---
Top 5 Best Pocket Coil Mattresses
#1
PlushBeds Luxury Bliss Organic Hybrid Latex Mattress
Get 50% off
The mattress gently cradles the pressure points of your body, which helps to relieve aches and pains and promote deep sleep.

The fabric-encased coils result in zero motion transfer and a night of supportive sleep for years to come.

Made with certified organic and sustainable materials
Trial period: 100 nights

Warranty: Lifetime Warranty

Shipping:
Free Shipping

Firmness:
Medium, Med-Firm

Price range: $$$$$

Type: Hybrid
We recommend this mattress for the following sleepers:
Get 50% off
---
This design provides excellent support and the ability to conform more closely to the body, which is why individuals with back pain often choose these types of mattresses. An additional benefit of the pocket coil spring mattress is that these mattresses are generally made from better quality materials than most other beds.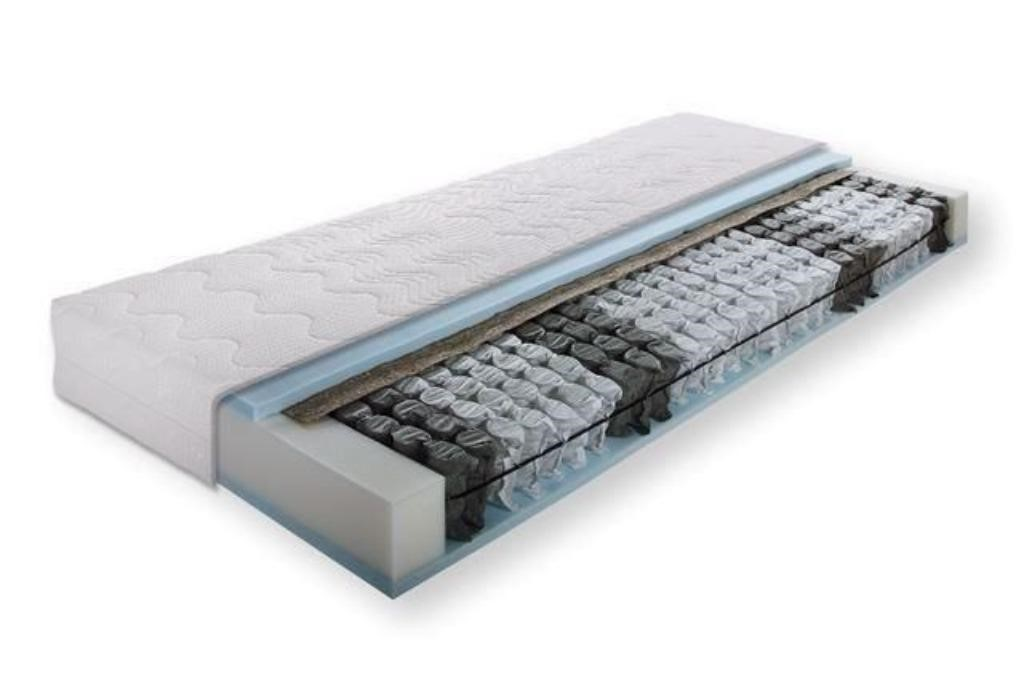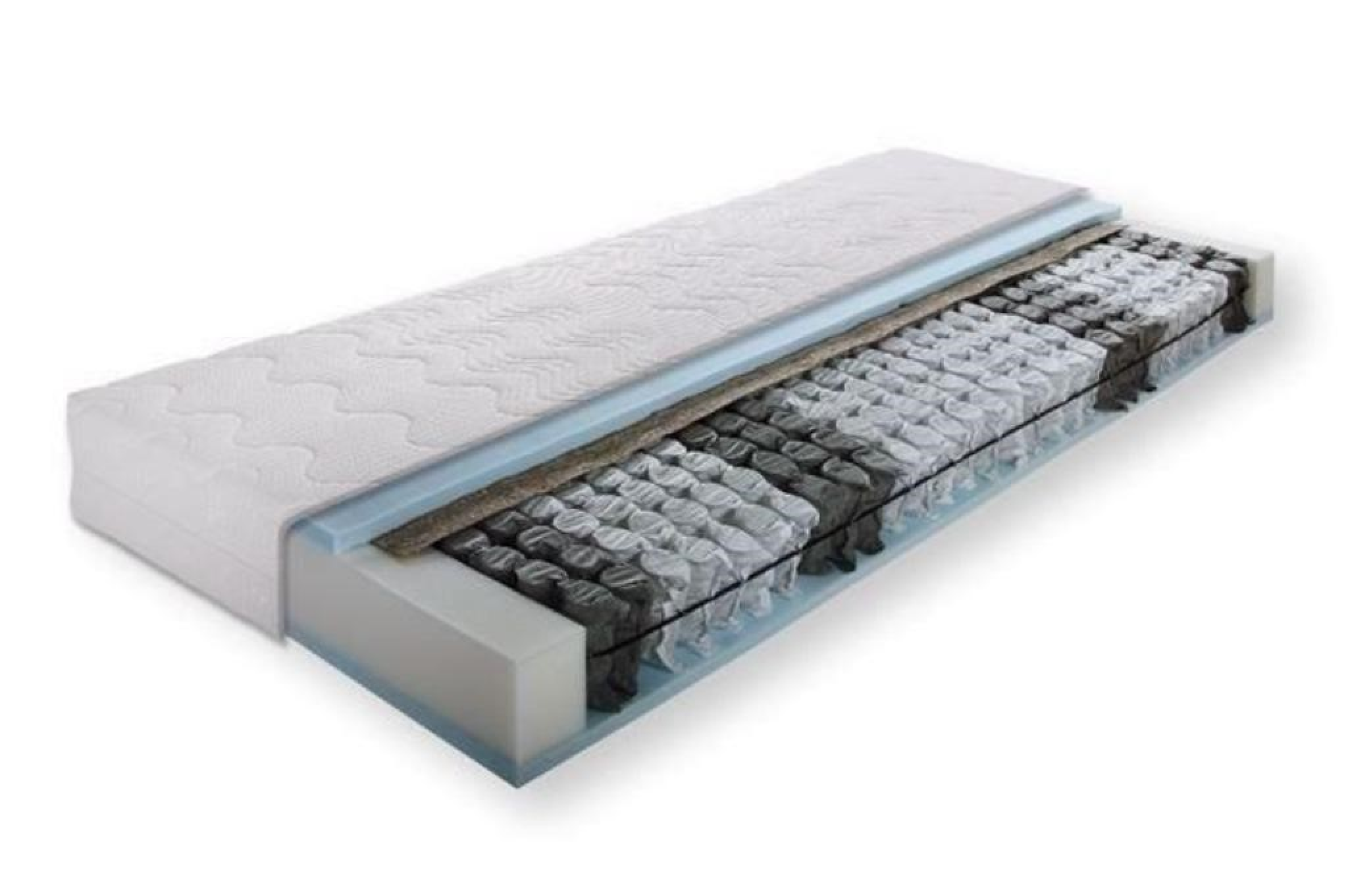 I prepared a buyer's guide and a review of the best pocket coil mattress on the market. So let's start our journey to the pocket coil mattress world.
---
Best Pocket Coil Mattresses Reviews
Brooklyn Signature Hybrid Mattress
Great Choice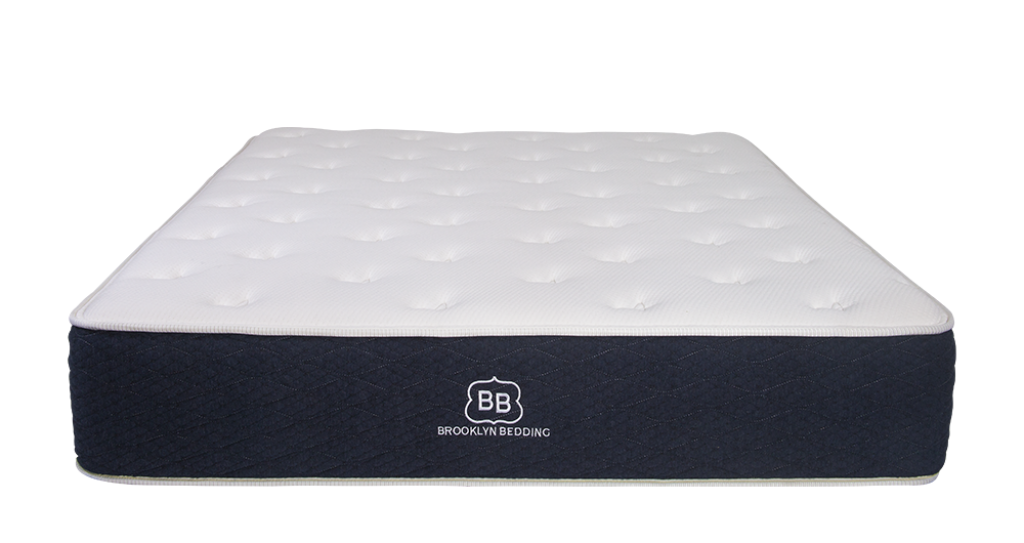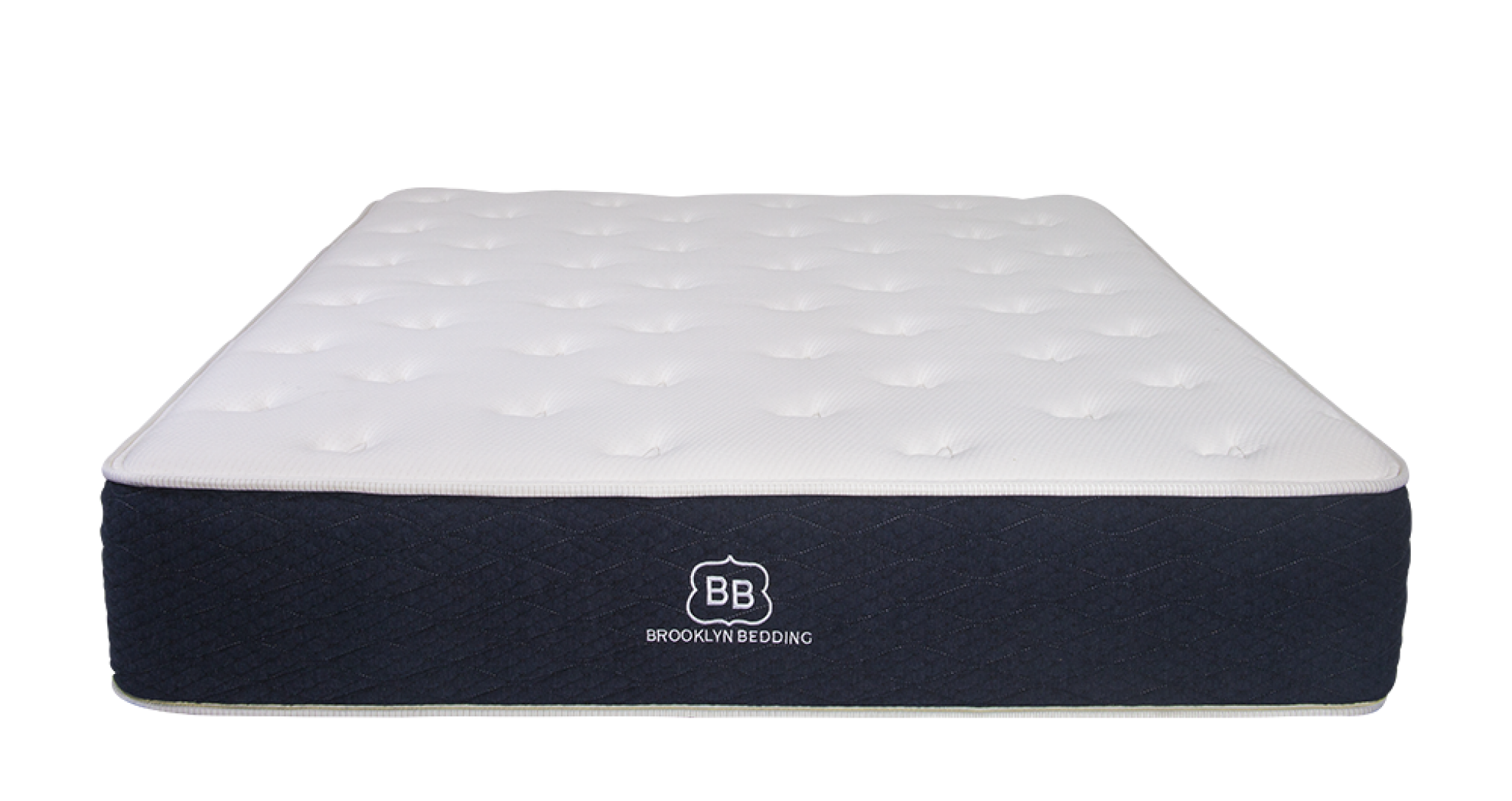 The Brooklyn Signature Hybrid is a bed that's one of a kind. It's a hybrid mattress with two TitanFlex foam layers. Such a combination provides the perfect level of comfort for all sleeping positions. It's not too firm but not too soft, either. It's just the right firmness.
The Brooklyn Signature Hybrid also has a powerful pocketed coil system that works with the copper-infused memory foam to minimize motion transfer and provide deeper compression support.


With this combination of coils and memory foam, the Brooklyn Signature Hybrid is an amazing mattress if you have a partner that moves a lot at night.
What I Like:
The Brooklyn Signature Hybrid has a firm polyfoam base that offers support and durability.
The mattress is designed to be soft and comfortable while offering good support for back and stomach sleepers.
This is an excellent choice for those who a looking for a hybrid mattress that offers comfort and support at a reasonable price.
---
Saatva Classic Mattress
Best Affordable Luxury Mattress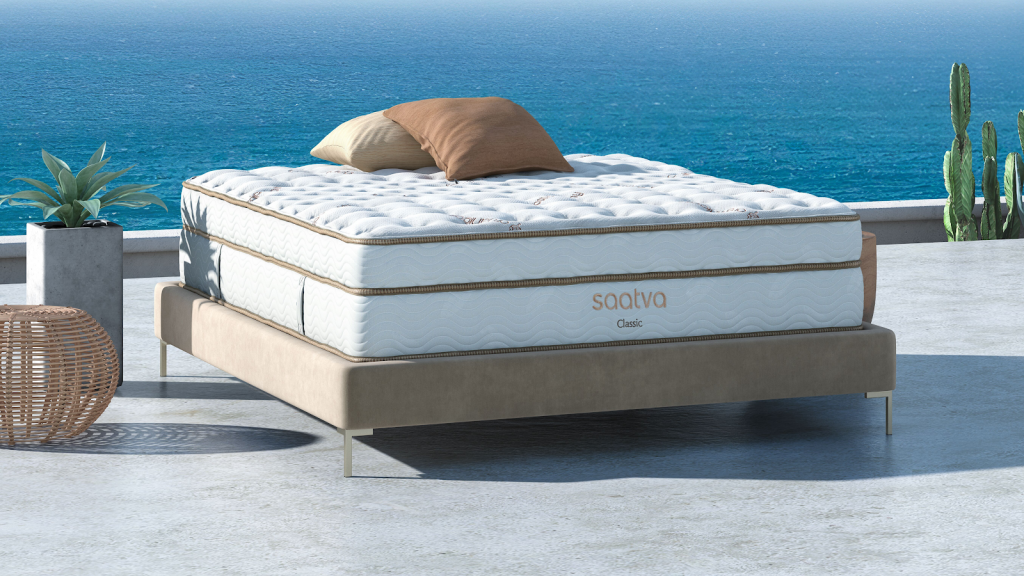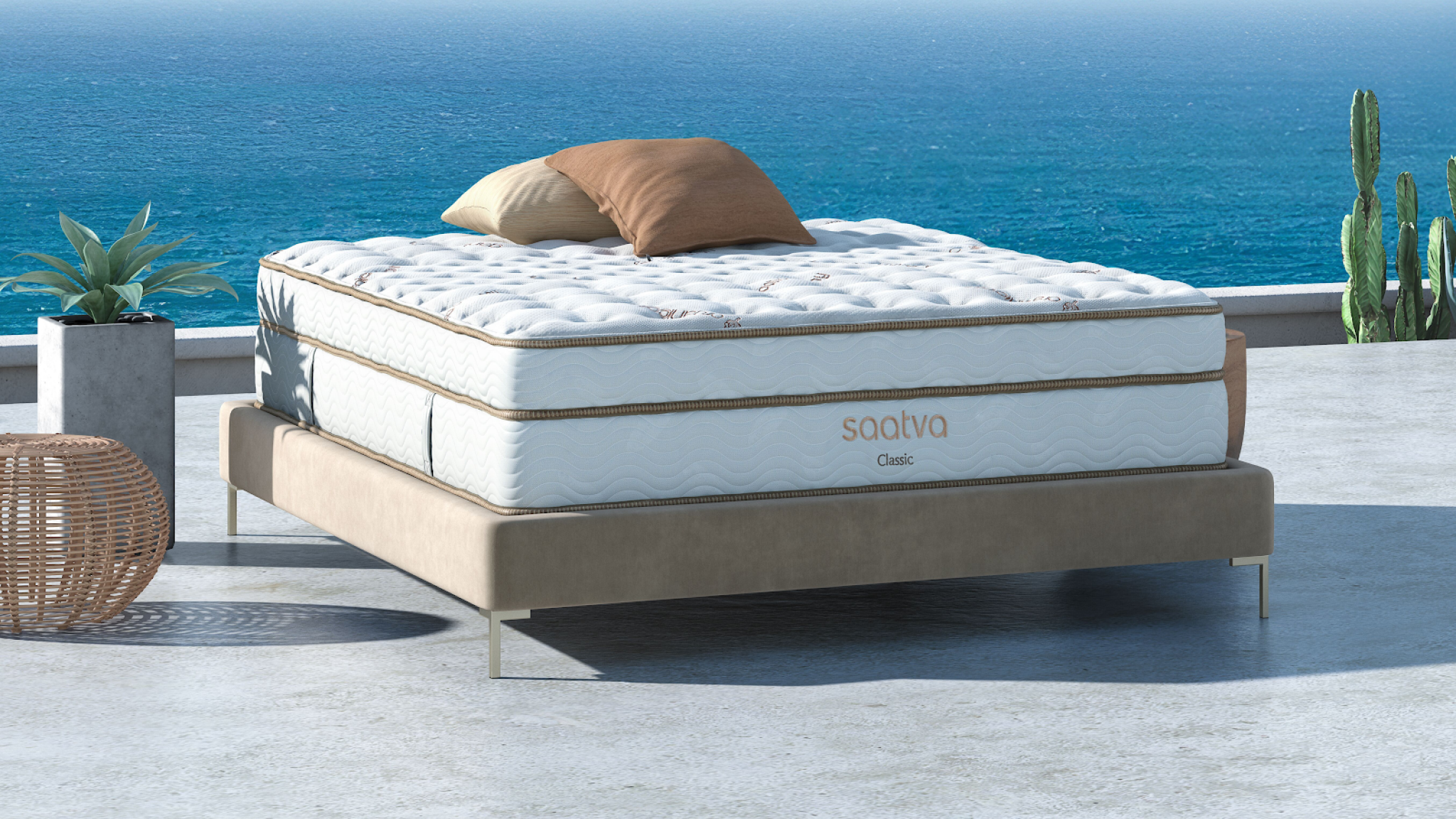 The Saatva Classic is a luxury mattress that is a popular choice for consumers looking for an affordable luxury mattress. Whereas the Saatva Classic used to have several different firmness levels, all of which are still available, the Saatva Luxury Firm is the firmest of the bunch.
The Saatva Classic Luxury Firm has 884 individual comfort coils, along with layers of high-density foam which are designed to provide you with an ultra-plush sleeping surface.


Similar to the other brands out there, Saatva offers a 180-night trial period, a 15-year warranty, and pain and stress relief for your back and joints.
What I Like:
The manufacturer provides three firmness options to fit each sleeper's needs.
The mattress comes with a 180-day trial and a 15-year warranty for every buyer.
---
WinkBeds Hybrid Mattress
Best for Side Sleepers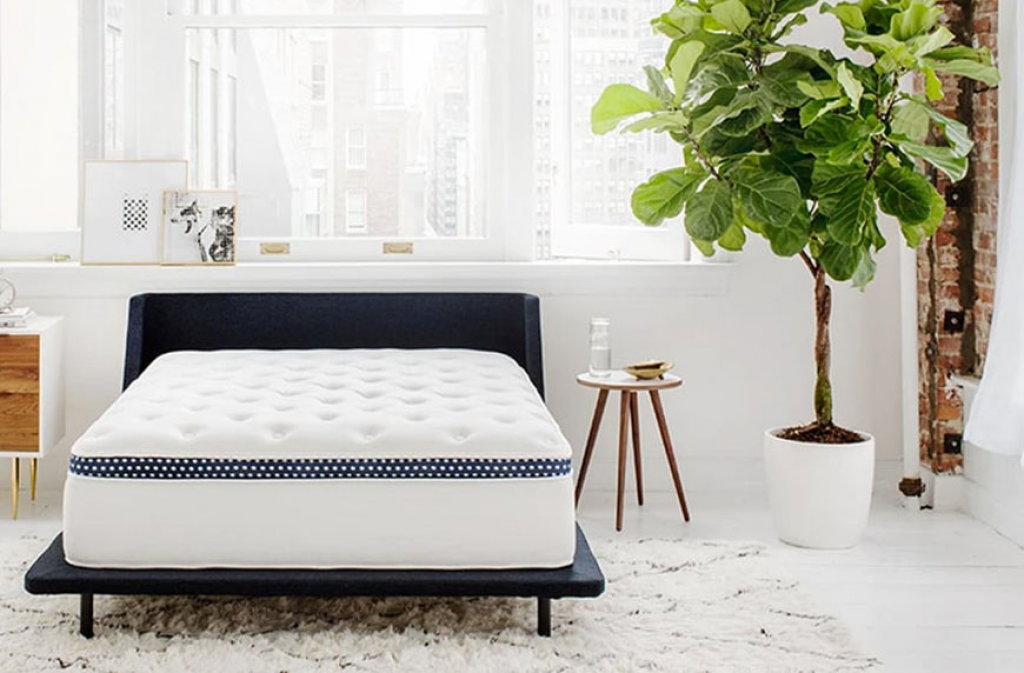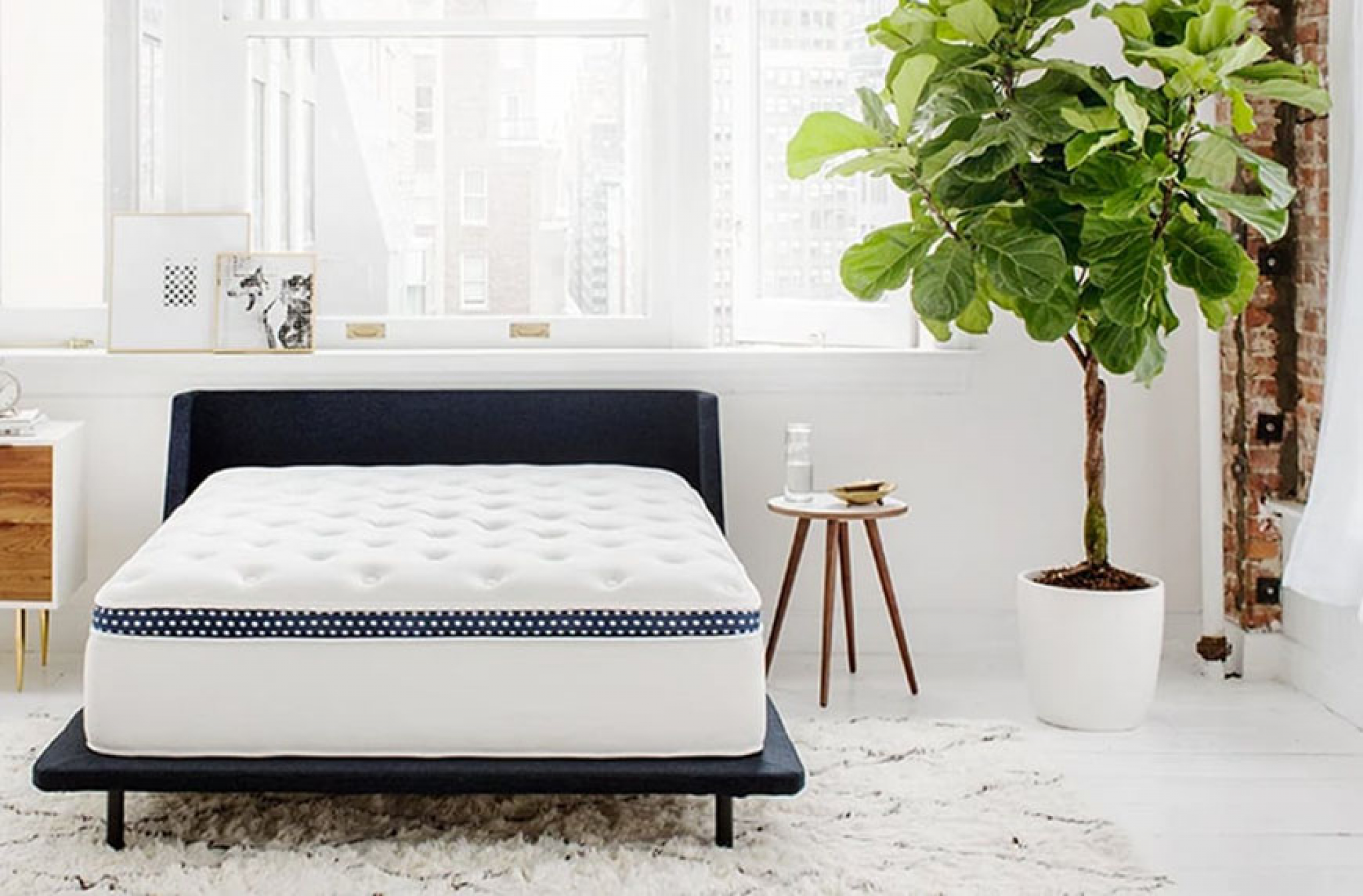 The WinkBeds Hybrid Mattress is a sleeper-sized mattress with a unique hybrid design that fuses gel foam and innerspring to create a product that delivers gel foam cushioning comfort with the dynamic support of innerspring.
In addition, the WinkBeds Hybrid mattress uses a Euro-sized pillow top with a gel-infused foam core and quilted Tencel® cover. This mattress is best suited to sleepers who want the cushioning comfort of gel foams with the dynamic support of innerspring. Moreover, the WinkBeds Hybrid Mattress is designed with a Dynamic Support Layer to reduce motion transfer and isolate motion on a sleep surface.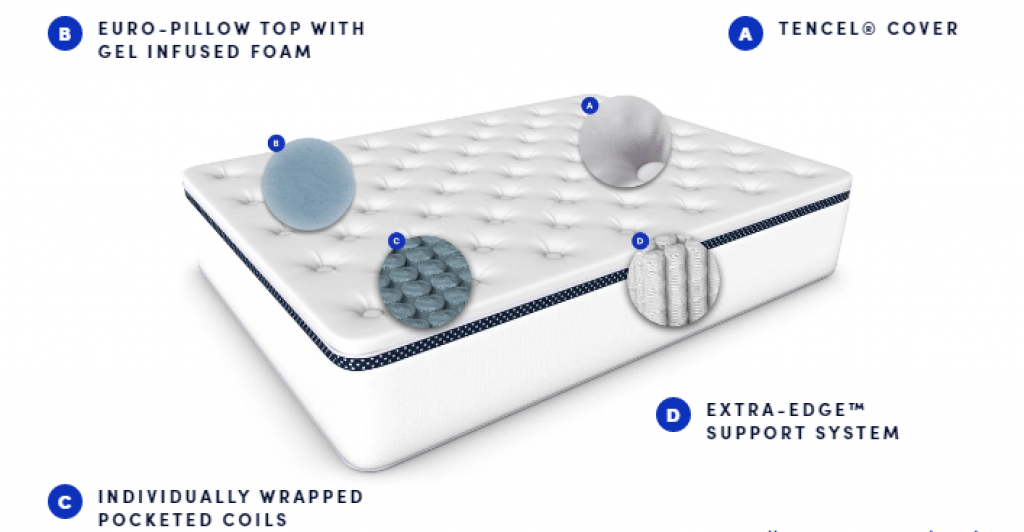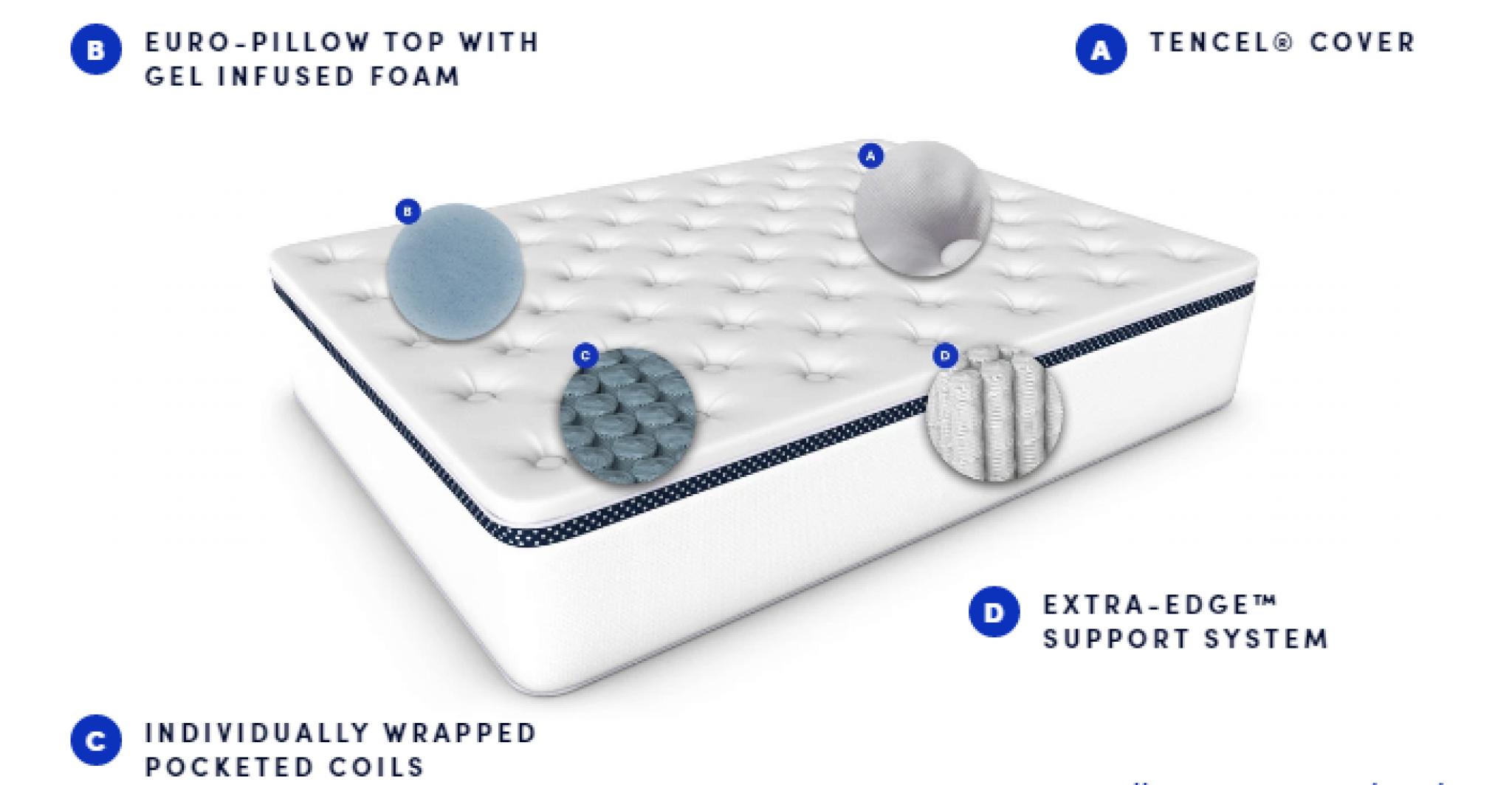 WinkBeds offers an eco-friendly hybrid mattress with pocket coils and float gel for sleepers who want more bounce and memory foam hugs, back sleepers who want the support of pocket coils, and folks who want a mattress that is good for both motion transfer and back pain. These mattresses are made in the USA by hand and come with a lifetime warranty and durability guarantee.
What I Like:
The mattress is constructed with a Euro-pillow top, which consists of gel-infused foam to provide pressure relief and four inches of high-density foam to provide support.
The innerspring layer provides extra support underneath the foam for a firmer feel.
Available in all standard mattress sizes.
---
Avocado Green Mattress
Best Eco-friendly Mattress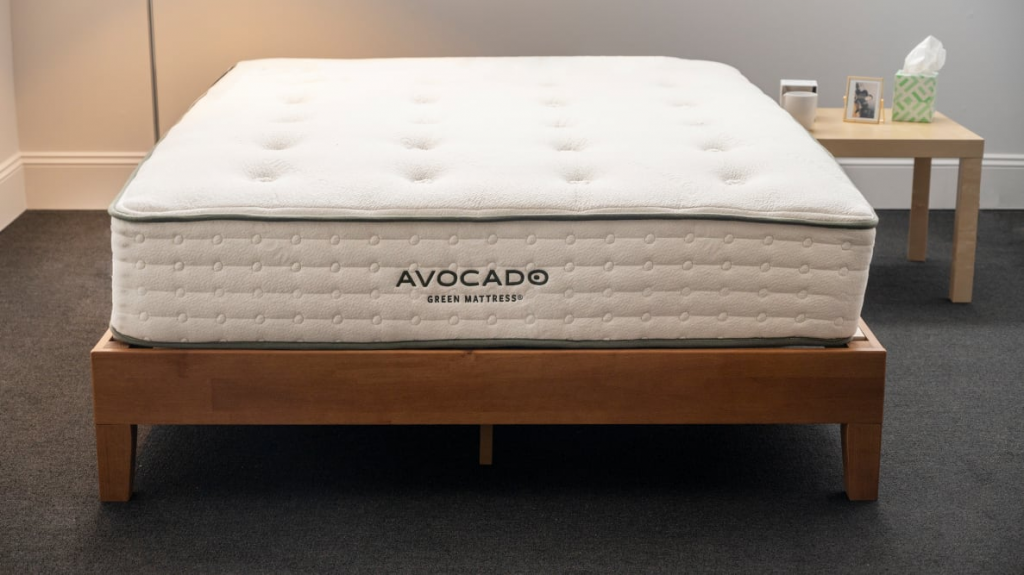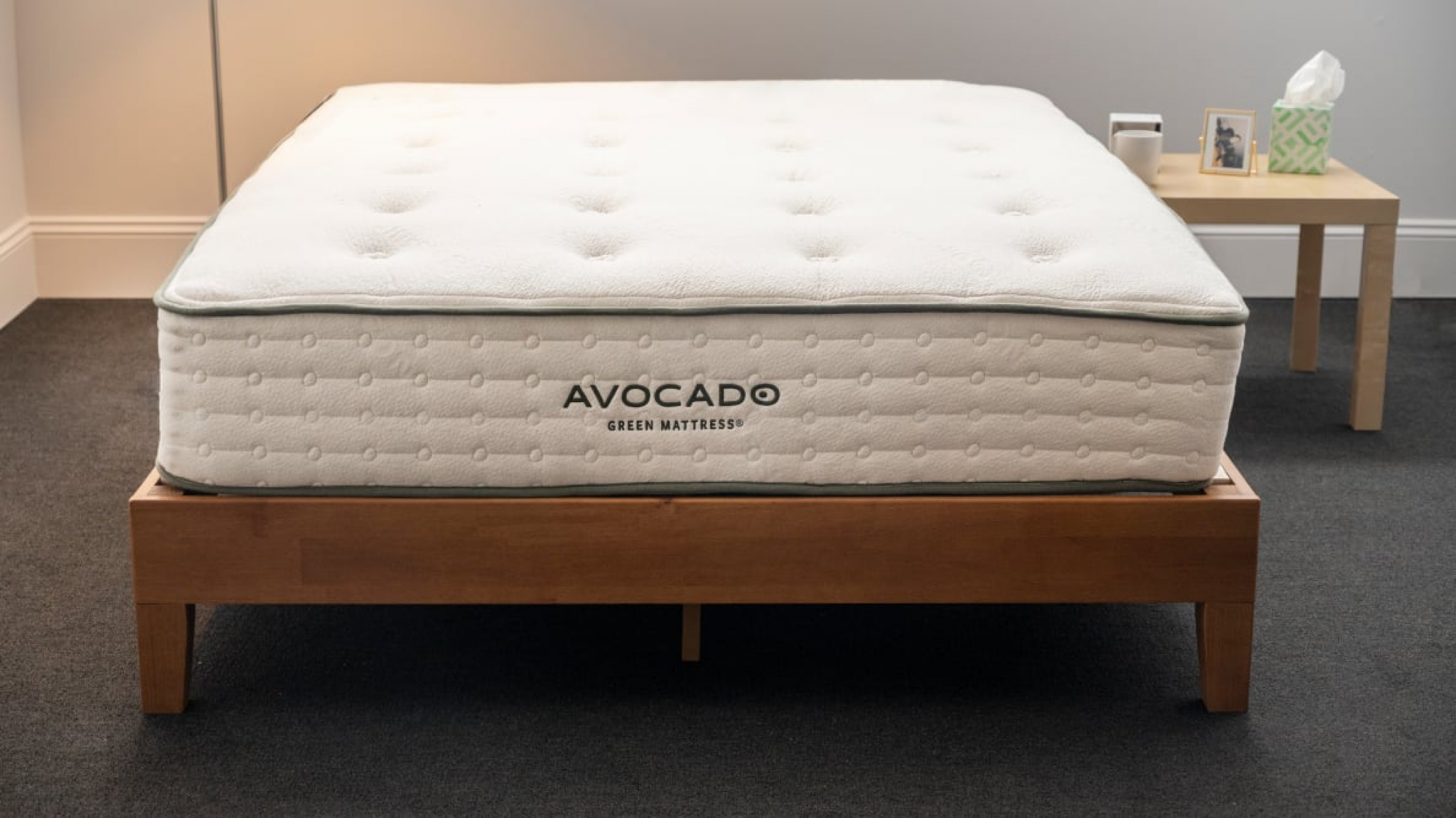 The Avocado Mattress is a premium mattress made from natural and organic materials. This natural stuff is made from materials that are all organic and eco-friendly.
This mattress is made with a blend of latex, wool, and cotton. The bounce of the springs and the lift of the latex make for a bed that is very comfortable to sleep on. The Avocado Mattress is also very durable, so it should last you for a good long while.


This mattress is designed to be used for back/side sleepers, and it does an excellent job of providing both comfort and support. The Avocado Green Mattress is a durable bed that comes in a variety of different sizes, offering you a vast number of options to fit your sleeping needs.
What I Like:
The mattress is made of certified organic wool and cotton that are grown without the use of pesticides.
The Avocado Mattress provides support for all sleepers, both back, side, and stomach.
It comes with a 25-year limited guarantee.
---
Helix Midnight Luxe
Best Cooling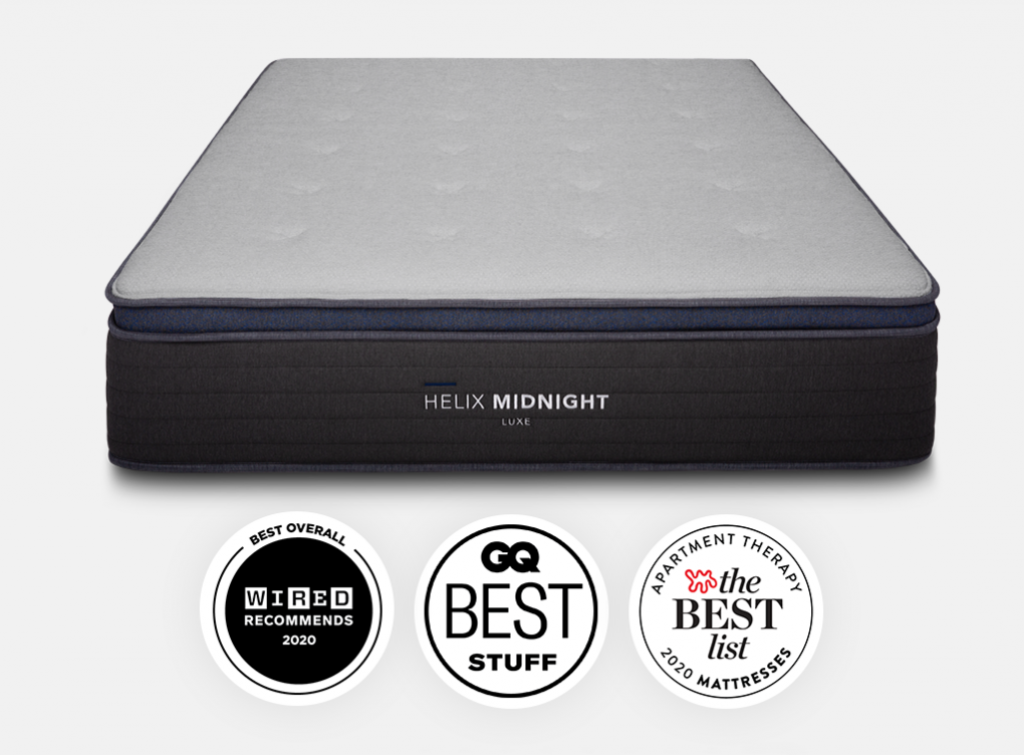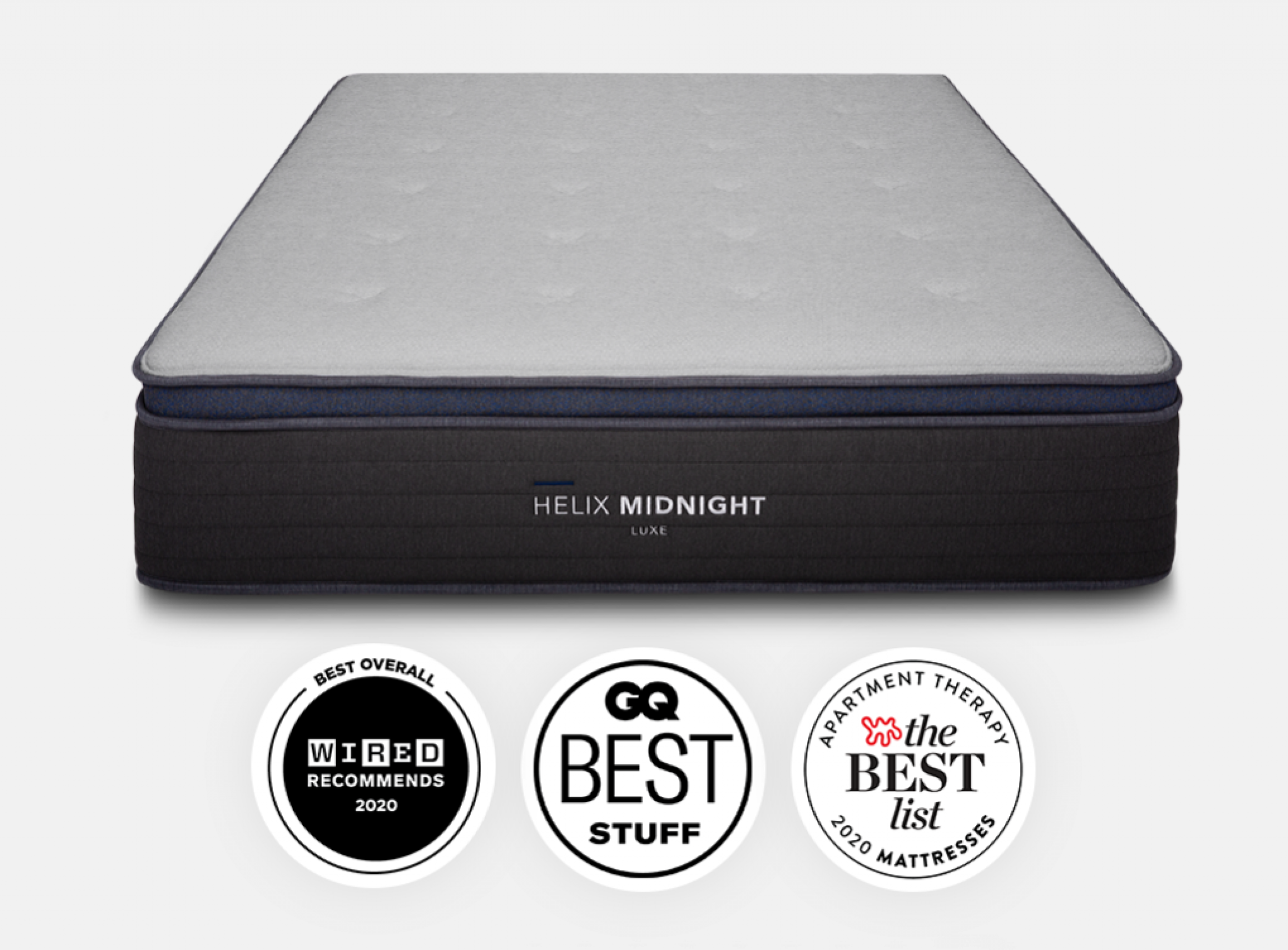 The Helix Midnight Luxe mattress is a luxury hybrid mattress with two different foam layers. It is made with a layer of gel memory foam for pressure relief and a layer of pocketed coils that provide a firm foundation.
The pocketed coils provide the bounce and responsiveness you need for a great sleep. The memory foam layer helps to relieve pressure and conforms to your body shape. The cover is made with a thin layer of cooling Tencel fabric for breathability.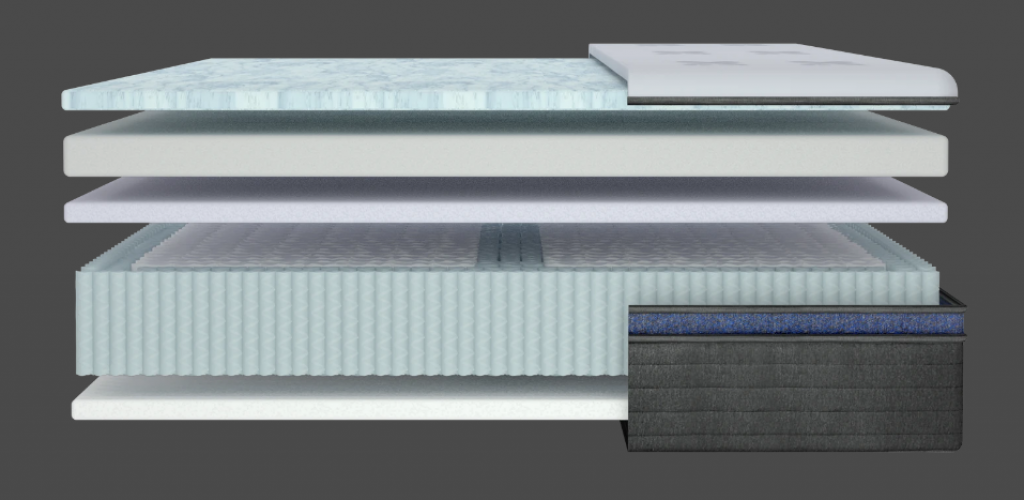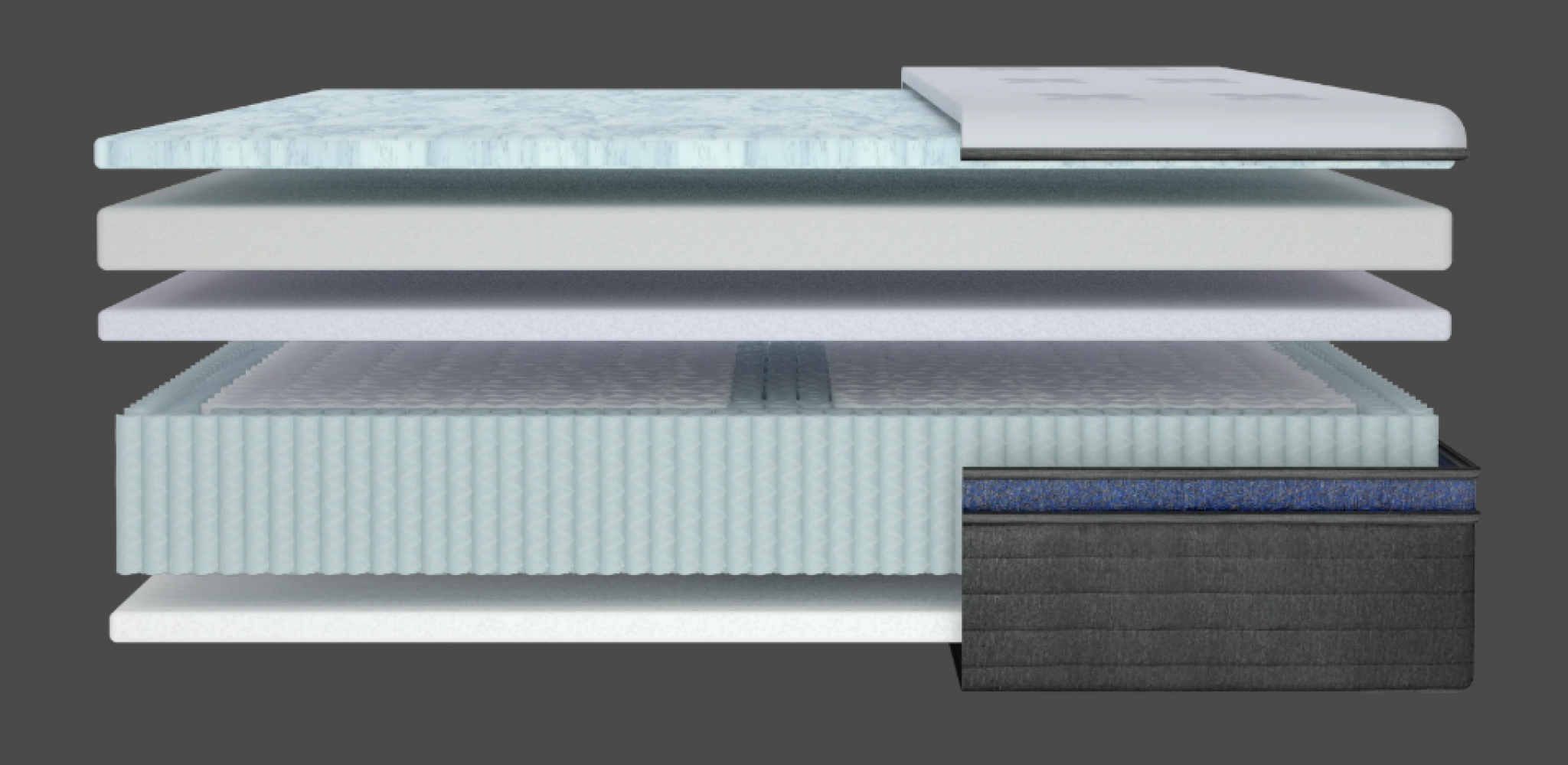 This mattress is excellent for people who sleep on their side and for people who sleep on their back because it is pressure relieving and firm. It is also great for people who want a more plush feeling.
What I Like:
The Helix Midnight provides a comfort layer designed to help alleviate pressure points for all sleep positions.
Each side of the mattress can be personalized to your perfect sleeping preferences.
---
Buyer's Guide
The pocket coil spring mattress has been around for years, but it has been growing in popularity over the last few decades. It is engineered with pocket springs that are wrapped around the foam and encased in a fabric cover. These pocket springs are designed to offer a level of comfort not found in other mattresses. The pocket coil springs are much smaller than the traditional coils, allowing more of them to be used in the mattress.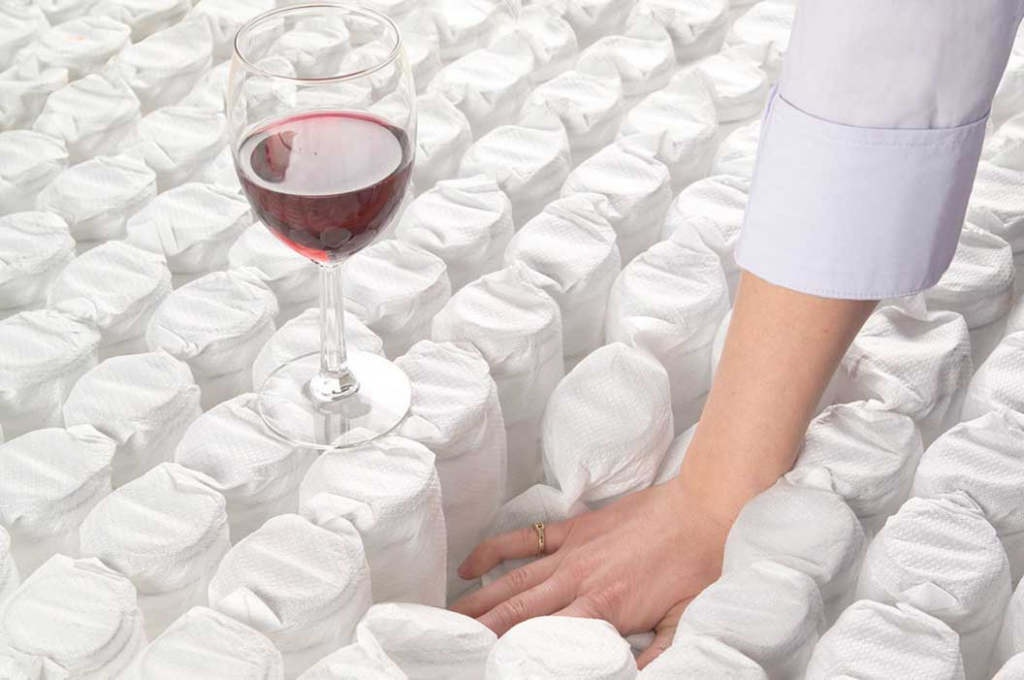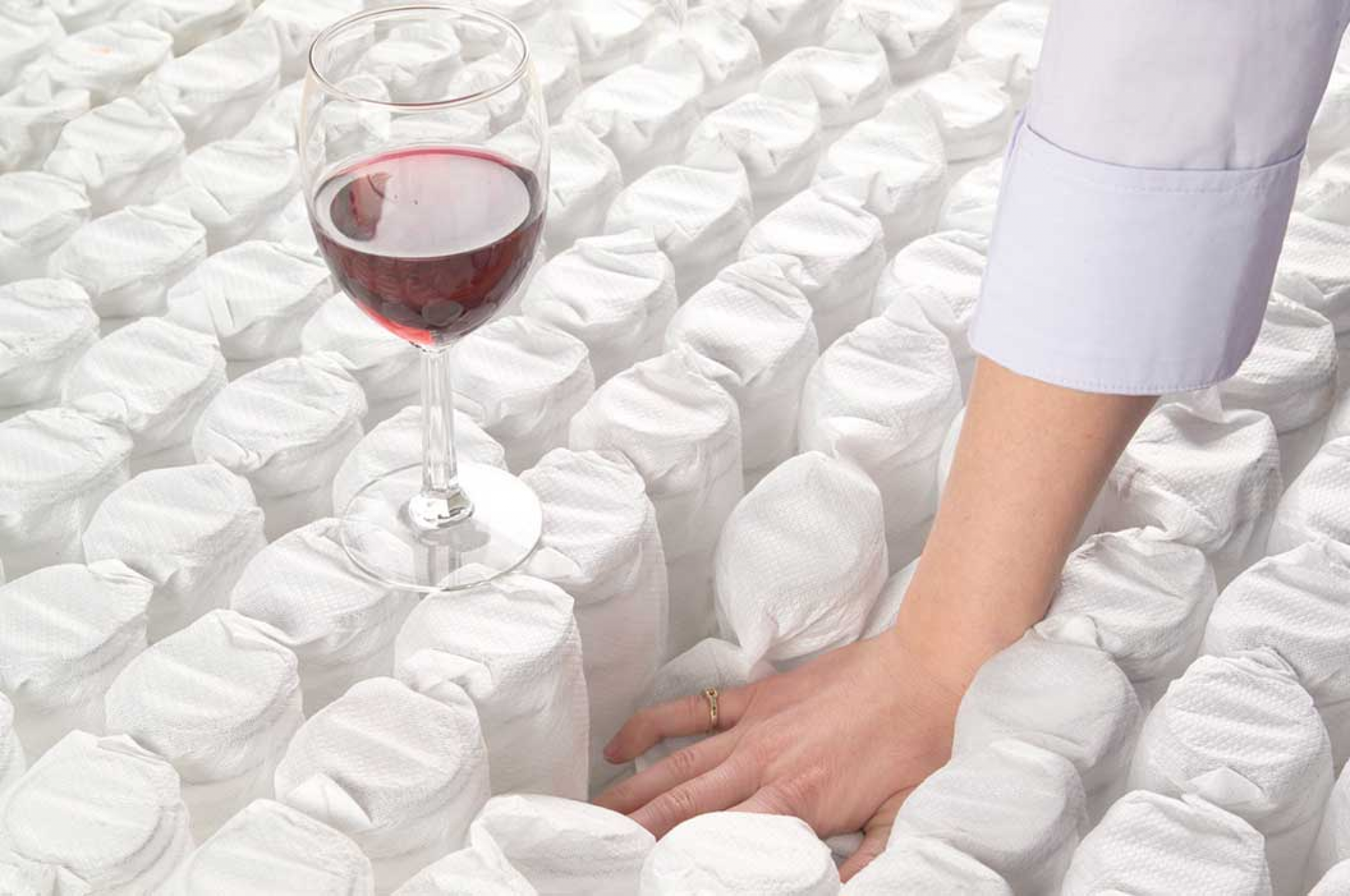 ---
What is Pocket Coil Mattress
While producing this kind of mattress manufacturer uses pocketed coils or springs to provide a unique sleep surface, compared to the more traditional pocket spring mattress. The pocket coil mattress is known for its support and pressure relief, and it's also a mattress that is highly responsive to the sleeper's movement and pressure on the sleep surface.
For the sleeper who wants a mattress that adapts to their body's unique shape and sleeps cooler than a traditional mattress, the pocket coil mattress is an excellent alternative to the more common innerspring mattress.
The pocket coil mattress is a type of innerspring mattress. Its most unique quality is the use of pocket springs instead of the traditional box springs. While memory foam has become increasingly popular, pocket coil mattresses are more durable and will last longer than memory foam. They are also more resistant to mold, dust mites, and other allergens.
Mattress buying can be a bit daunting, but if you can keep your eyes open, you may find some great deals. There are several types of mattresses available to fit your budget and sleeping style. If you're in the market for a new mattress, here are some of the best types of beds to look for.
---
Types of Coils and Springs
There are many different types of coils you can get for your mattress, and they come in four main categories, which provide a different experience for sleepers.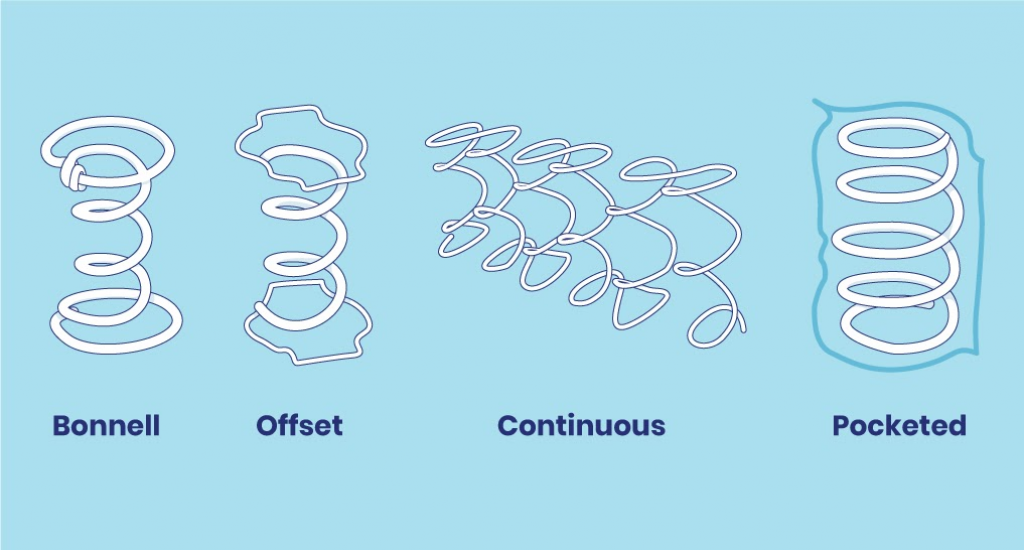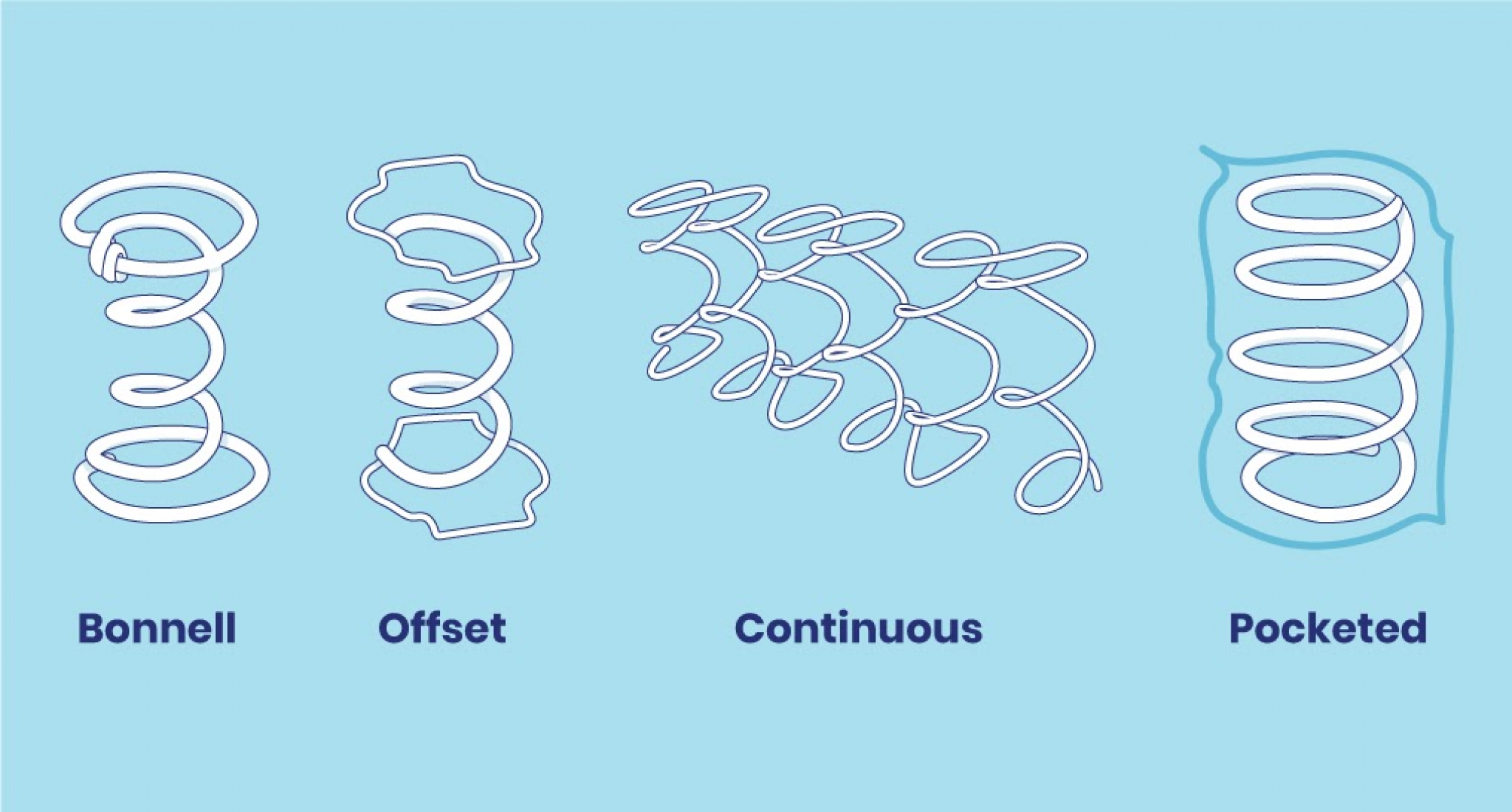 Continuous coils. The mattress with this coil's type is a lot like a trampoline. The bed has a series of coils on the top and bottom of the mattress, attached at even intervals. This arrangement allows the mattress to be flexible and evenly disperse your weight across the bed.
Bonnell coils. These coils are made up of many tightly wound wires. It is one of the most common types of rings used in mattresses. Bonnell coils provide comfort and support.
Offset Coils. Offset coils are a type of ring with the wires that make up the coil going in opposite directions. The advantages to offset coils include a more even sleeping surface. The other benefit is that they can be more comfortable for people who sleep on their sides (such as pregnant women) because they better accommodate the body with more contour to the coils.
Marshall Coils. Marshall coils are covered in a thin layer of spring steel, which can conform to the mattress's shape. This marshall rings feature is a significant selling point since it means that the bed will always stay in good condition, ensuring the loops stay in contact with the mattress and respond to your body's movements. Most coils are made from steel, but copper, brass, and aluminum are also options, depending on the manufacturer and their claims.
---
Benefits of Pocket Coil Mattress
Wide Variety
Mattress width is one of the factors that should be considered. Depending on the manufacturer, it can be different width of the pocket coil mattress, and you can easily choose the one you need for comfortable sleep.
Budget Range
This type of mattress is popular for its support and unique design, and it comes in a price variety. Due to the different technologies and materials used, the mattress cost can differ. Another reason is the mattress size – the larger size your choose, the higher price will be.
Perfect Bounce
Bounce, also known as responsive Innerspring, is a patented pocket coil technology that responds to your weight and pressure just like a natural mattress. This makes it possible to react instantly to your movements without the coils and foams' weight. You can feel the result is a mattress that responds to you, providing the right support and comfort for your weight and body type.
Cooling Features
The pocket coils are designed to allow air to circulate within the pocket and offer a cooler night's sleep. Moreover, it has a cooling ability, so that the pocket coil mattress can not heat and many species of bacteria are not produced, which is very good for the health.
---
FAQ
Is a Pocket Spring Mattress Better Than Foam?
Both types of mattresses are very popular among buyers. They both provide comfort and support for the body. However, the pocket coil mattress offers excellent ventilation, which reduces the amount of heat the body produces.
What's the Difference Between Pocket Coils and Innersprings?
Pocket coils are made of round pieces of interconnected rings, and innersprings are made of a continuous wire coil. Generally, pocket coils tend to be firmer than innersprings, but there are some exceptions to that. The most significant difference between pocket coils and innersprings is the feel.
Pocket coils have nodes that push against your body, providing support, while innersprings tend to bend under your weight. This difference is most notable when your weight is distributed across many points on the mattress.
How Long Does a Pocket Coil Mattress Last?
Mattress life expectancy will depend on many different things. A key factor is the type of material that is used in the mattress. The thickness and density of coils will largely determine the durability of the bed. The average lifetime for the pocket coil mattress is about 15-20 years.
---
The Bottom Line
I provide detailed reviews and comparisons of pocket coil mattresses. I analyze and objectively compare all mattress models under the same standards. Each bed is given a thorough review, including my ratings, recommendations, and detailed analysis.
I also provide essential information about choosing a pocket coil mattress, the main benefits, and exploring types of coil mattresses. I hope the information you received from this article was helpful and will help you make the right choice of the pocket coil mattress.