Buying a mattress protector for your memory foam mattress should be the second thing on your priority list. Stuffing it with sheets and pillows can't protect it from moisture, spills, sweat, dirt, bodily fluids, etc. But there is the way – buy the best mattress protector for a memory foam mattress. This article will guide you through them all. Read on for our buyer's guide and don't forget to ask us any questions you might have in the comments below!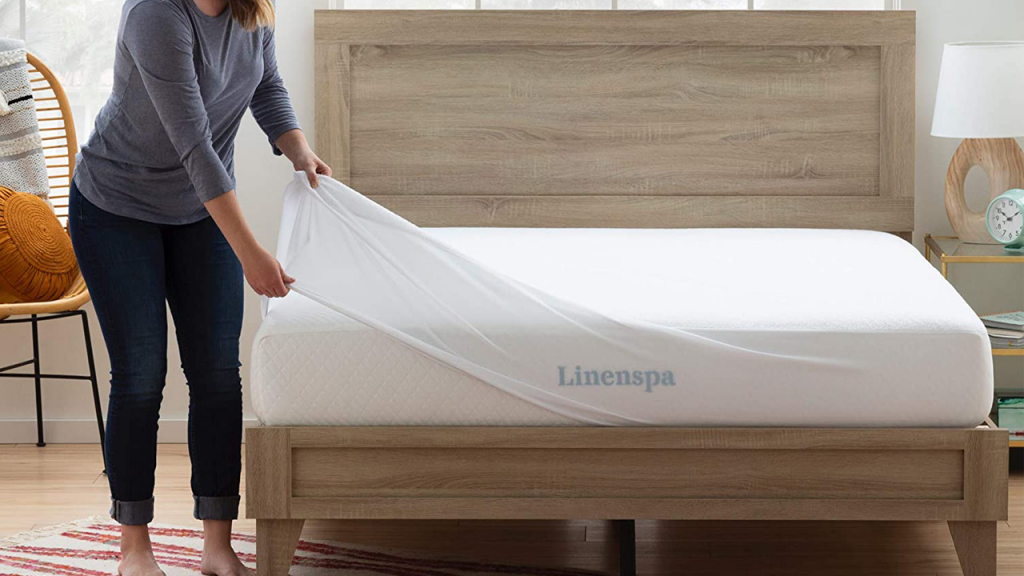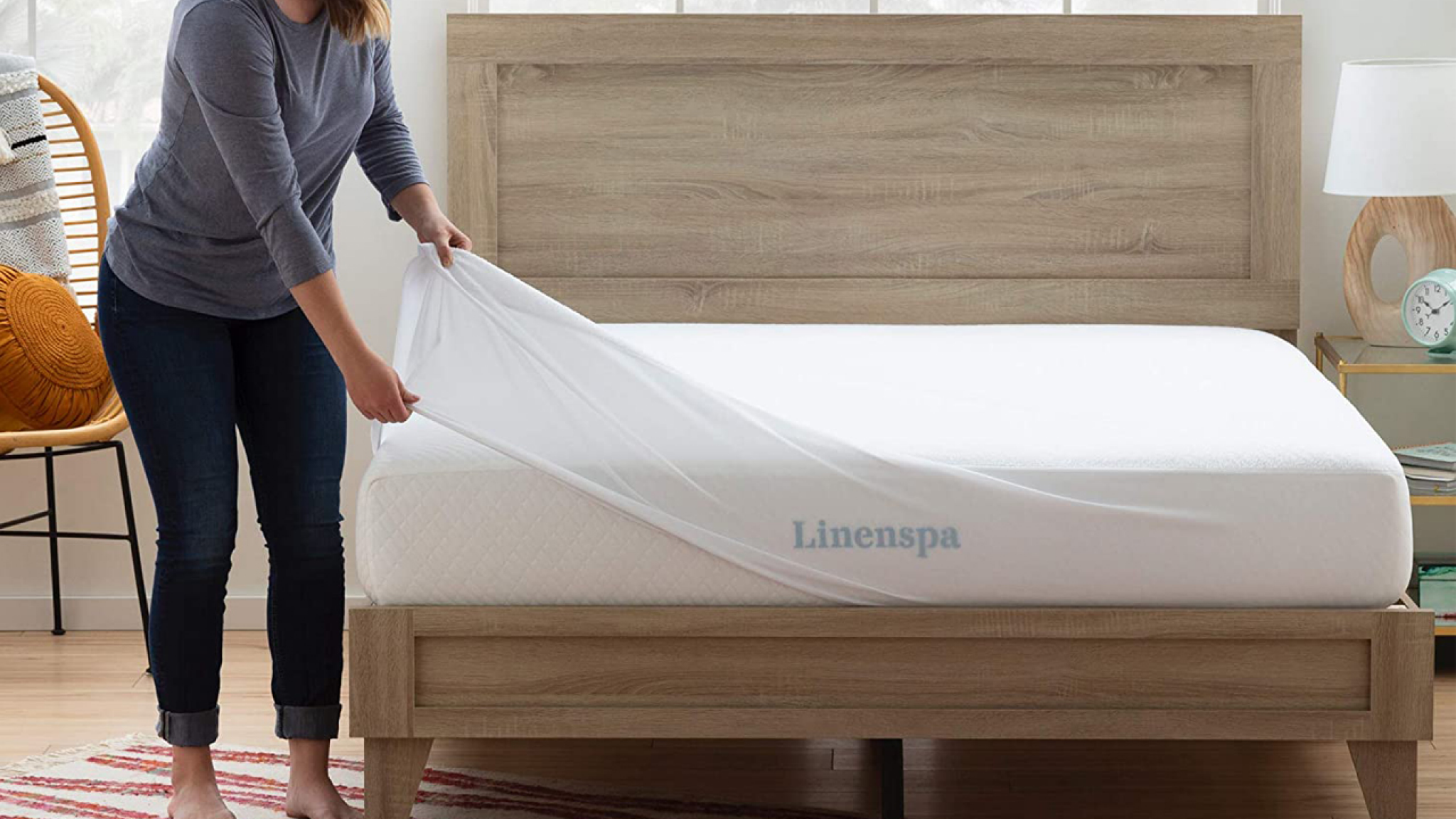 ---
Our Top 5 Mattress Protectors For Memory Foam Mattress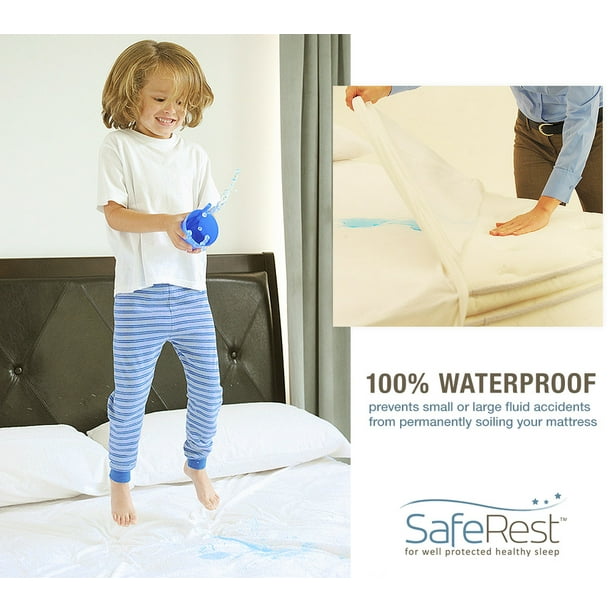 SafeRest Premium Mattress Protector
Size: Twin, Twin XL, Full, Queen, King, California King
Material: Cotton
Closure Type: Fitted sheet style
Price: $$
---
Best Mattress Protector For Memory Foam Mattress Reviews
SafeRest Premium Mattress Protector
Best Overall
No matter how fastidious a sleeper you are, it's a sad fact that your mattress is susceptible to stains from sweat, dirt from the day on your hands and feet, and even spots of urine from pets. That's where this 100% waterproof mattress protector comes in. Made from ultra-soft cotton material, it will help protect your investment for years to come.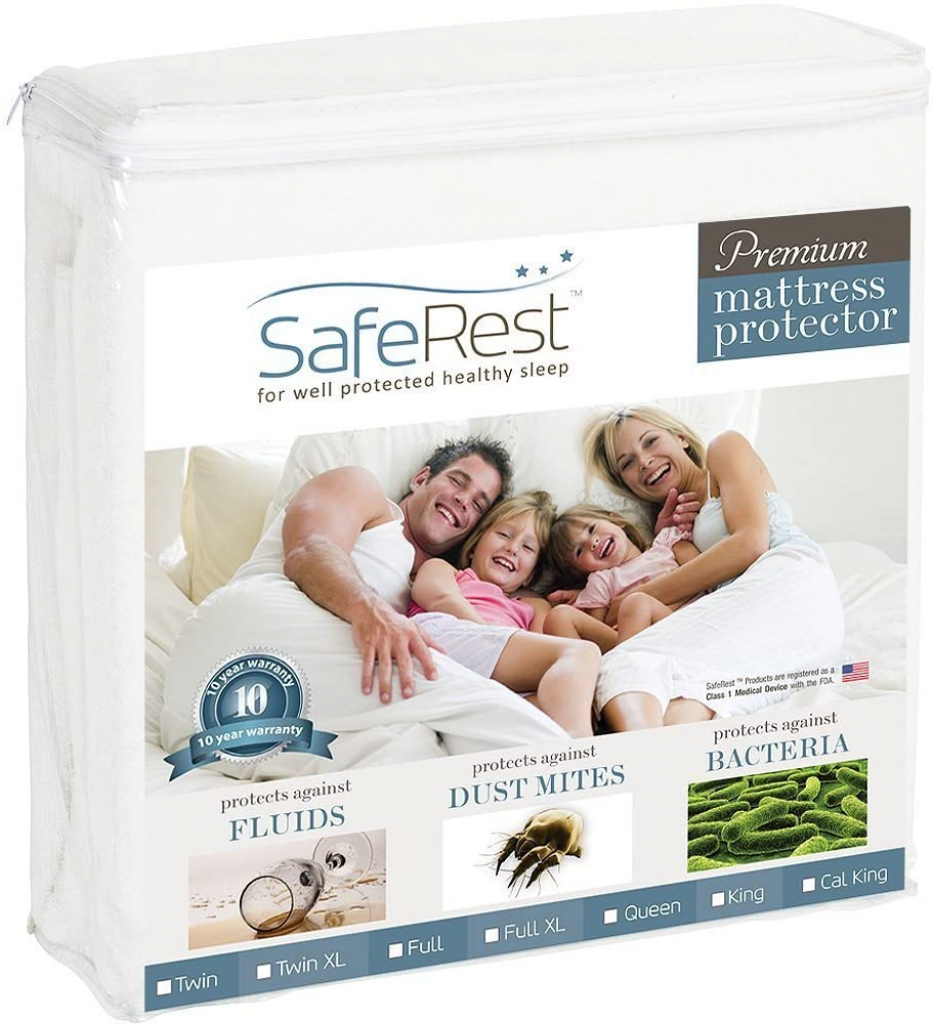 The SafeRest Premium Mattress Protector is designed to fit snugly over mattresses up to 18 inches deep. Built using NASA-developed technologies, it features a water-resistant layer that blocks liquids from passing through while allowing airflow to prevent excessive heat buildup. Plus, the cotton cover is completely machine washable, so you can keep it looking and feeling fresh at all times.


There's a reason that the SafeRest Premium Mattress Protector has over 190,000 reviews on Amazon and a near-perfect rating: It does what it says. Reviewers report that it does not fog up under the fitted sheet, but rather stays in place all night long. Many reviewers also mention its softness and breathability.
---
Amerisleep Waterproof Mattress Protector
Best for Sleepers with Allergies
Amerisleep is a company that constantly releases new products to meet current needs. They've got the newest technology in their line-up to make sure your mattress stays protected from allergens, dust mites, mold spores, and other creepy crawlies. It also helps make your memory foam softer than ever before without breaking down over time.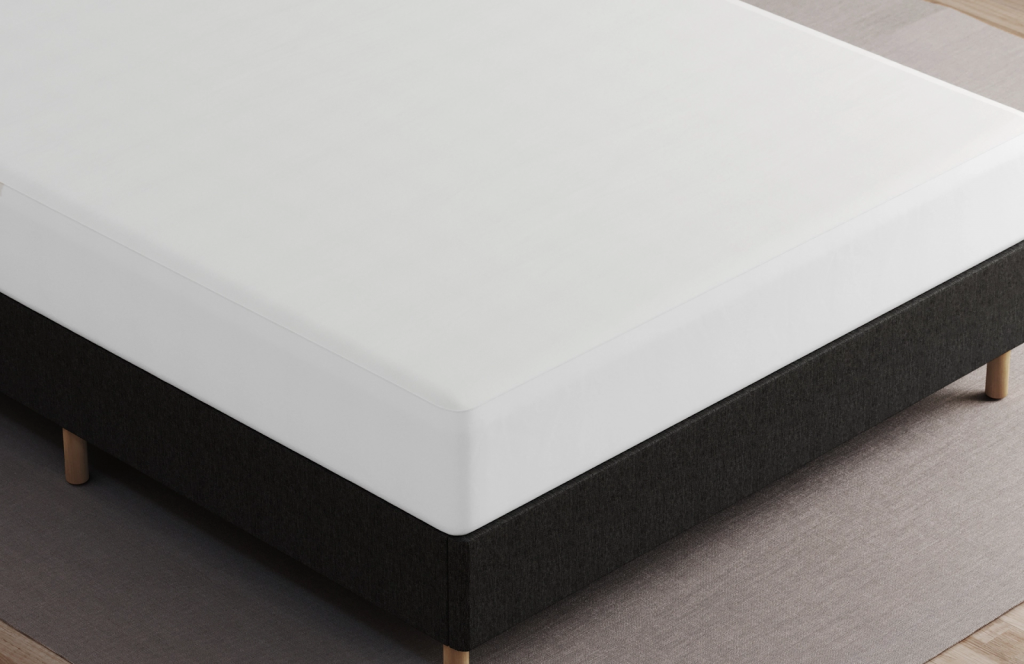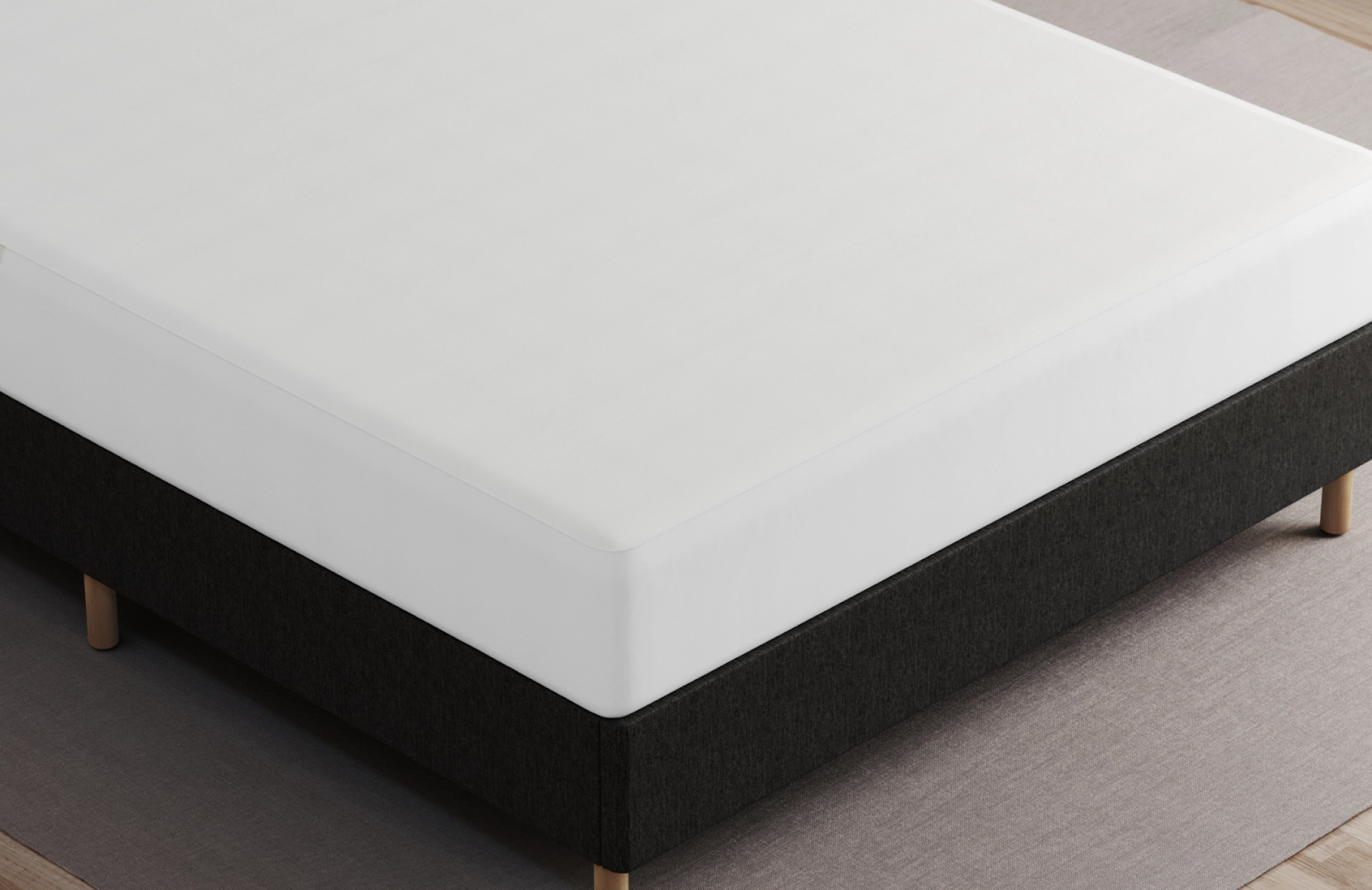 One of their newest products, the Amerisleep Waterproof Mattress Protector, will protect against spills, sweat, urine, and other nasty bodily fluids that might waltz their way onto your mattress. It's easy to clean and it's 100% comfortable to lay on.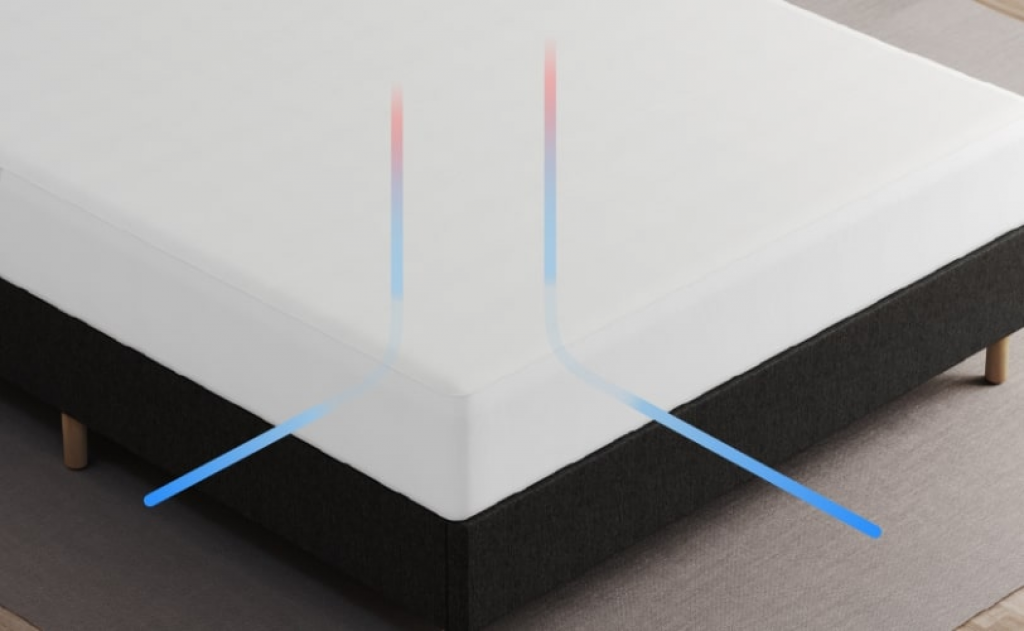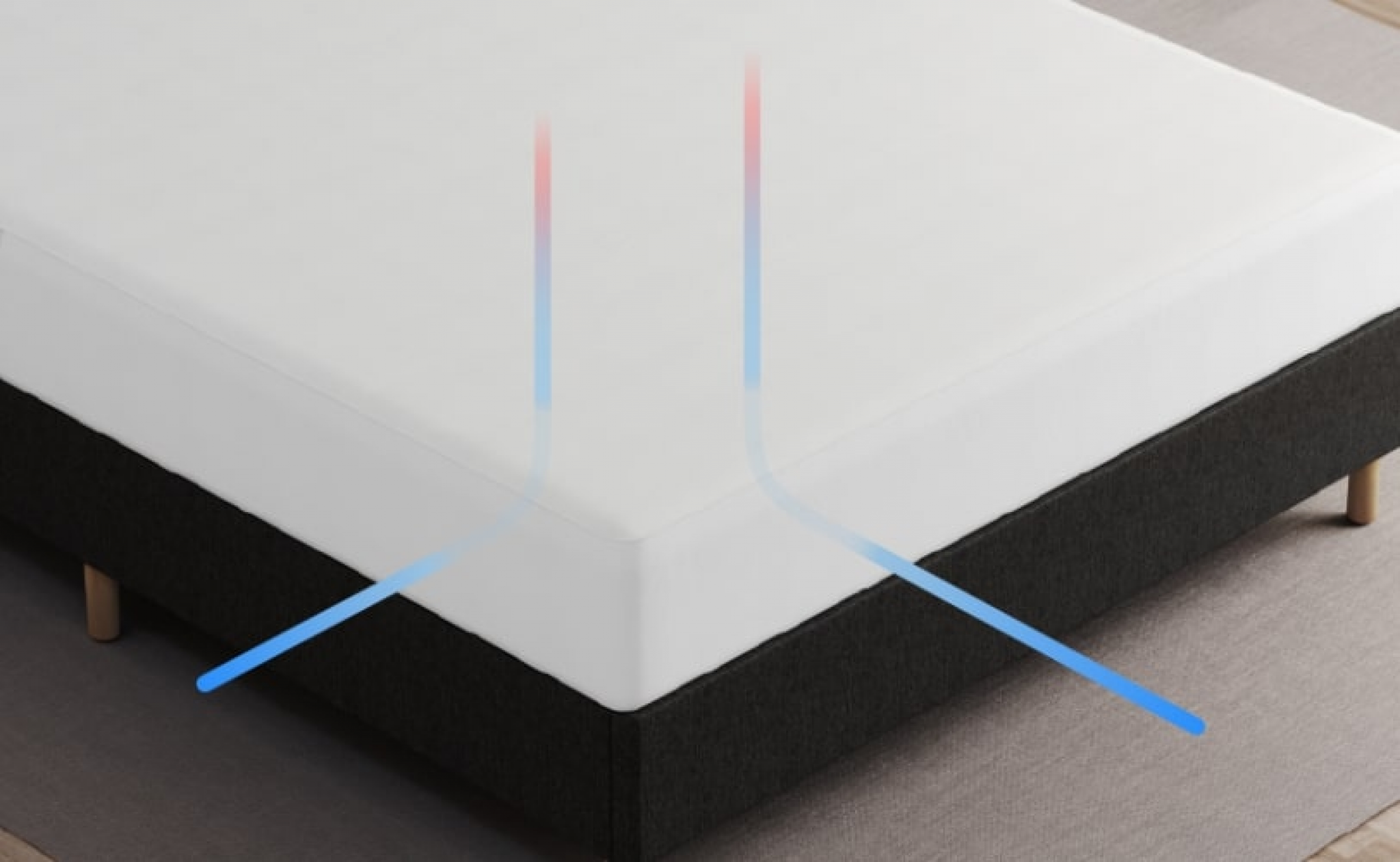 It comes with a soft fabric that makes sure you don't feel trapped or hot. You can rest easy knowing that even if something were to happen, it's completely protected from the stains from bodily fluids, sweat, mold, and all those other things that can ruin your mattress.
---
Linenspa Premium Smooth Fabric Mattress Protector
Best Waterproof Design
Linenspa Premium Smooth Fabric Mattress Protector is made of 100% polyurethane that will help protect your memory foam mattress from dust mites, allergens, mold, bacteria, and other contaminants. Not only does it make cleaning your bed easy by protecting the mattress surface, but it also ensures a quiet sleep for you and your loved ones with its breathable microfiber fabric.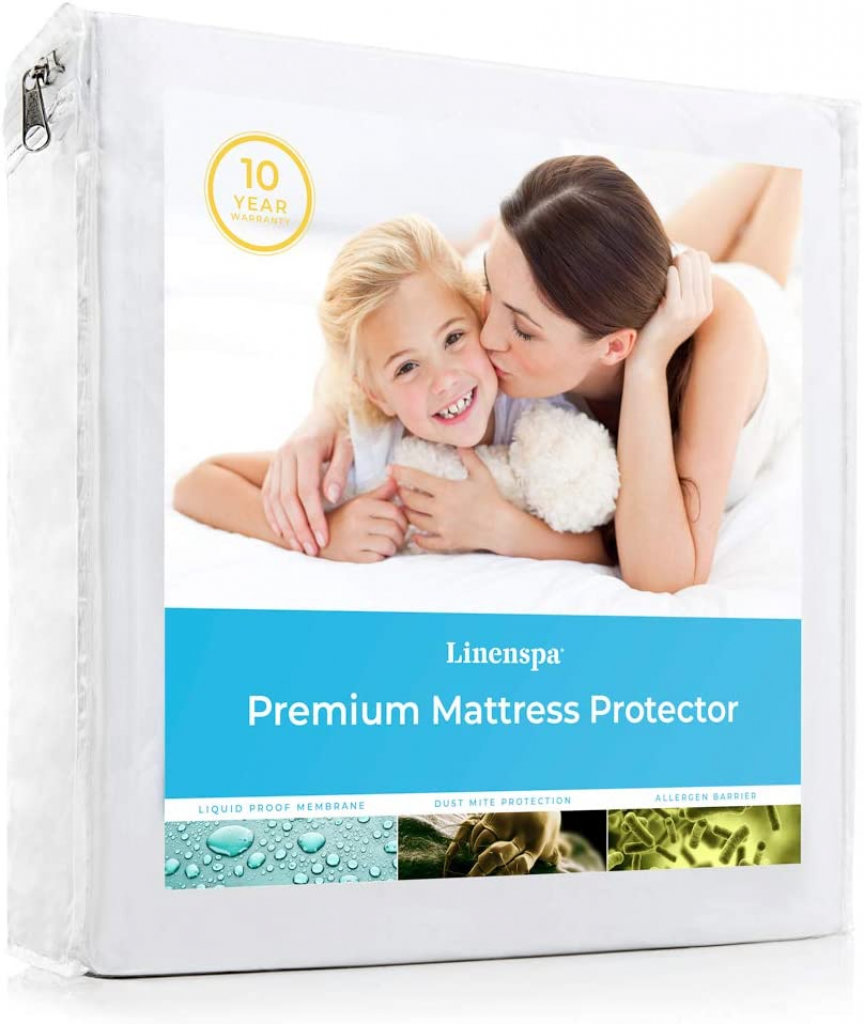 This mattress protector is hypoallergenic, and it is waterproof. With its elastic skirt, you can easily slide it on and off your memory foam mattress. It will keep your bed clean and fresh for a very long time.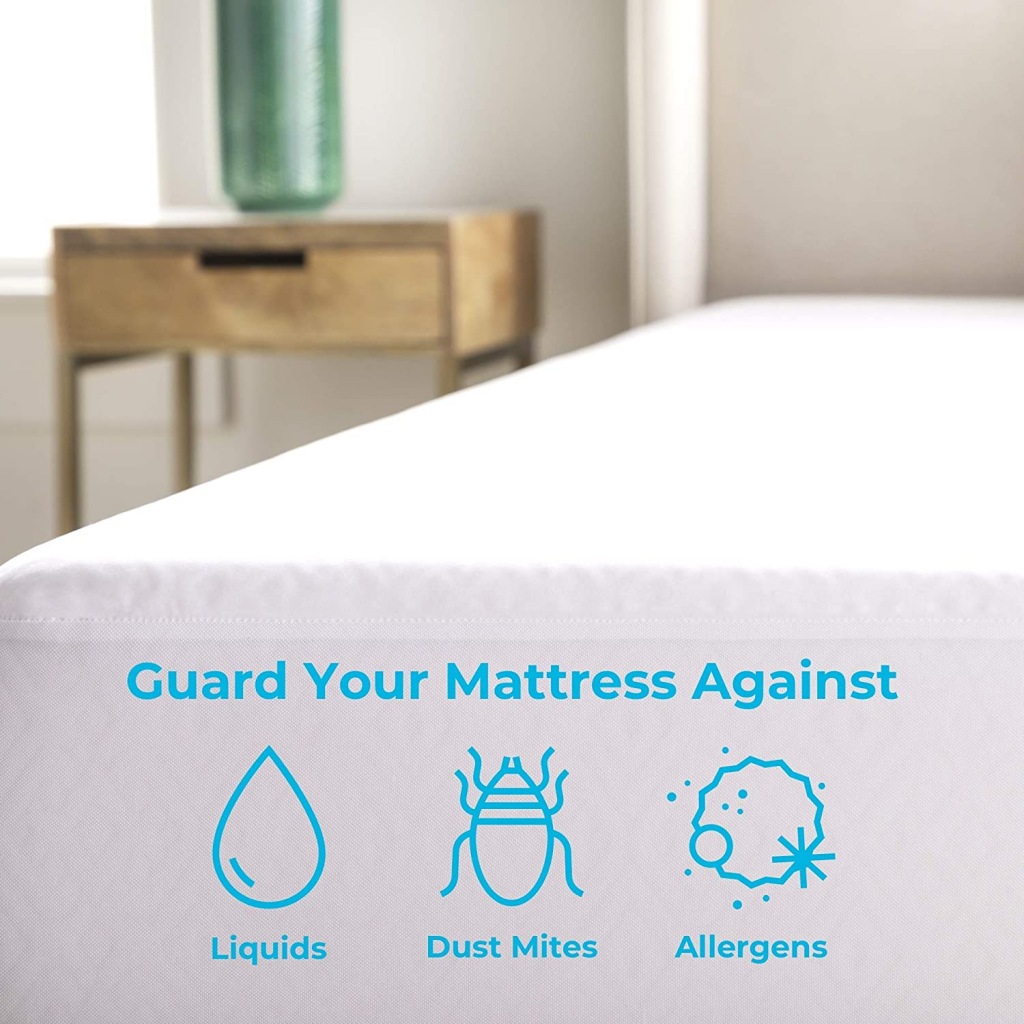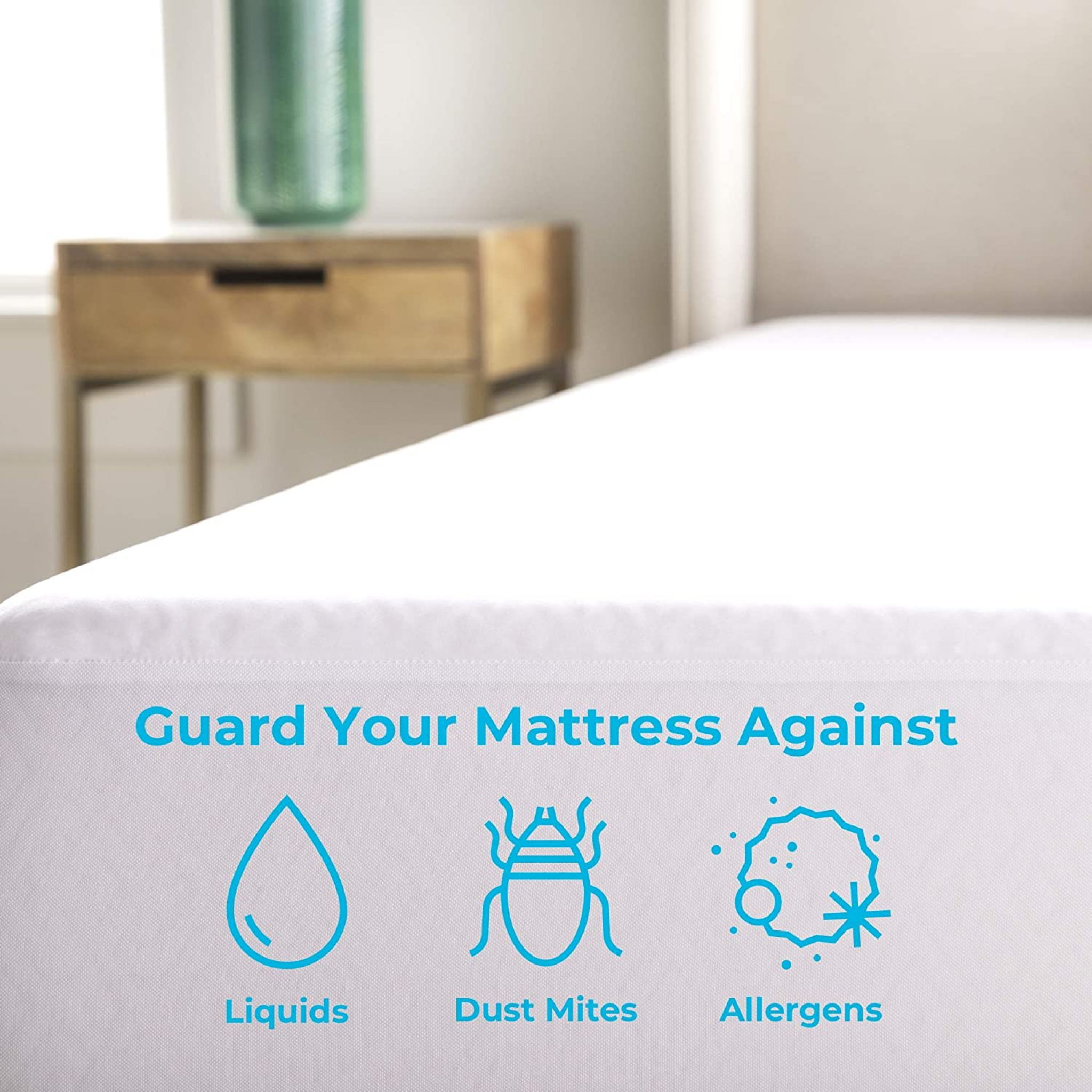 This queen-size product measures 60" by 80," and it comes with a full-size fitted sheet that fits mattresses that measure up to 14 inches deep. The protector also comes with a 10-year guarantee.
Overall, this mattress protector is suitable for all types of memory foam mattresses, including those from Lucid Mattress, Leesa Mattress, Eight-Inch Memory Foam Mattress, Serta Gel Memory Foam Mattress, and many more.
---
PlushDeluxe Premium Bamboo Mattress Protector 
Best Soft Cotton
Do you want to sleep peacefully without worrying about your mattress? Then you need a Premium Bamboo Mattress Protector.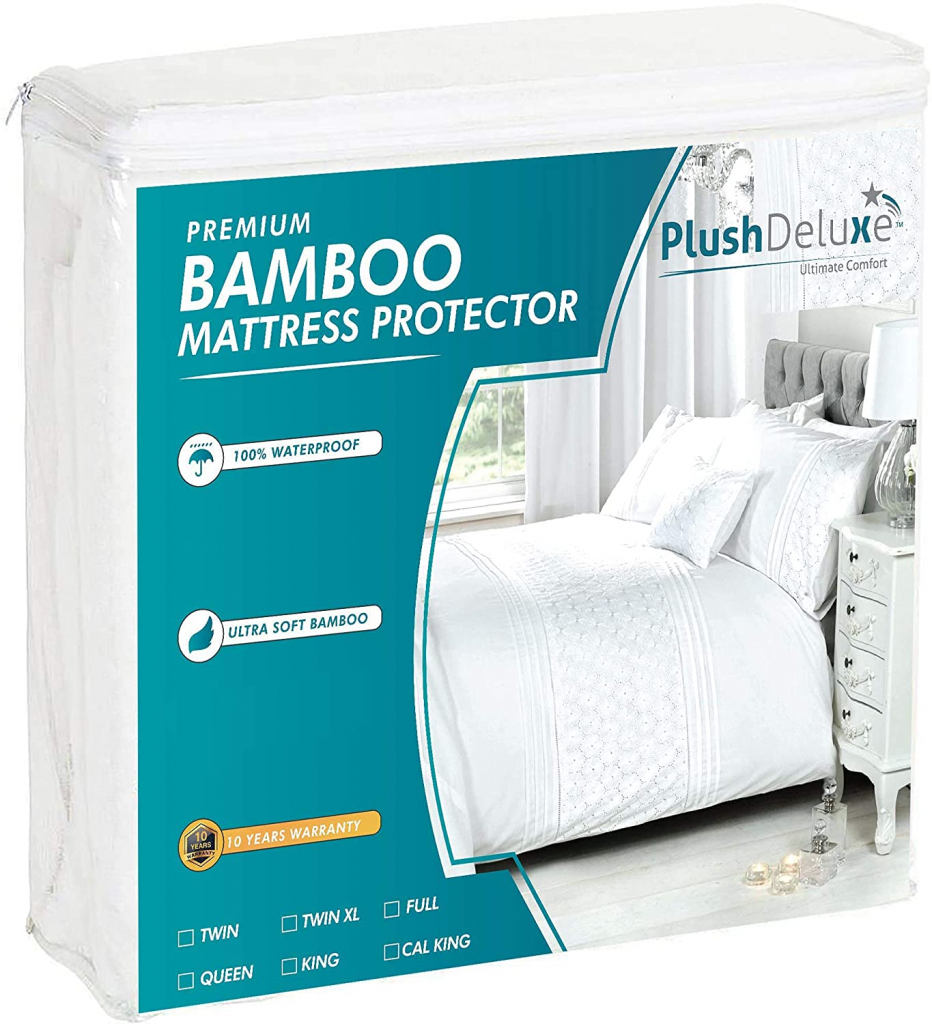 Designed with the environment in mind, this bamboo mattress protector is made of an eco-friendly, biodegradable, and hypoallergenic material that will bother your skin as little as possible. It's also easy to clean and shouldn't start smelling after a few days or weeks of usage.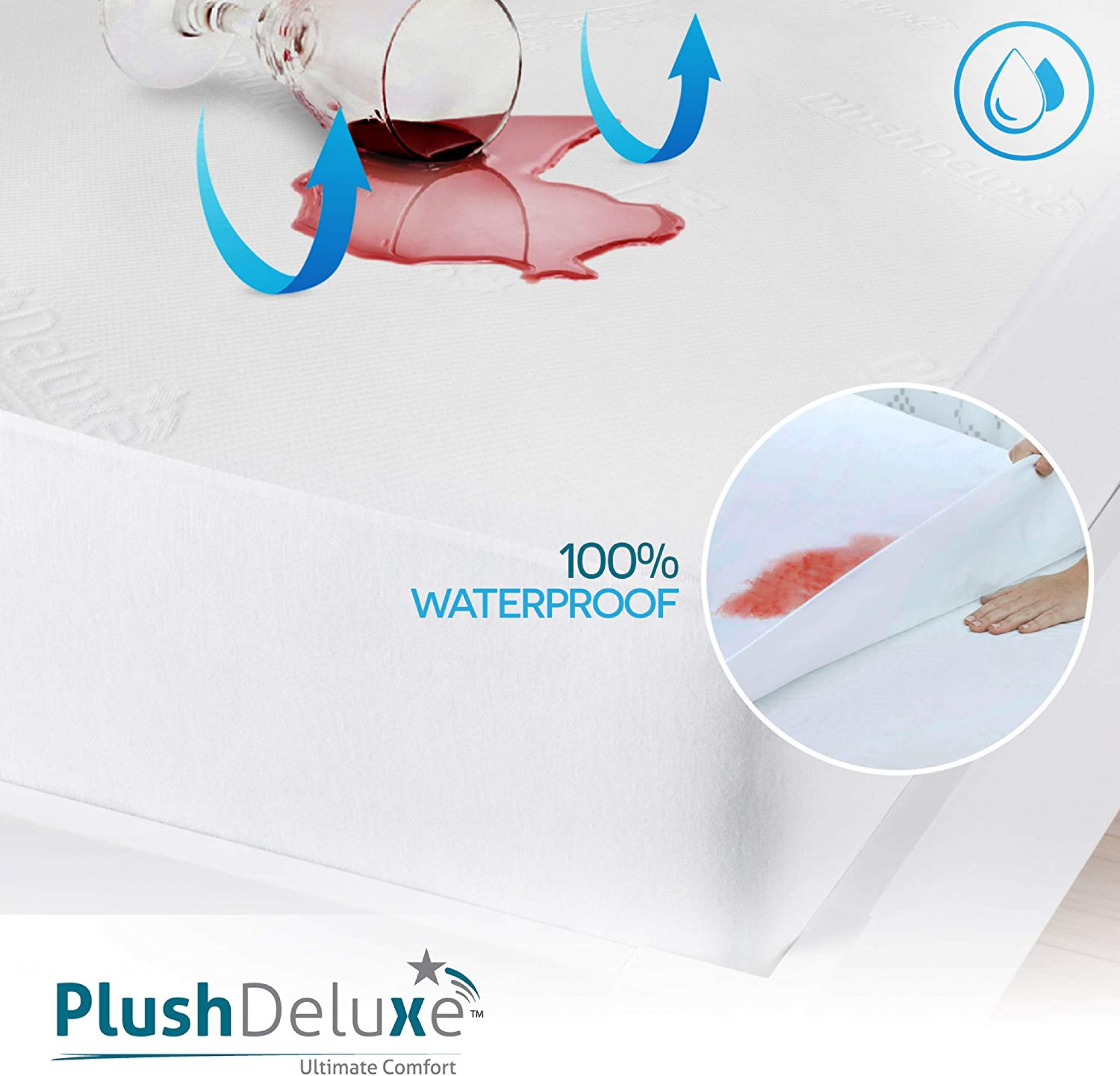 The soft bamboo protector has been sewn through a special fabric, which guarantees a lightweight but durable construction to make sure it really protects well.
Premium Bamboo Mattress Protector is perfect for children, for those of you who have pets that are prone to accidents, for people who are more vulnerable to allergies, and for anyone else who wants to buy an eco-friendly product.
---
LUCID Premium Mattress Protector
Best Breathable Fabric
LUCID Premium Mattress Protector is a high-quality mattress protector that will prevent dust mites, allergens, and bacteria from ruining your sleep. The protectors have been independently tested for their overall performance by CertiPUR-US®, a third-party testing organization, to ensure quality.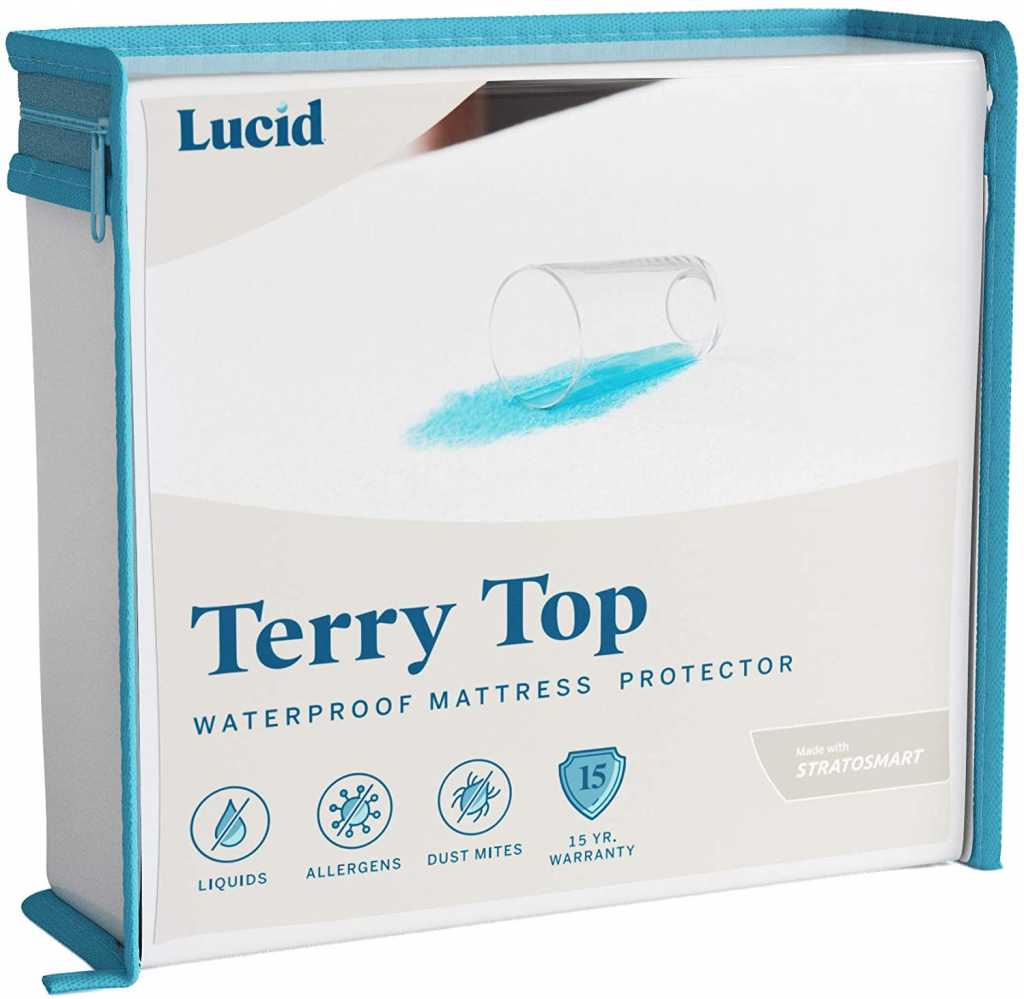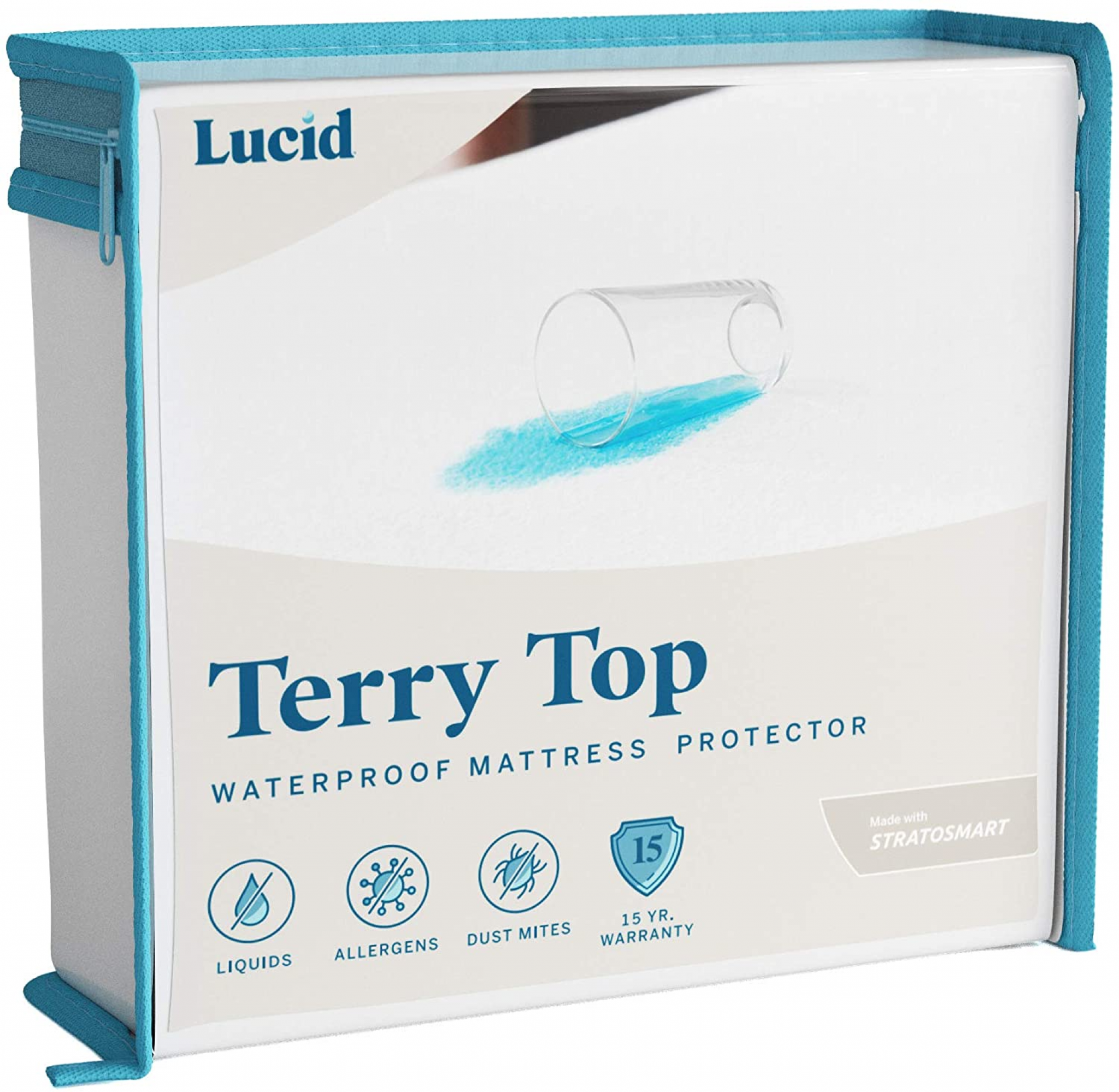 Worry no more with this premium protector from LUCID! It's specially designed for memory foam mattresses to provide adequate protection without compromising the sleep experience.
It attaches easily on the corners of your bed frame with pre-cut edge tabs and an elastic band at the foot end to ensure all edges are secured. Every LUCID Mattress Protector is quilted with a 100% cotton blend and has a hypoallergenic barrier to provide extra support and protection for your mattress.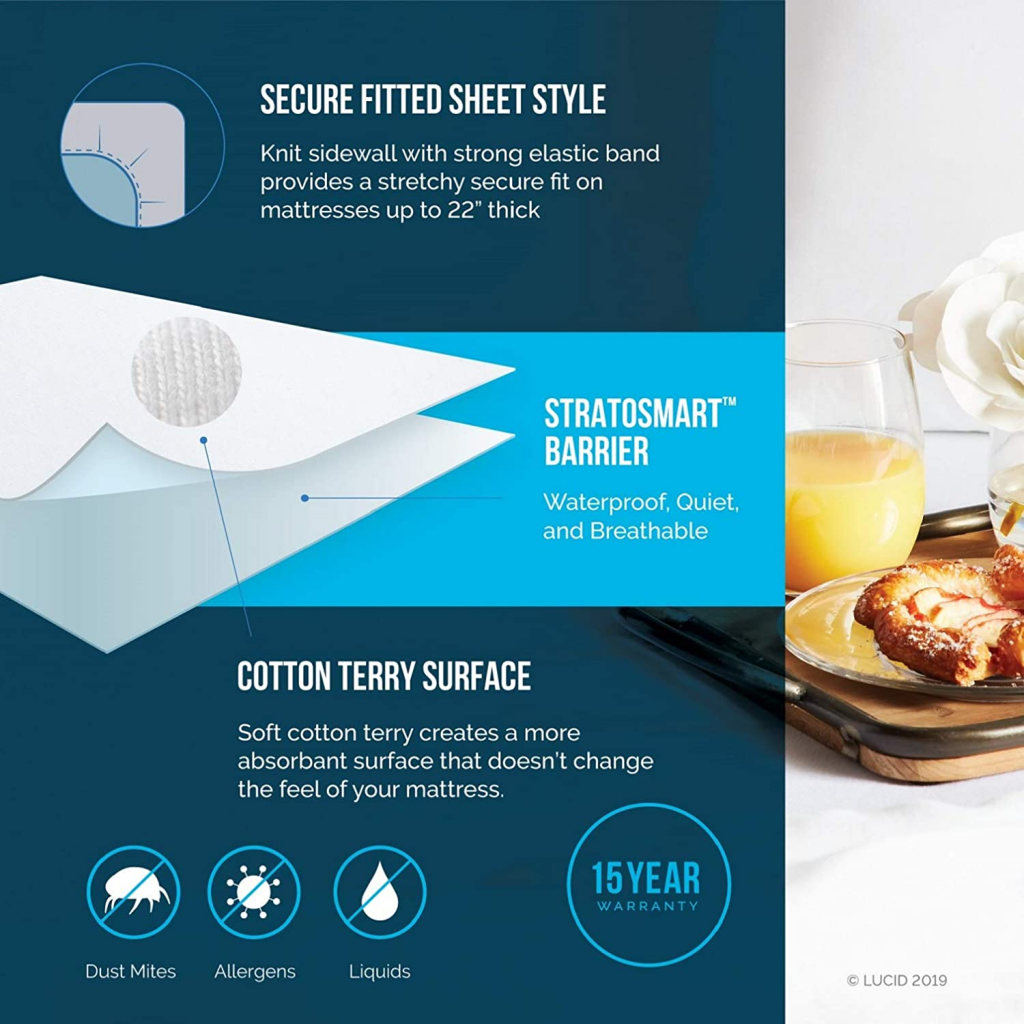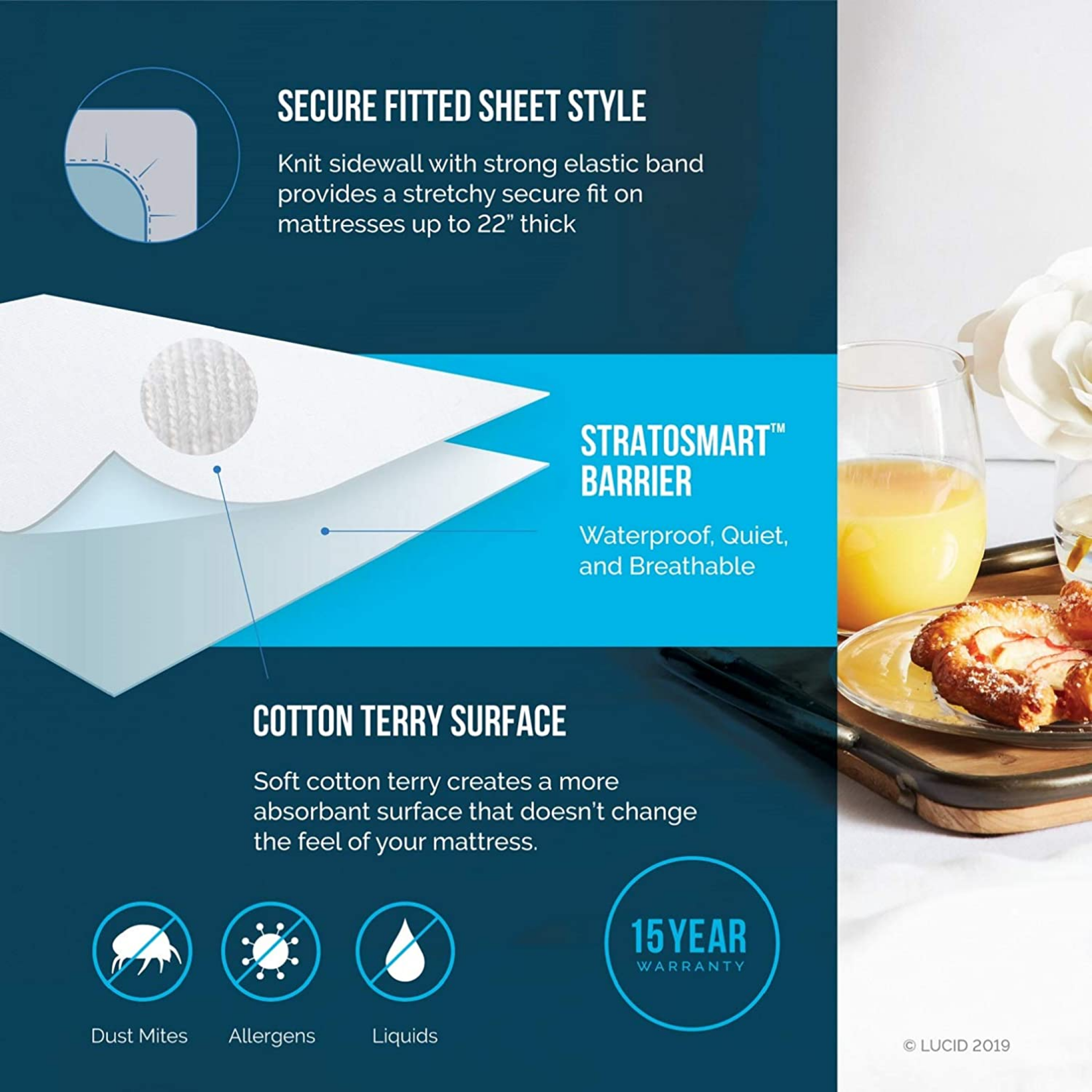 The protector is designed to protect your mattress from the body fluid, spills, or stains. It's easy to clean as well – simply spot clean with a damp cloth and let it air dry.
---
Buyer's Guide
Ensuring your new memory foam mattress is kept clean and free of dust mites, or other allergens is of utmost importance. You know that memory foam traps heat, so it is very important that you keep your mattress clean to avoid bacteria growth. It's also critical to keep moisture at bay.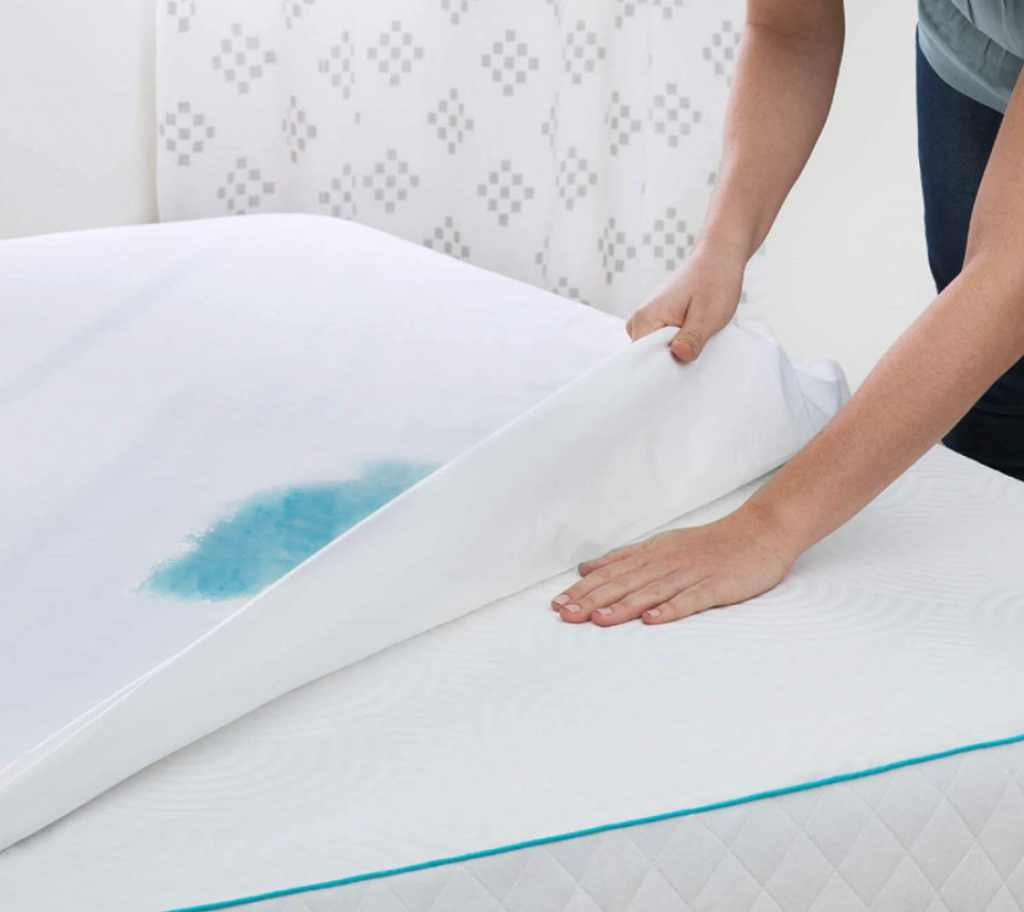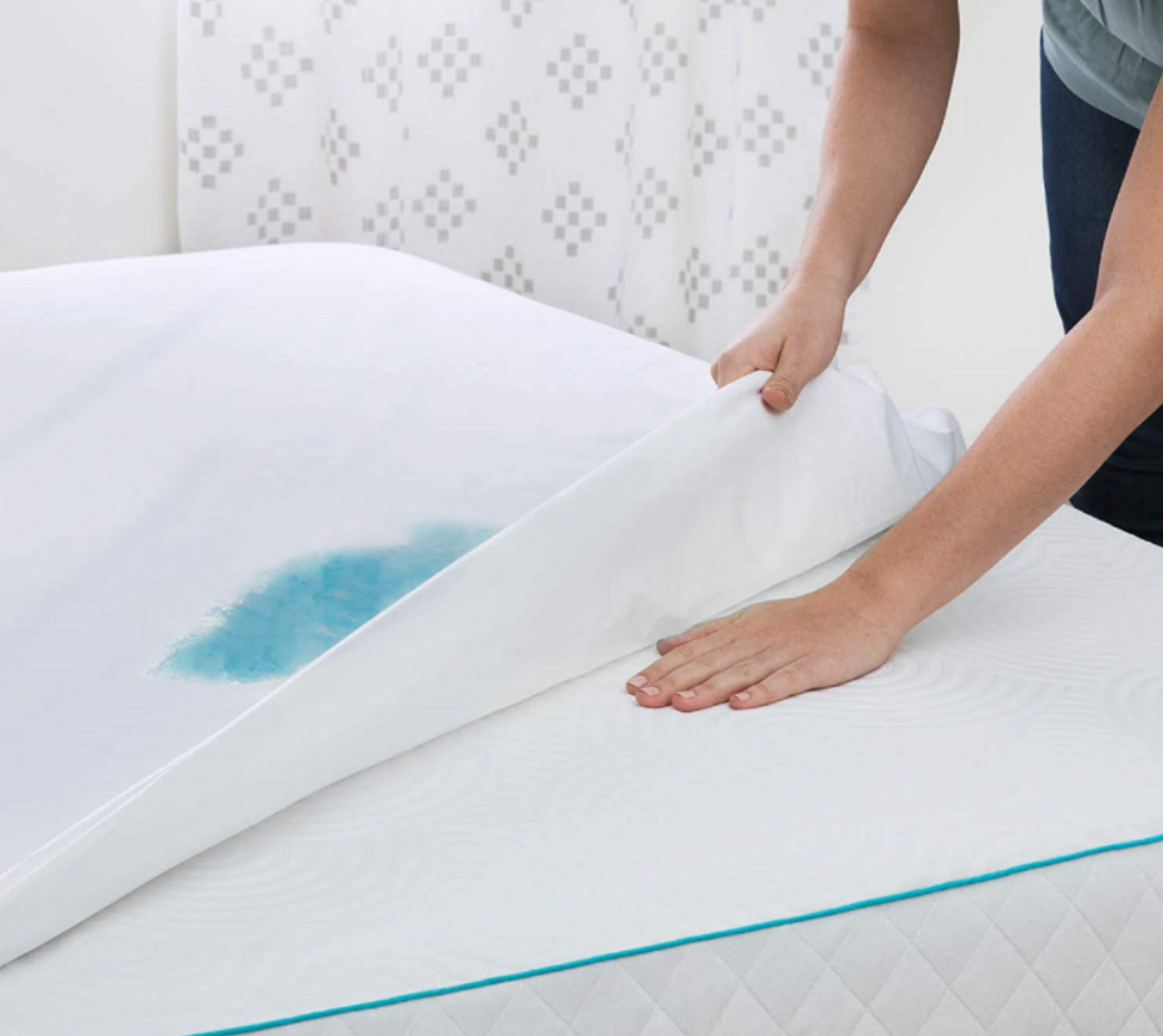 The best mattress protector for memory foam mattresses will help prevent bodily fluids from seeping into the memory foam and ensure your body doesn't sweat more than necessary on the sleep surface. We will provide you with a buyer's guide about choosing the best mattress protector for memory foam mattresses with the following information.
---
What Is Mattress Protector For Memory Foam Mattress?
As the name implies, a mattress protector for a memory foam mattress is a cover that goes on your bed to provide an additional layer of protection over the sleep surface. This layer of protection will help prevent any mattress staining or soiling while also providing anti-dust mite and anti-bacterial properties. It is usually made from breathable materials to avoid making you sweaty, but more importantly, to ensure you don't get more overheated at night.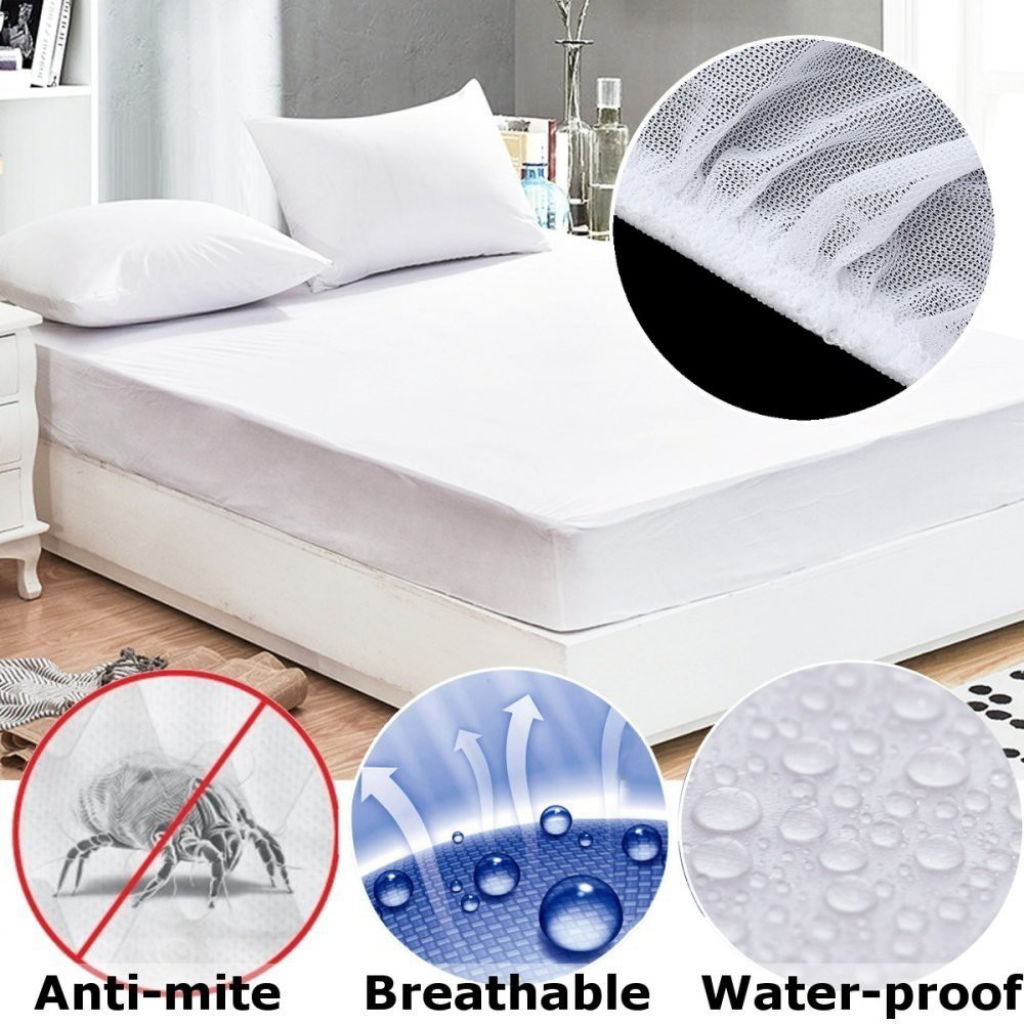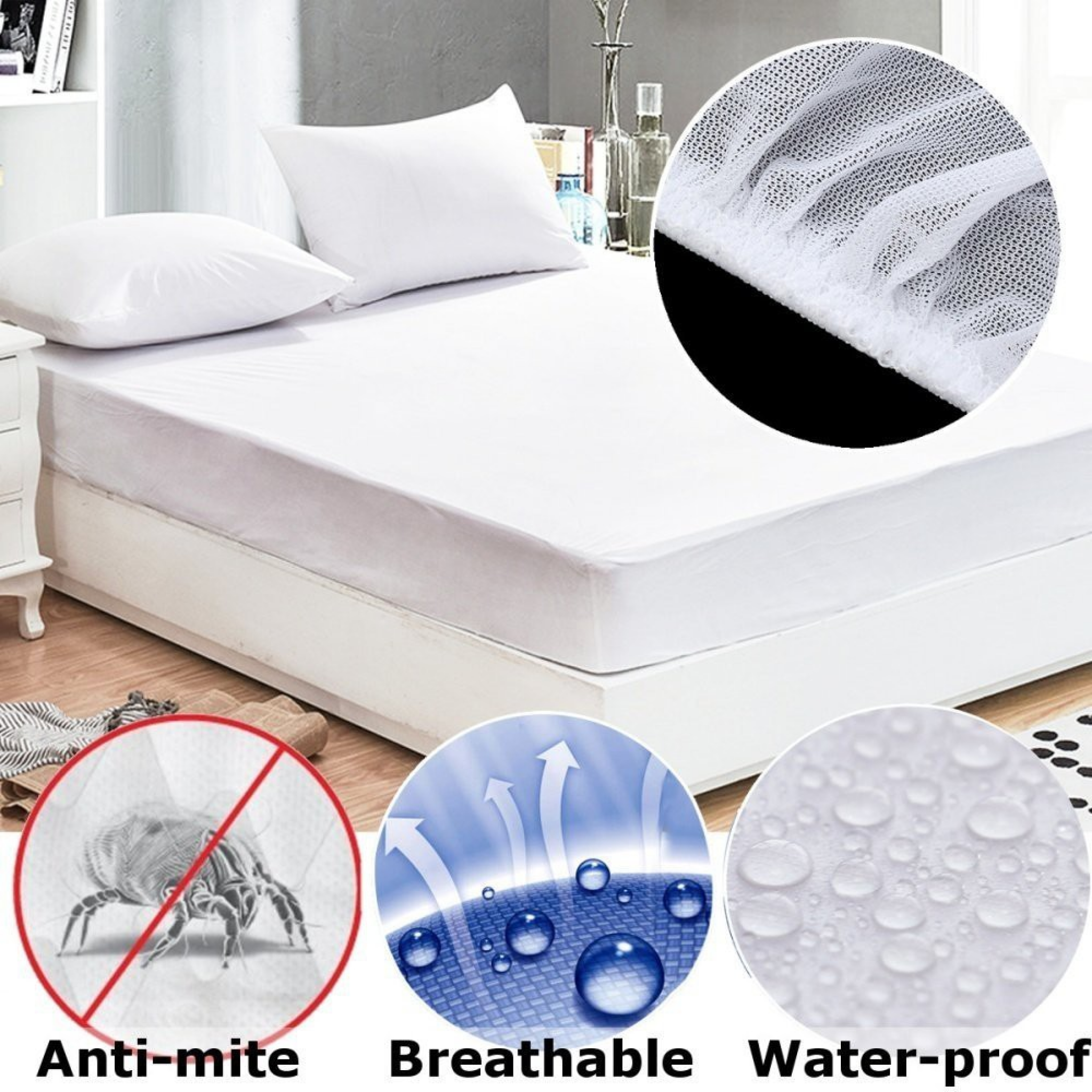 ---
Why Get A Mattress Protector?
There are many reasons why getting a protector for your memory foam mattress is necessary, but here are some of the main ones:
Prevent Stains And Spots On Your Mattress
A memory foam mattress can soak up stains from body fluids, so it's the best idea to have sleeping surfaces that are breathable and porous, which means cover-ups will help keep this matter from getting transferred to your mattress. In addition, a protector keeps the bedding dry.
Prevent The Mattress From Getting Too Hot
While a memory foam mattress is designed to be cooler than a standard foam mattress, over time, this can cause problems if the bedding you use to sleep on isn't breathable. A protector will help prevent heat from building up on the surface of your memory foam and will keep you much cooler than you would be during the night. This will also reduce your chances of overheating in general.
Protects You From Bodily fluids
The top layer of the human body is not just in fact our skin cells but the sheet underneath our skin. The sheet is what reacts to the fluids and not the skin cells, and the reason is that the skin cells can pass through it while bodily fluids can't. The sheet is what sticks to your skin and keeps your skin cells alive while you sleep.
Therefore, it's critical to make sure you protect this layer by using a protector on your mattress. It will keep any unwanted fluids from seeping down into the lower layers of your memory foam and will protect it from getting wet, which will reduce the risk of bacteria growth or damage.
---
Types Of Mattress Protectors For Memory Foam Mattress
Over the years, different mattress protectors for memory foam mattresses have come on the market, and some of these mattress covers and bed mats can be pretty useful. Here we will review the types of mattress protectors for memory foam mattresses.
Encasement Protectors
Encasement protectors are usually made from a stretchy, breathable material. The material is soft and smooth, and it is not too thick, making it easy to fit over a memory foam mattress.
They can be folded or flat depending on the user's preference. The protector will not only look good but also feel good as well. It is moisture-resistant and will keep your memory foam mattress from getting dirty or smelly.
Fitted Style
These are the most popular type of mattress protectors because they do a great job at keeping your mattress clean while being very convenient since they are offered in many great patterns, styles, and sizes, so you can get one that is perfect for yourself. You can find these in all types of colors or with different patterns like circles, stripes, or images on them to make your personal statement.
Strap
If you want extra protection but don't want to deal with bulky covers, then these are the ones for you. They come with elastic straps that keep the cover from moving around on your mattress and ensure no leaks.
---
What To Consider While Choosing Mattress Protector For Memory Foam Mattress
As you consider buying a protector for your memory foam mattress, there are some main factors that you will want to consider. They are as follows:
Materials
The materials used in making a mattress protector for memory foam mattresses are critical to its effectiveness and usefulness and how long it will last. There are many different types of materials used to make protectors, and you'll need to know what each material can provide to pick one that best works for your needs.
Some materials are better at repelling liquids, while others are better at keeping you cool or keeping you protected from dust mites. In addition, there needs to be a certain level of durability with the material as well. When it comes to choosing a protector for your memory foam mattress, you must know these details about its material to make a wise decision.
Size And Pocket Depth
Fitted sheets are the best option to use on your new memory foam mattress. Depending on your mattress size, there are different-sized protectors available for you to choose from. Make sure they are deep enough to accommodate the thickness of your memory foam mattress.
Liquid Protection
The liquid protection for a memory foam mattress is the best type of protection that you can get. It will protect your mattress from any unwanted liquids that may be spilled on it throughout the day or night, and it will keep you protected from any bodily fluids from seeping down to your lower layers of memory foam.
A protector should also have a certain level of anti-microbial properties, so there is no growth or damage due to bacteria absorbed through liquids. Most protectors do not have this property, though, so it's up to you to decide what type of liquid protection you want in your protector.
Cooling Effect
A cooling effect will help you stay comfortable at night, but the protector mustn't make you too hot. A mattress protector should be breathable and porous so it can let the airflow through it easily.
This will help cool you down at night by letting air circulate with your body heat. Many brands claim a cooling effect, but they don't offer any proof outside of flashy advertising campaigns.
---
FAQ
Should You Put A Mattress Protector On A Memory Foam Mattress?
Many people put a mattress protector on their memory foam mattress because they are afraid that the memory foam will be ruined if it comes into contact with the fabric. The mattress's material is not usually damaged by just laying on top of it, but some people are still hesitant to use a mattress without one as a precaution.
What Do You Cover A Memory Foam Mattress With?
You can use any type of covering on a memory foam mattress, but we recommend you use a mattress protector to avoid stains on the bed's surface.
Is A Mattress Pad The Same As A Mattress Protector?
A mattress pad is a soft cushion that encases the entire top of a mattress and gives you additional comfort during sleeping. It is typically polyester, fiberfill, down, foam, wool, or other filling materials.
A mattress protector is applied to protect a surface from damage by liquid spills or other external sources during usage. It is made of cotton or polyester.