When you think about the materials that go into your mattress, you likely don't think about the organic mattress. But you should. Organic mattresses have been gaining popularity in recent years, and for a good reason.
There are many reasons why the best organic mattress might be a good purchase for you, and we're going to discuss some of them here. So, are you ready to learn more about organic mattresses? Read on to find out more!
---
Top 5 Best Organic Mattresses
#1
Awara Natural Luxury Hybrid Mattress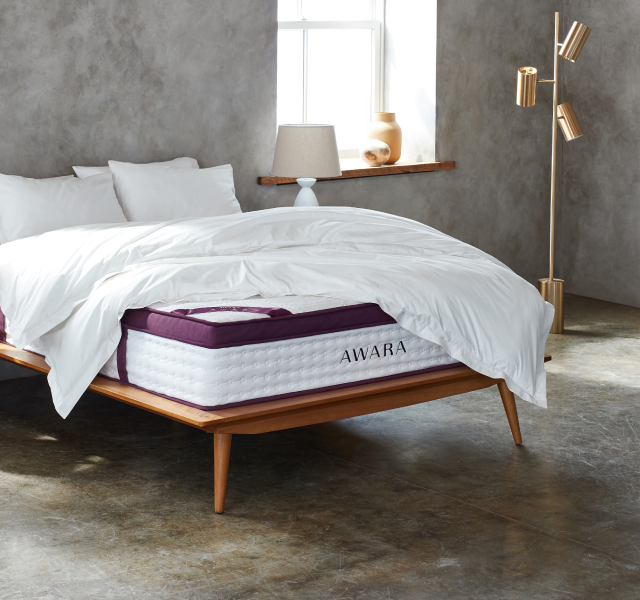 Get Up to $699 off
The mattress offers the perfect balance between support and comfort to ensure that you get healthy, comfortable sleep.

The natural latex foam layer helps relieve pressure points beneath your shoulders, hips, and legs.

It's an excellent choice for All Kinds of Sleepers.
Trial period: 365-Night Trial

Warranty: Forever Warranty™

Shipping:
Free Shipping & Return

Firmness:
7/10

Price range: $$$

Type: Hybrid
---
If you're trying to find a way to rejuvenate your bedroom, an organic mattress will give your bed a healthy update. These mattresses are made from all-natural materials like cotton, wool, and latex. The organic mattress contains only organic materials. It has no chemical flame retardants, no synthetic ingredients or dyes, and no toxic pesticides.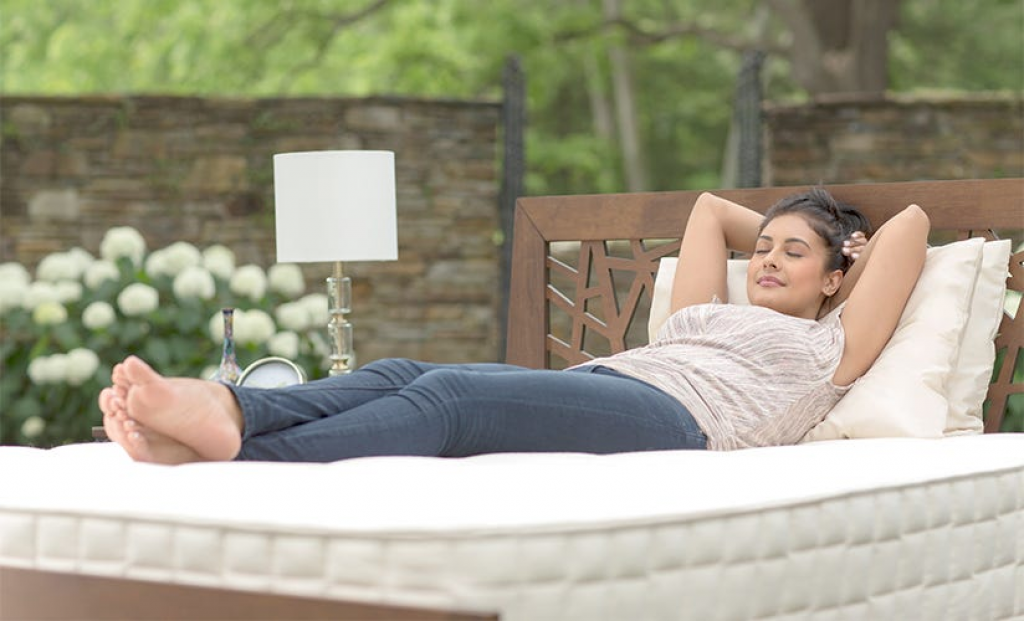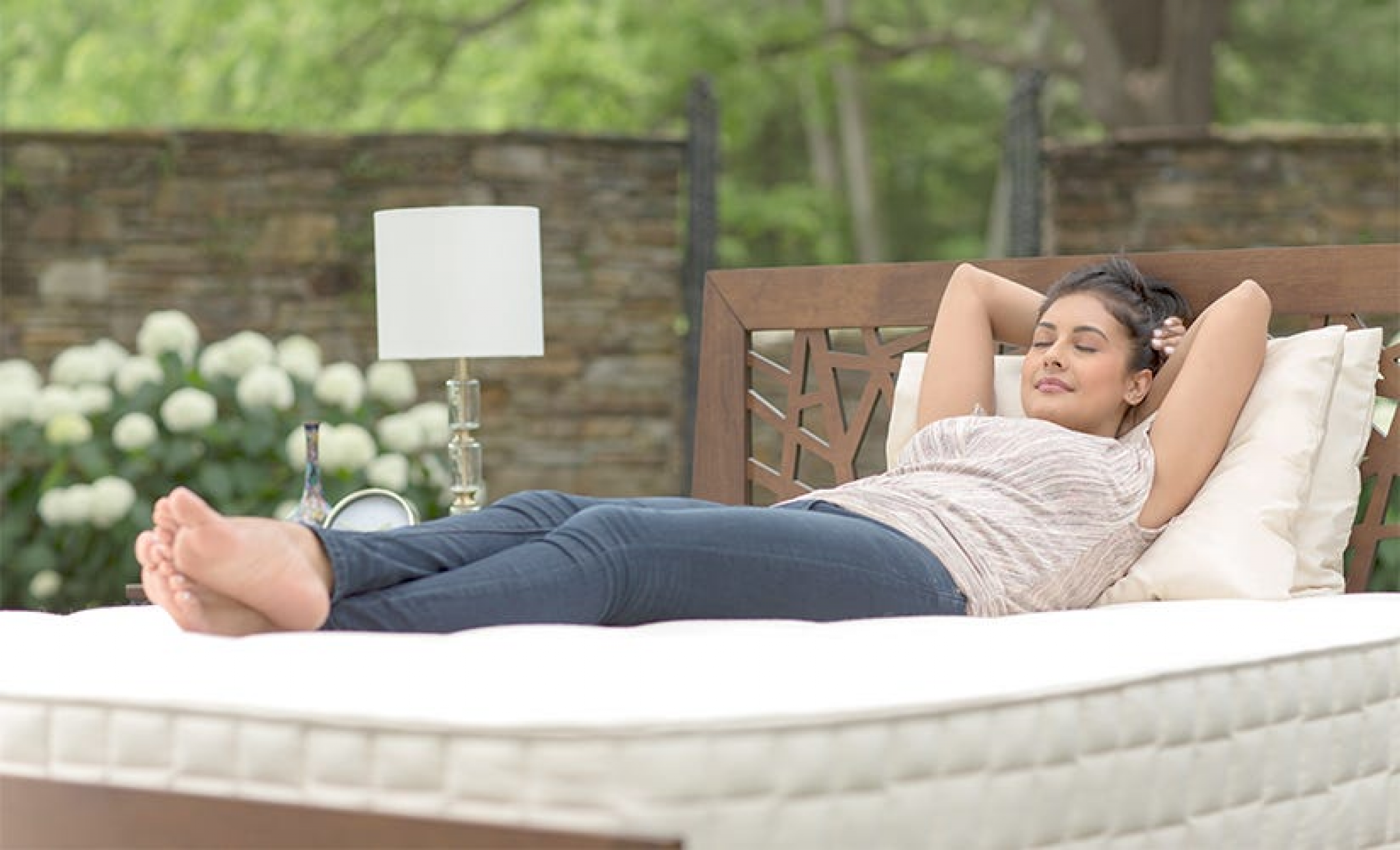 The result is a mattress that is free of potentially harmful materials and much more environmentally friendly. Many of these mattresses are also hypoallergenic, helping people who suffer from allergies to dust or pollen. Here's the buyer's guide where we reviewed the best organic mattress for different sleepers.
---
Best Eco Friendly and Natural Organic Mattresses Reviews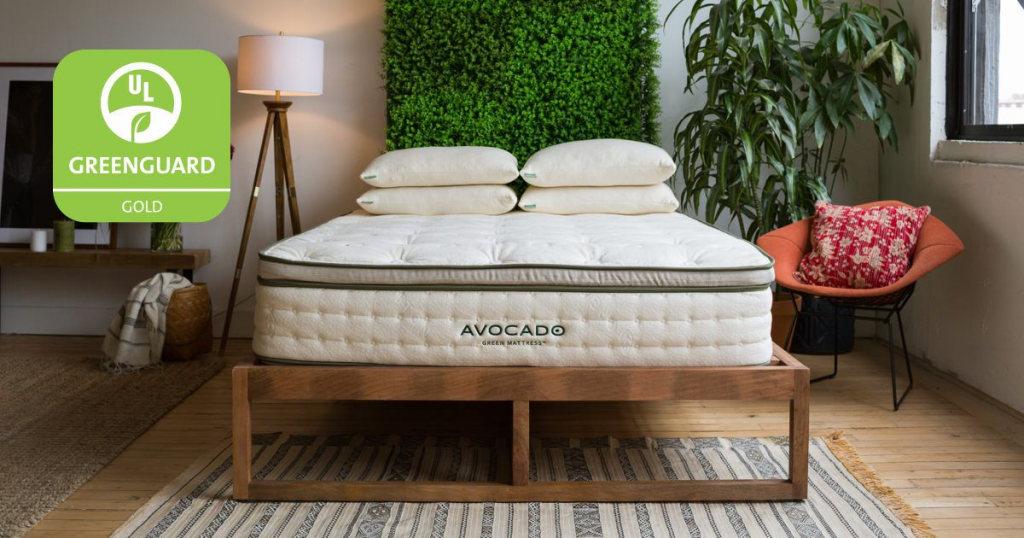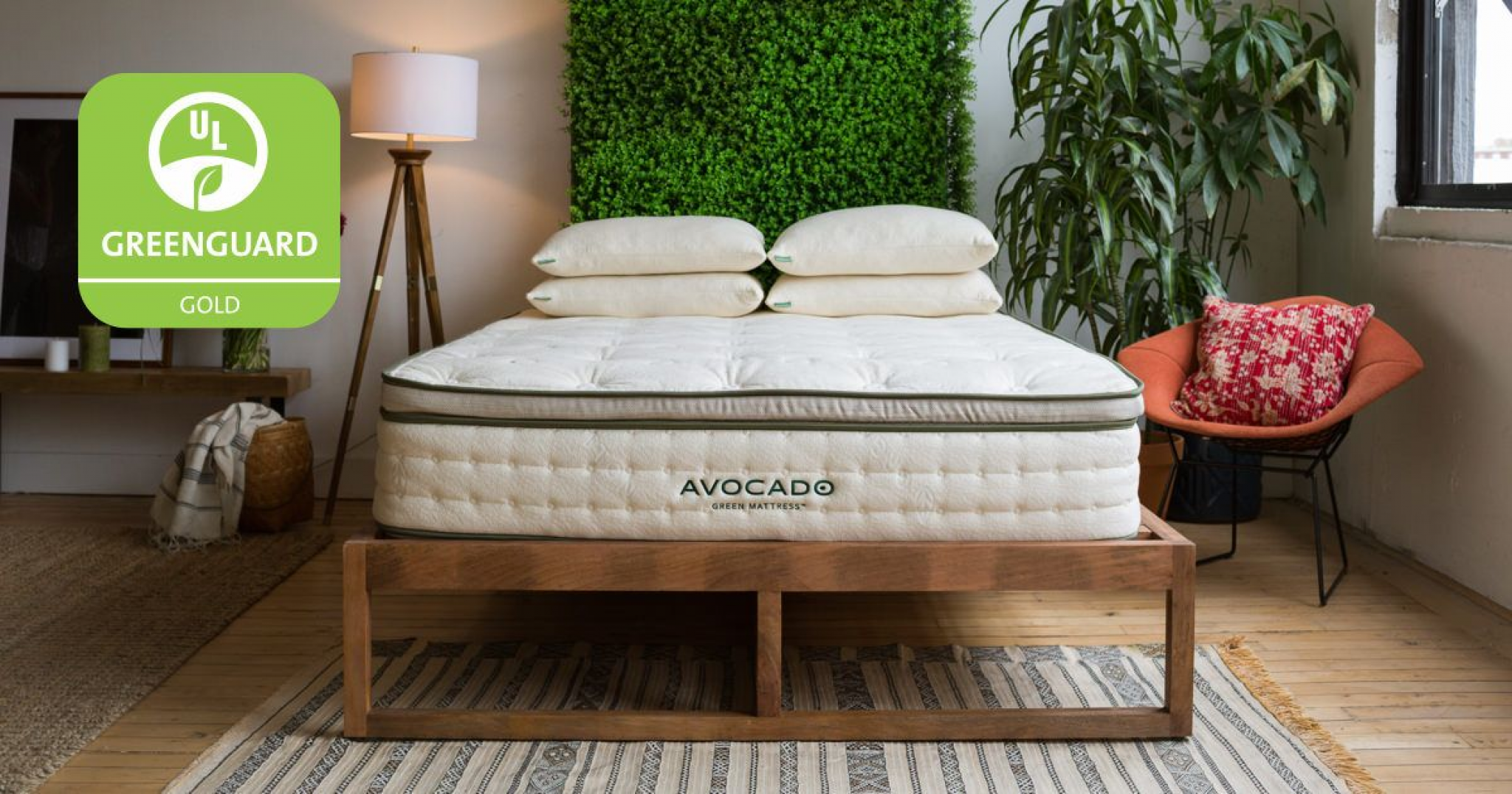 One of the best mattress manufacturers in the market today is the Avocado Green Mattress. This mattress is made from the finest organic materials. It will give you great sleep, and the bed will make you feel comfortable all night long.
The Avocado Green Mattress is handmade in the USA with American-made organic materials. It is completely natural, with no synthetic inside or outside. The mattress is made from organic wool and organic cotton without using harmful pesticides, herbicides, and fertilizers.


While producing the Avocado Mattress, GOLS-certified organic latex was used. There are no polyester, polyurethane foams, or toxic fire retardants used in the Avocado Green Mattress construction.
What I Like:
The avocado green mattress is a 100% organic mattress that uses natural materials to provide a uniquely comfortable sleep surface.
The manufacturer provides a one year trial and 25 years warranty.
No-fuss free shipping across the USA.
---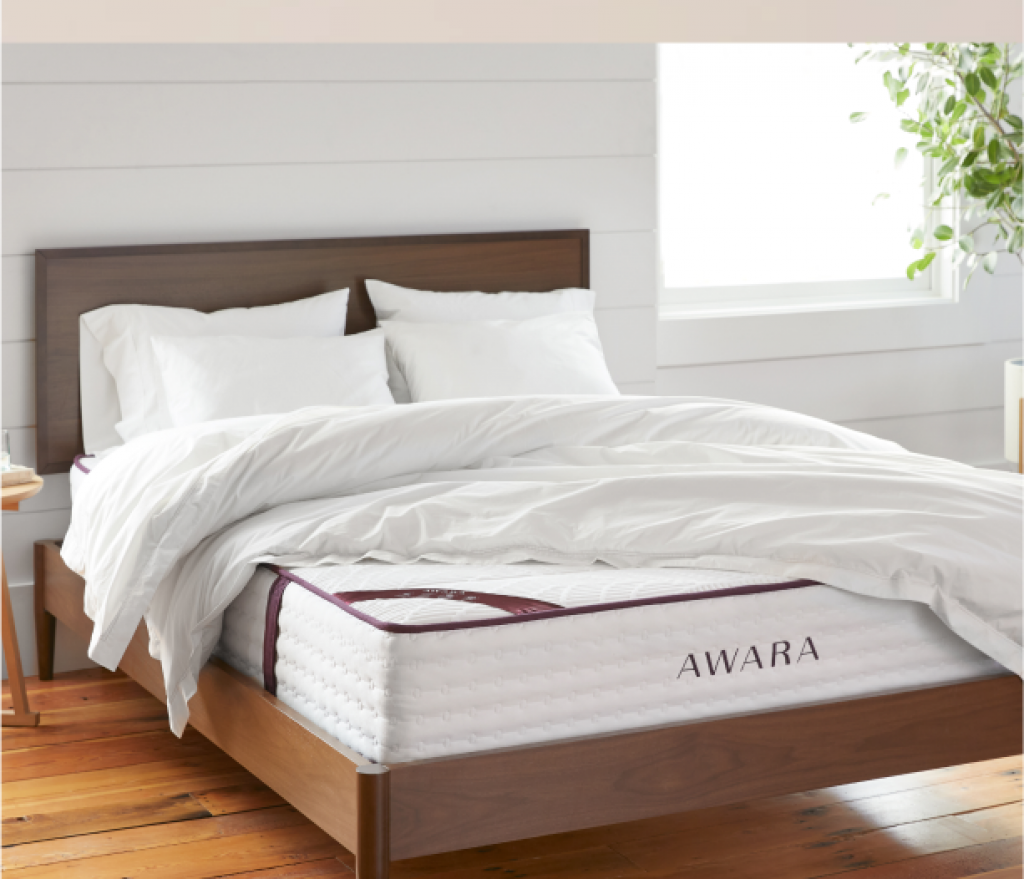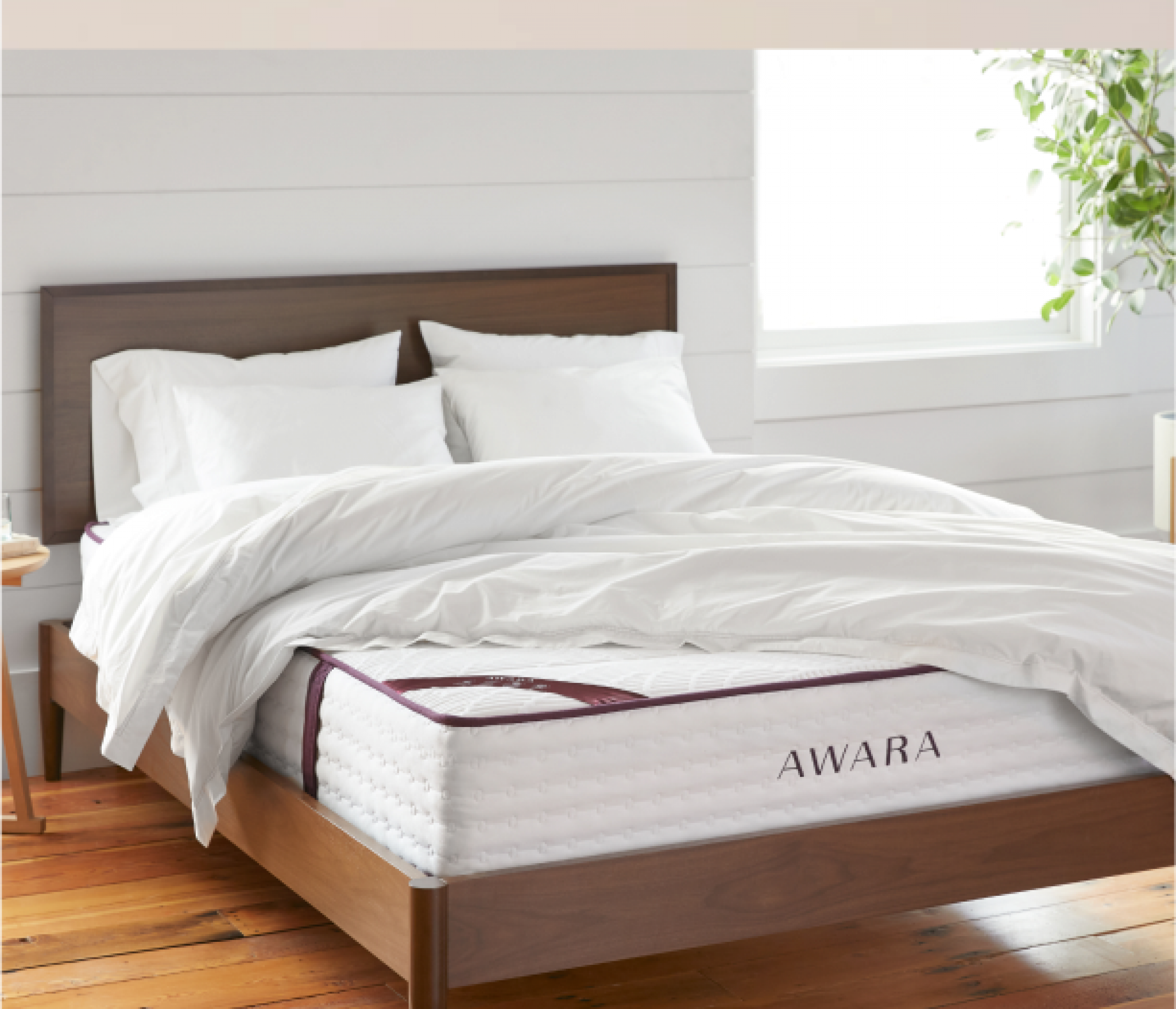 TheAwara Natural Luxury Hybrid Mattress is a mattress that feels firm. It has a firm and supportive base layer of individually wrapped 9" coils but a soft and luxurious fabric cover made of a premium cotton blend.
The medium firmness will be ideal for couples who might have different preferences for their mattress's firmness. The Awara Organic Luxury Hybrid Mattress is the perfect combination of organic latex and traditional coil springs. The silk-like top layer provides both worlds' best by combining the cooling properties of natural latex with the cushioning and support of springs. The result is a more comfortable night's sleep, with less tossing and turning.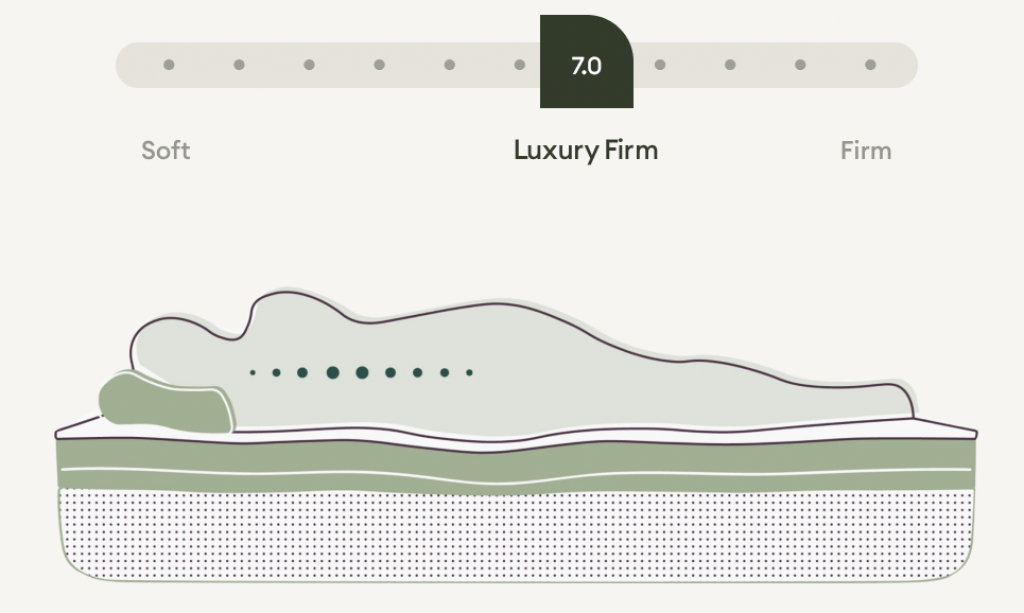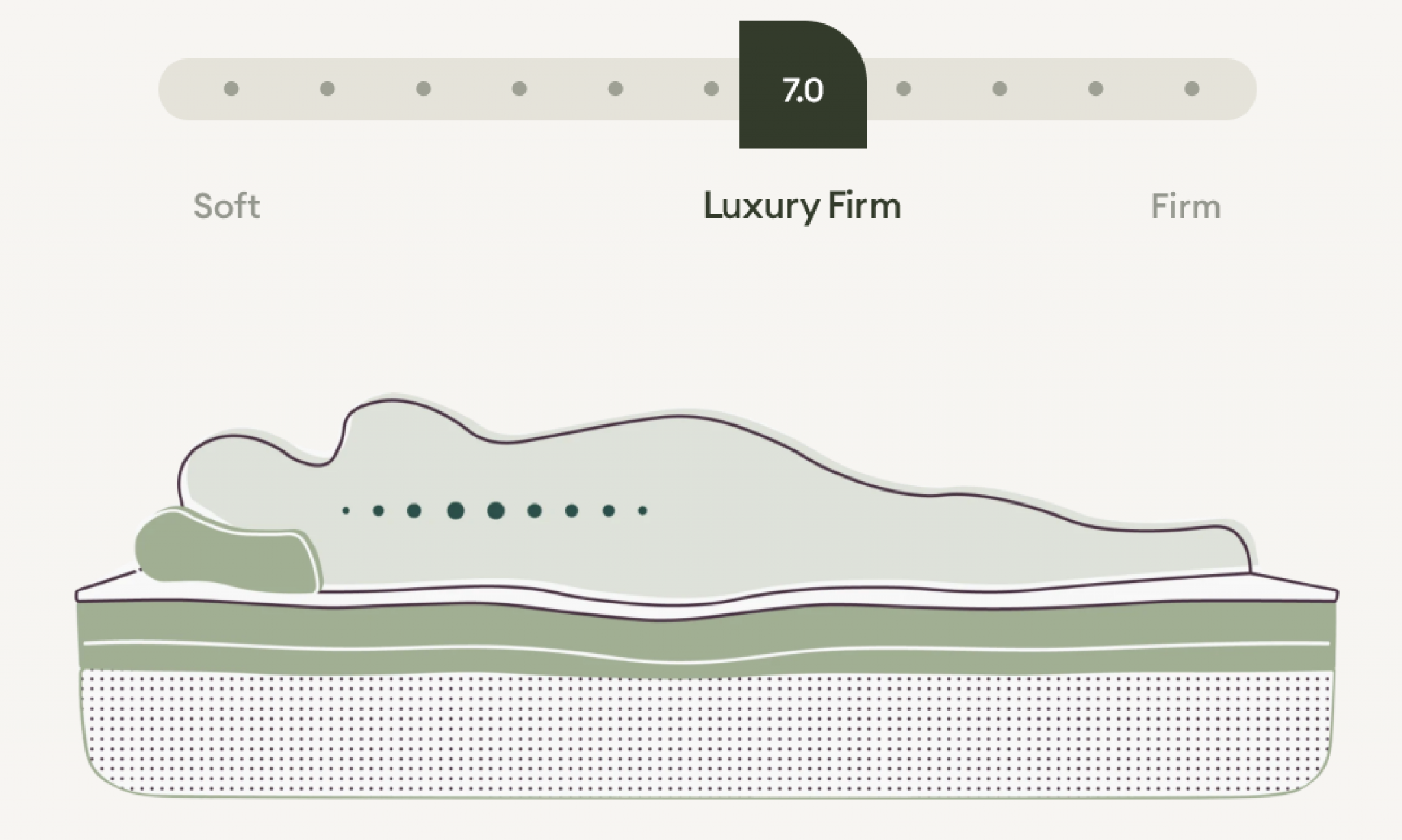 This luxury mattress comprises several layers of foam and springs in varying Dunlop latex and individually wrapped coils. The result is a mattress that provides the bounce of latex while offering the back support of coils and foams' comfort and durability.
What I Like:
The mattress offers the perfect balance between support and comfort to ensure that you have the restful night of sleep that you need.
This is a hybrid mattress, which means it uses both foam and springs to create support.
Premium Dunlop latex is used while producing this mattress.
---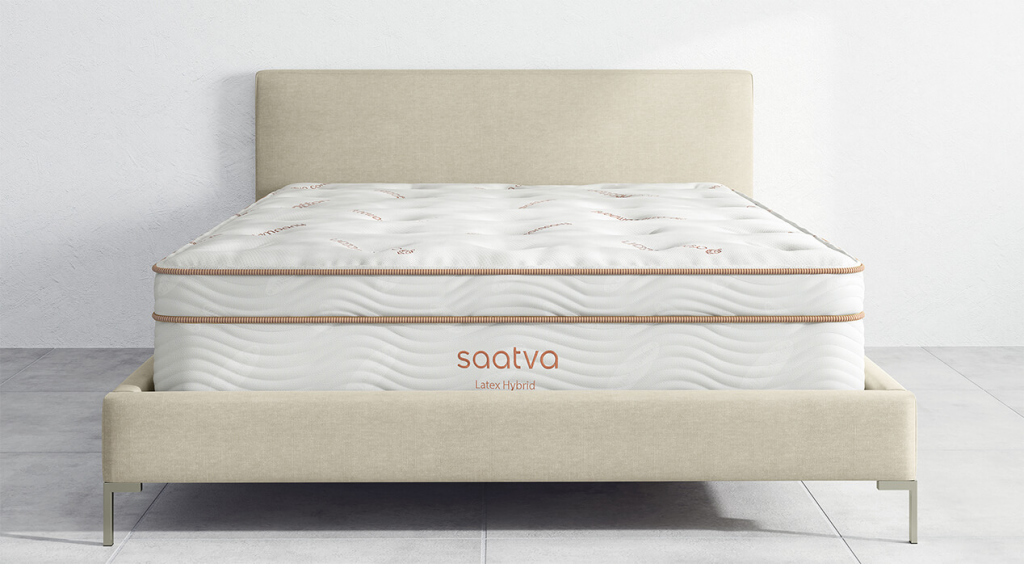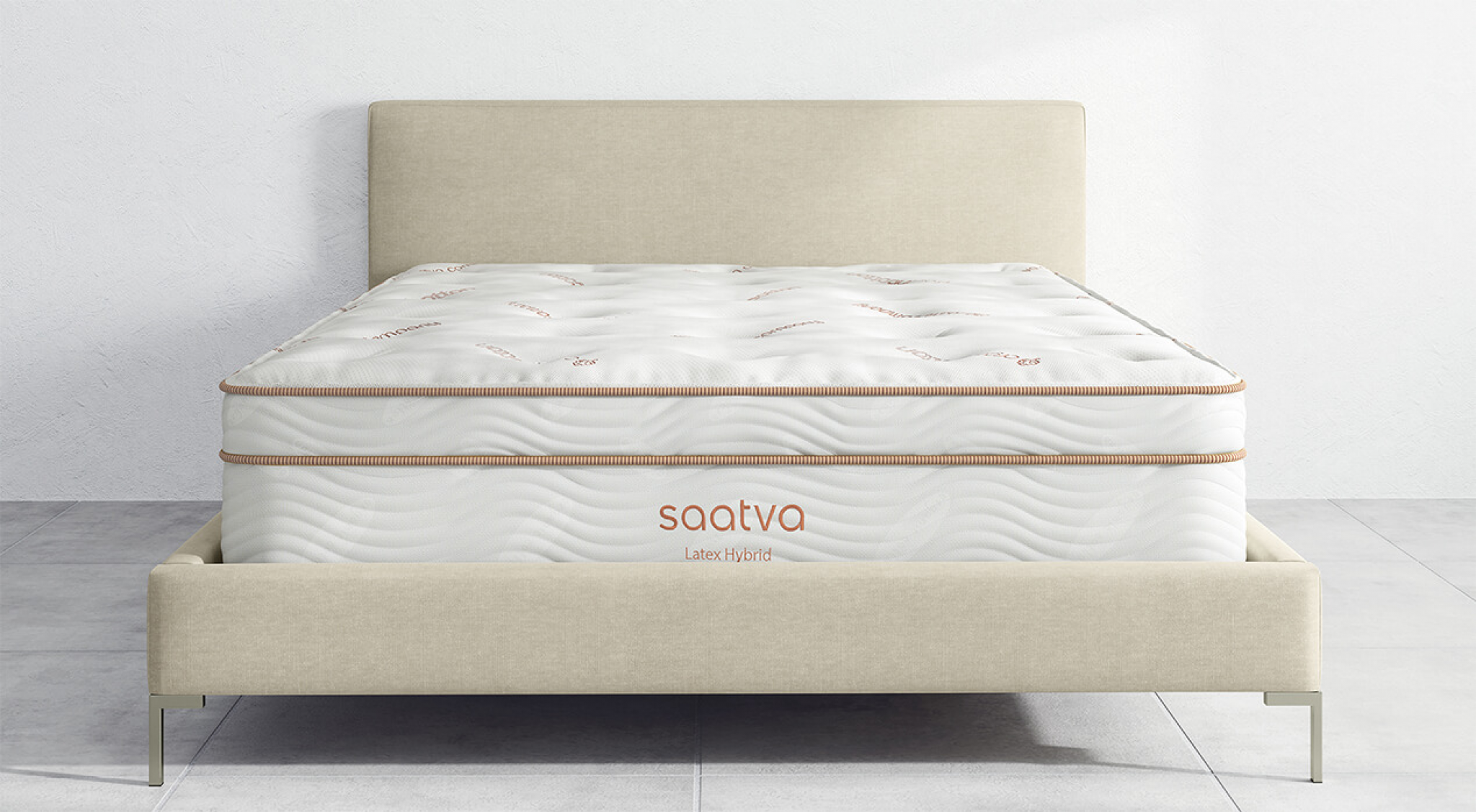 The Saatva Latex Hybrid Mattress is a natural and organic mattress featuring a luxurious hand-tufted hybrid construction with a responsive, ultra-breathable natural Talalay latex core, a quality Dunlop latex comfort layer, and a supportive high-density polyfoam base.


Its resilient nature is best suited for back and stomach sleepers. The Saatva mattress is available in the firmness levels of medium and firm. This is an eco-friendly, all-natural product that works equally as well for those who prefer conventional mattresses. It's a perfect option for any sleep style: back, side, or stomach.
What I Like:
If you are concerned about a mattress, you can return it within 180 nights.
The mattress is handcrafted from high-quality materials and uses an eco-friendly and sustainable production process.
The mattress's surface is responsive, and the latex reacts to pressure points to keep you cool as you sleep all night long.
---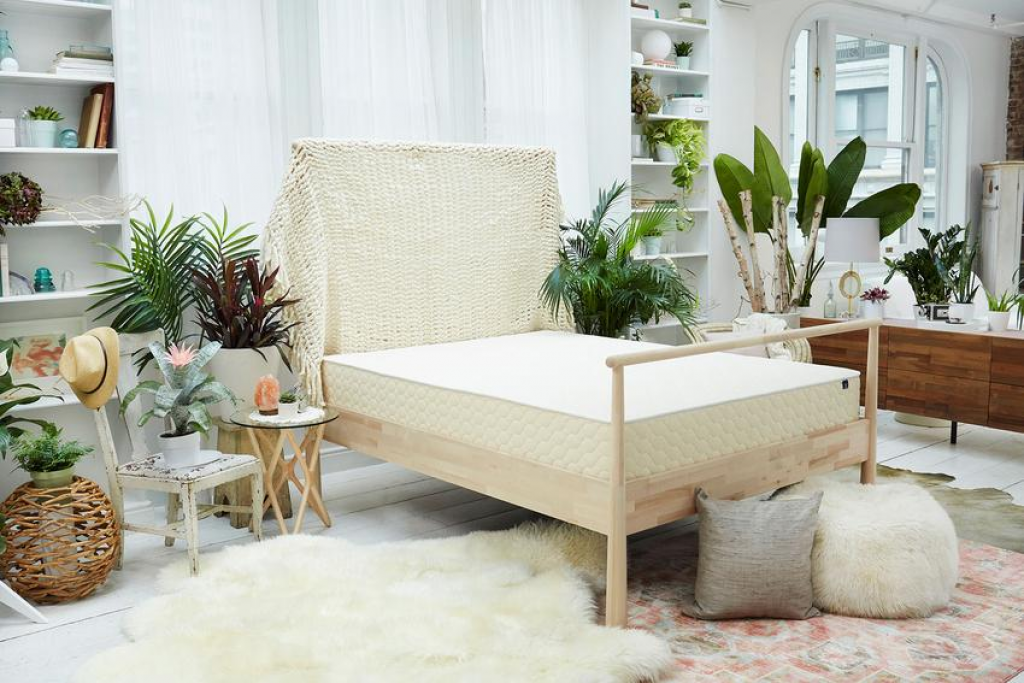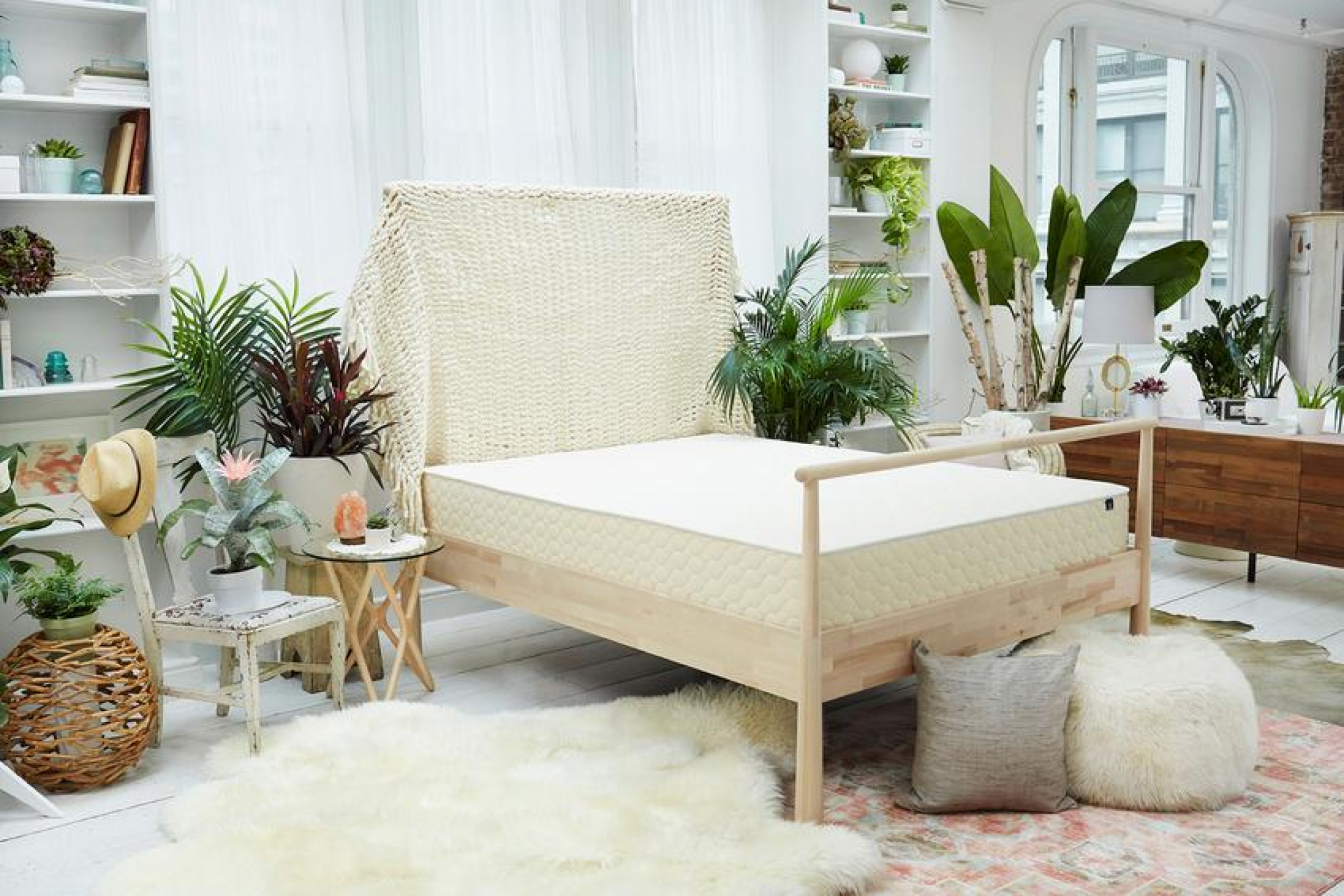 The EcoCloud is one of the top-rated mattresses that you will find on the market right now. They have a hybrid design that blends the best features of both latex and innerspring mattresses. It is made in the United States, and it is made with all-natural and organic materials.
This hybrid mattress is committed to making a luxurious mattress that is good for the environment, and it uses only sustainable materials. The EcoCloud comes with a 120 day trial period that allows the customer to try out the mattress for 120 nights. If you decide that the EcoCloud is not the mattress for you, they will refund you your full purchase price.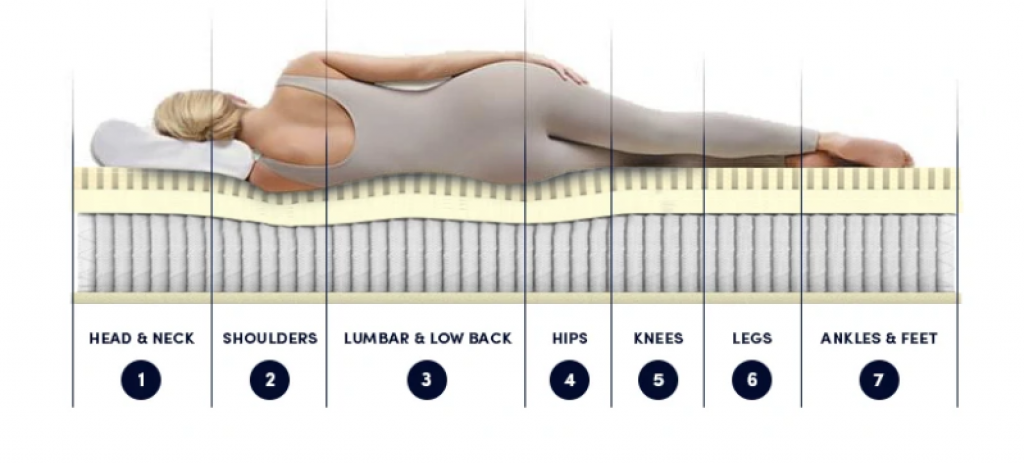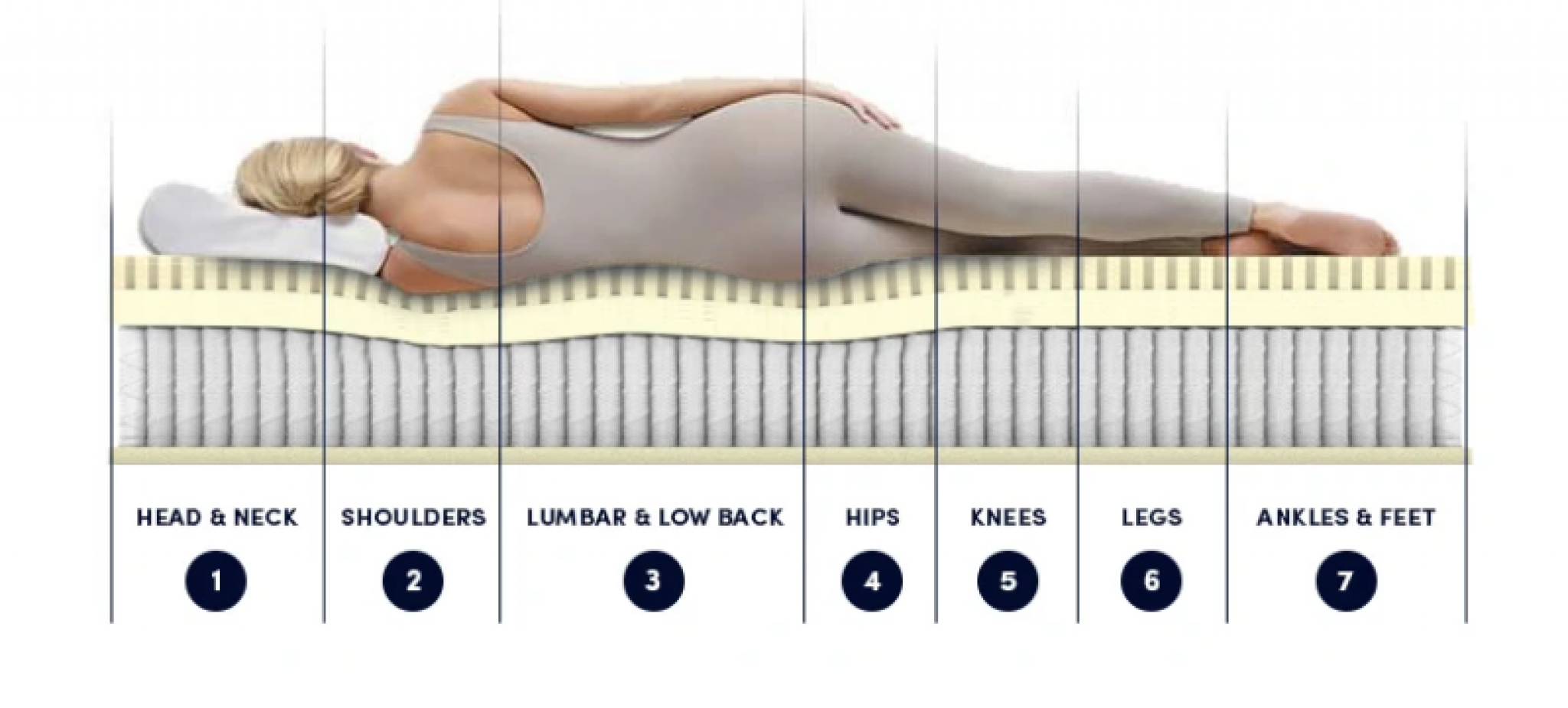 EcoCloud Hybrid Mattress is a model, which combines thick organic latex with individually wrapped coils for its support. It's a bed made with eco-friendly materials and manufactured with a commitment to quality and sustainability. Oeko-Tex 100 certification ensures that Talalay latex used in the mattress is latex manufactured without harmful chemicals.
What I Like:
The EcoCloud Hybrid Mattress is just as comfortable as it is supportive.
It uses a 2-layer system consisting of a top layer of Talalay Latex and a bottom layer of foam, both made from natural materials.
The innerspring coil structure provides the support a mattress needs to keep your spine aligned and your back happy.
---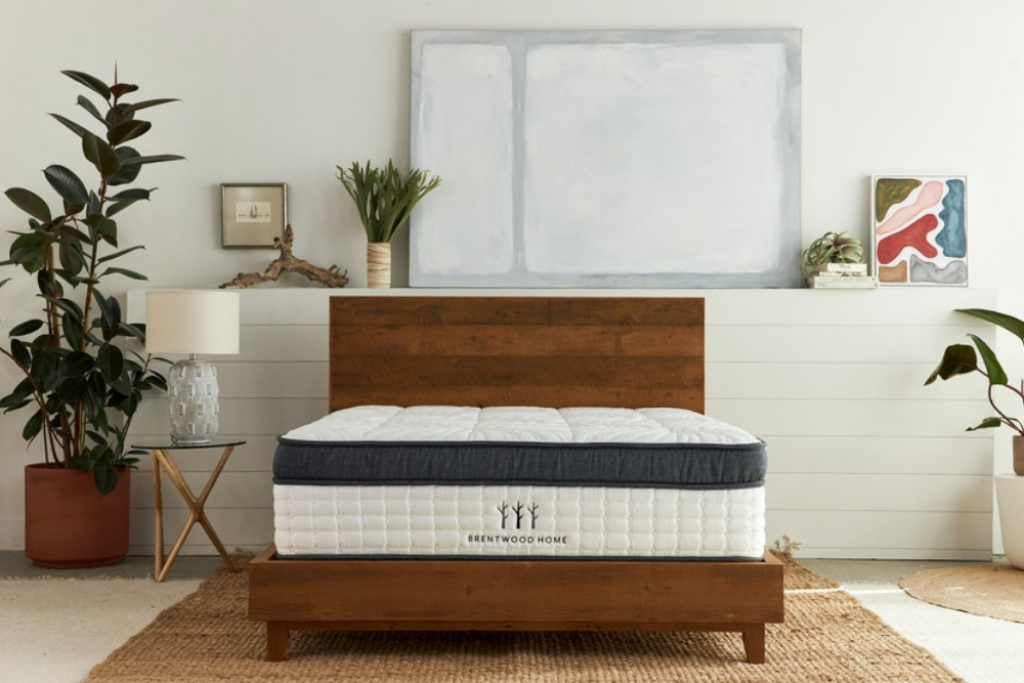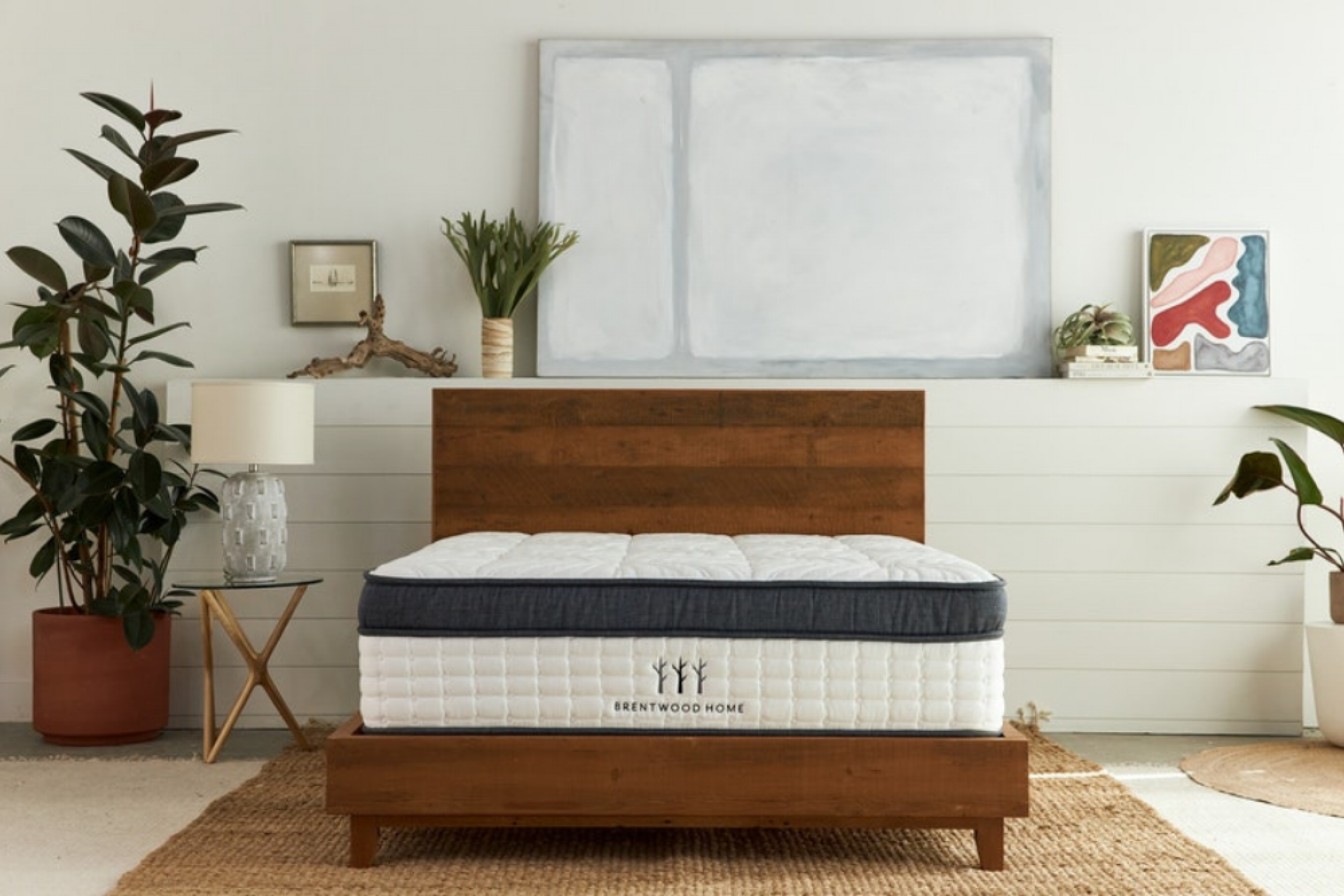 The Oceano Hybrid Mattress is a medium-soft mattress (measured a 4.5 out of 10, on the 1 – 10 firmness scale) that will provide a durable and supportive sleep surface for all sleepers who strike a good balance between cushioning comfort and support.
This hybrid mattress has been one of our top-performing mattresses ever since the day they launched. It is made with 100% GOTS certified organic wool and cotton, a blend of materials that creates a medium-soft feel.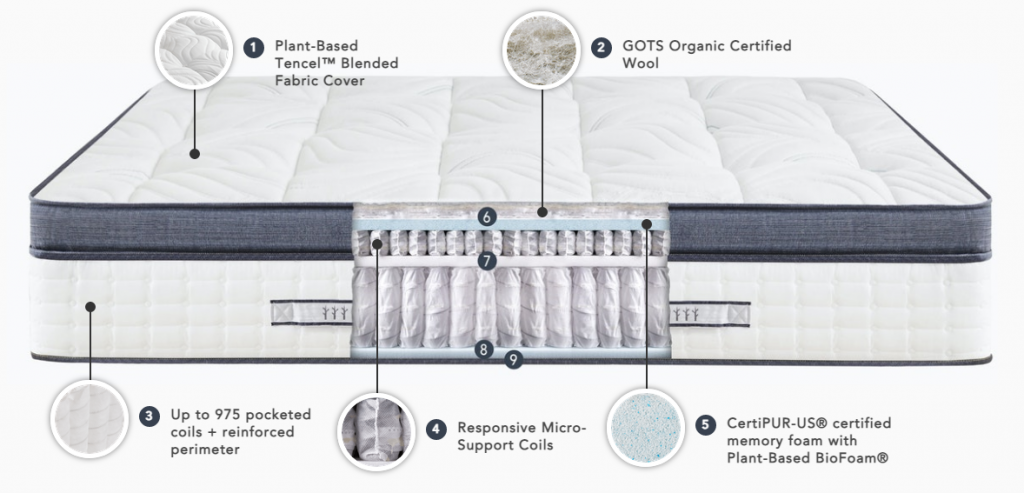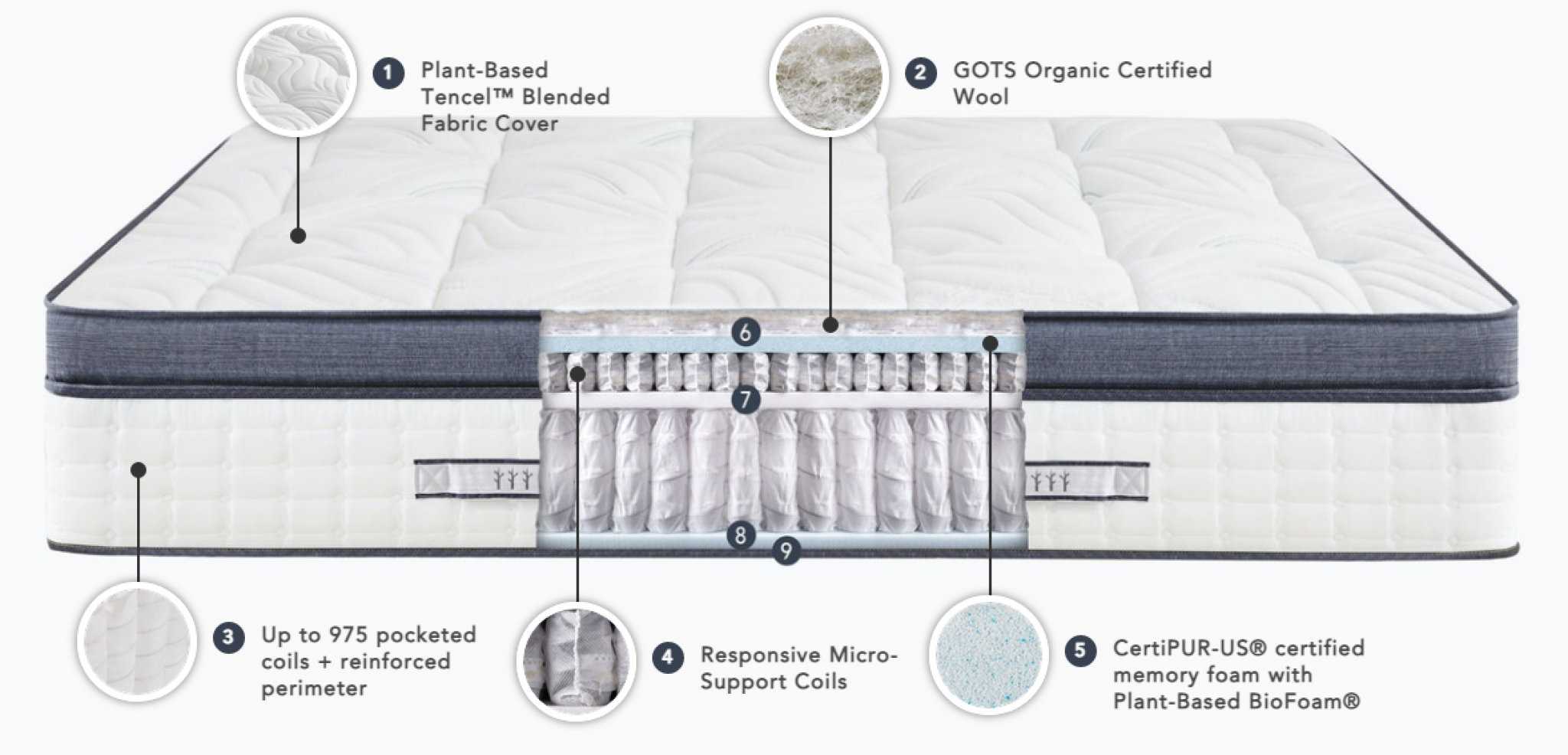 The wool is a hypoallergenic natural fiber and will help you sleep cool, while the cotton provides a nice breathable feel. The plant-based BioFoam® made from coconut husk fibers and is used for memory foam provides excellent support and helps keep you cool. This material is also very durable, so it will withstand the test of time. This mattress has a 7-zone, 2,697 coil spring system for maximum support.
What I Like:
The mattress is made from certified organic cotton and wool and has a Tencel cover.
It has up to 2,697 coils divided into seven zones that allow the mattresses to sleep cool while also offering generous support.
The manufacturer provides free shipping and return and also a 1-year warranty.
---
Buyer's Guide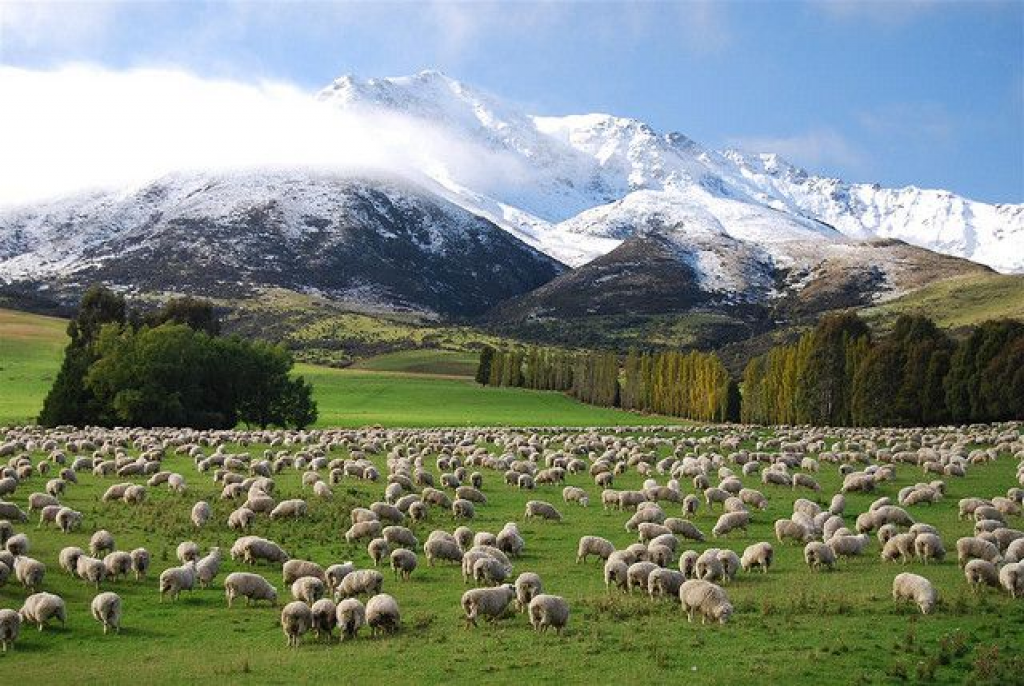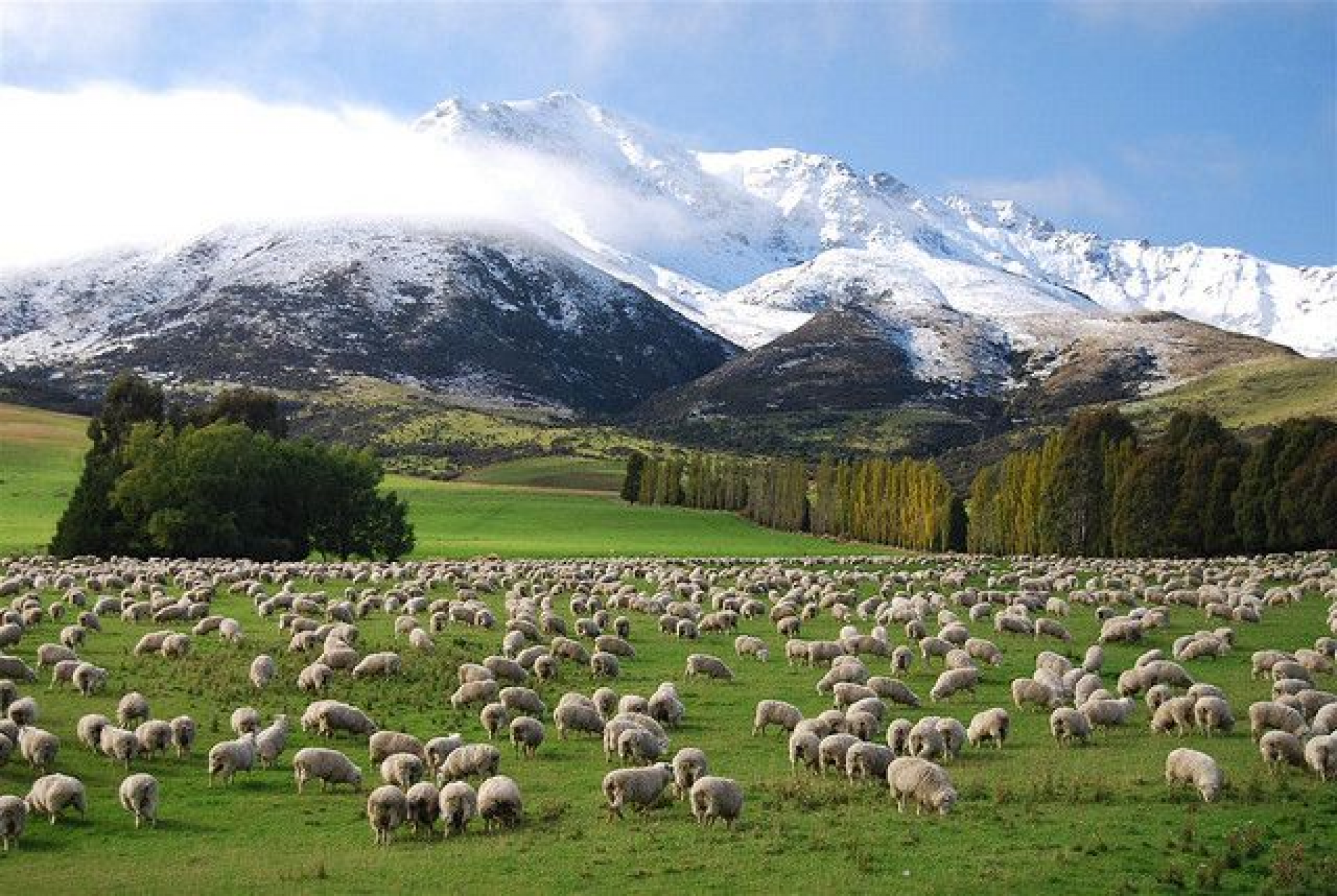 Mattresses have come a long way in recent years. Not so long ago, mattresses were pretty much all made in the same way: a bunch of foam and some fabric wrapped around a spring core. Today, mattresses are made in dozens of different ways, with various components and other materials.
People who suffer from asthma and allergies often try to avoid synthetic materials, and organic mattresses are an option for those who want to avoid harmful chemicals. Organic mattresses are made of natural materials, such as cotton and wool, and some, but not all, are USDA-certified organic.
The materials used in organic mattresses are generally all-natural and free of chemicals. Synthetic materials, such as polyurethane and polyester, are sometimes used in organic mattress manufacturing. However, the materials used in organic mattresses should be free of pesticides, and formaldehyde and many organic mattresses are also made without fire retardants.
---
What Is an Organic Mattress?
If you want to know whether an organic mattress is worth the investment, the first thing you need to know is what it is. The word "organic" is thrown around in marketing a lot these days, so you might have seen the term and wondered what it means.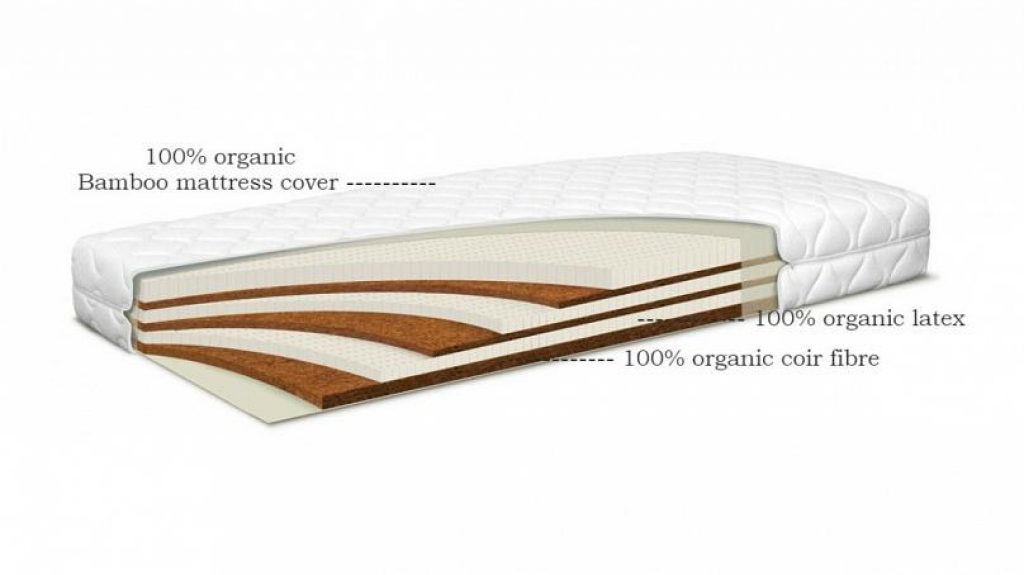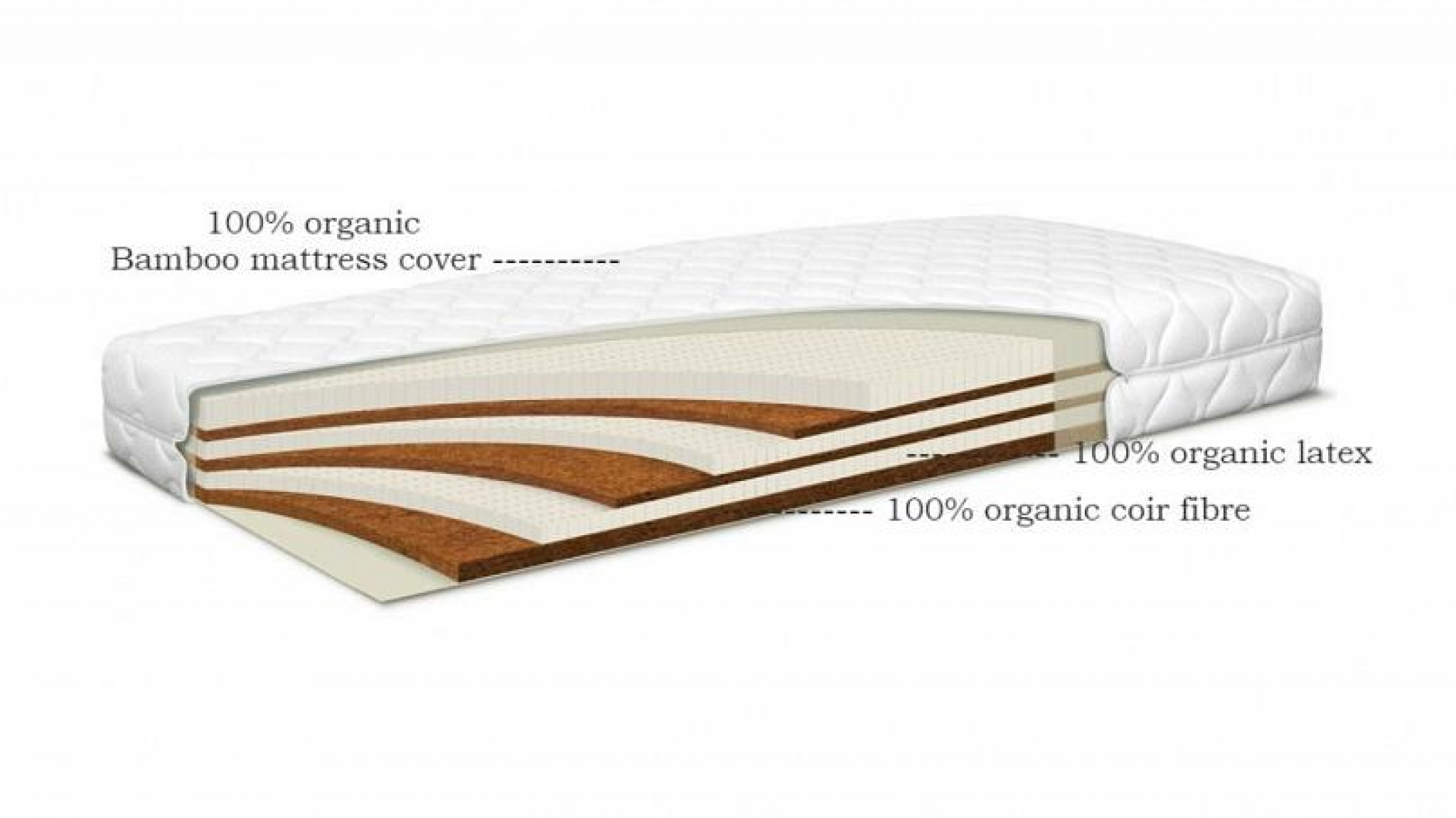 In the case of an organic mattress, it means that it's made with organic materials. Several different certifications can be used to help determine if a mattress is organic. The most common certification is made for use in the United States. It is called CertiPUR-US®. This certification is used to certify that the materials used to make an organic mattress are organically grown and produced without harming the environment.
It also means that the best organic mattress is made without using chemicals or toxic substances that are often used in traditional mattresses.
---
Types of Organic Certifications
Mattress companies are always touting their organic content, but what does that mean? Are the claims true? How is a mattress company certified, and what does that mean for you, the consumer? What certificates to look for before purchasing the mattress? The answer to these questions and more can be found below.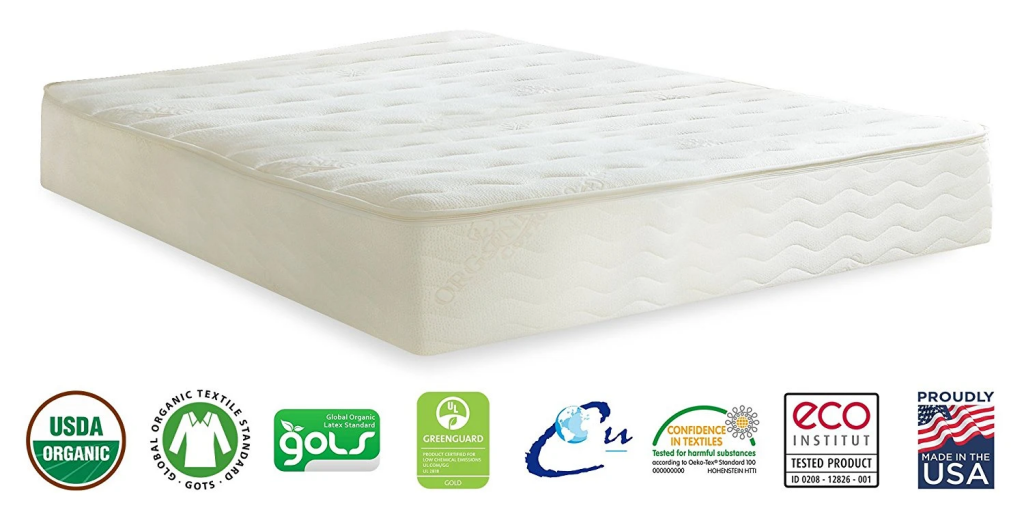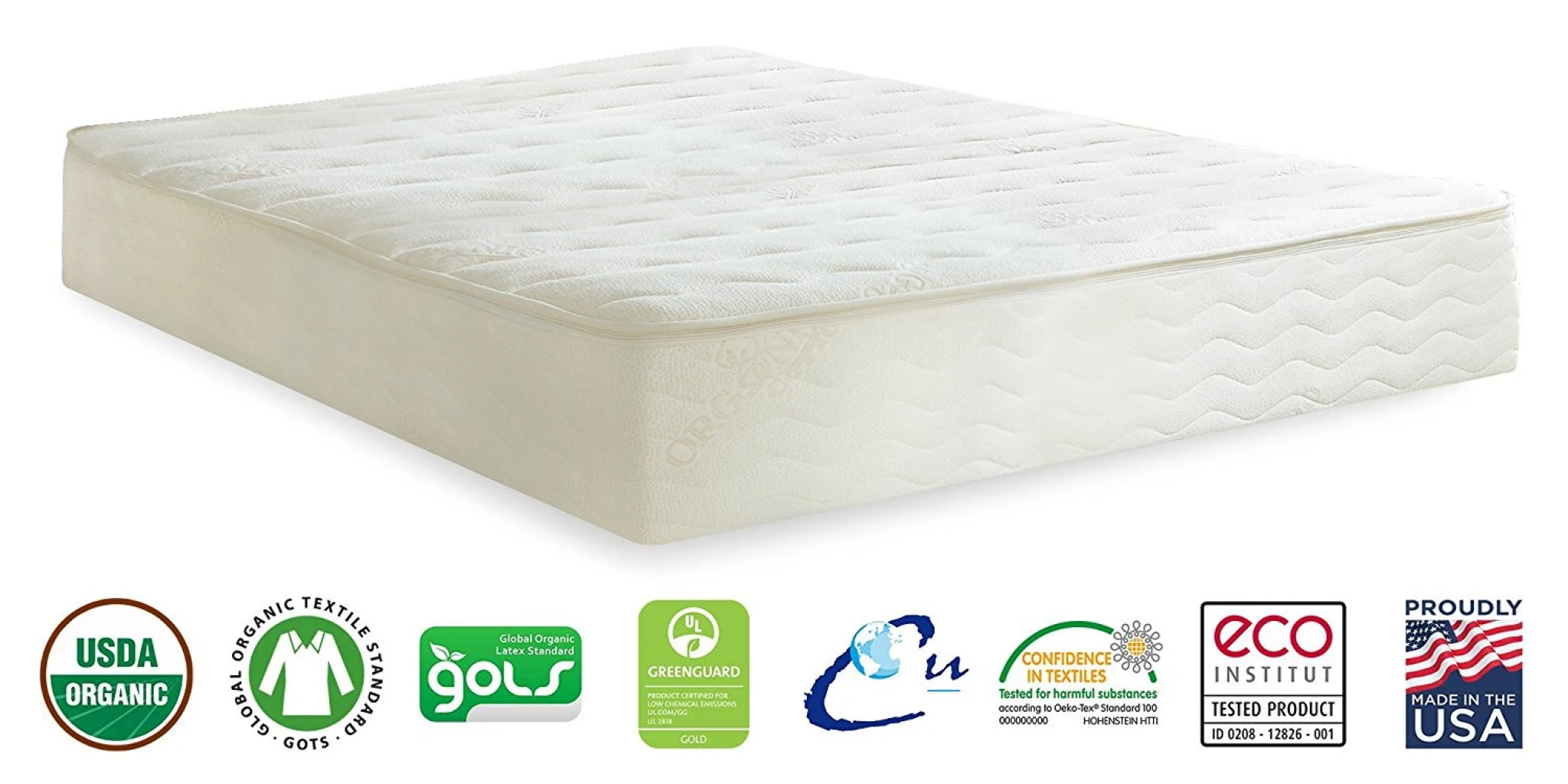 CertiPUR-US
CertiPUR-US is a certification program that was created to assure consumers that they are purchasing mattresses that have been made without harmful chemicals or materials. The program is voluntarily administered by CertiPUR-US, an organization that is not affiliated with any specific mattress manufacturer.
Oeko-Tex Standard 100
The Oeko-Tex Standard 100 certification is a textile standard covering how textiles are made, including materials, dyes, and application methods.
The testing applies to the finished textiles and the final products containing the textiles. The Oeko-Tex Standard 100 certification is a worldwide benchmark for the textile industry. It is a legally binding standard that ensures safe materials that do not contain harmful substances.
USDA Organic Certification
USDA organic certification is a label that shows that a food product or other agricultural product has been grown and handled following established organic standards, which in the United States are regulated by the United States Department of Agriculture
Eco-Institut
Eco-Institut is a certification program in Germany that grades mattresses on a scale from A to G (A being the best). Every Eco-Institut certified mattress has to undergo 100 different tests to evaluate in over 60 different categories. The easiest way to see if a mattress is good or not is to see what its rank is. A+++ is their highest ranking and G their lowest.
GreenGuard and GreenGuard Gold
GreenGuard and GreenGuard Gold certifications are certifications for mattresses that are environmentally friendly or sustainable.
GreenGuard certification is the standard certification for mattresses that do not use ozone depleters, PFCs, or PBDEs.
GreenGuard Gold certification is the highest certification and has stricter requirements than GreenGuard. A mattress must have GreenGuard certification to be GreenGuard Gold certified.
Global Organic Latex Standard (GOLS)
The Global Organic Latex Standard (GOLS) is a certification for organic latex bedding. It has been created to ensure that natural latex mattresses meet high standards of quality. GOLS certification requires that no chemicals or pesticides be used in the cultivation of the rubber tree or the processing of latex into finished products
Global Organic Textile Standard (GOTS)
Global Organic Textile Standard (GOTS) is an internationally recognized certification for textiles made with organic fibers, ensuring that organic fibers' materials are produced environmentally and socially.
---
Why Choose an Natural Organic Mattress?
As you sleep each night, your mattress absorbs everything from your skin oils to the carbon dioxide you exhale, creating a sort of home for dust mites that feed on these things. (And we think it's no surprise that those who sleep on synthetic mattresses are more prone to allergy attacks.)
A natural mattress composed of organic materials and without chemicals or flame retardants can help reduce this problem since the materials are food-grade and biodegradable. Additionally, the lack of chemicals reduces the risk of skin irritation and other common reactions that those with sensitive skin can experience. And as you sleep on your organic mattress, you'll also be sleeping on a healthier product.
---
Benefits of Organic Mattresses


Organic mattresses are the new trend in the mattress industry. While a lot of people will tell you that they just cost more and are no better than traditional mattresses, there are certainly a lot of benefits associated with them:
No chemical smells – organic mattress materials do not use any harsh chemicals in their manufacturing process.
Kid-friendly – many people are surprised to learn that organic mattress is kid-friendly, and can help keep your kids comfortable as they sleep.
Fewer allergies – organic materials eliminate allergies and dust mites, which are common allergens in non-organic mattresses.
Durability – not only is an organic mattress healthier for you, but it also offers you benefits that traditional mattresses simply can't deliver, like superior durability that will last you a lifetime.
---
What Materials Used in The Best Organic and Natural Mattresses?
The most environmentally friendly and sustainable materials include wool, natural latex, organic cotton, and organic wool. However, different foam types and coils from recycled metal can also be successfully used in natural and organic mattresses.
---
FAQ
What is an organic mattress?
An organic mattress is a mattress made from all-natural materials such as 100% natural latex, wool, and cotton. Organic mattresses are typically free from synthetic materials, chemicals, and flame retardants.
What are the benefits of an organic mattress?
Organic mattresses can provide healthier sleep, superior comfort, better breathability, and improved overall sleep quality. 
What makes an organic mattress firm?
Generally, organic mattresses are made from materials such as natural latex, wool, and cotton that are more flexible and conform to the body. However, organic mattresses may include firm foam layers, firmer coils, and/or other supportive materials to create a firmer surface. 
Can an organic mattress be too firm?
Yes, an organic mattress can be too firm, depending on the individual. It is important to ensure that you are finding an organic mattress that has the right level of support and comfort to suit your needs.
Are organic mattresses good for side sleepers?
Yes, organic mattresses can be good for side sleepers as they often provide a more comfortable and conforming sleep surface. However, it is important to find an organic mattress that fits your specific needs and preferences.
Are organic mattresses more expensive?
Yes, organic mattresses are generally more expensive than traditional mattresses due to the materials and processes used to make them.
Are firm organic mattresses available?
Yes, there are organic mattresses available that have a firmer feel. These mattresses are typically constructed with more supportive materials, such as firmer foam layers and firmer coils, or combinations of natural materials.
Are organic mattresses durable?
Yes, organic mattresses are generally quite durable, depending on the materials and construction of the mattress. Many organic mattresses have long warranties of 10+ years and are designed to last for a long time.
Do organic mattresses need special care?
Yes, organic mattresses do require special care to maintain their quality. It is important to follow the manufacturer's instructions for cleaning and maintenance to help ensure the longest lifespan of your mattress.
What are the benefits of organic mattresses?
Organic mattresses offer the same benefits as regular mattresses, such as improved support and potential back pain relief, while also being made from all-natural materials such as latex, wool, and cotton.
Where can I find an organic mattress?
You can find an organic mattress online, as well as in local stores and specialty mattress stores. It is important to do your research and find the best mattress for your individual needs.
---
The Bottom Line
Throughout this guide, I have given you the lowdown on what to consider when buying organic mattresses. I have tried my best to provide you with all the information you need to make the best decision for your needs.
I hope that I have given you a good foundation of knowledge for buying organic mattresses. And I am confident that if you follow the advice in this article, you will determine what the best organic mattress is for you.