Mattress technology has improved in leaps and bounds over the last decade, with top-quality models making it possible to enjoy a good night's rest. Besides, sleep technology has made great strides, with sleep trackers and apps now widely available to people to help them get better sleep.
However, many people still suffer from poor sleep quality, and their sleep trackers and apps aren't giving them an insight into what is causing it. That's where the Allswell Mattress comes in.
---
Top 4 Best Allswell Mattresses Review
Get 15% off
It is one of the most comfortable mattresses. High-density foam perfect provides added support and active relief for joint and muscle pain.

It is a mattress with individually-wrapped coils that helps minimize motion transfer.

In addition to the foam, the mattress comes with a plushly quilted top panel with cooling Swirfoam.
Trial period: 100 Nights Risk-Free Trial

Warranty: 10-Year Limited Mattress Warranty

Shipping:
Free Shipping & Returns

Firmness:
4.5-5.5/10

Price range: $$$

Type: Hybrid
We recommend this mattress for the following sleepers:
Get 15% off
---
Mattress shopping can feel like you're compressing your spine until it breaks since many options are available these days. One good solution is the Allswell mattress, which uses memory foam and gives you a nice bounce back. This mattress is one of the more affordable mattresses on the market but still gives you a good balance of comfort and support.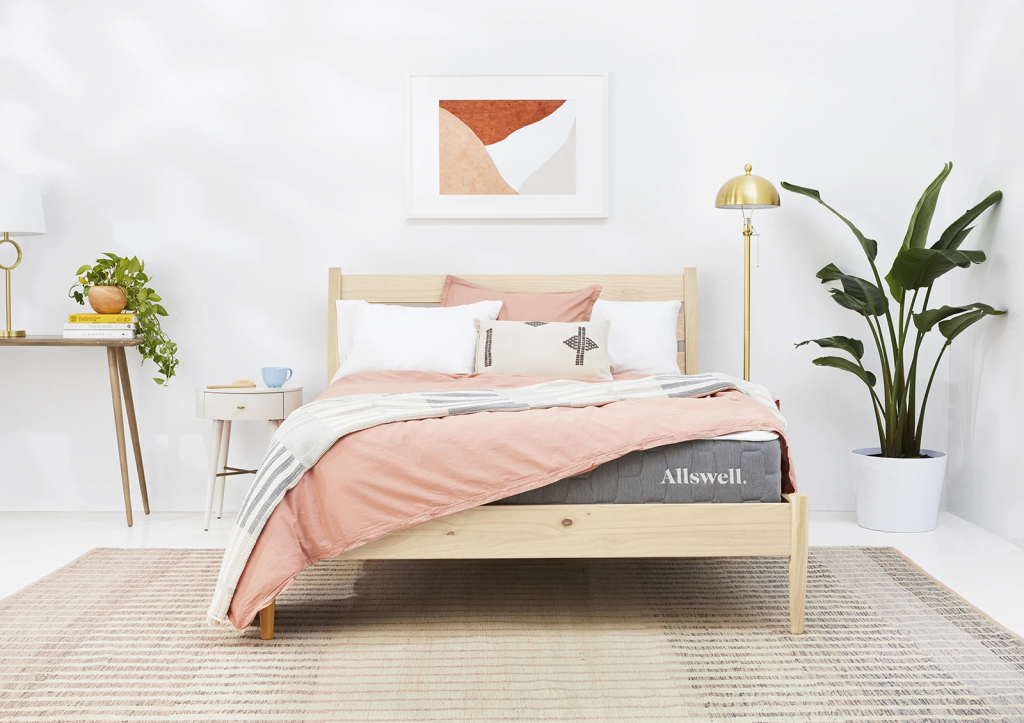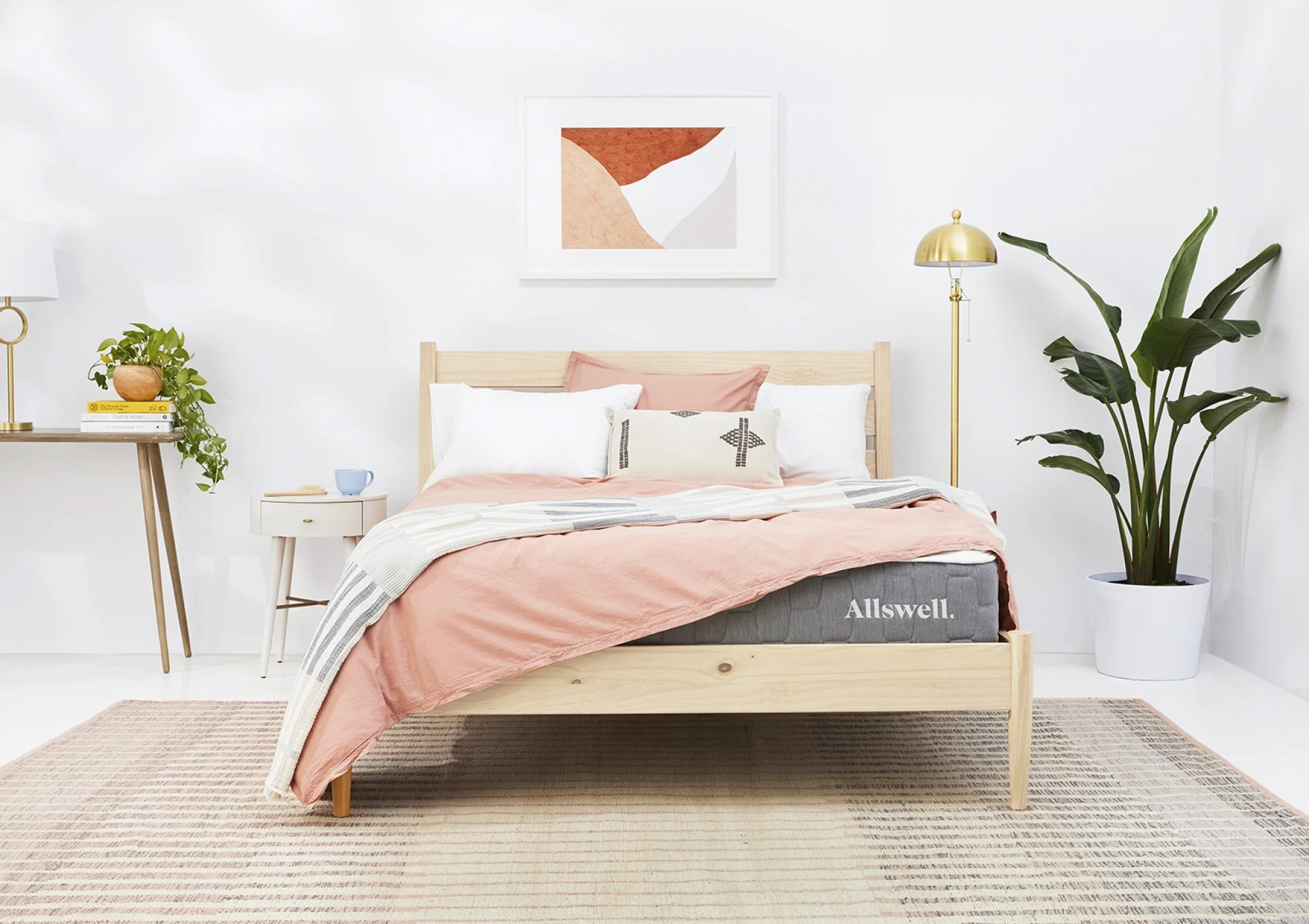 So, to help you find the best mattress for you, I've researched mattresses, tested mattresses, and written a list of the best mattresses you can buy. I've also created a buyer's guide to help dispel some of the myths, and I've written a thorough post on how to buy a mattress. For this post, I'll be reviewing the Allswell mattresses.
---
Allswell Mattresses Review
Allswell Luxe Hybrid Mattress
Best Overall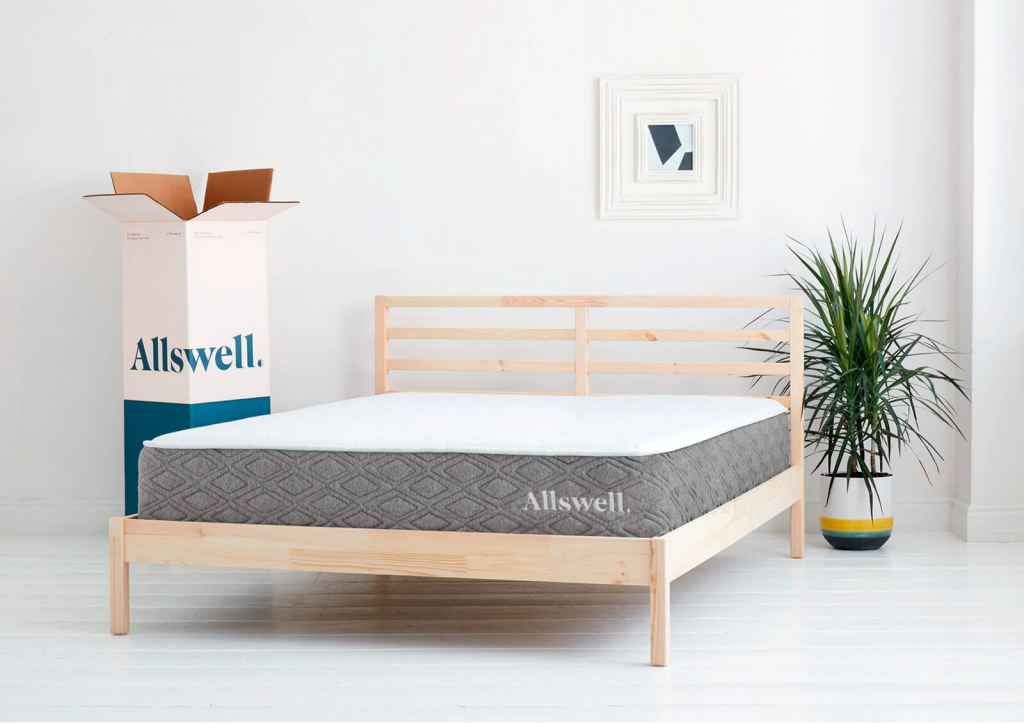 The Allswell Luxe Hybrid mattress features a construction that is designed to provide comfort, support, and cooling for sleepers. The mattress is made up of three layers. The first layer is 2 inches of copper-infused memory foam. The copper is infused into the foam so that it melts into the foam to provide a breathable, cooling effect.
The second layer is 1 inch of memory foam, which contours to the shape of the sleeper's body for support. The difference in the two foam layers' firmness and the pressure-relieving memory foam allows this mattress to be comfortable for all sleeping styles.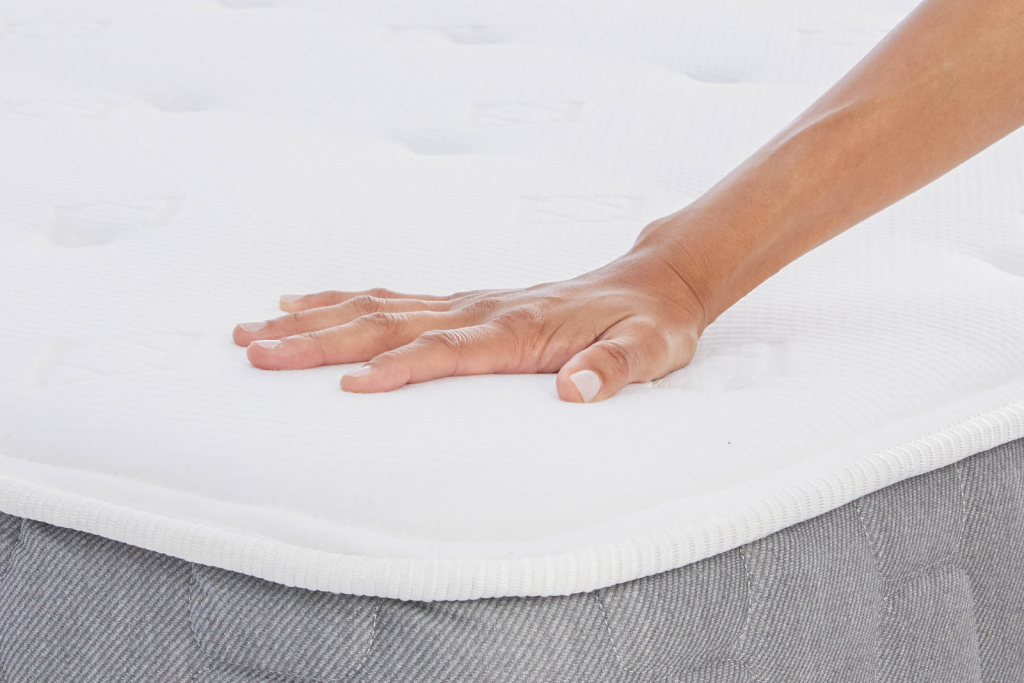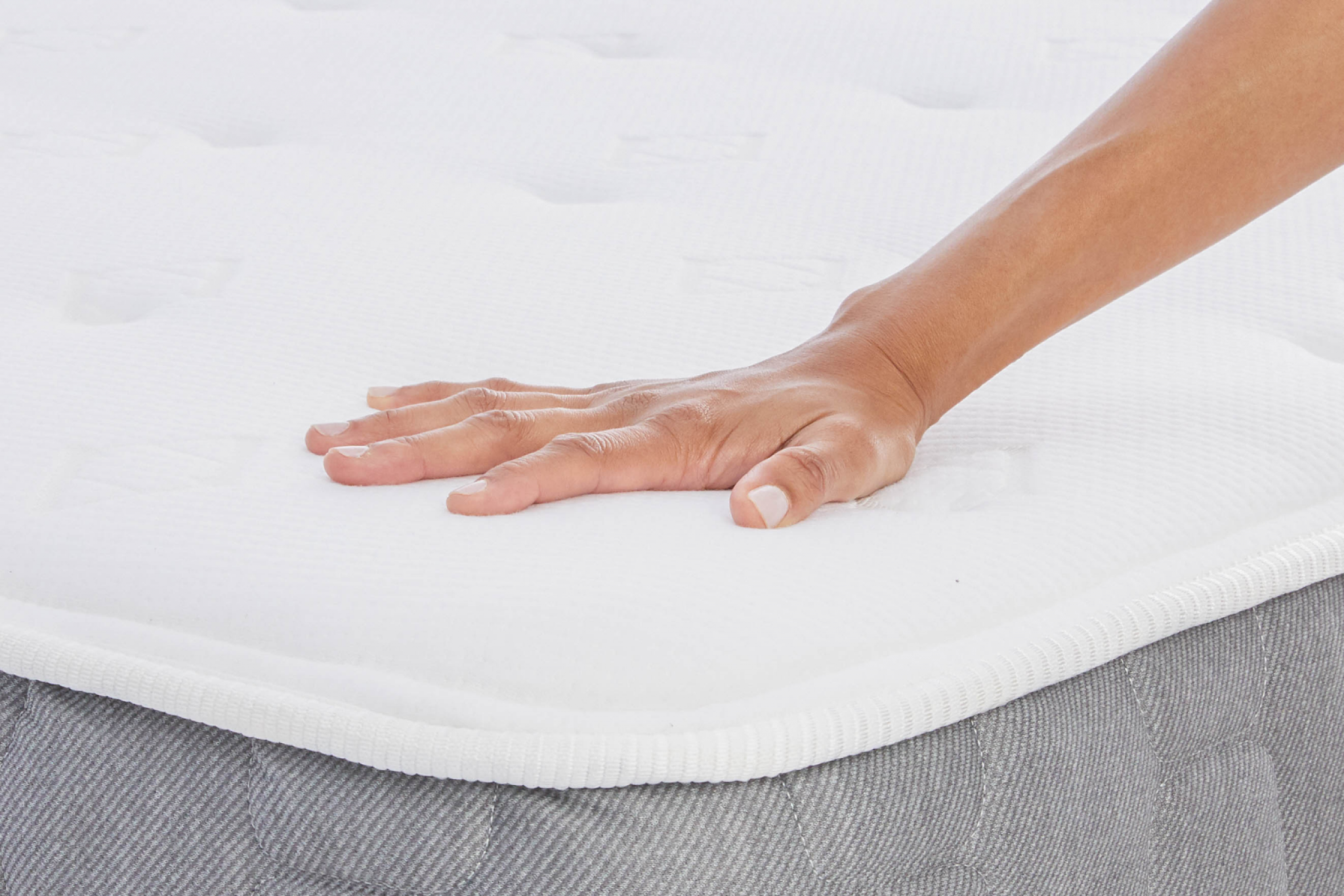 The final layer is of individually wrapped coils. This last layer's firmness allows for the mattress to evenly distribute the load by relieving pressure and providing unrivaled support.
The Allswell Luxe Hybrid mattress is a medium to firm mattress that offers a slight cooling effect and is infused with copper to relieve pressure points and increase blood flow.
What I Like:
It is highly breathable, which means it is an excellent match for those with asthma and also for hot sleepers!
The mattress is made without ozone depleters, PBDEs, TDCPP, mercury, or lead.
The foam is firm enough to provide support but soft enough to allow for pressure relief.
In addition to the foam, the mattress comes with signature quilting with cooling swirl foam.
---
The Allswell Mattress
Best Value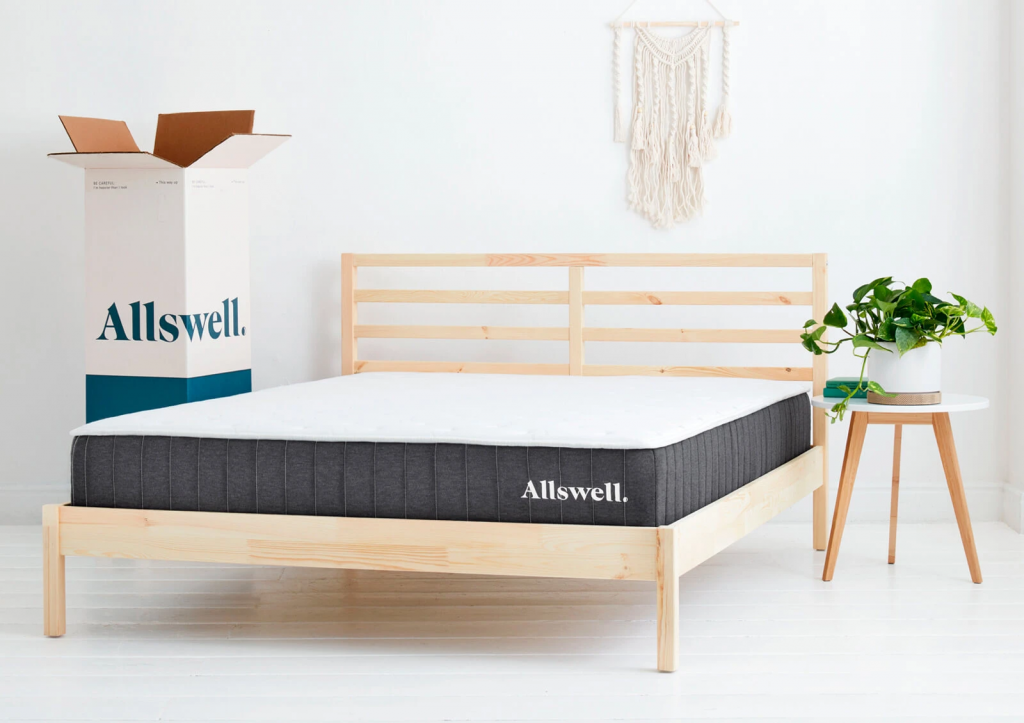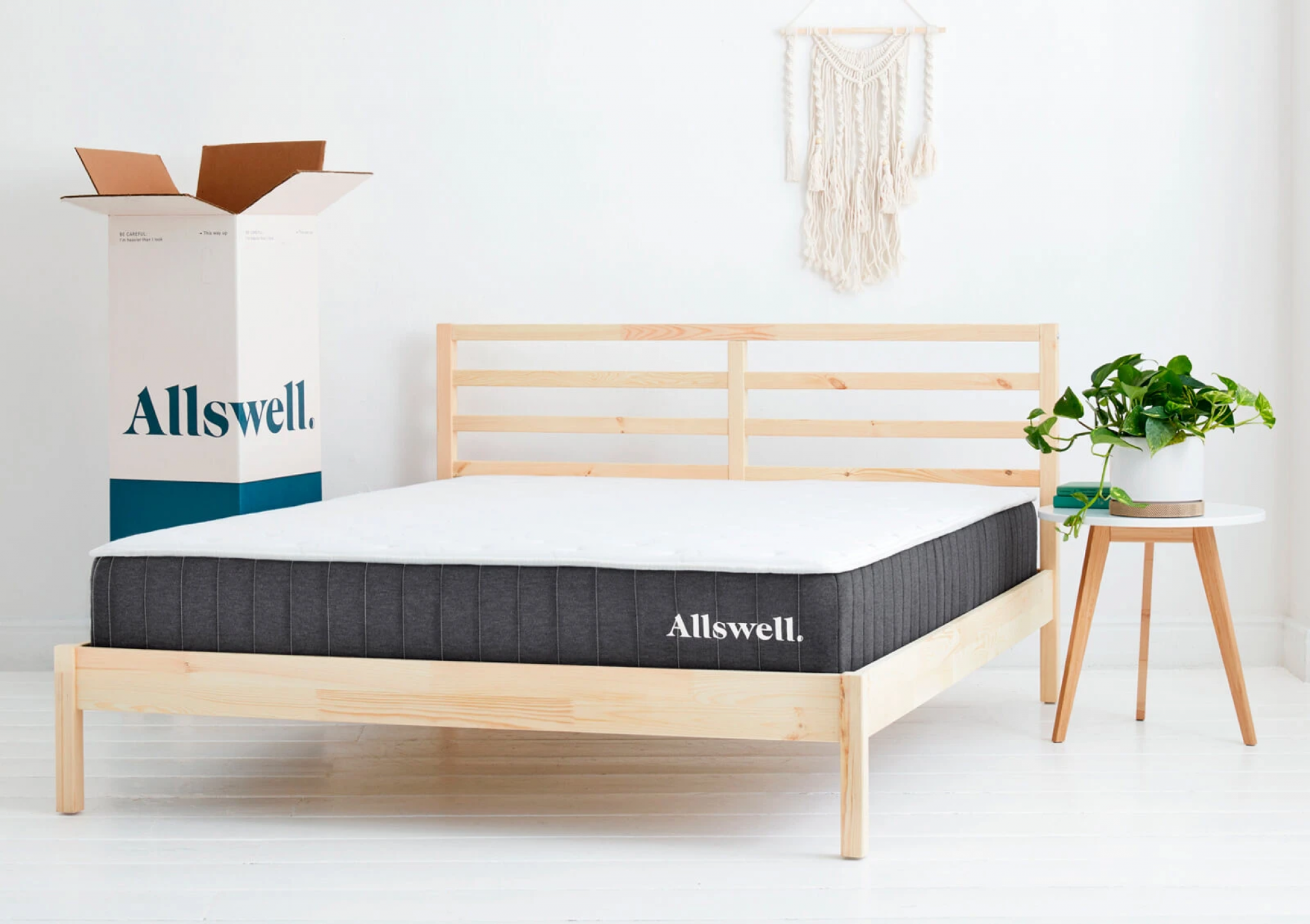 As a mattress reviewer, even I was surprised to hear that Allswell announced the launch of a new mattress, the Allswell Mattress. The new mattress line comes complete with a cooling layer that keeps the mattress at a cool temperature all night long.
The mattress has a unique design and eschewing traditional bed frame designs for a sleek platform made from pressure-relieving memory foam and individually wrapped coils.


Allswell mattresses are designed to provide the balanced support that your body needs for a good night's sleep.
They also feature breathable charcoal and copper gel-infused memory foam, which will keep you cool and comfortable and support a good night's sleep.
What I Like:
The Allswell is a high-quality mattress designed for people that are looking for a mattress that provides firmness and support.
It is great for people who sleep on their side, stomach, or back as it is created to offer a great alternative to the standard spring or memory foam mattress.
The Allswell comes with a layer of gel foam. To regulate temperature so that you can sleep more comfortably and let you wake up feeling refreshed.
---
Allswell The Brick Mattress
Best Edge Support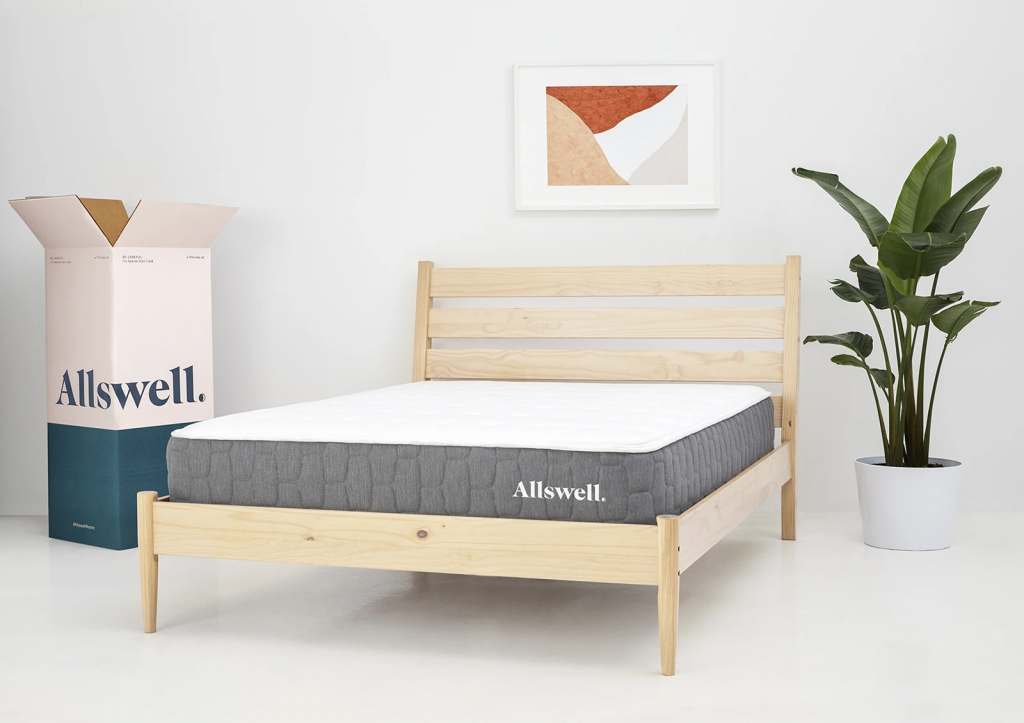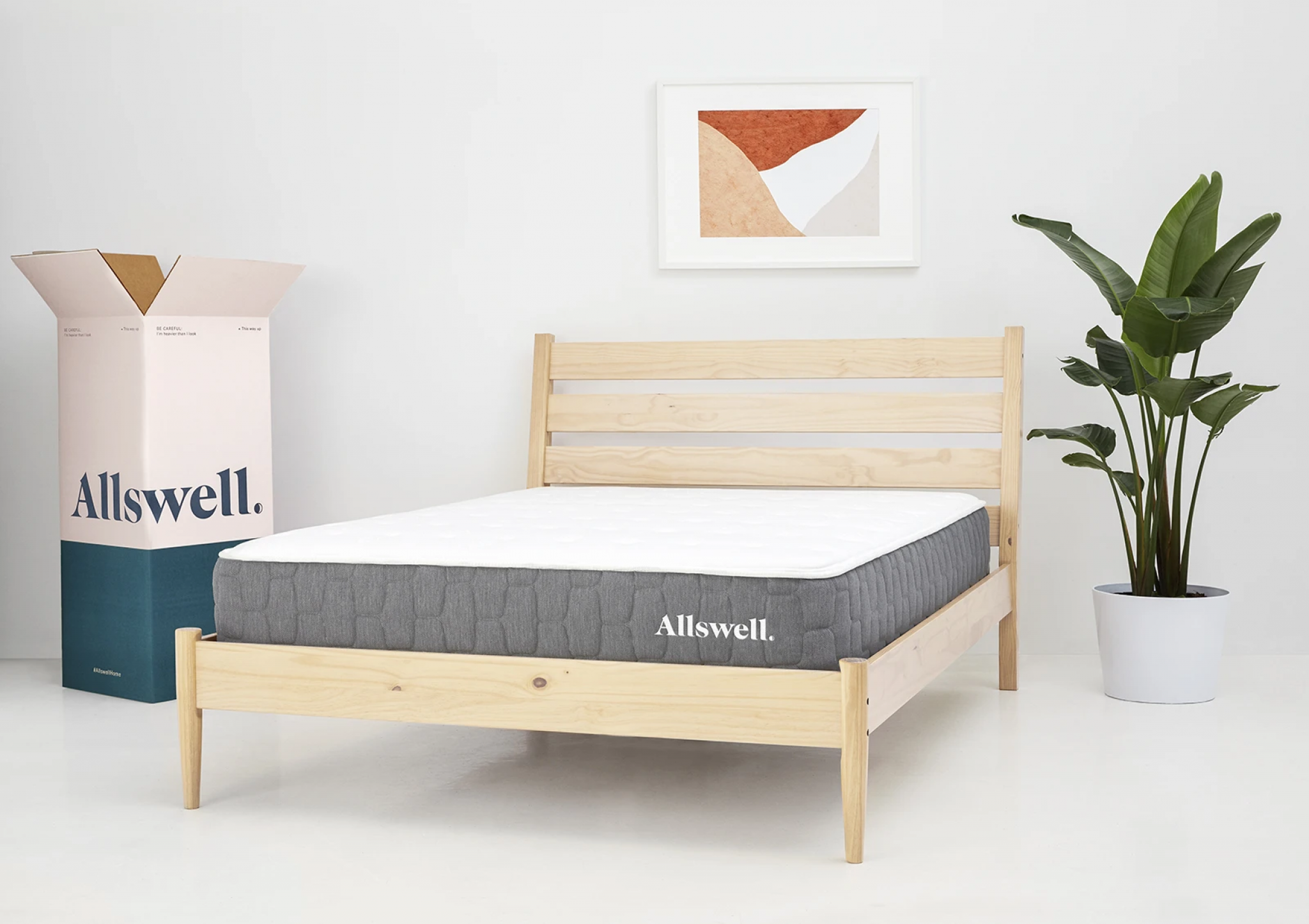 The new Allswell The Brick mattress is an innovative product that aims to provide more support to the sleeper. While other mattresses may use certain elements to create support, The Brick uses a combination of elements to achieve this. It is important to note that while these features may make the mattress more durable, it is not necessarily more expensive.
This mattress gets its name from the fact that it is made up of several different layers of materials. A firmer top layer allows the sleeper to have a firm surface to sleep on. Underneath that is a copper gel-infused memory foam. This material is designed to help you stay cooler.


Under that is high-density foam. This material is molded to provide support to the spine. Finally, this mattress uses individually wrapped coils. This helps the mattress to provide support for each body part.
What I Like:
Allswell The Brick is a mattress that should be of interest to you if you are looking for a more firm mattress that provides good back support and does not cost a fortune.
The layer of copper-infused memory foam beneath the top layer is intended to provide comfort, especially to sleepers who tend to sleep hot.
The mattress contains high-quality foam (CertiPUR-US® certified) that is responsive.
---
The Allswell Supreme Mattress
Best Cooling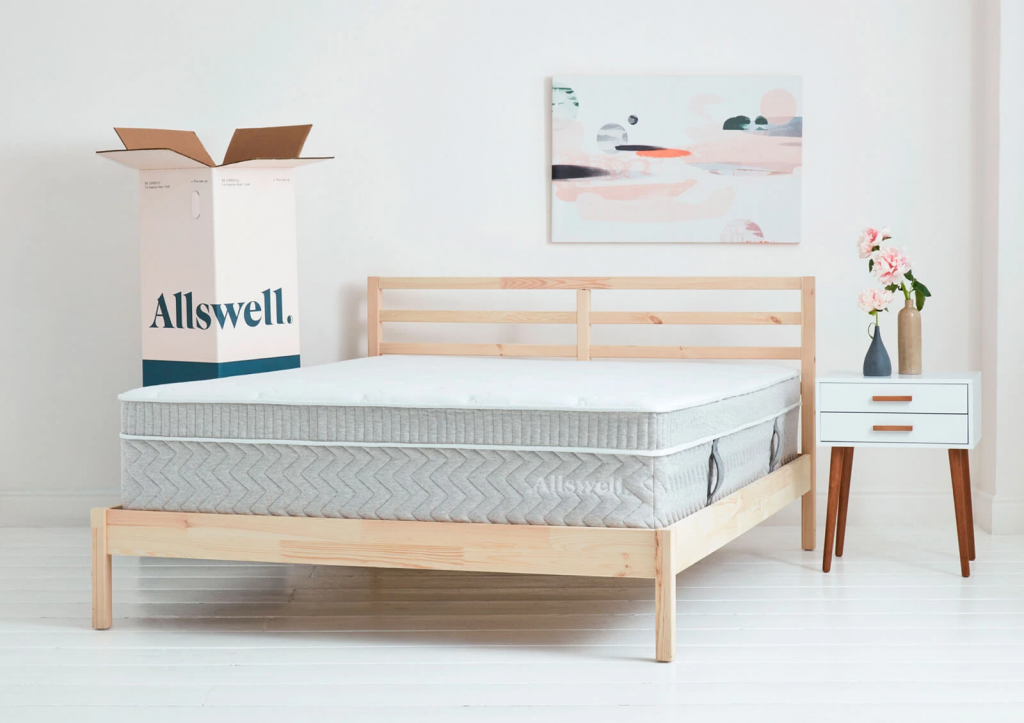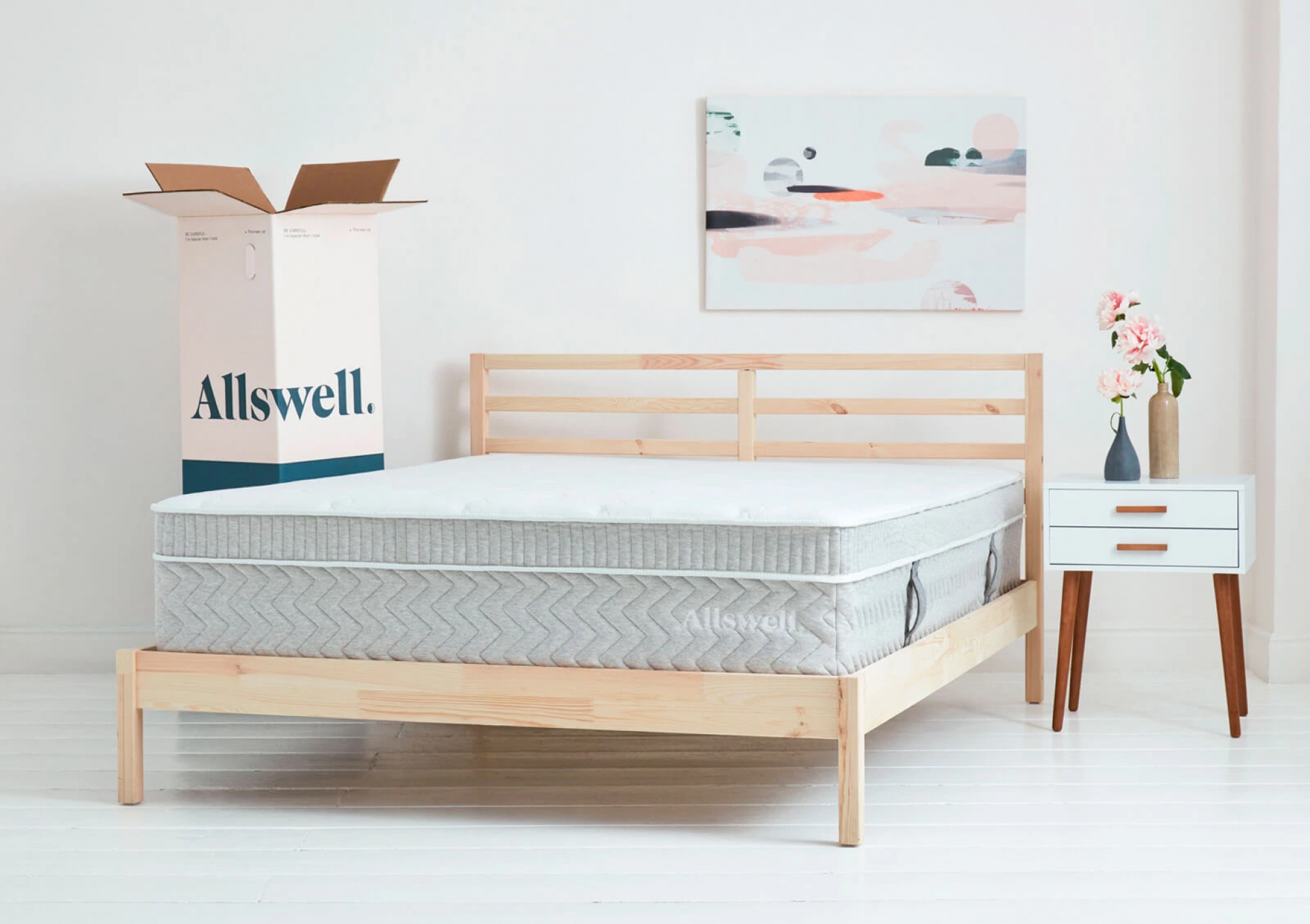 The Allswell Supreme is a popular hybrid mattress that combines the best memory foam and innerspring technologies to get the best sleep possible.
The Allswell Supreme is one of the few mattresses that offer the perfect balance between comfort and support. Many people like the feel of a soft mattress, but there are some drawbacks. A mattress that is too soft may not provide the proper support your body needs and will leave you with an aching back in the morning.


However, a mattress that is too firm can be too uncomfortable to sleep on. Thankfully, The Allswell Supreme mattress offers a medium level of comfort and support for people who suffer from back pain or have trouble sleeping.
The Allswell Supreme delivers a better night's sleep with five key features:
Signature quilting: The Allswell series features the finest, most comfortable quilting available. The Supreme's unique quilting is made with a blend of ultra-soft, breathable cotton fibers and a gel polymer blend that provides long-lasting comfort.
Euro top: the most popular and comfortable way to sleep. The Euro top is the most widely used mattress design on the market today.
Graphite & copper-infused Memory foam: The Supreme's memory foam is infused with graphite and copper for long-lasting durability and dependability.
The Supreme's Energex™ foam provides support.
The mattress is also made with individually wrapped coils reinforced with a quantum edge, which is meant to improve the mattress's lifespan and provide a comfortable sleeping experience.
What I Like:
The Allswell Supreme mattress features several advanced technologies that ensure you stay comfortable throughout the night.
The Signature Quilting creates a soft layer of memory foam that cradles your body.
Thanks to the graphite and copper gel-infused memory foam layer, the mattress provide coolness and excellent breathability.
---
Why Choose Allswell Mattresses?
To shop for a mattress, you have to think about so many things at once, from the quality of materials to how the mattress will fit into your home. And that's before you even get to the really important stuff, like how the mattress will make you feel.
"At Allswell, we want you to get the sleep of your dreams every night. So, we worked with sleep scientists to create the perfect mattress for every person."


It is no secret that sleeping on an uncomfortable mattress can negatively affect a person's health. A good night's sleep is essential for maintaining a healthy body, and a bad mattress is the surest way to ruin your night's rest.
Fortunately, Allswell mattresses offer an affordable solution to this problem. Allswell offers a range of mattresses from top to bottom, and each one comes with a 100-day free home trial. If you buy one of these mattresses and it is not the perfect fit for you, you can return it within the free trial period for a full refund.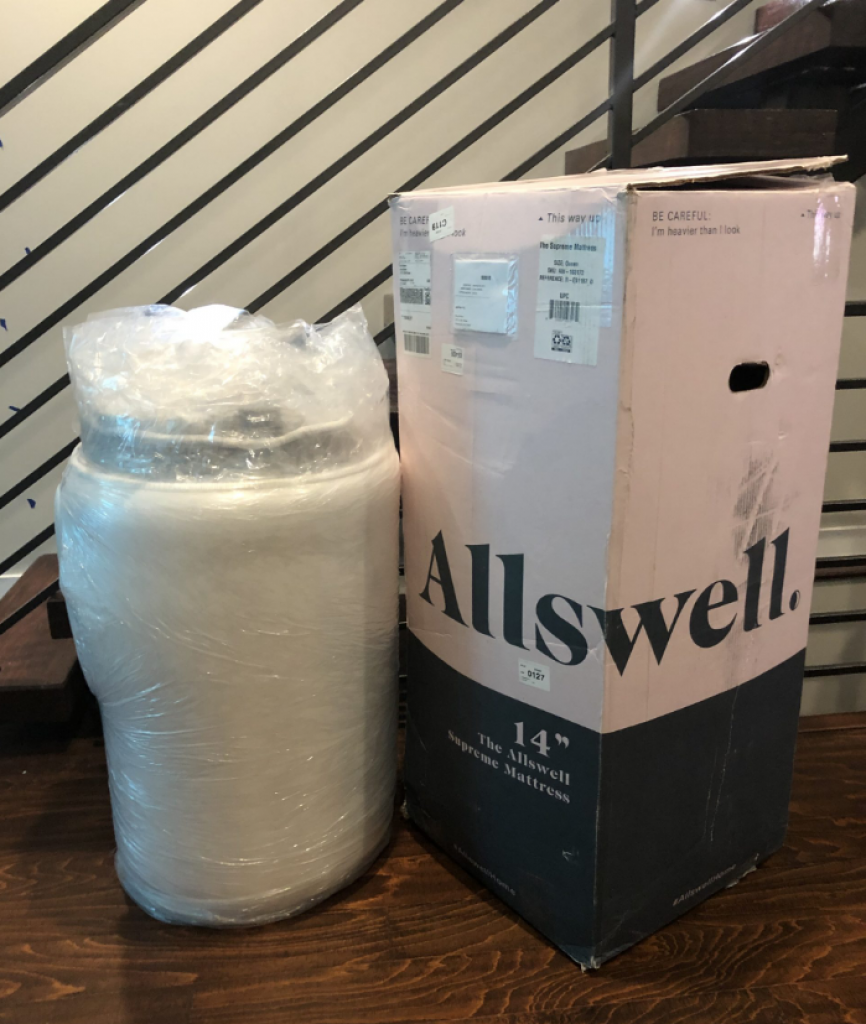 Allswell mattresses are roll-packed and ship in a box so that it is shipped directly to your doorstep. Your mattress is compressed and folded to its smallest state. Once you open the box, you have to let the mattress expand for 72 hours. You can then use your mattress for the first time.
Before choosing the Allswell mattress, this is what I learned about mattresses:
Price
Allswell mattresses are different from any other mattress you've tried before. They are available at a reasonable price, and they're made with a quality material customized to fit each of its customers' needs and support.
Firmness Level
Mattresses built from 100% memory foam can be difficult to move around on and tend to sleep warm, so many people choose not to purchase them. However, Allswell Mattresses have found a way around these problems by using a special kind of memory foam. This foam is designed to be highly responsive and has been tested rigorously by the Allswell Sleep Team.


As a result, the mattress has firmness levels that are right in the sweet spot for most sleepers.
The firmness level is ideal for both you and your partner, so you can both get a good night's sleep without waking up in pain the next morning.
Plus, the foam is specially designed to cool you down and help regulate your body temperature.
Motion Isolation
The durable Allswell mattress is designed to work with the body's natural motions, so you can sleep undisturbed all night long. With its pressure-relieving support foam and motion isolation, Allswell mattresses are perfect for anyone looking for a better night's sleep.
Pressure Relief
The key to a good night's sleep is comfort. We spend an average of eight hours a night on our mattresses, so it's important they provide the right support. At Allswell, we almost start every mattress with our unique combination of Copper Gel Infused Memory Foam and High Density Foam. Together, these provide the perfect balance of support and pressure relief, no matter which way you prefer to sleep.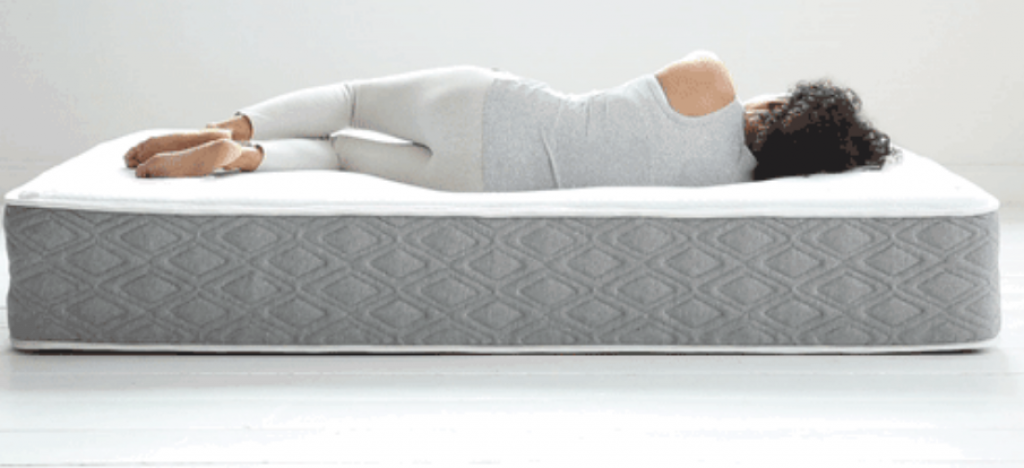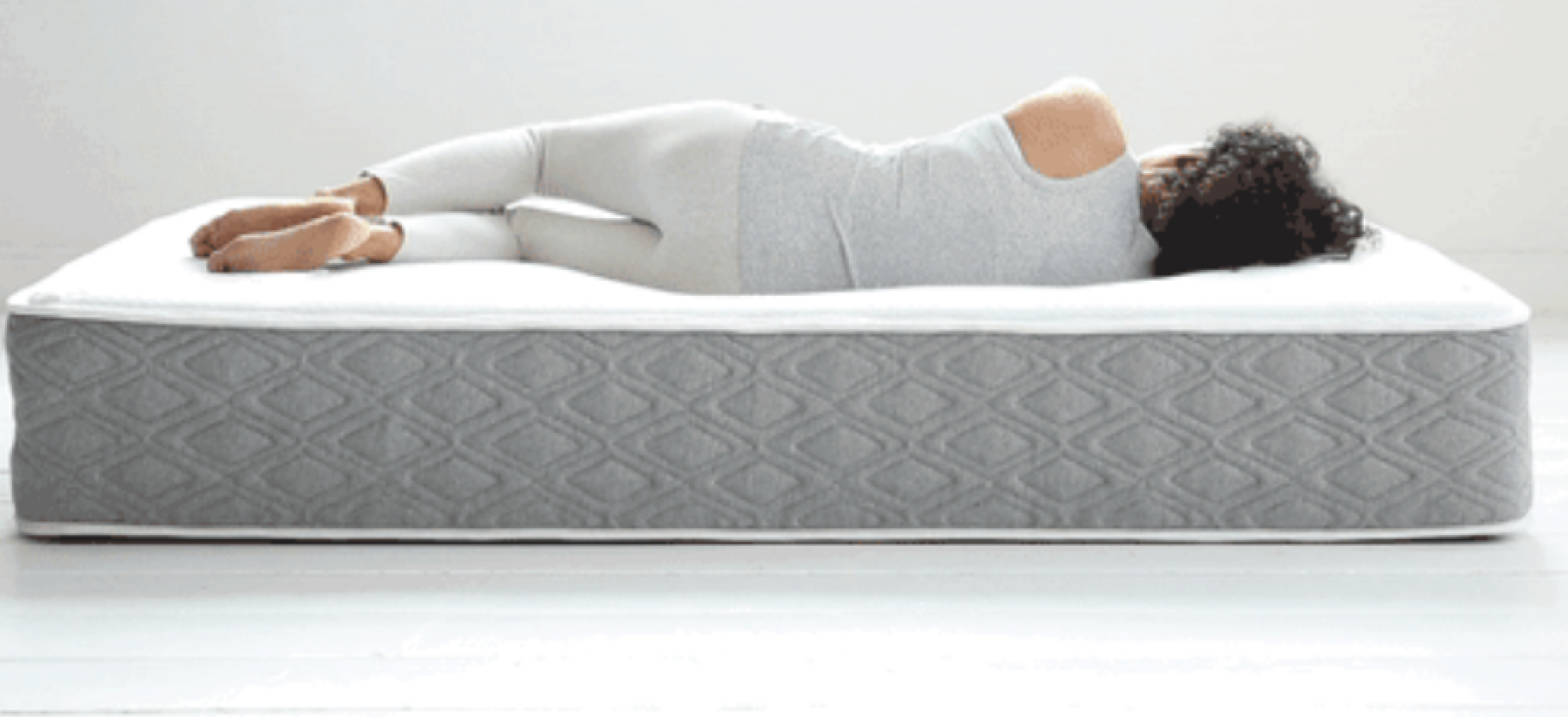 Copper Gel Infused
Allswell mattresses are some of the most popular mattresses on the market today, and you may be wondering why. Well, if you're looking for a mattress that offers the ultimate in comfort, support, and durability, there really is a no better option than an Allswell mattress.
That's why we're such fans of this mattress, which makes getting a good night's sleep a breeze. The copper infused memory foam is breathable, which means it allows you to sleep cooler, all night long, which means your body spends less energy trying to regulate temperature, so you wake up feeling refreshed instead of groggy.
Eco Material
The Allswell mattresses are designed to be a great value: it's made with high quality and durable materials and will last for years.
The foam is Certi-PUR, meaning it was made without ozone depleters, PBDEs, TDCPP or TCEP ("Tris"), mercury, lead, heavy metals, formaldehyde, phthalates regulated by the Consumer Products Safety Commission, or formaldehyde. It also uses no ozone depleters, mercury, lead, or heavy metals in the core.
The foam core is designed to be breathable.
---
Sleeping Style on Allswell Mattress
If you ask a hundred people why they sleep on Allswell mattresses, you'll probably get nearly as many answers. Some of these mattresses are perfect for stomach sleepers, but others are better suited to back sleepers. Some of these mattresses are great for people who sleep on their sides, but others are better for those who sleep on their backs.


And some of these mattresses are ideal for people who spend a lot of time tossing and turning during the night, while others are better for those who sleep through the night, and still, others are the best fit for those who wake up early.
Luckily, all Allswell mattresses provide all of the comfort and quality you're looking for in a brand-name mattress.
---
F.A.Q.
What makes the Allswell mattress so special?
The Allswell mattress is special because it's infused with copper, which is supposed to have a cooling and breathable effect. Copper is naturally antimicrobial and bacteria-resistant, too, which means it won't collect the stinky bacteria that can usually build up in your mattress over time. As a result, the Allswell is better for your health and sleeps cooler than most mattresses on the market.
What is the warranty of an Allswell mattress?
A 10-year limited warranty covers an Allswell mattress against defects in materials or workmanship. The warranty does not cover normal wear and tear or damage caused by improper use or cleaning.
You may want to revisit some parts of the article