RV mattresses are one of the essential products that you can buy for your motorhome. This review is designed to give you lots of information to help you find the best RV mattress. There are many types of mattresses out there, and finding the right one for your RV can be quite a challenge.
---
Top 5 Best RV Mattresses
#1
PlushBeds Eco Green 8″ Natural Latex RV Mattress
Get $214 off
It is a mattress with many premium features priced so competitively—including custom sizing for those on the go.

A luxurious organic cotton cover provides optimal cooling while you sleep.

At a Gold level certification, the mattress is beneficial for sensitive individuals such as children and the elderly.
Trial period: 100 nights

Warranty: 20-year warranty

Shipping:
Free shipping

Firmness:
N/A

Price range: $$$

Type: Latex
We recommend this mattress for the following sleepers:
Get $214 off
---
It has to do a lot more than provide a place to rest your body at night. Due to vibration and uneven sleeping surfaces, RV mattresses must be firm enough to provide good support while remaining comfortable as well. They have to be durable enough for a wide range of outdoor conditions, and they have to be easy to clean and care for. All of this while still being affordable.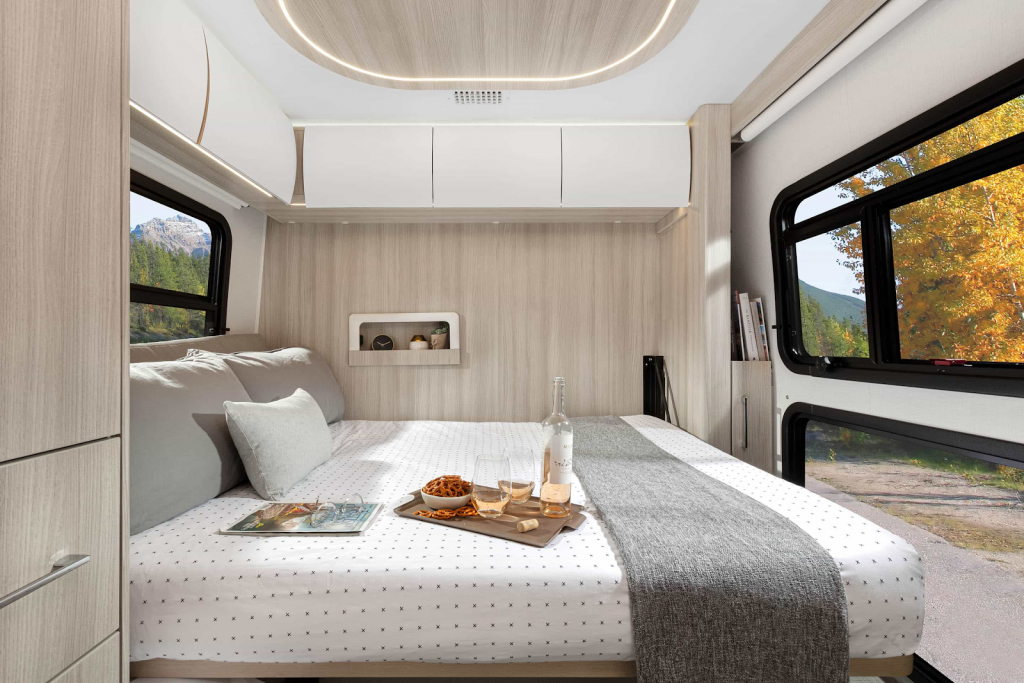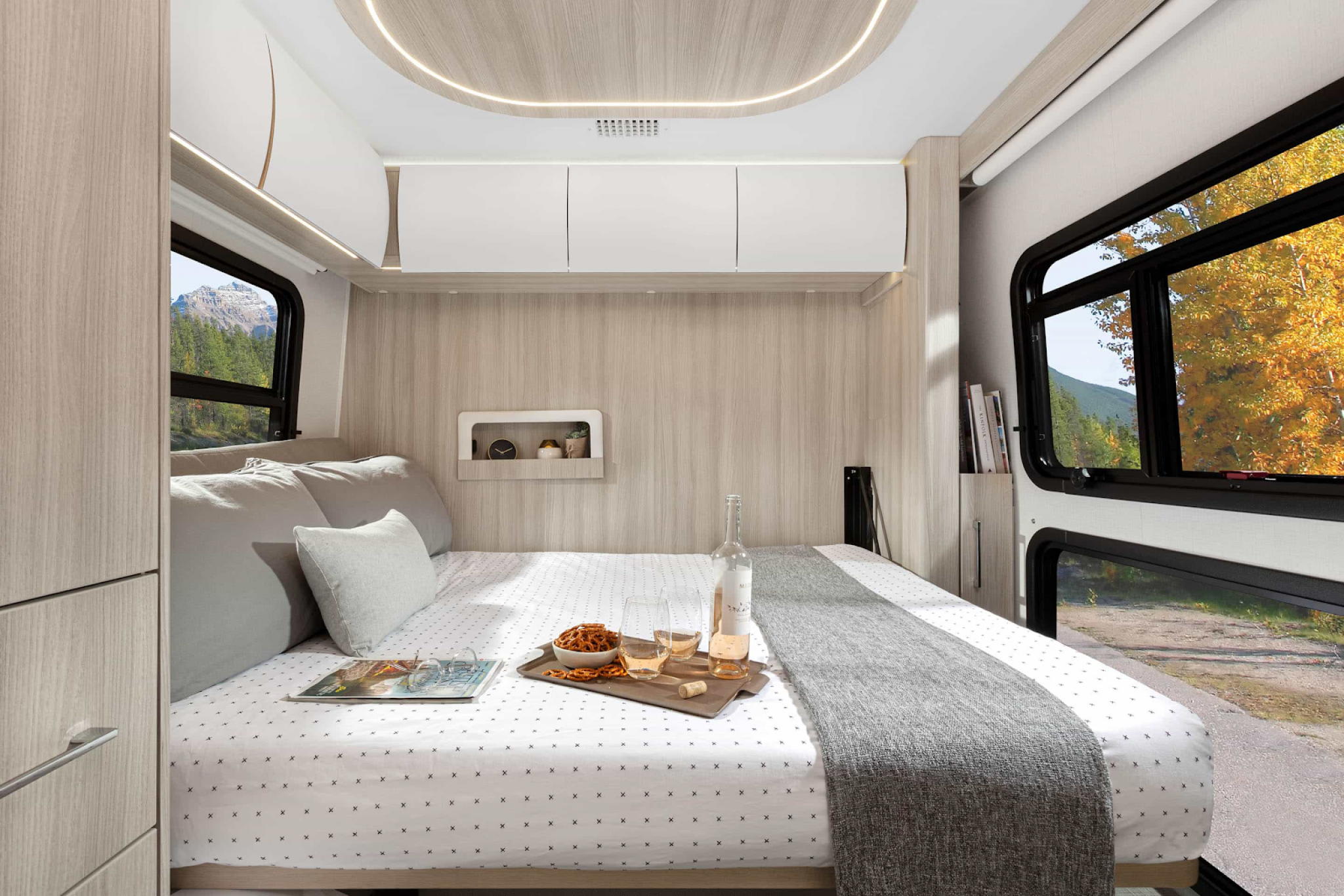 Mattresses are the one item in your RV or camper that needs to be perfect. Because you are sleeping on them every night you must find a mattress that feels good and comfortable. There are many motorhome mattress models on the market today, and you need to find the right one for your needs. In this review, we will look at the wide variety of RV mattresses on the market today and discuss some of what they have to offer.
With all that in mind, here are some of the best RV mattresses available.
---
Best RV Mattresses Reviews
Brooklyn Signature Hybrid
Great Choice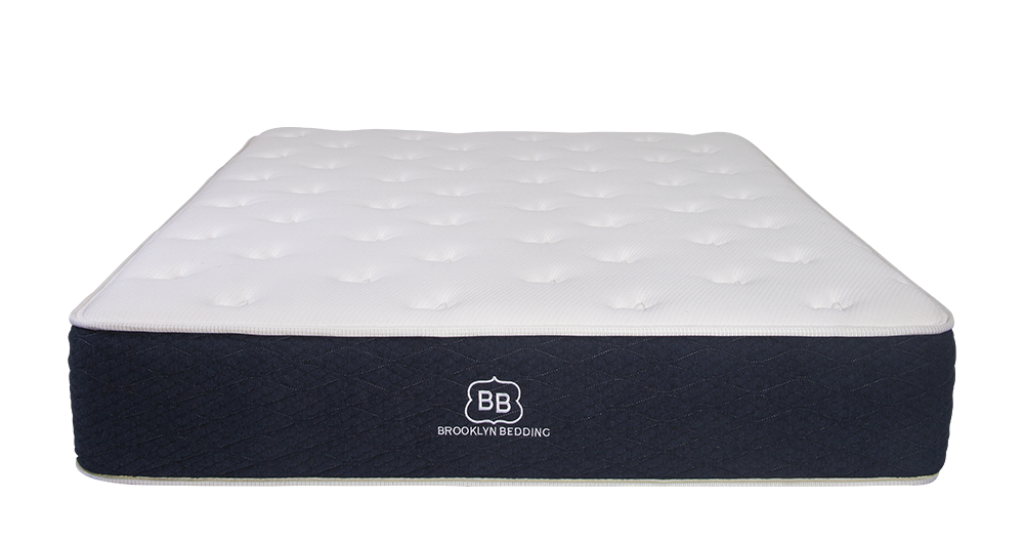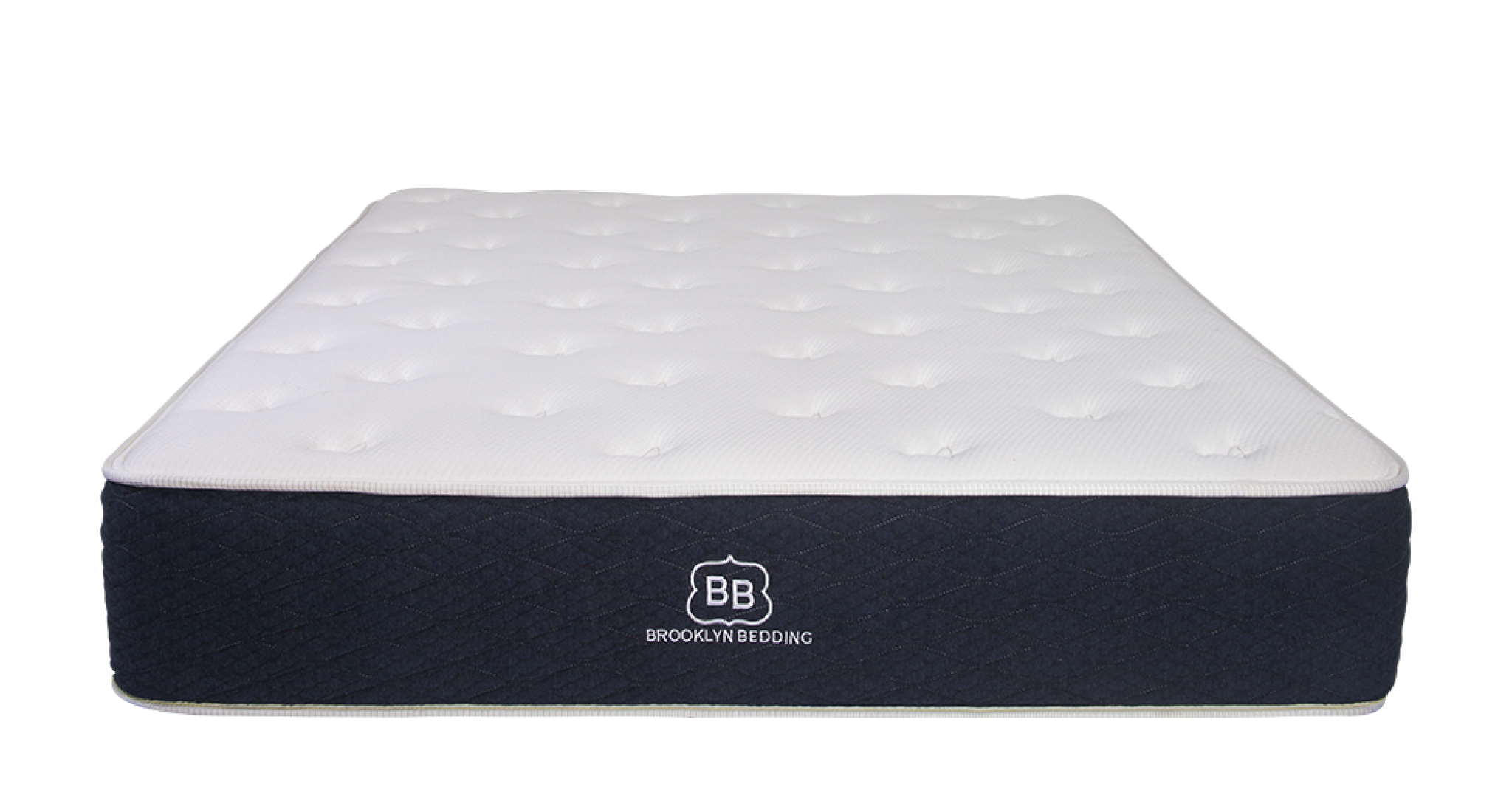 The Brooklyn Signature Hybrid Mattress is a memory foam mattress that offers amazing comfort that conforms to your body. It is designed to feel like a traditional innerspring mattress with the added benefits of memory foam.
The Brooklyn Signature Hybrid offers different firmness options to help you find the perfect mattress for your body. The top layer consists of memory foam that offers support and pressure relief. The middle layer is made of high-density foam, which provides support for your back and hips.


The bottom layer consists of high-density foam, which offers support for your legs and low back. It also has a plush foam layer that helps to provide a softer feel. Featuring fresh design and cutting-edge materials, this mattress is perfect for sleepers who like to "go green" in more ways than one.
Why Should To Choose It?
It is made from multiple layers of foam, which ultimately makes it the best mattress for most sleepers.
It is perfect for people who like a soft, plush feel.
---
Zinus Deluxe Memory Foam 8 Inch RV
Best Value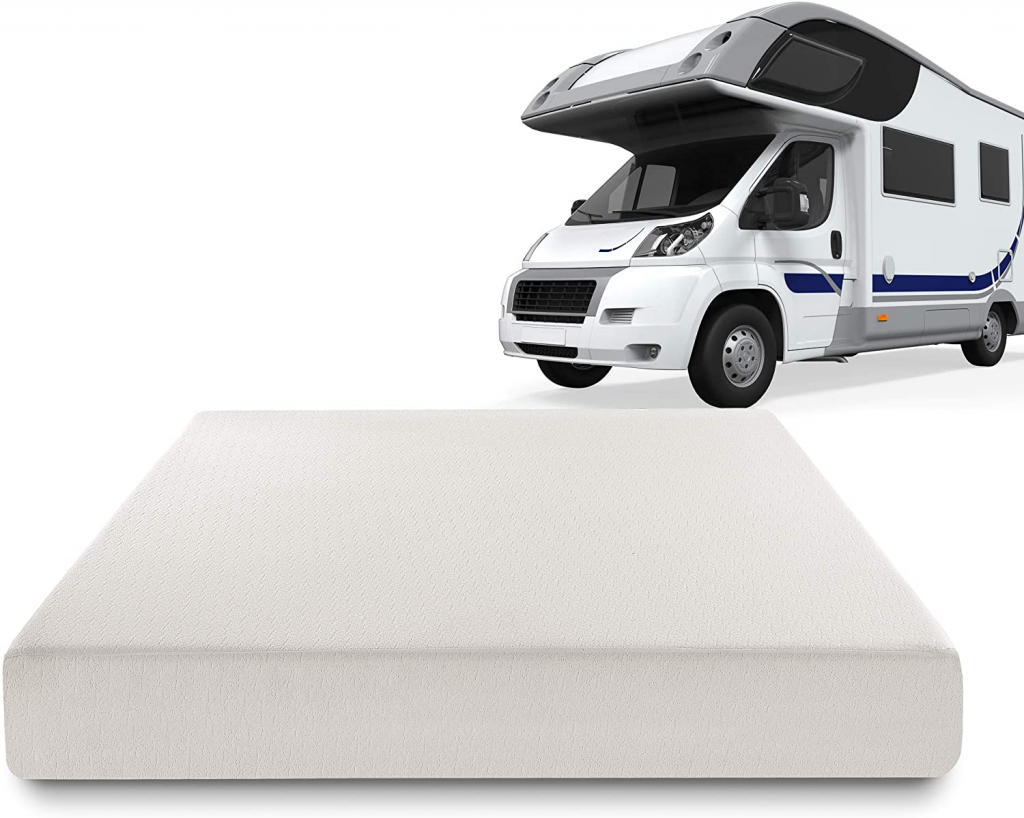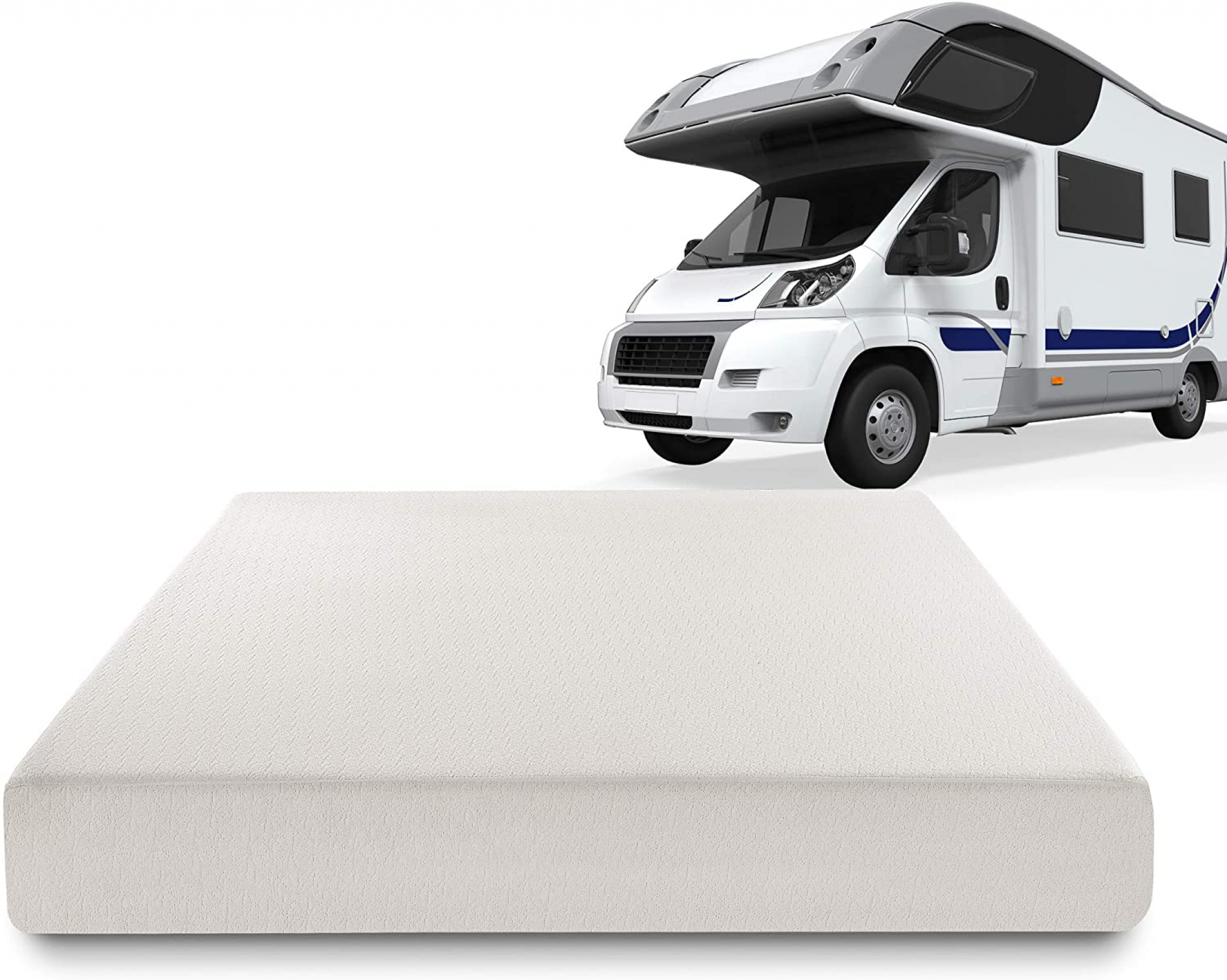 Most people shopping for an RV mattress are looking for both comfortable and easy to transport. Finding a mattress that meets both of these needs is not always easy, but Zinus Deluxe Memory Foam 8 Inch RV Mattress offers both at a price that is easy on the wallet.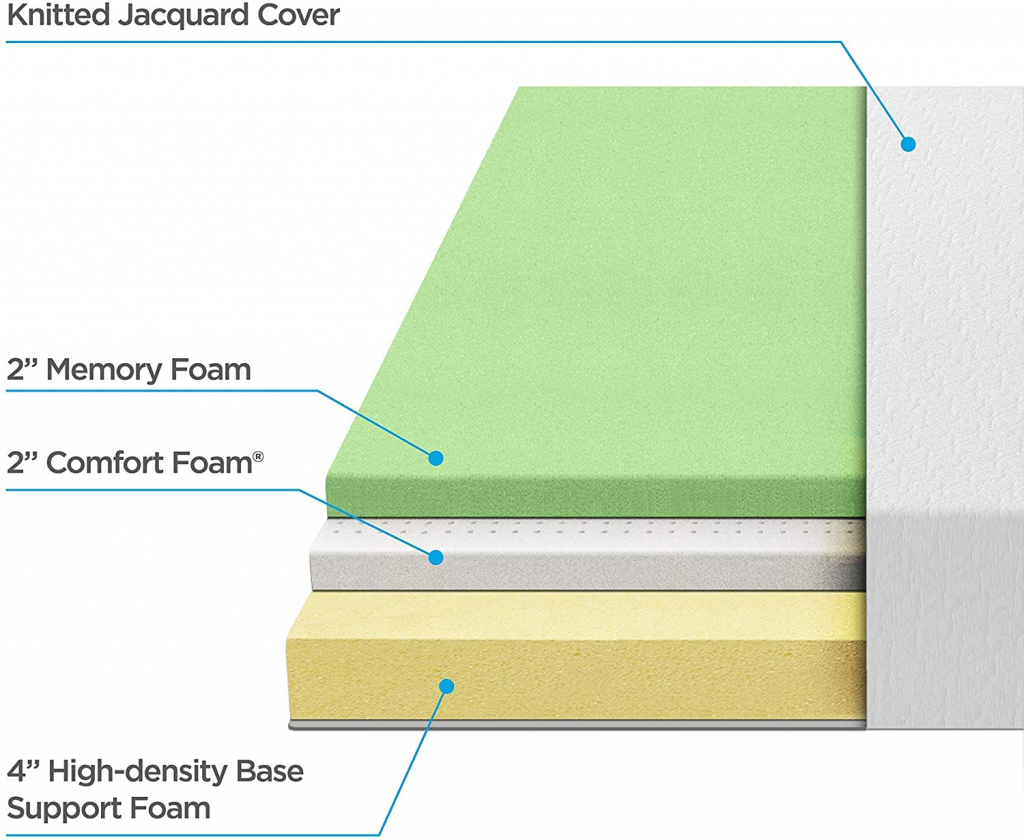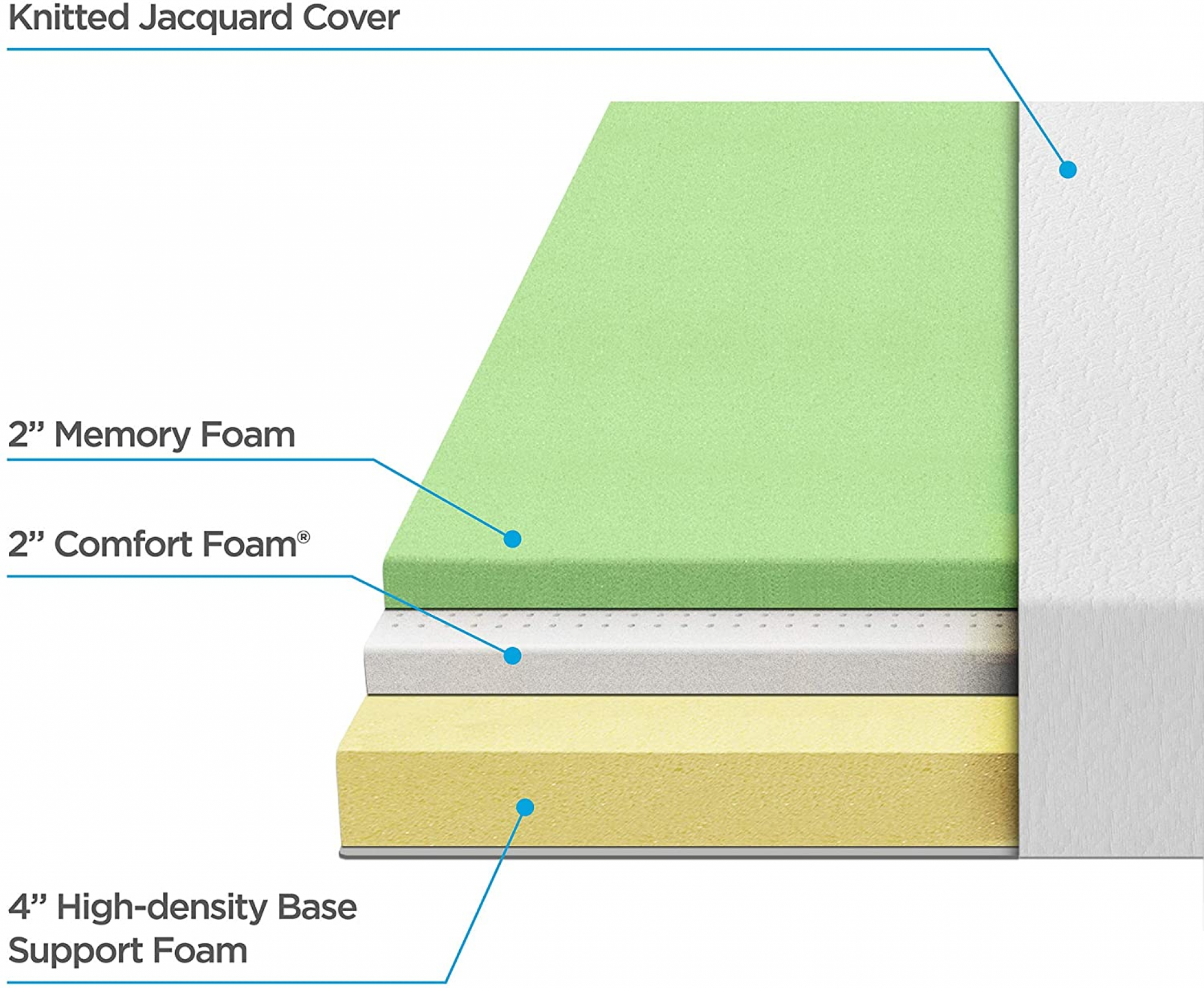 It's made with 2 inches of extra-dense memory foam, so your backside will sink in without bottoming out, and you won't roll out of bed when you turn over. The Zinus Deluxe Memory Foam 8 Inch RV Mattress was designed to meet RV owners' needs precisely. It is designed to be easy to transport from one spot to another. It is also designed to be comfortable, which is essential to a good night's sleep.
Why Should To Choose It?
This mattress topper offers the ultimate in comfort, with its memory foam construction that feels soft and comforting to the touch.
The Zinus Deluxe Memory Foam 8 Inch RV mattress is a great choice for people who have a tight budget.
It has a qualityCertiPUR-US Certified.
---
Serenia Sleep 8-Inch Memory Foam RV Mattress
Best Back Support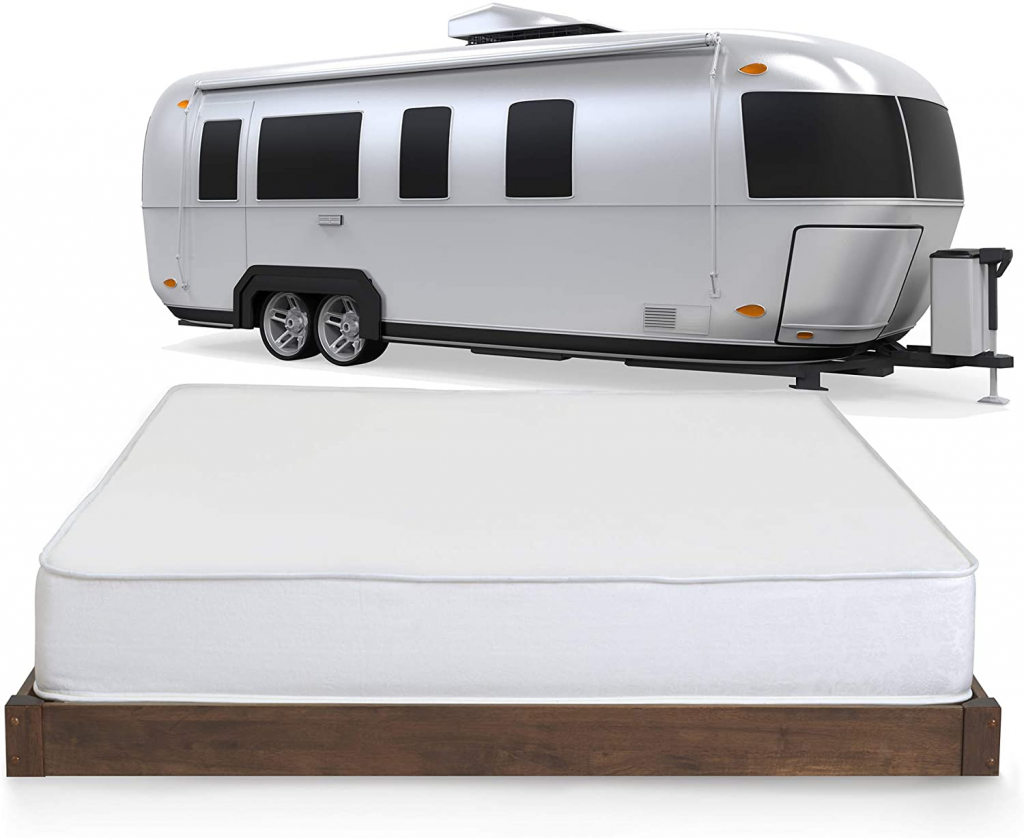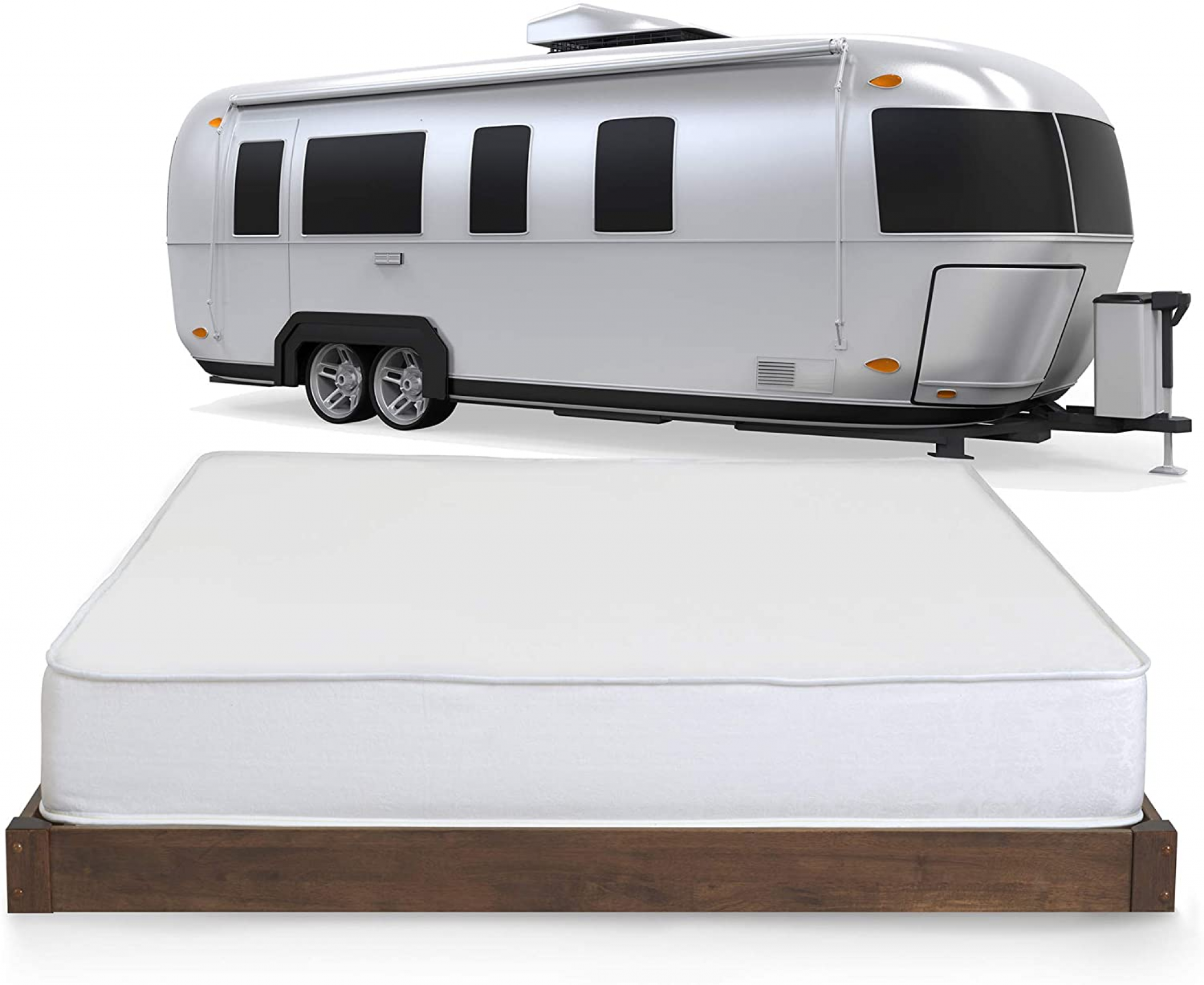 The Serenia Sleep 8-Inch Memory Foam RV Mattress is one of the most comfortable mattresses. It is designed with a combination of features to deliver the ultimate comfort and support.
The Serenia Sleep 8-Inch Memory Foam RV Mattress has taken things one step further, making an already comfortable mattress even more luxurious and plush. It provides the quality, relaxation, and comfort that you deserve, while also being very affordable.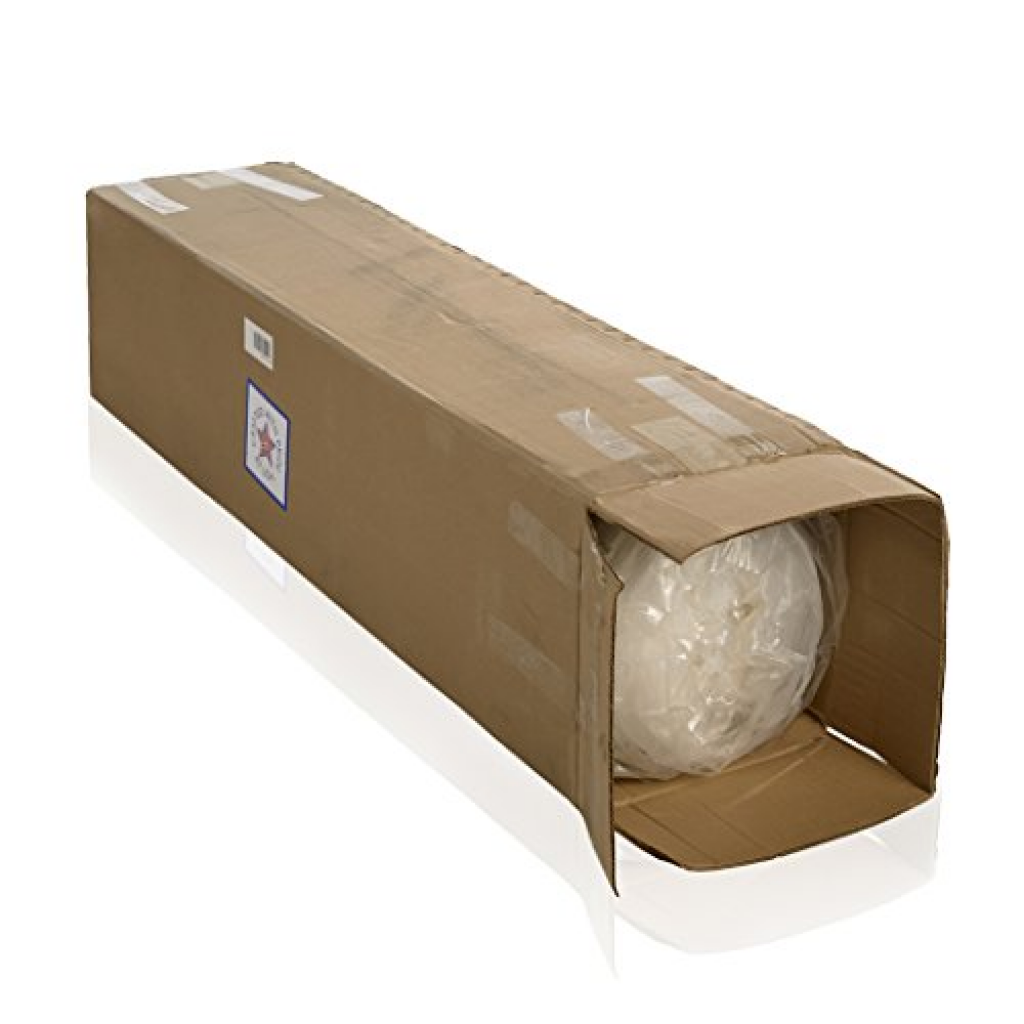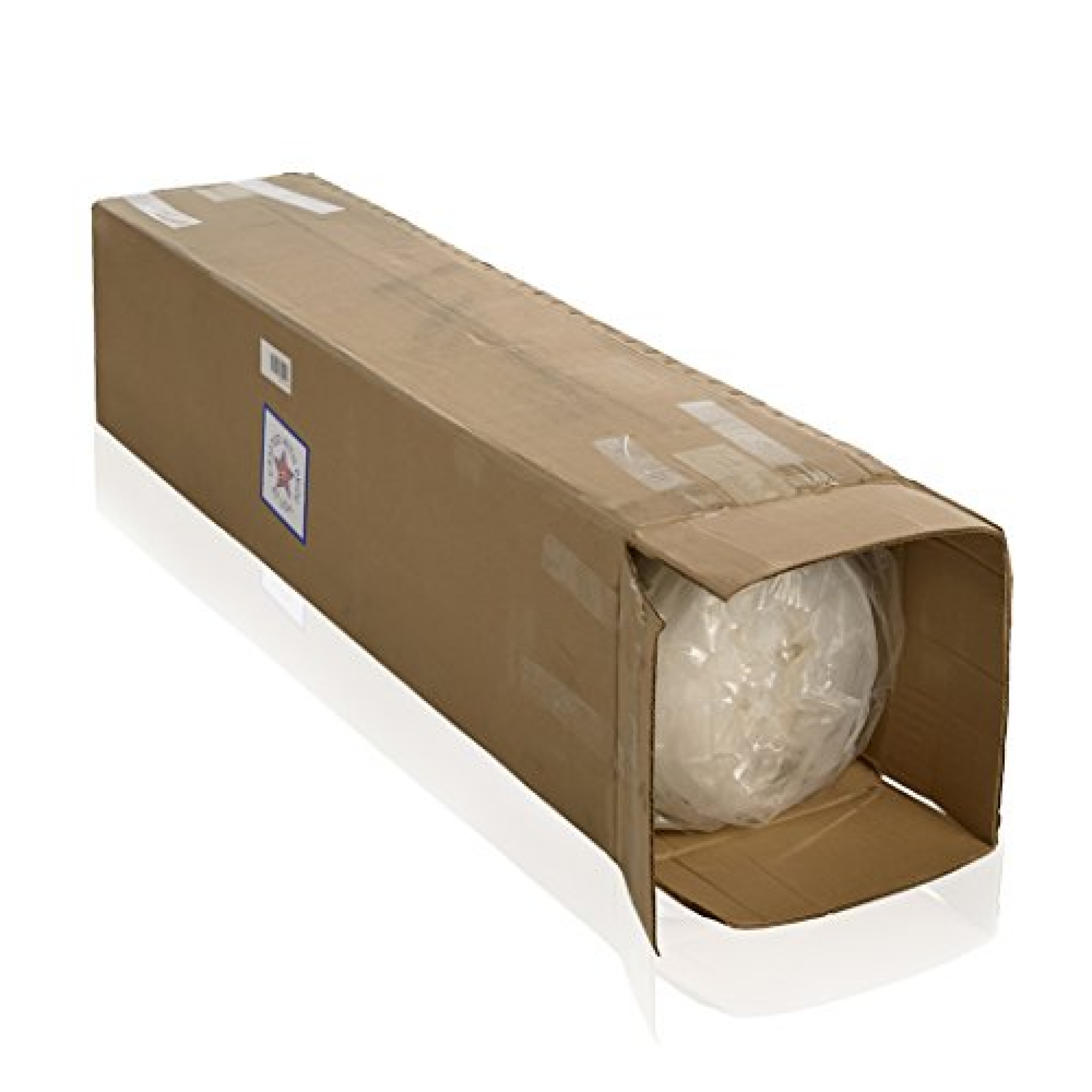 It is for anyone who is looking for the highest quality in the mattress industry. This mattress is made to fit RV beds and can be used for boats, caravans, camping, and home use. It is better than any RV mattress that is currently on the market today.
Why Should To Choose It?
It has a great build quality, it's very affordable.
It has a qualityCertiPUR-US Certified.
---
LUCID 10 Inch 2020 Gel Memory Foam Mattress
Best Memory Foam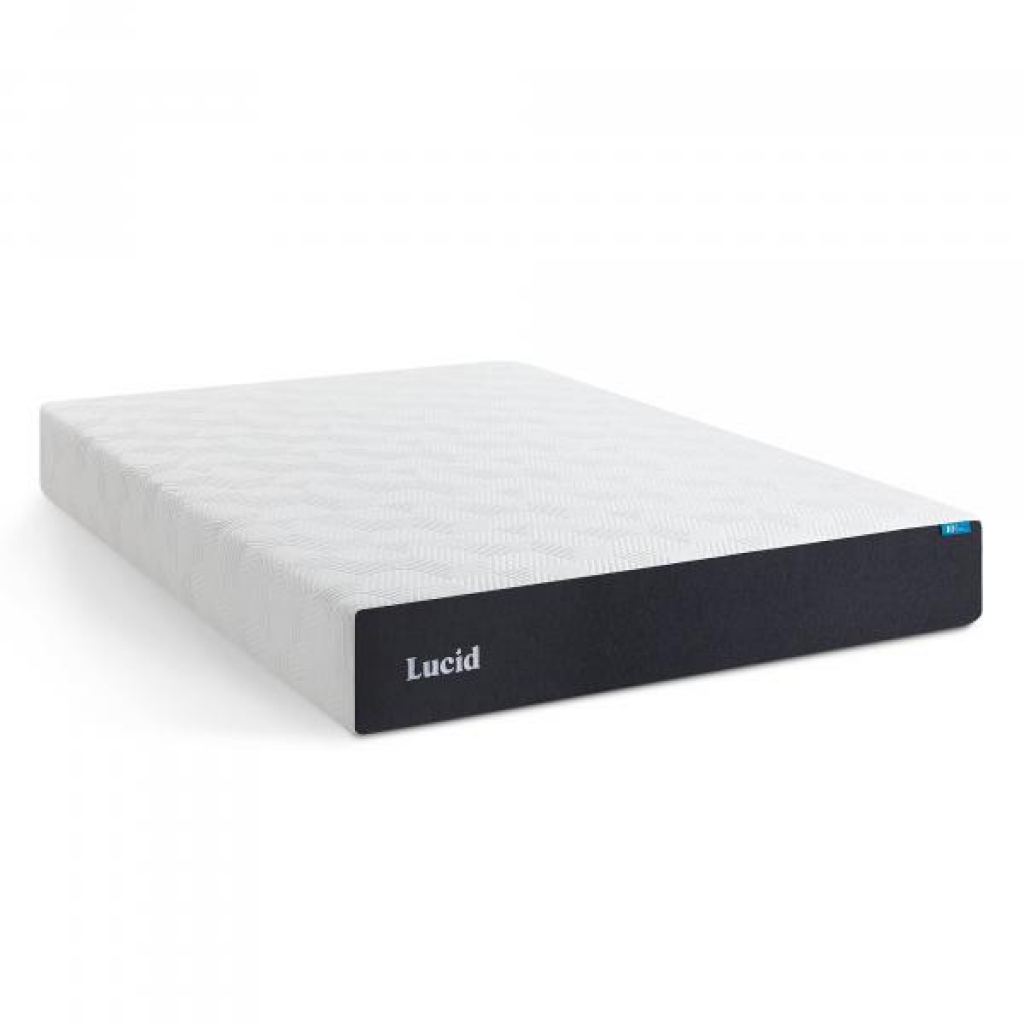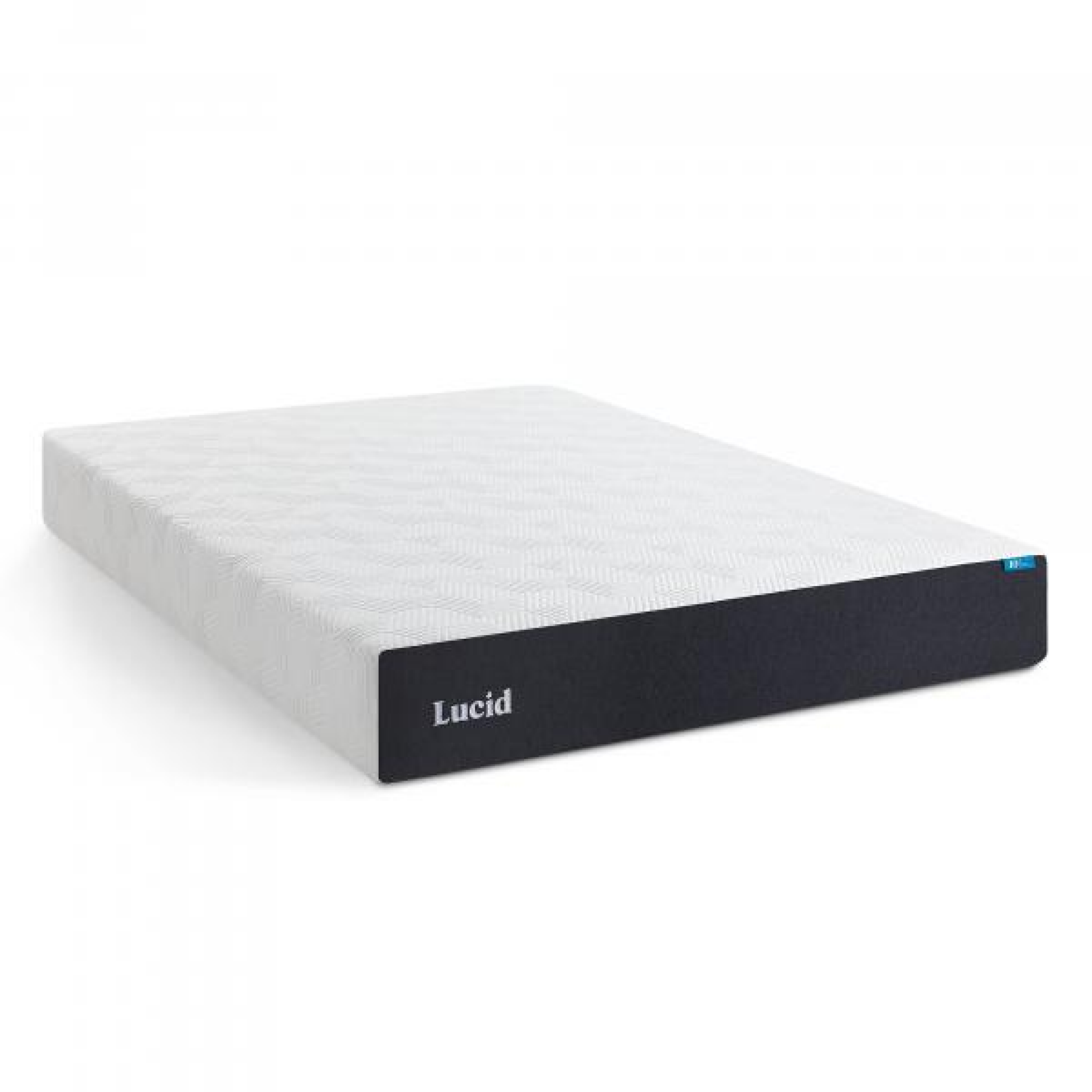 The Lucid 10-inch gel memory foam mattress is an excellent choice for a mattress that gives you a great night of sleep. It has a soft feel, and you will feel as if you are in a cloud. It is so comfortable you will not want to wake up in the morning. This mattress will provide you with the support you need to wake up feeling refreshed and ready to start your day.
What makes the LUCID 10 Inch 2020 Gel Memory Foam Mattress so unique? Well, it's a dream to sleep on. Manufactured in the USA, this mattress is made of gel memory foam.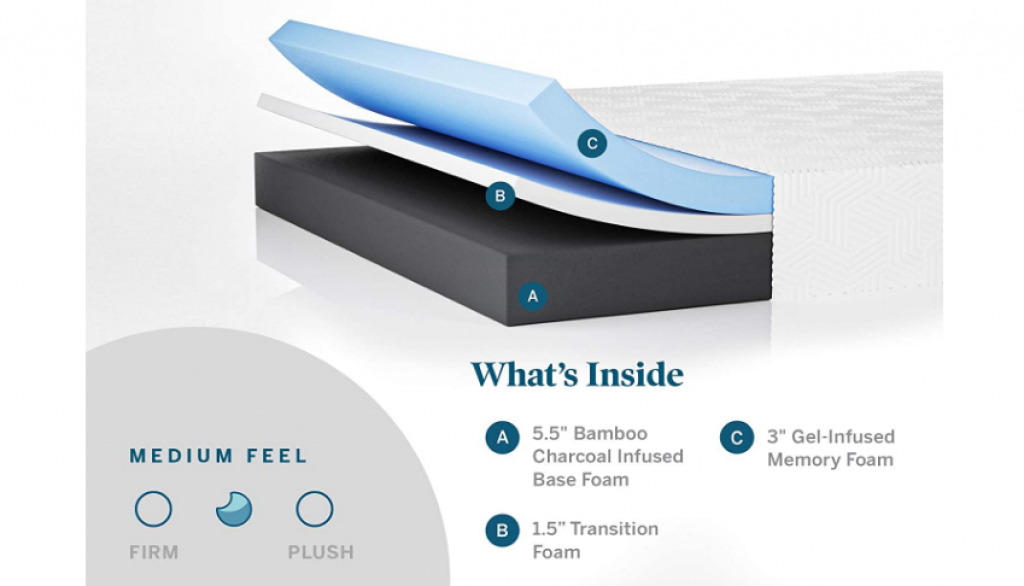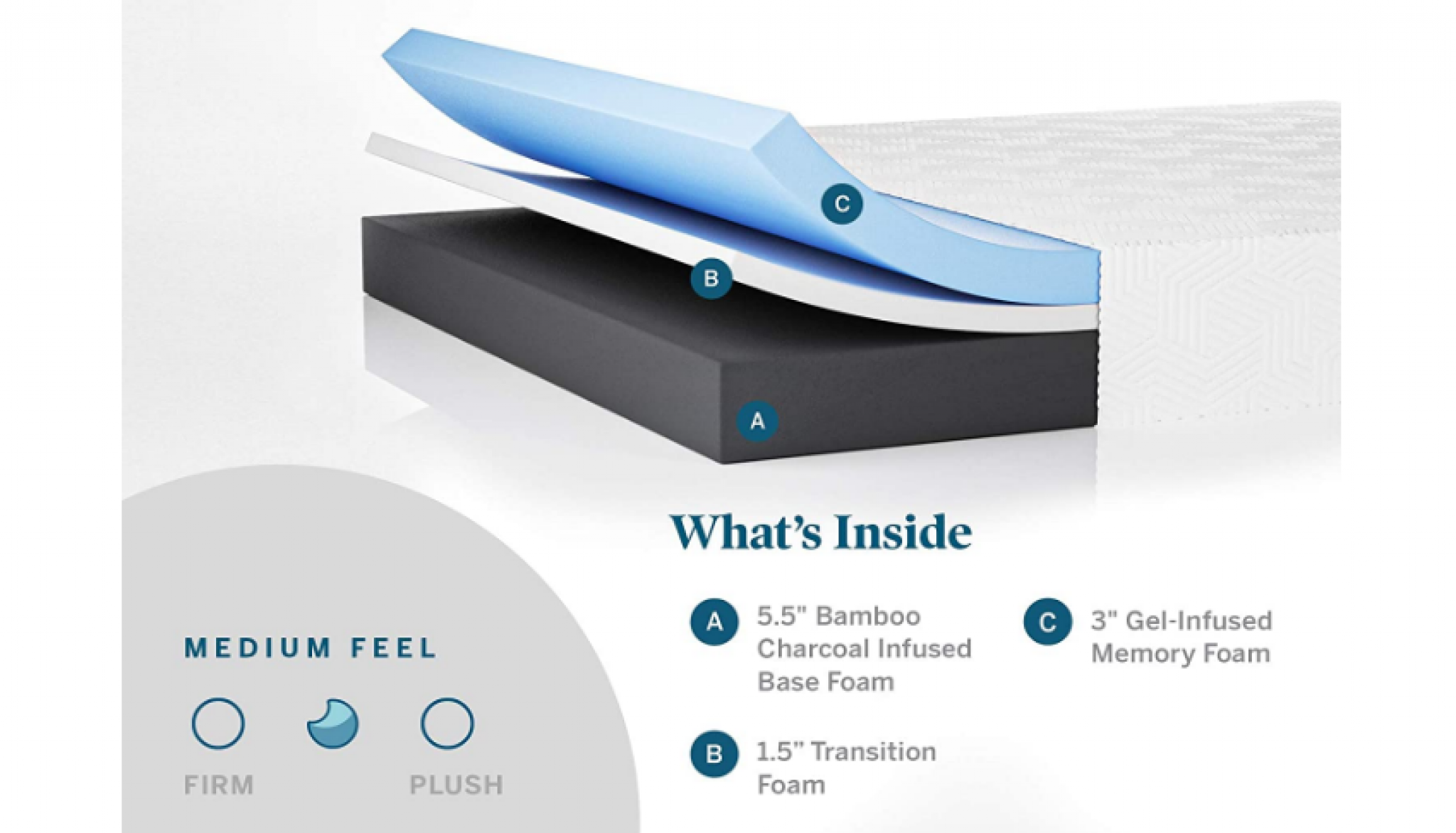 The foam is infused with gel, which helps the sleeper remain cool. The mattress also has dual side handles so that you can move it on your own. The foam is Certi-Pur certified, meaning it is made without ozone depletes, TDCPP, PBDEs, heavy metals, formaldehyde, phthalates regulated by the Consumer Product Safety Commission, or emission harmful to human health.
Why Should To Choose It?
This mattress is safe because the foam is Certi-Pur certified.
It has a very soft, breathable cover.
---
Live & Sleep Resort Classic – RV Short Queen Memory Foam Mattress
Best RV Mattress for Back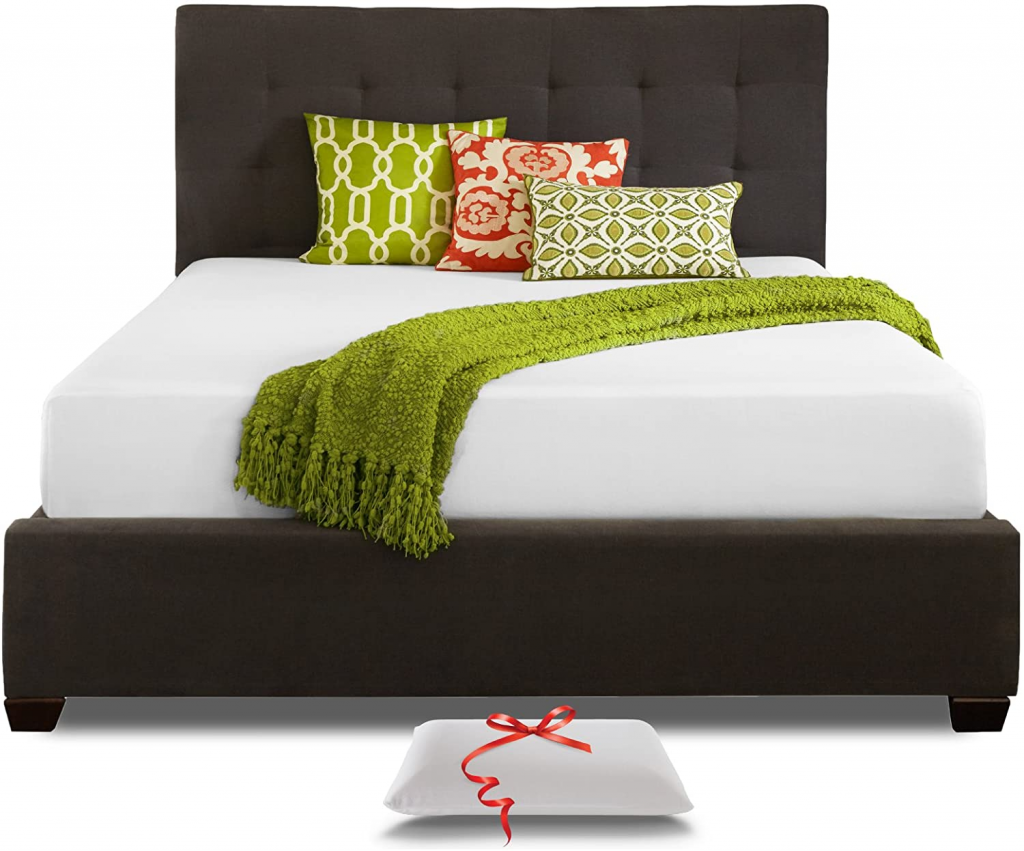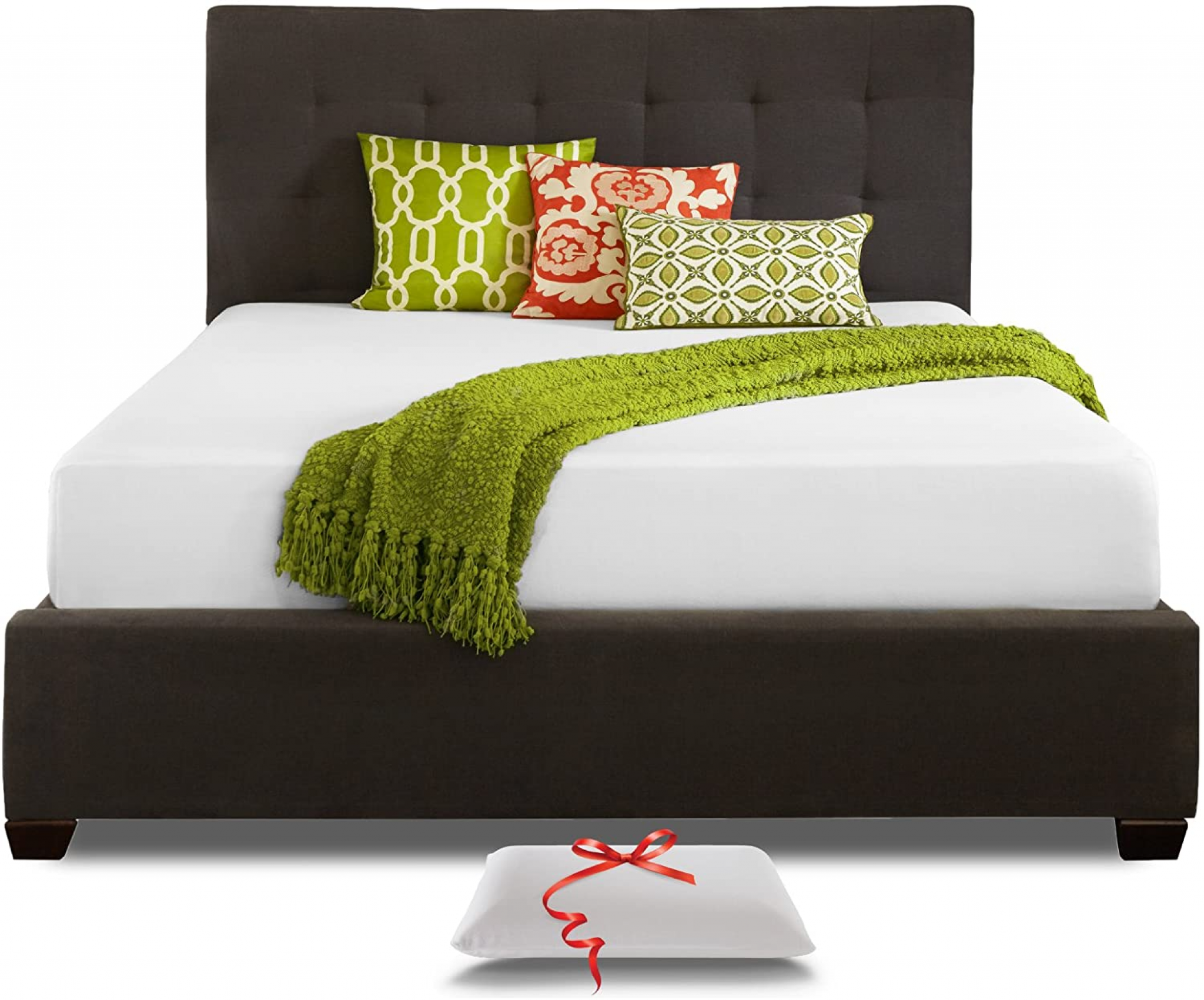 The Live & Sleep Resort Classic – sets the standard for the highest quality mattress that is designed to improve your health while offering you a great night's sleep. The PainLive & Sleep Resort Classic – has been created to alleviate pressure points and promote better blood circulation to support your body.
It is a short queen foam mattress that fits in an R-V or camper. It is foam, so it molds to your body while maintaining its shape.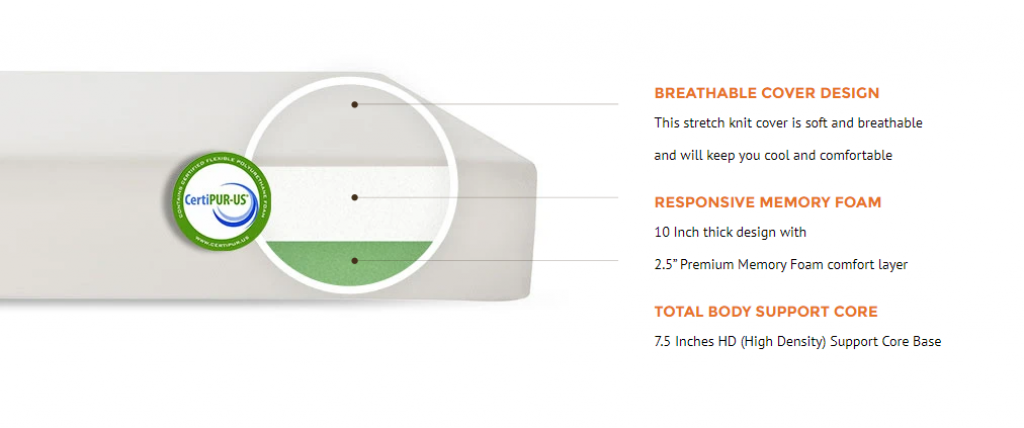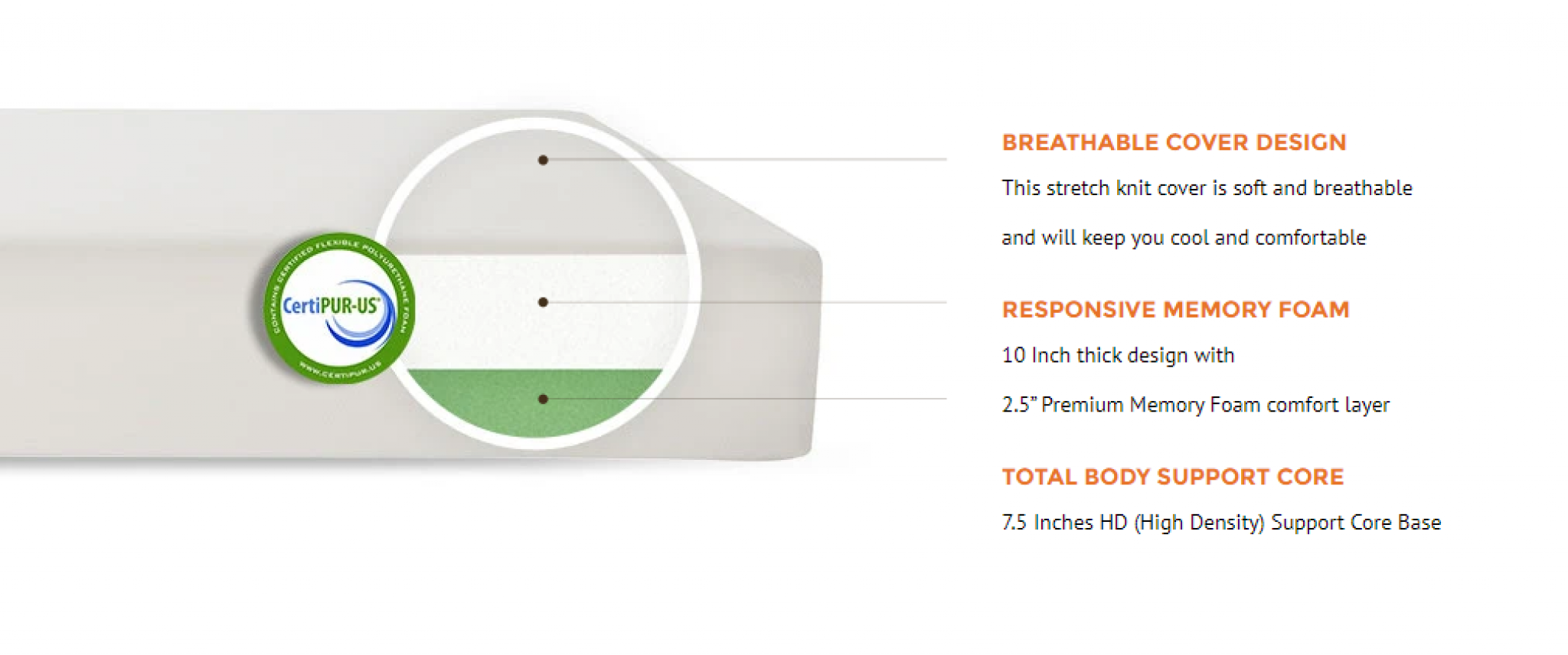 The Live & Sleep Resort Classic is the only luxury mattress on the market to have a memory foam mattress that is guaranteed to be 100% free of harmful or dangerous chemicals. And it's not just any memory foam that's free of hazardous chemicals, it's CertiPur-US certified memory foam.
Why Should To Choose It?
It is designed to conform to your unique body shape.
This mattress is safe because the foam is Certi-Pur certified.
It is also designed to relieve pressure points.
---
What to Look For When Buying a New RV Mattress
There are many things to consider before buying a new RV mattress. First, how many people will the mattress be for? Is it for a couple or a whole family? Second, how will it be used? Will the mattress just be used for days spent at the campsite, or is it used for road trips? These questions and more need to be answered before you decide on a mattress.
We have narrowed down what you need to know to six simple points. They will help you find a mattress that works for you.
---
Material
The materials used on RV mattresses can vary depending on brand and price, but most are made from either foam or fiber. The two materials are equally popular among RV owners. Foam mattresses were once far more popular than fiber but have since declined in popularity due to updated versions of more comfortable fiber.
The most common types of foam used in mattresses are polyurethane, foam rubber, and polyethylene. The most popular type of fiber used in mattresses is called polyester and is made from synthetic materials.
By understanding the different materials and their pros and cons, you can choose the mattress that will keep you comfortable for years to come.
Weight
An ordinary RV mattress can weigh anywhere between 40 pounds for one that is thin and only 6 inches thick all the way up to over 70 pounds for one that is 15 inches thick. The weight of a mattress depends on its overall size, thickness, and composition.
Size
If you are looking to purchase a new RV mattress, you will undoubtedly want to know how big they come. The truth is, it depends on the type of RV that you have. Some recreational vehicles are tiny and will only fit a twin-size mattress, and others can fit a king-size mattress.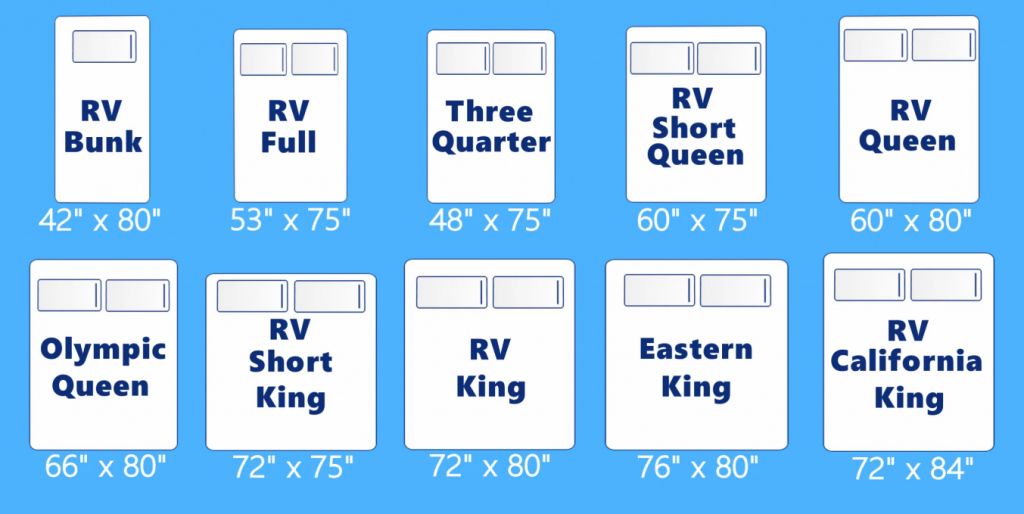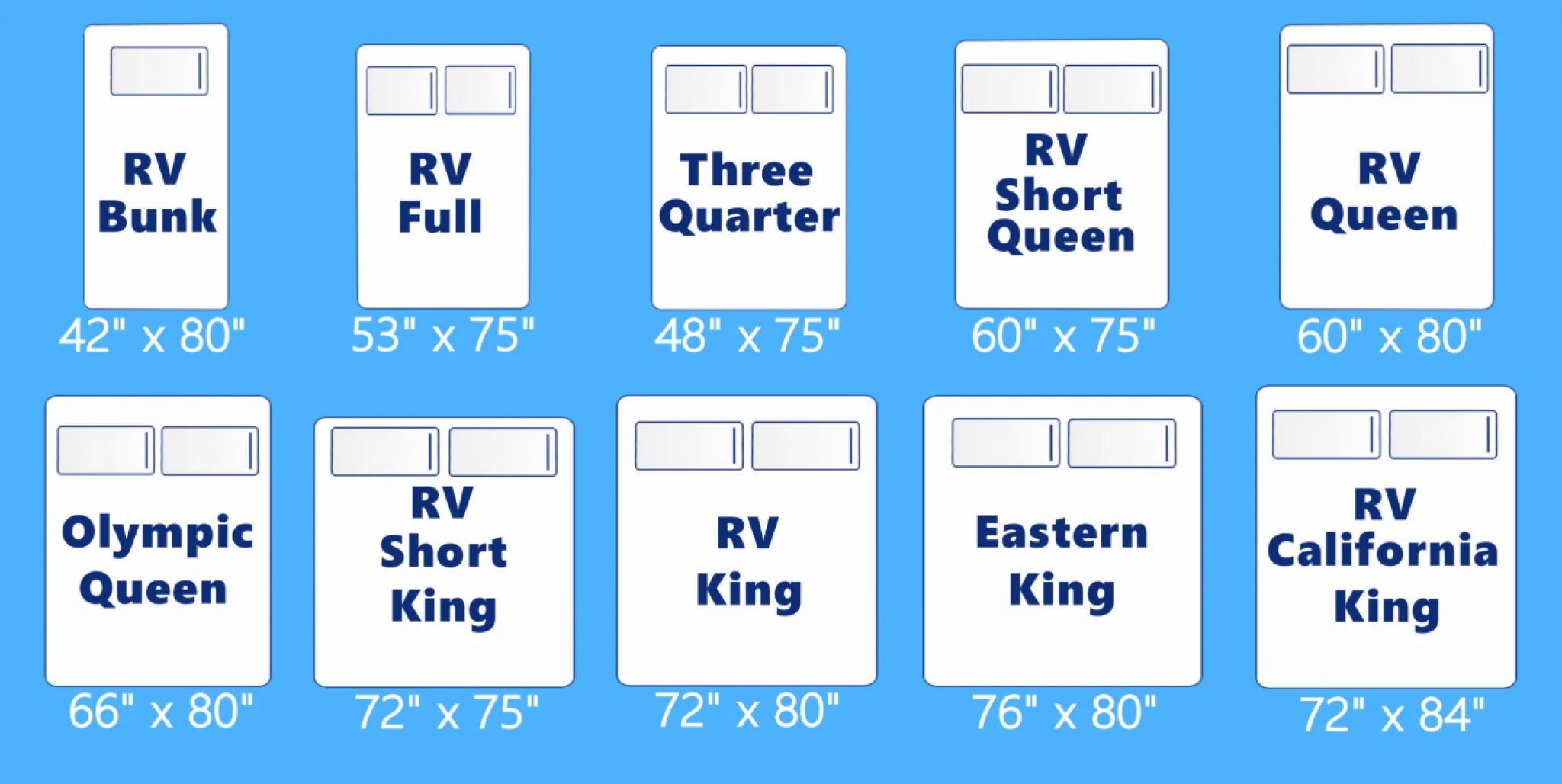 An RV mattress comes in many sizes. An RV mattress's sizes are queen, king, double, short queen, short double, and full size. The first thing you should do is ask yourself what type of RV that you have. That way, you will know what size mattress that you need.
Sleeping Position
The best position for sleeping on an RV mattress is the position that feels the most comfortable to you and allows you to get a good night's sleep.
The right sleeping position for you can make a big difference in how well you sleep, how much you toss and turn, and how quickly you wake up.
The type of mattress you use and the position you sleep in can impact your quality of sleep. There are many ways to sleep on a mattress, and you may be surprised to learn that not all of them are good for your body. For example, sleeping on your back can contribute to neck and back pain, while sleeping on your stomach can strain your neck and shoulders. However, sleeping on your side provides the right amount of support for your back and reduces strain on your neck, shoulder, and hip joints. Sleep on your side with your legs and top arm bent and your bottom arm extended. Pillows can be used to support your upper body and head, if necessary.
Durability
Finding the best RV mattress for you can be hard. There are many brands and types of mattresses out there to choose from. If you are looking for a good and durable RV mattress, then the best thing to do is pick a mattress made from quality materials built to last.
RV mattresses have evolved a lot over the last few years, but the one thing that hasn't changed is the way they wear out: just like in your home bed, the surface of the mattress contributes to most of its wear and tear. When you lie on top of the mattress, the surface fibers get worn down. This is normal and expected, and it's why you typically need to replace your mattress every 10 to 15 years. But even though RV mattresses are designed to be more durable than your home bed, they're still not made to last forever.
Firmness Level
The firmness level of a mattress is a very important thing to consider before you buy one. A mattress's firmness is a measurement of how much pressure is required to compress the mattress by 25%. The firmer the mattress is, the more pressure is required. Measuring firmness is called a "sinkage test." It is measured by using a scale of 1 to 10. 1 represents the softest mattress, while 10 represents the firmest mattress. The firmness of a mattress is affected by material and thickness.


They have to be soft enough to be comfortable yet firm enough to be supportive, which can be a difficult balance to strike. One of the most popular ways to find the perfect mattress for your RV is to test it out in person; the best way to do that is to visit a brick-and-mortar store that sells them. If you're shopping online, you can usually request a free sample to help you decide if the mattress will be right for you.
---
What Types of RV Mattresses Are Available?
RV mattresses come in four different types: foam, hybrid, air, and coil spring.
Each type has specific features that make them unique and make one mattress preferable to another, depending on your personal preferences and needs. All the mattresses are similar in that they are designed to be used as a mattress for a motor home or recreational vehicle RV.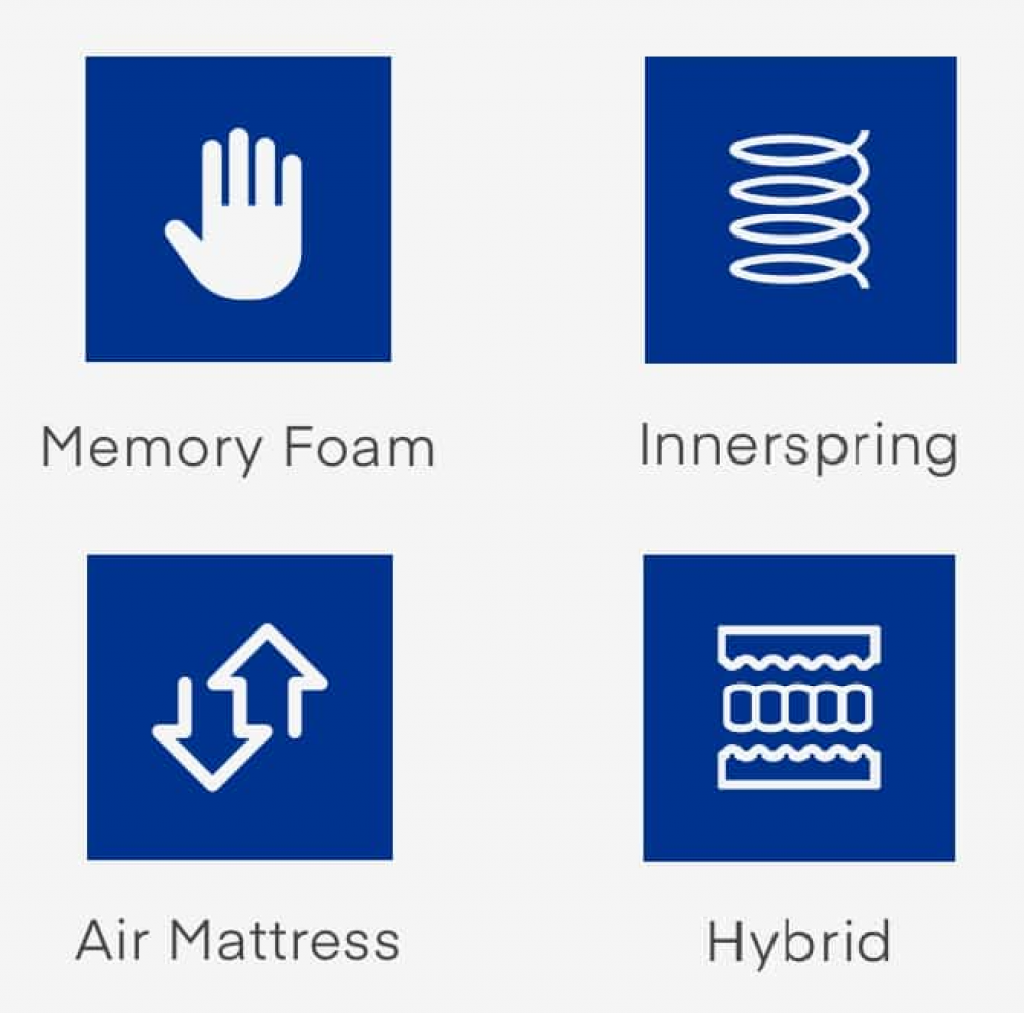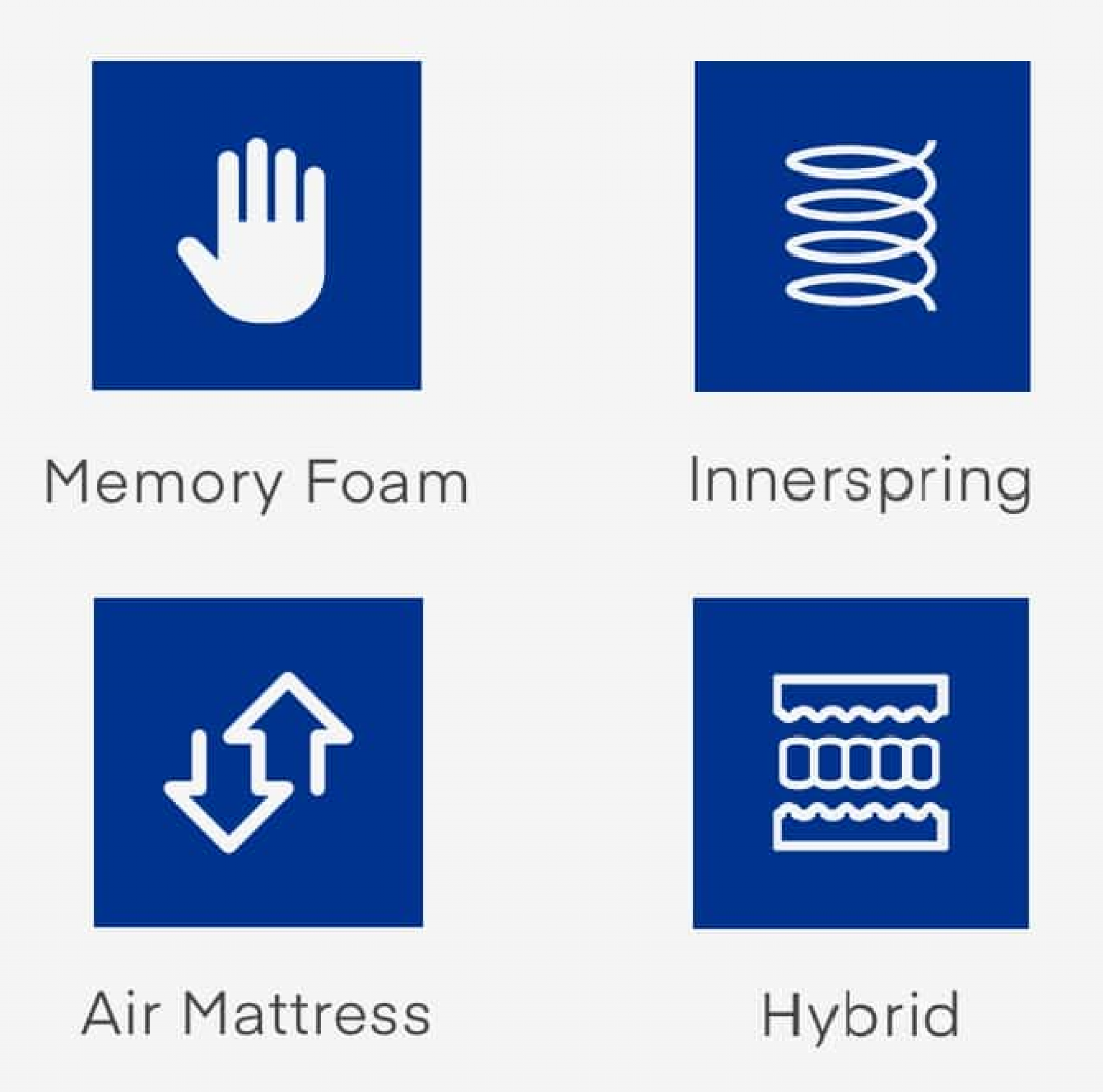 Foam
Foam mattresses are the most popular mattresses in the market today. Why is that so? There are many types of foam mattresses, ranging in different comfort levels, support levels, and prices. The most popular type is memory foam mattresses.
RV foam mattresses offer several advantages over other types of mattresses. To begin with, foam mattresses are more durable than other types. Foam mattresses are also both water and stain-resistant.
Foam mattresses are perfect for RV owners because they are lightweight, which makes them easy to transport and store, and they can be cut to fit the small space of an RV. They are not only comfortable, but they are also good for your back and your health.
Hybrid
The most important thing to consider when choosing the right hybrid mattress is how well your body will fit in the RV you will be traveling in. If you have a small RV, you will need to ensure that you will be able to fit into it and the mattress. If you are going RV camping with your family, you will need to ensure that you will still be able to sleep in a comfortable environment.
Hybrid mattresses combine the comfort of memory foam with the support of innerspring. They are perfect for any RV owner, as they offer maximum support for camping and traveling. The main advantage of hybrid mattresses is that they're more durable than memory foam mattresses, and they don't sag as much as innerspring mattresses. However, if you're a back or stomach sleeper, hybrid mattresses may not be the best option for you.
Innerspring
Innerspring Mattresses are the most durable type of mattress available for an RV. They're also the easiest to maintain and keep clean because they don't use foam or memory foam as a part of the mattress. This means there is no special cover to change every day to prevent odors and stains. While the innerspring mattresses may cost a little more than other types of RV mattresses, they are well worth the investment.
Innerspring mattresses are made from steel coils or air to provide spring support. They are most commonly used in mattresses for RVs and other temporary sleeping accommodations. The mattress coils or air coils provide the support for a sleeping surface and give it its shape.
Airbed
An airbed is the best choice for the RV owner who frequently travels with their RV or moves frequently. It doesn't matter whether you have a truck, trailer, or motorhome, an airbed mattress makes for a comfortable night's sleep, even with all the movement that occurs while you're in transit. An airbed can also be a great choice for someone who doesn't have space for a traditional mattress, especially if they want something that is easy to store and doesn't take up much room. They're handy in the RV, mostly because they're going to save you time and effort.
---
F.A.Q.
What are RV mattresses?
RV mattresses are specially designed mattresses that are made to fit into the possibly different-shaped beds of Recreational Vehicles.
What are the advantages of RV mattresses?
RV mattresses are typically shorter in length and thicker than traditional mattresses which allows them to fit within the specific contours of the RV's sleeping area. Also, they are made to be durable and can handle multiple transfers in and out of the RV.
What should I look for when buying an RV mattress?
When purchasing an RV mattress, you should consider the type of foam used, the weight and firmness, the availability of an anti-microbial treatment, and the mattress thickness. It is also important to consider the size of the RV mattress which should fit the specific dimensions of the vehicle. 
Are RV mattresses comfortable?
Yes, RV mattresses are designed to be comfortable and can sometimes even be as comfortable as regular mattresses. The foam is usually designed to provide superior comfort and support, and some mattresses may have added features such as pillow top or memory foam layers for additional comfort.
Are RV mattresses easy to set up?
RV mattresses are generally easy to set up, often coming with an already-installed sheet and mattress protector. Just make sure to measure the area before bringing the RV mattress home to guarantee the right fit.