Pregnancy is a wonderful time, but it can be hard on your body. Luckily, there are some ways to make the experience more comfortable! If you're pregnant, one of the best things you can do to make life easier is by investing in the best mattress topper for pregnancy. I'll tell you all about both below!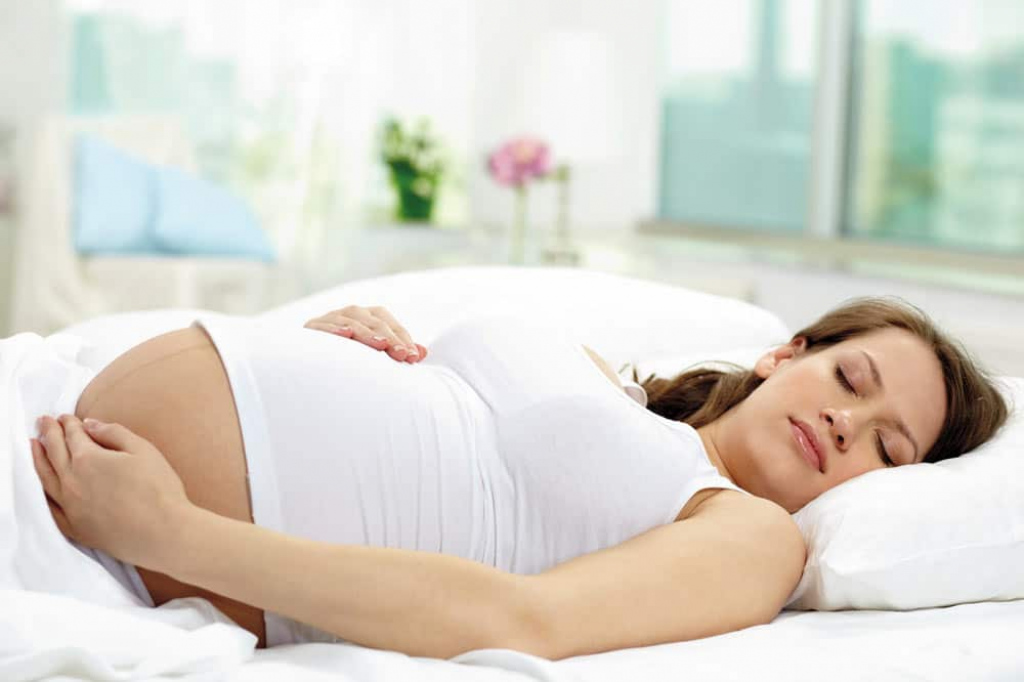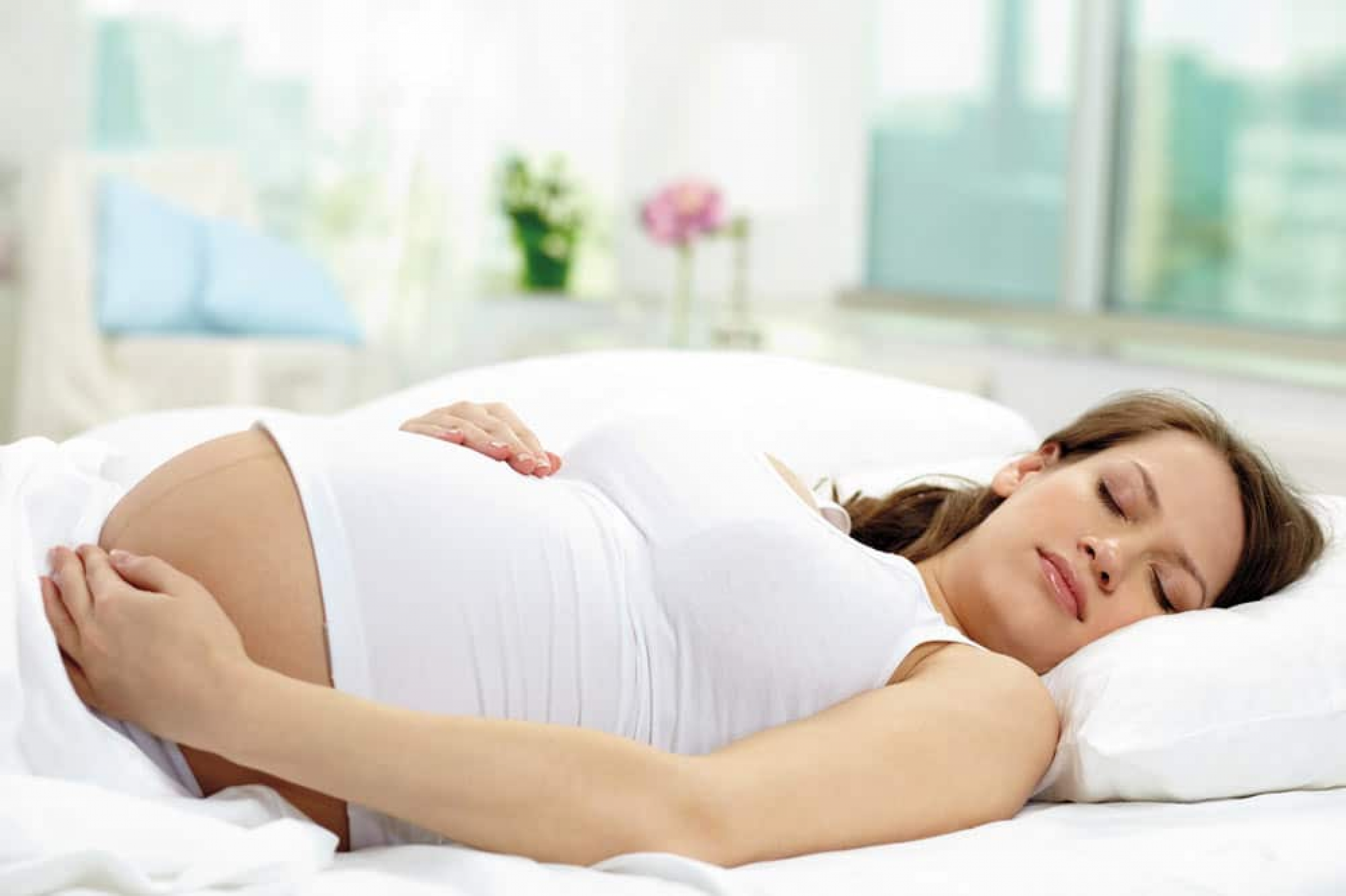 ---
Top 5 Mattress Toppers For Pregnancy
#1
PlushBeds Cooling Gel Memory Foam Topper
Get 25% off all toppers
Cooling Gel Memory Foam Topper keeps you sleeping cool and comfortable every night.

Supports spinal alignment and eases pressure.

Hypoallergenic, antimicrobial, dust mite, and mildew resistant.
Trial period: Due to safety and sanitary regulations, toppers are not returnable.

Warranty: 5 year

Shipping:
Free Shipping

Firmness:
N/A

Price range: $$$

Type: Foam
---
Best Mattress Topper For Pregnancy Reviews
Linenspa 3 Inch Gel Infused Memory Foam Mattress Topper
Great Choice
The 3-inch Memory Foam Mattress Topper is ultra-plush, conforming to your curves and hugging you to sleep. It's made of memory foam and designed with gel beads that capture and diffuse heat, so you don't overheat.
Open-Cell Memory Foam distributes weight evenly to align the spine and alleviate pressure points for a more restful night of sleep than you've had in years. The mattress pad is backed by a 3-year warranty on material defects.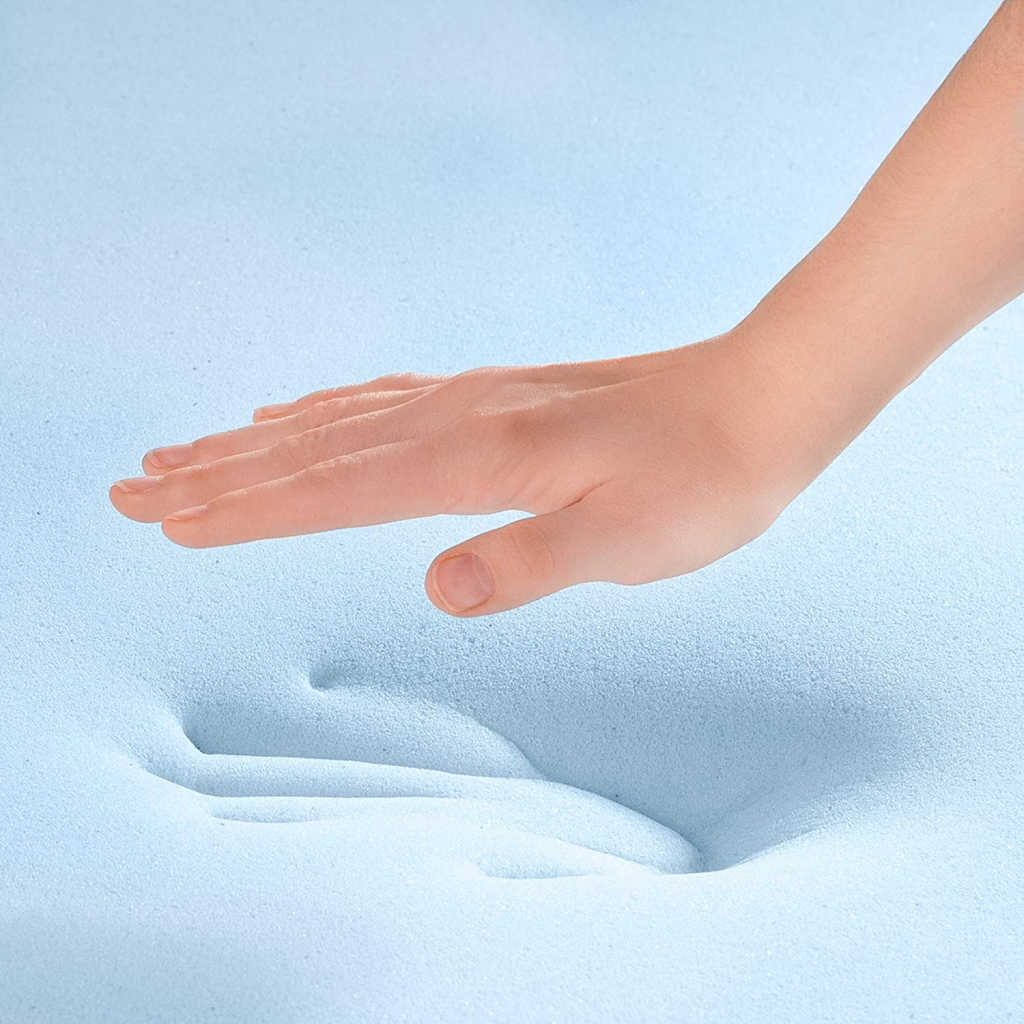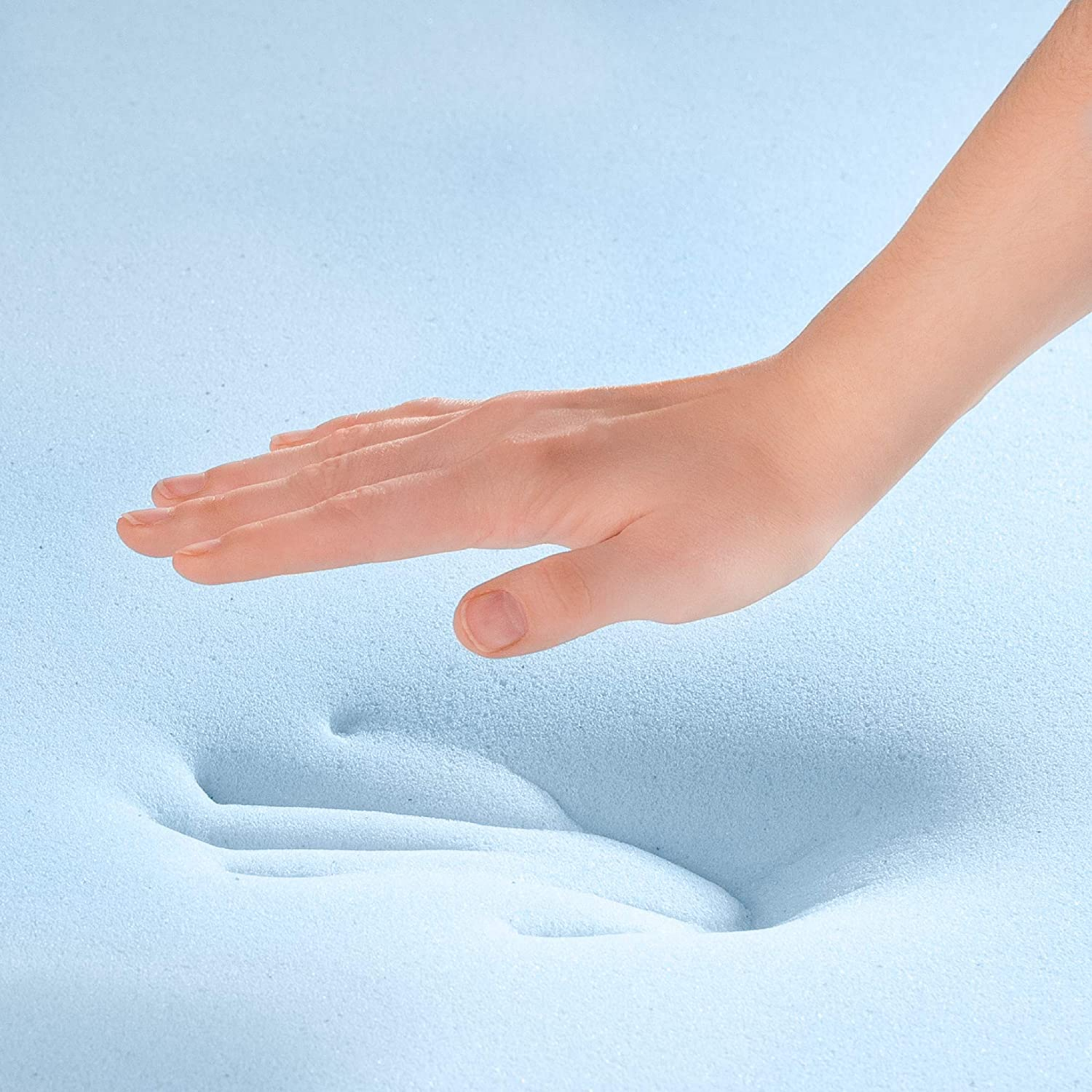 The material composition is the first thing that sets the Linenspa Memory Foam Mattress Pad apart from others on the market. A lot of conventional foam pads on the market today are made from a single type of material. In the case of the Linenspa, it is a combination of memory foam infused with gel beads. This construction provides fantastic comfort and a cooling effect during sleep.
What I Like
Temperature regulating gel beads absorbs and dissipates heat, so you don't overheat while you sleep.
High-performance memory foam helps to keep our body's natural curves in place and at a comfortable temperature while we sleep.
Eliminates pressure points by keeping the memory foam pads in place while we sleep
Easy to clean: A quick wipe down with mild soap and water is all you need to keep this pad fresh between uses.
---
Pure Green 100% Natural Latex Mattress Topper
Best Organic
Many people know that pregnant women should avoid toxic, chemically-laden mattresses. They also know that beds should be firm enough to support the woman's body during contractions.
Although these are both requirements, the act of getting into bed each night can sometimes become quite difficult. This is where Pure Green 100% Natural Latex Mattress Topper comes in handy.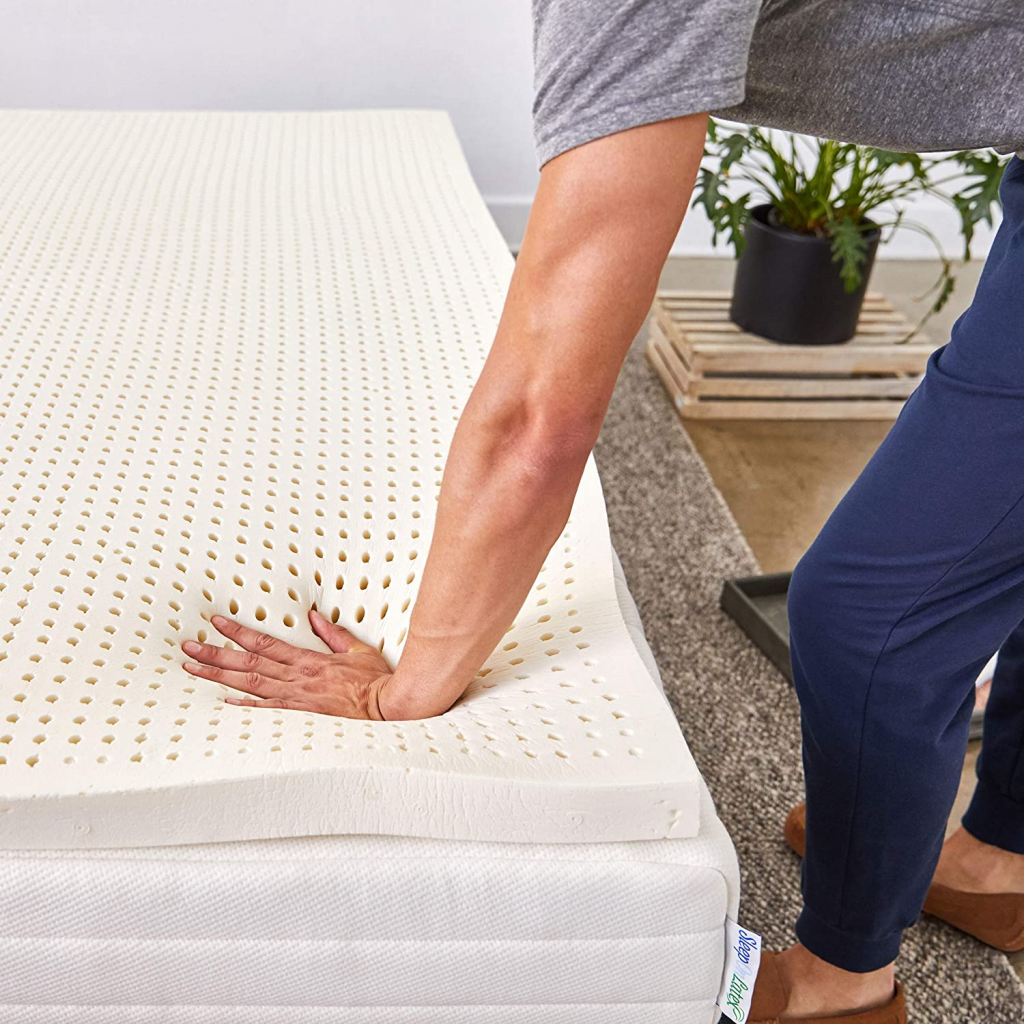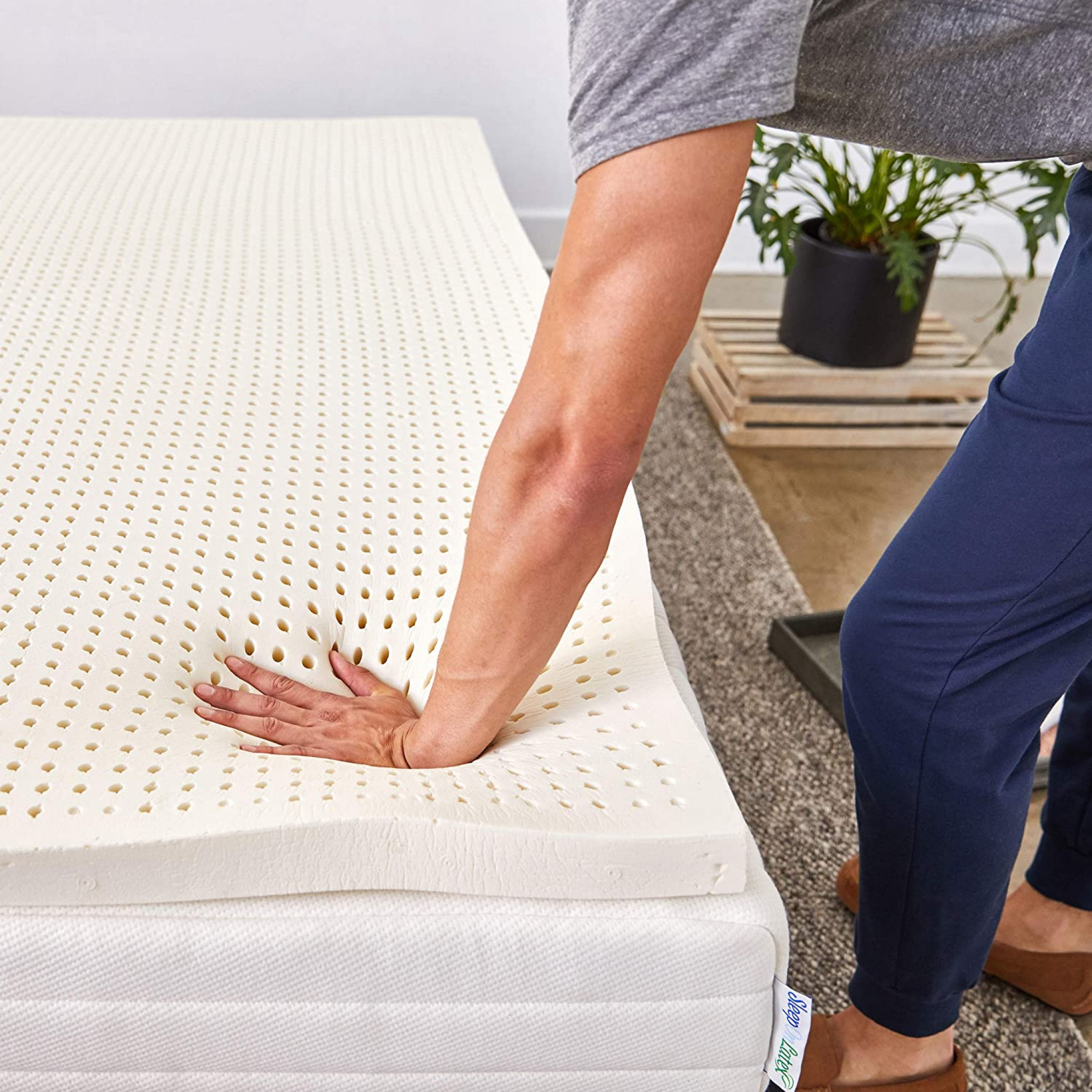 Pure Green 100% Natural Latex Mattress Topper is made of latex foam which naturally stays cool to prevent overheating and induces a comfortable sleep without having any harmful chemicals released over time.
The topper is made of 100% natural latex, which is also an environmentally friendly material that can be recycled if not needed anymore. Natural latex does not contain chemicals and allergens and has a low carbon footprint.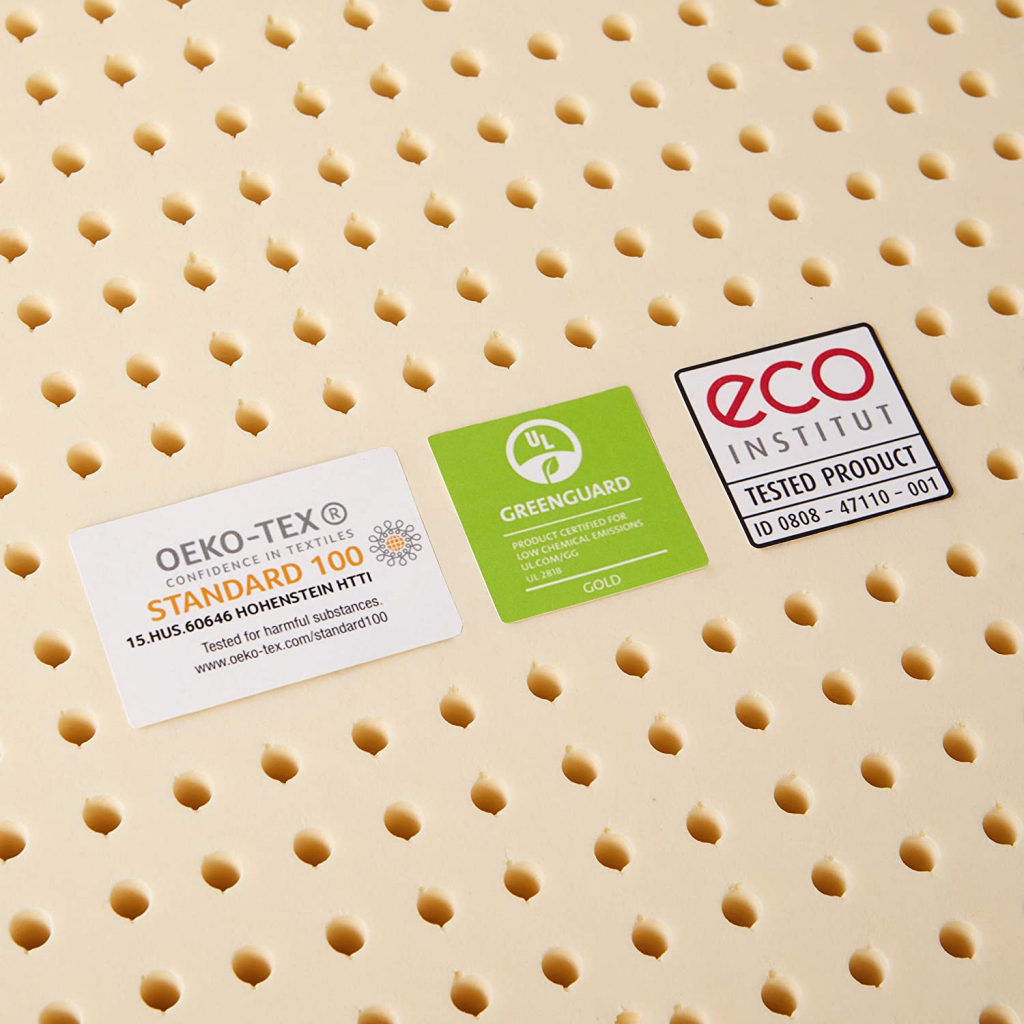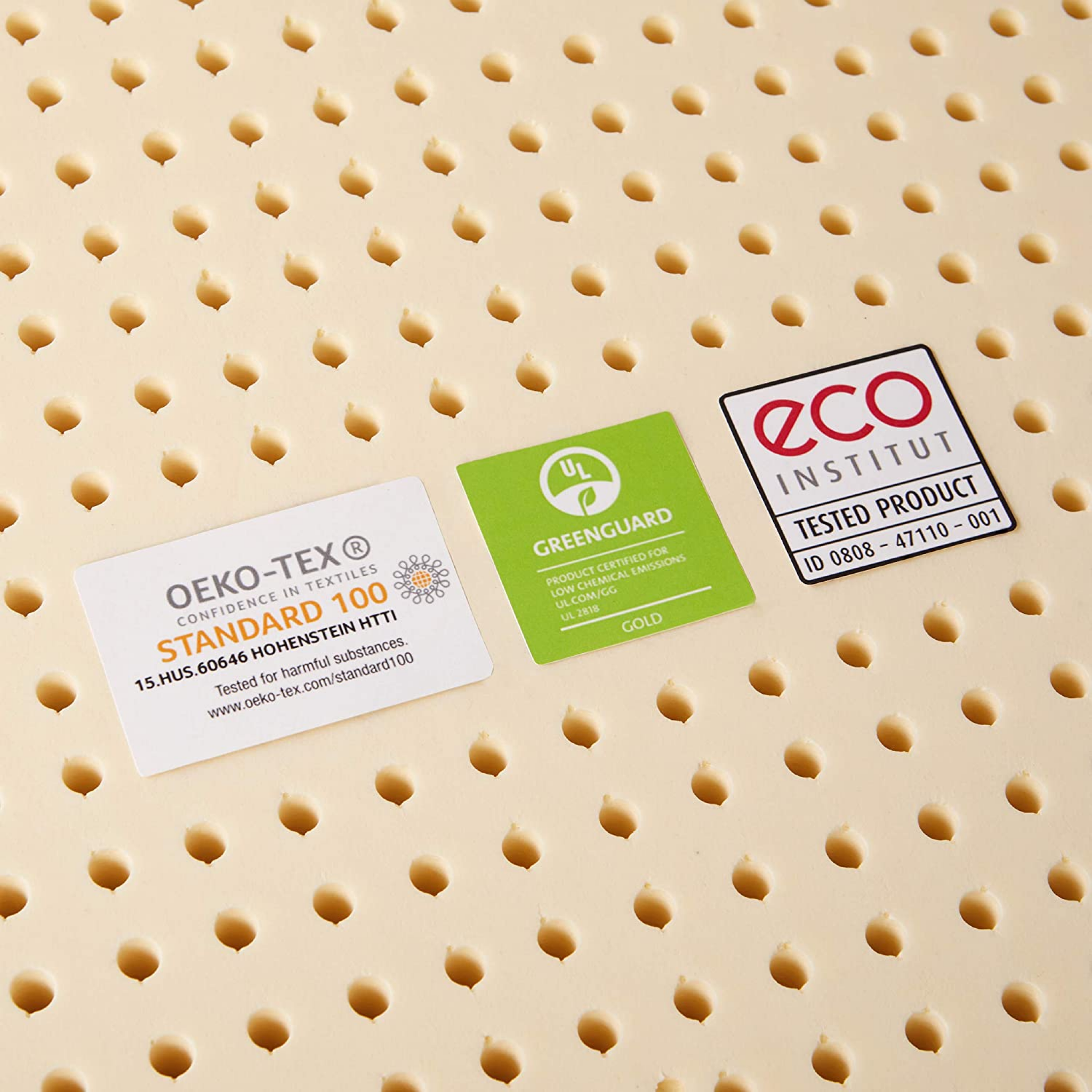 According to research, pregnant women who use Pure Green 100% Natural Latex Mattress Topper report feeling more at ease in bed during the final months of pregnancy. The sleep solution helps prevent soreness in their legs, back, and shoulders when they get up eventually. Recent studies have shown that sleeping on a firm surface with a soft pillow helps prevent pre-eclampsia in pregnant women.
Pure Green 100% Natural Latex Mattress Topper is designed by Green Organic for people who want to get the most restful sleep possible on a non-toxic, natural material.
What I Like
It is breathable and therefore mold-free.
The mattress promotes fast and deep breathing, which is beneficial in the comfort of sleep.
Pure Green 100% Natural Latex Mattress Topper is perfect for pregnant women in this case because it can prevent allergies and irritation that can lead to sleepless nights.
It is hypoallergenic and eco-friendly.
---
DreamFoam 2″ Gel Swirl Memory Foam Topper
Best Value
DreamFoam 2″ Gel Swirl Memory Foam Topper has been designed for pregnant women because it offers many benefits such as providing pressure point relief, increased comfort, and being made in the USA. This product is made of gel swirl memory foam and has 2 inches of depth.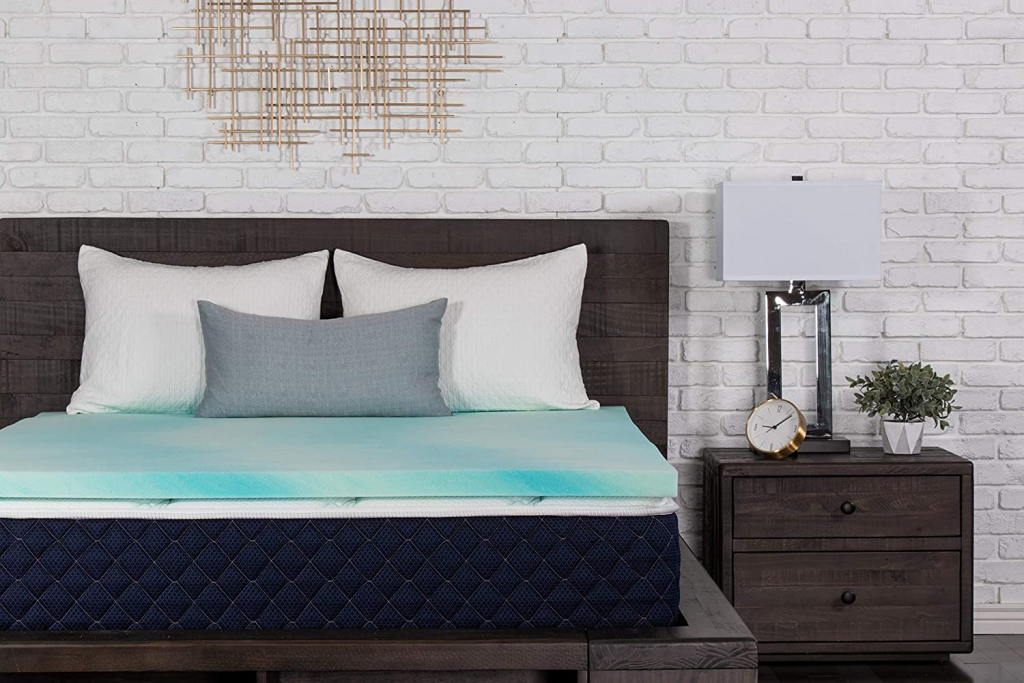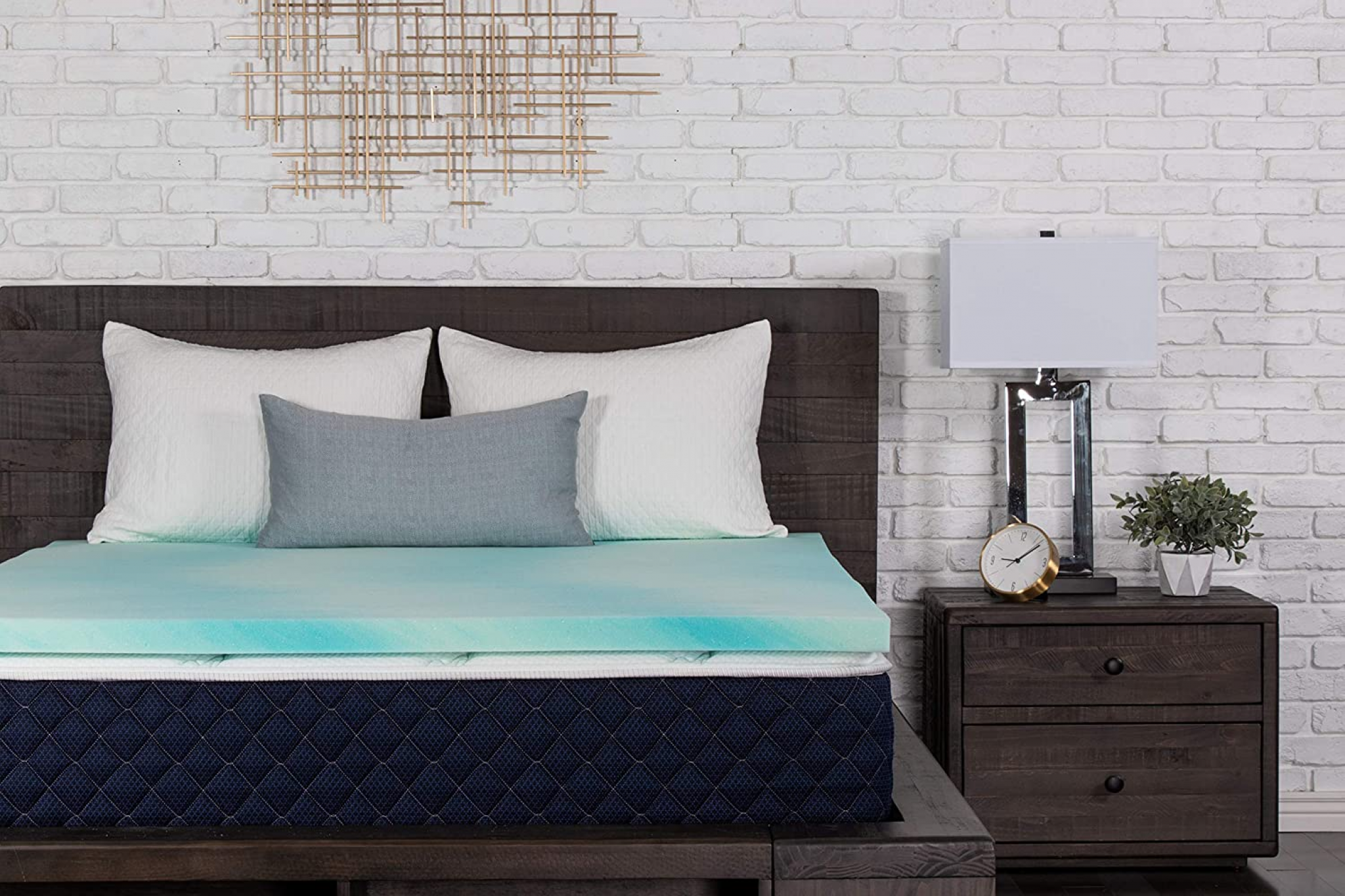 This foam mattress topper will enhance the comfort of your current mattress and provide you with a more comfortable sleep at night. This mattress topper is designed to decrease motion transfer between sleep partners so that it helps you get a better night's rest. The memory foam in this product is designed to help you feel cooler when you're sleeping to provide a cooling sensation compared to other types of memory foam.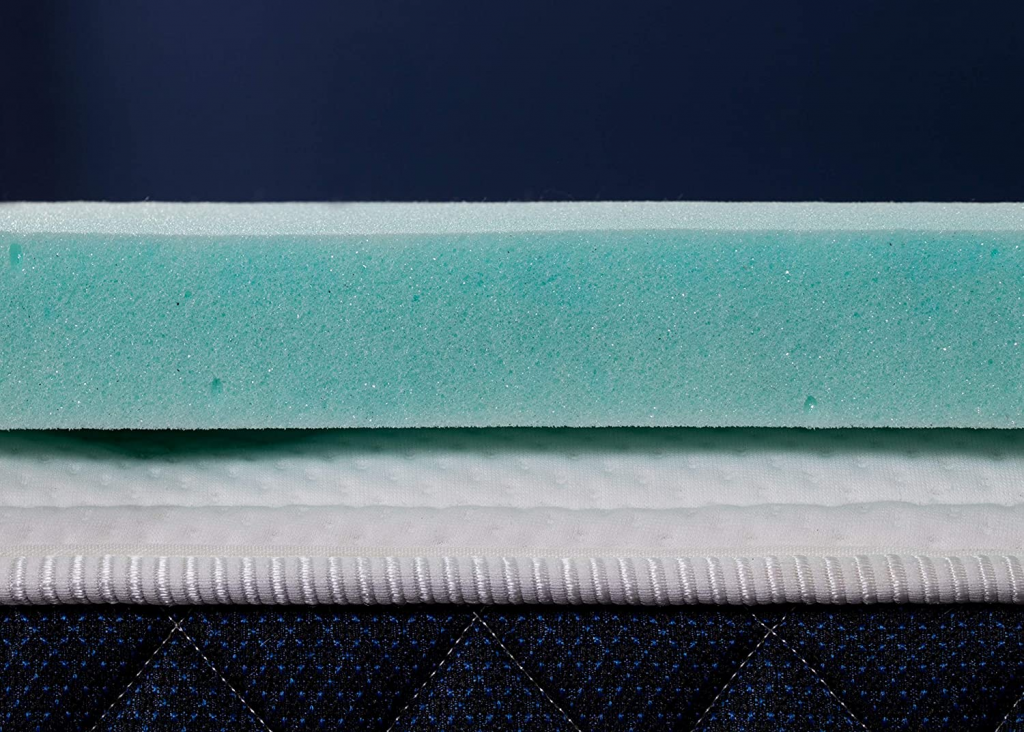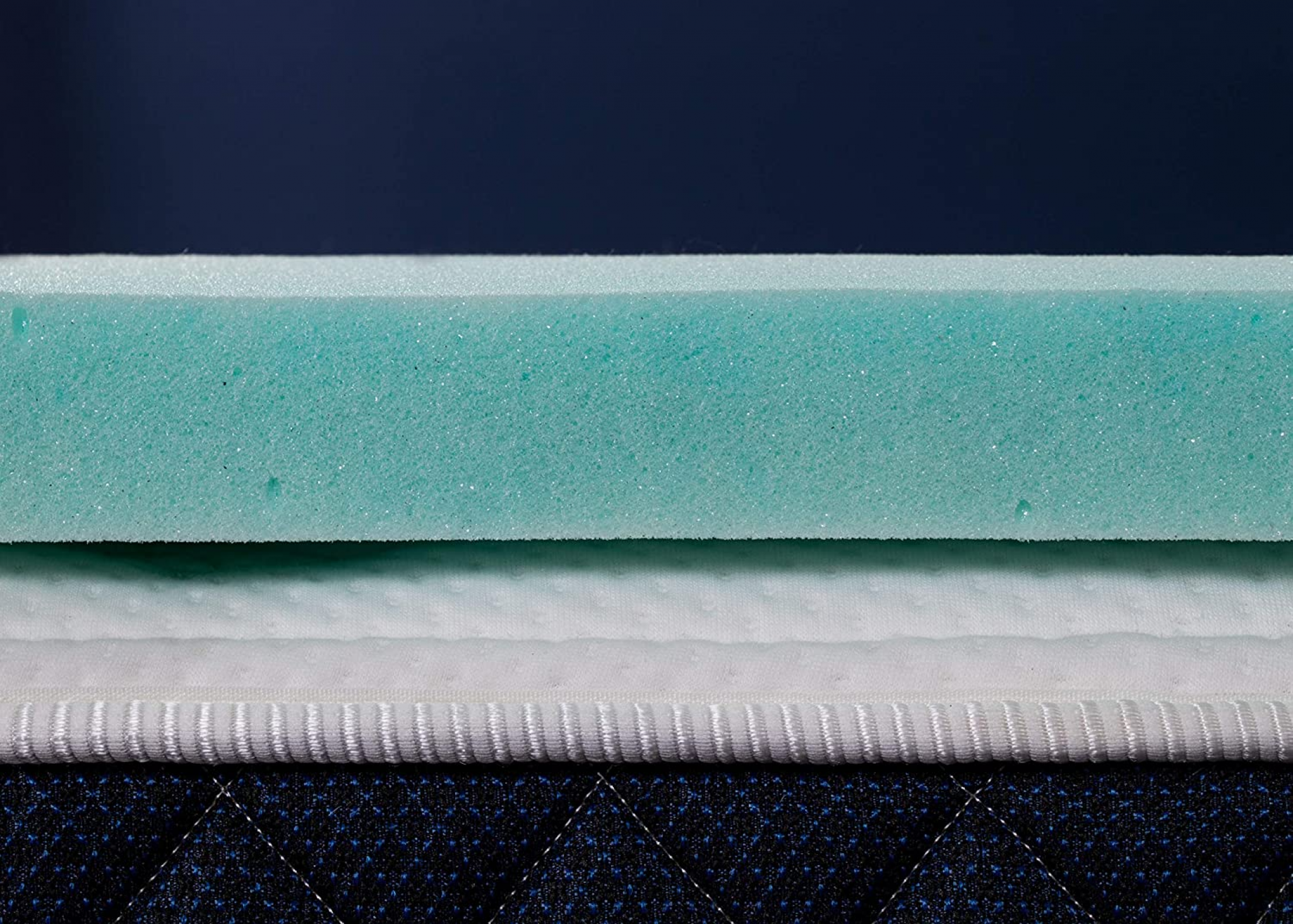 The slow response memory foam used in this mattress topper will help you not feel any motion transfer between your partner's body. This feature is excellent for people sleeping next to one another because it will help them not be disturbed by each other. The gel swirl infusion will help reduce the heat transmitted through your body at night so that you can sleep longer and more comfortably.
This foam mattress topper has a 3-year warranty which is great because many other foam toppers do not have one. The guarantee ensures that if this product fails to work correctly, you can get it replaced or repaired by the company for free.
What I Like
Comfortable – the gel swirl infusion will allow your body to better sink into the mattress, creating a more comfortable sleeping environment.
Cool – the gel swirl infusion will help reduce heat transfer, which can be great if you're sleeping with someone who has a very hot body temperature. The gel swirl infusion should provide you with a cooler sleeping experience.
No motion transfer – if you're asleep next to someone that rolls over, it could be annoying as they can disturb you as they move around in their sleep. This product helps eliminate motion transfer so that your partner does not disturb you while you sleep.
---
Saatva Mattress Graphite Topper
Best Cooling Comfort
The Saatva mattress topper is a revolutionary product designed to make your sleep experience as effective and comfortable as possible. This product has been widely recommended by top hospitals, doctors, and chiropractors for over ten years.


The Saatva mattress topper is made from 100% certified organic cotton and is safe for pregnant women and those who suffer from sensitive skin. It also wicks away moisture with premium-grade technology that can be seen in the graphite-infused memory foam that works with your body temperature to provide the most advanced cooling technology available for nighttime sleep. This product has over 180 nights of trial and is covered by a 1-year warranty.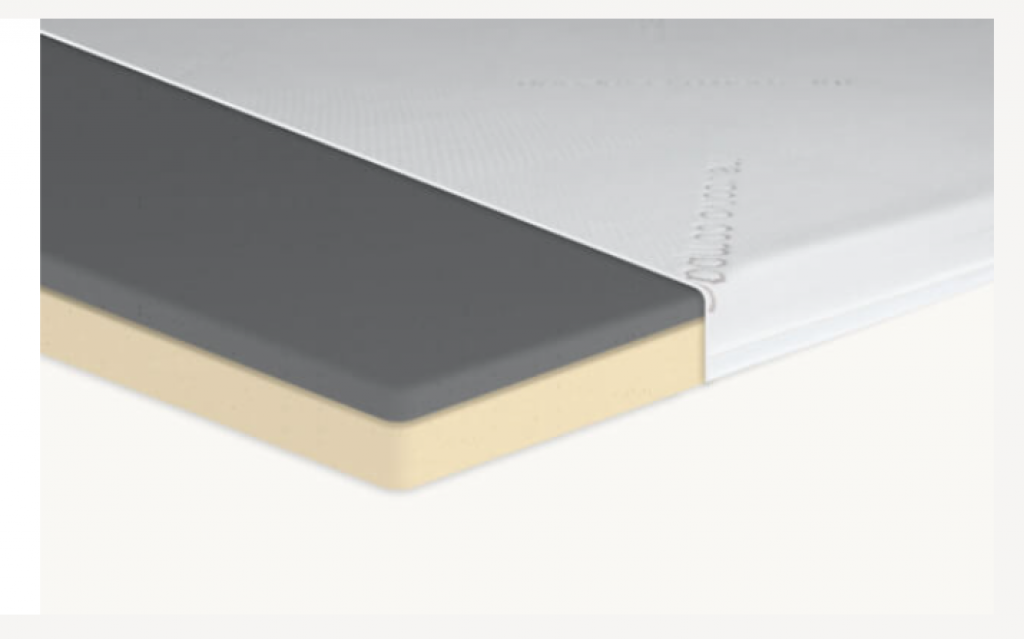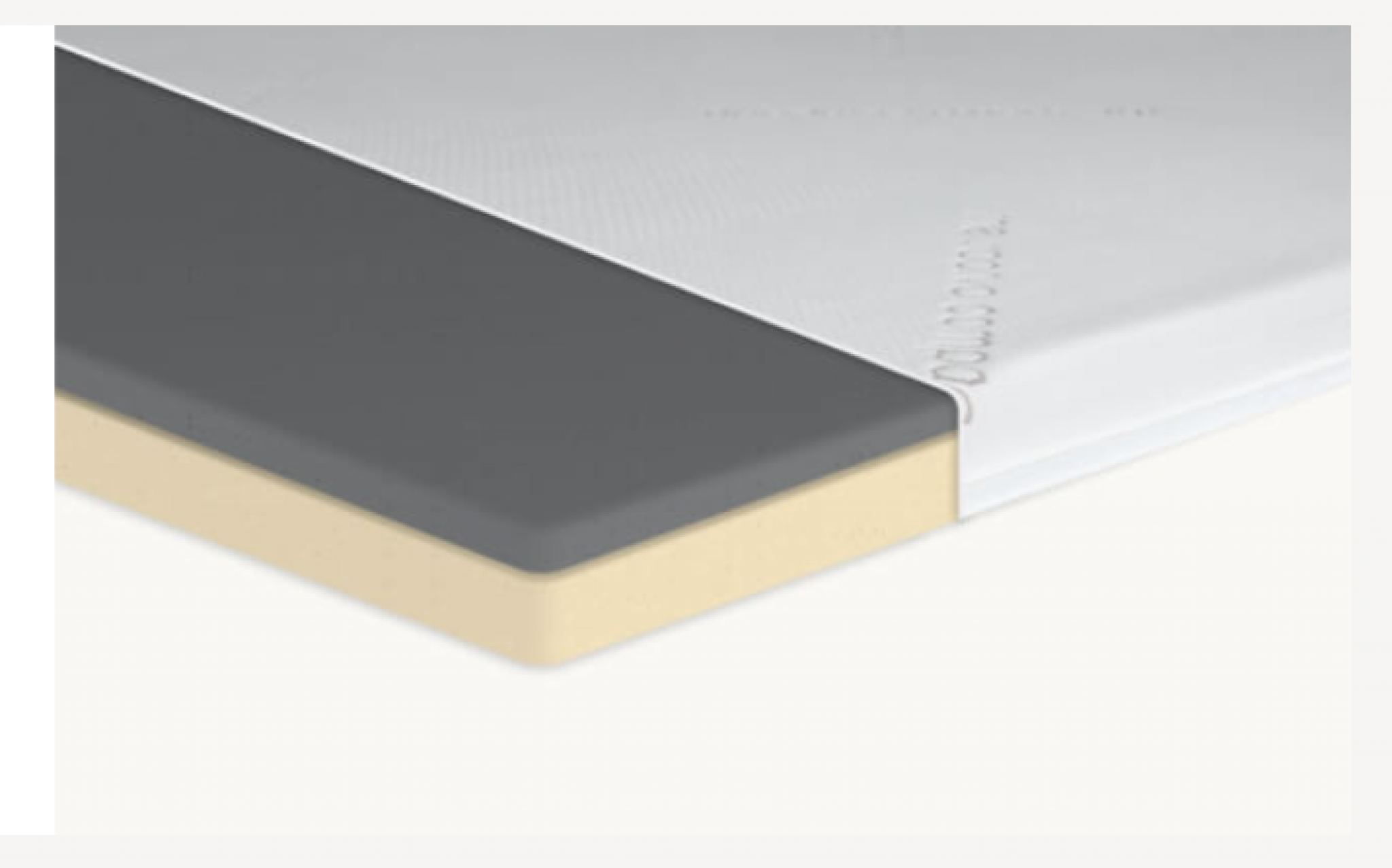 What I Like
It is beneficial for pregnant women and those who suffer from sensitive skin.
The innovative technology also wicks moisture away with its premium-grade graphite-infused memory foam.
This product has over 180 nights of trial and is covered by a 1-year warranty.
---
Layla Memory Foam Topper
Best Antimicrobial
The Layla Memory Foam Topper is not just a great mattress topper for pregnancy; it's also a cool product for any pregnant mom. If you have been looking for one of the best pregnancy sleeping aids, then your search is over.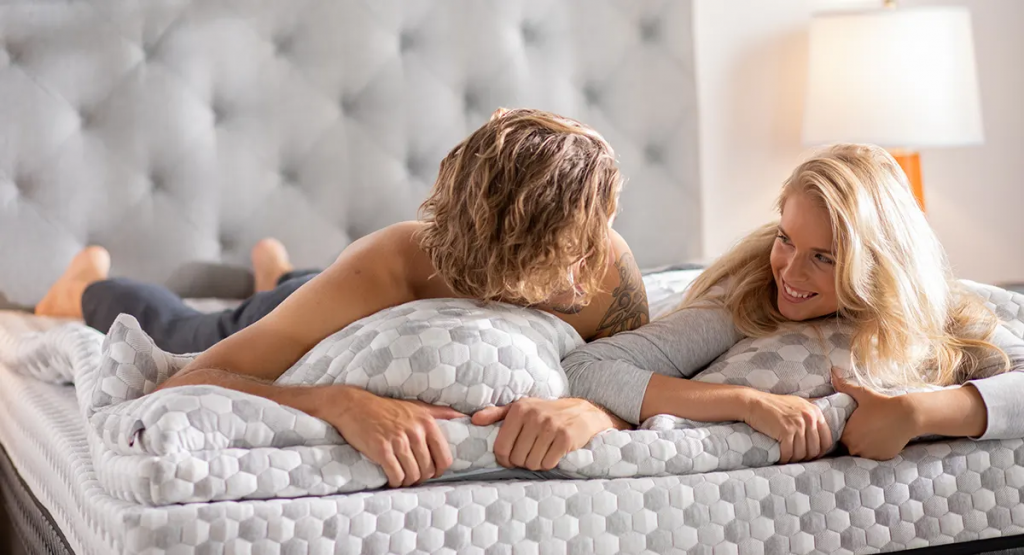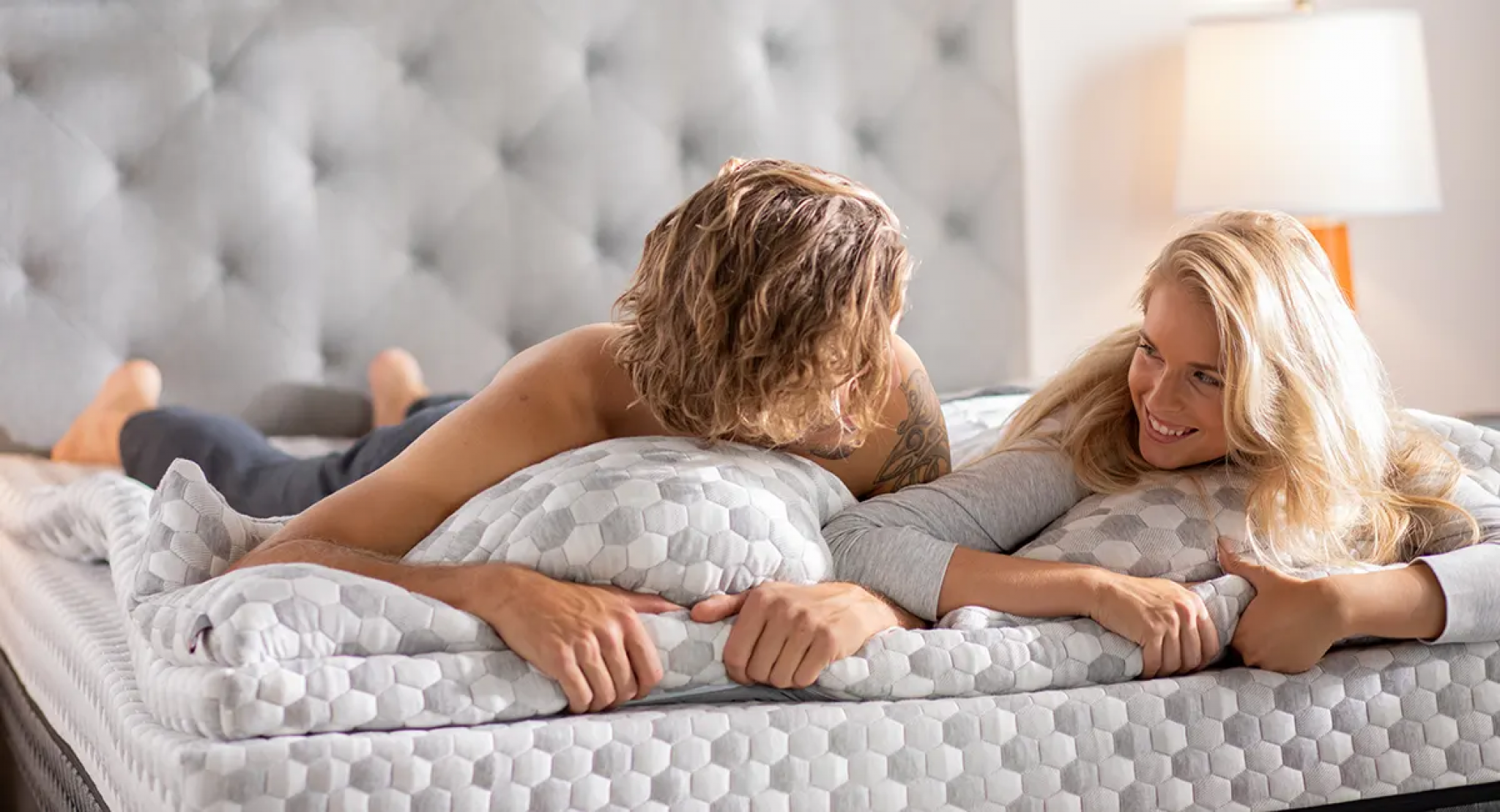 This 2-inch comfortable memory foam is made in the USA and infuses copper-infused gel that helps with relief from joint pain. It also offers comfort from back pain by reducing stress on joints when sitting or leaning against it. The copper-infused cooling gel is also antibacterial.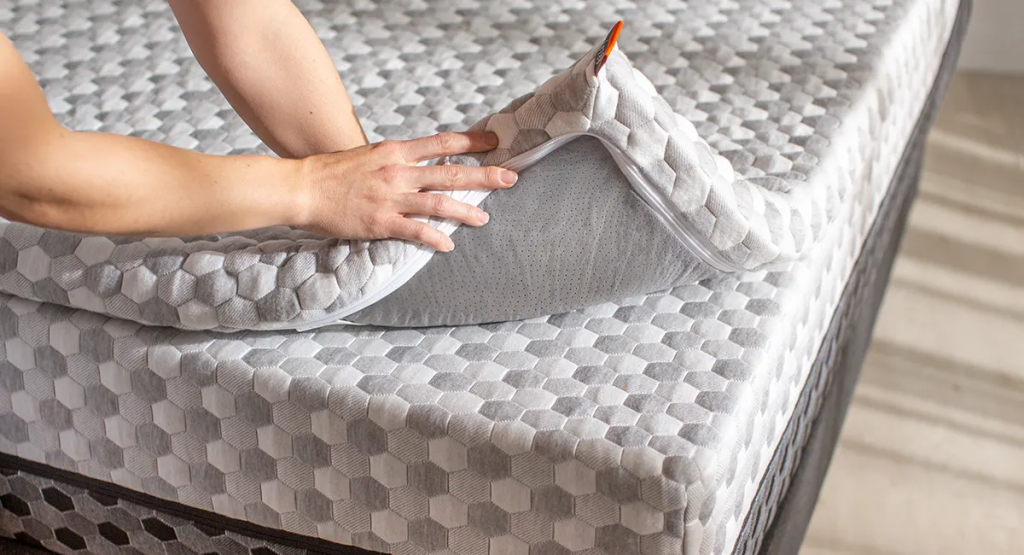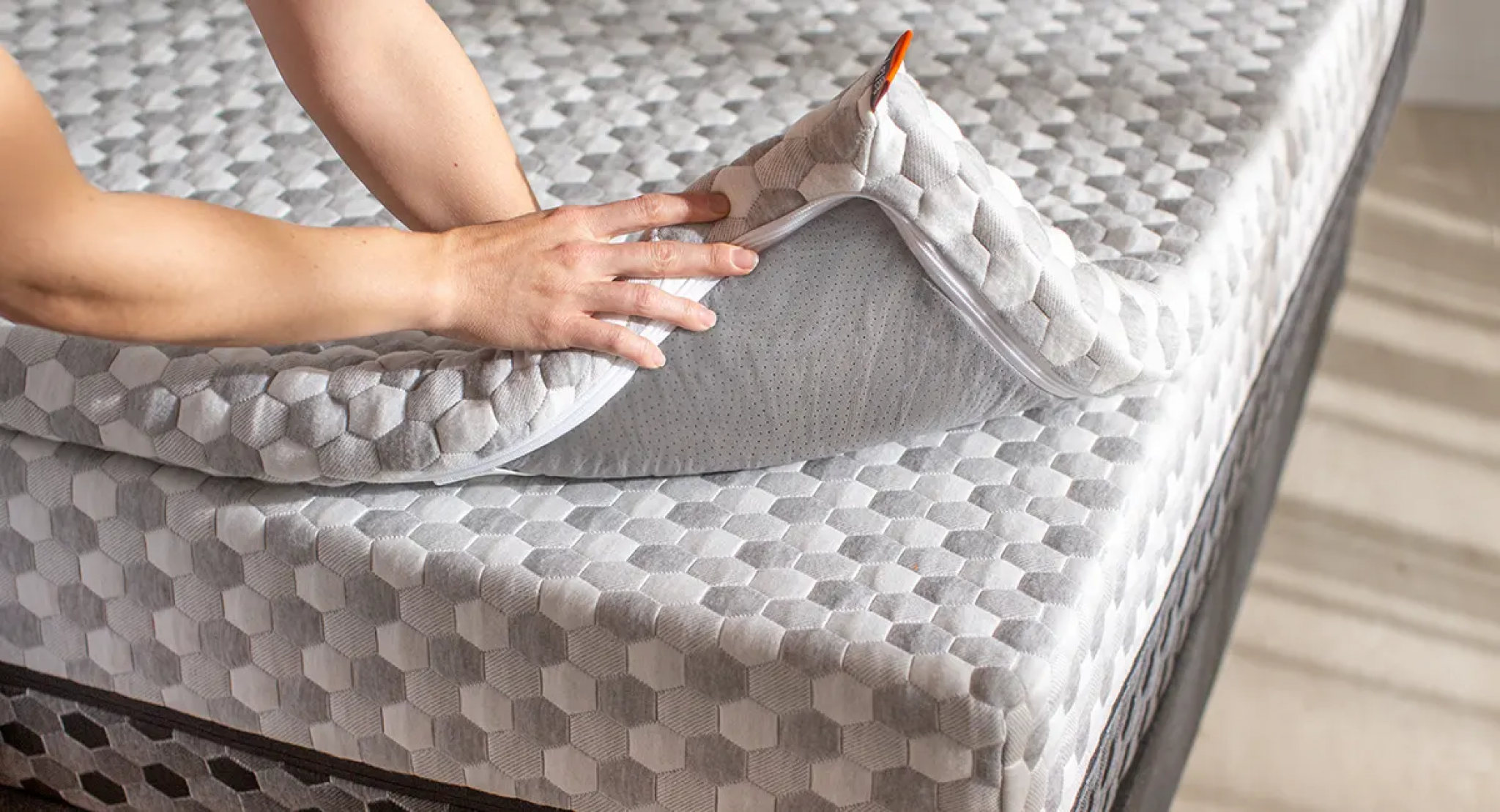 The Layla Memory Foam Topper is available in twin, full, queen, king, and California king sizes. Copper-infused memory foam has been shown to relieve joint pain when used under healthy weight blankets or mattresses. It is also perfect for hot flashes by supporting the skin's natural moisture balance. This topper comes with a 5-year warranty against the manufacturer's defects.
What I Like
Copper-infused memory foam is a unique cool product.
Help relieve joint pain from pregnancy.
Great for hot flashes.
Great for back pain from pregnancy, from leaning on it while sitting, and other issues.
---
Buyer's Guide
Now that you know what to look for in a mattress topper for pregnancy, here are some things you should keep in mind when buying one. A good mattress topper will support your growing body and provide a comfortable sleep in any position.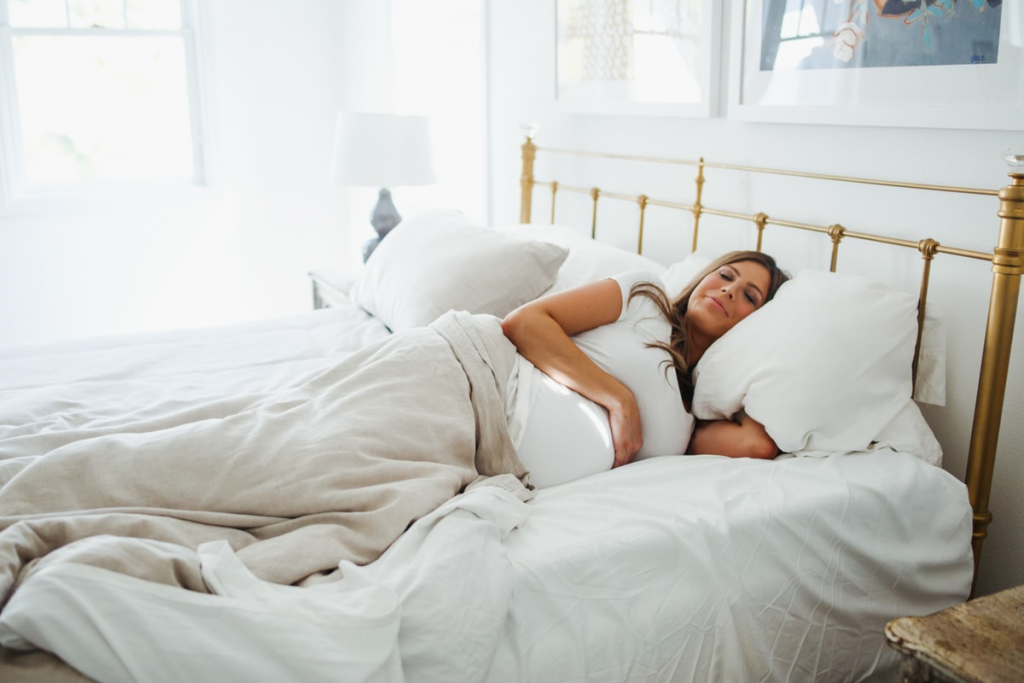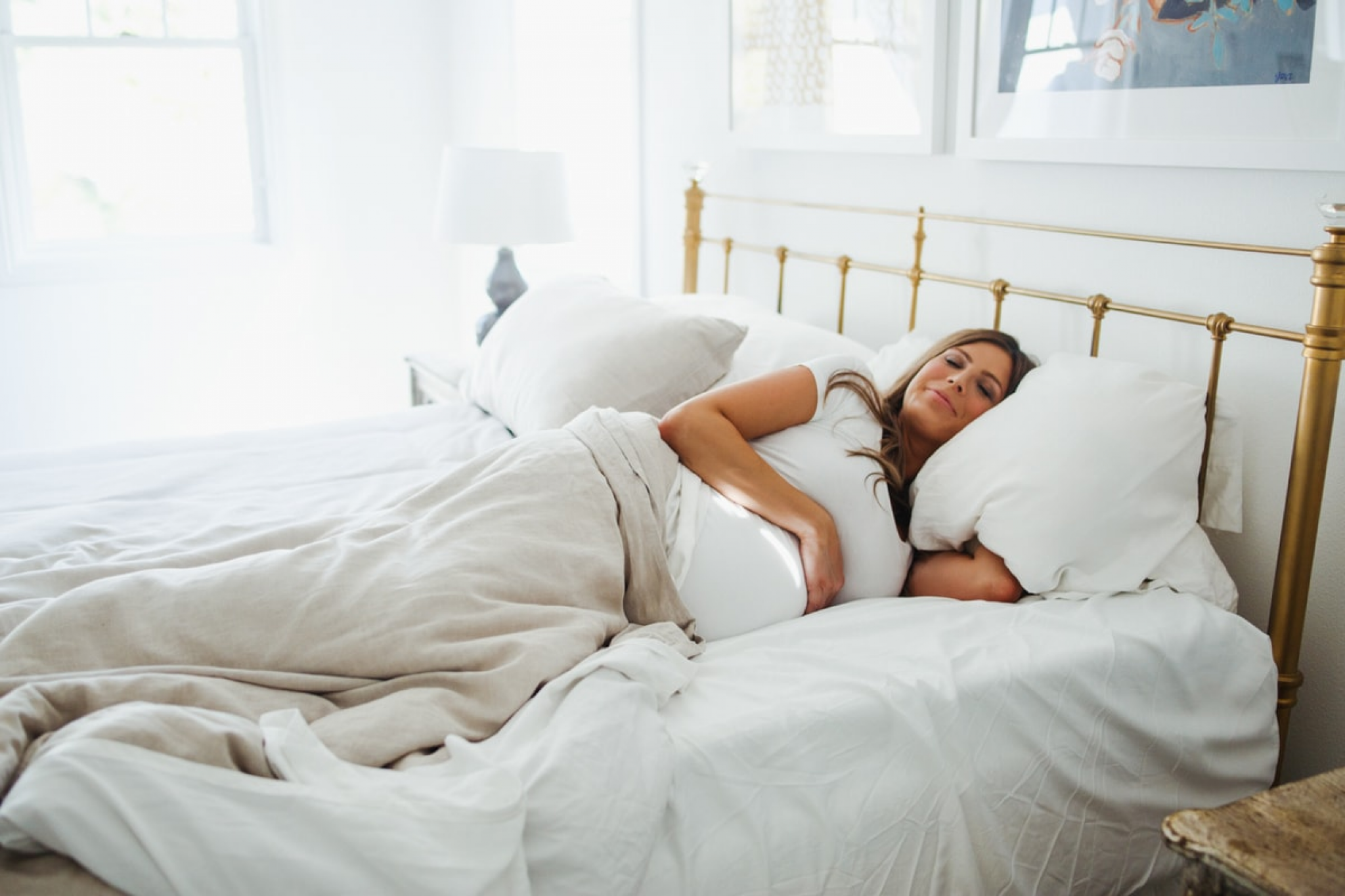 A mattress topper is a great addition if your current bed isn't quite comfortable enough or gets too soft. Choosing the right one can mean the difference between tossing and turning all night or waking up refreshed. Before settling on any one product, it's essential to understand everything about mattress toppers – what they are, how they work, what makes them different from each other.
---
What Is Mattress Topper For Pregnancy?
Mattress toppers for pregnancy are a type of mattress topper, which is typically used to add more comfort or additional padding on an existing mattress or bed. Mattress toppers can be used in many ways depending on your specific needs and preferences.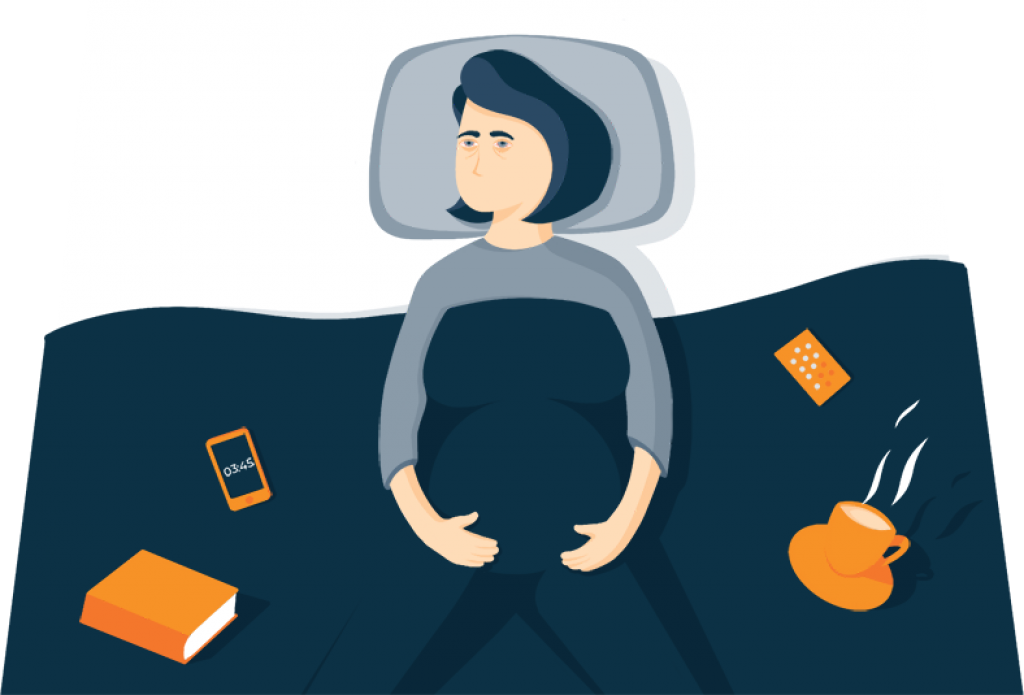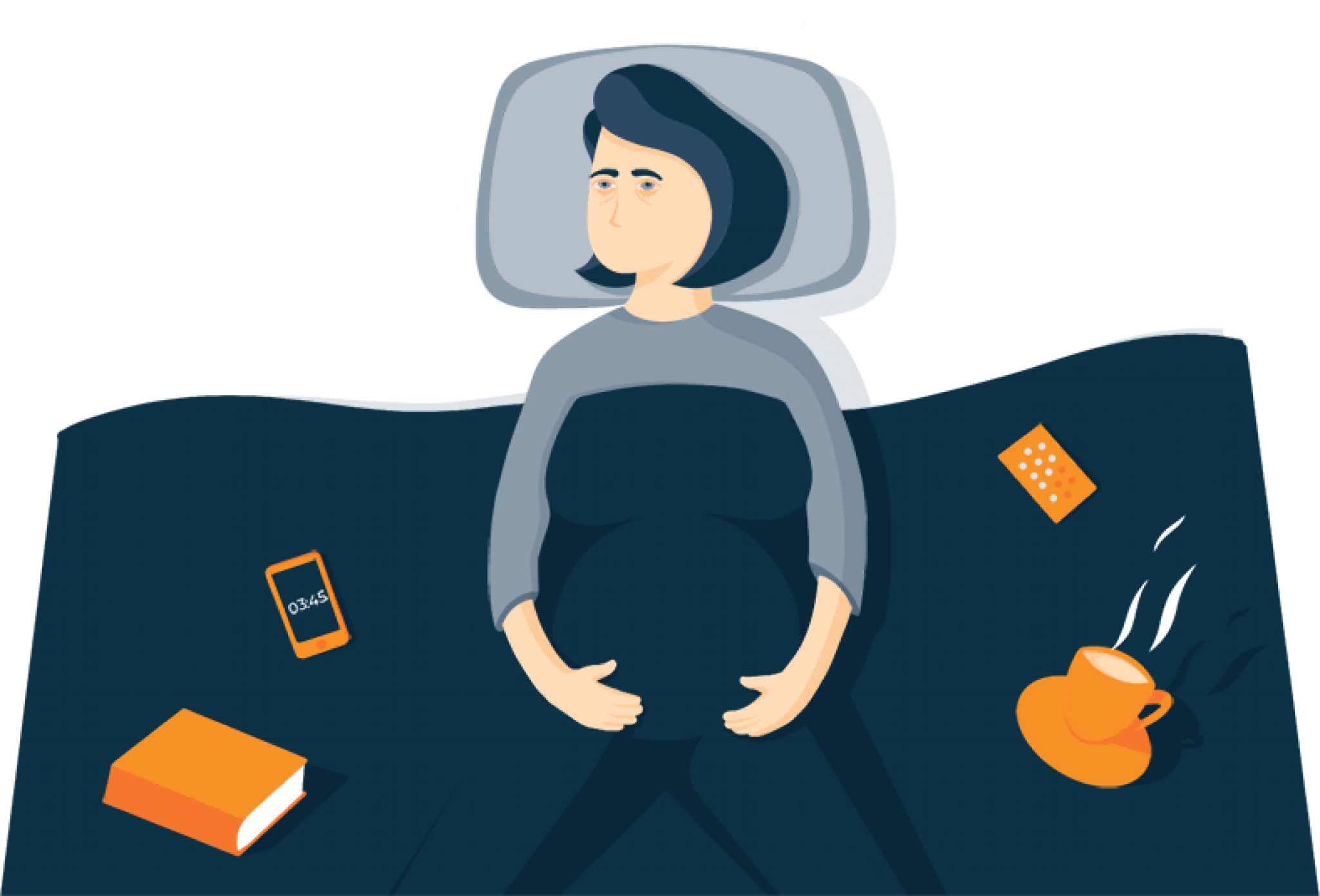 For example, they can add some extra comfort to your bed. Hence, you get a better night's sleep; they can add extra softness and warmth, provide additional support for your back if you suffer from back pain or discomfort while sleeping, and they can help prevent that sinking feeling that comes with memory foam mattresses and some other types of mattresses.
---
Why Should You Use Mattress Topper For Pregnancy?
Sleeping on a mattress topper can help with a variety of issues. Unlike a traditional mattress, a topper is designed for your specific needs. They are made from different materials and thicknesses, so you have the option of choosing one that will help any number of ailments or comfort levels. Here's an overview of what mattress toppers can do for you:
Provide Support To Your Growing Body
A good mattress topper will keep your body supported through each stage of pregnancy and beyond. You need something firm enough to give you the support you need– but not so firm that it causes any pain or discomfort (which could lead to problems like back pain).
Help You Sleep
Many mattress toppers will help you sleep much better. They're made with the same materials as a traditional mattress, so they offer the same level of support and comfort – but in a more custom-tailored way. The sleep-friendly materials and features add to your convenience and help ensure that you don't experience waking up sore or stiff from lying on an uncomfortable surface.
Eliminate Hiccups
Whether you've got morning sickness or the post-natal blues, a pregnancy pillow can come in handy! Pregnancy pillows work by distributing weight evenly over a broad surface area to keep you comfortable. Plus, the unique shape helps you sleep comfortably on your side or your back.
---
Benefits Of Mattress Topper For Pregnancy
The benefits of a pregnancy topper are numerous. But knowing your options will help ensure that you buy the right product! Here are some of the top benefits to investing in a pregnancy topper:
Cushion Your Body
Pregnancy is a time of many changes, and one of those changes is a growing abdomen! A pregnancy topper will cushion your growing tummy so it's not pressing up against a hard surface, keeping you comfortable through each trimester and beyond.
Keep Your Sleep Patterns On Track
If you're pregnant, getting good quality sleep is extremely important! Sleep helps keep your hormones balanced and healthy, as well as keeps your energy levels up – which is especially important if you have other children at home who depend on you.
Pregnancy toppers are explicitly designed to help you get the most out of your slumber, so you wake up refreshed instead of sore or exhausted.
Enhance Your Mood
A bad night's sleep will leave anyone feeling irritable and angry. And while it can be highly frustrating to have trouble sleeping while pregnant, the difference it makes in your mood is incredible! Getting good sleep will keep you energized and mentally alert, helping you to feel more positive and happy throughout pregnancy and beyond.
---
Buying Considerations For Mattress Topper For Pregnancy
As with any purchase, it's important to do your research before deciding on a particular product. And while some things are universal, there are a few things you should know about mattress toppers.
Size
The first consideration when picking a new mattress topper is size. The product should suit your mattress. If you're already pregnant, get the one that will best fit your changing body shape. Get one that will provide enough support to accommodate your growing belly comfortably for those not yet pregnant. Ask how much the mattress topper weighs before making a final decision.
Materials
The most common options are down alternative, gel foam, latex foam, and memory foam. Down alternative is the easiest to care for – it's hypoallergenic and dust mite resistant (which makes it suitable for people with allergies). Gel foam is also hypoallergenic and dust mite resistant, while latex foam is made from natural rubber latex (so if you're sensitive to latex – take note!) Memory foam allows better air circulation than other types of mattress toppers.
Thickness
Many mattress toppers are available in different thicknesses, so you have options when it comes to finding something that fits your changing body shape. Thickness plays a major role in how comfortable the product will be, so you'll want to pick one that is just right for you.
Non-Toxic
The best pregnancy pillow or mattress topper should be non-toxic, making up any potential ties with chemicals or other toxic elements. While it's still important to look for quality materials that won't cause problems in your developing baby's tummy, non-toxic products are safer to use throughout your entire pregnancy.
---
The Bottom Line
A pregnancy topper is an excellent investment for a mother-to-be. This specially designed product is made to give you the comfort and support you need, helping your body stay comfortable and supported throughout each trimester and beyond.
Best of all, they're easy on your budget – a bonus for new mothers who already have a lot of expenses on their plate. From getting a good night's sleep to keeping your hormones in check, a pregnancy topper will help you get through all nine months.
---
FAQ
Is A Memory Foam Mattress Topper Good For Pregnancy?
The answer to this question is yes. In fact, the memory foam mattress topper could be your best friend for your pregnancy. A lot of people use these types of toppers due to their ease of use, especially during the third trimester. The type and thickness depend on the woman and her personal needs and preferences, but it should be at least 1 inch thick and fit tightly around your mattress.
Can A Mattress Topper Improve Comfort During Pregnancy?
Existing research indicates that using a mattress topper can increase comfort during pregnancy. In this study, 20 women used a mattress topper to see how it affected their physical, emotional, and social well-being. After completing the four-week study, the women reported that they slept better and had less pain when using a mattress topper.
Which Type Of Mattress Topper Is Good For Pregnant Women?
A few of the most popular mattress toppers for pregnant women are memory foam, organic, latex, and wool. Memory foam is often the preferred option for its added comfort level due to its ability to mold around curves in your body. Organic is perfect if you're looking for better breathability and a more natural sleeping experience.