The best baby crib mattress can do a great deal to help a newborn get the rest they need to grow and develop healthily. But buying a good one is more complicated than you think, since there are several options to choose from, and each one is different.
There is no universal mattress because everyone has different needs and preferences. If you're a first-time parent, you probably don't know what those preferences are yet. As a result, picking a mattress can be sort of like picking a college major: you don't know what you want until you see what's out there.
It is similar to regular mattresses, but they are smaller to fit in a crib. The best crib mattresses are made with the best materials like memory foam, latex, and gel. All of these materials have their benefits and drawbacks. Some baby crib mattresses are made with multiple layers of foam for maximum comfort.
---
Top 5 Best Baby Crib Mattresses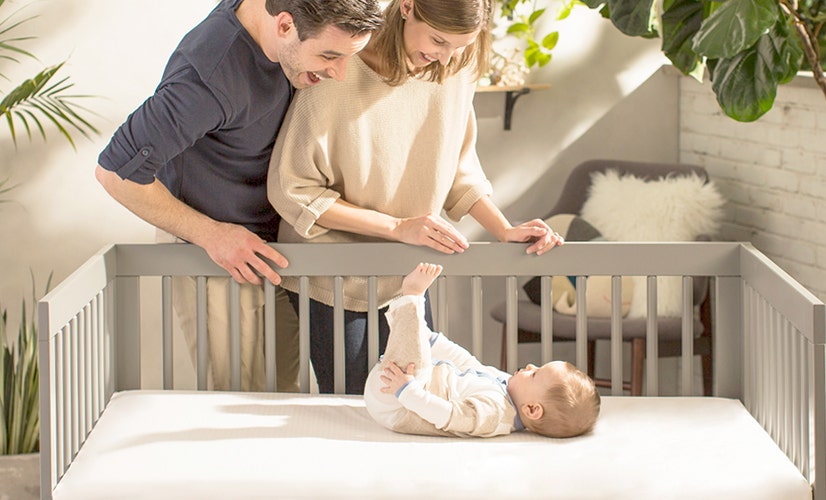 Naturepedic Organic Classic Baby Crib Mattresses
Sizes: 27 1/4″ x 51 5/8″ x 6″
Construction Type: Innerspring
Materials: Cotton fabric + fill, PLA layer, Steel
Price: $$
---
You need to make sure that the crib mattress that you choose for your baby is of high quality and durability. If you are trying to find the best crib mattress for your baby, then you have come to the right place.
The crib's size, the type of crib, and the child's age and weight are all factors to consider when making a purchase, as the mattress may need to be replaced more than once.
This review concentrates on the top 5 baby crib mattresses and the various materials that crib mattresses are made.
Best Baby Crib Mattresses Reviews
Colgate Eco Classica Baby Crib Mattresses
Best Overall
The Colgate Eco Classica III Dual Firmness Eco-Friendlier Crib Mattress offers a mattress made with an eco-friendly core that provides a firm feel for your infant and a softer feel for a toddler. So, if you're looking for a dual-firmness crib mattress that is made naturally, then it is the one for you.
The waterproof outer layer is made of soft organic cotton that gives it durability and is also breathable and helps regulate the baby's temperature. It's also free of allergens, chemicals, and toxins.
The mattress is dual-sided and has two firmness levels, making it easy to transition babies from their crib to their toddler bed.
What We Like
It is made from 100% organic cotton and is made in the USA.
It is waterproof.
The mattress is GREENGUARD Gold certified, so it's safe and healthy for the baby to sleep on.
What We Don't Like
It is more expensive than a regular crib mattress.
---
Naturepedic Organic Classic Baby Crib Mattresses
Best Organic Crib Mattress
Naturepedic's Organic Crib Mattress has been on the market for over 20 years and has become a popular choice among consumers seeking a non-toxic mattress for their baby. The mattress is made from organic cotton and consists of two layers: a firm top layer and a more cushion bottom layer.
The combination of the two layers allows a baby to sleep on a firm surface that will support growing bones and a soft surface that will provide the baby with comfort. The mattress is free of any harmful chemicals such as polyurethane, latex, phthalates, flame retardants, or synthetic fragrances. It comes with a removable, machine washable organic cotton cover.
For parents looking for a hypoallergenic crib mattress that will provide their little one with a restful night's sleep, the Naturepedic organic crib mattress is a great choice.
What We Like
It has a waterproof, natural fabric cover.
It is both organic and all-natural — meaning the baby won't be exposed to any harmful chemicals.
Likewise, it's exceptionally lightweight and easy to transport and fit in any crib.
What We Don't Like
The cotton may get dirty and eventually have to be thrown away, and that the mattress might not fit in all cribs.
It is more expensive than a regular crib mattress.
---
Moonlight Little Star Organic Crib Mattress
Best Two-Sided Crib Mattress
Moonlight Little Star Organic Crib Mattress is both a firm and soft mattress, making it a versatile choice. It will provide proper support and comfort to infants while being gentle enough for toddlers.
This mattress is built with dual-firmness. This allows it to be firm enough to support an infant properly but soft enough to relieve the pressure a toddler would put on it. The mattress is also very durable. It is made from plant-infused foam, firm, and stable on one side, and soft and pressure relieving.
The removable cover is stain-resistant and waterproof. It is machine washable, so it will be easy to keep.
The Moonlight Little Star Organic Crib Mattress is free of nasty chemicals and additives such as pesticides, phthalates, vinyl, lead, chlorine, and other toxic materials.
What We Like
The Moonlight Little Star Organic Crib Mattress is sold in a standard size that will fit into a crib.
The mattress comprises several layers, with a top layer made of an organic cotton cover.
The memory foam will provide the mattress with firm support.
It is waterproof, and this is a feature that is important for a mattress.
The mattress is GREENGUARD Gold certified, so it's safe and healthy for the baby to sleep on.
What We Don't Like
---
Serta Tranquility Eco Firm Innerspring Crib and Toddler Mattress
Best Innerspring Mattresses
The Serta Tranquility Eco Firm Innerspring Crib and Toddler Mattress is the perfect mattress to make your nursery complete. Holding to Serta's passion for quality, this mattress is constructed with non-toxic and fire retardant-free materials and will provide the perfect firmness for your baby or toddler. It will help them sleep soundly and wake up feeling refreshed.
Serta's dual-side feature also allows you to reverse the mattress's firmness to match your child's age. Whether your child is a baby learning to sit up or your toddler just learning to walk, the 120 heavy-duty coils of the crib side will provide the support they need.
The Serta Tranquility Eco Firm Innerspring Crib and Toddler Mattress is the only crib mattress in the U.S.A. made without chemicals. It earned the prestigious GREENGUARD Gold certification – the highest environmental standard for indoor air quality.
The vinyl cover is water-resistant, so your baby can sleep on a clean surface throughout the night.
What We Like
The Tranquility Eco Firm Innerspring Crib and Toddler Mattress contains no PBDE fire retardants, lead, formaldehyde, or other harmful chemicals, and it is made without ozone depletes.
It is waterproof.
It earned the prestigious GREENGUARD Gold certification.
What We Don't Like
The mattress is thin, so it is prone to occasional indents.
---
Safety 1st Heavenly Dreams Mattress
Best Budget
The Safety 1st Heavenly Dreams Mattress is an excellent option if you are looking for a safe and affordable mattress for your children.
It is also straightforward to clean. The vinyl cover is water-resistant, so if a spill should occur, you can wipe it off immediately.
It is made with a high-density thermo-bonded fiber core so that your child will have the support they need to feel comfortable and secure.
The Safety 1st Heavenly Dreams Mattress is a great choice for keeping babies and toddlers safe and comfortable. It is made from a hypoallergenic material free from flame retardants and latex, it is also free from lead and phthalates.
It is designed to fit standard cribs, making it the right choice for parents who don't want to buy a new crib but want to ensure their little one is safe comfortable.
What We Like
It is lightweight.
Affordable.
Hypoallergenic.
It earned the prestigious GREENGUARD Gold certification.
What We Don't Like
It retains more heat than some other foam mattresses.
---
Buyer's Guide
A crib mattress is one of the most important pieces of baby furniture you can buy. It will be your baby's bed for the first few years of his life, so you want to be sure you choose the right one. There are several things to look for when shopping for one, including materials, firmness, safety, and comfort. To help you make an informed decision, we have put together this crib mattress buyer's guide.
What to Look for In a Crib Mattress?
So you're looking to buy a crib mattress. What do you need to consider? Since the mattress you buy for your baby will be taking the brunt of all those early naps and late-night feedings, it's important to choose a high-quality product that will give your little one many years of comfortable support. But what factors should you consider? Here are the things you need to think about before picking out a crib mattress:
Sleep Safety Certifications
Sleep safety is a big deal because even though many parents would do anything to help their children sleep better, they don't always know which products will be the safest. For instance, some parents may assume that the most expensive crib mattress is the best one, but that may not be true. A safe crib mattress is one that meets the latest safety standards.
As a result, many parents will turn to a crib mattress that has been certified by an organization such as the Consumer Product Safety Commission (CPSC). And while you may think that this is a good idea, it's essential to know that the CPSC's certification is voluntary. If a manufacturer chooses not to participate, its crib mattresses may still reach consumers.
Materials
When purchasing a crib mattress, remember that it will be the surface your child will sleep on for the first several years of his or her life, so it's important to choose a mattress that is safe and comfortable.
So what is the difference between the materials found in a crib mattress? Mainly, it is the quality and durability of the materials. It is common sense that the crib mattress materials be of very high quality as they are in constant contact with the baby.
The baby's mattress should be made from non-toxic material. The mattress should be breathable and be able to absorb sweat and urine. It should not be too firm or too soft. The materials used for crib mattresses are natural latex, organic cotton, innerspring, foam rubber, and memory foam.
Price
Mattresses come in all shapes and sizes, and the price of a crib mattress is no exception. First, you need to decide what you're looking for in a mattress. If you're focused on quality, your budget will be higher. However, if you are concerned about cost, you can find comparable mattresses for less. Mattresses on the low end of the price range are often made with cheaper materials, however, they can still be comfortable and sturdy.
Durability
Durability is one of the most important factors to consider when you are buying a crib mattress. Not only do you want it to be safe, but you want it to last. Many factors affect the durability of a mattress, including the kind of foam used, the materials it's made of, construction techniques, and the type of cover that it has. So, how can you determine if a mattress is durable?
The quality of the materials used, along with the brand's reputation, will determine how long a crib mattress will last.
Crib mattresses are often made of soft rubber and filled with layers of foam. These mattresses are designed to last from six to twelve months.
The crib mattress should be firm, and there should be no depression in the center. The edges should be smooth, and there should be no tears or holes. A crib mattress should also be waterproof and easy to clean. This is especially important if you have a baby who is still drinking from a bottle. The mattress should be able to be cleaned with soap and warm water.
Firmness
When choosing a crib mattress, sleep firmness is a key factor to consider. How vital is firmness when choosing the crib mattress, though? Starters need to remember three different types of mattresses: innerspring, foam, and airbed.
A good crib mattress will have a firmness level of between 6 and 8 on a scale of 1 to 10.
A firm mattress will provide your baby with the kind of support it needs to stay healthy as it grows. A mattress that is too soft can hurt your baby's developing spine and cause another problem.
What Are the Types of Crib Mattresses?
Innerspring vs. Foam Crib Mattress
If you are an expecting parent, you will probably try to decide which crib mattress type is best for your baby. The two most common types of crib mattresses are the foam crib mattress and the spring crib mattress.
Both of these types of mattresses are excellent choices, and both have their own advantages and disadvantages. The Crib mattress that is best for your baby will depend on several factors, including your budget and whether you plan to use a Crib mattress cover or sheets and blankets.
Innerspring Crib Mattress
Innerspring mattresses are the traditional choice for crib mattress manufacturers. They were the first type of mattresses used in cribs during the 19th century, and they are still the most popular choice to this day. The material for an innerspring crib mattress is either steel, coiled wire, or a combination of both.
The steel is shaped into coils which are then reinforced with mesh wire to hold them in their shape. The coils and wire are then encased in a padding layer used to help spread the baby's weight over the mattress. There are three basic types of innerspring mattresses, low profile, standard, and high profile.
A spring mattress is a perfect choice for your baby's crib, and there are a variety of reasons why. First, the spring mattress provides a comfortable and supportive sleeping surface.
The springs and individually wrapped coils offer just the right amount of support for your baby's head and spine. It is also an extremely durable choice for your child. You don't have to worry about your infant outgrowing the crib too quickly or the mattress wearing out quickly. The springs in the mattress allow for extra support, and the coils help ensure that your child maintains the correct body alignment throughout the night.
Foam Crib Mattress
Many parents are now familiar with the importance of having a mattress explicitly made for a crib. A crib mattress, of course, is different from a regular bed mattress. It must meet specific safety requirements to be used in a crib. One type of mattress that can meet all of these safety requirements is a foam mattress for a crib.
A foam mattress for a crib is a great way to keep your baby in a safe and comfortable sleeping environment. Foam mattresses are becoming increasingly popular for use in cribs because of their ability to provide a comfortable sleeping surface without the risk of suffocation caused by materials such as down, cotton, and wool.
Also, foam mattresses help prevent your baby from suffering from allergies and skin rashes as they are made entirely from hypoallergenic materials. For these reasons and many more, foam mattresses for cribs are an excellent choice for any family with a young baby.
F.A.Q.
Which mattress is best for baby crib?
It is essential to consider that babies tend to be more sensitive than adults, so you need to be extra careful when purchasing a mattress for your baby. For example, just because a mattress is certified as being safe for adults doesn't always mean it's safe for your infant. If the mattress is not firm enough, it can cause gaps in the mattress, and babies can become trapped in these gaps, leading to suffocation.
The best type of mattress for your baby crib depends both on your child's age and weight. When your baby is first born, you'll want to purchase a firm mattress, which will provide the most support. As your baby grows into a toddler, you should consider buying a little soft mattress.
How can I make my baby's crib more comfortable?
The best way to make your baby's crib more comfortable is to invest in a good mattress. Look for one with firm edges to prevent your baby from rolling out while also keeping the mattress in place.
In making your selection, you'll want to keep your baby's safety in mind. If you often find your baby sleeping in the same position to avoid pressure points, the mattress may be too firm. Crib mattresses made with a single foam core layer can allow babies to move in position throughout the night. A mattress with multiple foam layers will conform to a baby's body and provide them with a comfortable sleep.
Are crib mattresses the same size as toddler beds?
The short answer is yes. Crib mattresses and toddler mattresses are the same sizes. Many parents wonder if toddler beds are the same size as cribs because they are worried that their child might not fit in the bed.