If you've ever slept on a road trip and woke up feeling like you were still in motion, you understand the appeal of a portable mattress. Also known as inflatable or air mattresses, these portable sleep surfaces are essentially large enough that you can roll up and pack with you on the go. Some are even small enough to fit inside a backpack!
---
Top 5 Best Portable Mattresses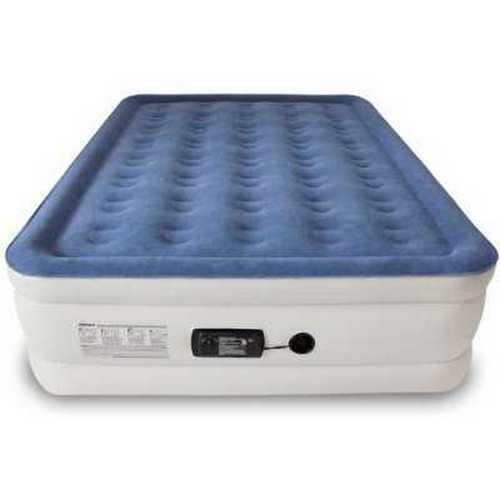 SoundAsleep Dream Series Air Mattress
Sizes: Twin, Twin XL, Full, Queen, King
Weight Limit: 500 Pounds
Materials: Eco-friendly PVC and top flocking
Price: $$
---
Although there is the best portable mattress with built-in pumps, most work on the same principle as bicycle inner tubes: you fill them with air to the desired firmness, then collapse them back down to pack up.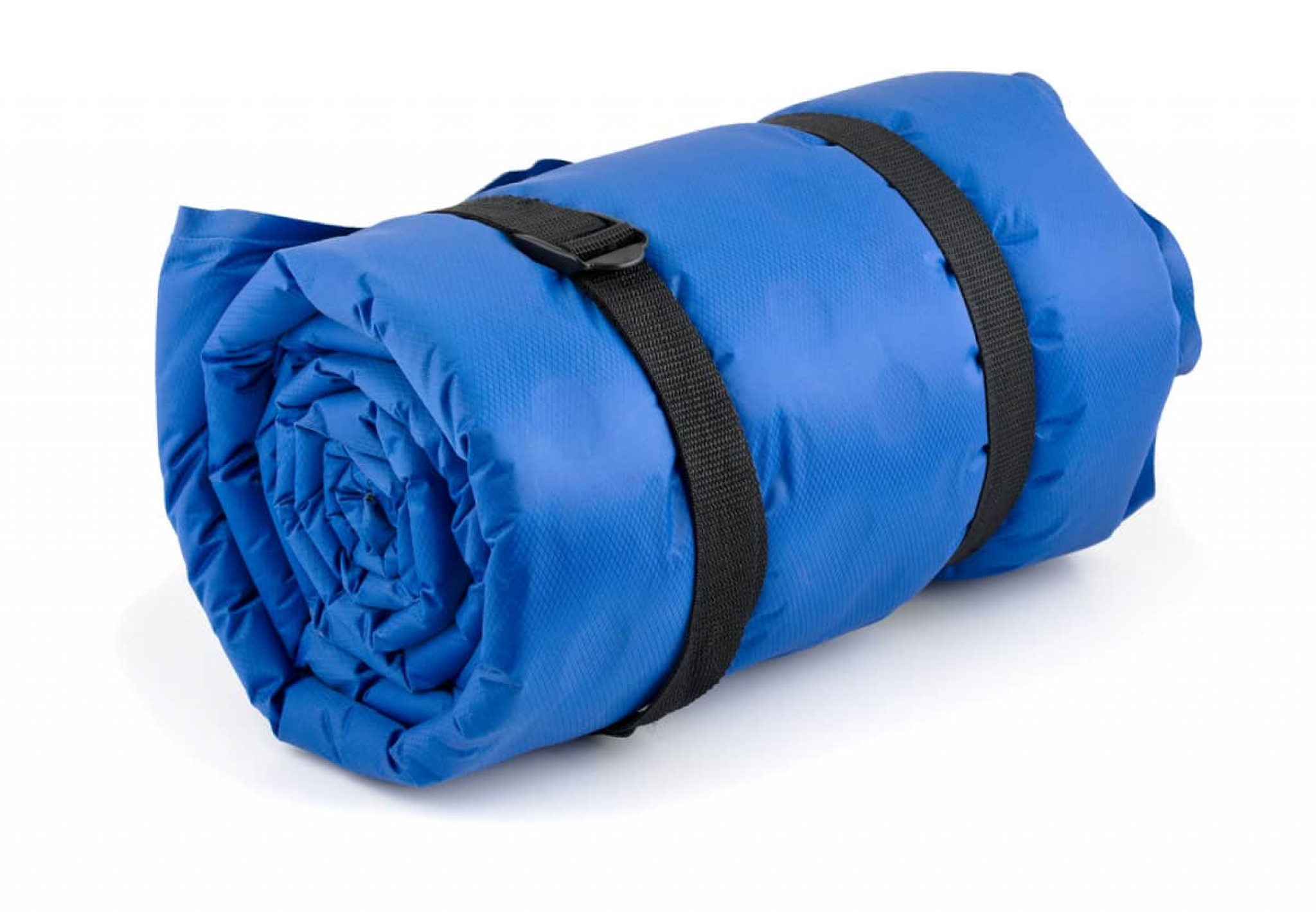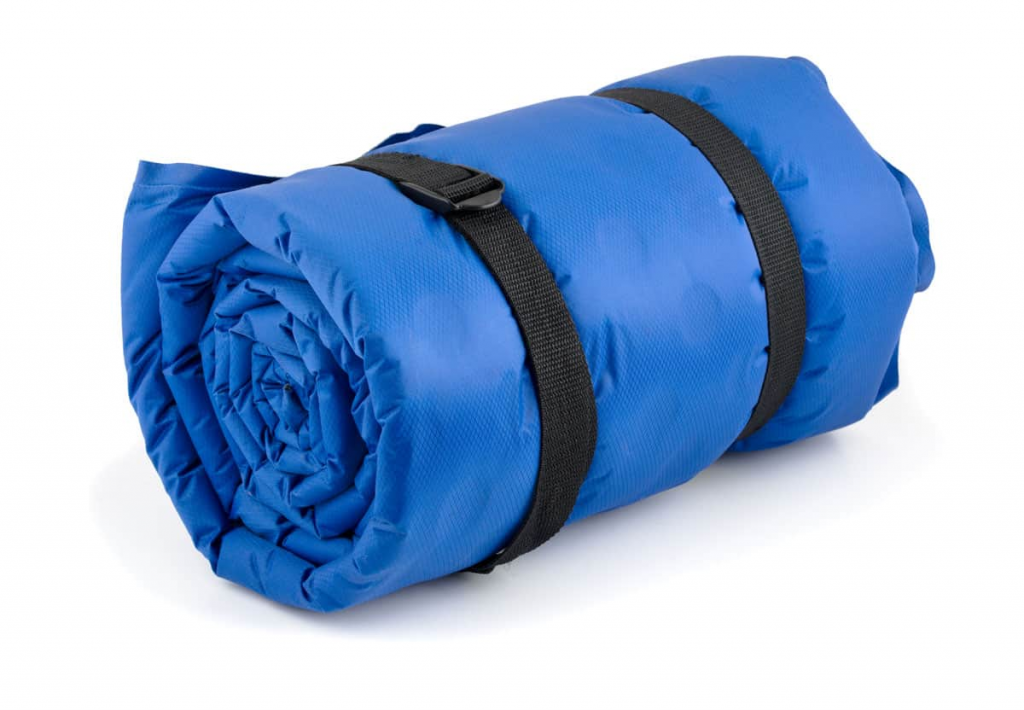 Portable mattresses are getting increasingly more popular among truckers and travelers as an alternative to bedrolls. They're usually made of foam and can be easily carried around. But which one should you buy? Let me introduce the top five best portable mattresses and useful information about choosing the right mattress for trip or weekend travel.
---
Best Portable Mattresses Reviews
SoundAsleep Dream Series Air Mattress
Best Overall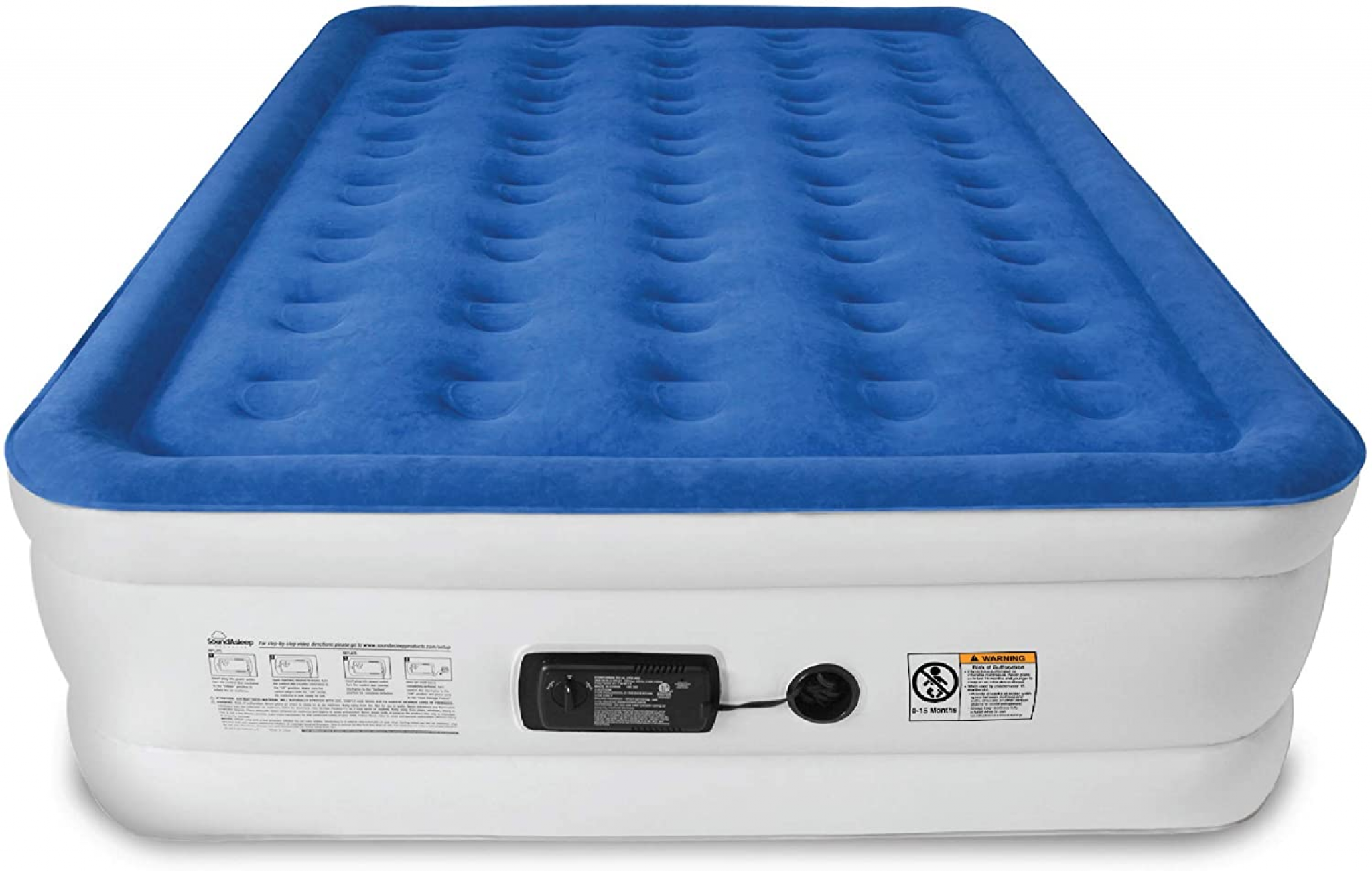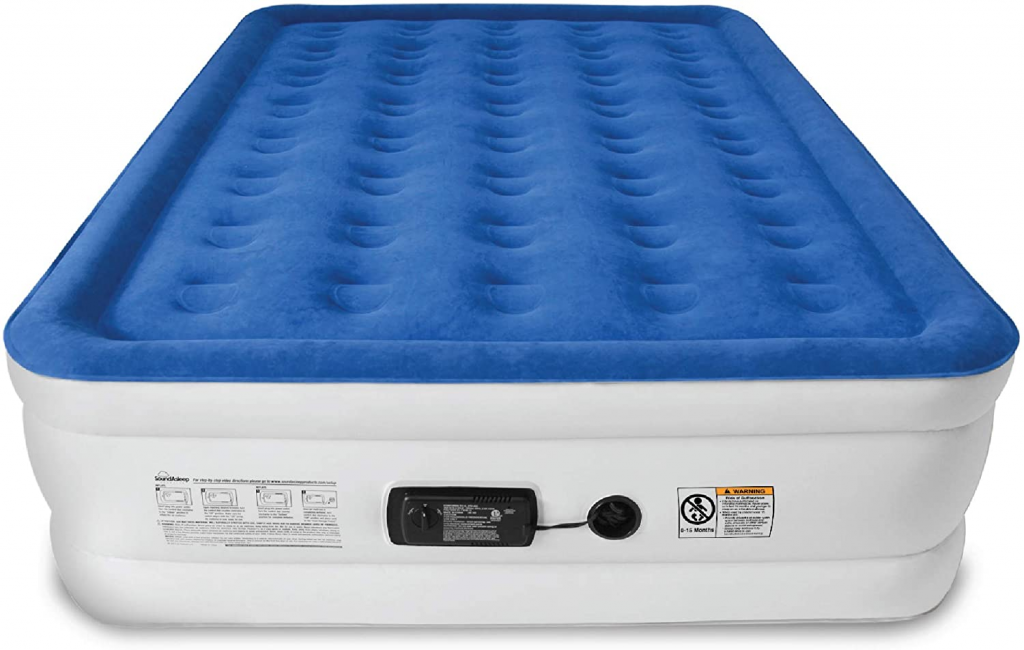 Today, we are going to take a look at the SoundAsleep Dream Series Air Mattress. This has a unique design that uses internal air coils to provide firm support and help ensure that the mattress returns to its original flat shape after sleeping on it.
The SoundAsleep Dream Series Air Mattress has a patented one-click internal pump that makes inflating and deflating it a breeze. The bed can be inflated and deflated in minutes using the patented 1-Click internal pump and will remain fully inflated for days.


The base construction offers extra support and durability. No matter how you move on the mattress bases, they will remain flat and firm.
What I Like:
The SoundAsleep Dream Series Air Mattress is ideal for camping when you need a mattress for a guest to sleep on.
It is also great for providing comfort to the elderly.
This air mattress comes with a patented 1-click internal pump. Just push down the button and let the pump do the rest.
---
King Koil Queen Air Mattress with Built-in Pump
Best Comfortable and Breathable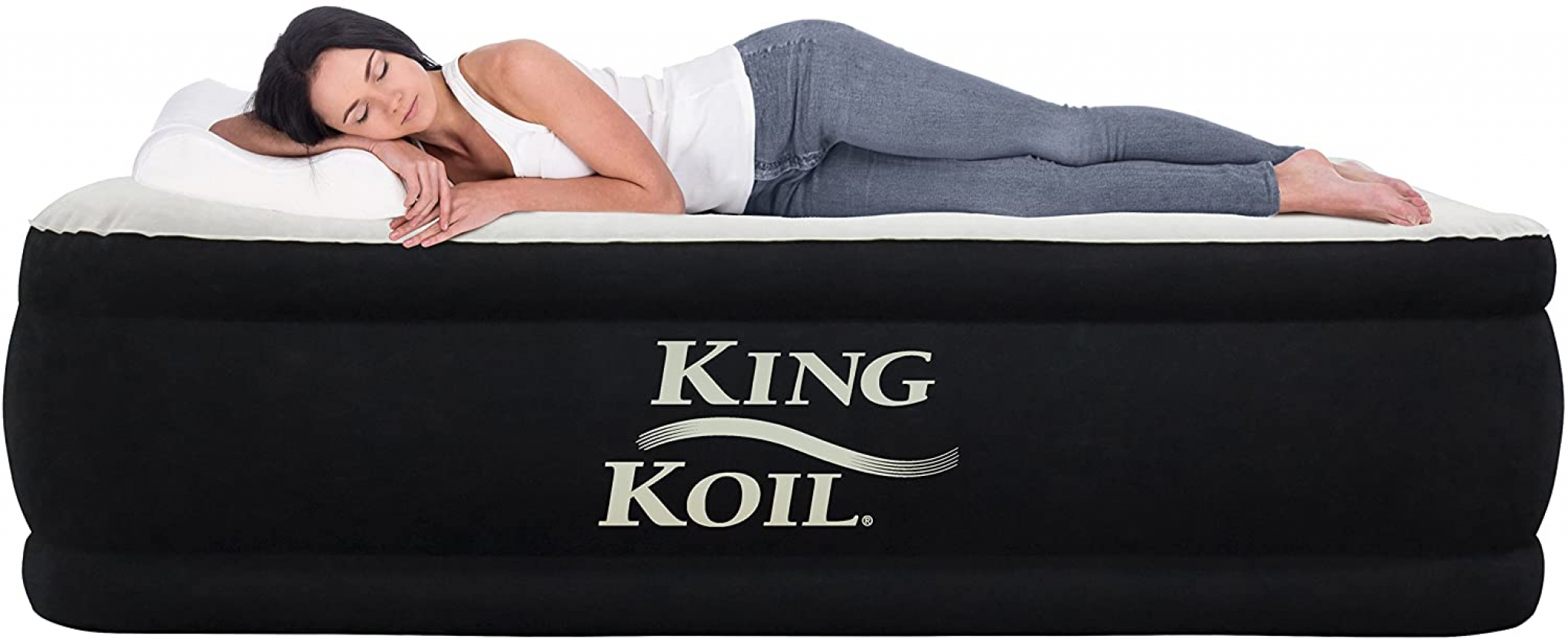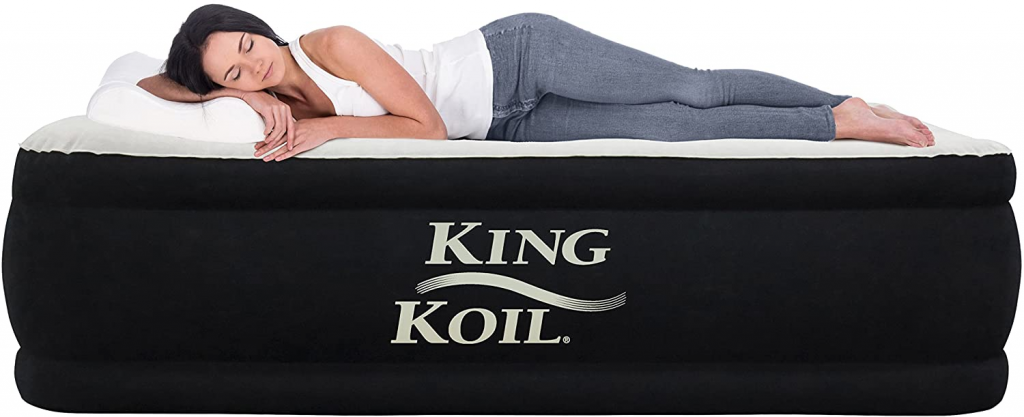 The King Koil Queen Air Mattress with a Built-in Pump provides a comfortable and durable sleeping surface. The coil-beam construction makes it feel a lot more like a regular bed than other air mattresses, and it's about as comfortable as you're going to find. It's an excellent choice for camping trips, sleepovers, or if you're in a pinch and need some extra room.
This air mattress is perfect for everyday use as it can be used as a temporary replacement for a bed when guests come over or for traveling. The King Koil Queen Air Mattress with Built-in Pump also comes with a 1-year warranty provided by the manufacturer.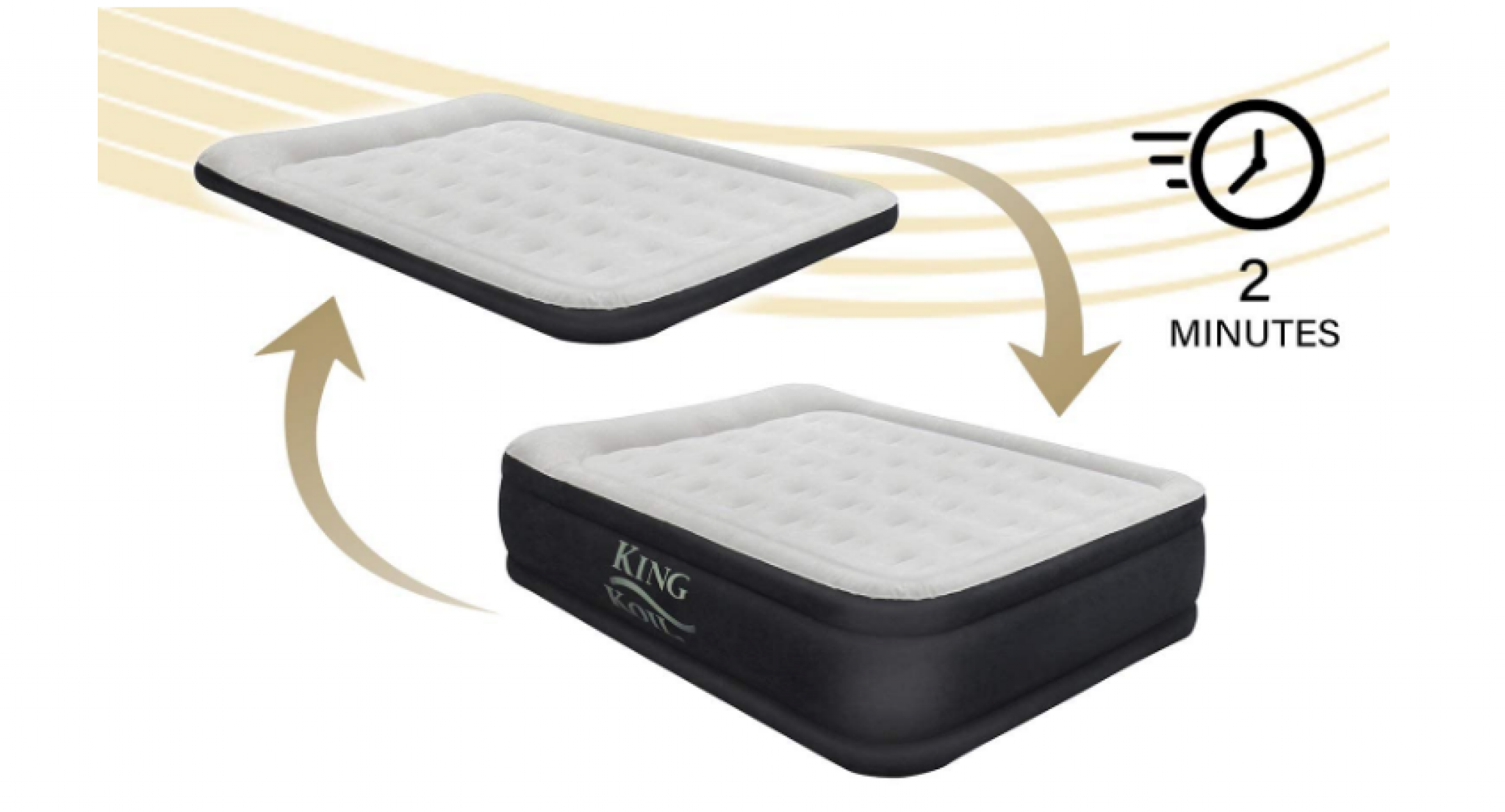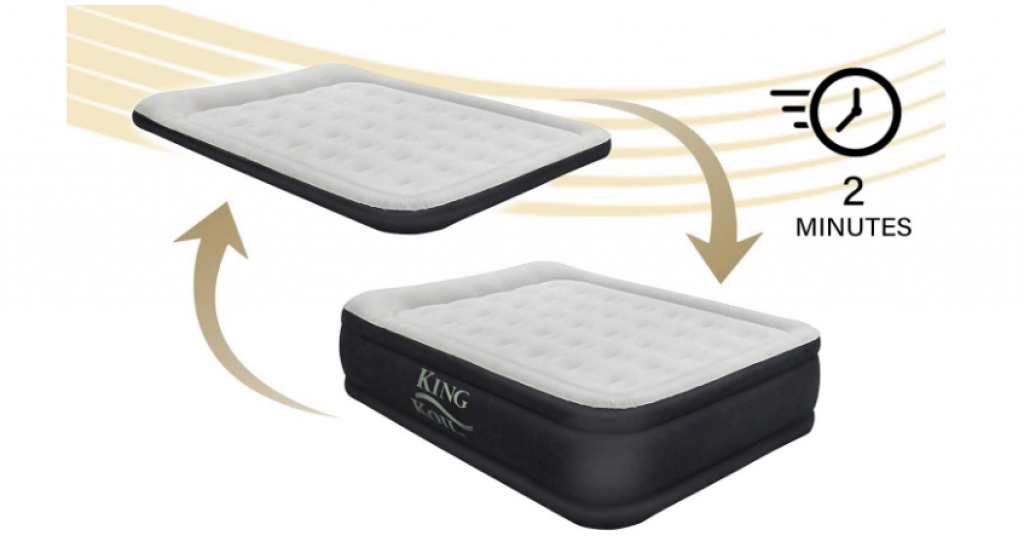 This air mattress is a remarkable product that provides the consumer with a vast array of benefits. Some of these benefits include a built-in high-powered electric pump, a soft flocking layer, and a built-in pillow. The mattress is also extra thick, making it durable and extra comfortable. It has a waterproof comfort quilt top with extra spinal support.
What I Like:
A specially designed inner pump helps quickly inflate and deflate the mattress.
The King Koil Queen Air Mattress with a Built-in Pump is a popular choice for people who want to have an extra airbed for guests or people in hiking and traveling.
The mattress is constructed of a thick and durable flocking layer over a coil beam construction.
---
Olee Sleep Tri-Folding Memory Foam Topper, 4"
Best Memory Foam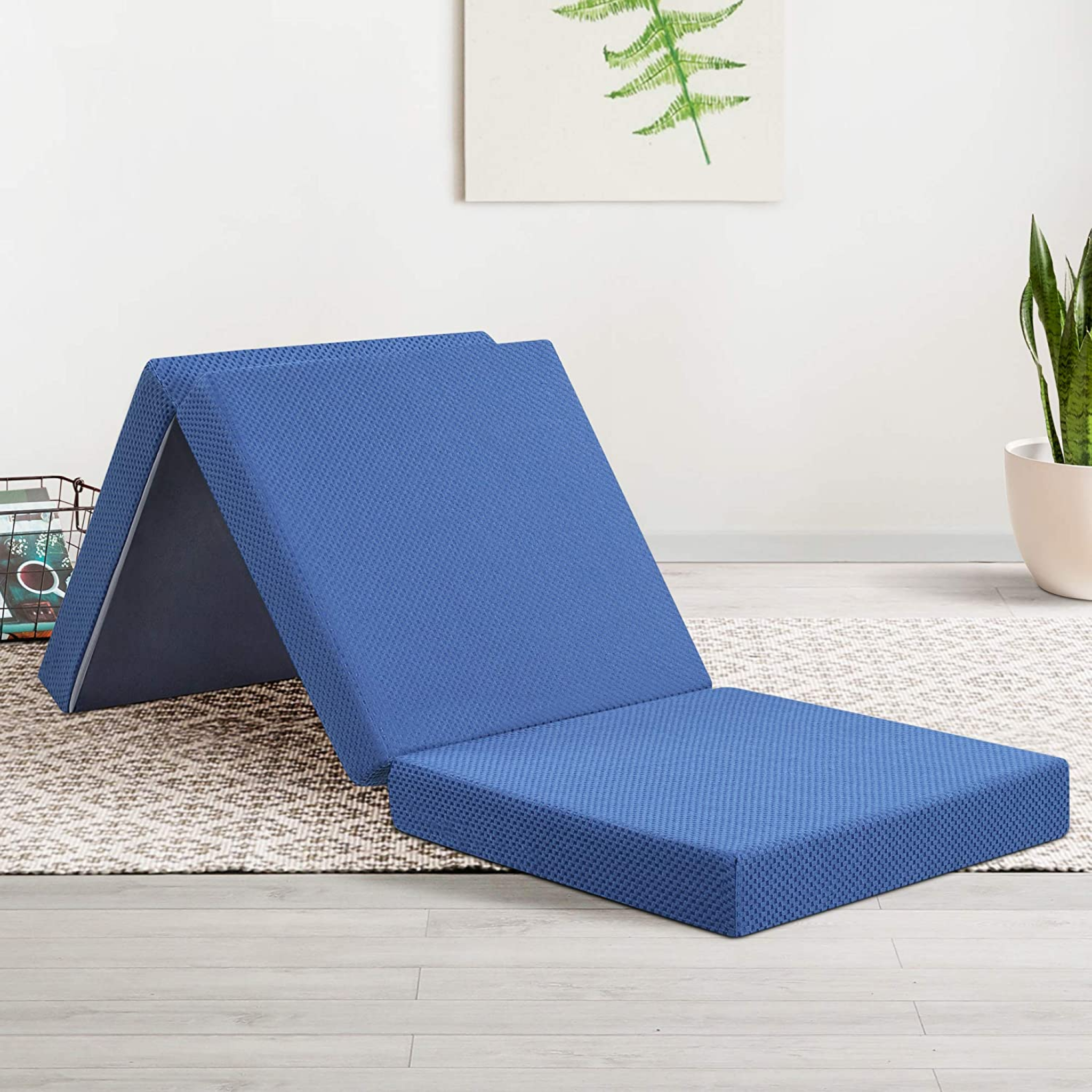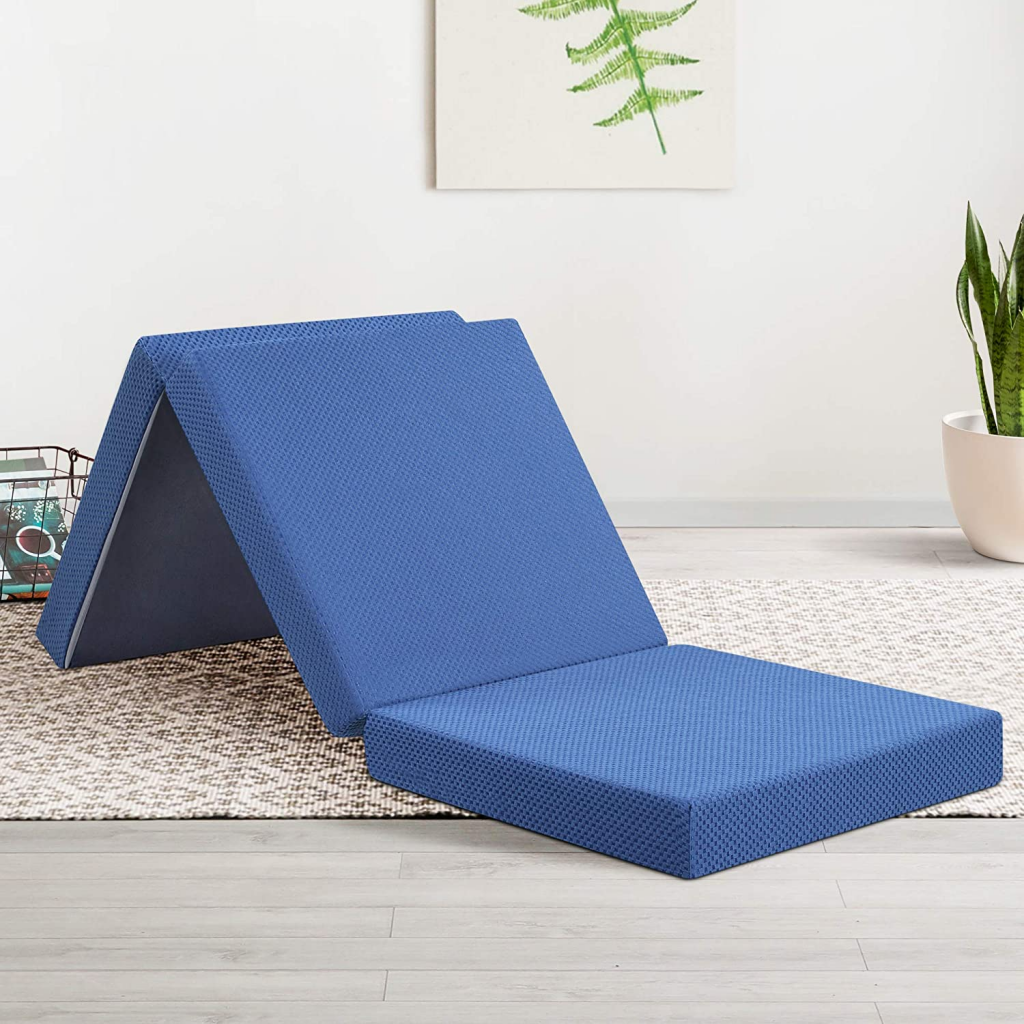 Whether you're looking for a temporary replacement for a worn-out mattress, the Olee Sleep Tri-Folding Memory is a perfect solution. Olee Sleep Tri-Folding Memory Foam is a 3-in-1 product. It is a memory foam mattress topper that can be used on top of your mattress for a more comfortable sleep. It is a temporary sleeping solution for camping, midnight guests, dorm rooms, and traveling.
It is the most comfortable lounge seat with its fold-out design and extra-wide size. The innovative folding design allows it to be stored away in a closet, under a bed, or behind a couch when it is not in use.


The tri-folding design features a thick layer of memory foam that is pre-molded and has i-gel technology. The combination of the two layers of foam offers a firm, supportive sleep surface. The topper can easily be folded up and carried to any place you want to use it. The topper also features a Smart Package technology that allows you to safely transport the product to any location and still have it nice and neat at your arrival.
The Olee sleep Tri-fold memory foam topper is an excellent example of a modern five-star rated mattress topper.
What I Like:
A memory foam mattress is a great way to increase the level of support and comfort during sleeping.
The mattress is great for use as an extra bed for guests.
---
LUCID Rollaway Folding Guest Bed with 4 Inch Memory Foam Mattress
Best Soft Mattress Cover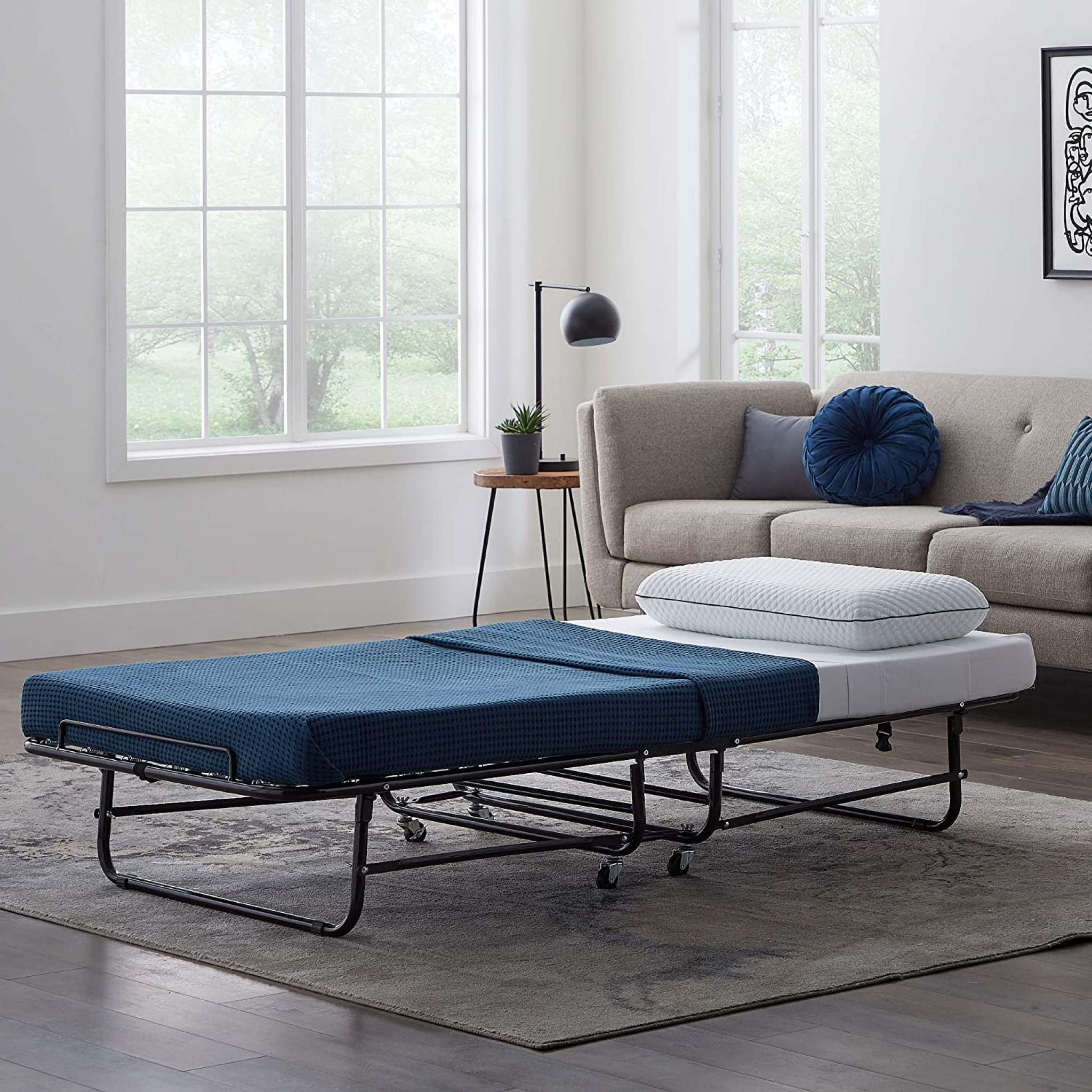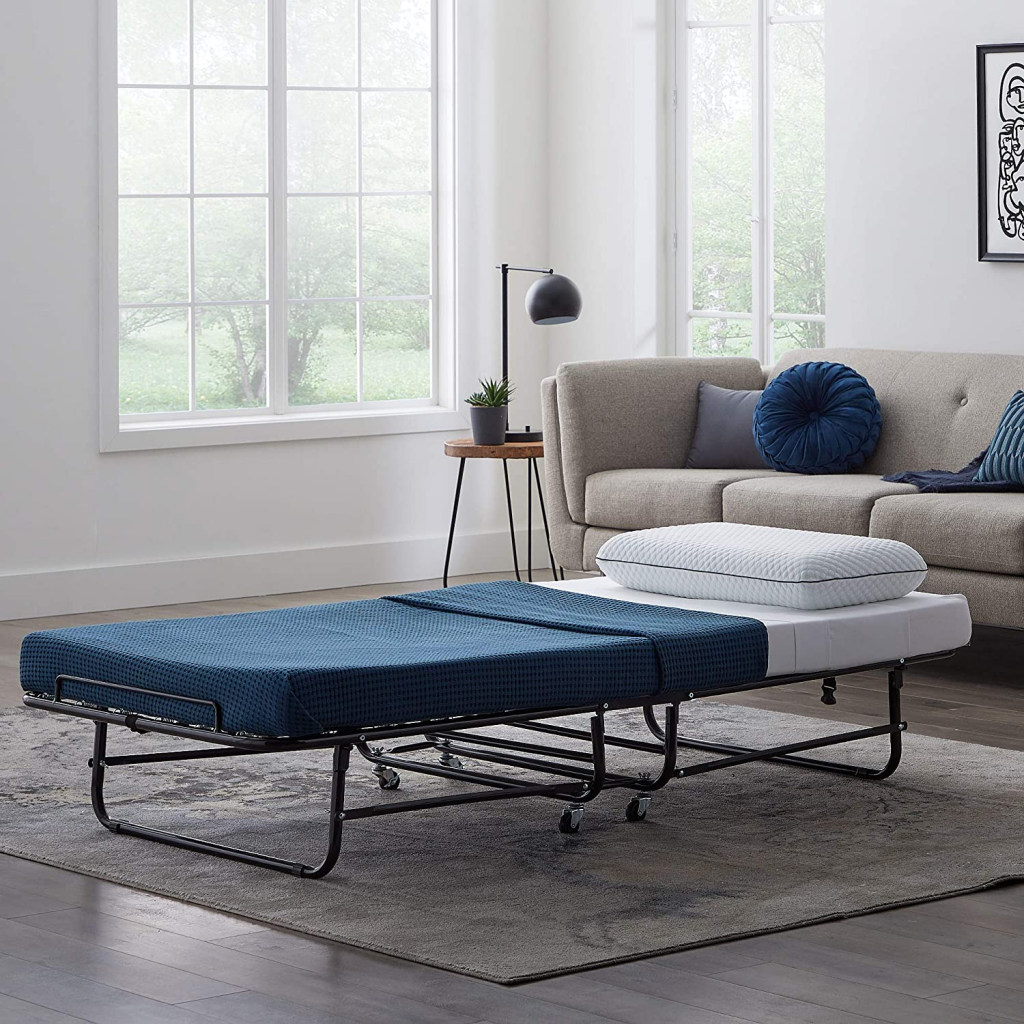 If you require a temporary bed for guests, or if you have kids that can't seem to give up their habit of jumping on their beds, then this is the bed for you! The LUCID Rollaway Folding Guest Bed is made of four inches of memory foam and three inches of support foam.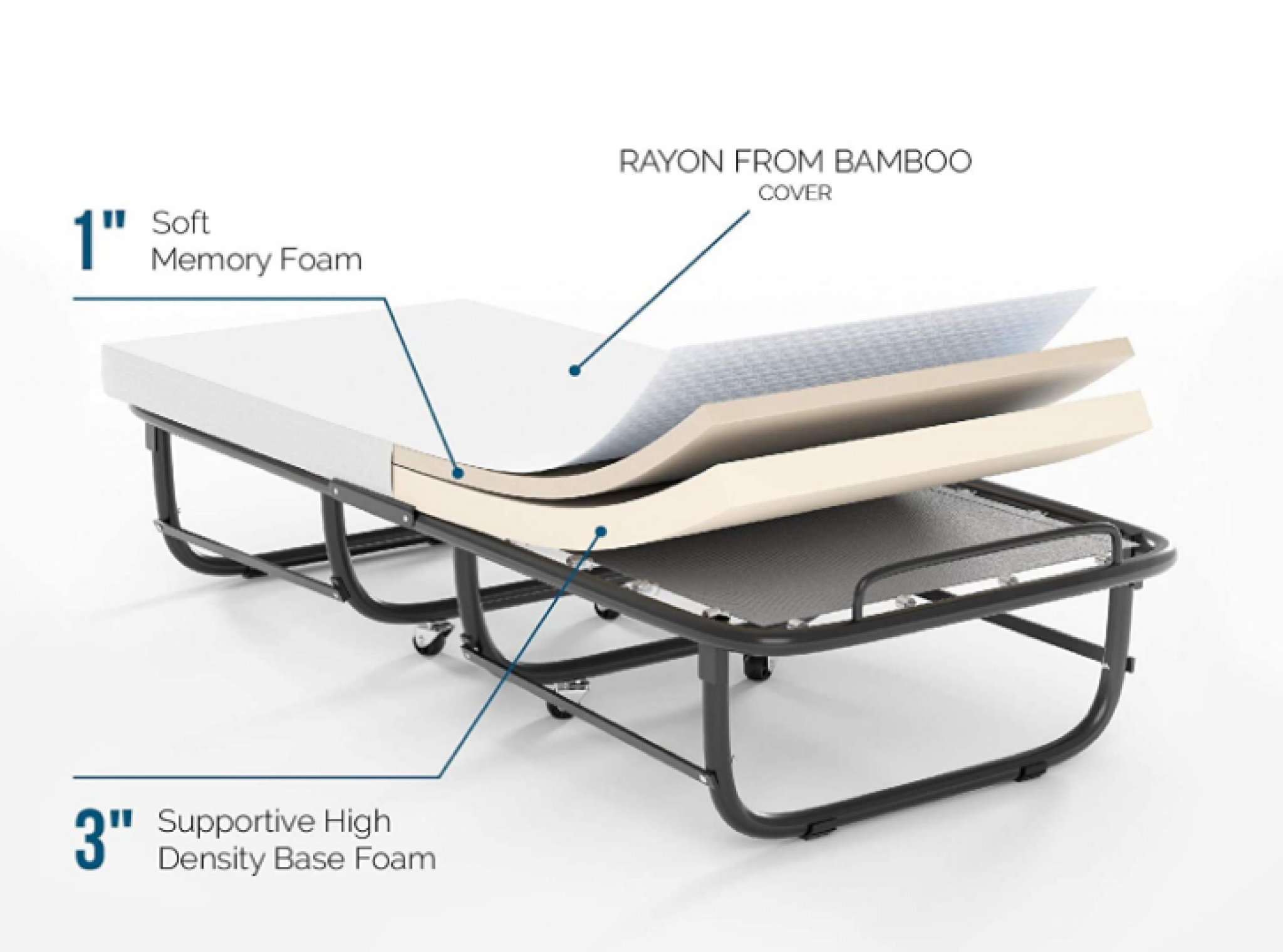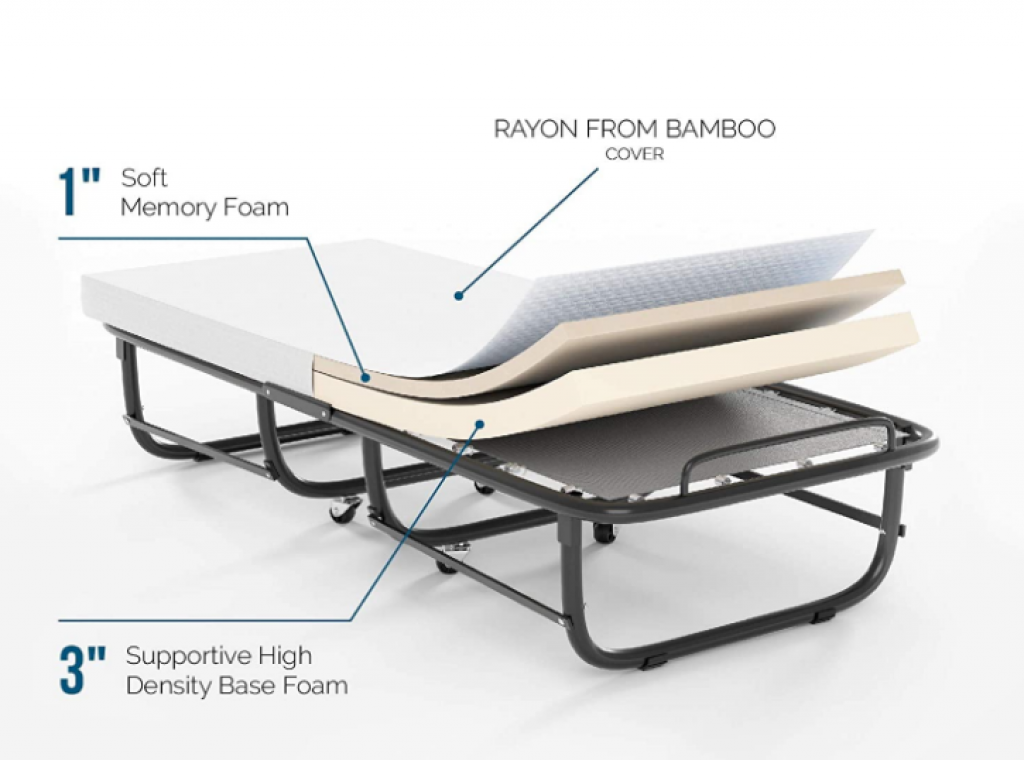 This mattress is ultra-soft and supportive. It is very easy to install, and you can keep it under your bed, so it does not take up any extra space in your room. It can support up to 350 pounds, and it is light enough that you can move it and the mattress with just one hand. The mattress is made of foam and has a memory foam layer to make it more comfortable.
What I Like:
The LUCID Rollaway Folding Guest Bed with 4 Inch Memory Foam Mattress is the perfect bed for when you have guests.
It is a convenient bed to have as it can be used in many different ways.
The mattress has 3 inches of support foam for back support with 1 inch of memory foam to create a comfortable surface for sleeping.
The rollaway guest bed is supported by a spring-supported deck that offers excellent support.
The bed includes a heavy-duty bed frame with a 10-year warranty.
---
Linon Home Decor Linon Memory Foam Luxor Folding Bed
Best Affordability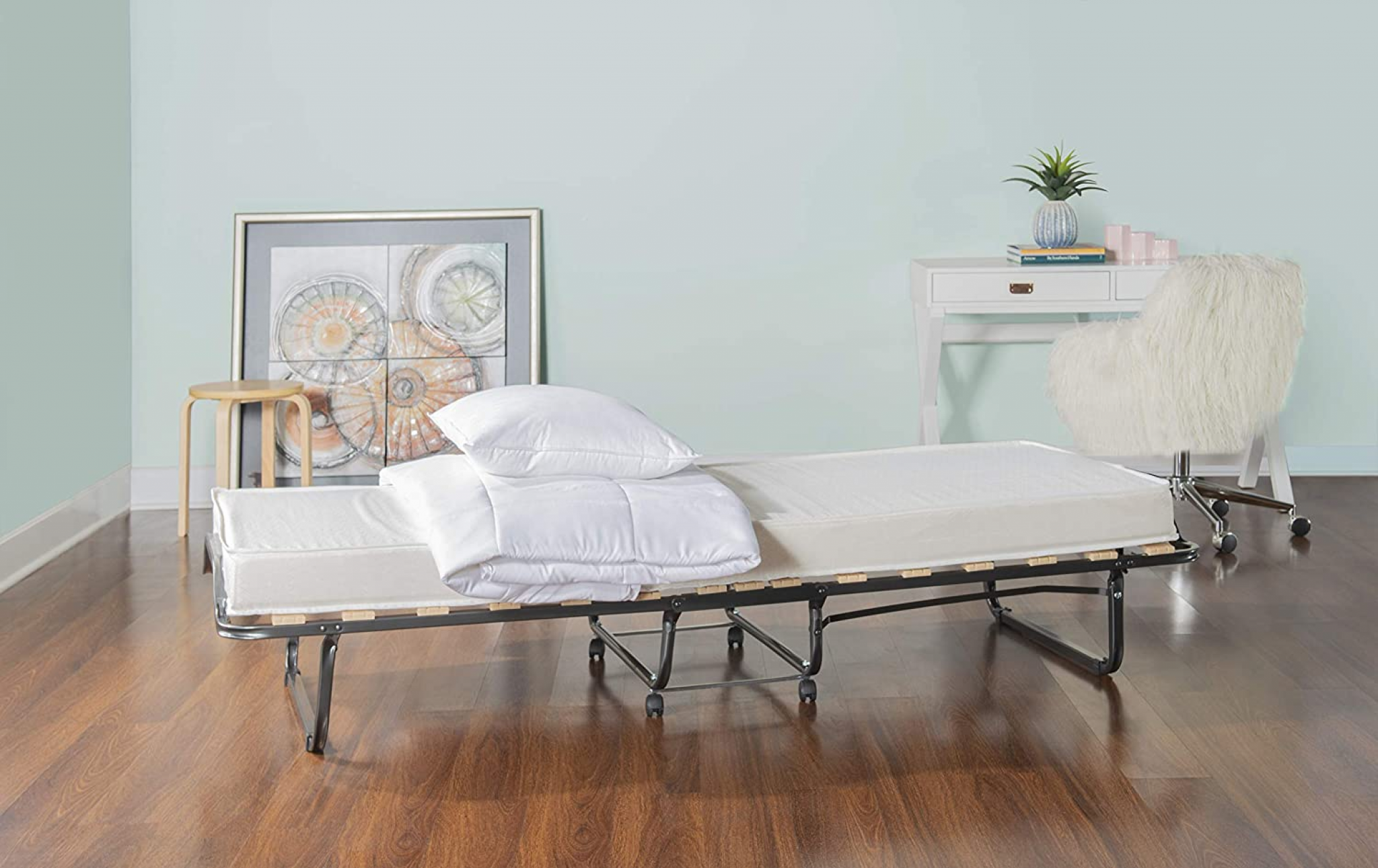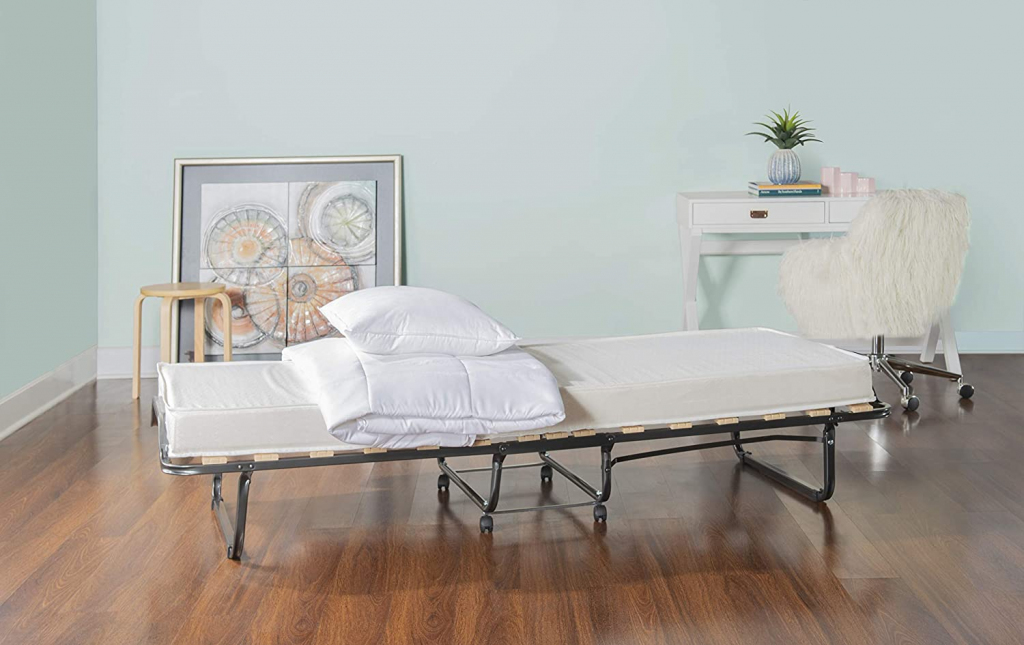 The Linon Home Decor Linon memory foam folding bed is a great way to enjoy a good night's sleep in the comfort of your home. This bed comes with a durable metal frame and a comfortable memory foam mattress.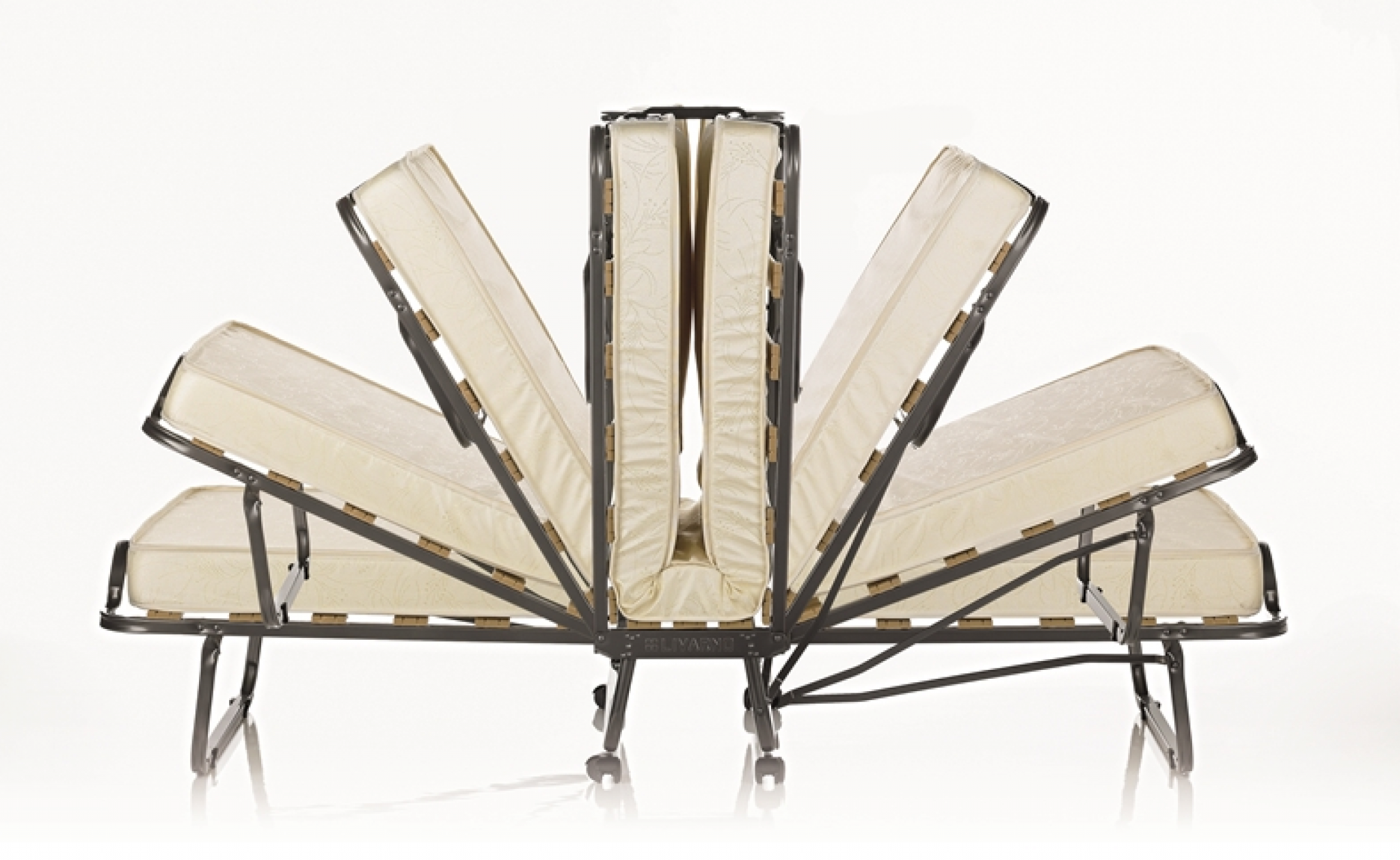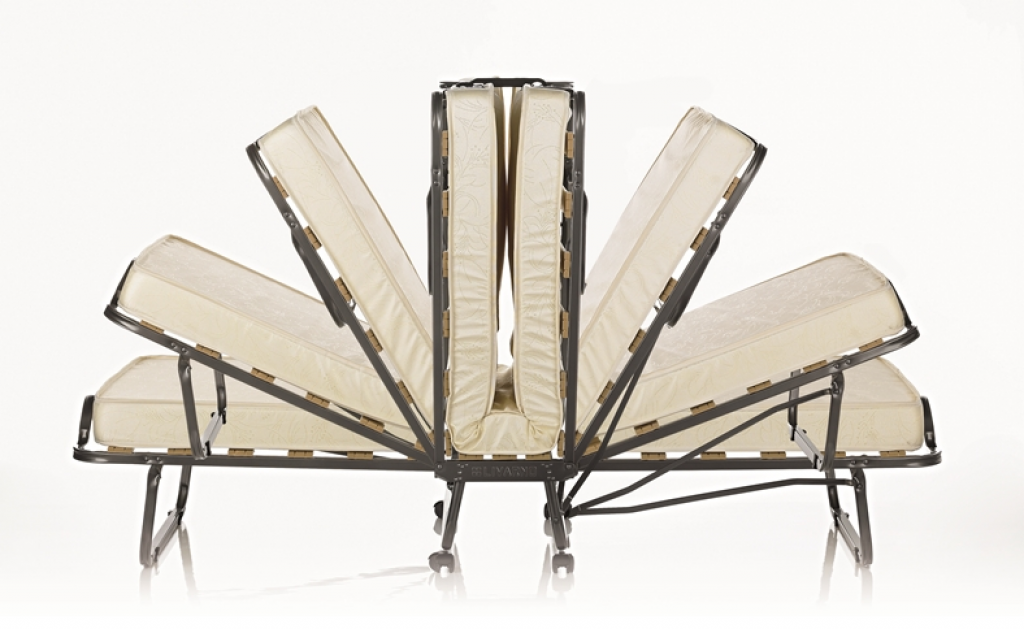 A soft and durable fabric cover comes in beige color to match your taste and the room's interior. The mattress can be used for both daily sleeping and occasional guest sleeping. It is also easy to assemble and fold up for additional space. This bed would be an excellent gift for sleep-deprived parents or older people who want to take a nap at home.
What I Like:
The heavy-duty steel frame is perfect for supporting the foam mattress.
The mattress cover is made from a soft polyester and polyurethane foam combination that is the perfect balance of firm and soft to support your body as you sleep.
---
Buyer's Guide
If you are going on a trip that will require you to a sleepover or you are merely in need of an inflatable air mattress, then you need to know how to choose the best portable bed. This guide will provide an overview of things to consider when you are in the market for a portable mattress.
---
What is a Portable Mattress?
A portable mattress is just that: it's a mattress that you can move around quickly. These are higher quality and often folding models, which make them easier to store and carry. They're also a great option for guests who stay overnight. There are many portable mattresses on the market, and here are the details you need to know about them.
---
Types of Portable Mattress
When you're looking to get a portable mattress, you may feel a little overwhelmed by the number of options and types available to you. After all, if you're looking at these products, it's likely you've stayed in a few less-than-ideal hotel rooms in your lifetime, and you're looking for something that will make your travels more comfortable.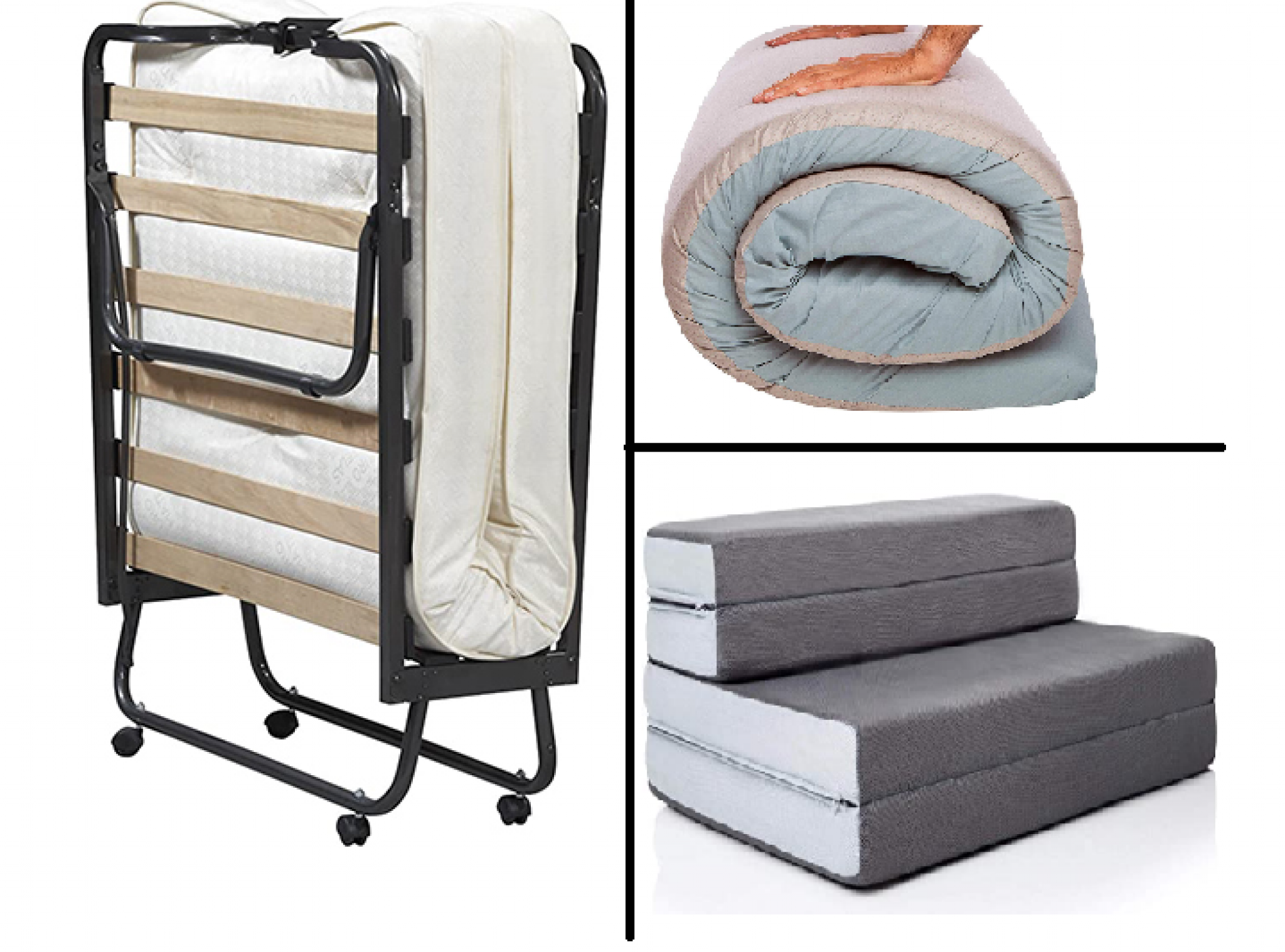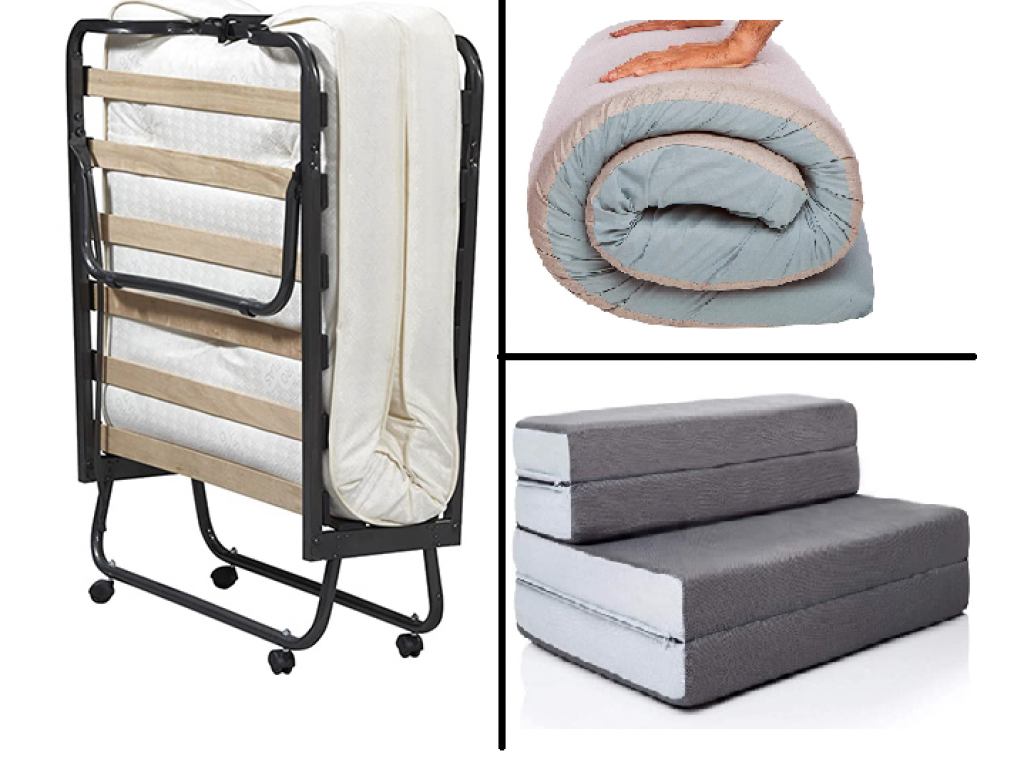 But while all of the options can be a bit overwhelming, you definitely shouldn't feel like you're fumbling in the dark. Here are the most common portable mattress types for you.
Folding Rollaway Bed
The folding rollaway bed is a great temporary solution to a home with many overnight guests. It's portable, easy to fold and store away, and, most importantly, it's affordable.
These beds are perfect for people who travel a lot or need a place for their guests to sleep while looking for a more permanent place to stay.
Rolling Mattress
The rolling mattress has been around for many years. The bed rolls up to save space and for easy transport. Rolling mattresses are perfect for people who are always moving and for people who are always on the go. Also, this mattress can be stored and used in small places where a regular bed cannot fit, like a closet.
Rolling mattresses are typically made from memory foam, which means they are soft and comfortable. The bed is also ideal for people who have back problems.
Folding Mattress
The folding mattress is a kind of bed that is portable and can be folded easily. It can help you save space. It is also a unique mattress that is designed for indoor and outdoor activities or emergencies.
In order to use it, you just need to unfold and inflate it, and you can use it as a temporary bed. The folding mattress helps you to experience a comfortable sleep. It is usually made of memory foam, which can be bent and folded easily. It can be folded and carried around easily. When unfolded, it will return to its original shape. The mattress is usually available in single and double sizes.
Air Mattress
Air mattresses are popular because they can be used to provide extra sleeping space for guests. They are also practical for camping, as they are easy to transport when deflated. They are also less expensive than a conventional mattress, so you don't have to worry about spending a lot of money.
However, air mattresses are not for everyone. If you have a bad back or need more support than an air mattress can provide, you should look for a more traditional mattress.
Cot Bed
The cot bed is a type of bed in which the mattress is raised from the floor. These beds are very suitable for kids, as they are much safer than cots and allow them to be close to their parents in the same room without the risk of rolling off the bed. As these beds are very affordable, they are trendy, looking for an alternative to the regular high-end beds.
---
What to Consider Before Buying Portable Mattress?
Buying a portable mattress is a wise idea if you want to have a comfortable place to sleep when you are camping or visiting someone's house. For example, when you are camping, you have to carry the items you need to have with you. It is easier to have only one bulkier thing than to have several smaller ones.
There are many things to consider while choosing the best portable mattress for your home or camping. Let's explore this question more closely.
The Folding System
Mattress folding systems allow you to fold the bed for more comfortable transportation or storage. If you have a small home or apartment, a folding mattress can save a lot of space. Some portable mattresses are designed with storage bags. These are good for people who are frequently on the go.
There are two types of folding systems: those that use a hinge and those that use a spring system. These are the two types of portable mattress beds that individuals use. The first type uses a hinge, an external system that uses a hinge to fold and unfold the bed. The second type is the internal system that uses a spring.
Foam Type
The first thing to understand about the foam in a mattress is that it's not just one material, but two. The first and most common is polyfoam.
Polyfoam is a synthetic substance used in many consumer products, from packaging to clothing. An excellent material to work with, polyfoam is inexpensive and makes a good foundation for the mattress.
Memory foam mattresses are known for their contouring action, which relieves pressure points and helps you get a good night's sleep.
Thickness
When shopping for the perfect portable mattress, the mattress's thickness is one of the most important factors to consider. This is because your portable bed needs to be comfortable and fit into the trunk of your car, and still be transported easily.
The ideal thickness of a portable mattress is 7 inches. You do not want your portable mattress to be any thicker than that because it will become difficult to transport and will be too difficult to carry.
Cover Type
There are three main types of mattress covers: synthetic, natural, and organic.
Synthetic mattress covers are made of polyester and polyester blends. These covers are a cost-effective solution for keeping your mattress.
Natural mattress covers are made with wool or cotton. Washable covers are also a good option for keeping your mattress clean.
Organic mattress covers are made of plant fibers. These are the best covers for your mattress. The organic mattress covers can be washed at home.
---
Benefits of a Portable Portable Mattress
Portable mattresses are a great alternative to traditional mattresses. They are easy to move, and you can take them camping with you. When camping, you can sleep on a portable bed on the ground. Traditional mattresses would be too heavy to move, but a portable one is much easier to take. If you are someone who likes to have a portable mattress around, you can learn some essential benefits of these beds.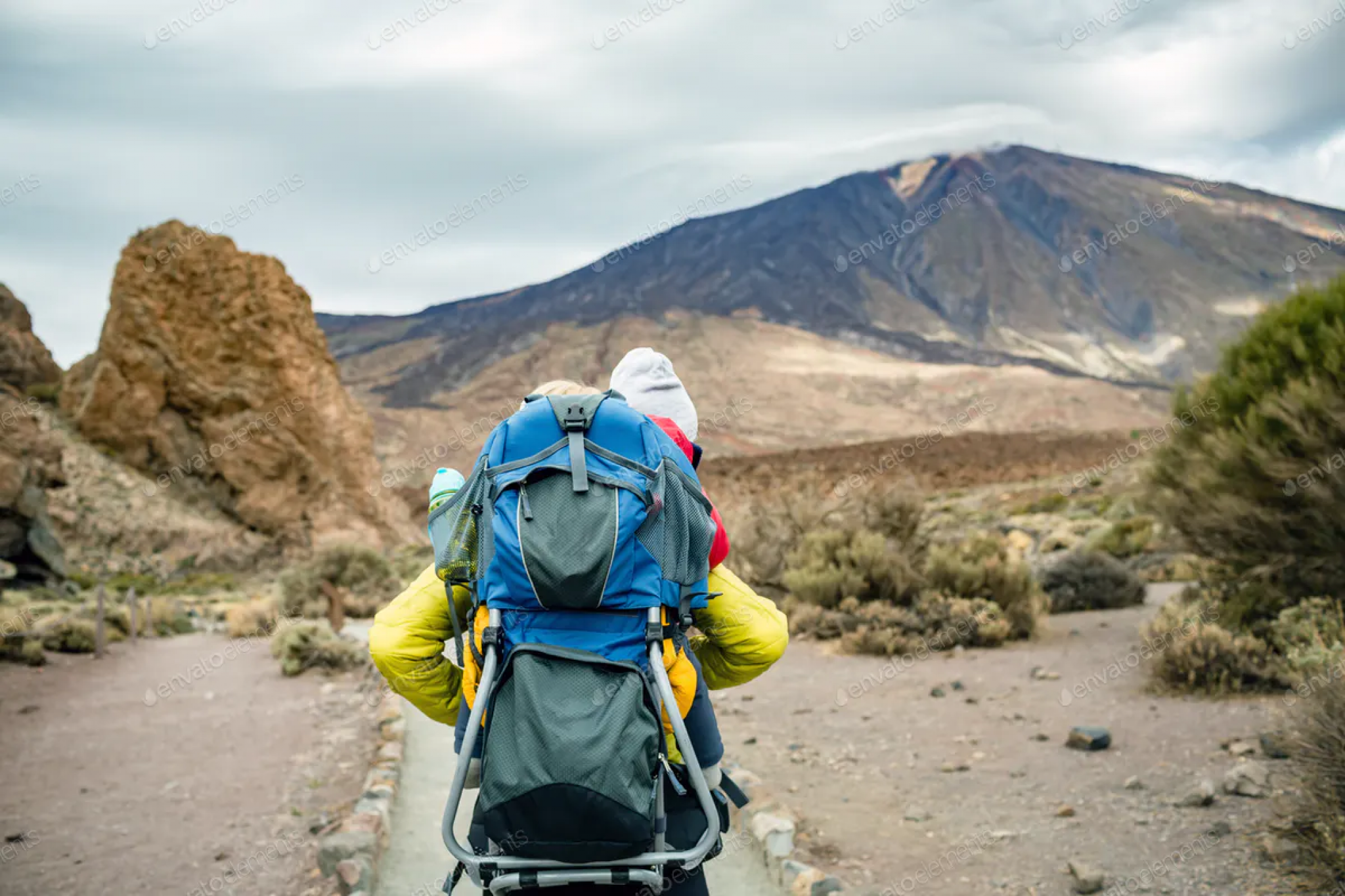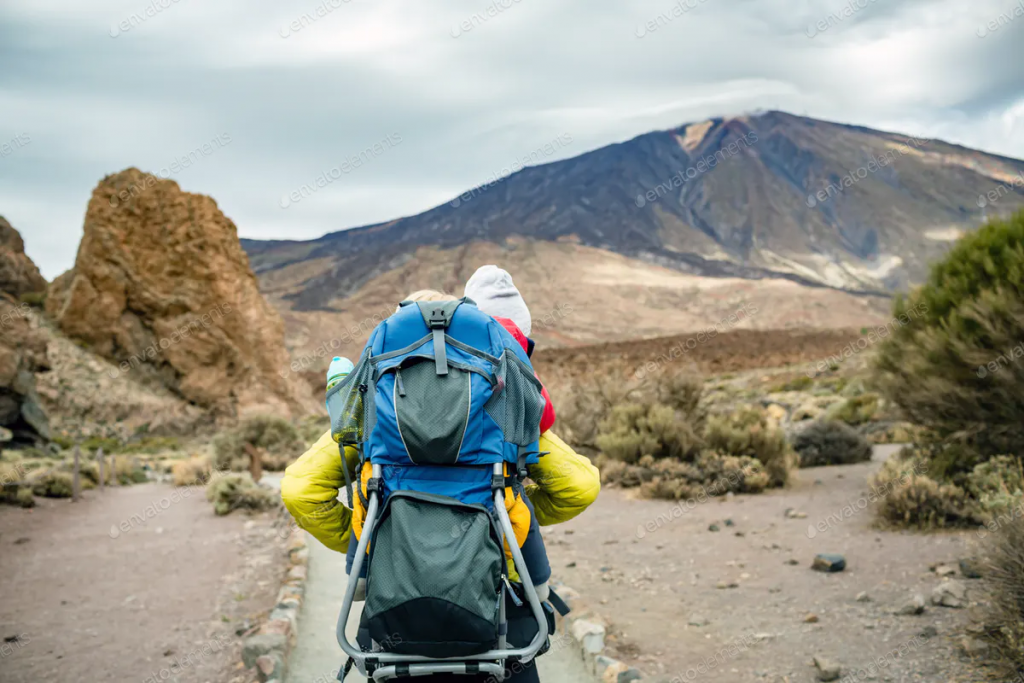 Easy Carrying
The small size and the lightweight of the materials from which the mattress is made allow you to carry the portable bed easily. You can take it with you on a camping trip, put it in the car or just move it from one room to another without too many problems.
Effortless Storage
When you're trying to find a portable mattress, a common concern is whether or not it will be easy to store. A full-sized bed is difficult to store. With a portable mattress, you have no fuss to keep it while not in use. You can put it in the closet or the trunk of the car – a portable mattress will not take much space.
Great for Camping And Traveling
A portable mattress is an excellent investment for avid campers and people who live in small apartments or have limited storage space. They are fairly easy to store because of their small size, yet they provide a comfortable night's sleep and a high level of comfort and support even in the camp or forest. This is a valuable solution for all travelers.
Useful for Guests
Portable mattresses are a great option for guests because they allow you to offer your guests a comfortable sleeping space without sacrificing any of the benefits in the first place.
---
FAQ
Are Portable Mattresses Good?
Portable beds, which are movable, may be used in different places. You can sleep on them in your backyard or your garden. They can be utilized when you have overnight guests or when you need extra beds for a couple of nights. They can even be used when you are doing some home renovations. 
So if you don't want to invest in a physical bed for this type of use, a portable mattress is exactly what you require for this. This is an excellent solution in many everyday situations.
Which Mattress is the Most Portable to Take for Camping?
As you may well know, the most portable mattress to take for camping is a self-inflating mat. Although you might think that these mats are not as comfortable as regular foam mattresses, you must remember that these mats only have to support a person's weight.
Often, these mats can be rolled up and popped into a backpack, which is much better than toting a heavy foam mattress. The best thing about these mats is that they can be quickly and easily pumped up by blowing into it, which means that you can get a good night's sleep in a matter of minutes.
What is the Best Portable Mattress?
Choosing the best portable mattress for travel or home, you should select both comfortable and lightweight. It is also important that the bed has a carrying case to make it convenient to transport.
It should also be taken into account that an air mattress is best for travel, while for the home, you can use a memory foam portable mattress.
---
The Bottom Line
A portable mattress is an excellent idea for someone looking for a temporary solution to a sleeping problem. Whether you are an outdoor enthusiast, a frequent camper, or a student who needs a place to sleep when you visit home, portable mattresses can be a welcome addition to your life.
In this buyer's guide, I explored the best portable mattresses on the market, told about what I like and other useful features. I hope the buyer's guide and mattress reviews were helpful, and you'll use them while choosing the most suitable portable mattress for your needs.