The inflatable camping mattress has been around for some time now, but it is one of the most viable options to take with you on your next hike or camping trip. The challenge in picking the best inflatable mattress is that there are so many types and models out there for you to choose from.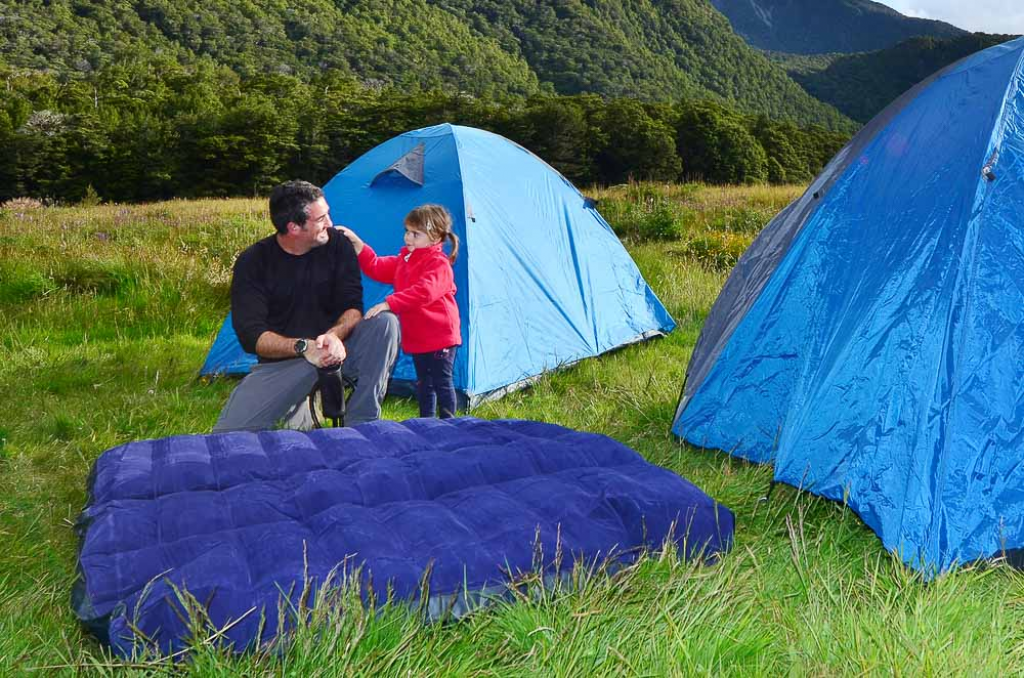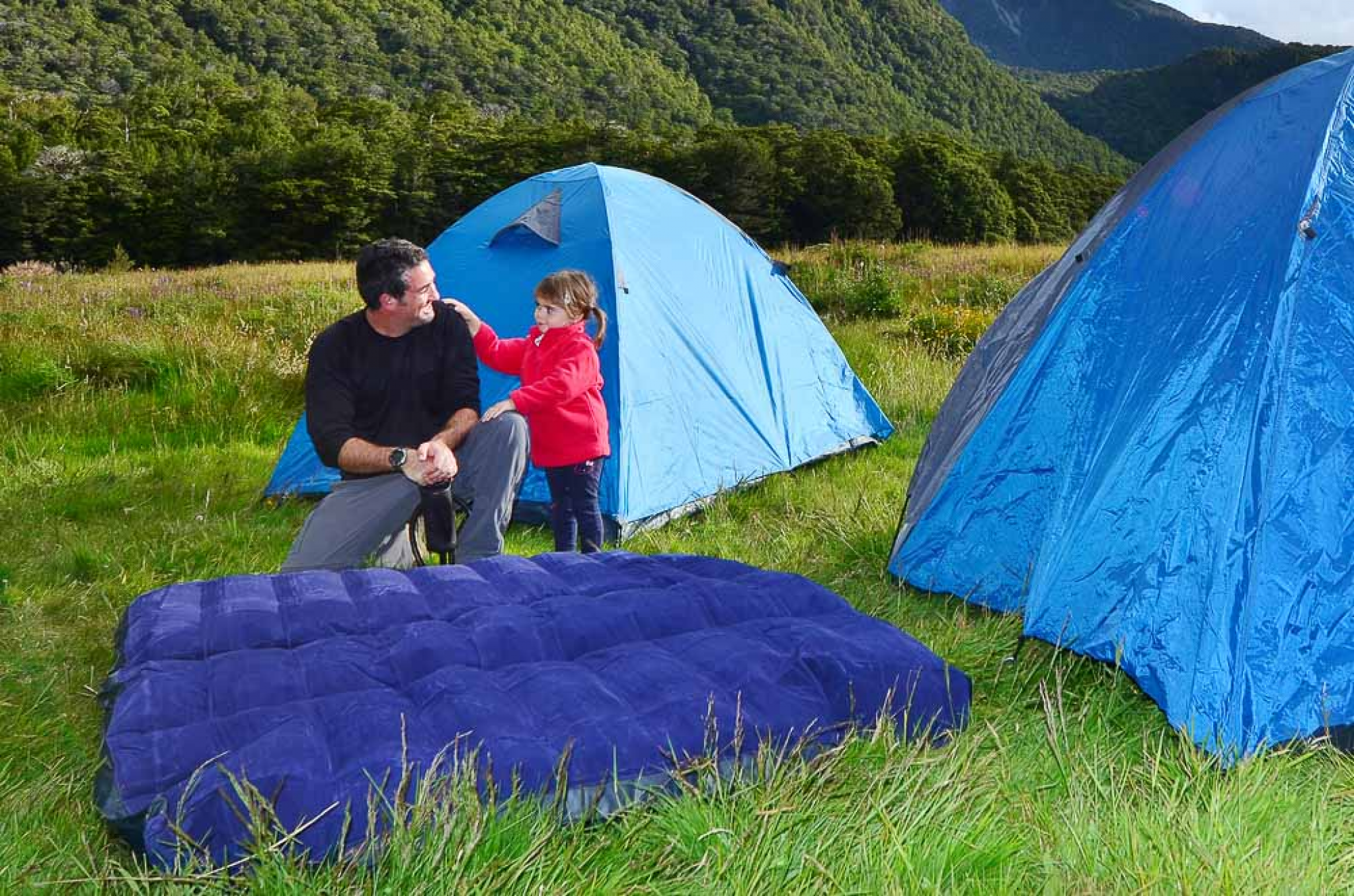 However, after careful consideration, we've found a few top models that are worthy of your attention. Keep reading to learn more about the best inflatable camping mattress available on the market today with its benefits and things to consider.
---
Top 5 Inflatable Camping Mattresses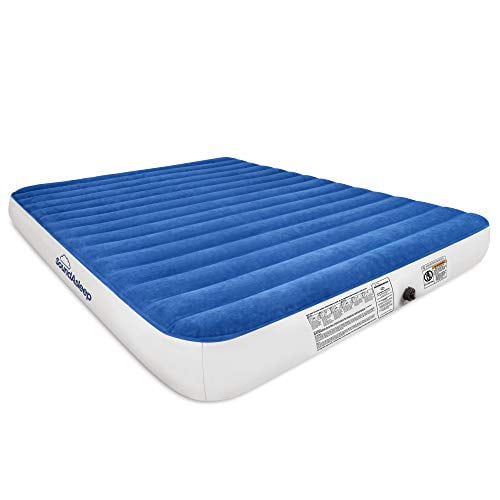 SoundAsleep Camping Series Air Mattress
Material: Polyvinyl Chloride
Product Dimensions: 78″L x 60″W x 9″T
Water Resistance Level: Waterproof
Price: $
---
Best Inflatable Camping Mattresses Reviews
SoundAsleep Camping Series Air Mattress
Best Overall
The SoundAsleep Camping Series Air Mattress is an inflatable mattress with I-Beam Air Coils and proprietary Eco-Friendly PVC designed for durability during outdoor use. With the SoundAsleep Camping Series air bed, you'll be able to camp outside all day long in luxuriant comfort without getting cramps or waking up with a sore back because of the hard ground underneath you. This air mattress is ideal for any camping trip because it's comfortable and easy to inflate.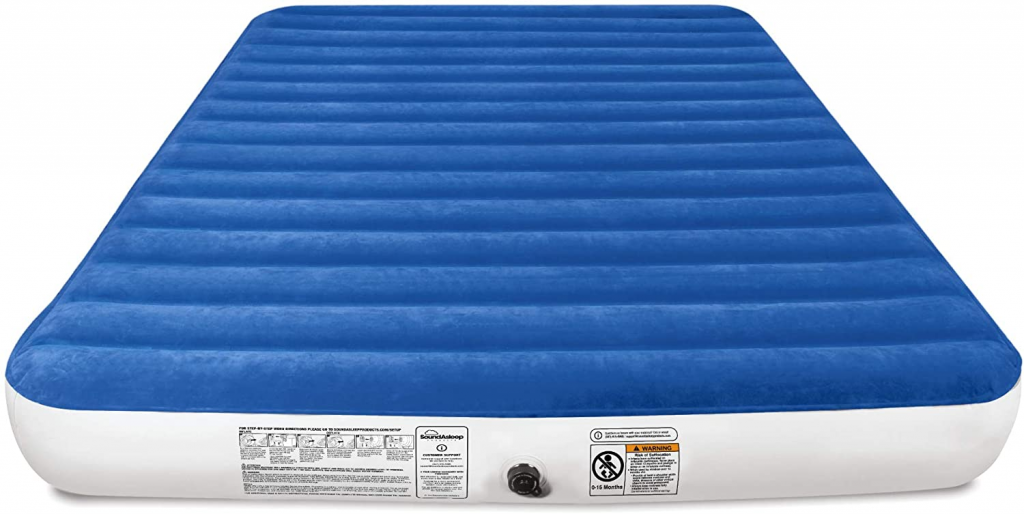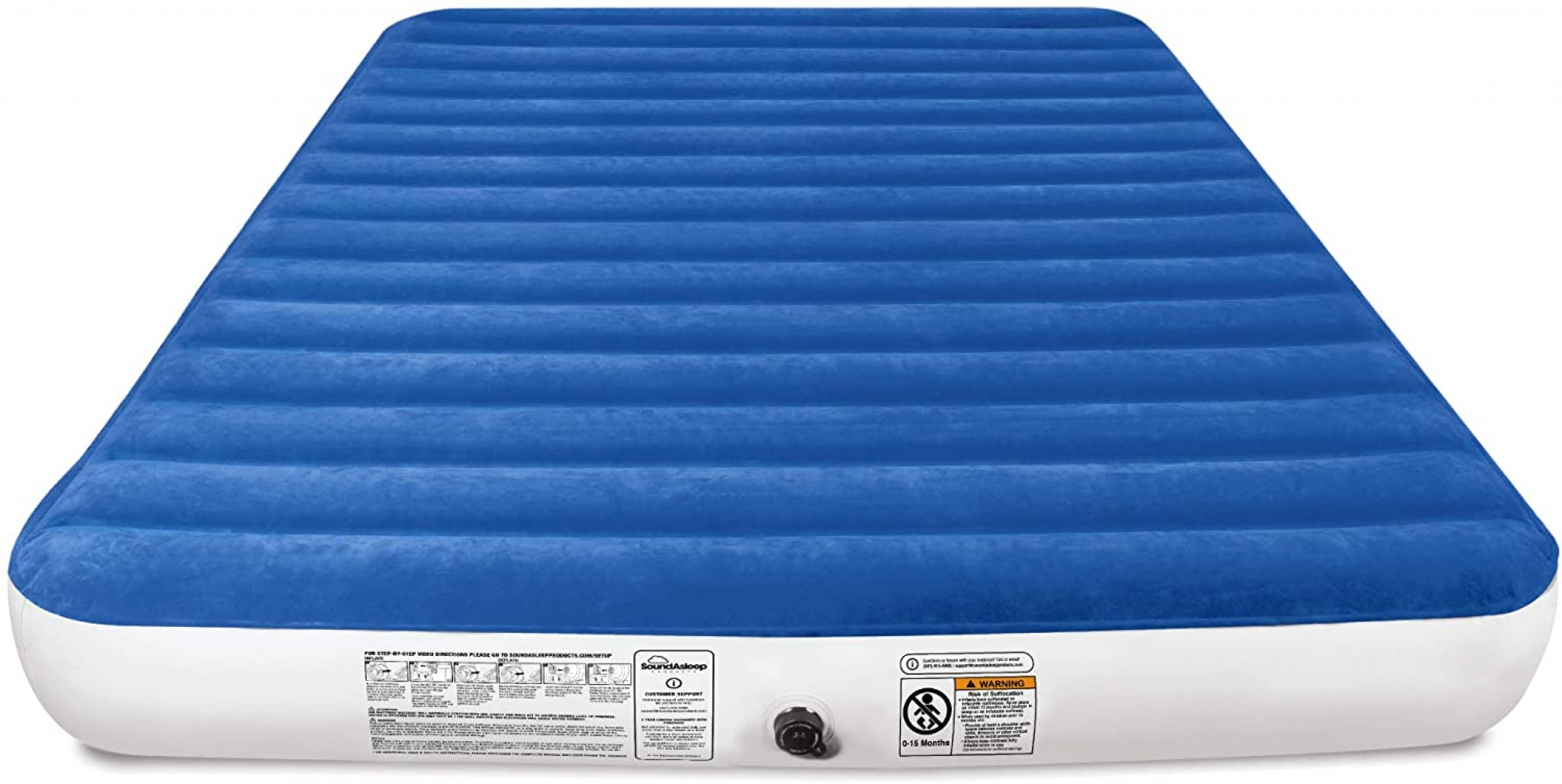 When you're camping, who wants to spend a significant portion of the day blowing up your air mattress? No one! That's why the SoundAsleep Camping Series portable bed comes with a built-in hand pump, so you'll be able to inflate it in less than 3 minutes.
Plus, after you use it, you can deflate it, roll it up and store it in the convenient carrying bag that's included with your purchase. This way, you'll be able to fit it easily into your small car or large SUV.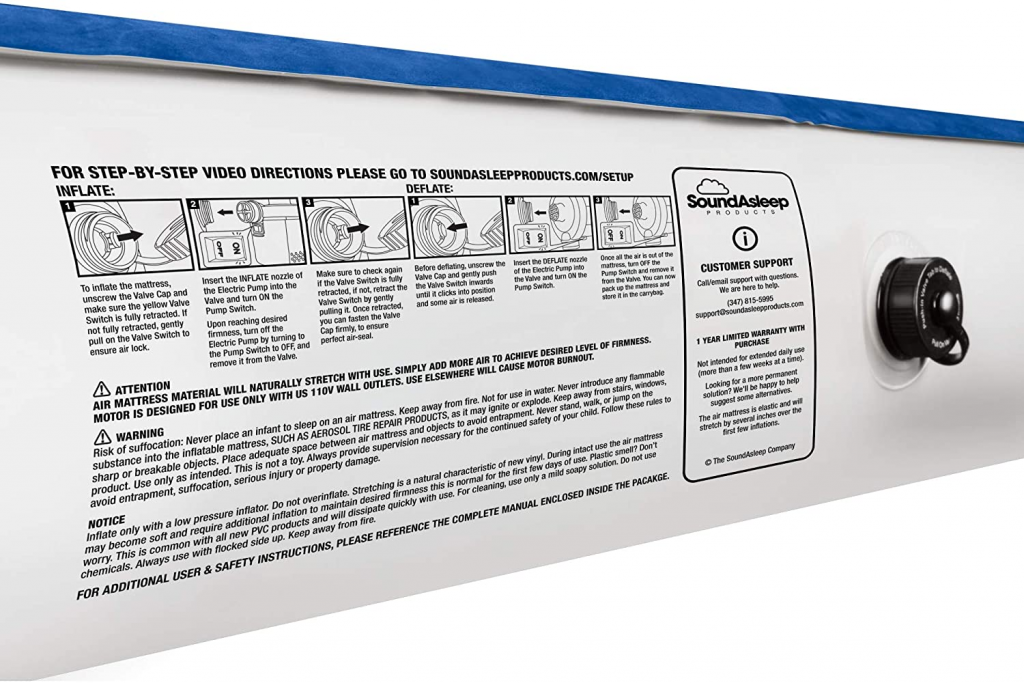 Camping on an air mattress means that if you move out of the tent in the middle of the night to watch the stars, your sleeping partner won't feel a thing. The SoundAsleep Camping Series bed is made with high-quality material, so you can't handle something through it.
In fact, this dual-layer construction is so thick it eclipses most other portable beds on the market. It also comes with a comfortable and soft flocked top layer that will keep you cool throughout the night and feels great against your skin for a restful sleep.
What I Like
The SoundAsleep Camping Series bed is made with high-quality materials that allow you to feel completely at ease.
This bed is more comfortable than the others on the market, and its thick construction ensures that you won't feel a thing during your next camping excursion.
I-Beam Air Coils provide you with an extra layer of comfort and support while sleeping, so you don't have to worry about waking up in the middle of the night with a sore back. This bed is so comfortable that many people would even consider it suitable for permanent use in their home.
This innovative bed comes with a built-in hand pump that will inflate it in under 3 minutes.
---
REI Co-op Camp Dreamer XL Self-Inflating Deluxe Bed
Best for Extreme Cold Conditions
A lot of people see the REI Co-op Camp Dreamer XL Self-Inflating Deluxe Bed as an excellent investment for anyone who spends a lot of time camping, hiking, or participating in other outdoor activities. This pad is light and compact, making it easy to carry with you on all your adventures.
Plus, this is one of the most comfortable pads available on the market today. You'll be reaching for this pad often when you're out camping, hiking, or any other outdoor activities.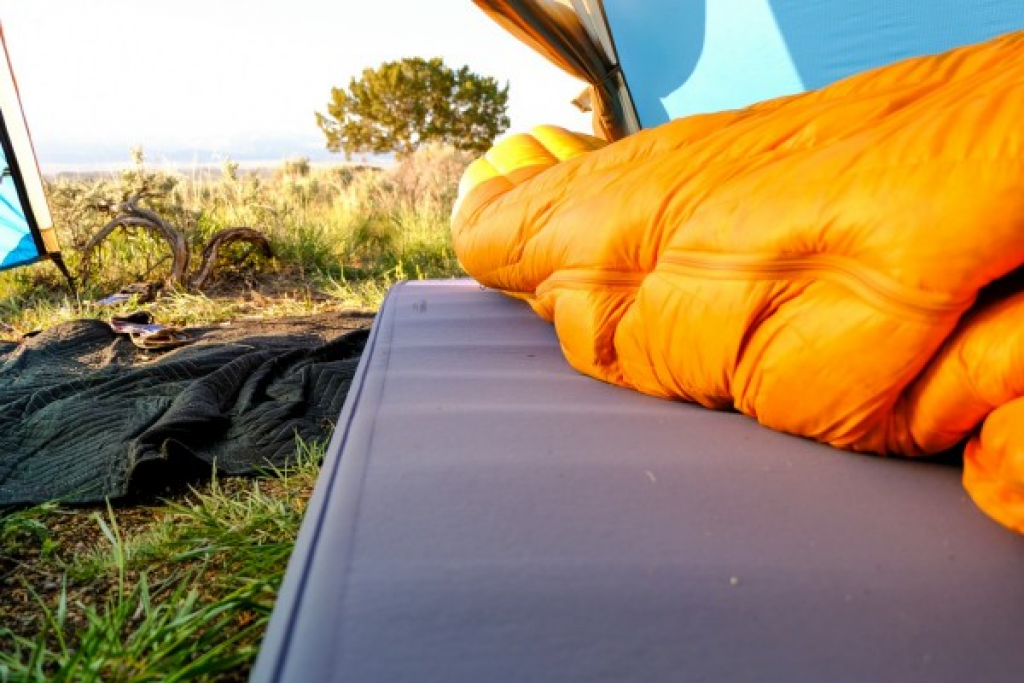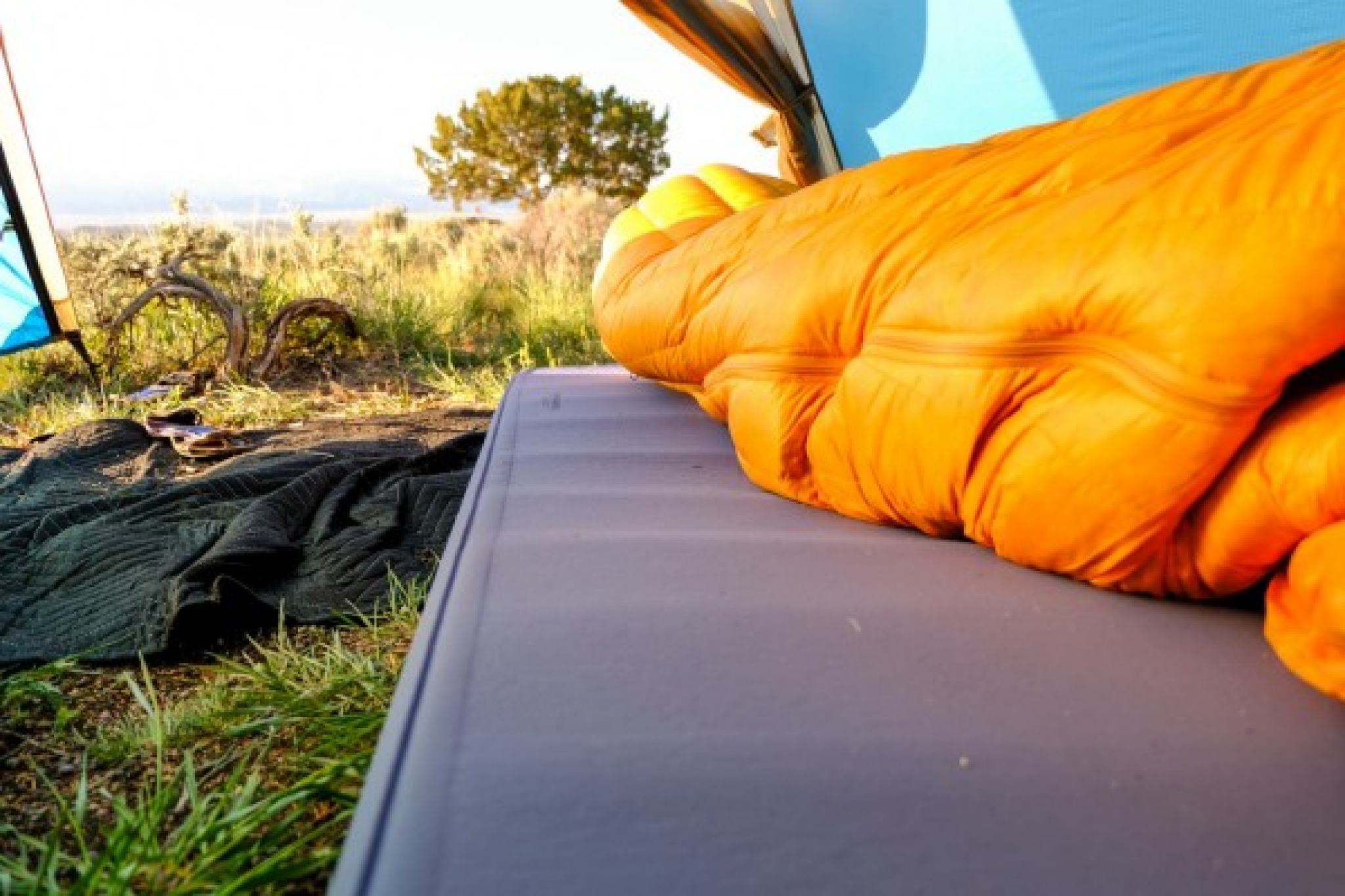 The Dreamer XL Self-Inflating Deluxe Bed is made out of puncture-resistant hybrid material. This material delivers the comfort you will look for while maintaining shock absorption and durability. It's made with a rectangular shape that allows for extra room. A ridged design is sewn into the mattress, so you'll have a comfortable sleeping experience during your outdoor adventures.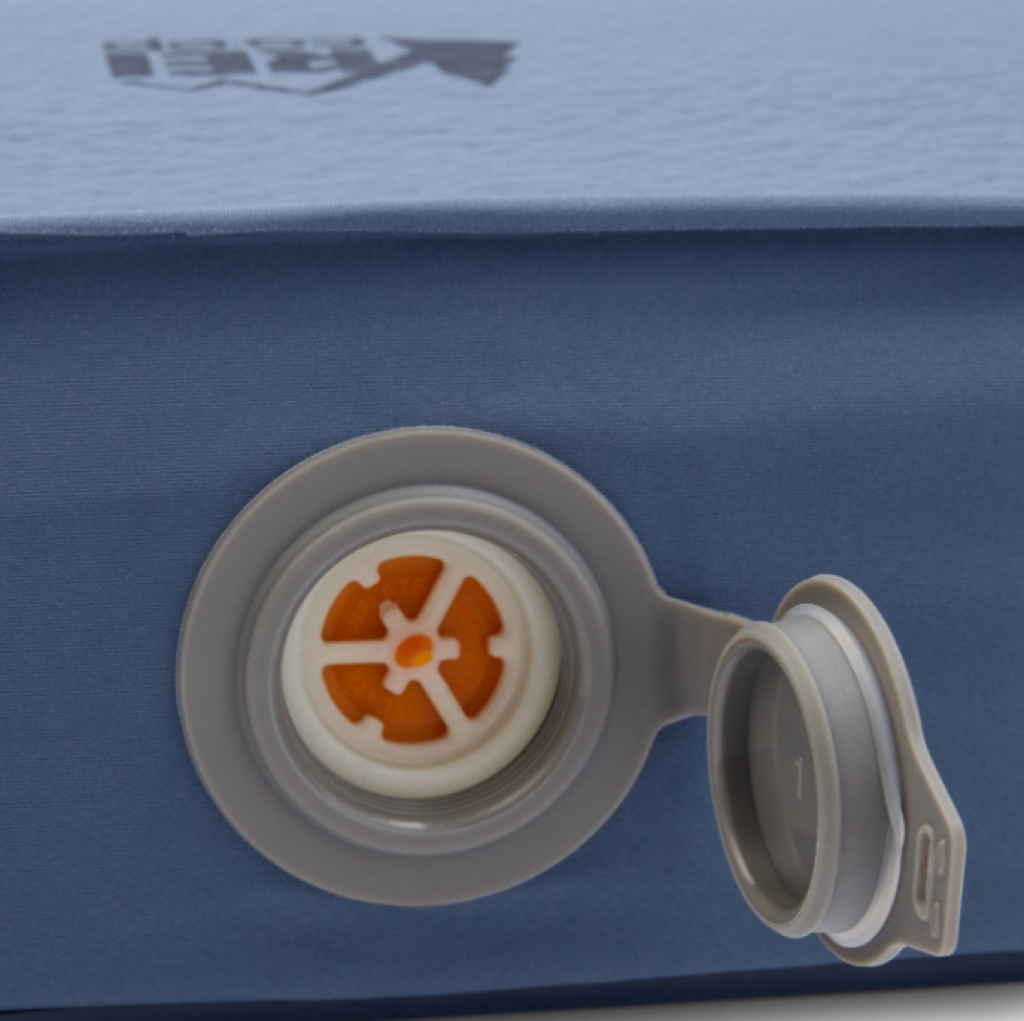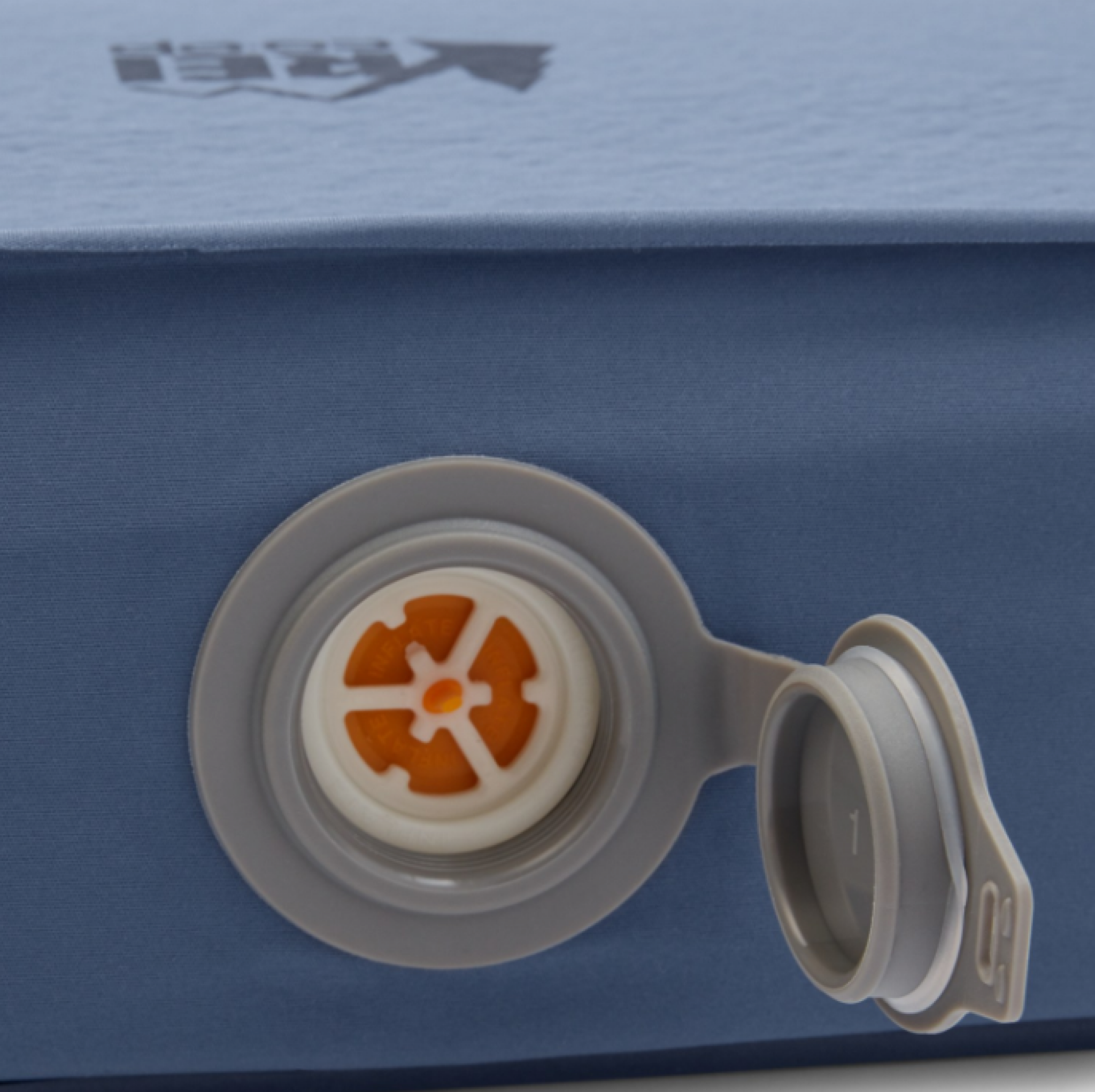 Another great feature of the Dreamer XL Self-Inflating Deluxe Bed is its versatility. Depending on your preference, this bed can be inflated quickly using the included pump or via foot pump. In addition, this pad can be used as a regular foam mattress regularly. And, of course, it can be used for air mattresses and beds.
The REI Co-op Camp Dreamer XL Self-Inflating Deluxe Bed is an excellent investment for anyone who spends a lot of time outdoors.
What I Like
The mattress is breathable, durable, resistant to dirt and water.
It provides excellent flexibility.
The unique pump makes the inflation and deflation process very easy.
---
Therm-a-Rest MondoKing 3D Self-Inflating Foam Camping Mattress
Best Breathability
Are you looking for a way to optimize your camping adventure? A Therm-a-Rest MondoKing 3D Self-Inflating Foam Camping Mattress is perfect for the occasion. Every night of the adventure, you can help yourself sleep more comfortably and warm with this mattress.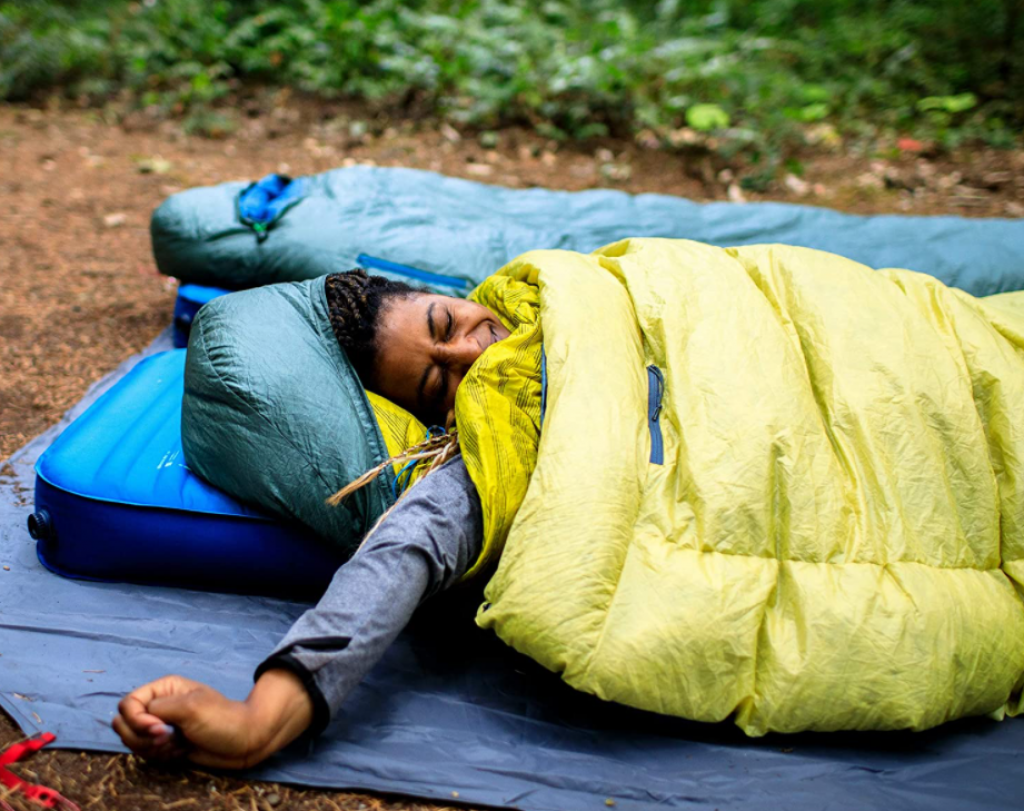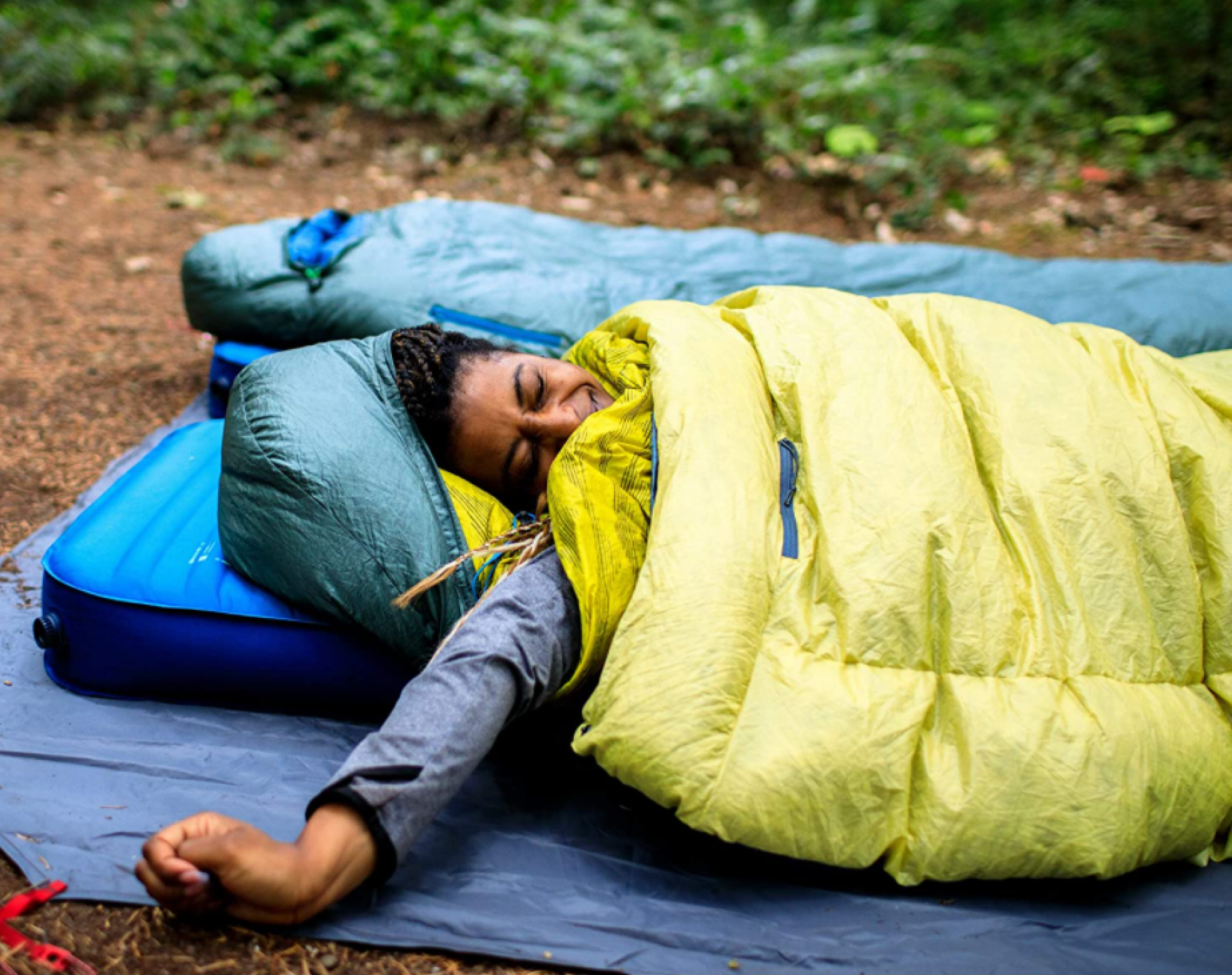 If you're an avid camper, then this is something that should be on your radar. It has many features that make it easy to enjoy a quality night's rest, such as its large size and long lifespan. You'll love just how comfortable this pad is going to be and how it helps keep you dry through any stormy weather or near-drowning experience that may occur when sleeping out in the field.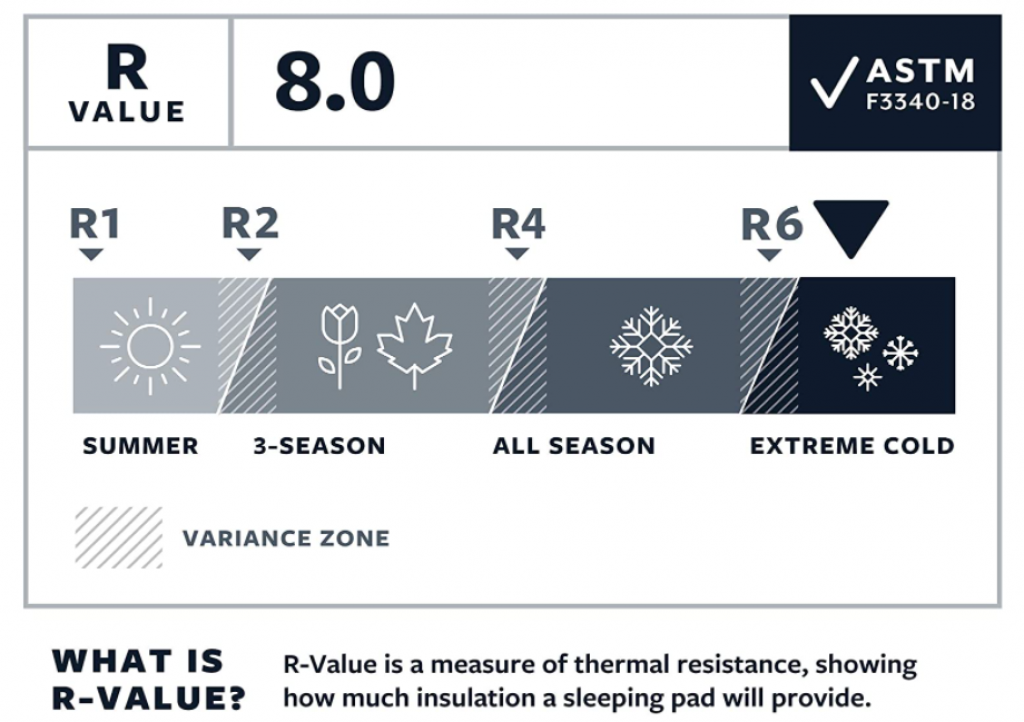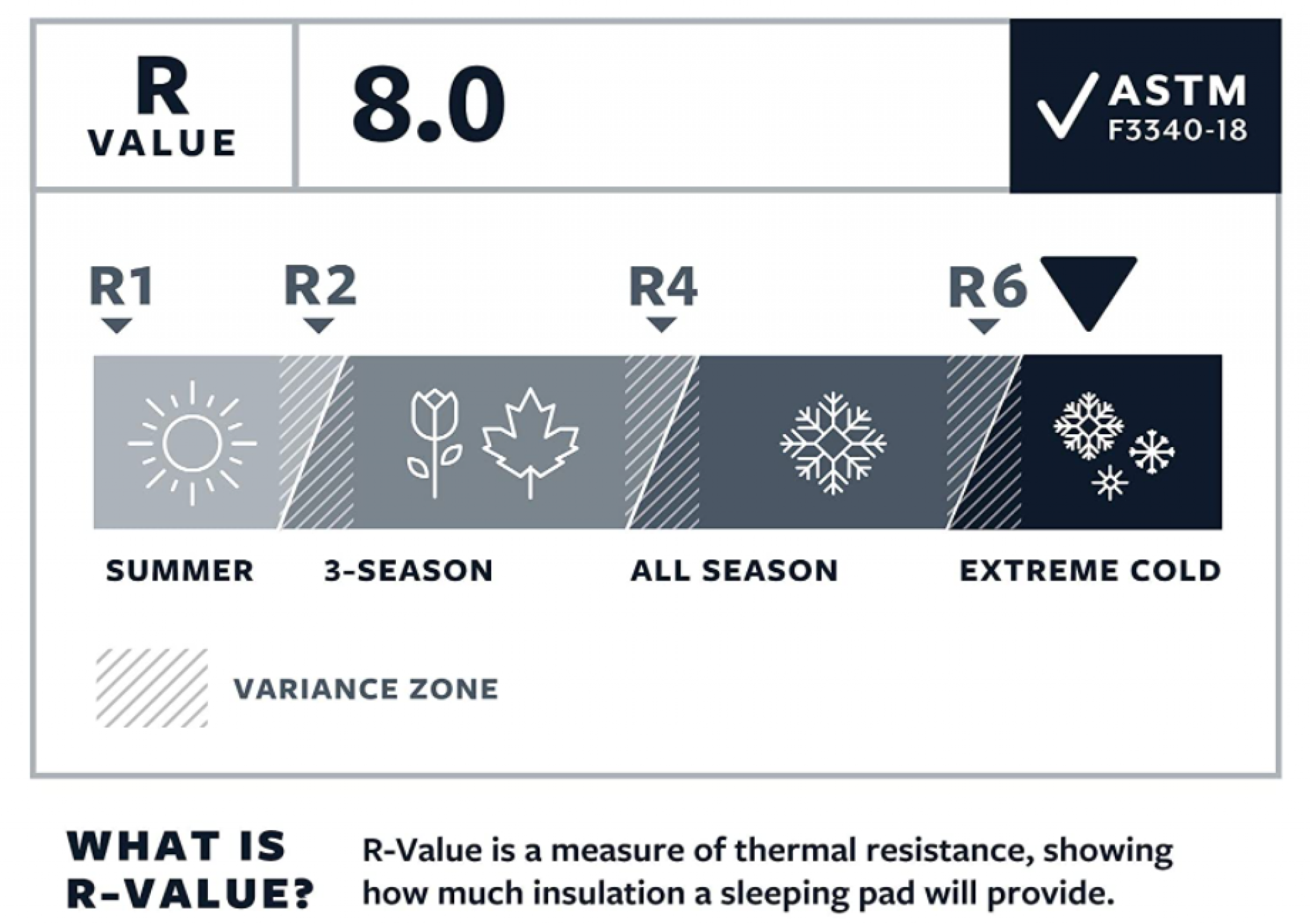 It's a large size and will provide you with the perfect amount of space to have a good time sleeping outside. It has a fully enclosed design that provides thermal stability and keeps you comfortable at night.
The durable PVC-free construction also means that your mattress won't break down on you while it's still within the warranty period. This product is a valuable investment and will help your time outdoors be more enjoyable.
A Therm-a-Rest MondoKing 3D Self-Inflating Foam Camping Mattress has many valuable features that make it a worthwhile investment for any camper.
What I Like
It has a large and comfortable design that will help you get a quality night's sleep.
It comes in an easy-to-use package that makes it simple to set up and use.
It features durable PVC-free construction, ensuring it lasts for years of comfort in the field or at campground sites.
The inflated mattress has dual valves for quick inflating and deflating.
---
Sea to Summit Comfort Deluxe Self-Inflating Foam Camping Mattress
Best fabric with an Anti-slip Print
The Sea to Summit Comfort Deluxe Self-Inflating Mattress is a 4 inch thick, 4-season luxury foam sleeping pad for home and travel. Multi-function reversible valve for fast and easy inflation.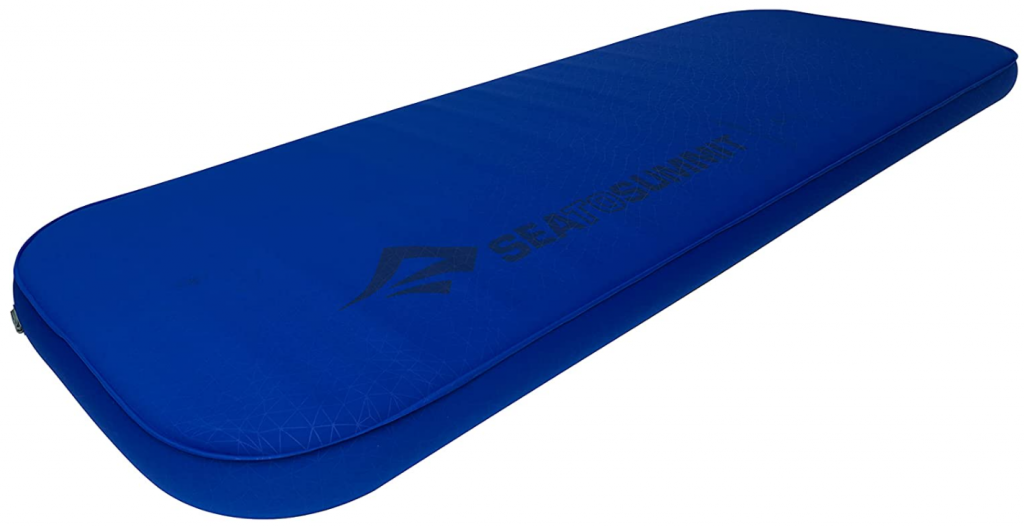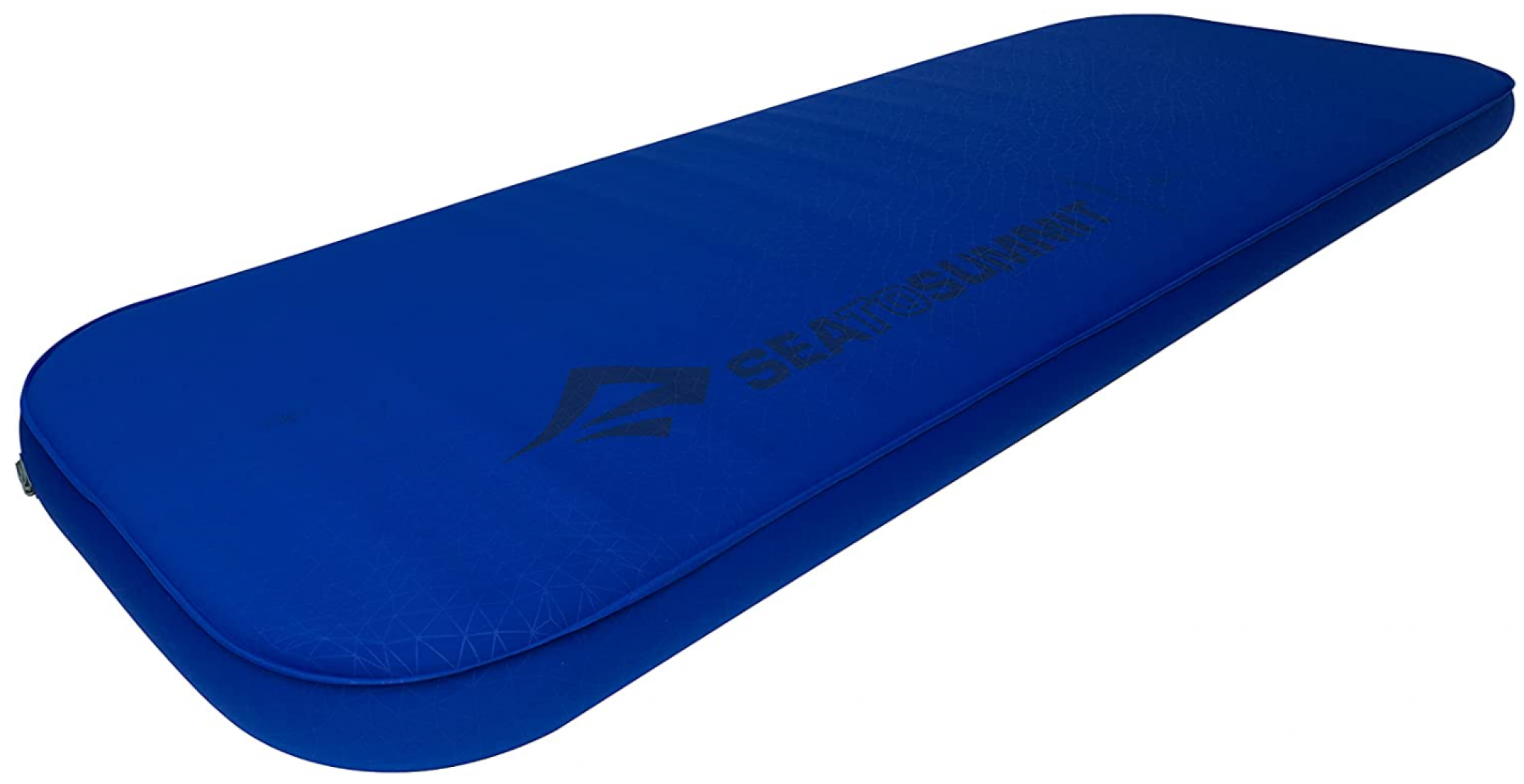 The mattress has a 6.5 R-Value. It ensures that the pad will insulate in the coldest temperatures. Durable 75D polyester with laminated TPU used on the base provides enhanced durability plus insulation from abrasions or punctures.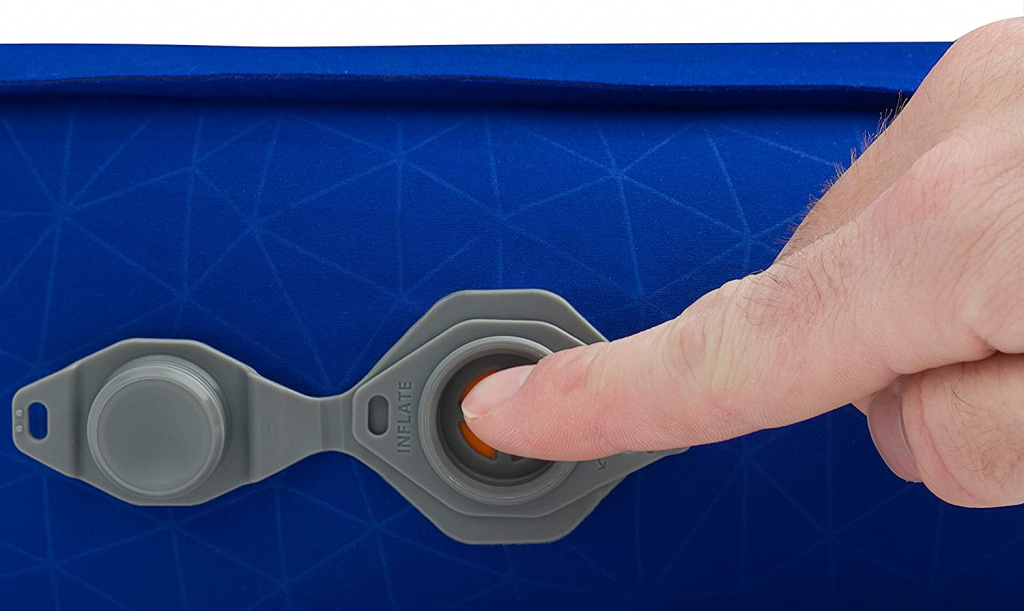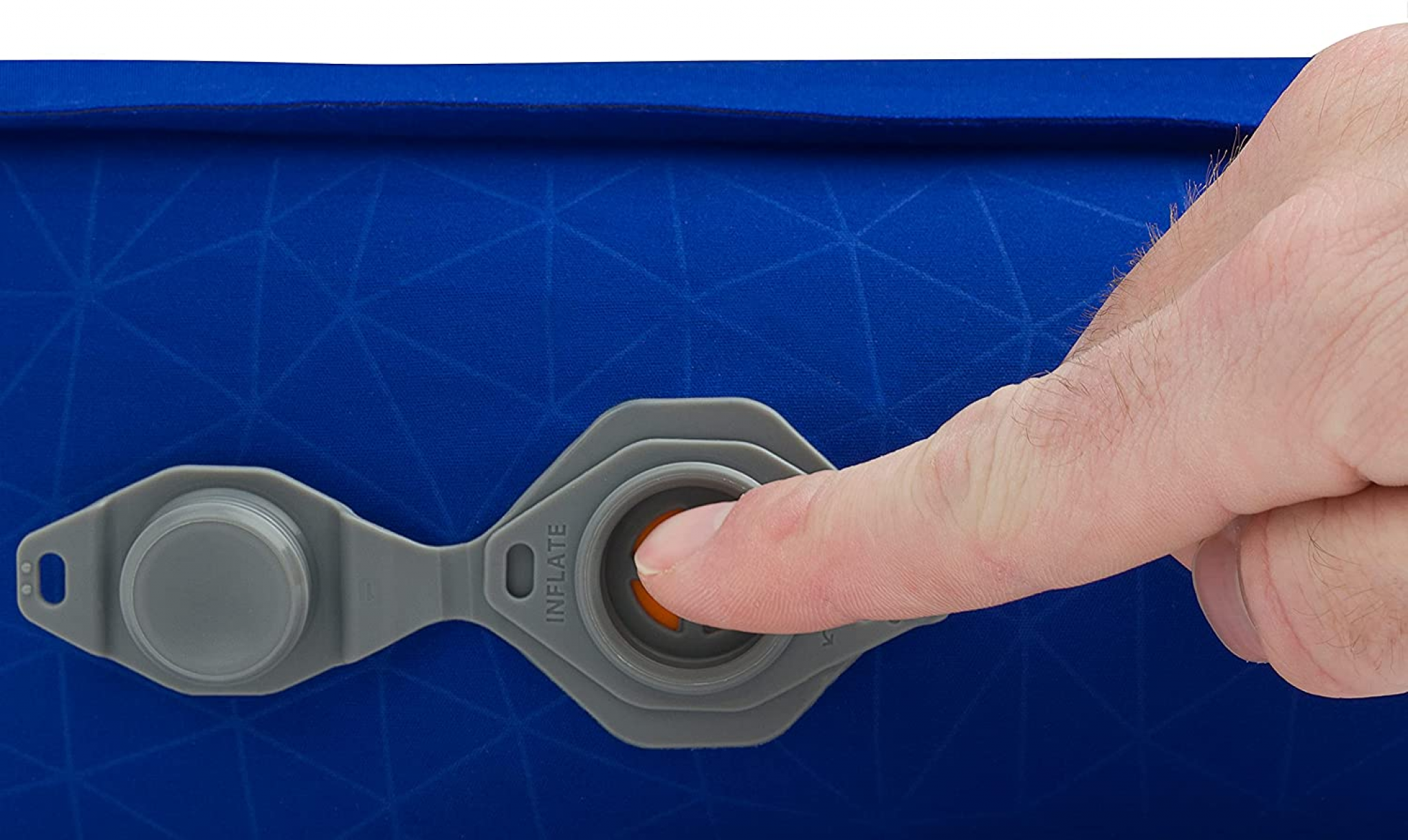 The Sea to Summit Comfort Deluxe Self-Inflating Mattress is a comfortable, four-inch foam padding with an R-Value of 6.5, perfect for winter backpacking trips up north or lounging around at home post-marathon binge Netflix session.
It's compact and easy to pack, great when you want a quick, affordable camping pad. I love the Sea to Summit Comfort Deluxe Self-Inflating Mattress and recommend this product to my friends.
What I Like
This product has a reasonable price.
Its rapid inflation is easy with the built-in pump.
It is a hygienic and non-pollutive sleeping pad, and you can use it indoors or outdoor.
This mattress is a high-quality, durable product that will last a long lifetime and another life.
---
Sleepingo Camping Sleeping Pad
Best For Backpacking
If you've ever camped and considered yourself a true camper, then you know to invest in a good sleeping pad. A sleeping pad is the most critical item that should be added to your camping gear, and we here at Sleepingo Camping offer an inflatable mattress that does not disappoint!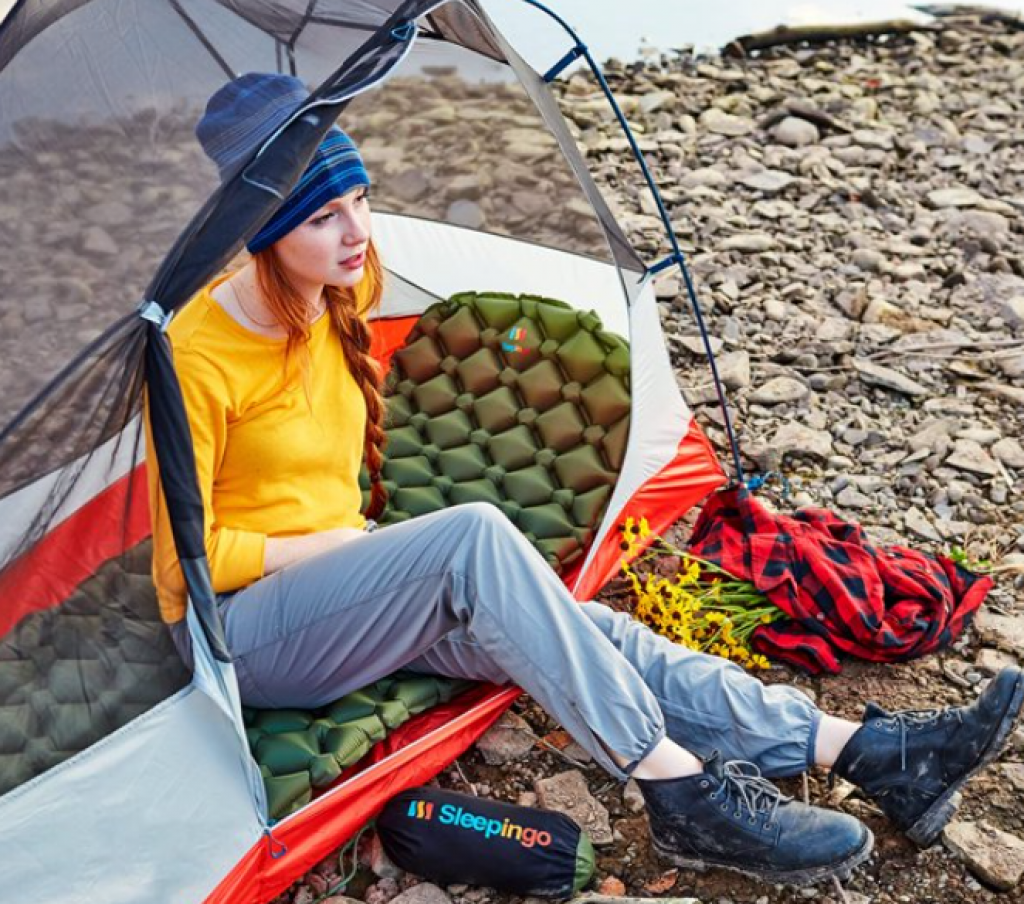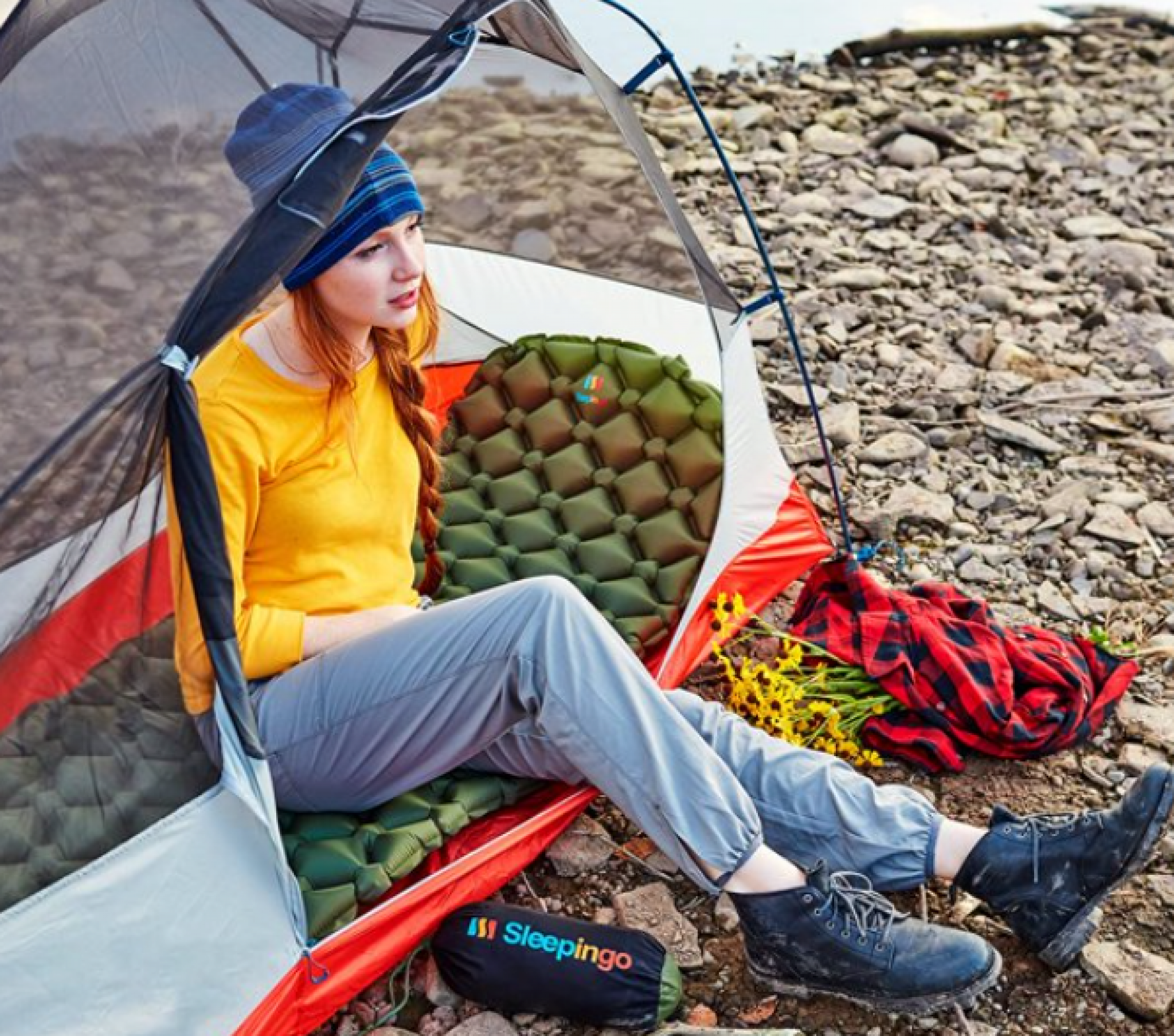 Sleepingo Camping Sleep Pad has been specially designed with the needs of all types of campers in mind. In fact, this air mattress features two inches of support for optimum comfort, even if you're a side sleeper.
This inflatable camping pad also weighs only 14.5 oz and packs down to the size of a thin water bottle. Another feature that makes this mattress so great is the heavy-duty ripstop nylon fabric that's tear-resistant and durable for a lifetime of use.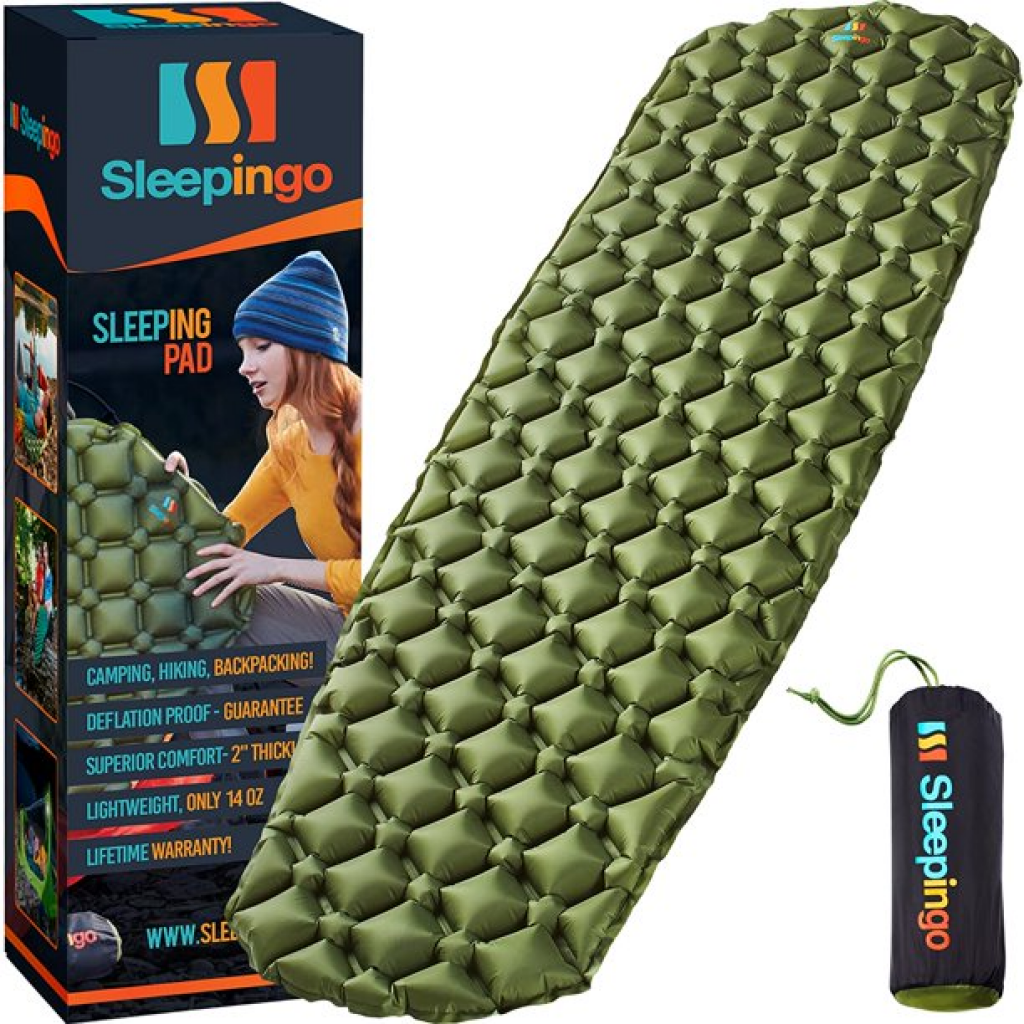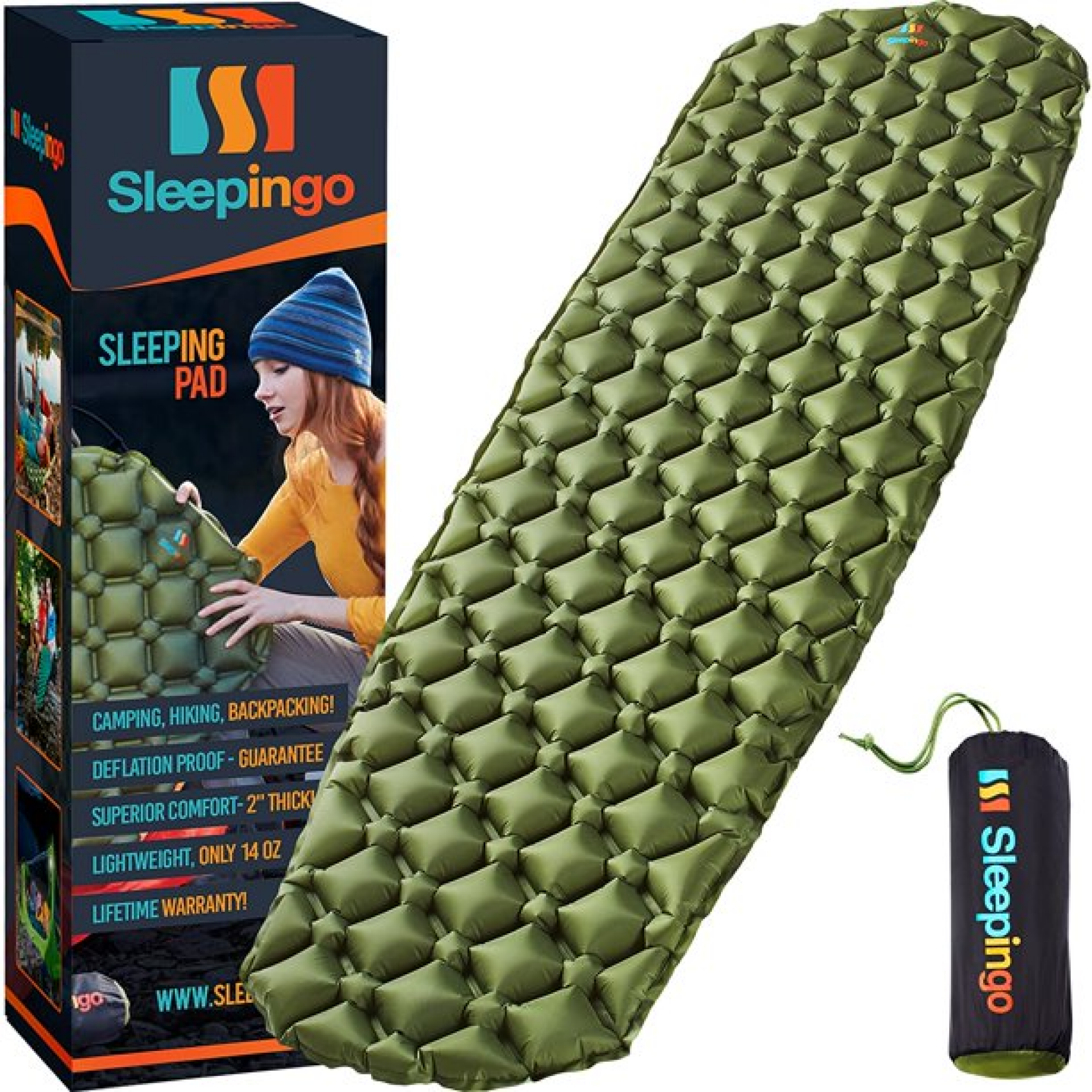 Finally, if you've been looking for a camping pad with an easy-to-use pump system, then Sleepingo Camping has what you're looking for! Our mattress has an efficient dual action pump that provides uninterrupted sleep every night.
What I Like
Get rid of back pain or discomfort, and soreness with this mattress.
This comfy and breathable mattress allows a good night's sleep easily.
The airflow keeps you cool in summer, warm in winter.
Made of high-quality ripstop nylon fabric, this reliable 2″ thick sleeping pad is perfect for any camping comer (both lightweight and capable of staying inflated for several days).
---
Buyer's Guide
Inflatable mattresses are commonly used by campers and travelers who wish to have an instant overnight stay wherever they may be. To help you weed out the chaff and find a good choice of an inflatable camping mattress, we've got this buyer's guide below, in which we'll look at what to consider before taking the plunge. The following factors will help you make a smart purchase decision.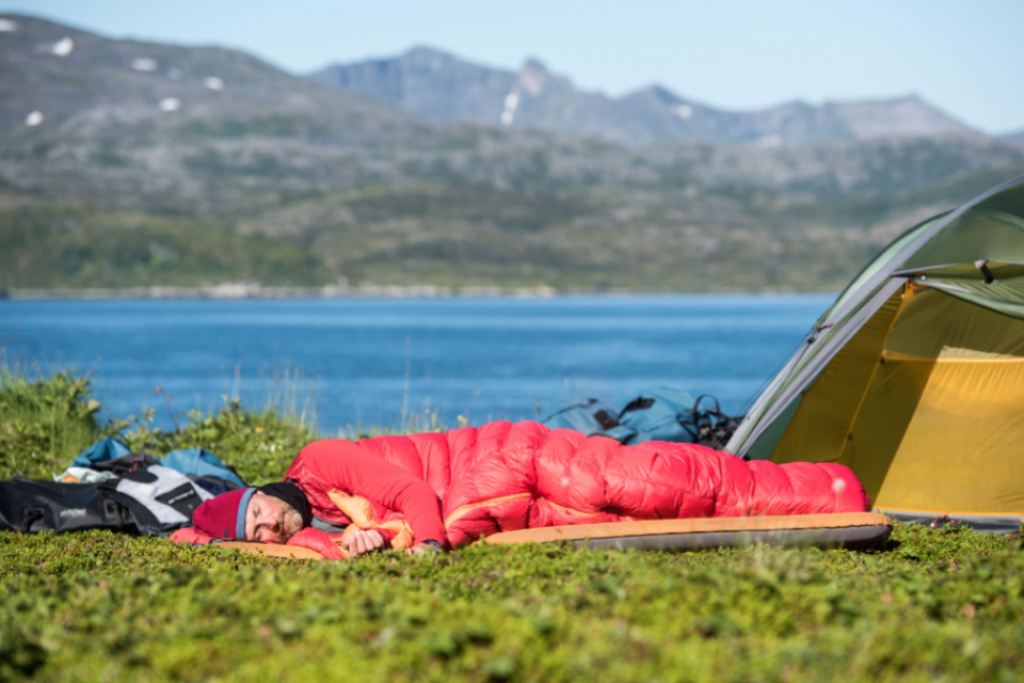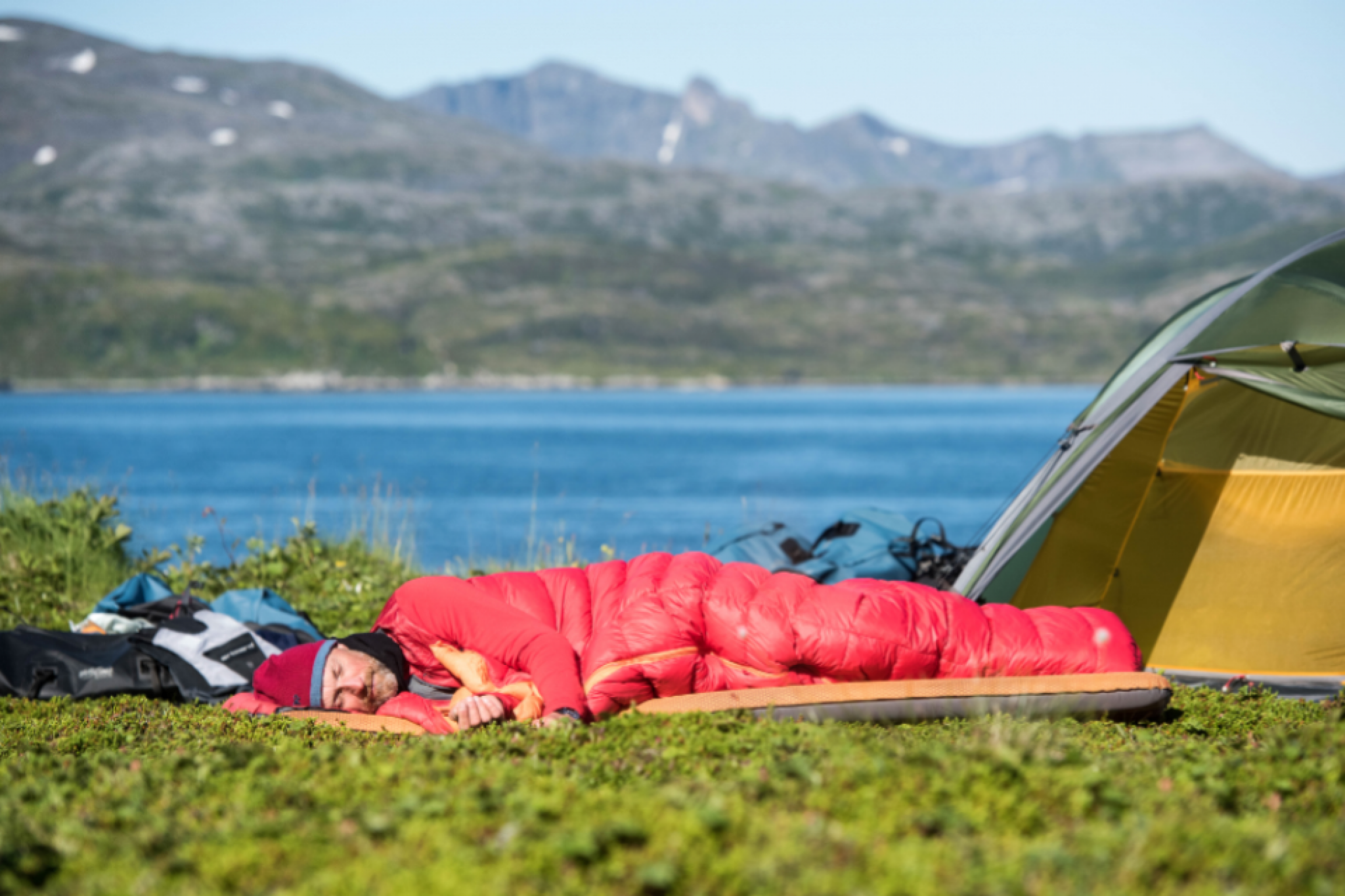 ---
What Is An Inflatable Camping Mattress?
An inflatable camping mattress is a portable mattress type that can be set up quickly and easily. They are made of lightweight and highly durable materials that let you enjoy the comfort you need when traveling or camping outdoors.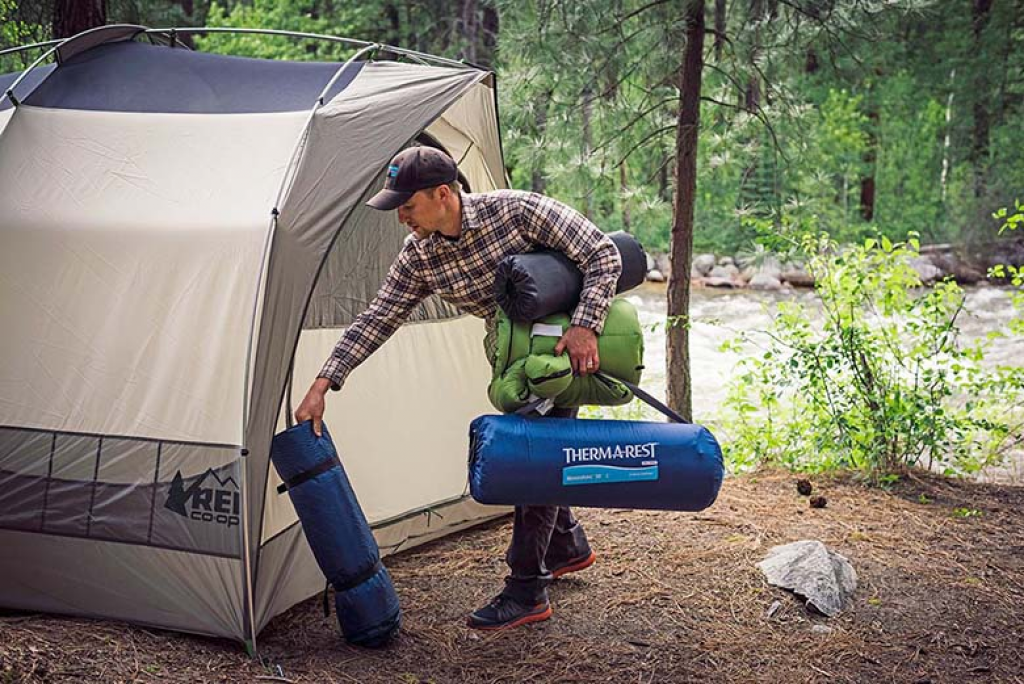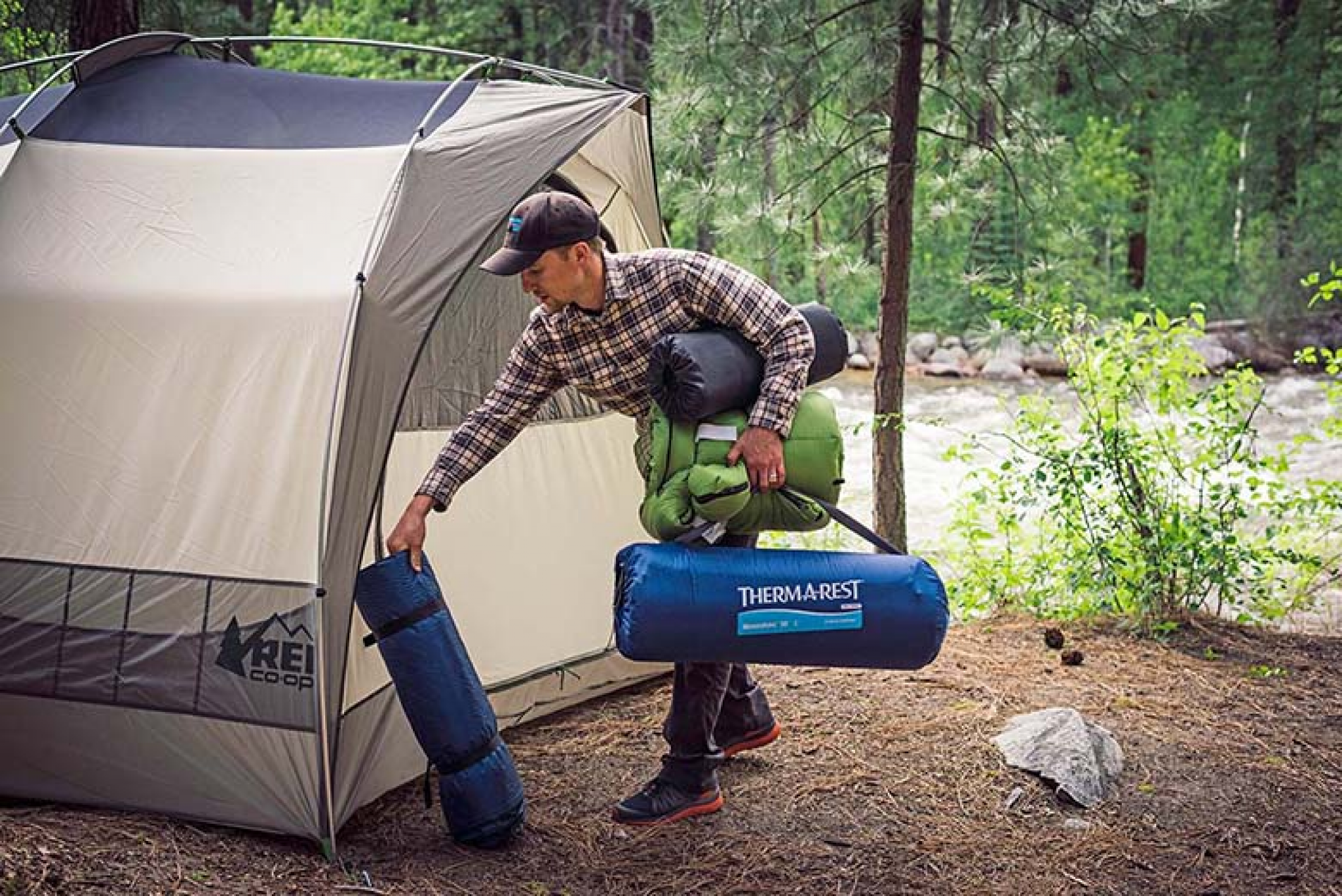 Some tourists think that an inflatable mattress is so lightweight that they may feel a bit unsecured when they sleep on it. However, once you get used to it, this feeling will go away, and you'll forget all about it. The moment you roll over, the airbed will simply adjust itself to your new position.
---
Why Should You Buy An Inflatable Camping Mattress?
The first and most important reason to buy an inflatable camping mattress is that it's so lightweight. It's portable, easy to set up and use, and it provides a comfortable night's sleep for both you and your partner. It is also very durable and tough against punctures and tears so that you can rest almost anywhere during your trip or vacation.
---
Inflatable Mattress Types
There are two main types of inflatable camping mattresses: self-inflating and air mattresses. The benefits of each are different, and we'll go over them now.
Self-Inflating Mats
Self-inflating camping mattresses are the most popular type of mattress. They're lightweight, easy to set up and use and provide a comfortable night's sleep for you and your partner.
They are made especially for tents, RVs, vehicles, kayaks, and other outdoorsy devices that let you take them on trips and let you enjoy a comfortable night's sleep wherever you may be. As such, they do not provide much insulation.
These inflatable beds are made from durable materials like PVC-coated vinyl, which can withstand being punctured or squashed by an object that weighs more than 200-300 pounds.
Air Mattresses
On the other hand, air mattresses can provide a comfortable night's sleep to one or more people. These mattresses are the perfect choice for people who wish to have an instant overnight stay wherever they may be.
Since they are lightweight and easy to set up, air mattresses are also great for camping and traveling in general. Air mattresses are made from durable materials such as PVC-coated vinyl, which is puncture-resistant and can withstand an object weighing more than two pounds.
---
Benefits Of The Best Inflatable Camping Mattress
There're many benefits of using an inflatable mattress at home or outdoors.
Durability
An inflatable mattress will maintain its shape and solidity no matter how many times you roll over or what position you sleep on it. It will support your back, making it a good choice for sleeping on. Plus, the air used in this mattress works to keep you cool all night long.
Portability And Ease Of Use
There's no worrying about packing up bulky and heavy inflatable mattresses to take with you when traveling. All that you need is a pump to inflate the bed, and then all you have to do is lie down on it for a comfortable night's sleep anywhere outdoors.
Comfort
As its name suggests, an inflatable mattress will give you a comfortable night's sleep. It provides enough cushioning and support for you to get a good night's rest anywhere outdoors. You can sleep comfortably under the stars on this inflatable mattress without worrying about leaks or sinking into the dirt.
Easy Set-Up And Quick Deflation
Setting up an air mattress is easy, and it can be done within minutes. You can use a built-in or external pump.
---
What To Consider When Buying An Inflatable Camping Mattress
You should consider a few things when buying an inflatable mattress for camping. Here are the most important ones.
Dimensions And Weight
Since you'll be taking the mattress with you on hikes and campouts, it's important that you weigh your options carefully when it comes to this factor. The best mattresses for camping will have dimensions of at least 70 by 30 inches, with a thickness of about 1 to 4 inches.
You'll also want to make sure that the mattress has a folding design and weighs only as much as you can carry without any difficulties. Otherwise, it's not worth bringing along.
Mattress Insulation: R-Value
R-value matters in this case because the R-value indicates how well your mattress will insulate you from cold surfaces, thus keeping you warm and comfortable at night. It is also essential to consider how long it can take for the bed to get back to its original comfort level once you start using it.
The best inflatable mattresses with R-values as high as 9 or 10 will keep you warm, while a lower value of 3 or below may make you shiver all night. Therefore, use your common sense to find the right sleeping solution.
---
How To Store Your Camping Mattress
When you're not using your inflatable air bed for a long time, you'll want to keep it protected to make sure it will last for a long time. Here's how.
Clean Your Mattress
Most people don't know that you need to clean your mattress after every use if you want it to last a long time. Therefore, before closing it up, make sure that you dust off any dirt or gravel and check if there are any punctures or tears in the material.
If there are any holes, fix them using the patch kit right away and clean the surrounding area first with some water and soap. It's best to clean the area at least once a month.
Roll It Up
After you're done cleaning and tidying up your airbed, roll it up, making sure there are no creases in the material, which may cause it to unroll later on. This will make things easier when you set it back up again.
If anything should go wrong with the mattress during transport, you won't have to worry about it being itchy or "bunching" in places. By rolling it up correctly, you can keep it as compact as possible and ensure that your inflatable camping mattress is safe from many accidents and mishaps in the future.
Store It In A Cool Place
Most new beds are made from vinyl material. This is what is used to make the airbeds and air mattresses of today, and that's why they need to be kept in a cool place. By storing them in places such as your garage or attic, you can avoid lasting damage to the mattress on the cold surfaces inside.
Air It Out For A While
Finally, you'll need to let the mattress dry out. This may take a few hours or even a day or two, depending on how humid the air is in your house. Don't leave it in there for too long, though, and make sure that it's dry before you use it. Otherwise, the moisture may seep into the mattress and cause discoloration, rashes, bed bugs, or other problems later on down the road.
---
The Bottom Line
We hope that this little guide has been comprehensive enough to help you make the right decision when it comes to buying an inflatable mattress for camping. Do you have any tips and tricks to share with our readers? If so, please leave a comment below and let us know!
---
FAQ
How Thick Should A Self-Inflating Camping Mattress Be?
The thickness of the inflated mattress will be determined by the comfort level you would like, as well as how much weight and space you need for your backpack and other camping gear. But usually, for a self-inflating mat, it should be about 2 inches (5 cm).
What Should I Look For In An Inflating Mattress?
In order to know if you're getting a quality product, it's essential to consider what you're buying. A few features that you should look for in an inflatable mattress are large enough for two people, good support and comfort, versatility, and waterproofing.
You want the product to be thick enough that the air won't escape through the seams so that it will hold up over time. While looking at this type of mattress, other things to keep in mind are whether or not it inflates fully within minutes or takes longer than a few hours.
Are Inflating Mattresses Any Good?
Yes, inflatable mattresses are the best when it comes to camping. These mattresses are usually lightweight and compact, so they can be easily carried when you're on the go. Moreover, they will still give you enough comfort without taking up too much space in your luggage.