The most affordable way to improve your baby's bed comfort and hygiene is to find a mattress cover. As mattress ages, it can become more susceptible to dust mites, mold, bedbugs, and other allergens.
---
Top 5 Best Crib Mattresses Covers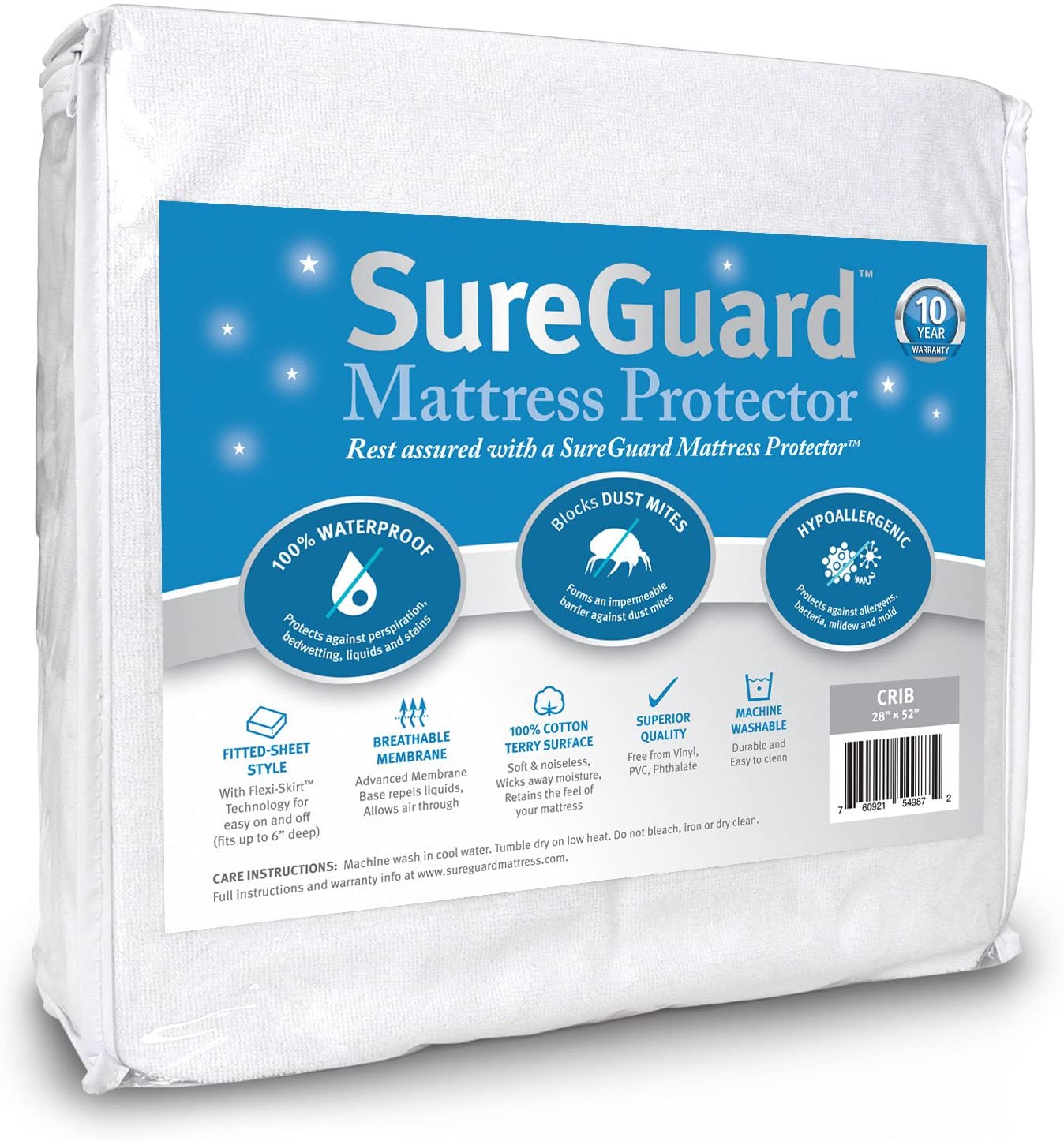 SureGuard Crib Size Mattress Protector 
Certified: GreenGuard Gold
Dimensions: 28 in x 52 in
Materials: Cotton
Price: $$
---
The best crib mattress cover is an affordable, effective way to protect your mattress from these common household invaders. The best mattress cover will be made of a material that is both waterproof and resistant to allergens. The cover should also be easy to care for and odor resistant, as well as machine-washable.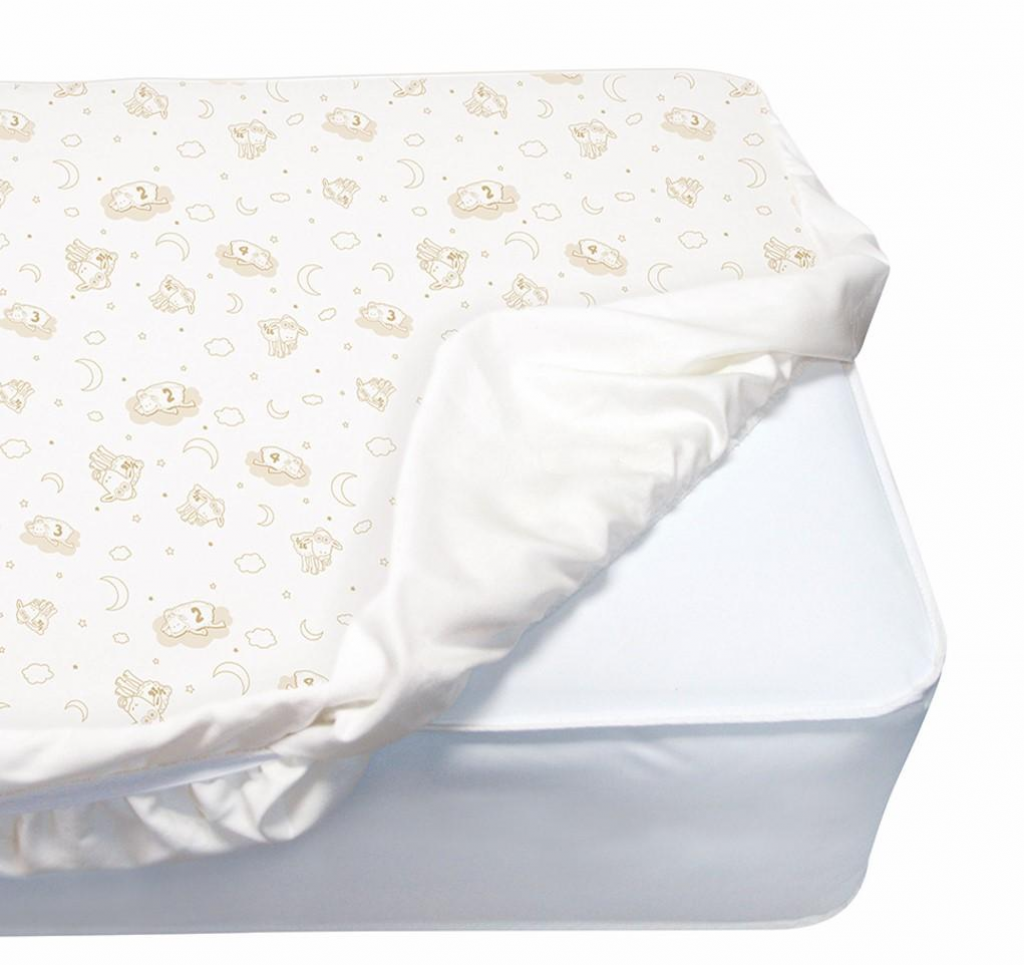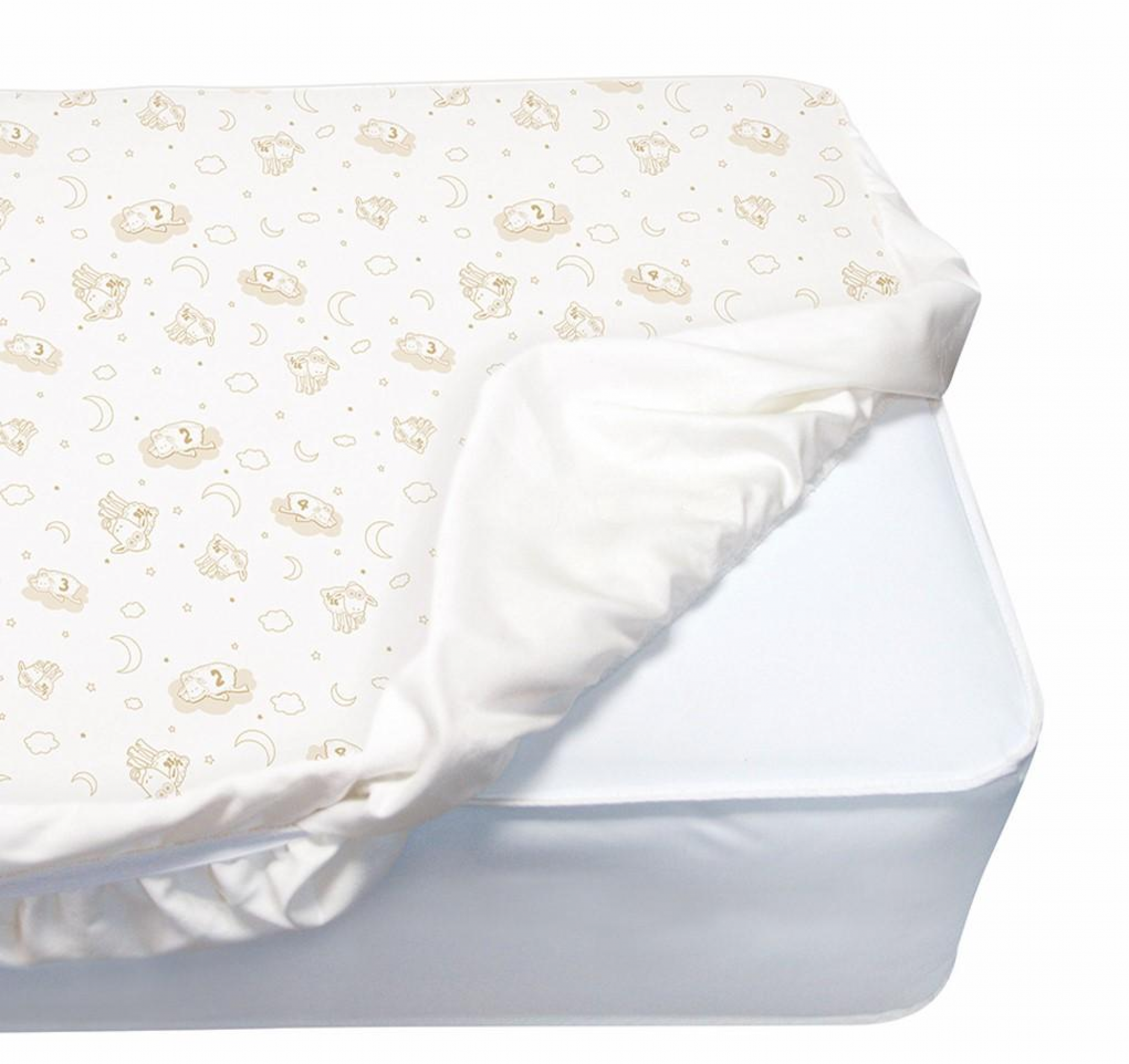 I did my best and reviewed many pads to find the best crib mattress cover. Let me introduce the review and useful information about choosing the right crib mattress cover for you.
---
Best Crib Mattresses Covers Reviews
SureGuard Crib Size Mattress Protector
Best Overall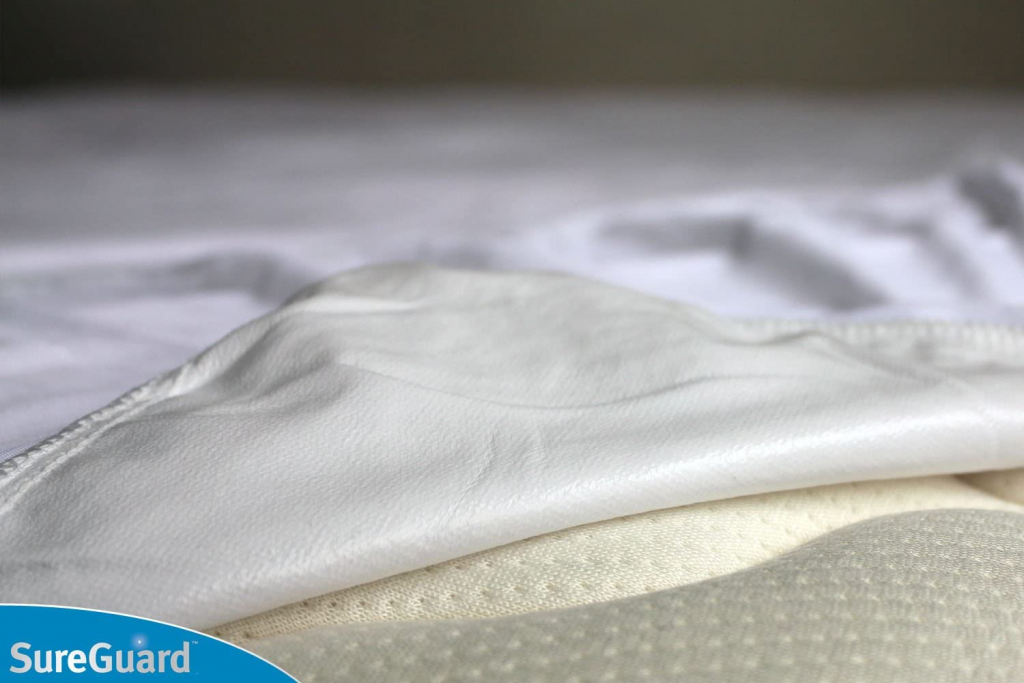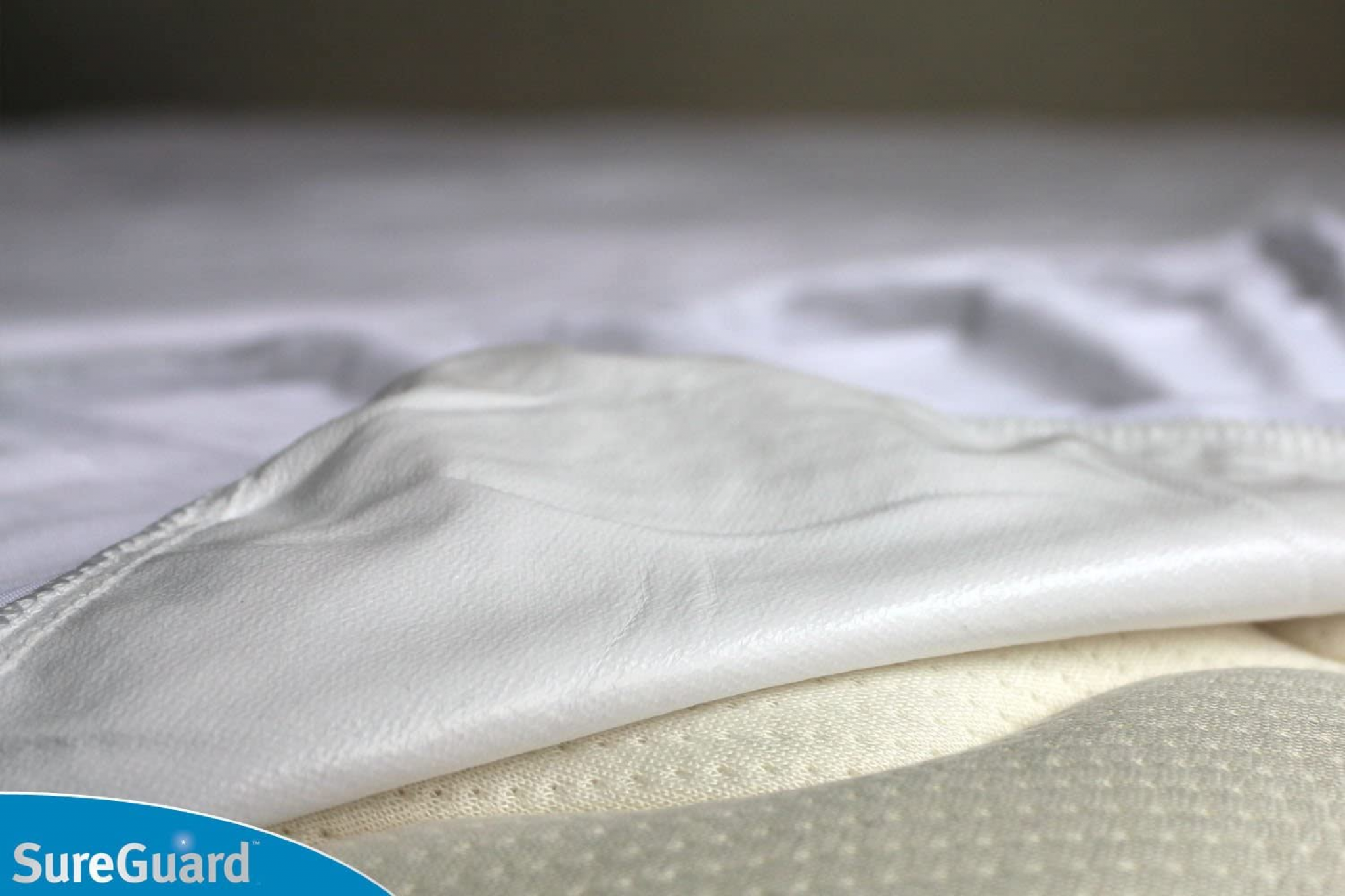 Bed-wetting is a problem of the past with this mattress protector. This protector is highly absorbent and helps keep your mattress cleaner longer. The SureGuard Crib Size Mattress Protector is non-toxic, hypoallergenic, and machine washable.
The waterproof surface keeps liquids from penetrating through the mattress protector and reaching the mattress. The SureGuard Crib Size Mattress Protector is an excellent addition to any crib to reduce the risk of bed-wetting and keep your mattress cleaner. This product is warranted against manufacturing defects.


The SureGuard Crib Size Mattress Protector is the best choice you can make if you are looking for a reliable mattress cover and will keep your baby protected all day long. The mattress protector is made with a 100% cotton terry surface and is waterproof. Most parents like that the product is free from vinyl, PVC, phthalates, fire retardants, and other toxic chemicals since that is something that most of us are very concerned about.
What I Like:
The SureGuard Crib Size Mattress Protector is a 100% waterproof mattress protector that protects against liquids and spills.
This crib mattress cover is easy to install and ensures that your baby or toddler will not get any rashes or skin problems.
The mattress protector has a top surface of cotton terry that is soft and comfortable and will not cause any problems for your baby.
---
American Baby Company Waterproof Fitted Pack N Play Playard Protective Pad Cover
Best Value


The American Baby Company Waterproof Fitted Quilted Crib Mattress Pad/Cover is a great item for baby owners to have on hand, especially if they are in a rush to get their baby to sleep.
This waterproof crib mattress pad is an ideal solution for any parent who wants to give their baby a soft, comfortable place to sleep. It measures 28"x52"x9".
While a reputable company makes this mattress protector, there are a few things you need to consider before purchasing.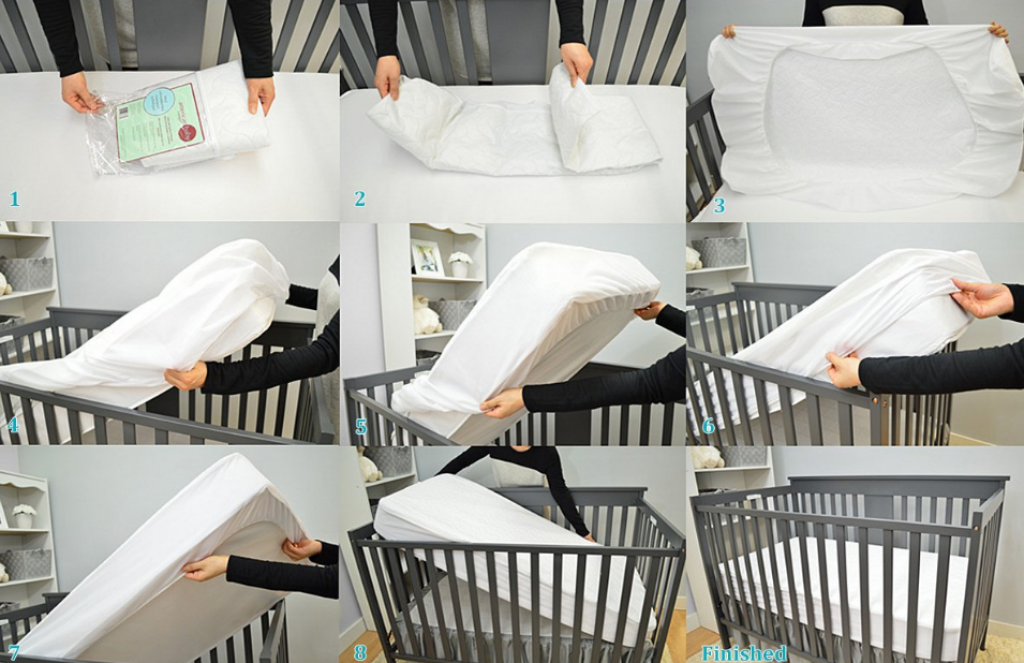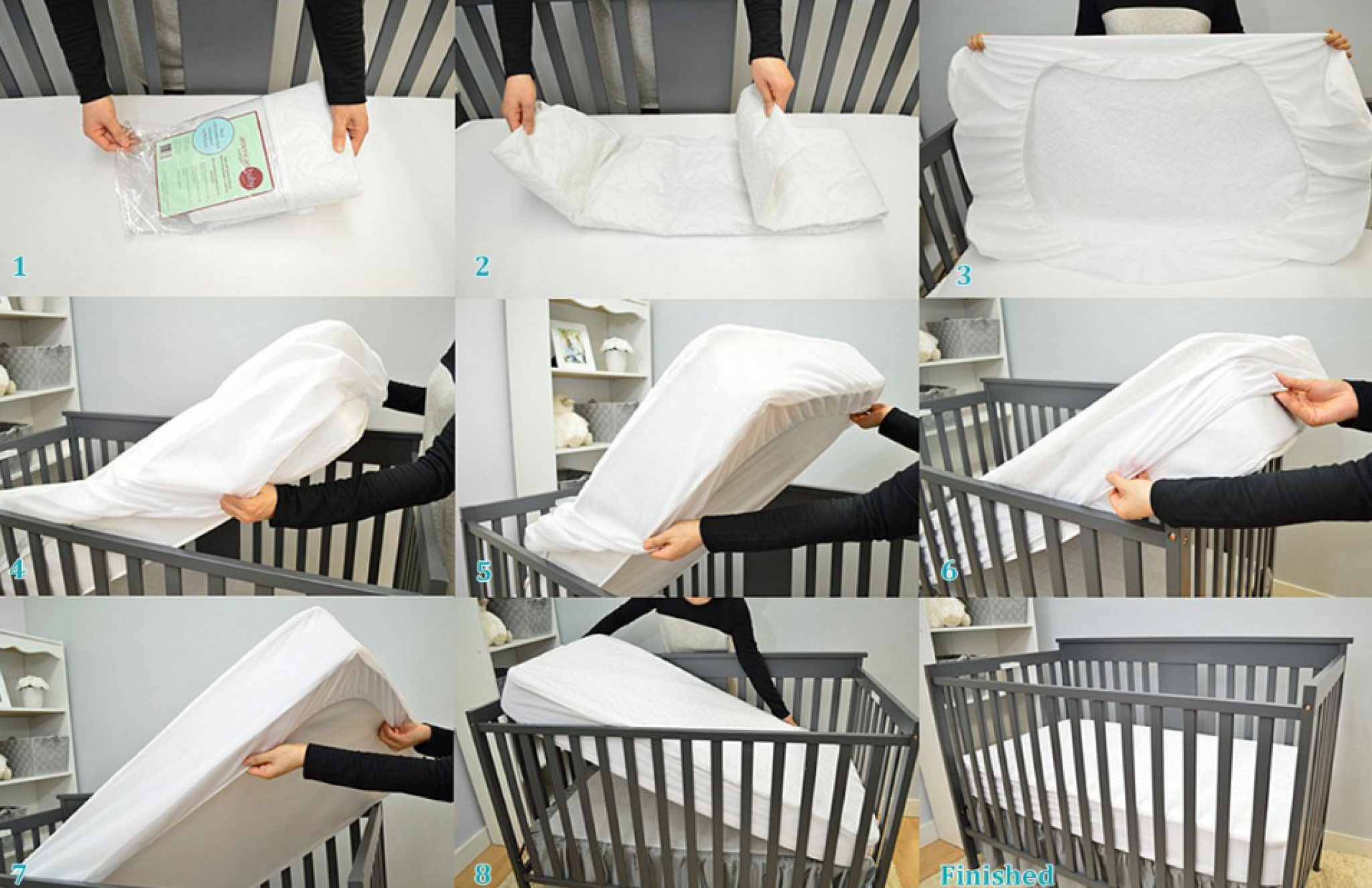 The American Baby Company WaterproofFitted Crib and Toddler Protective Mattress Pad Cover is made from 100% soft polyester with a waterproof middle layer. This crib mattress cover is machine washable and extra durable. It contains no harmful elements and other restricted materials.
What I Like:
The protective mattress pad is very soft and is made of waterproof material. If you have an accident, you can easily clean up the mess.
---
iLuvBamboo Premium Waterproof Mattress Protector
Best Bamboo Cover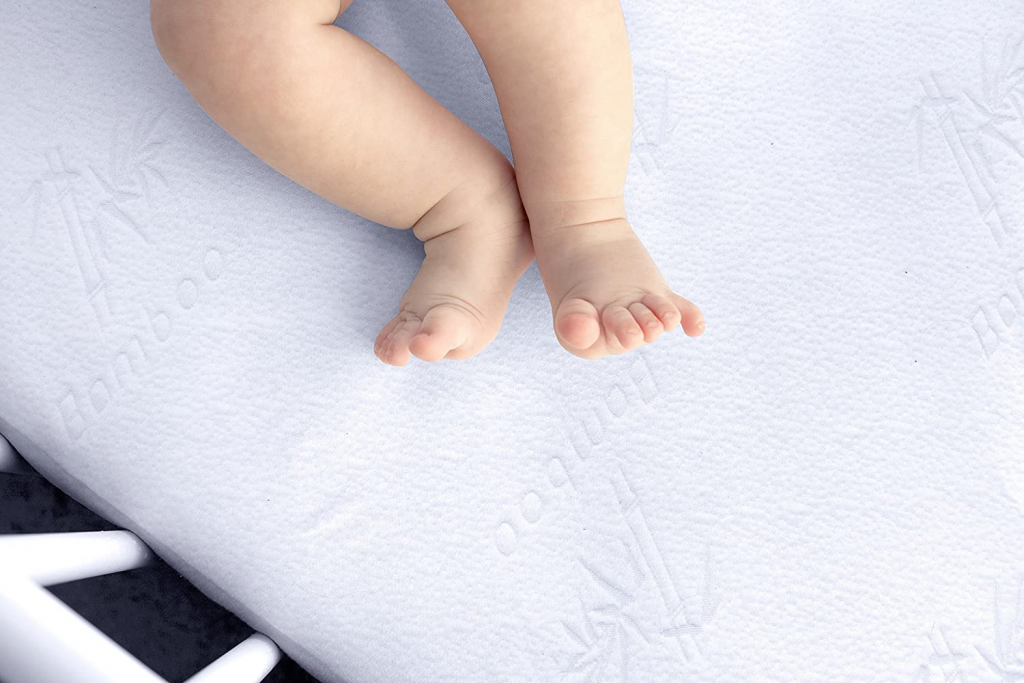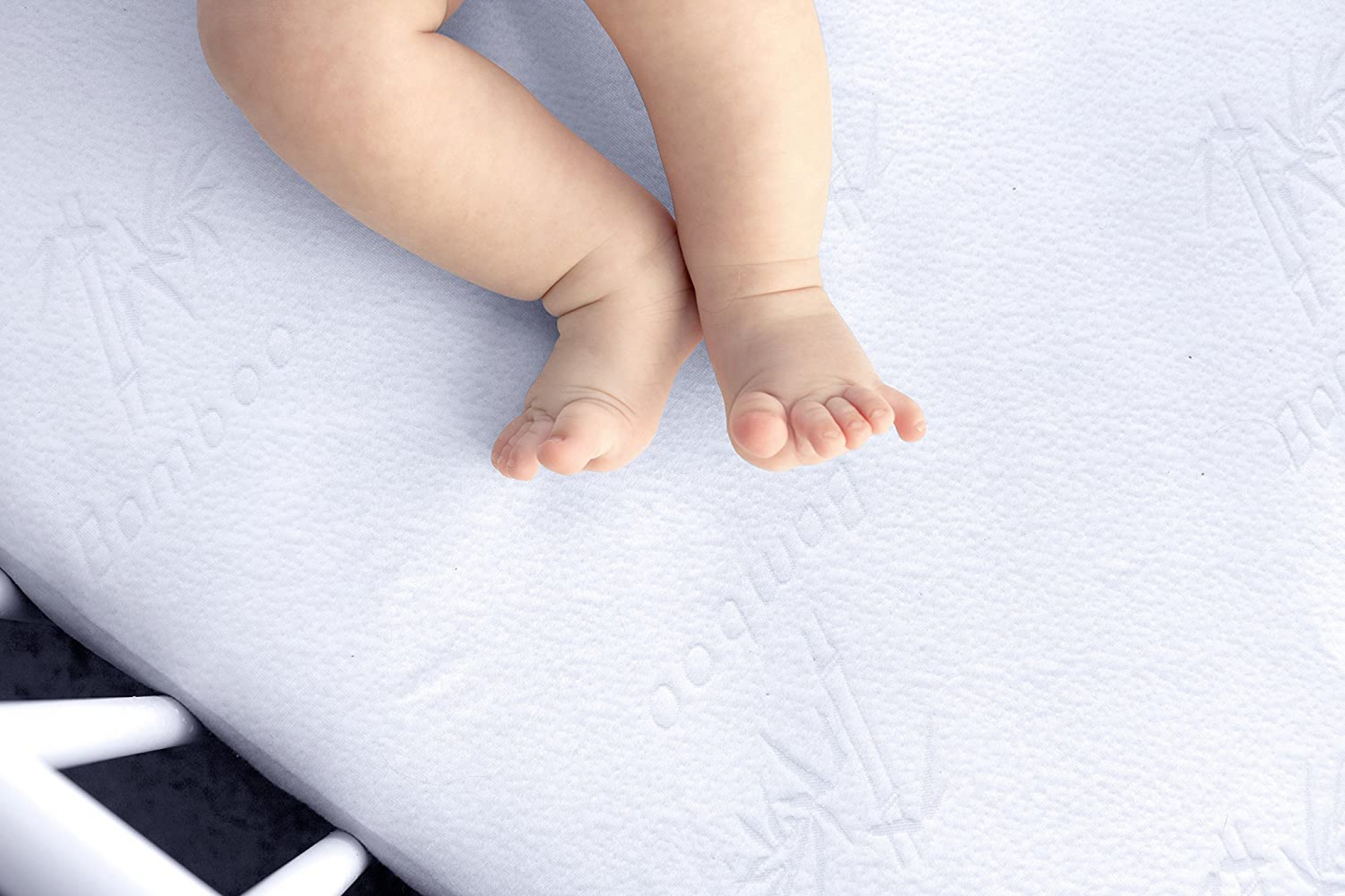 Choosing a mattress for your baby is a big decision. It will last you a good five years, and many of us choose to stay with the same bed as our children grow into toddlers and then school-age children.
iLuvBamboo Waterproof Mattress Protector is your answer. With this waterproof mattress protector, you are protecting your baby from bedwetting, pee, poop, and breastmilk.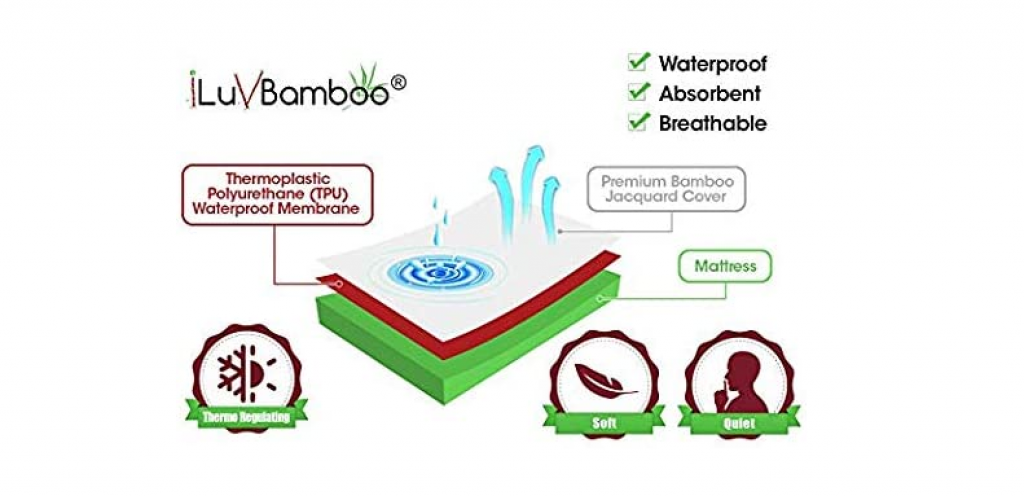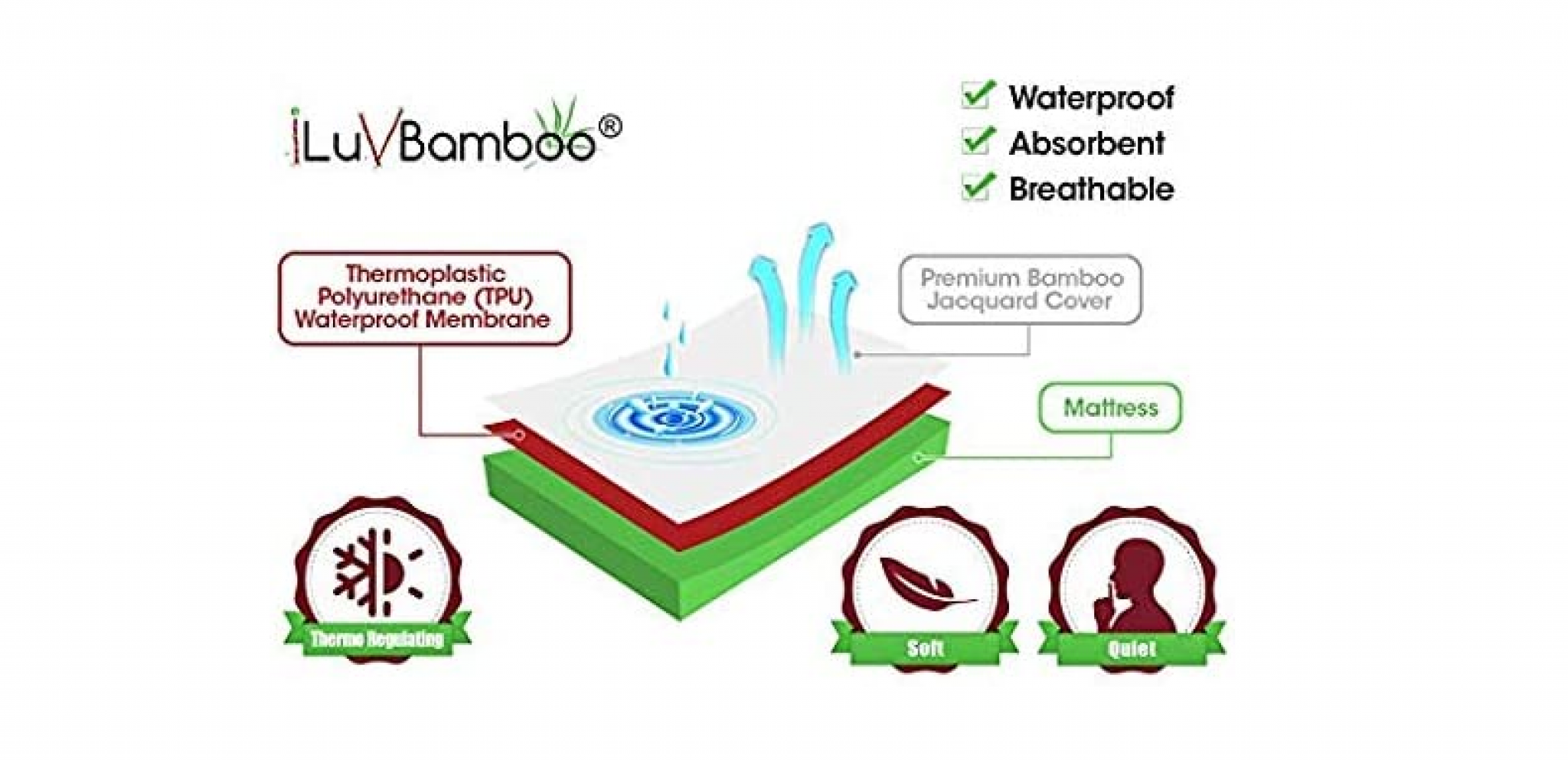 The iLuvBamboo Premium Waterproof Mattress Protector is a premium mattress topper made of a bamboo jacquard material that is machine washable and dryer friendly. It fits a standard crib mattress (52" x 28") and up to 9" deep to help ensure both the mattress and topper are protected from messy spills and accidents. The waterproof barrier helps to prevent liquids from passing through and keeps little ones dry through the night.
What I Like:
The iLuvBamboo Premium Waterproof Mattress Protector is a product designed to keep your mattress looking clean and fresh for longer by preventing stains and odors.
The material this crib mattress cover is made of is highly absorbent, waterproof & breathable.
The iLuvBamboo mattress protector can be machine washed cold and tumble dried on low heat.
---
Swaddlez Pack n Play Mattress Pad | Mini Crib Waterproof Protector
Best Waterproof Cover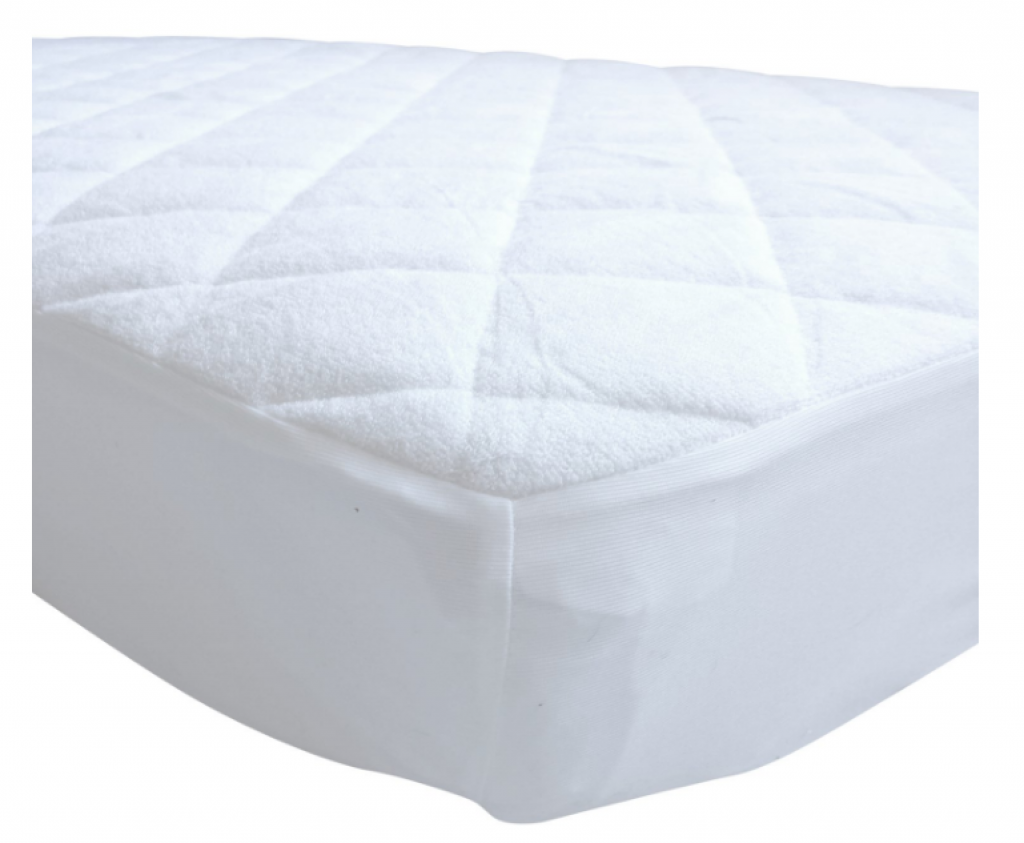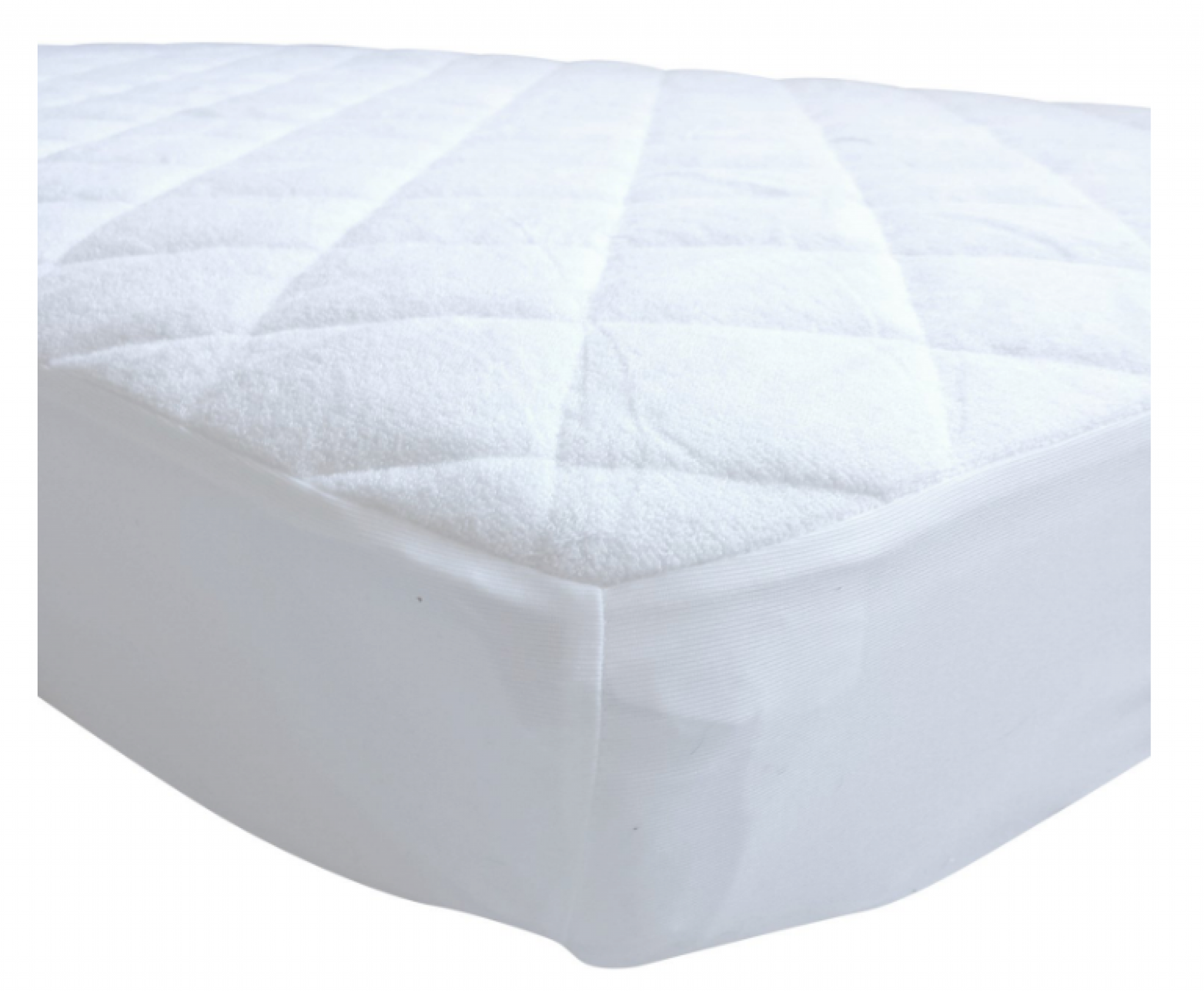 The Swaddlez Pack n Play Mattress Pad is a unique product unlike any other waterproof crib mattress protector on the market today. It's also quite possibly the most affordable waterproof mattress protector that you will come across.
It is easy to see why many parents are raving about this product; not only is it affordable, but it also works really well. This mattress pad is made with bamboo, which is known for its superior durability and absorbency. It also is incredibly soft and comfortable.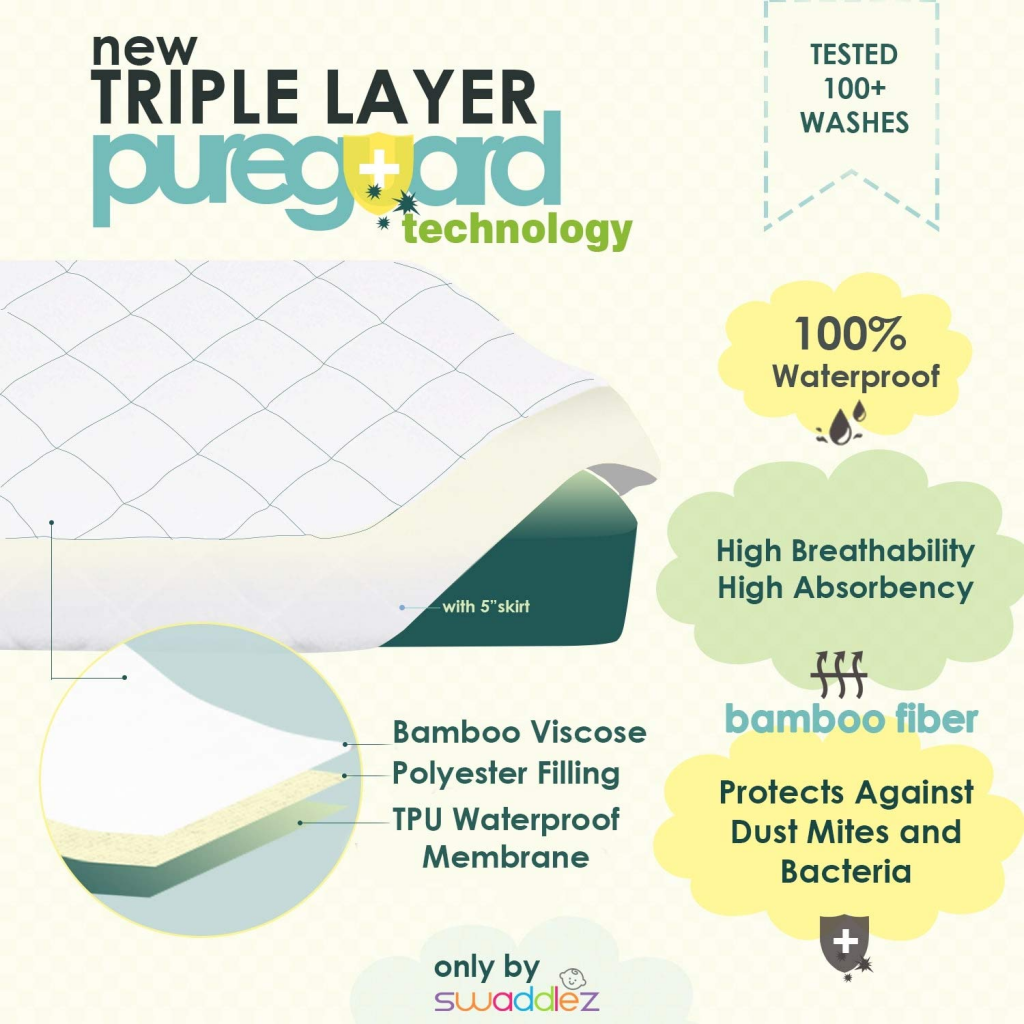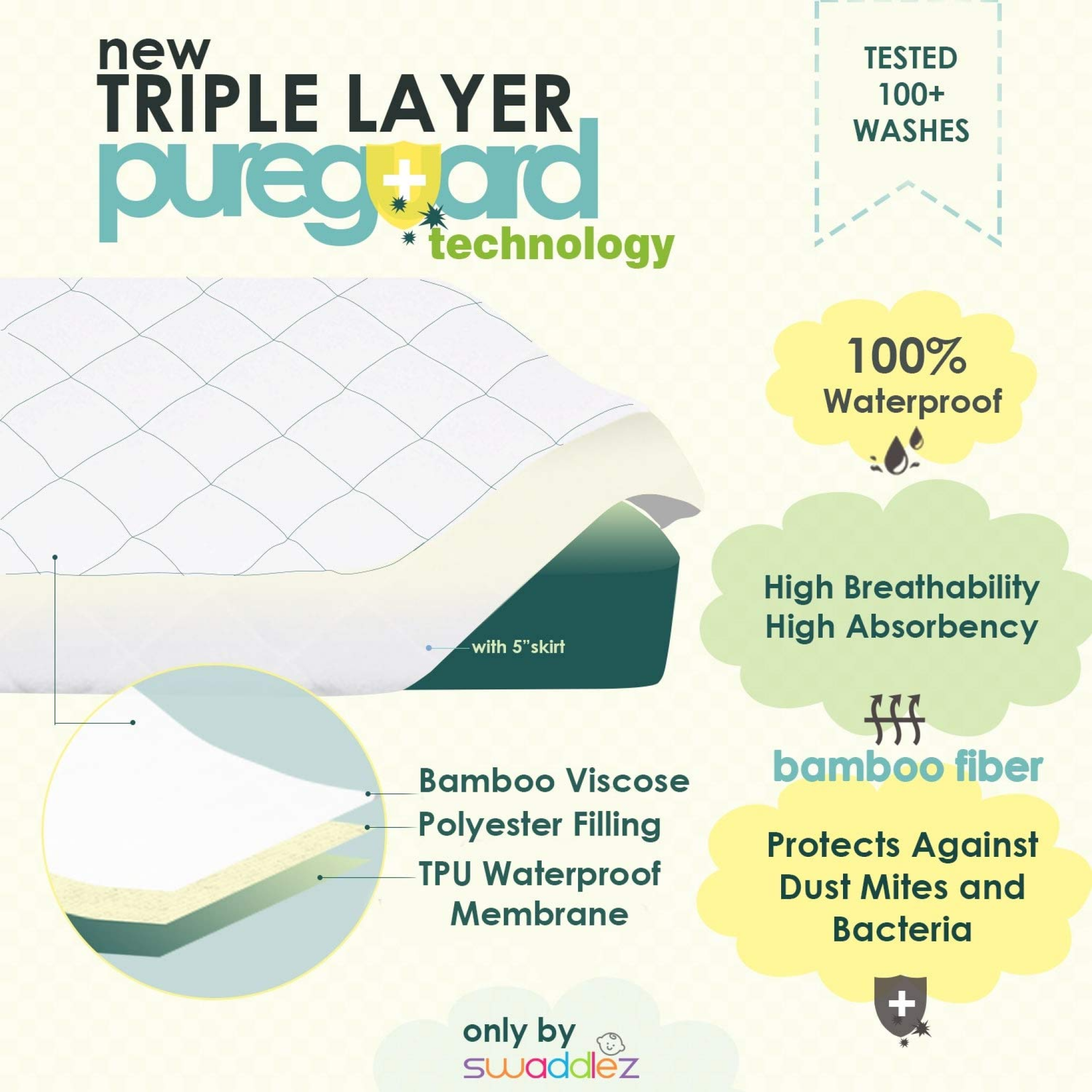 This mattress pad is waterproof, which is excellent to protect the bed from night accidents. The mattress pad is also machine washable, which is a huge plus for most parents.
What I Like:
This is a crib mattress protector designed to fit the average mini crib perfectly and is made of a bamboo material intended to be extremely absorbent.
The bamboo layer will wick the moisture from the mattress and keep it dry. The bamboo is also naturally antibacterial and antimicrobial. You can wash this protector in the washing machine on the gentle cycle.
---
Cozy Caterpillar Crib Mattress Protector Pad
Best Eco-Friendly Mattress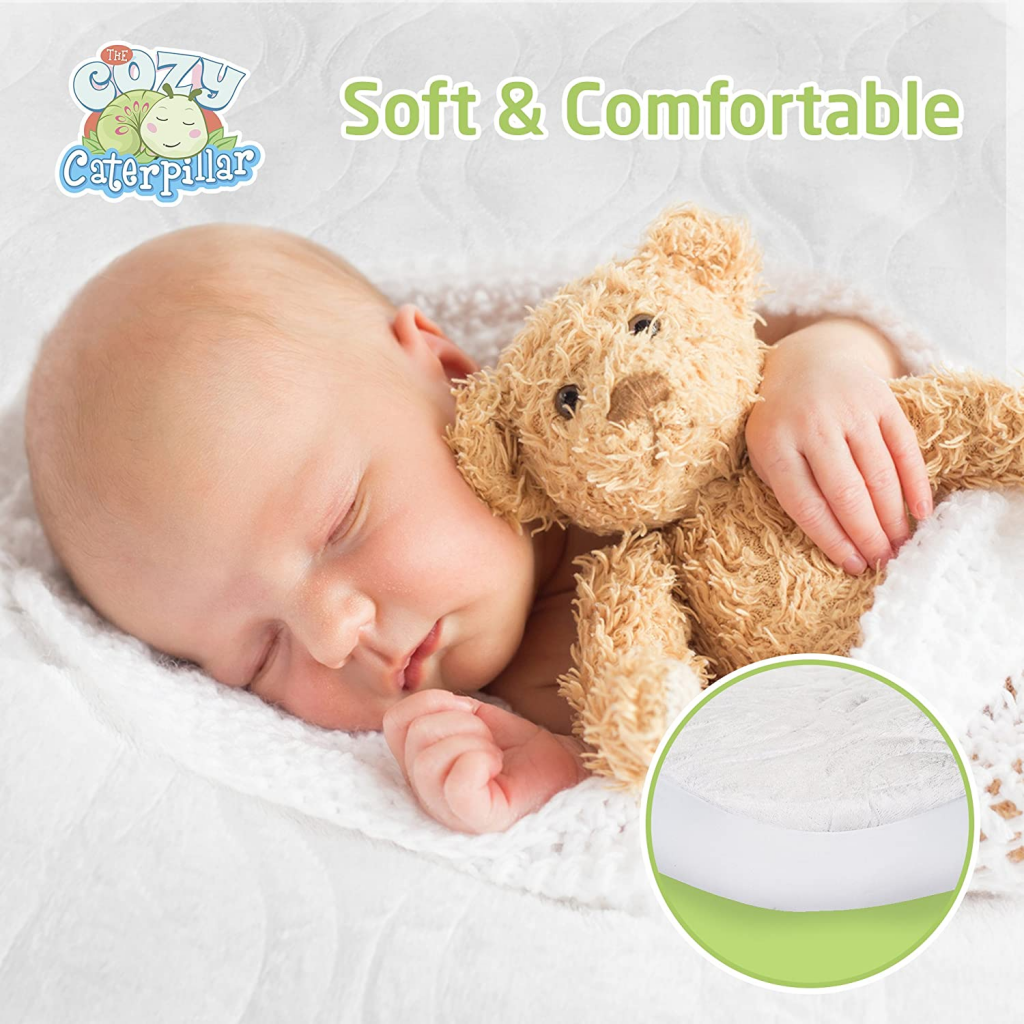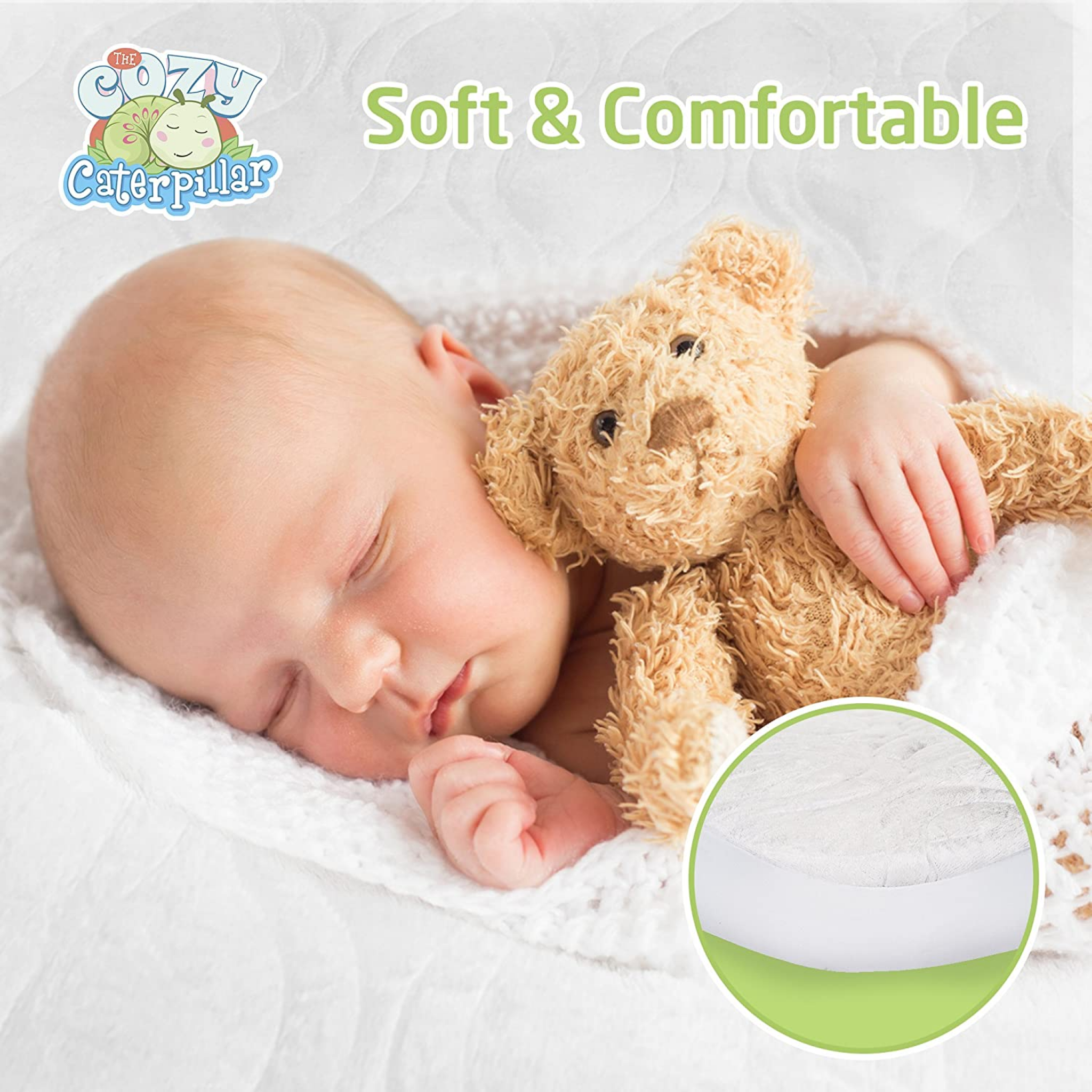 A mattress protector is a must for any crib. It is a waterproof and breathable fabric that covers the mattress. It is an essential component that protects the mattress from spillages and stains and keeps it clean while adding to the crib room's aesthetics.
The Cozy Caterpillar Crib Mattress Protector is an excellent choice because of the features it offers and the affordable price tag. It is made from the highest quality bamboo velour, hypoallergenic and eco-friendly, ensuring that your child will be safe from allergens while also keeping them comfortable.
The Cozy Caterpillar is a fitted mattress protector for your baby's crib, designed to keep you and your child safe while adding an extra layer of comfort.
What I Like:
The Cozy Caterpillar Crib Mattress Protector Pad is an innovative product designed to protect your child's crib mattress from moisture, stains, and bedwetting.
The bamboo cover is eco-friendly and non-allergic.
This product comes with a lifetime warranty.
---
Buyer's Guide
Buying the best crib mattress cover is not as easy as you may think. There are many things to consider, such as which type of crib mattress cover you want, how much you want to spend, and what features you want to have. Each baby is different, and a crib mattress cover that will work for one baby will not necessarily work for another.
---
Best Crib Mattress Cover Materials
The last thing you want to do when purchasing a crib mattress is to skimp on quality. A quality crib mattress will ensure that your baby has a good night's sleep and stays safe and healthy. (At least, that's the plan.) But which crib mattress should you choose?
Nowadays, there are many crib mattresses available with different types of materials and designs. You can easily get confused among all these products. Many people would like to choose a crib mattress that is comfortable and safe for their child and their budget.

Crib mattress cover materials can vary widely, from cotton and wool to polyester and vinyl, and each one comes with its advantages and disadvantages.
Organic Materials
The crib mattress you select for your little one should be comfortable, safe, and should last for a long time. That is why you will want to consider purchasing a crib mattress cover made of organic materials.
Organic crib mattress covers are made of materials such as organic cotton, organic wool, and organic latex. These materials are acceptable in the eyes of those who practice organic living. The reason that organic crib mattress covers are so popular is their safety. Moreover, such covers are hypoallergenic and have no odors.
Cotton
When it comes to your baby's safety and health, it's essential to know which materials are safe and which ones aren't. Organic cotton is gaining popularity as a baby mattress cover alternative to plastic.
Organic cotton is often touted as offering a safer alternative to conventional cotton crib mattress covers, and its popularity has grown in recent years. However, organic cotton crib mattress covers aren't necessarily the best mattress cover choice for your baby.
Bamboo
A Bamboo crib mattress cover can offer you the protection you would like for your baby's crib mattress. When you have a baby, you want to make sure that you are doing everything you can to make them comfortable. It can be hard to have a nursery set up that will make your baby happy, but if you have a Bamboo crib mattress cover, you will be sure that you have done all that you can.
The bamboo crib mattress cover is an eco-friendly, breathable, and water-resistant bed protector made of the highest quality bamboo fiber. It's a soft, waterproof, and hypoallergenic cover.
---
Crib Mattress Cover Features
It is often a good idea to purchase a crib mattress cover. This will protect the mattress from the inevitable dirty spots that come with kids. There are many great options available for mattress covers, as they are a smart investment.
In searching for crib mattress cover features, you want to make sure that the product is machine washable, has a zipper for easy removal, and is waterproof.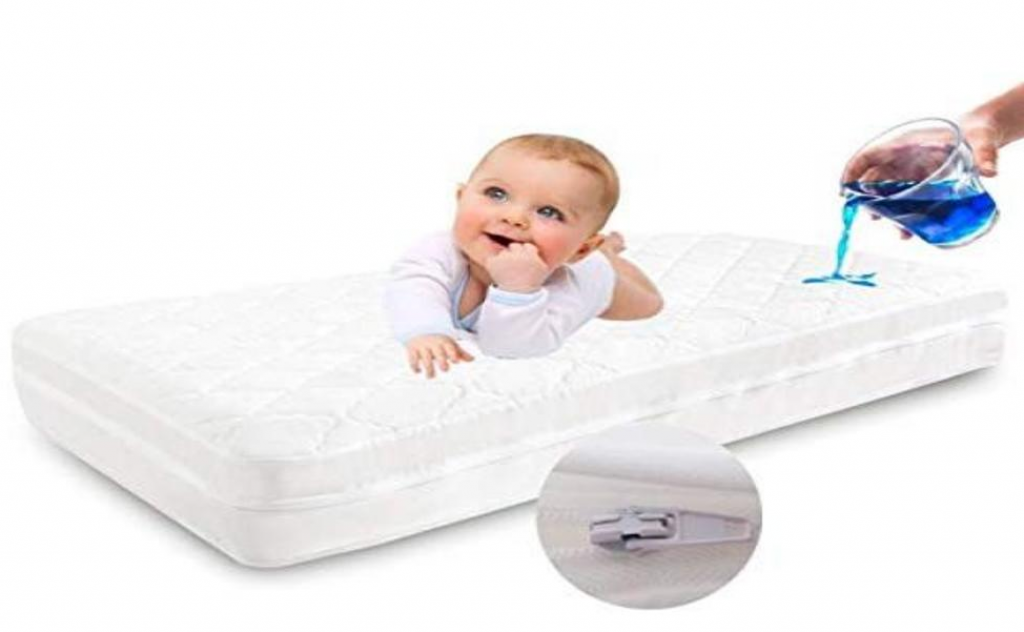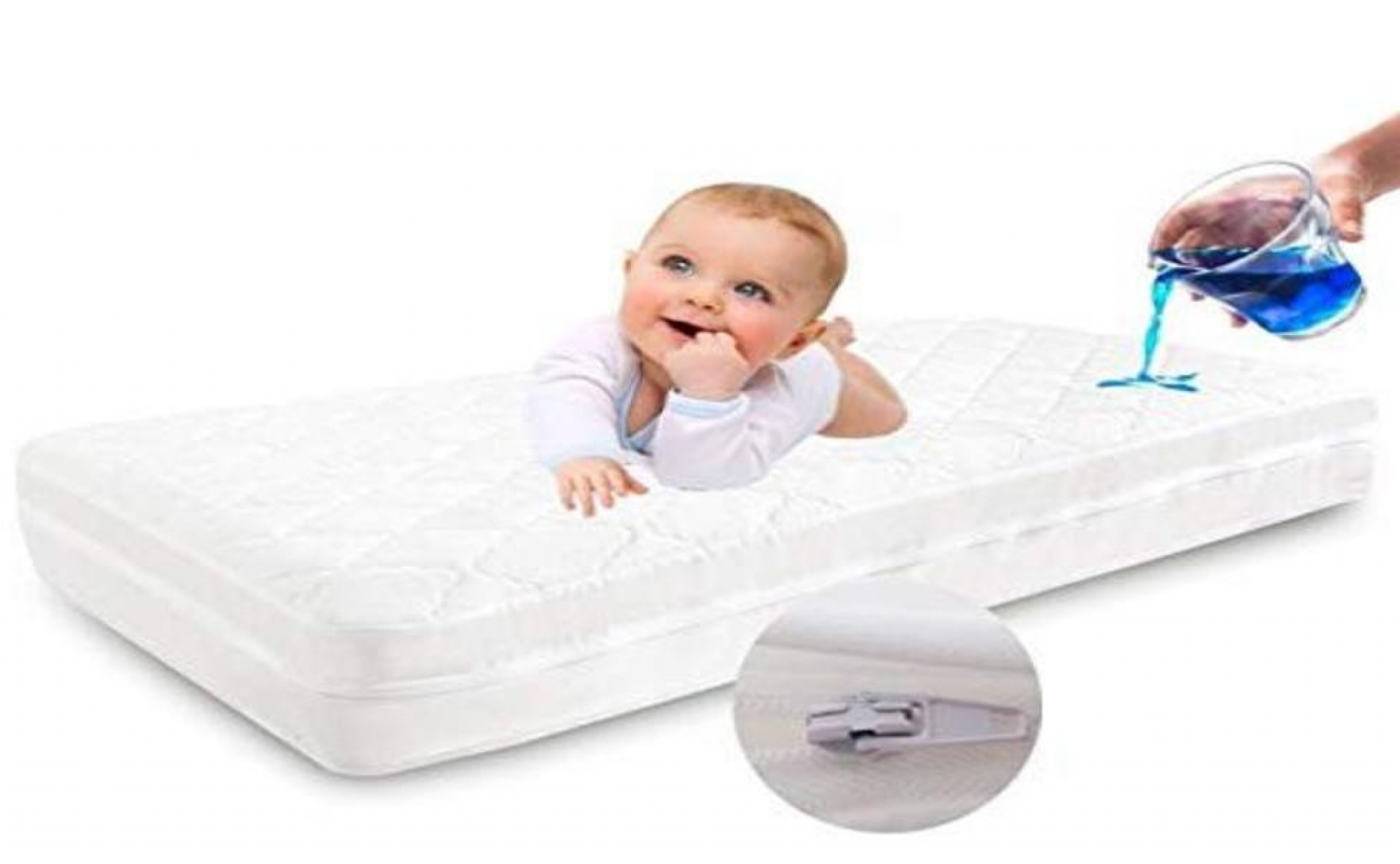 Waterproof Covering
If you're going to buy a crib mattress, you will need a crib mattress cover with a waterproof coating. The mattress cover is a great way to make sure you can keep your baby's mattress clean and comfortable for use.
We are all aware that babies can be messy, especially when they are in the crib. A waterproof crib mattress pad can help you protect the mattress from being stained with bodily fluids and urine.
It is essential to have a waterproof covering that can help you protect the mattress from damage with their wetness and sweat. The waterproof surface is also a great way to protect the bed from dust mites.
Durability
Unfortunately, the durability of the crib mattress cover is often overlooked during purchase. While most parents are likely more focused on the crib mattress cover's safety features, it is also essential to consider how well the cover will hold up to daily use. The crib mattress cover's durability is determined by the material used to make the cover, the number of seams used in the cover, and the surface's overall quality.
Zipper
The zipper on the crib mattress cover is an excellent addition to the safety of the baby. It provides a way to remove it effortlessly, should it become soiled. You may feel the need to remove the cover for various reasons, such as when you need to change the mattress pad or wash the crib mattress. Many pads have a zipper that can be undone when the cover is also zipped up. Some covers are easily removed when the zipper is between the mattress and the pad.
---
FAQ
What is a crib mattress cover?
A crib mattress cover is a fitted sheet-like fabric made to fit snugly over a standard-size crib mattress. It is designed to keep the mattress clean, dry, and free of dust, dirt, and allergens. It is important to use a crib mattress cover to help protect your baby from potential hazards.
What type of material is used for a crib mattress cover
Crib mattress covers are usually made from cotton or polyester fabrics. Cotton is often a good choice as it feels softer on the baby's skin and tends to absorb more moisture. Polyester is often a more durable option that is also easy to clean and maintain.
What are the benefits of using a crib mattress cover?
Crib mattress covers are beneficial in a variety of ways. They help to keep the mattress clean and free of dirt, dust, and allergens, providing a healthier sleep environment for your baby. They can also help prevent mold and bacteria growth on the mattress.
Are crib mattress covers washable?
Yes, crib mattress covers are typically machine washable and should be washed regularly to help maintain cleanliness and hygiene.
Are there any safety considerations when using a crib mattress cover?
It is important to make sure that the crib mattress cover fits properly and does not have any loose fabric that could potentially become a choking hazard. Additionally, any straps or ties should be fastened securely to help prevent the cover from slipping or sliding off the mattress.
---
The Bottom Line
As you can see from the many online reviews, it's clear that people are pretty split in their opinions about crib mattress covers. Several believe it adds to a safer sleeping environment for babies, while others feel it's a lot of extra costs, especially when you already have a great mattress.
If you decide to get a mattress cover, make sure you get a waterproof one that will protect against liquid accidents and spills. Some surfaces can mold or mildew if you use them for too long, so be sure to watch for that.
In this buyer's guide, I provided answers to the most popular questions and told you what to consider while choosing the best crib mattress cover for your child.