Futons are a traditional Japanese invention, consisting of a wooden frame that converts into a bed in the same way the convertible car does. Today, futons are available in various styles, fabrics, and sizes, suitable for any bedroom.
---
Top 5 Best Futon Mattresses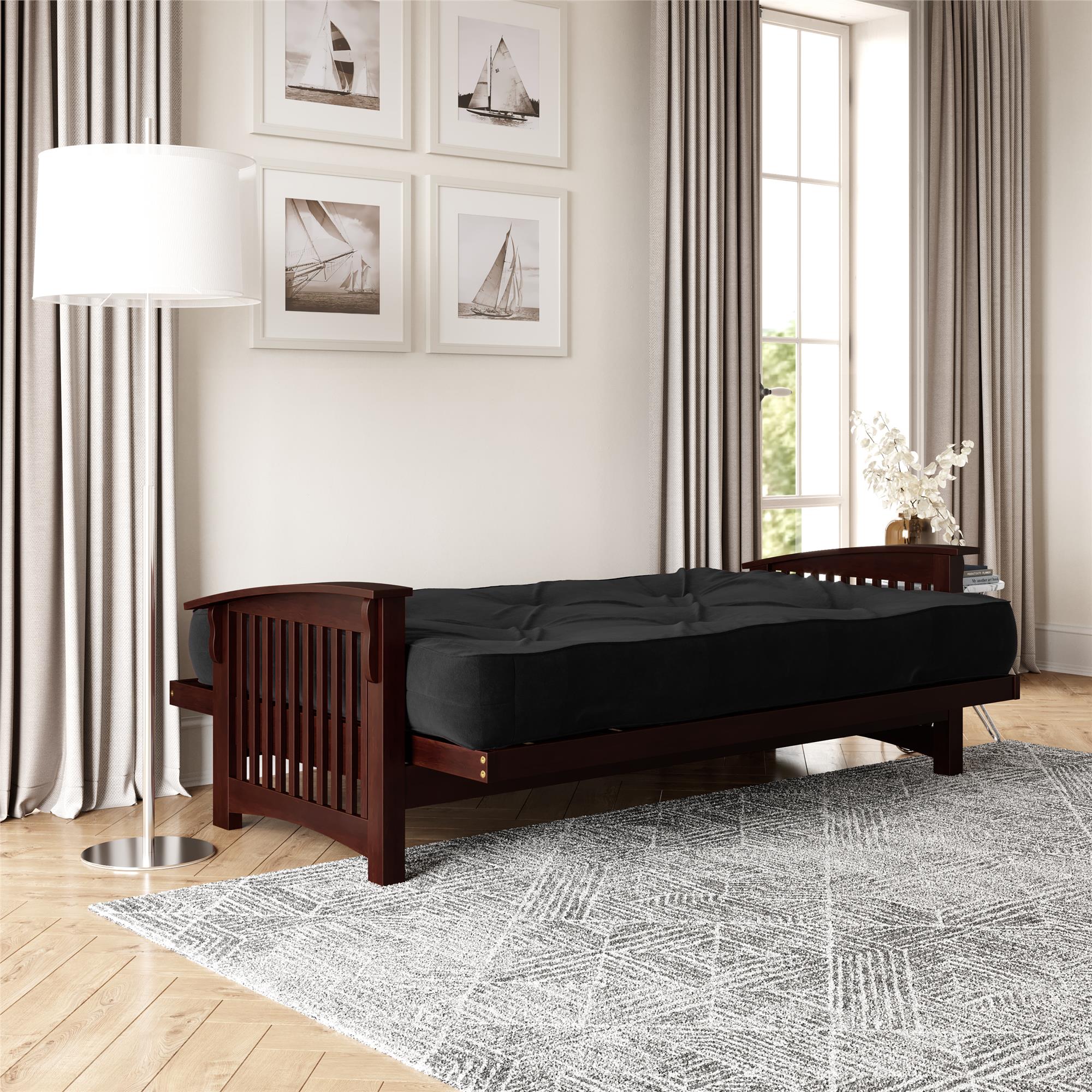 DHP 8-Inch Independently Encased Coil Futon Mattress
Dimensions: 75″L x 54″W x 8″H
Construction Type: Futon
Materials: Microfiber, Foam, Polyester
Price: $$
---
However, when purchasing the best futon mattress, there are a few things you need to consider. The first is size; the standard futon frame is about 6 feet long, but some frames are only 5 or 4 feet long. If you have a smaller room, a shorter futon can help you save space. For children, a shorter futon is also a safer option.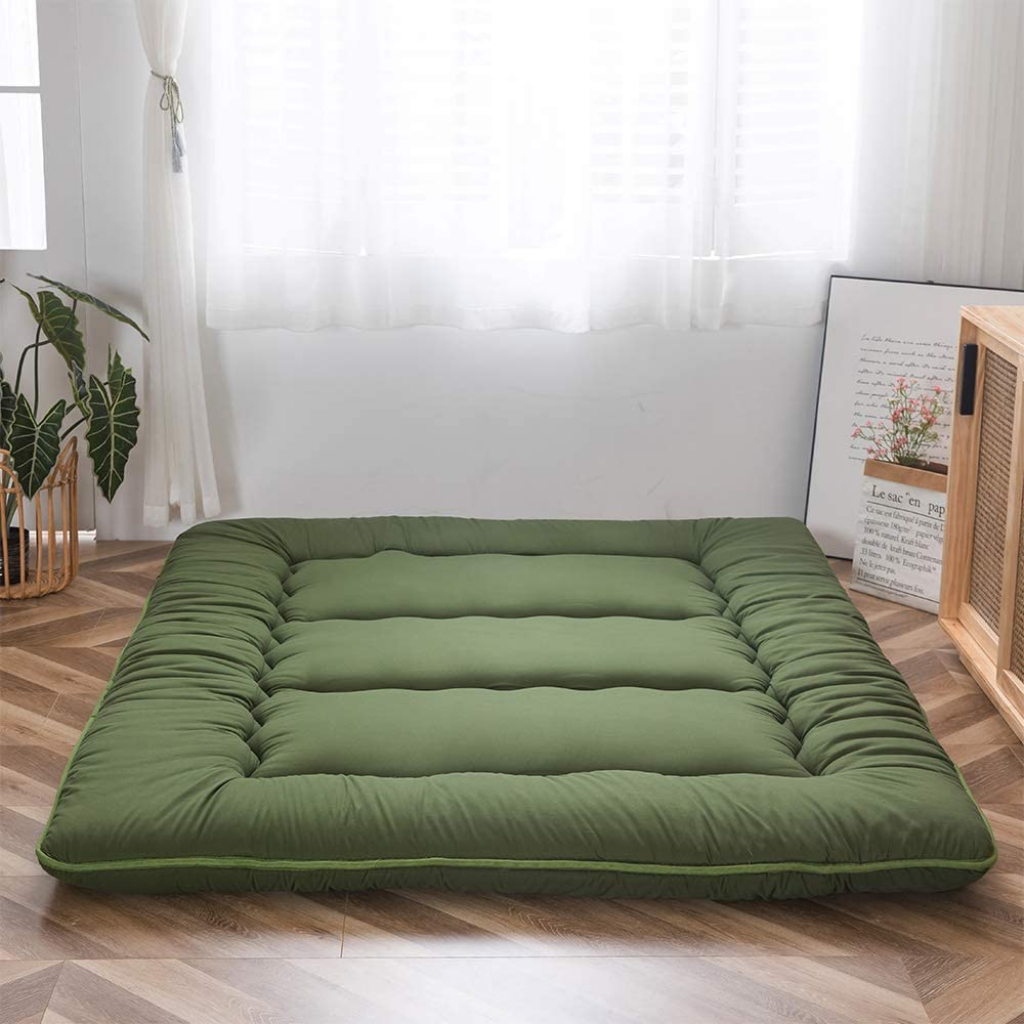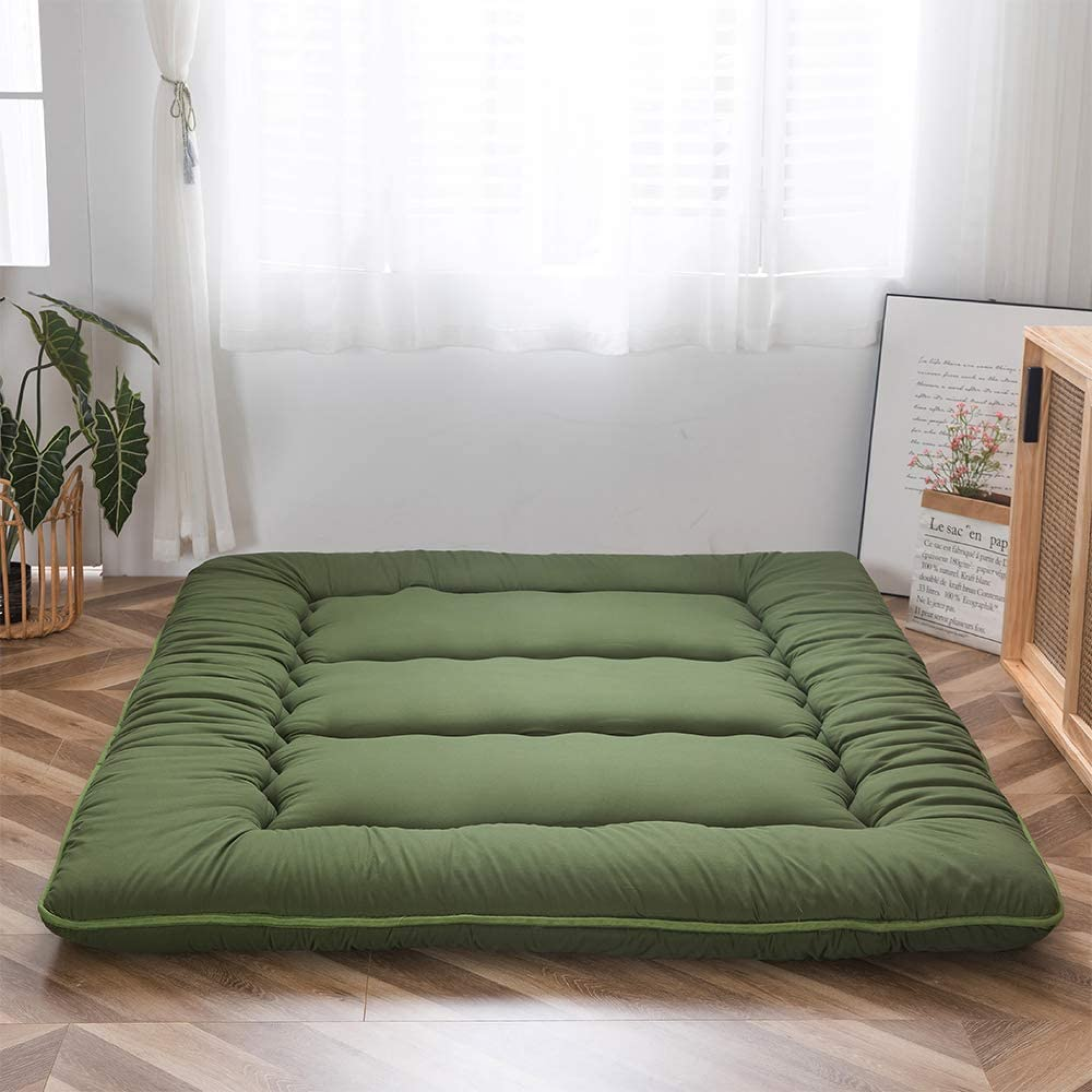 You will also want to choose a firm enough mattress to offer support, but soft enough to provide comfort. Here's the list of the best futon mattress and a buyer's guide with useful tips on choosing the mattress for sleep.
---
Best Futon Mattresses Reviews
Mozaic Futon Mattress
Best Overall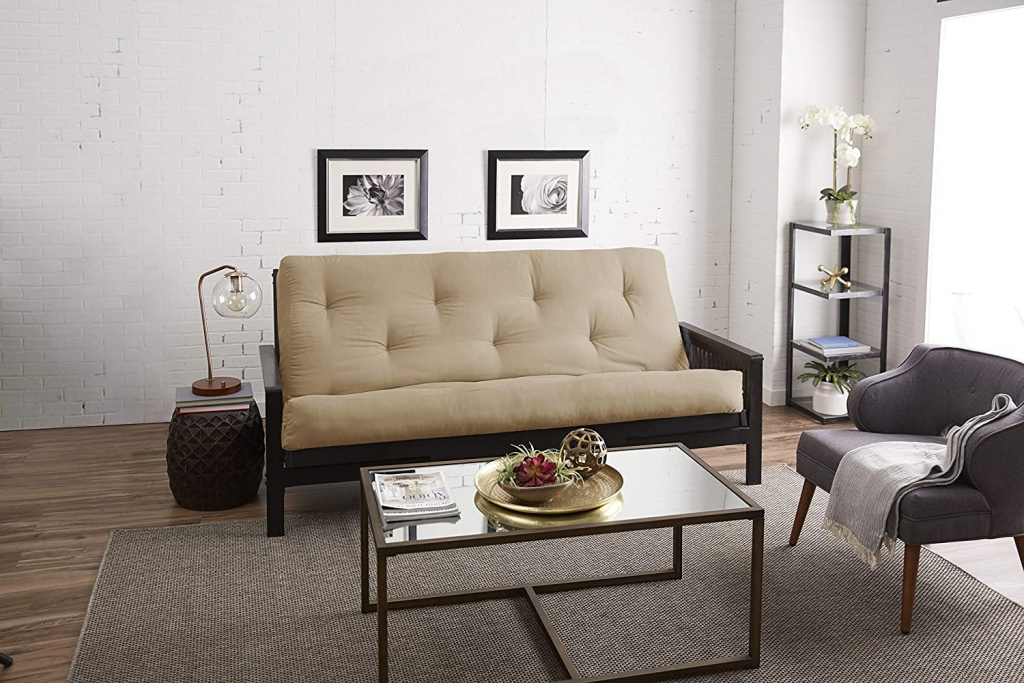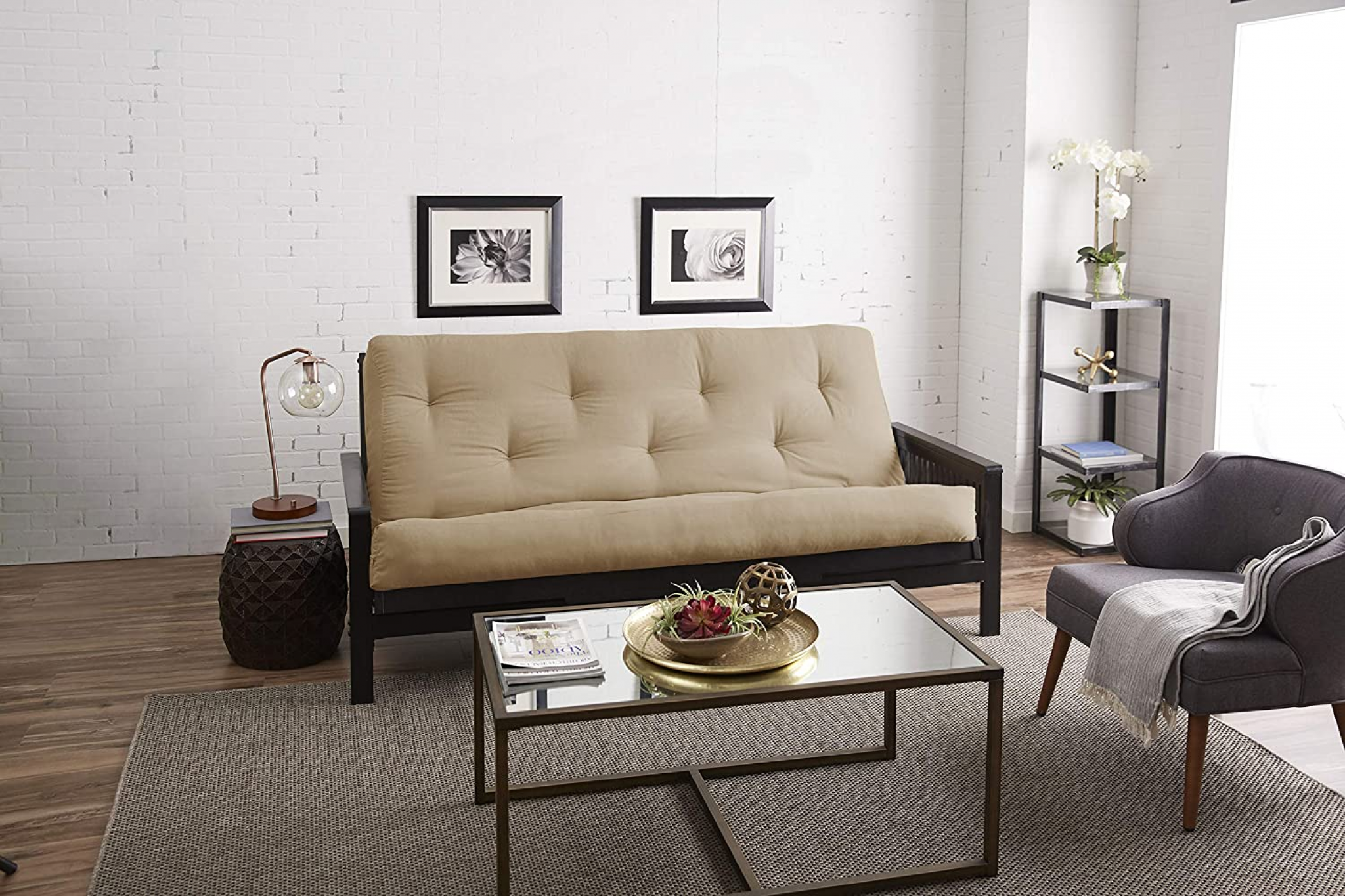 With the growing popularity of futons as a comfortable and affordable alternative to a traditional bed, more people are realizing the importance of owning a high-quality futon mattress. Mozaic Futon Mattress provides many benefits that a traditional bed would be unable to offer.
Mozaic Futon Mattress. It's a high-quality futon mattress that is affordable and fits perfectly in any standard futon frame. The mattress is made with a poly-cotton blend, memory foam, and a cotton twill tufted cover that is easily cleaned and maintained.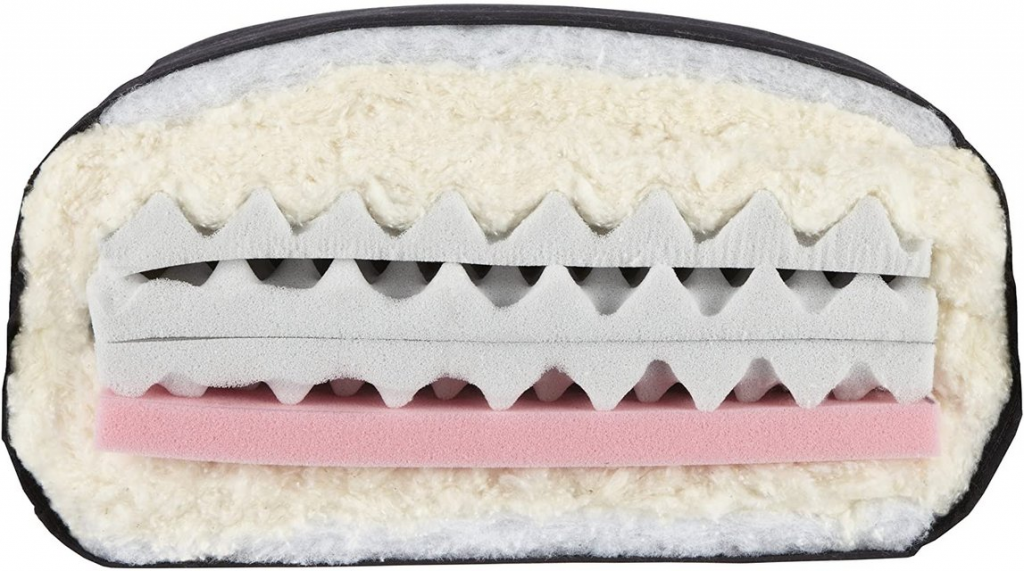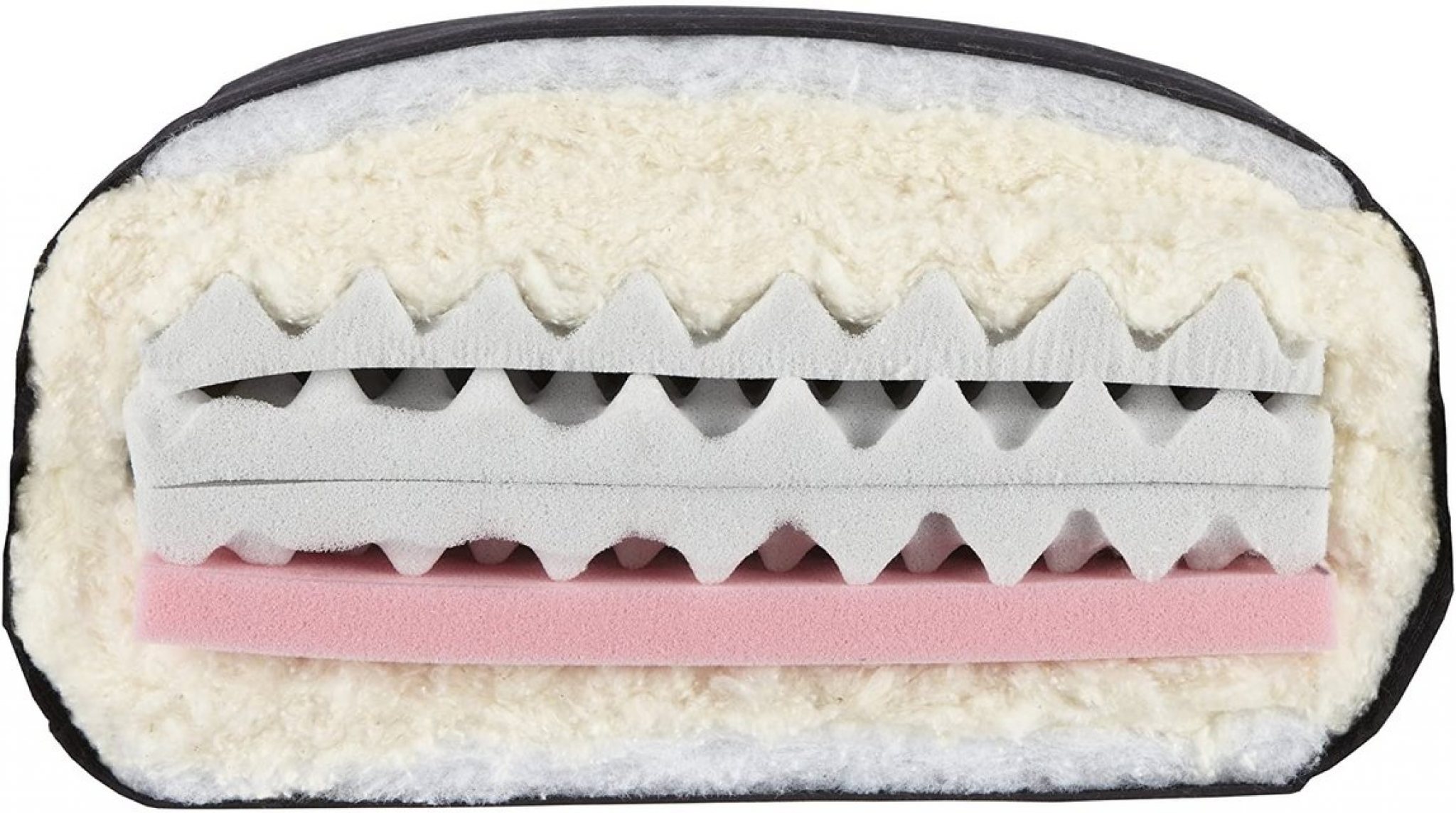 With a convenient full-size standard size, the Mozaic Futon mattress can be used as an easily foldable, extra sleeping space for an additional company, or folded in half and used as a comfortable sofa for you to relax on.
What I like:
This is a high-quality mattress that is comfortable, durable, and fits any standard futon frame.
It's covered in a cotton twill cover that is easy to clean and protects the memory foam.
What I Don't Like:
The mattress is selling without a frame.
---
DHP 8-Inch Independently Encased Coil Futon Mattress
Best Microfiber Cover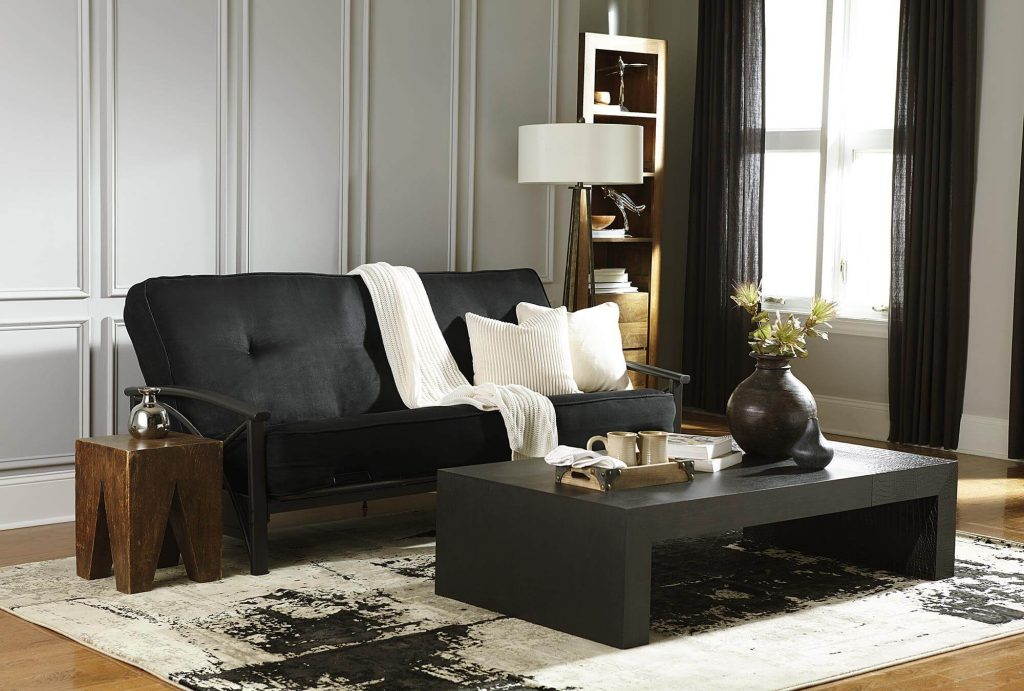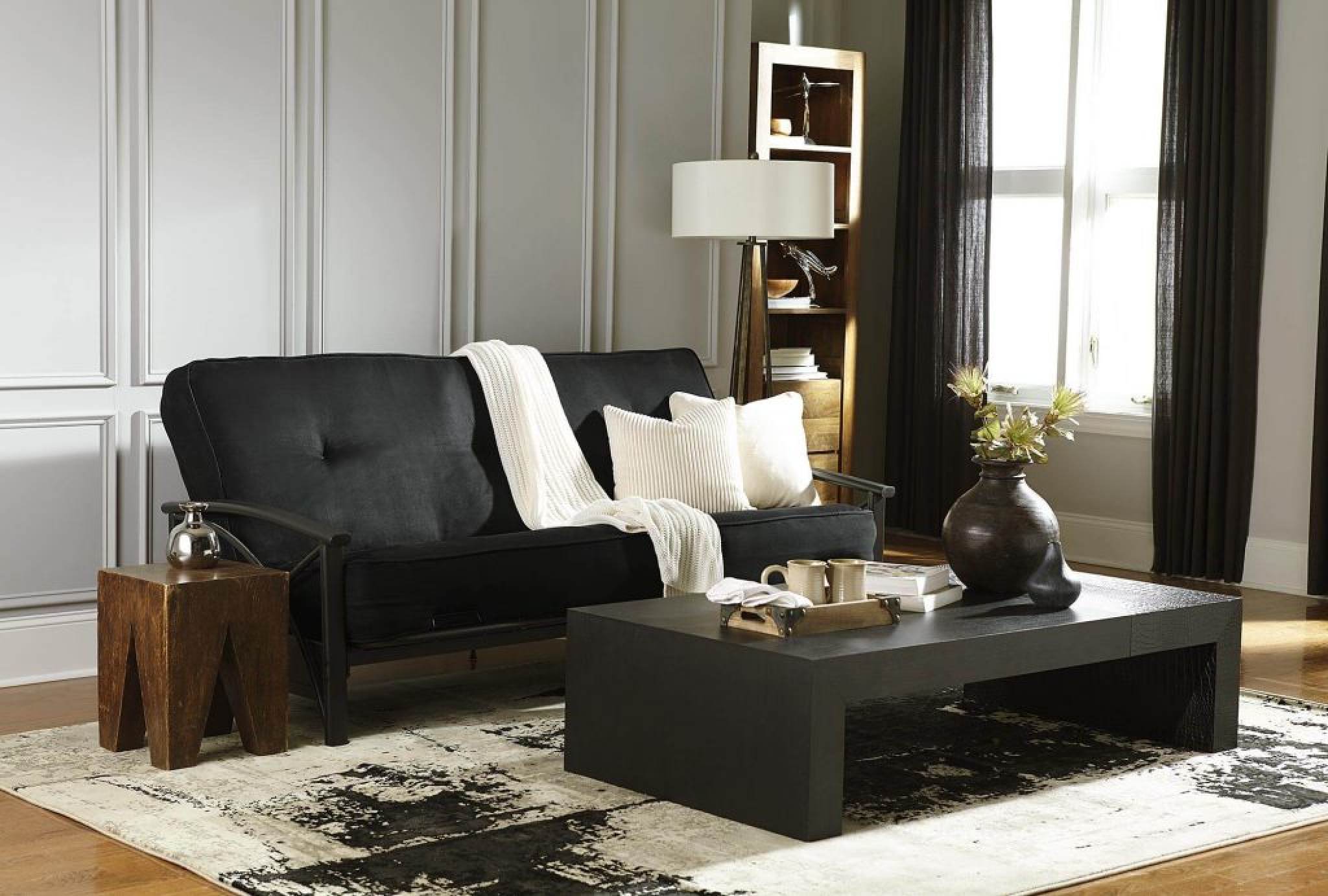 The DHP 8-Inch Independently Encased Coil Futon Mattress is the right mattress for the money. The coils are completely encased for support and comfort, and the combination of foam and polyester offers greater durability and comfort. This futon mattress has an 8-inch foam core over a 6-inch coil spring, covered by a lavish tufted microfiber cover. The futon mattress fits most standard full-sized futon frames and is fairly easy to assemble.
Mattresses come in all shapes, sizes, and materials, and the DHP Futon Mattress is no exception. This mattress is an excellent option for people who are looking for a basic futon mattress that is soft yet firm and won't cost you an arm and a leg.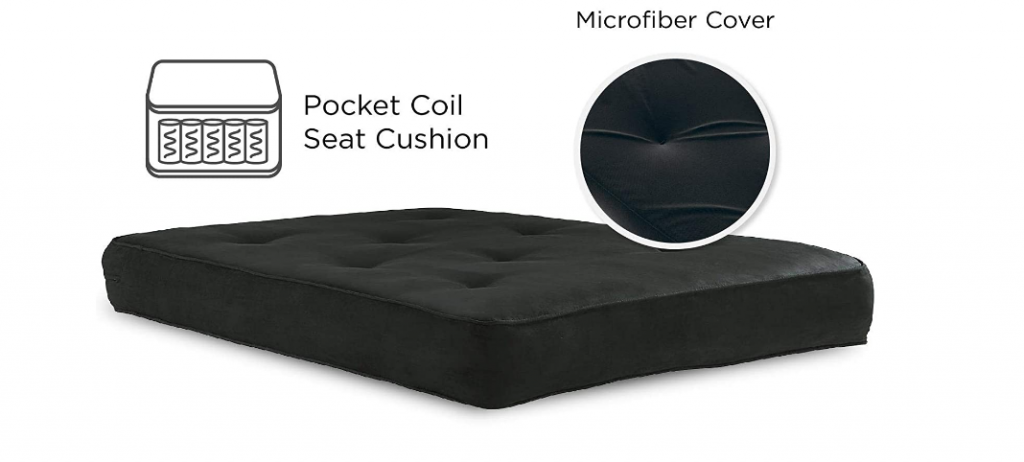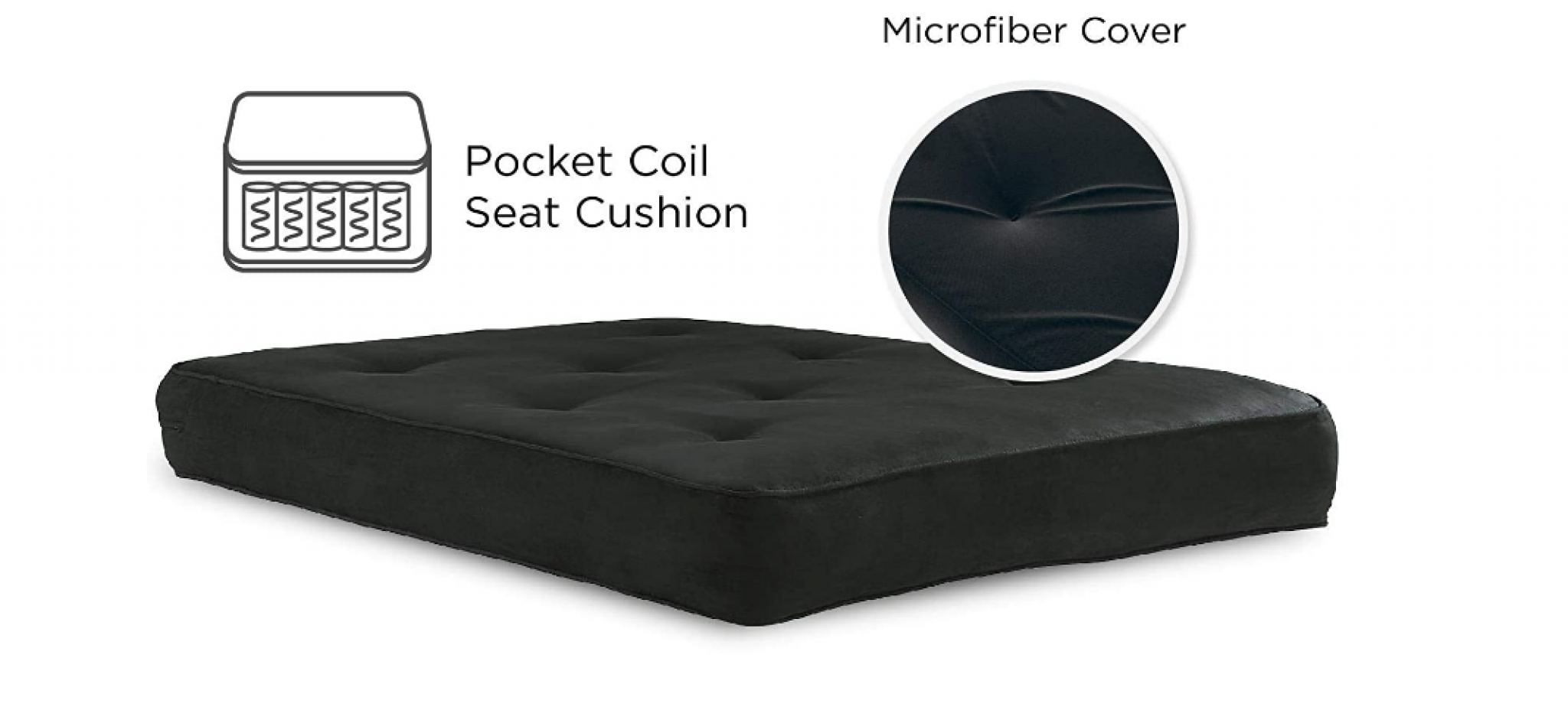 The best thing about this mattress is that it only weighs about 60 pounds, and it has a shipping weight of only 13 pounds, making it easy to move and carry upstairs. This product is also eco-friendly because it uses foam made without PBDEs, TDCPP, or TCEP ("Tris") flame retardants, ozone depleters, mercury, lead, and heavy metals.
What I Like:
Lightweight and easy to carry.
Can reduce motion transfer.
The cover is made from soft microfiber that is both nice to the touch and easy to clean.
The price is not too high.
---
EMOOR Japanese Traditional Futon Mattress Classe
Best Three Layered Sandwich Structure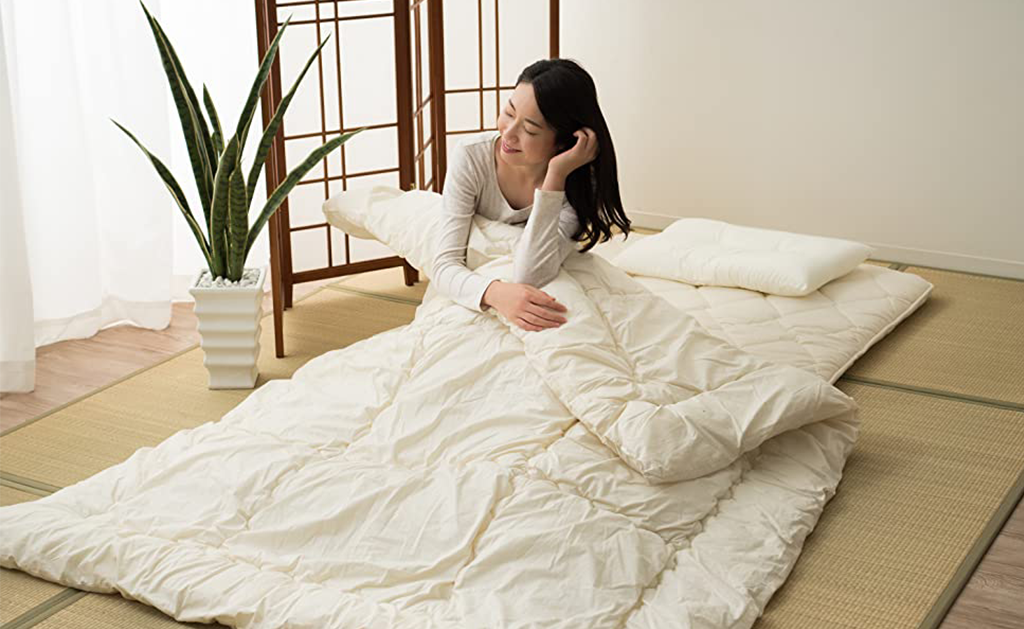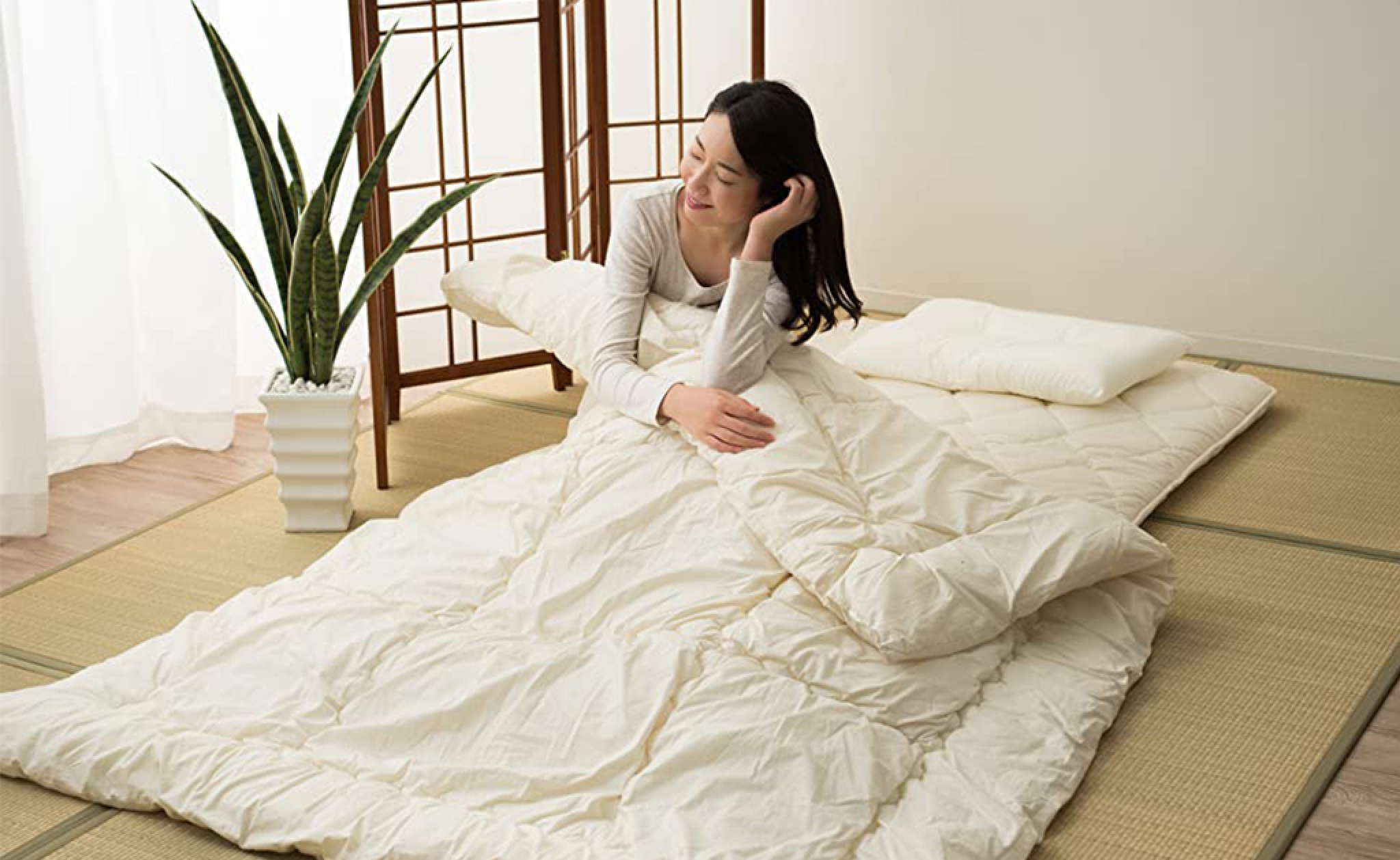 The EMOOR Japanese Traditional Futon Mattress Classe is a good-quality futon mattress that is affordable and easy to use. The outer fabric is made out of 100% cotton and is very pleasant to sleep on.
The Classe is 2.5 inches thick, so it's not as firm as a memory foam mattress, but it's not a sitting-on-the-floor futon either. The mattress is non-washable, so the manufacturer recommends using covers and washing them when necessary.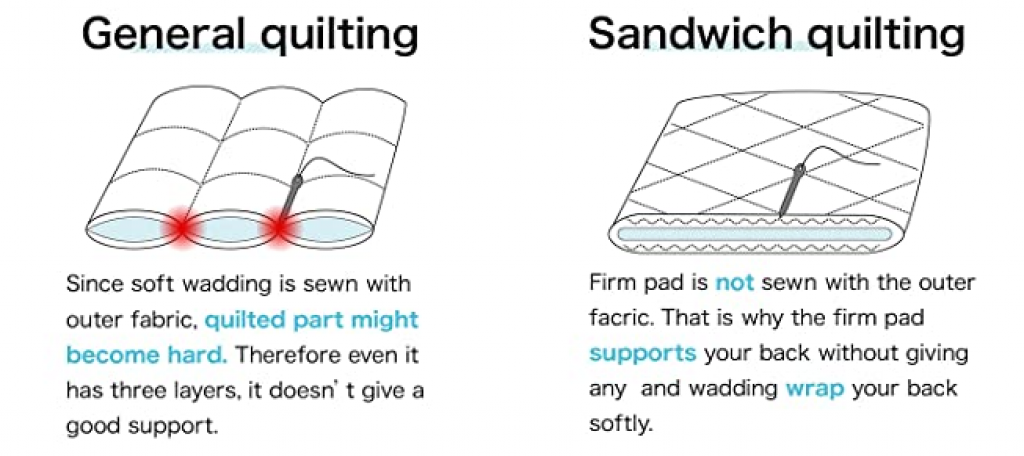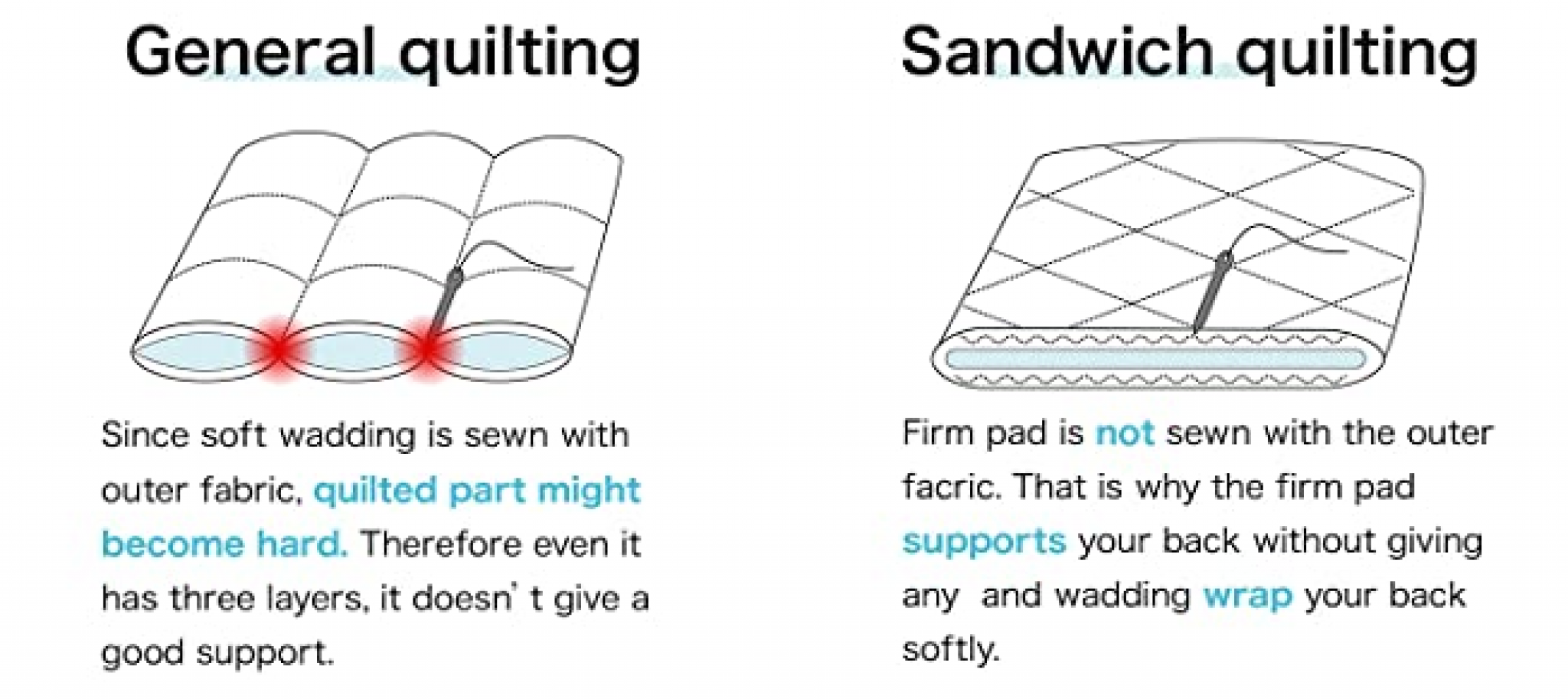 The EMOOR Japanese Traditional Futon Mattress Classe is a firm but not too hard mattress that provides the right kind of support for your back. It is ideal for people who find themselves tossing and turning at night or sleep hot. The mattress is about 8 cm thick, contains a firm polyester pad sandwiched with soft filling. The mattress is certified as having met the required standard for fire-retardancy.
What I like:
Lightweight mattress – only 11 pounds.
The mattress is designed to be folded and stored away during the day.
Has a soft and comfortable filling.
What I Don't Like:
It's non-washable and comes without cover.
---
Serta Chestnut Double Sided Foam and Cotton Full Futon Mattress
Best Foam Construction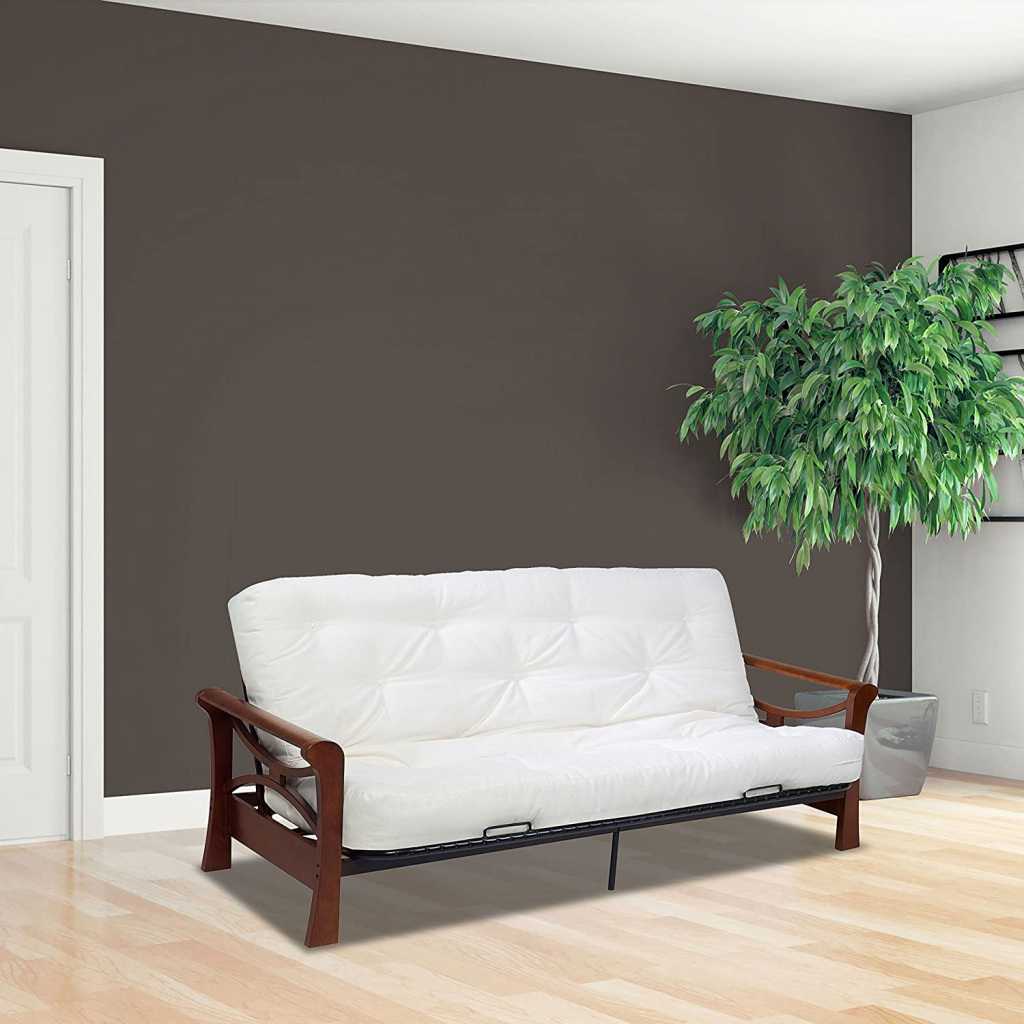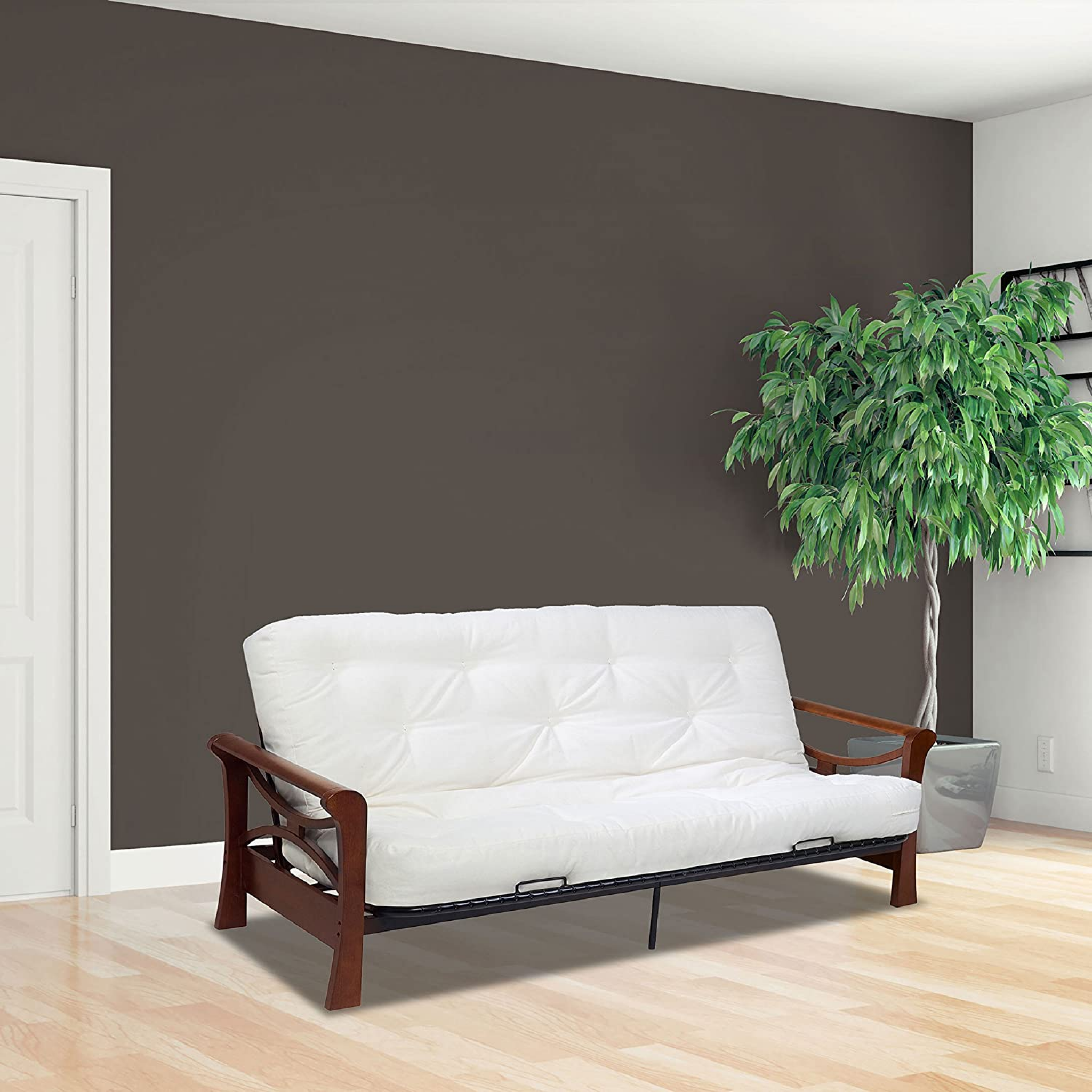 The traditional futon mattress is a multifunctional piece of furniture that comes in many different styles and shapes. The Serta Chestnut Double Sided Foam and Cotton Full Futon Mattress is a traditional futon mattress with a full-size traditional futon mattress made from foam and has a futon mattress cover that is made from cotton.
As you'd expect from a futon mattress, it is meant to be used on the floor. But you can also use it on the bed or sofa.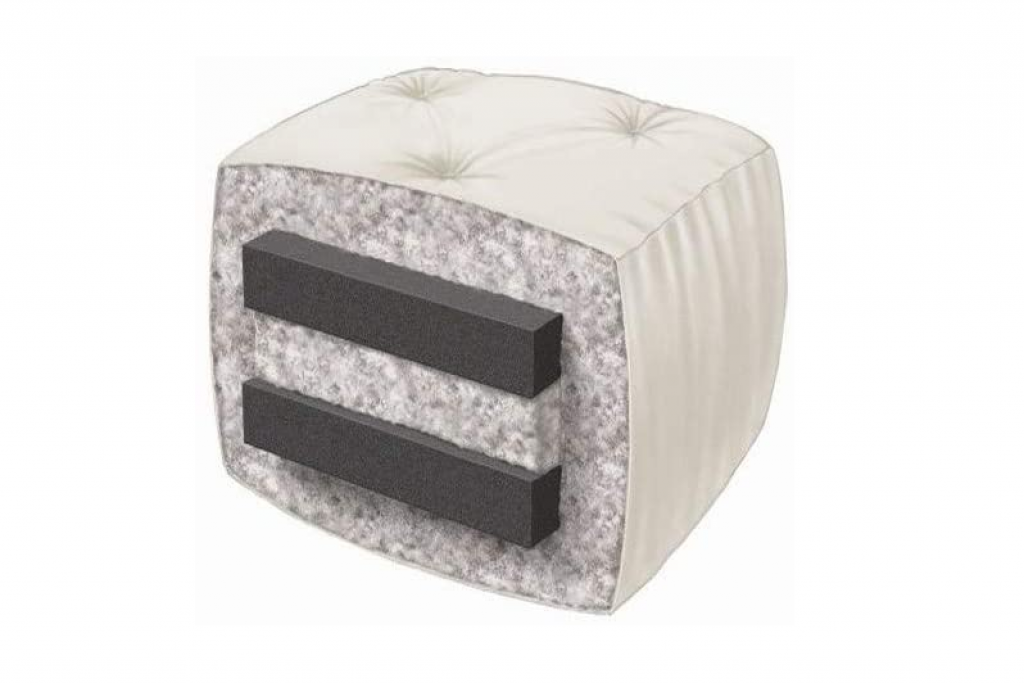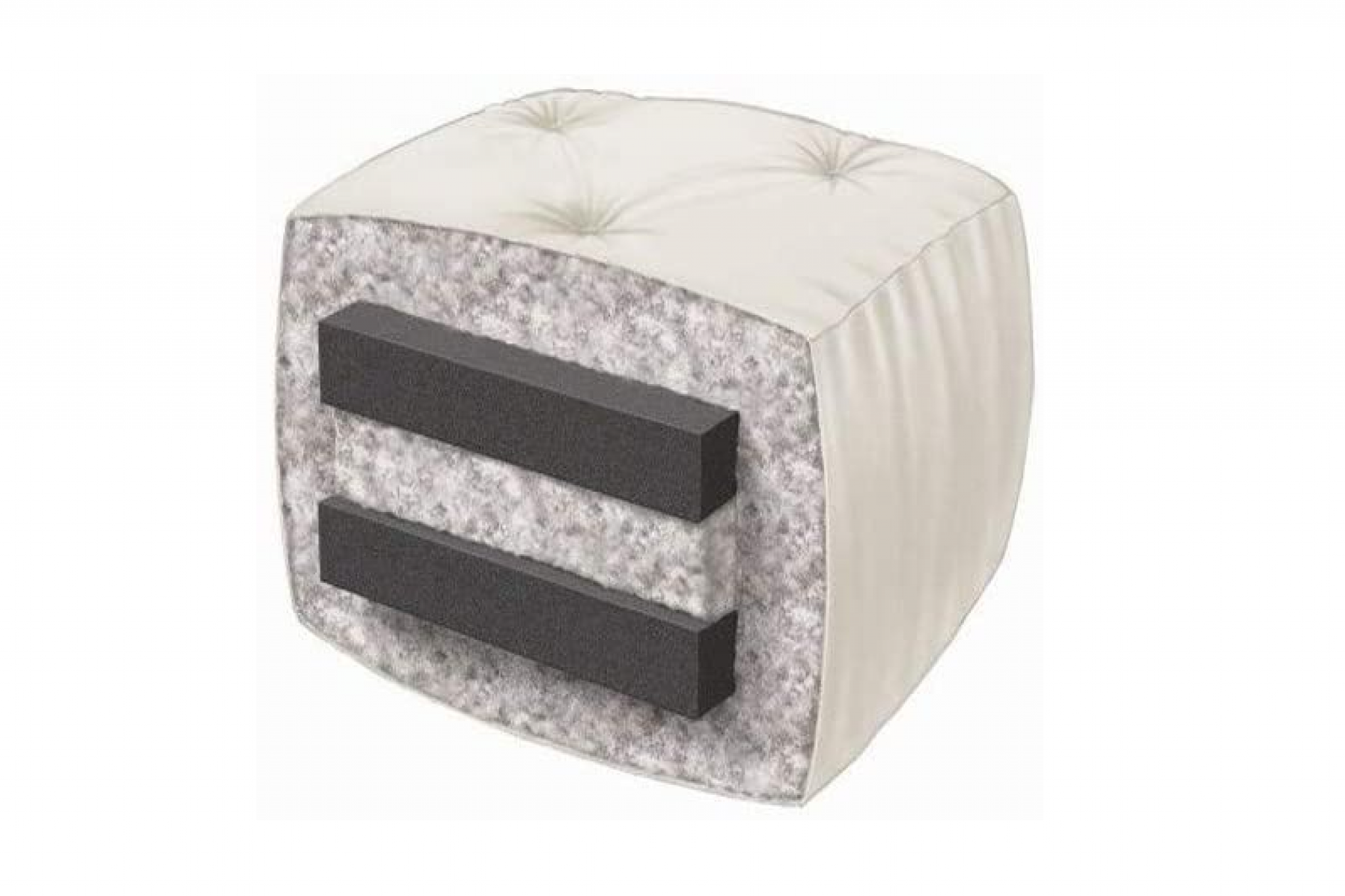 Like most futon mattresses, the Serta Chestnut Double-Sided Foam and Cotton Full Futon Mattress is a hybrid of sorts that features two layers of foam and a pad between them. This is an arrangement that most people like because it provides both firm support and comfort.
What sets the Chestnut apart are its construction and materials. The mattress employs dual-foam core technology to provide maximum body support while sleeping or sitting. It's also quite affordable, thanks to the fact that it's made in the US. A full-size mattress is 75 inches long and 53 inches wide.
What I Like:
The mattress is not too soft, but it is not too hard either. It provides enough support.
This mattress is an excellent option for your bed that will give you the rest.
Featuring a 100% cotton cover, this futon mattress is very breathable and comfortable to care for.
---
D&D Futon Furniture Cotton Mattress
Best for Yoga Meditation Mat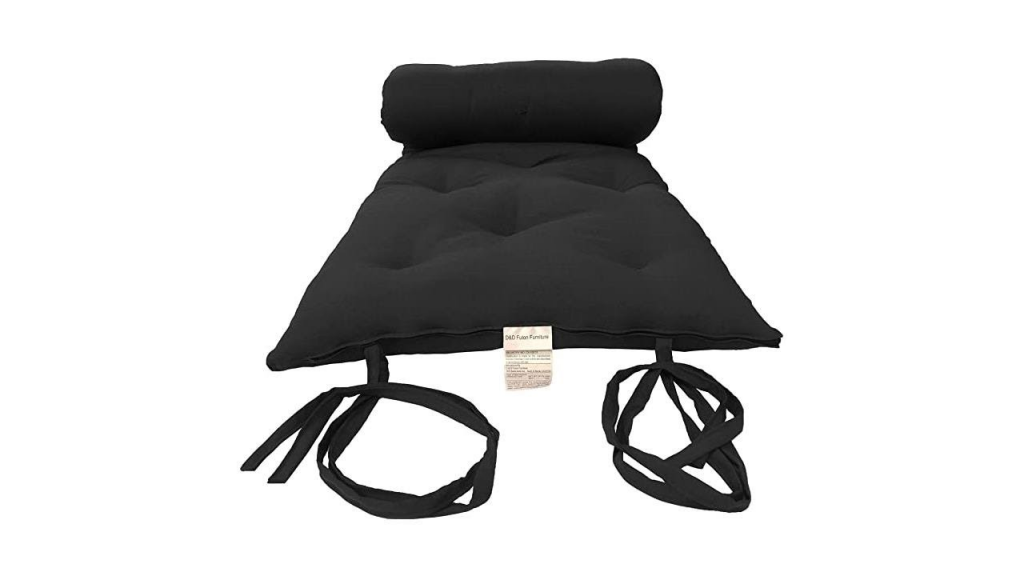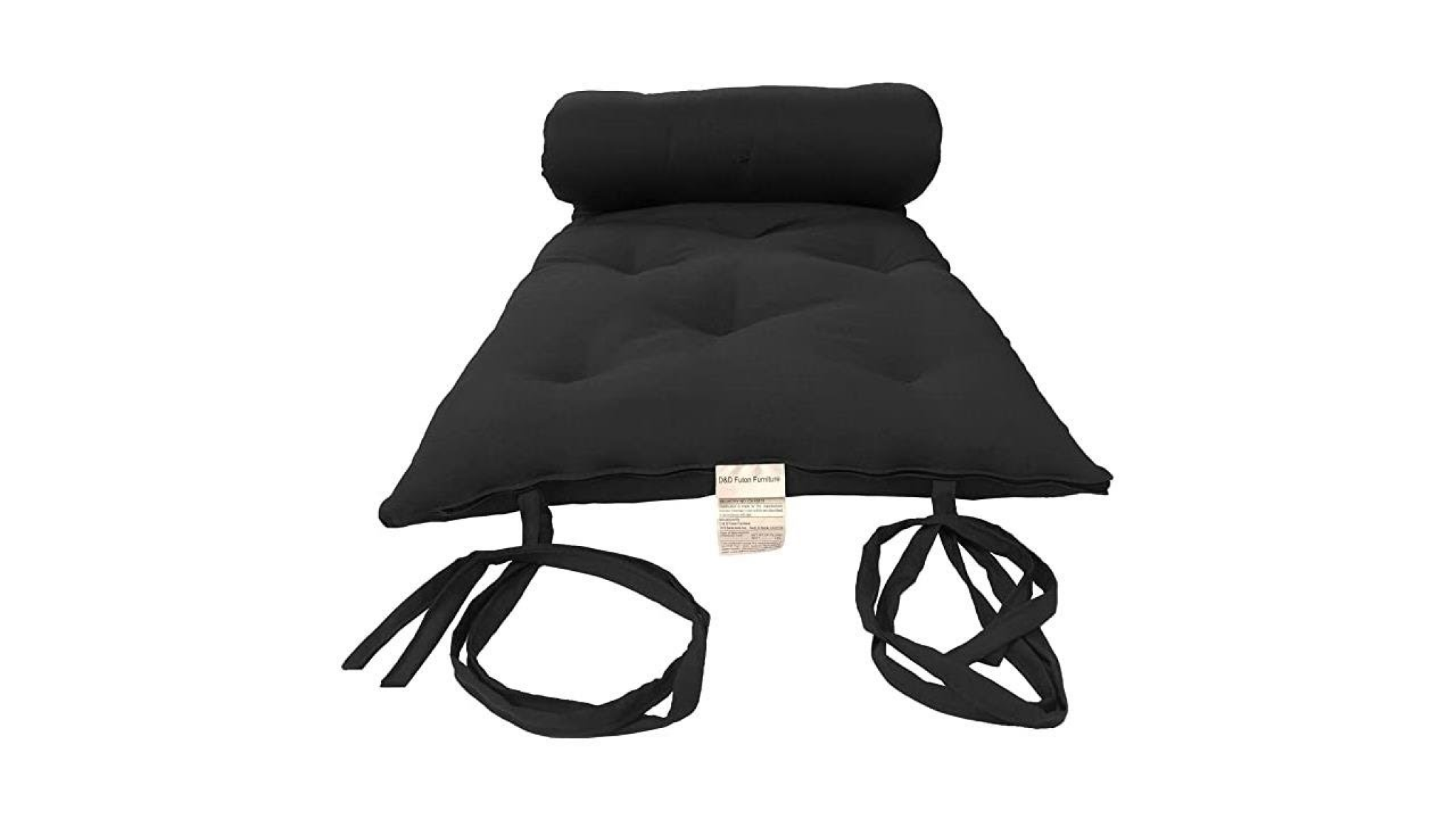 The D&D Futon Cotton Mattress is a high-quality piece of furniture you can use to do just about anything. Whether you are using it as bedroom furniture or as a spare bed for family and friends when they come over, this mattress will not disappoint.
The mattress is easy to move around because it is lightweight. The cotton is soft to touch and does not scratch you when you are lying on it. The cotton also molds your body's contours, giving you the right amount of support you need to have a good sleep. This mattress is ideal for those who love the feel of sleeping on a cotton mattress.
The D&D Futon Furniture Cotton Mattress is an excellent choice for anyone looking for the best product at a great price. The cotton filling is comfortable and easy to work with. And, the cotton filling makes an excellent choice for your new futon mattress. This mattress has a 3″ thickness.
What I LIke:
The material is very soft and comfortable.
A great way to take your bedroom from being an unused area of your home to a multipurpose room.
What I Don't Like:
The airflow is a little tricky because of the material.
---
Buyer's Guide
This guide is for those who are looking to purchase a futon mattress but doesn't know where to start. I will explain what you should look for when buying a futon mattress, as well as give you some suggestions.
---
What is a Futon Mattress
A futon mattress is a mattress that can convert from a couch to a bed, depending on the situation. The futon mattress is usually made to be placed on the floor and can be used as both a coach and a bed. The futon mattress is often made from foam and is most commonly found in a two-piece design.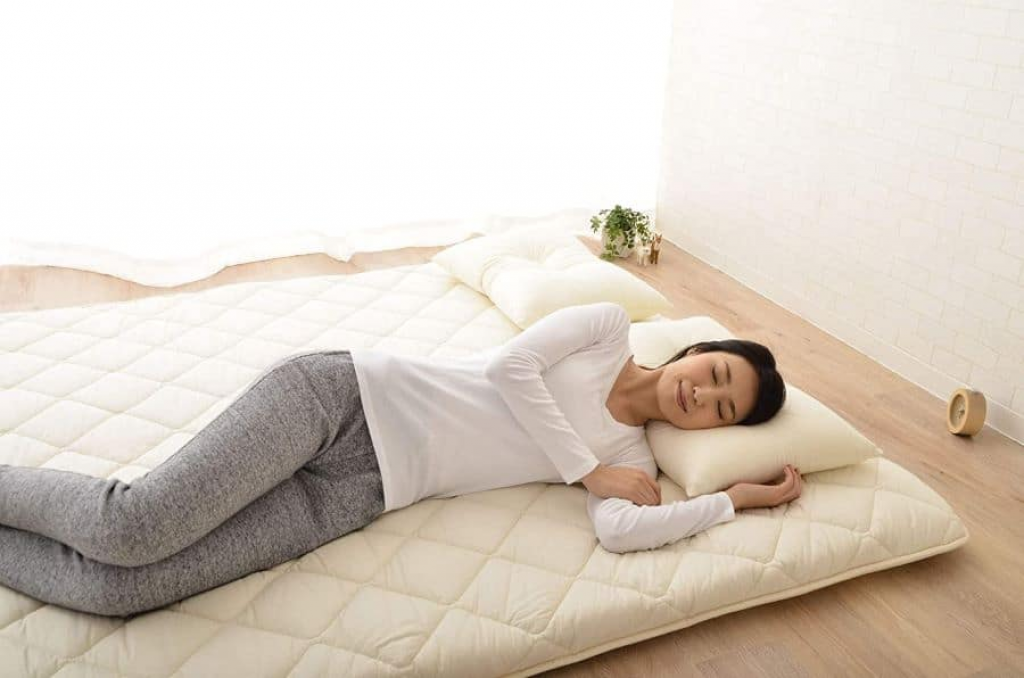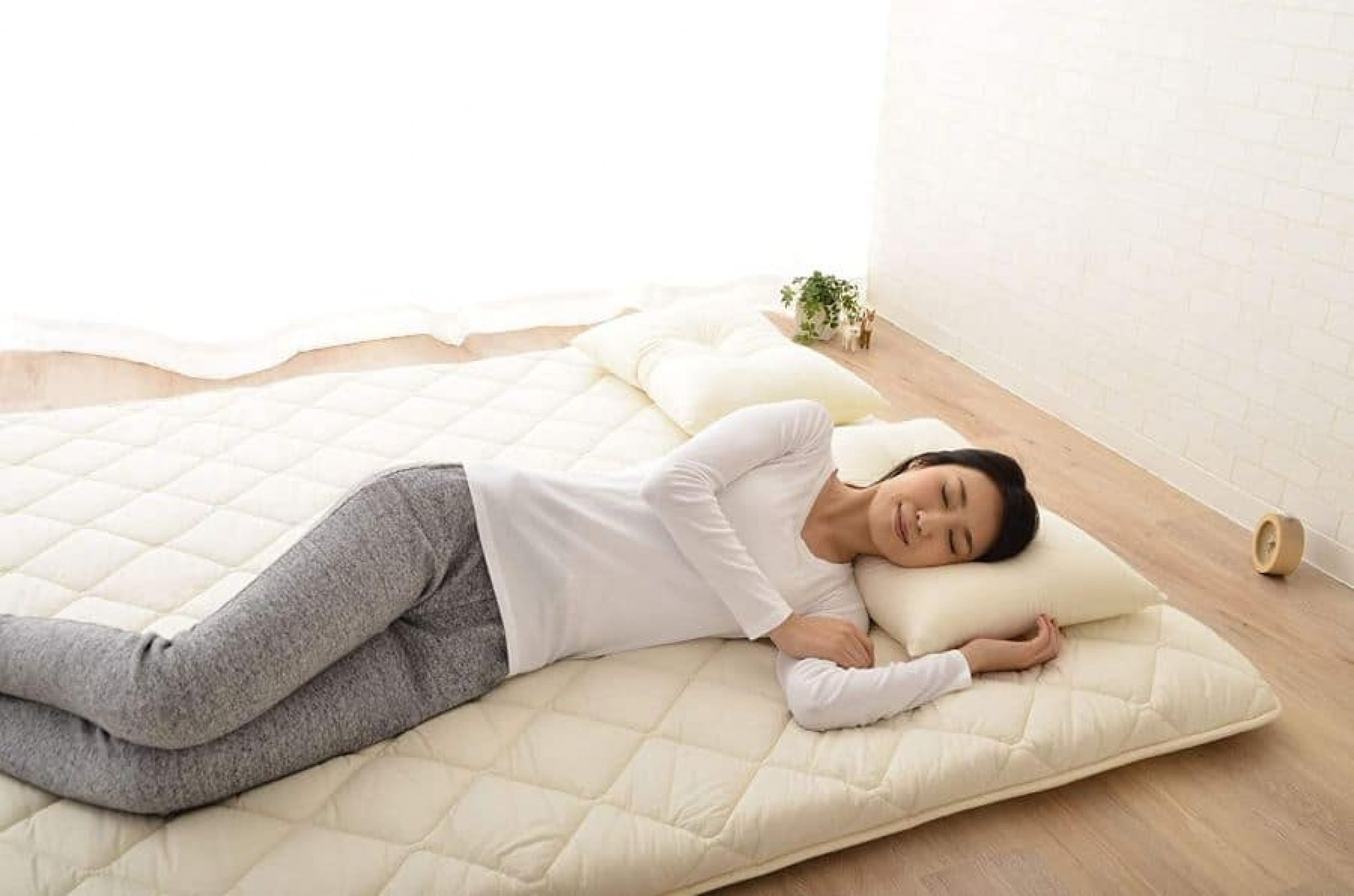 A futon mattress is usually the cheapest option for a bed, and it's not a bad one, but that doesn't mean that all futon mattresses are the same. A right futon mattress will last a long time, but a bad one will leave you with a sore back and find yourself sleeping on the floor. When shopping for a futon mattress, there are a couple of things you should look out for. I'm going to break down the three most important features of any futon mattress and how to decide what is best for you.
---
Why Choose a Futon?
A futon is a type of mattress that can be used in a variety of ways. Originally, futons were used in Japan as a way to sleep comfortably on tatami mats. The futon mattress is used on a frame, called a tokoban, and the frame is used to separate the futon into two pieces.
The top part, or mattress, is used as a bed, while the bottom part serves as a couch. In more recent times, futon mattresses have become more popular with westerners. While they are still used on tokoban, the mattress is more often used as a bed in its entirety.
The futon is a perfect choice for any home. There are plenty of benefits to owning a futon. This Japanese mattress is an excellent choice for the guest room, college dorm, or home office. The mattress is easy to transform from a comfortable couch into a firm, supportive bed. It also can be easily stored when the room is needed for other uses.
---
What to Look for in a Futon
Before you buy a futon, there are several things to take into consideration. First, futons come in different sizes and thicknesses. Second, futons have different styles and are made with other materials. Third, you should consider futon mattress durability and frame availability.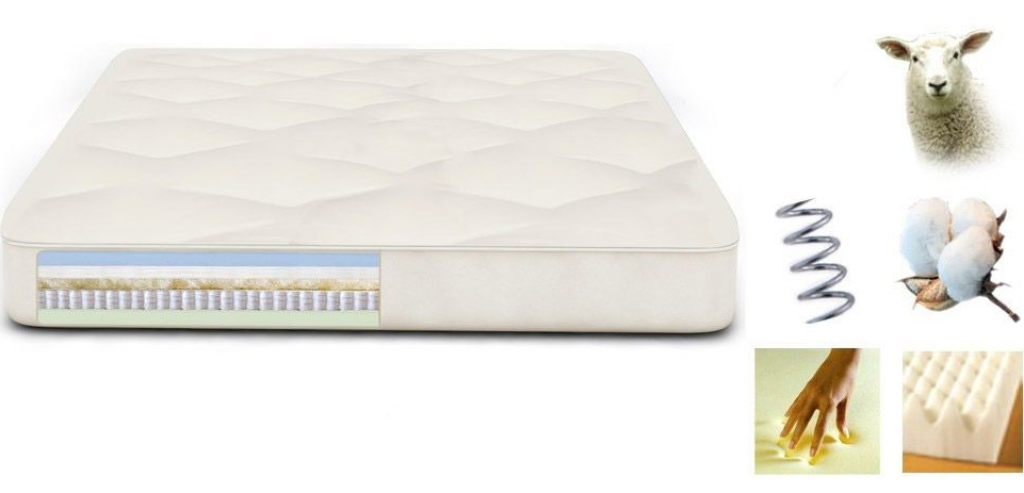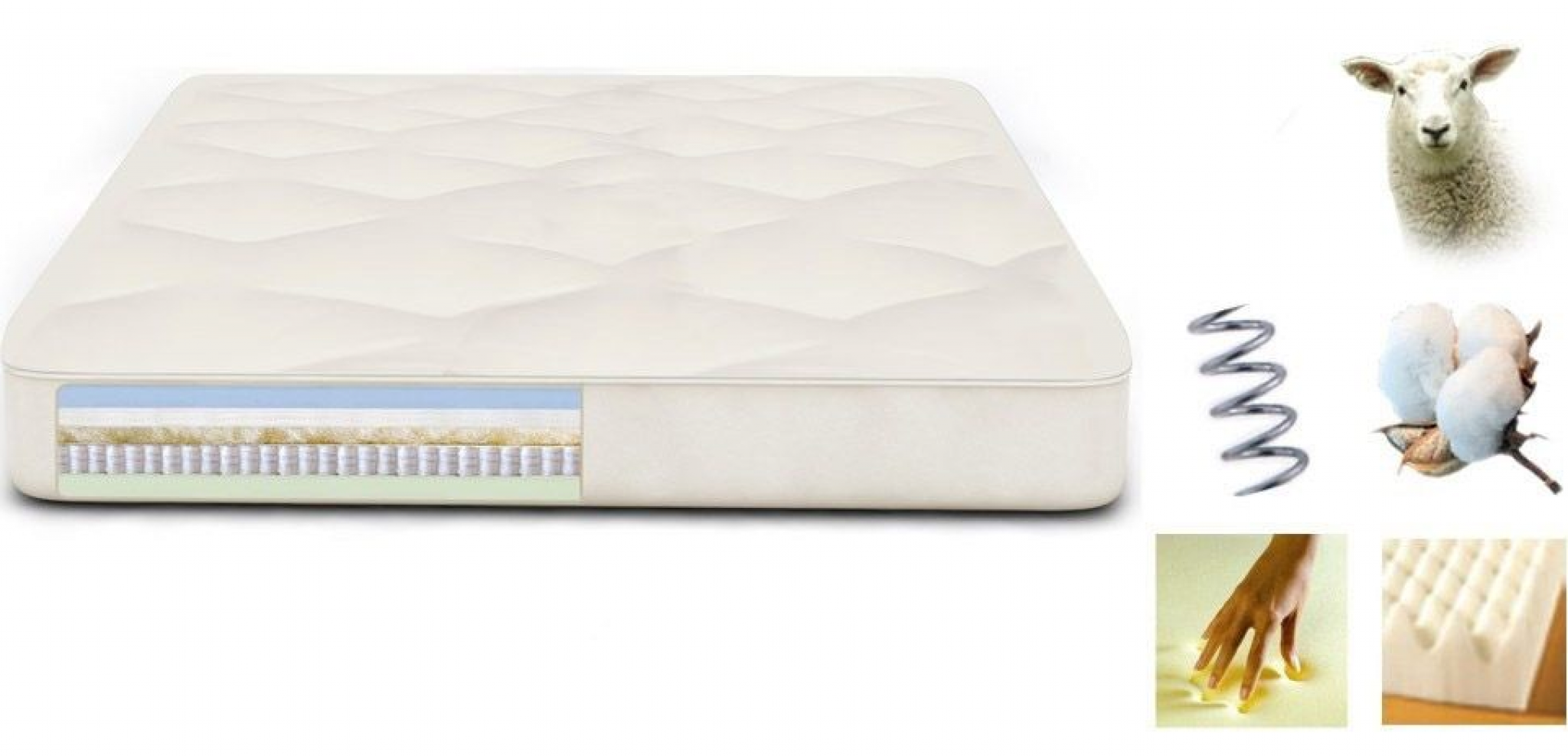 Thickness
The thickness of a futon mattress is of great importance, as a thicker one will be more comfortable, but it will also be heavier to move around. A thinner one will be less cumbersome and lighter, and easier to store, but it won't be as good to sleep on.
This is why it's important to first understand what sort of futon mattress works best for you and your lifestyle. The mattress should be thick enough to offer you the support you need without being so thick that it interferes with your sleeping habits.
You should also decide whether you need to be able to fold the mattress up, or you need the mattress to be thicker to provide more comfort. Average futon mattress thickness in the range of 6-8 inches.
Materials
Futon mattresses are the best way to get a good sleep. Futon mattresses come in a variety of materials. Some are made with cotton, rayon, polyester, and even silk. They are usually filled with cotton to give you a good night's sleep.
Frame
Futon mattress frames are used to support a futon mattress. A futon mattress consists of a softer inner core made of cotton batting and a harder outer shell made of synthetic fibers like polyester or man-made fibers. The mattress is positioned on a frame, which is designed to provide support while still allowing airflow and comfort.
---
Benefits of Futon Mattresses
A futon mattress can be a great addition to your home. They are inexpensive, and they are designed to be versatile in that they can be used on the floor, or on a frame to make a bed. While futon mattresses are ideal for college students, they are becoming more popular in other households, too. Not only do futons offer a great value, but they also can offer an eco-friendly choice.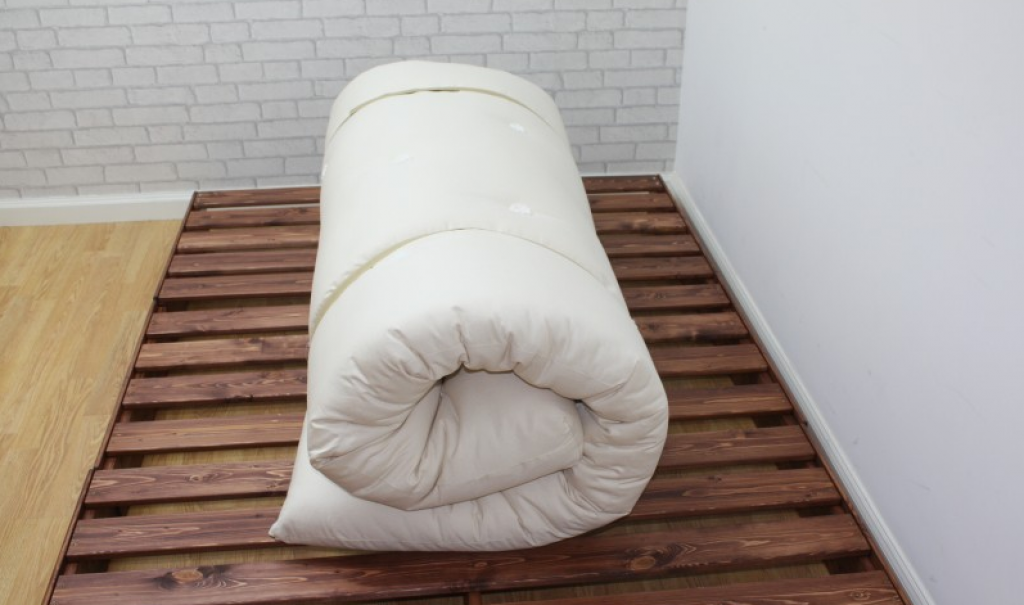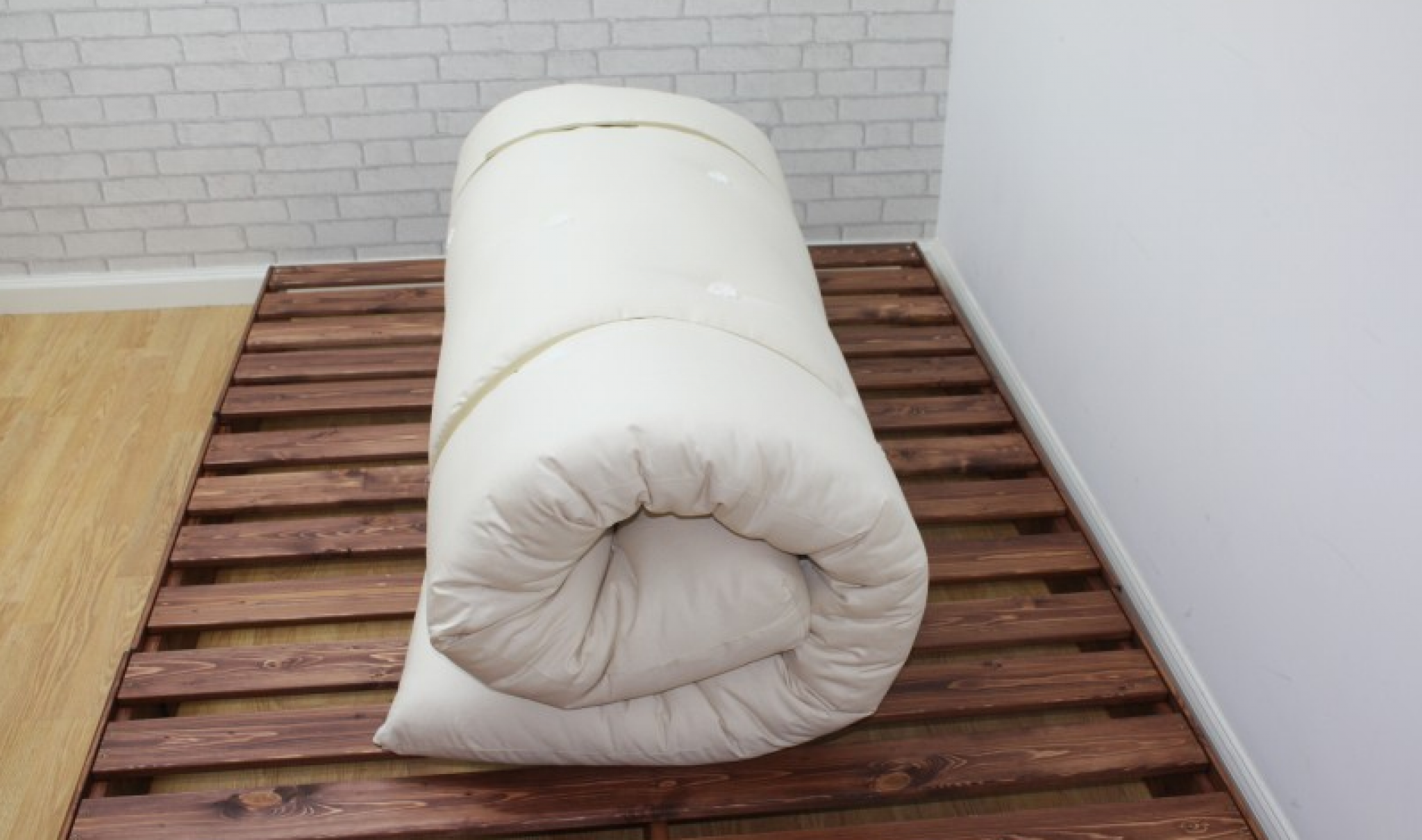 Space and Flexibility
A futon is called "room's best friend" – because it gives you a lot of space. It can be used for a sofa, a bed, a chair, and even a table. A futon is made from a flexible material, so it is effortless to fold and store. This is especially useful when you are living in a small apartment and you need to save every inch of space.
Versatile Usage
The modern futon mattress can be much more than just a place to sleep. This mattress could be a great place to relax and unwind, even if you are watching television or read a book. The futon mattress can be a great mattress for you to enjoy your spare time.
Cost
A futon mattress is one of the cheapest types of mattresses available on the market. The price usually depends on the mattress's size and the materials it's made of. So choose the one you need and be ready to spend not so much to buy the best futon mattress.
---
FAQ
What are the benefits of a futon mattress?
Futon mattresses provide comfort, affordability, and versatility. They can easily be converted from a sofa to a bed, making them perfect for small spaces or guest rooms. They are also available in a variety of firmness levels, so you can find a mattress that suits your needs. 
What types of futon mattresses are available?
Futon mattresses can be found in a variety of materials. The most common are cotton, polyester, foam, and spring. The type of material you choose will depend on your budget and preferences.
How long will my futon mattress last?
The life of a futon mattress can range from 3 to 10 years, depending on care and maintenance. To maximize the lifespan of your mattress, it is important to rotate and flip it periodically, use a mattress protector, and avoid spills and excess moisture.