Brief: 5 Best Folding Mattresses for Your Needs
Introduction:

Discusses the necessity of a comfortable sleeping surface and the challenges faced by those without access to traditional beds, leading to the utility of folding mattresses.

Top 5 Best Folding Mattresses:

Best Overall: Milliard Tri Folding Memory Foam Mattress
Best Value: Zinus Memory Foam 4 Inch Tri-Fold Mat
Best Size Selection: Best Price Mattress 4 Inch Trifold Memory Foam Topper
Best for Travel: Cushy Form Folding Mattress
Best Multifunctional: Best Choice Products 4in Folding Portable Mattress

Detailed Reviews:

Each mattress is evaluated for its unique features like size options, construction type, materials used, and price, offering diverse options for different needs.

Buyer's Guide:

Types: Polyfoam and Memory Foam.
Considerations: Cooling properties, cover material, dimensions, firmness, storage or carrying case, and fold type.
Benefits: Convenience, portability, and cost-effectiveness.

Conclusion:

The guide provides comprehensive insights into selecting a suitable folding mattress, highlighting the benefits and versatility of folding mattresses for various use cases, including travel and space-saving needs.
As you may know, having a comfortable sleeping surface is an important part of getting a good night's rest. Unfortunately, not everyone has the luxury of a comfortable bed, and some of us have to make do with a thin foam mattress or even the floor when we're sleeping.
---
Top 5 Best Folding Mattresses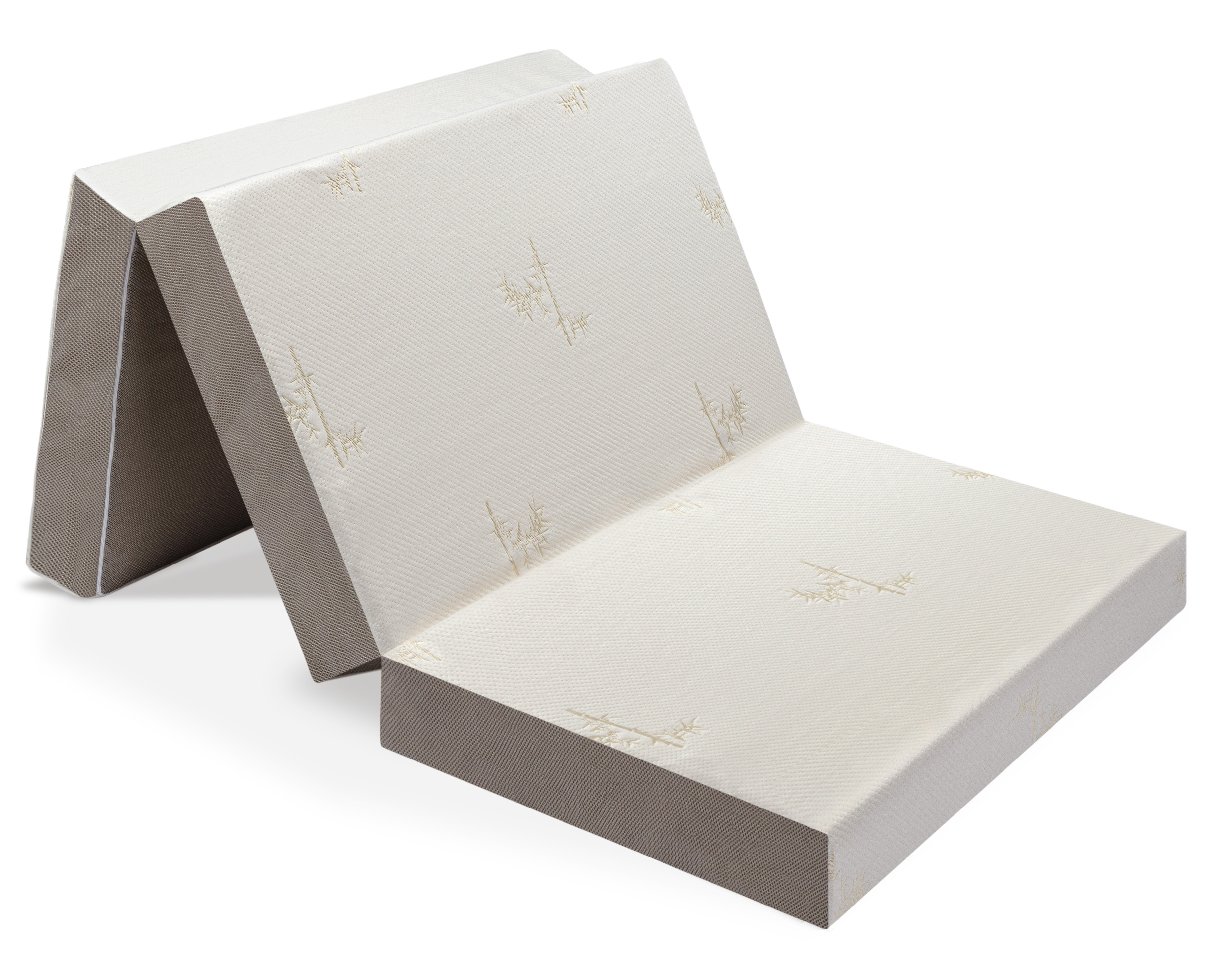 Milliard Tri Folding Memory Foam Mattress
Sizes: Twin, Full, Queen
Construction Type: Foam
Materials: Superior high density foam, jacquard ultra-soft bamboo cover
Price: $$
---
If you find yourself in that boat, you can do many things to make your mattress a little more comfortable. In the following article, we will look at some of the factors that will make choosing the best folding mattress more comfortable.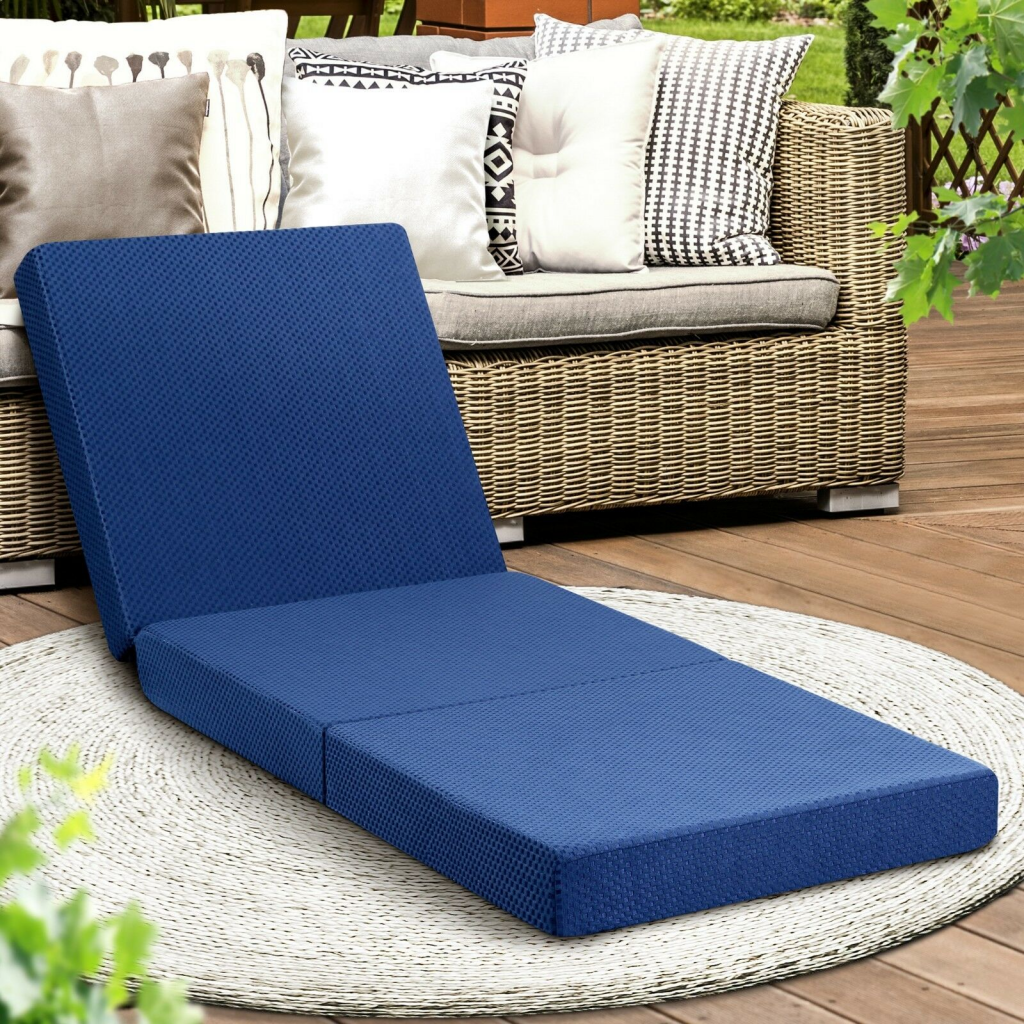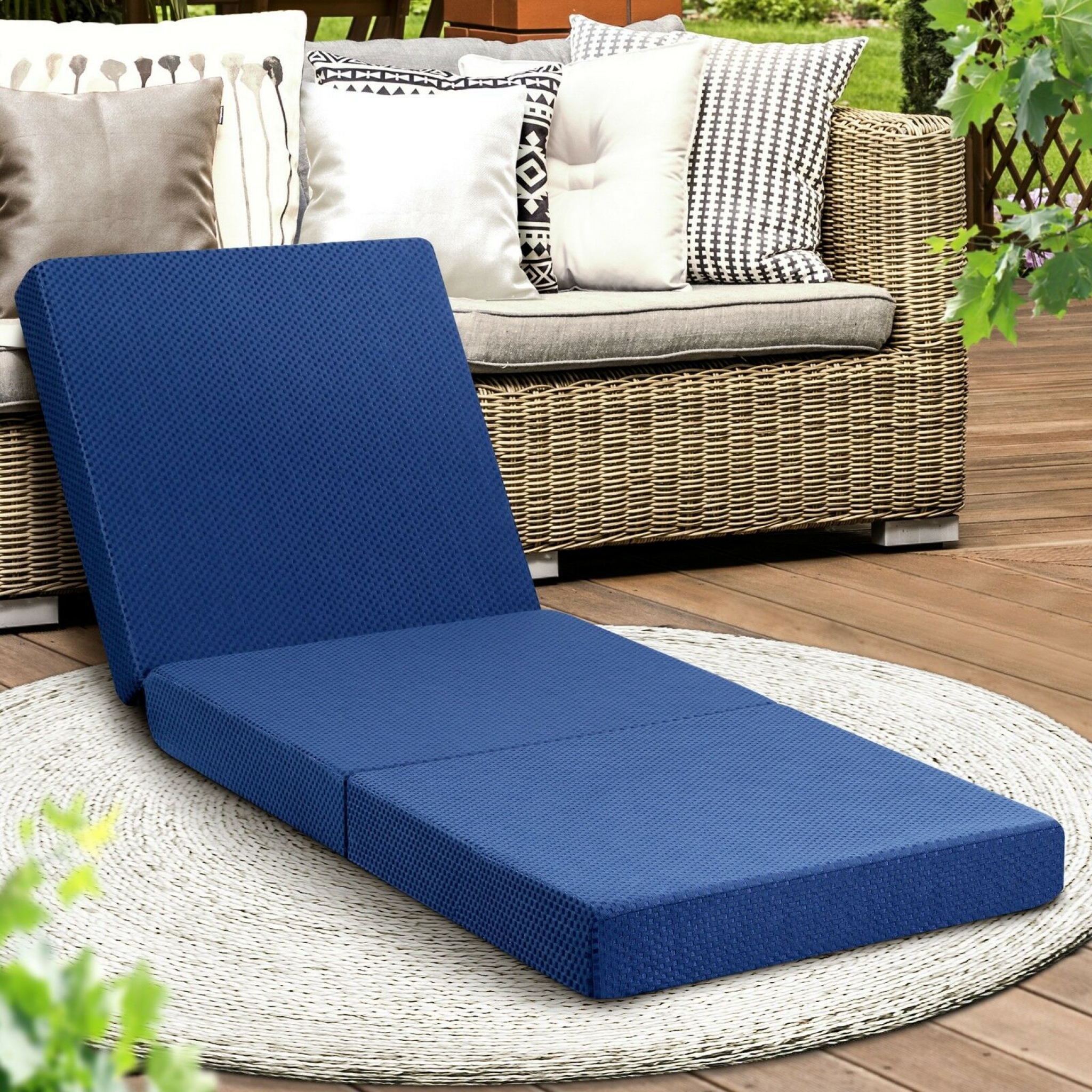 We're going to explore the five most popular folding mattresses on the market. By the end of this article, you will have a better understanding of what makes for a comfortable.
---
Best Folding Mattresses Reviews
Milliard Tri Folding Memory Foam Mattress
Best Overall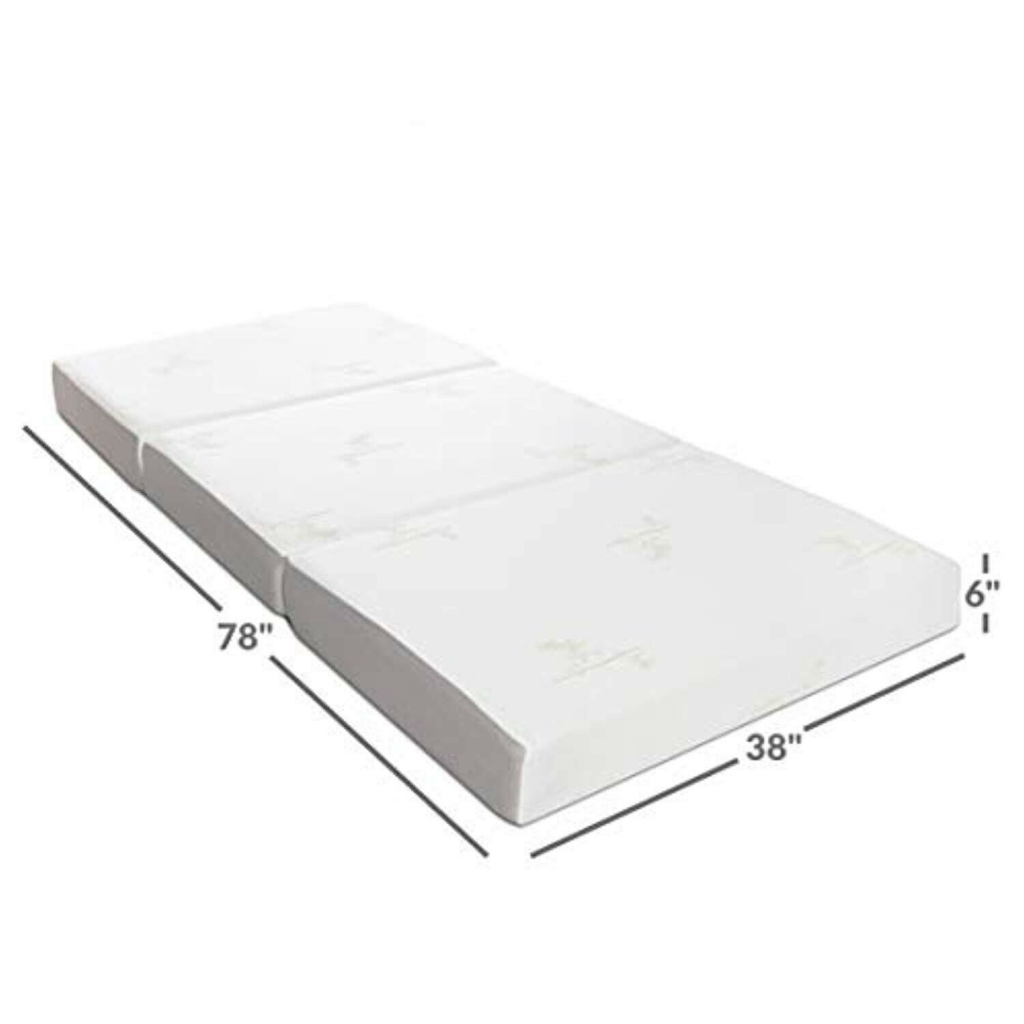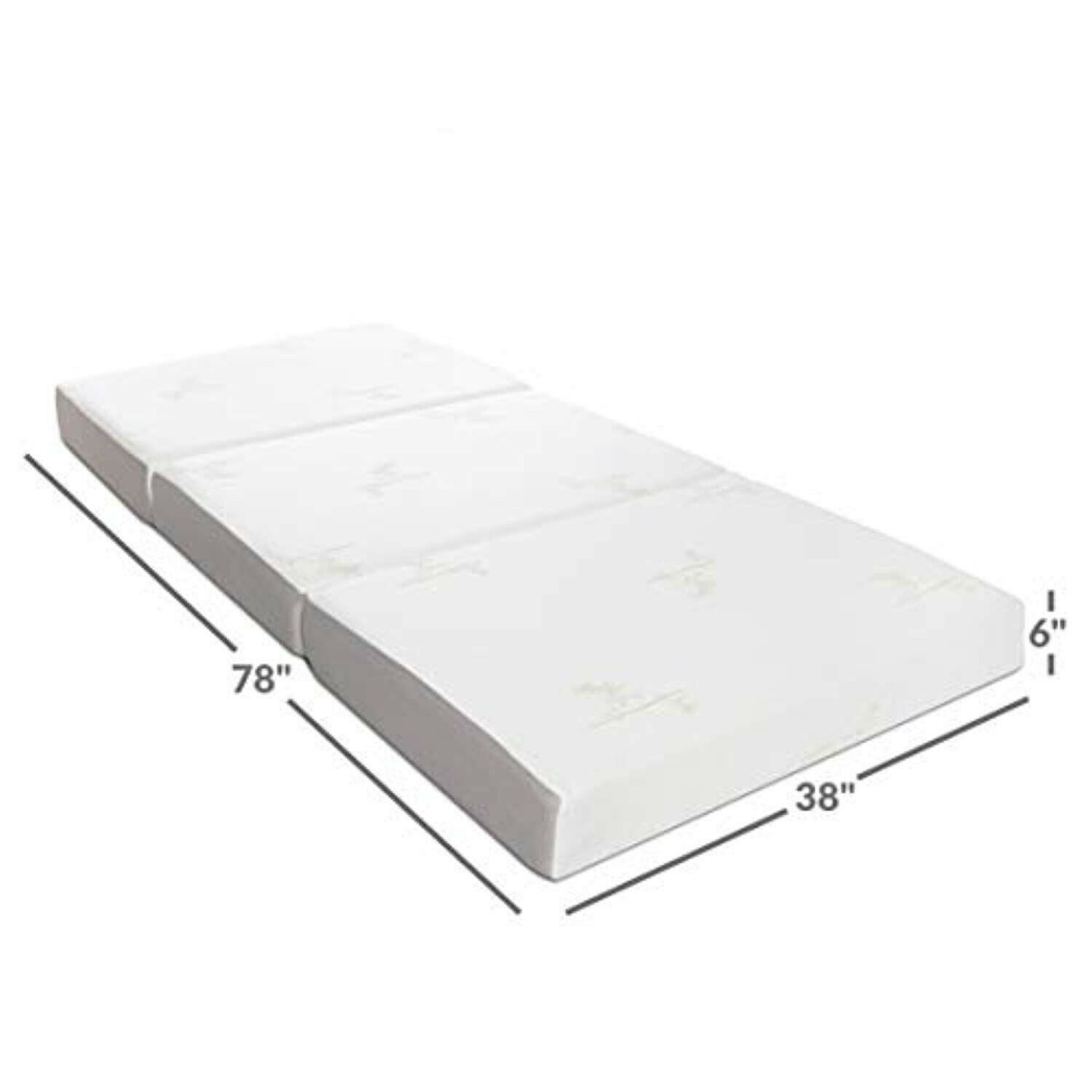 The Milliard Tri-fold Mattress is a convenient solution for family and friends who need an extra bed for visiting. This mattress is a high-quality, comfortable bed that can be conveniently stored and transported. This memory foam mattress is built with a patented Tri-Folding design that makes it quick and easy to set up. Simply unfold the mattress, and it will automatically expand to its full length.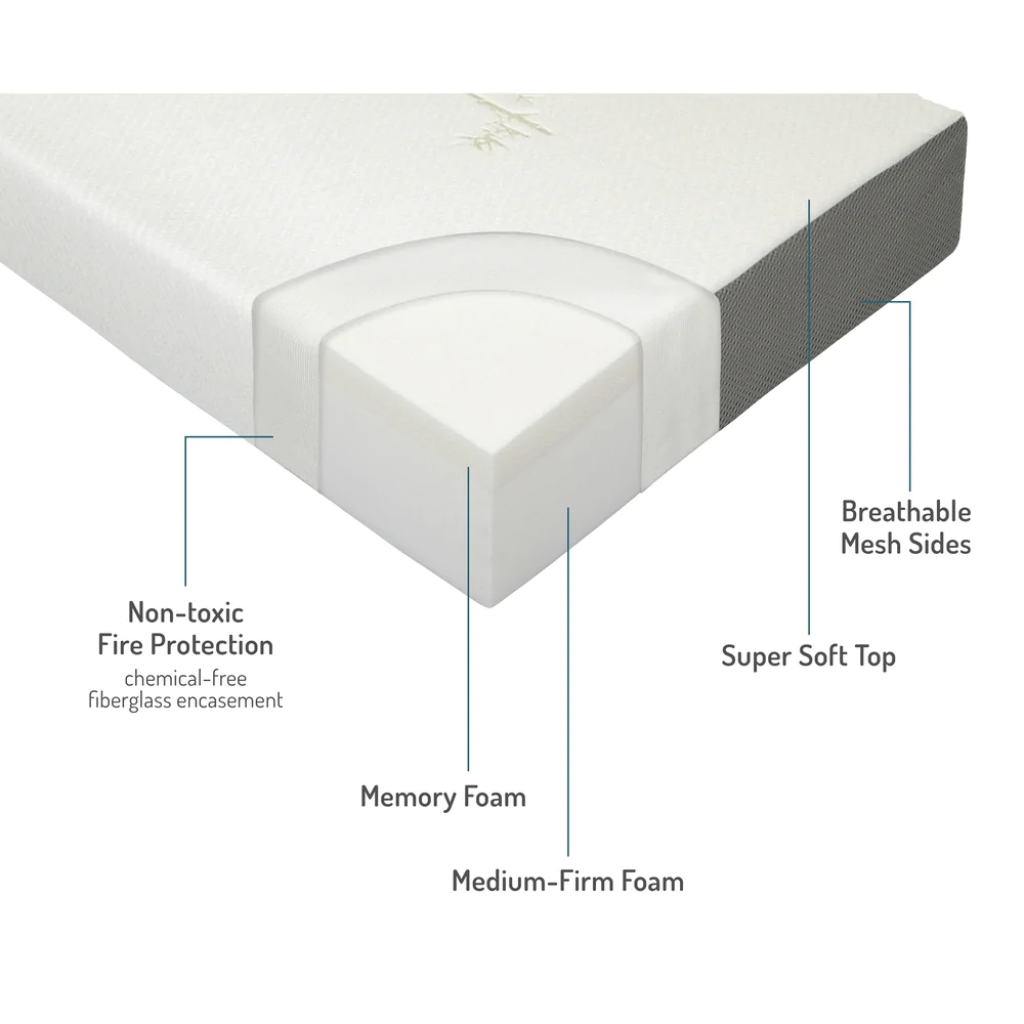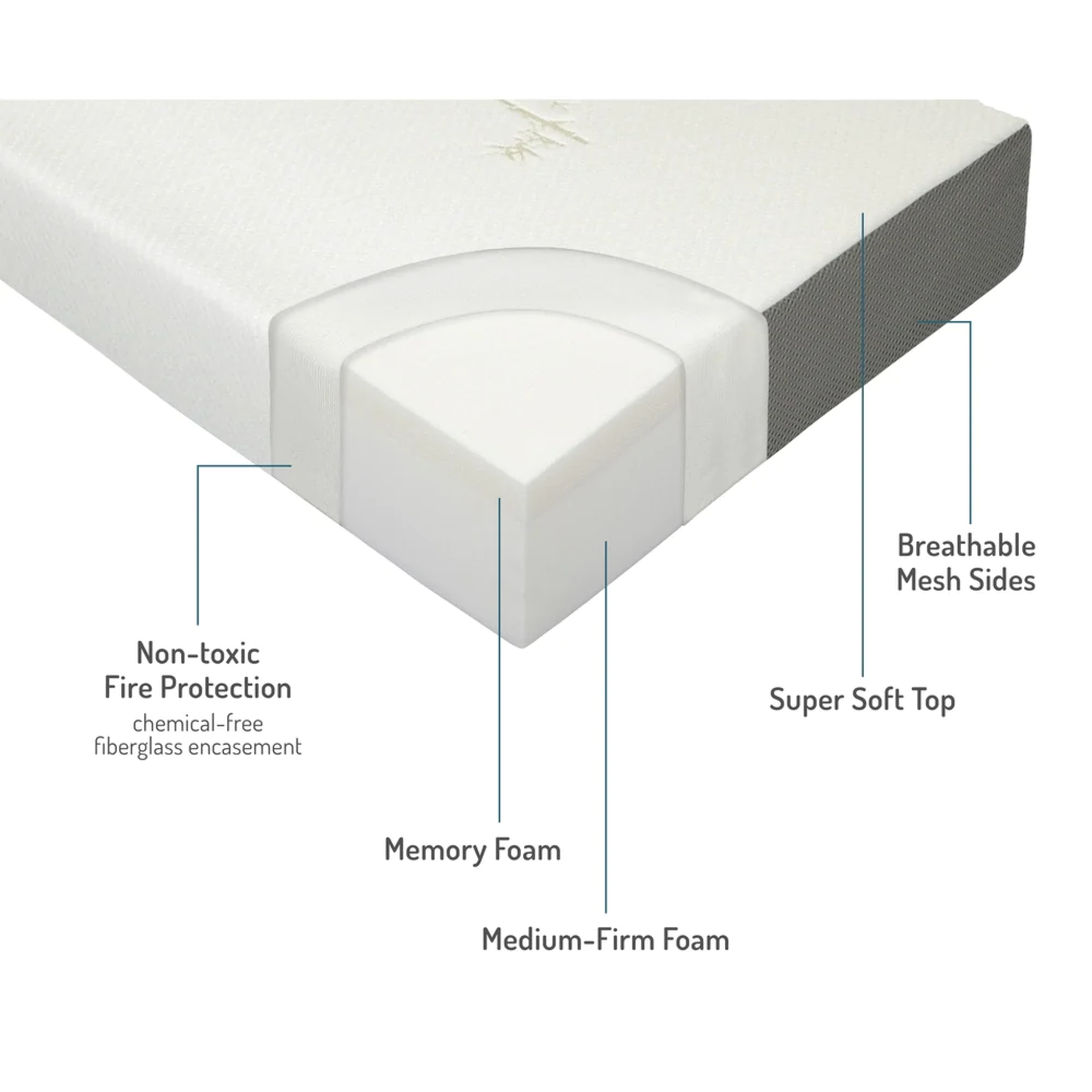 The mattress comes with a bamboo cover to protect the memory foam while adding to its durability. The Tri-Folding Mattress comes in different sizes: Twin, Full, and Queen. No more sleeping on the floor! This portable bed is the perfect solution for unexpected sleep-overs. This is an excellent alternative to a traditional mattress that provides you with a great sleep experience at a fraction of the price.
What I Like:
It's a memory foam mattress that folds up and is portable.
The Milliard bed includes an ultra-soft cover that is made of 100% bamboo and is anti-slip. The cover can be easily removed for cleaning.
Both sizes measure 38inch x 78inch when unfolded. When folded, the mattress measures 38inch x 26inch x 18inch.
---
Zinus Memory Foam 4 Inch Tri-Fold Mat
Best Value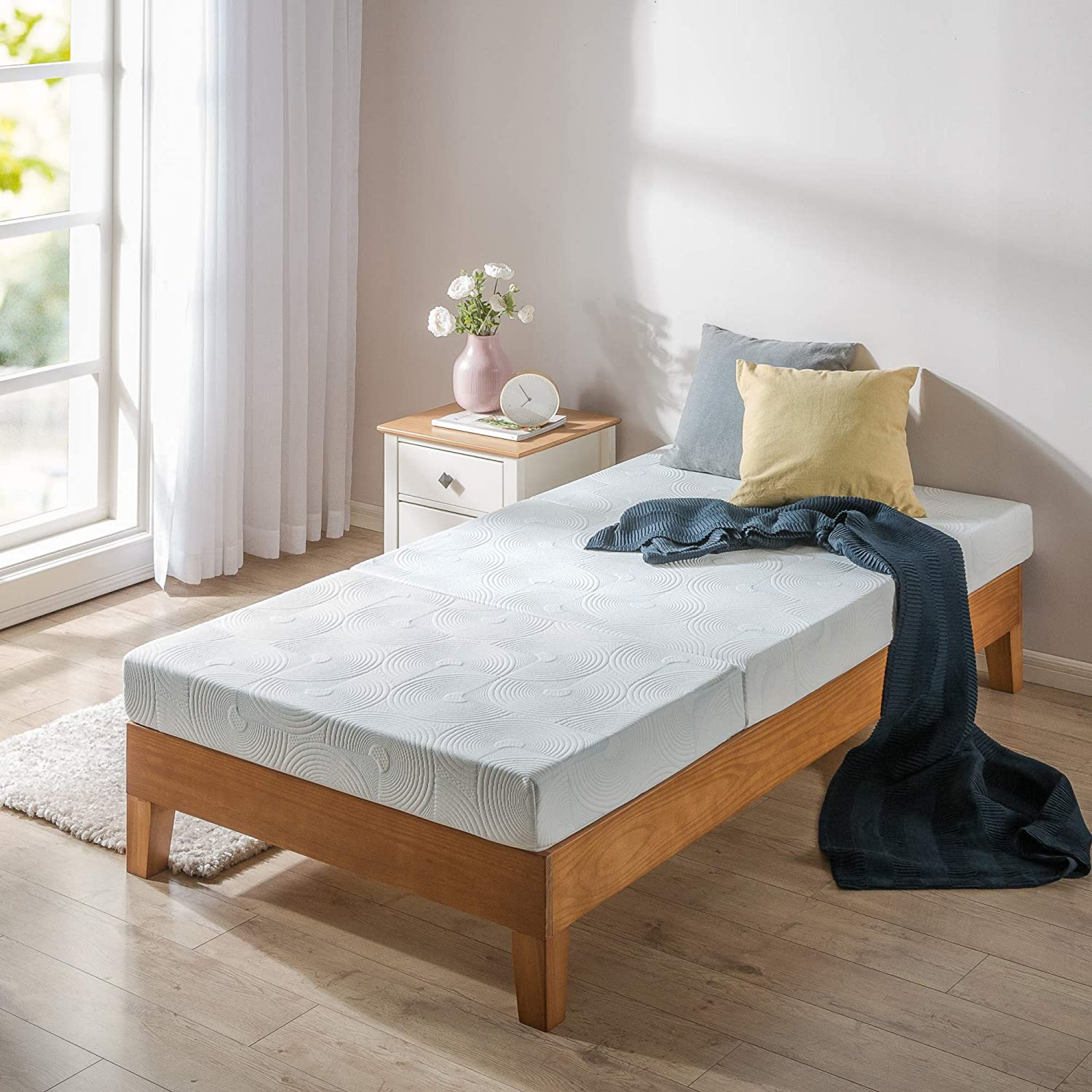 Zinus mattress is focusing on high-quality memory foam at very affordable pricing. Zinus memory foam, BioFoam, is infused with natural ingredients to help absorb moisture, eliminate odors, and keep your mat fresh. The Tri-Fold Comfort Mat is rolled and snugly packed to arrive at your home efficiently.
A 1-inch thick memory foam top layer, 2 inches of Viscolatex responsive foam, and 1-inch high-density Base Support Foam combine to provide a restful night's sleep.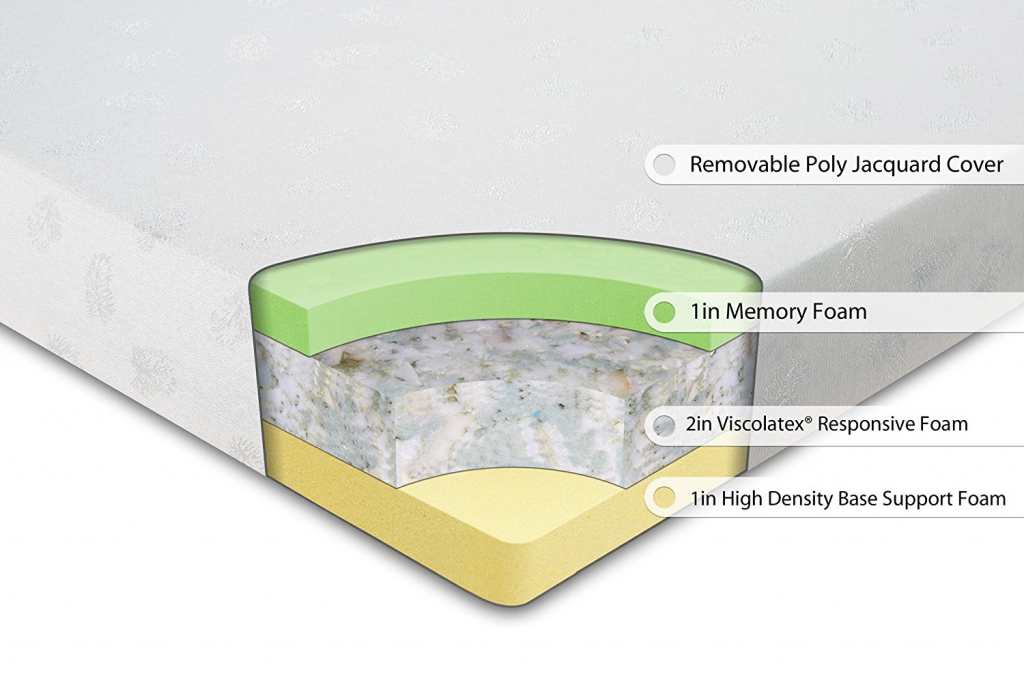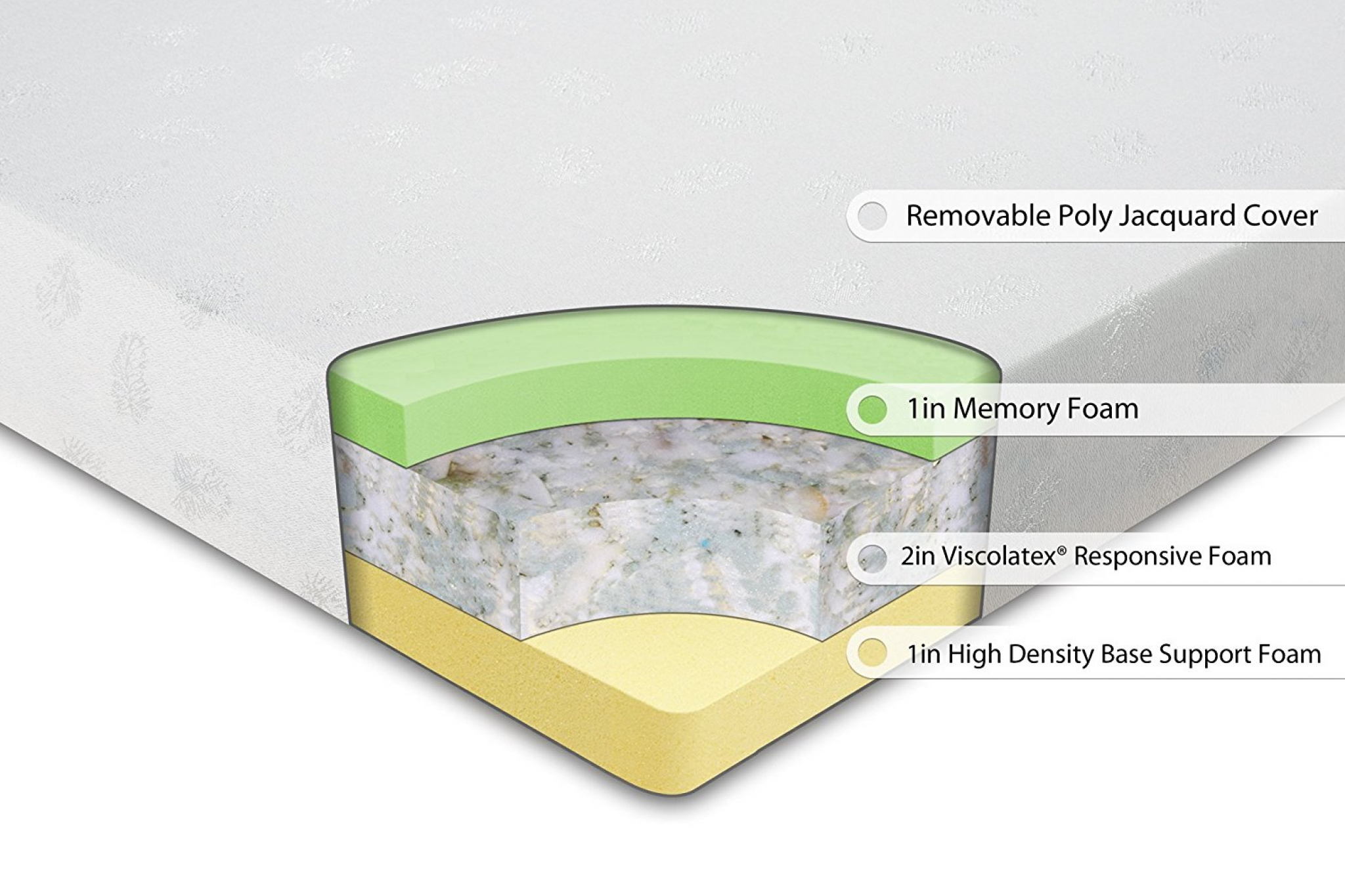 Zinus Memory Foam 4 Inch tri-fold mat is the right choice for those who are a little bit more particular about their foam since the Zinus memory foam offers more support than most other foams out there.
What I Like:
This mattress offers an ideal blend of support and affordability that everyone can appreciate.
The mattress itself is very comfortable and soft and makes for a nice, smooth sleep.
---
Best Price Mattress 4 Inch Trifold Memory Foam Topper
Best Size Selection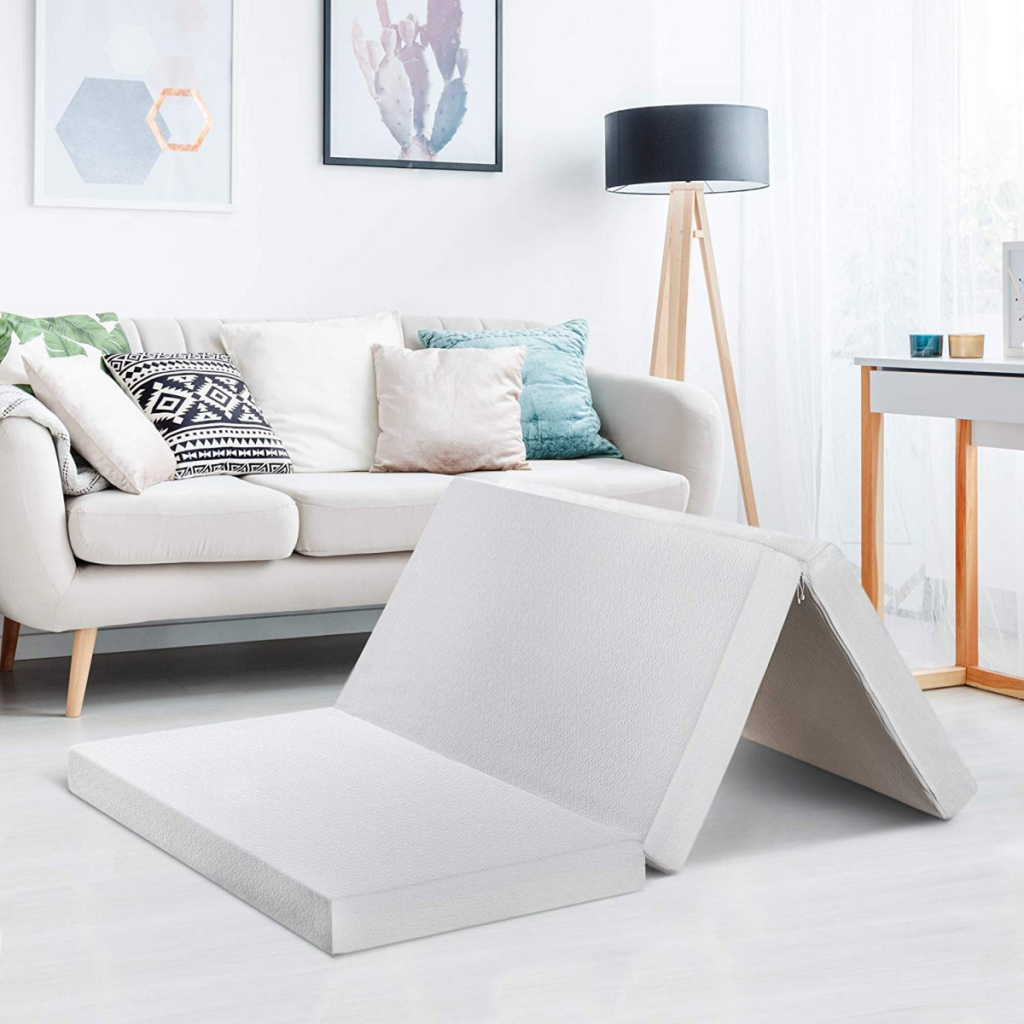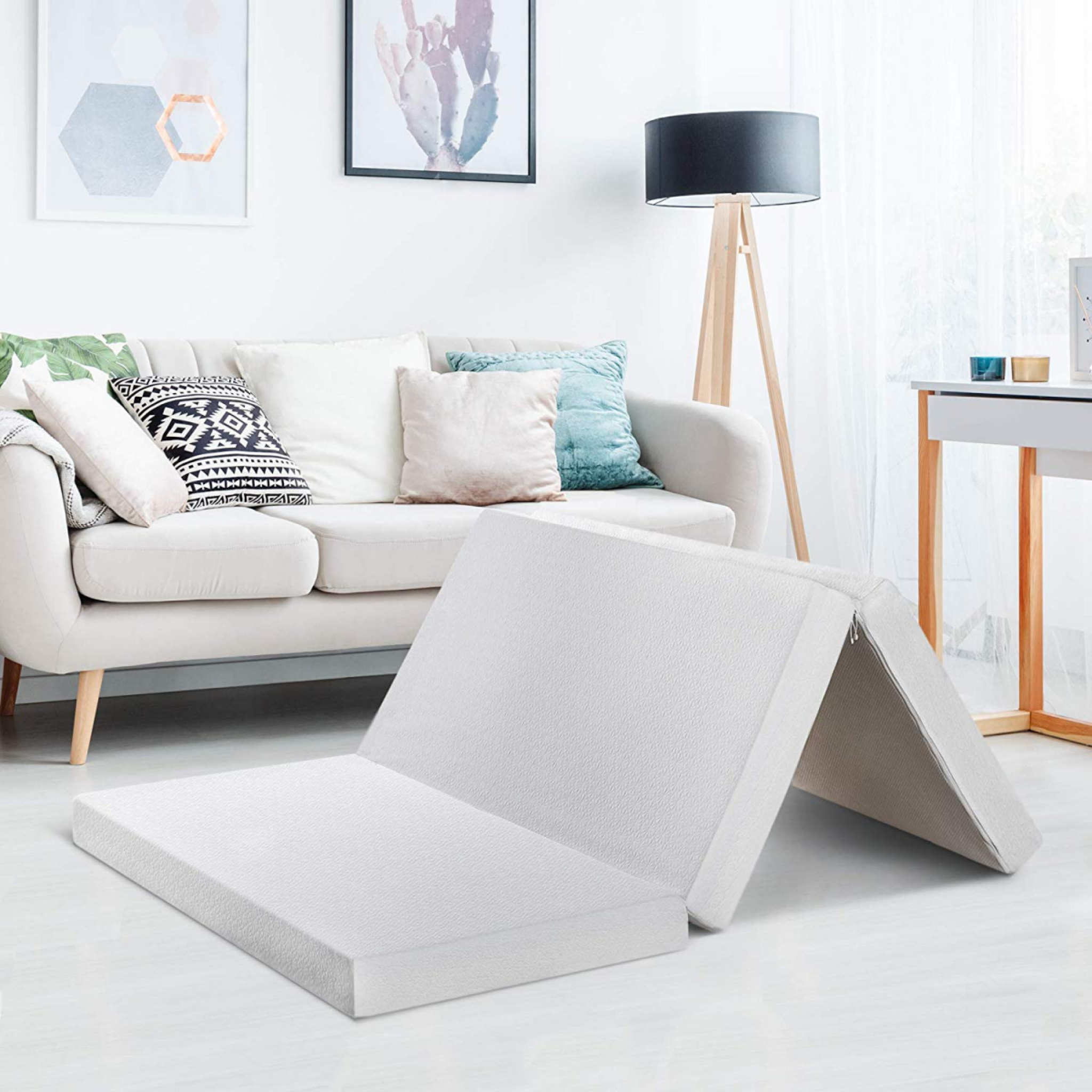 The Best Price Mattress 4 Inch Trifold Memory Foam Topper is a relatively inexpensive option that can do both. The Best Price 4 Inch Topper is made from comfortable memory foam and has a firm top layer and a softer base layer. This helps ensure that it doesn't bottom out or get too soft. It's also great for people who like a little extra cushioning and want to be able to change the firmness of their mattress by adding or removing a topper.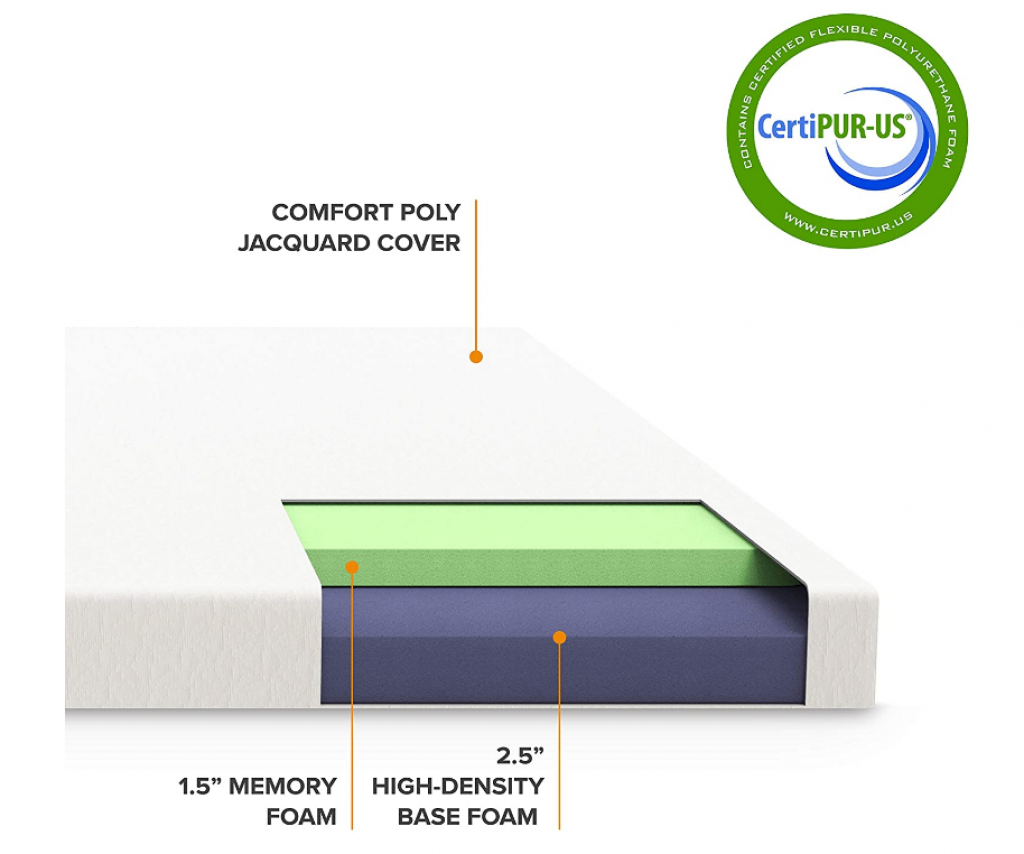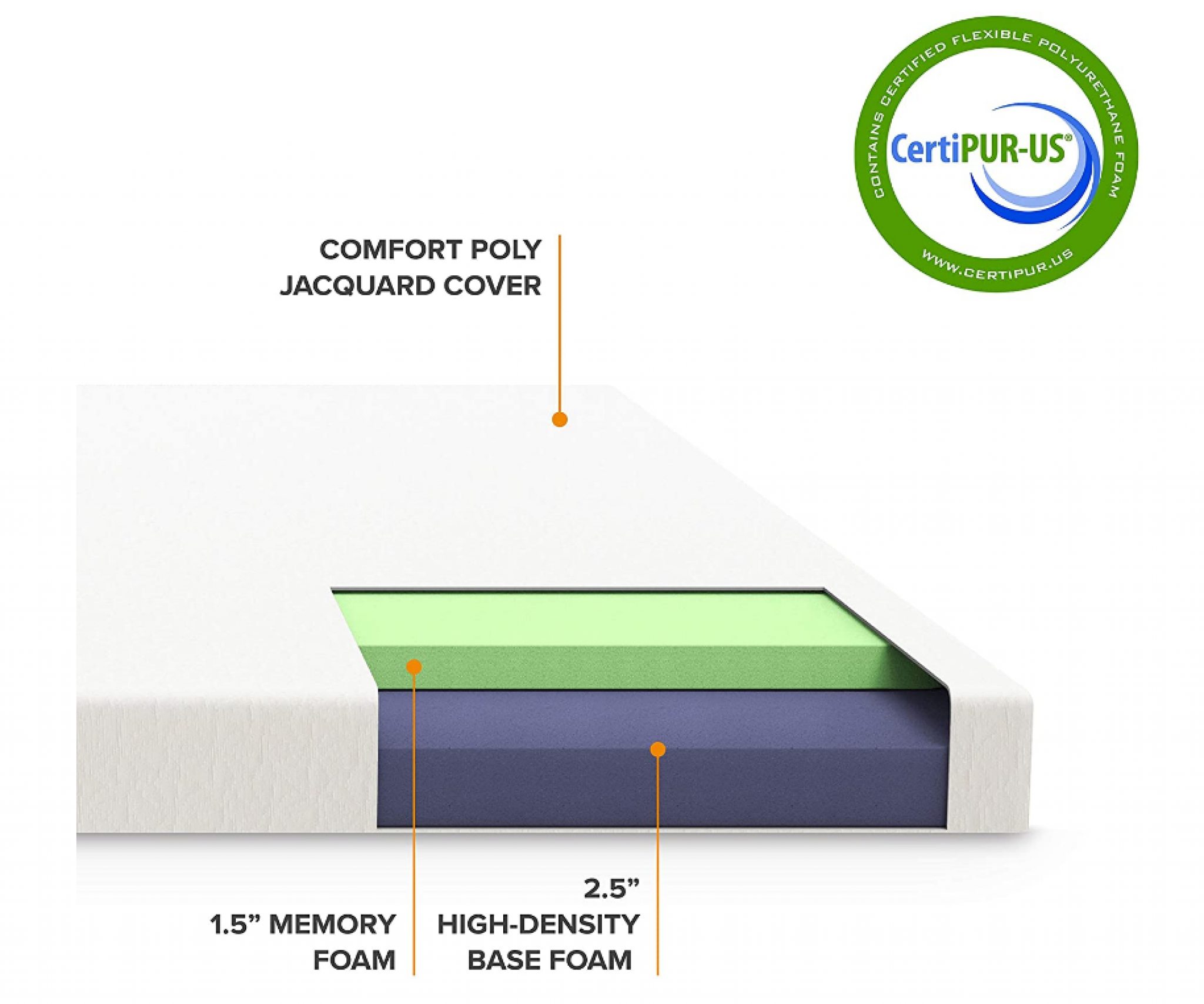 This affordable topper is made entirely of memory foam, with a 1,5-inch layer on top for added comfort, and consists of an additional layer of high-density foam underneath that provides the support your mattress lacks.
What I Like:
This 4-inch Trifold Memory Foam Topper from Best Price Mattress is an excellent choice if you're looking for a memory foam mattress topper.
Memory foam toppers give you the comfort of memory foam while also adding some back support.
The manufacturer provides a 3-year warranty.
---
Cushy Form Folding Mattress
Best for Travel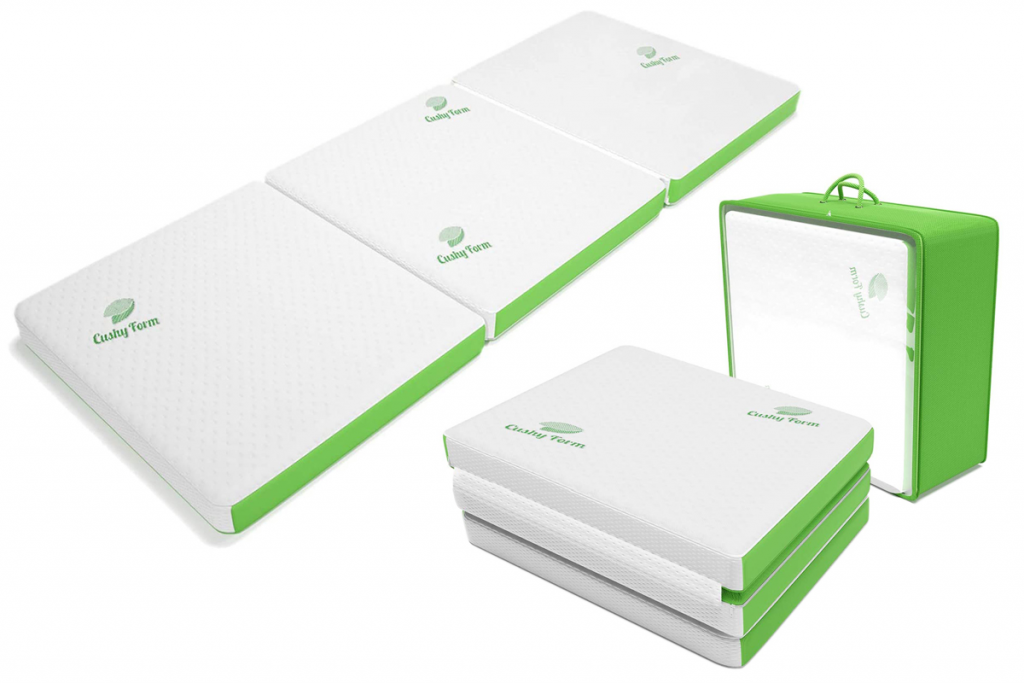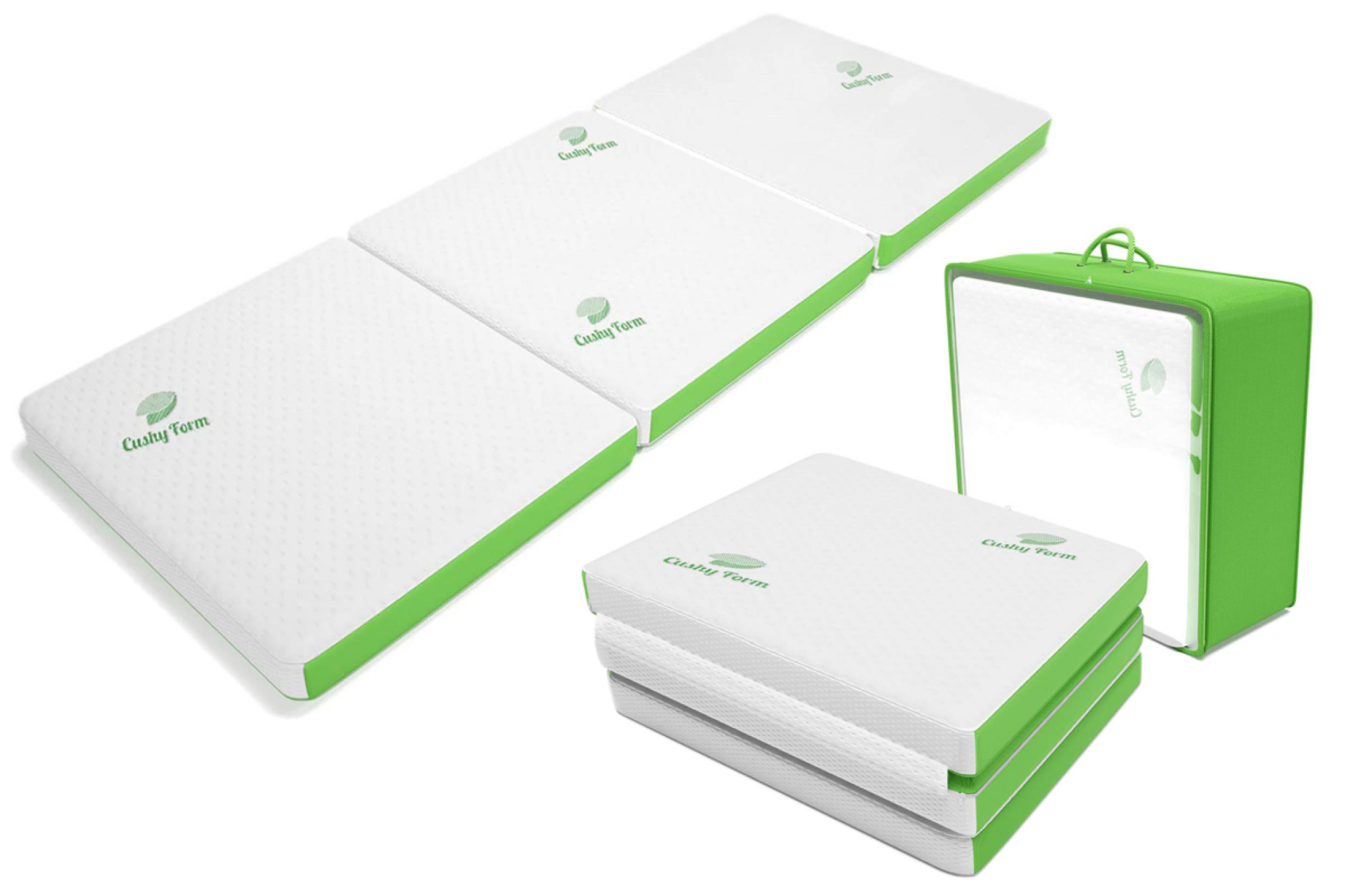 If you're looking to buy a foldable mattress for sleeping, napping, or exercising on, then you'll want to check out the Cushy Form Folding Mattress. This 75" x 31" x 4" folding mattress features a rich high-density foam that gives your body the comfort it needs for a good night's rest.
Using the plush foam not only provides support for your body but gives your mattress a plush feel. The foldable bed itself folds to 75" x 31" x 4" and comes inside a handy travel case that is easily carried and can be used for other things as well.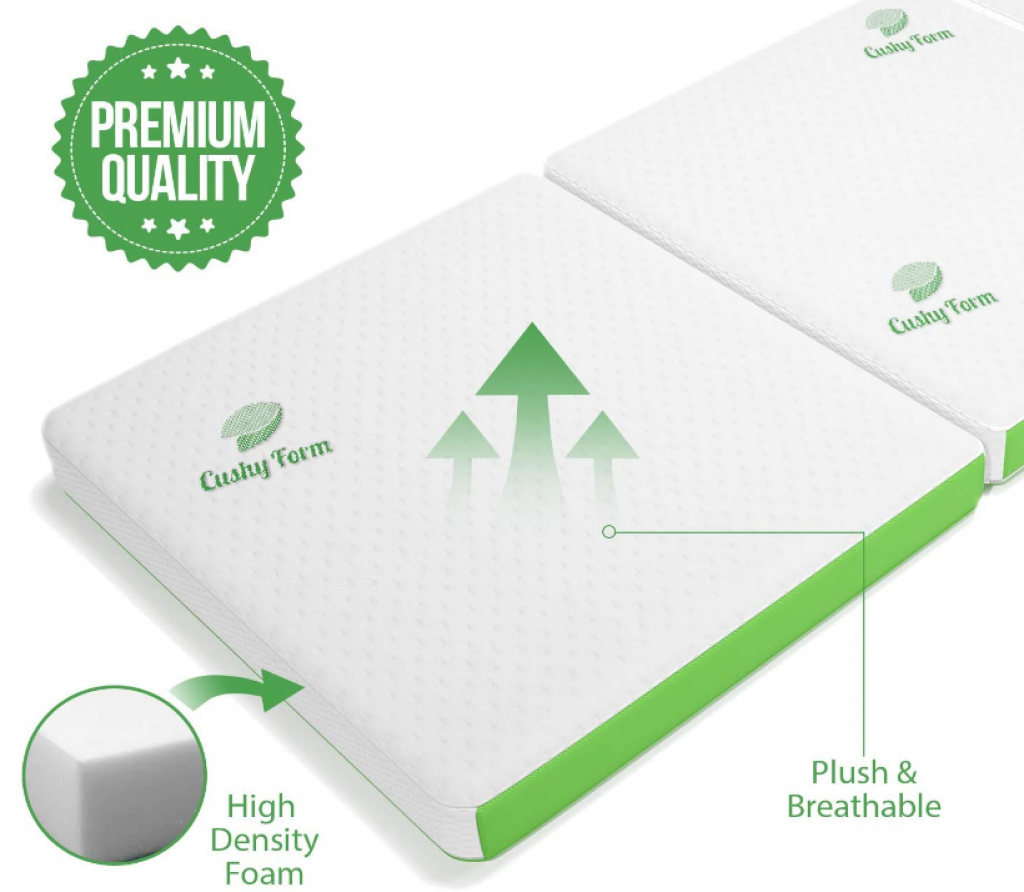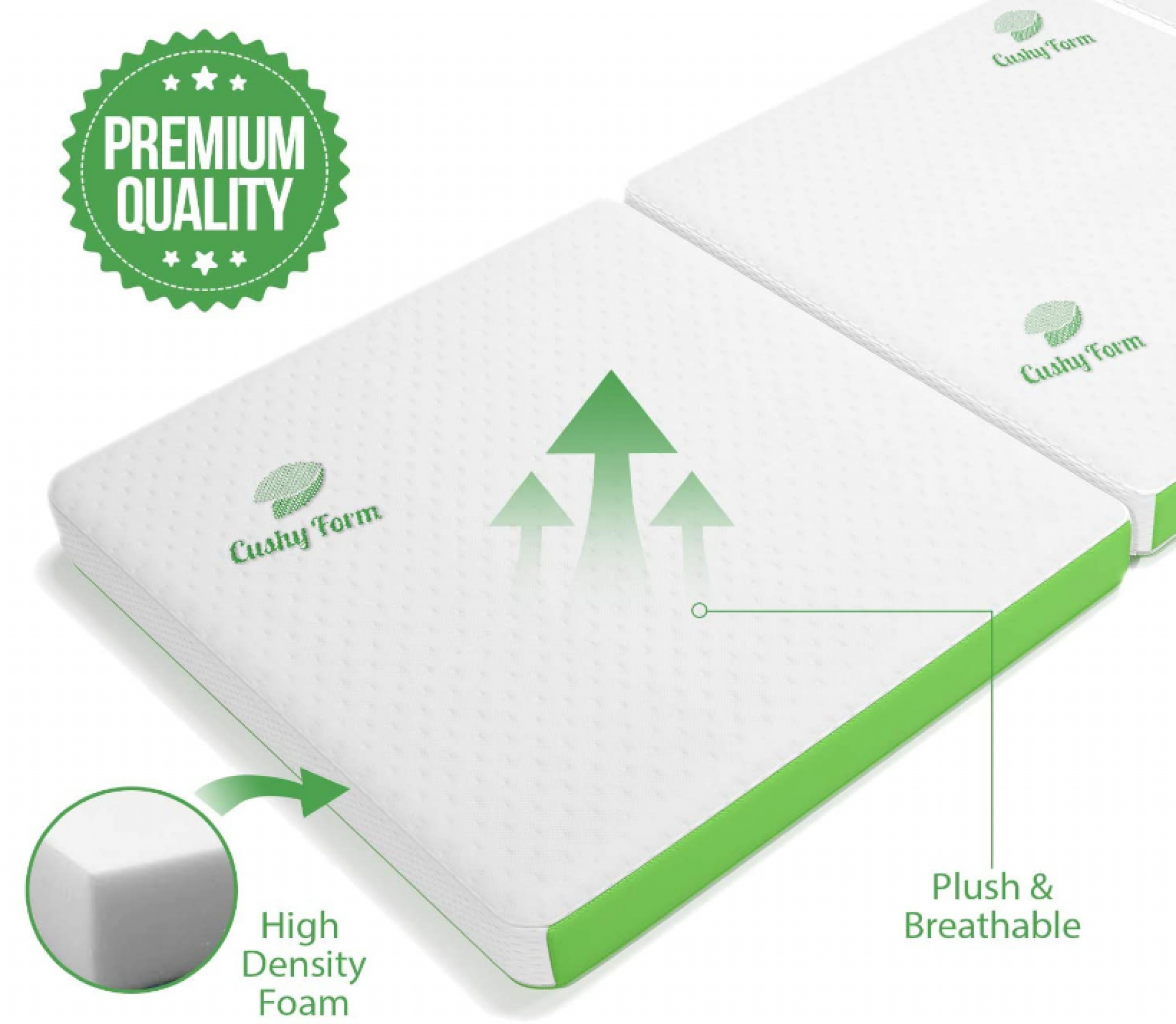 Owing to its thickness, the foldable mattress can even be used to give comfort to a friend or relative who requires extra comfort. Its compact design doesn't take up valuable luggage room in the trunk or on the bus. The foldable bed is also perfect for accommodating unexpected guests and comes with a storage case that makes it easy to transport.
What I Like:
With its compact, lightweight design, you can easily stow it away in a closet or under a bed and carry it with you wherever you go.
The mattress is very comfortable and looks great. You will have no problems setting it up.
Its thick foam will provide a restful night's sleep, and the easy-to-wash cover is soft against your skin.
---
Best Choice Products 4in Folding Portable Mattress
Best Multi-functional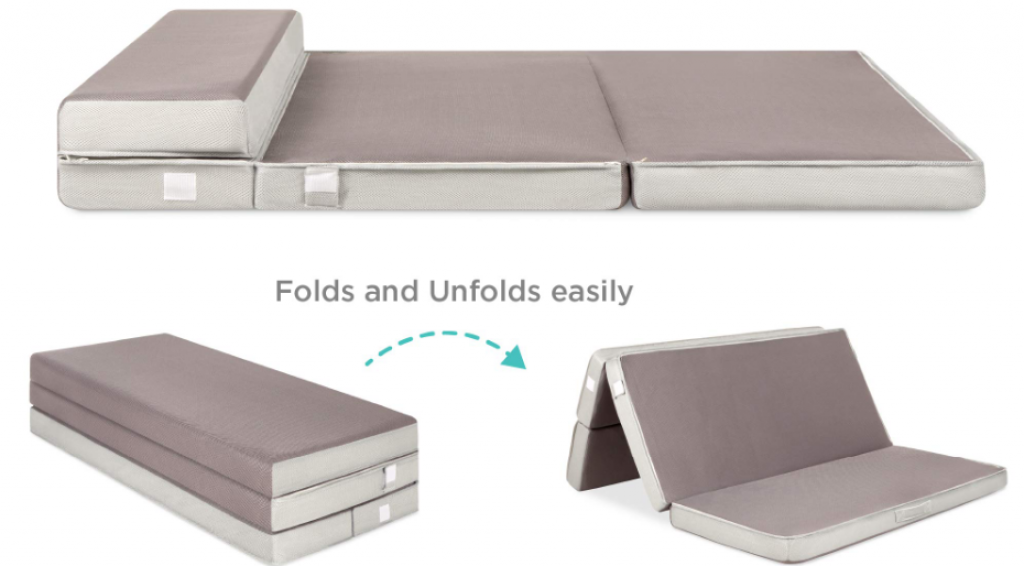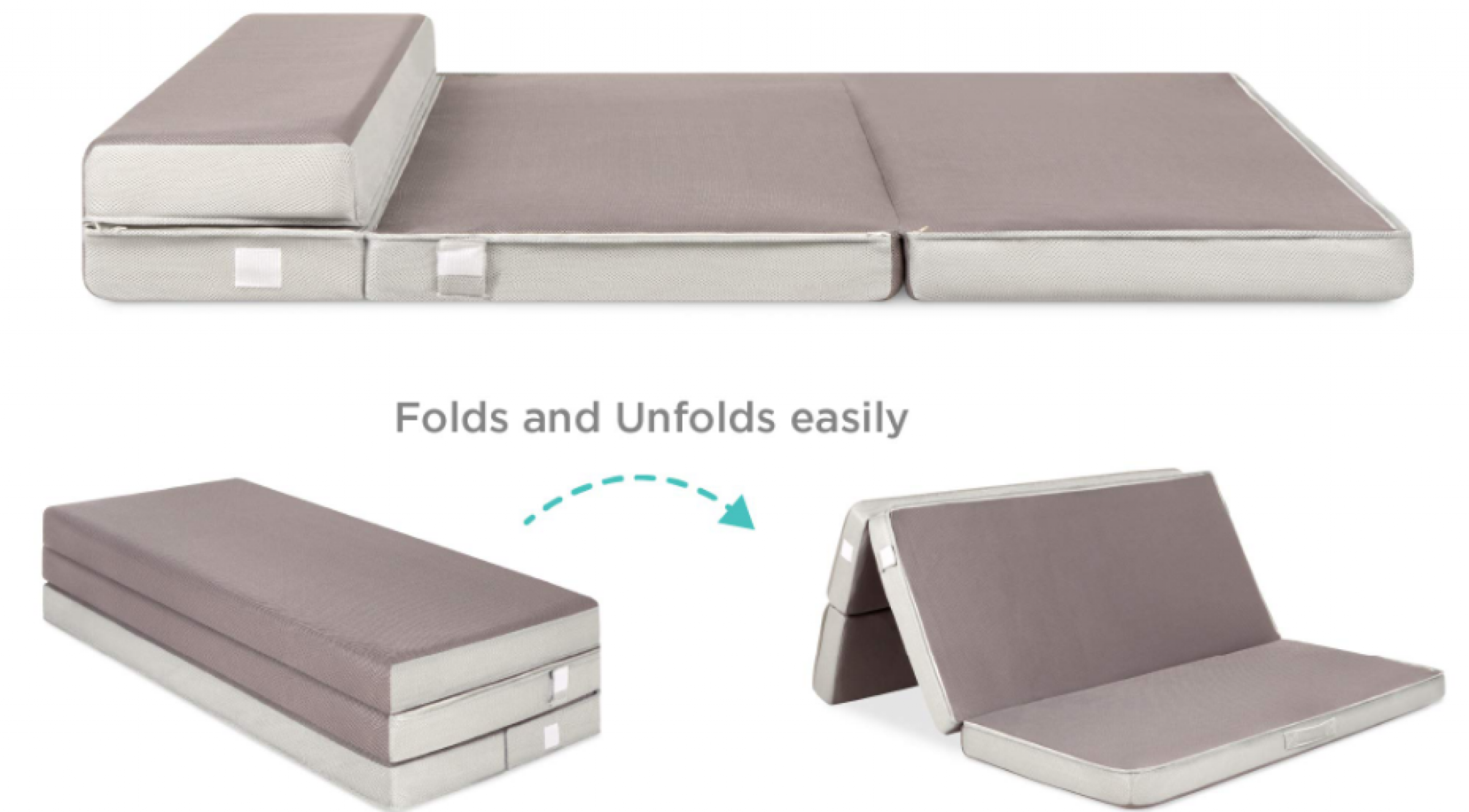 The Best Choice Products 4in Folding Portable Mattress is a tri-fold mattress that allows you to fold it and set it up anywhere for convenient, temporary sleeping. This mattress has a cotton-polyester blend cover that is machine-washable so that you can maintain it easily. The portable mattress can be used as a guest bed, a camping bed, or a floor sofa.


Assembling this portable, tri-fold mattress is as comfortable as opening the outer, zippered carrying case, then laying the tri-fold mattress inside. The carrying case features a handle for easy portability, while the mattress is made of a lightweight, breathable fabric that is soft to the touch. This Best Choice Products 4-inch portable mattress is machine-washable and dryer-friendly, so you can easily keep it clean and sanitary. This mattress is also equipped with a waterproof, drip-resistant cover that's easy to remove and replace.
What I Like:
This is a handy and convenient portable mattress that is perfect for use as a bed for guests, a camping mattress, a sofa for movie night, or as an extra bed for sleepovers.
The mattress is made of durable vinyl material, and it comes with a comfortable, washable cover that is sure to please.
---
Buyer's Guide
Folding mattresses are an economical and space-friendly alternative to traditional mattresses. They're also easy to use. Simply fold it up and put it away when it's not in use. There are lots of folding mattress options out there, but not all of them are created equal.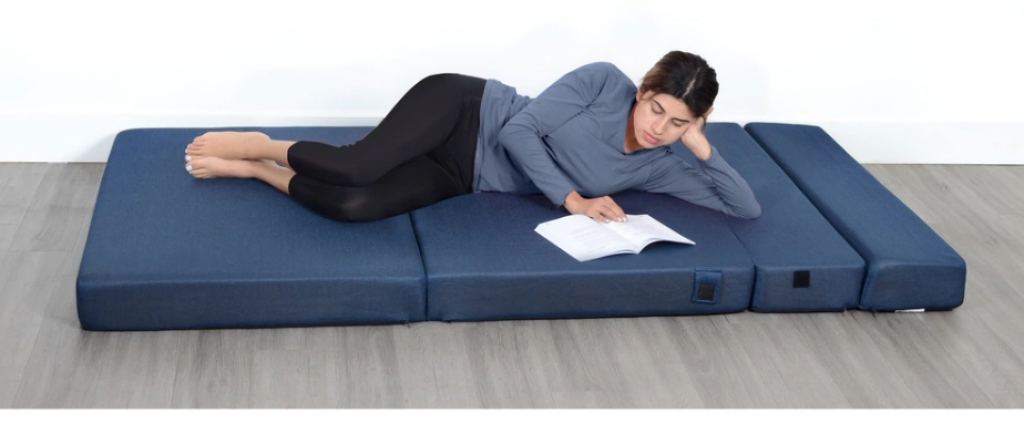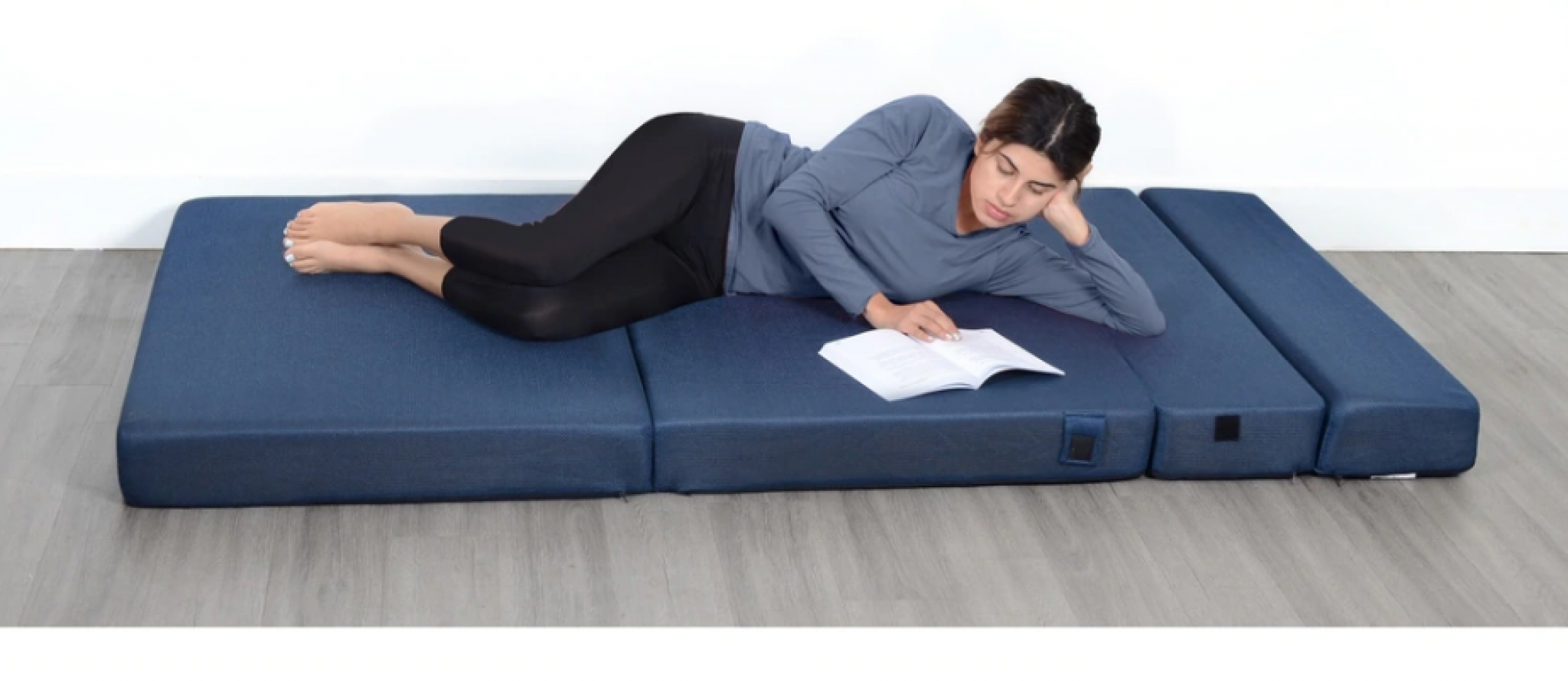 With their low cost and ease of storage and movement, they are a great option for people on the go. There're some things to consider while you are choosing the best folding mattress for your home. But first of all, you need to know all the features and benefits of a foldable mattress.
---
What is Foldable Mattress
This mattress type is not fixed and can be folded when not in use. It is convenient to use the mattress to fold and put away when you need to free up your room space.
You may be wondering why you should buy a folding mattress. The answer is pretty simple. You can fold it and store it easily. In addition, you can also carry it around your house if you need to move to another place.
A folding mattress usually has a thin memory foam-like layer that is encased in a fabric cover. You can fold this mattress once it is no longer in use. You can keep it in a closet or anywhere you want.
---
How to Pick the Right Foldable Mattress
Today, we are going to discuss how to pick the right foldable mattress for your needs. There are many reasons why you would want to invest in a foldable mattress, but the most common one is that you are moving to a new place.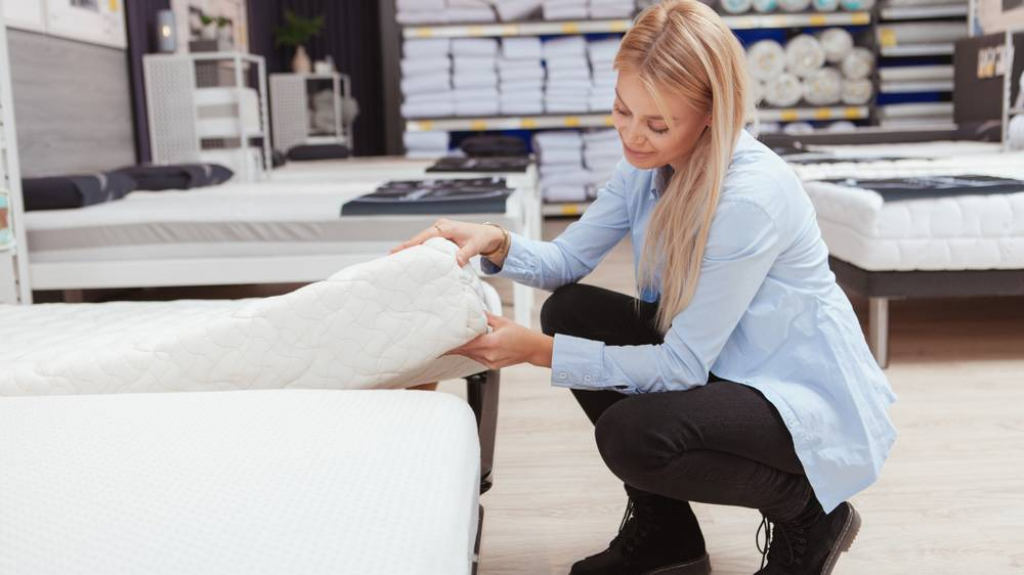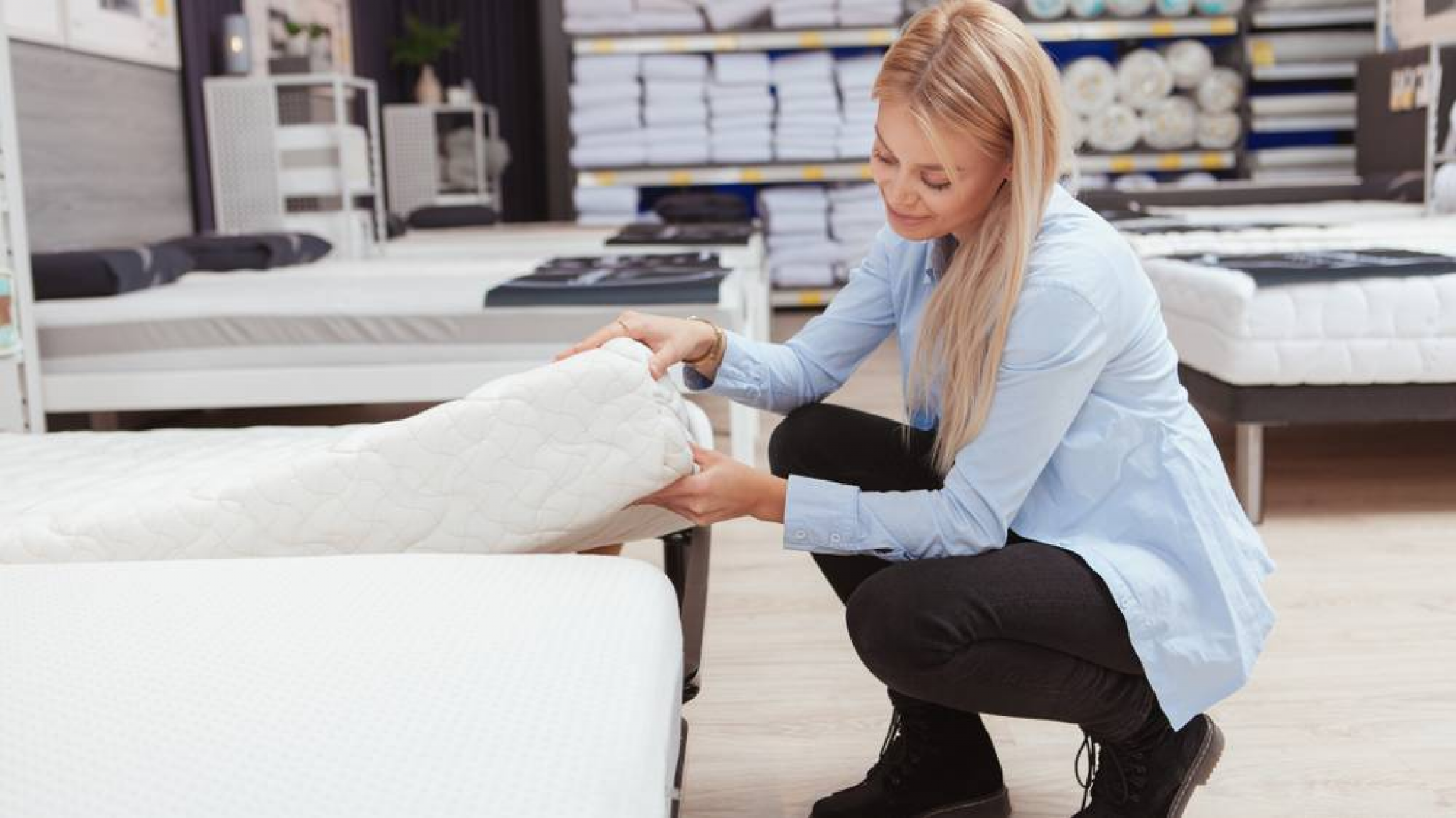 It is important to pick the right mattress because you use it every day. As a result, you don't want to end up with a bed that doesn't meet your needs.
Traditional mattresses can be expensive, and even the most hardened budgeters don't always want to spend hundreds of dollars for a bed they will only use for a few years. That's why many people are turning to foldable mattresses as a more affordable alternative. Folding mattresses have a lot of the same features as regular mattresses but are made to be more portable and more acceptable.
Therefore, when choosing a folding mattress for your home, you should pay attention to the product's brand and price. Besides, you need to consider other mattress features such as dimensions, cooling properties, firmness, carrying case availability, etc.
---
Types of Folding Mattresses
Folding mattresses come with a variety of inner fillings. The most common are either polyfoam or memory foam. Both are excellent at providing comfort and support for your body.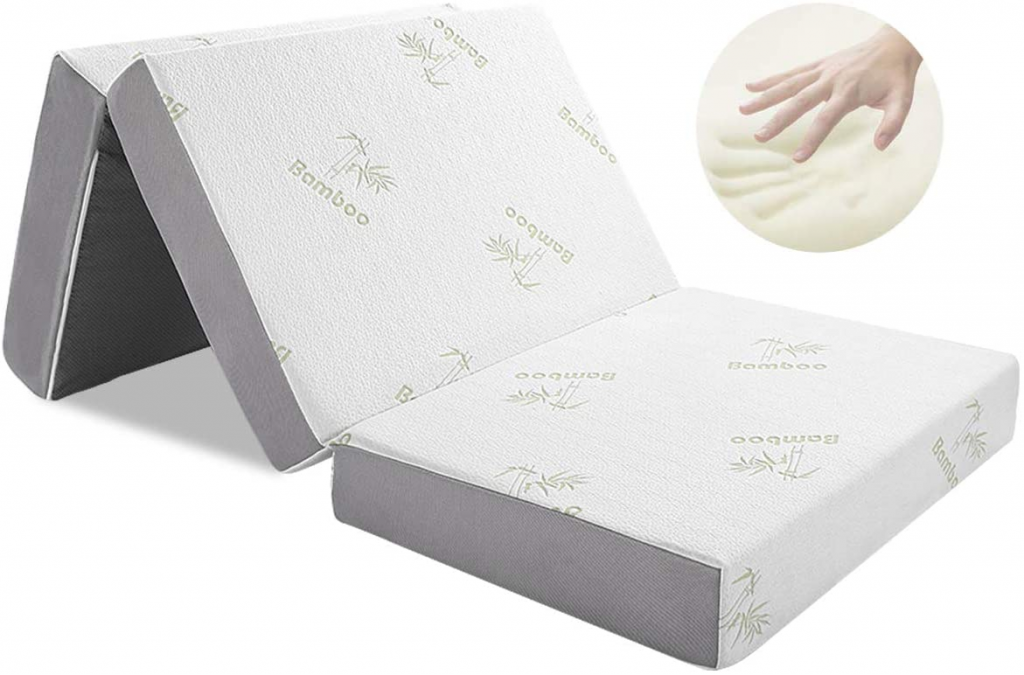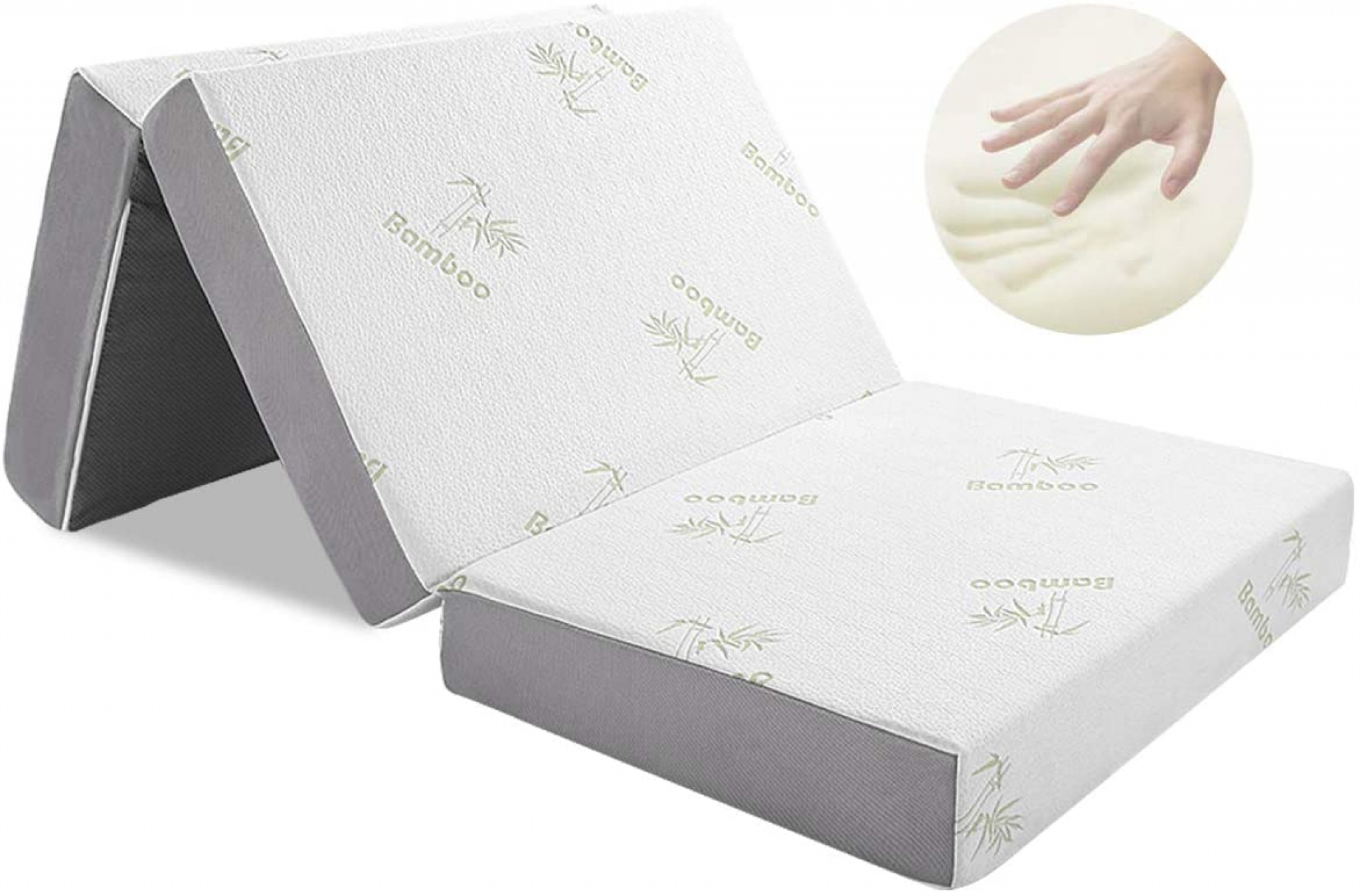 Polyfoam – it is a synthetic material that is very dense and is about 97% air. It is used as an alternative to natural materials such as down, feathers, and wool. Polyfoam is used to manufacture mattresses as a filling material to improve comfort and reduce heat buildup. It is also used in camping equipment and pillows due to its ability to provide just the right amount of support and softness. Polyfoam is generally very low in cost and easy to clean and maintain.
Memory foam – is a solid foam material that has a porous surface. This means that it contains millions of tiny air pockets, which allow it to contour closely to the body's shape. This makes memory foam mattresses particularly useful for relieving back pain, as the material is designed to support the spine's natural curves.

Memory foam is also particularly effective at absorbing motion so that you don't feel your partner moving around in the night. Memory foam is also an environmentally friendly product, as it is created by using plant-based oils and renewable ingredients. It is also a more eco-friendly product as it is designed to be more durable than alternative products.
---
Folding Mattress Features
A folding mattress is an excellent option for small spaces and dorm rooms. Some mattresses can be used as portable beds that can also be used for camping and guest rooms. Other folding mattresses are designed with a patented folding technology that allows the mattress to be folded in half.
Anyway, these mattresses have many different features you need to consider while choosing the proper stuff.
Cooling properties
Sometimes sleeping on a folding mattress is quite hot, especially in the summertime. This can be a problem, especially for hot sleepers. The breathability of the folding bed cover is essential to avoid heat and sweat absorption in the mattress. To avoid this, choose a mattress with a natural covering such as bamboo or other natural materials.
Cover
Removable covers can be easily taken off for washing. It is used to protect the mattress from any mishap during use. It is also used to provide a better fit for the mattress. The cover may be used for fashion purposes such as designing the bed into an attractive look or may be used for comfort purposes such as protecting the mattress's surface from dirt, moisture, etc. Pay attention to the materials that can be cleaned with no fuss.
Dimensions
When you are shopping for a folding mattress, it is important to know the mattress's dimensions when folded to ensure that it fits in a particular space. A folding mattress that is too small for your area will not be useful, and one that is too big will be hard to get in and out of storage.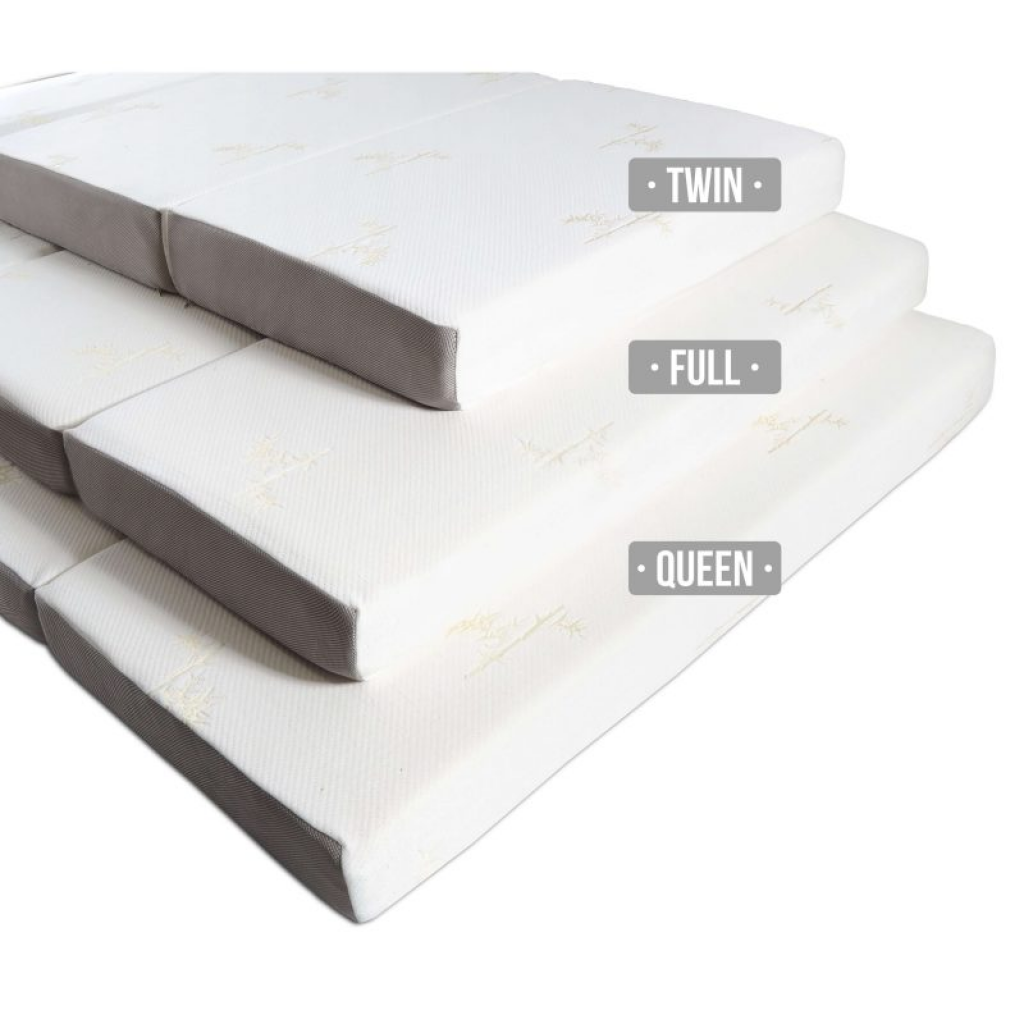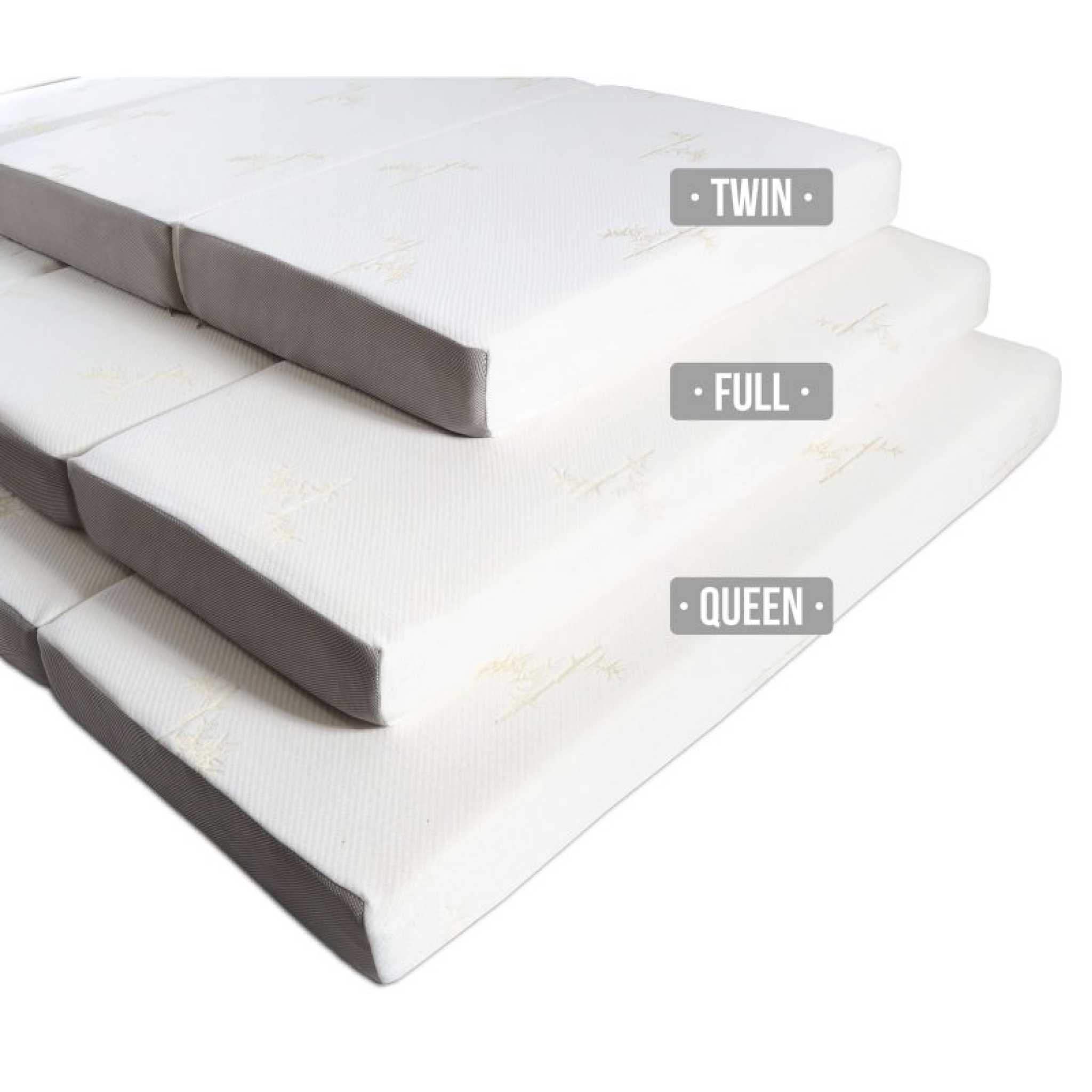 The dimensions of a folding mattress are similar to the dimensions of a traditional mattress. Folding mattresses are usually close to the same size as twin, full, queen, or king mattresses, although this depends on their thickness and materials. Some folding mattresses have thicknesses of 4 to 6 inches, which will reduce the mattress's size when it is folded.
Firmness
The mattress firmness is one of the essential factors in the comfort you will feel when you lie down on your folding mattress. If the firmness of the mattress is not right, you will not be able to sleep properly, which means that you will not get the correct level of sleep.
Choose the mattress's firmness, which will help you sleep well and wake up without back pain.
Storage or Carrying Case
If you're going to be traveling with the mattress or throwing it in the car for your next vacation, it's important to make sure it folds up to a size that fits in your car! This also makes it easy to transport to your destination if you are a frequent traveler.
The storage or carrying case for the folding mattress is a specially designed bag that makes it easy to transport it. This bag keeps the mattress contained and clean. Try to buy the best folding mattress with a carrying bag if it's necessary for your lifestyle.
Folds
Depending on the manufacturer, a folding mattress can be bi- or tri-foldable into a box-like shape for easy storage and transport.
---
FAQ
What are the advantages of using a folding mattress?
Folding mattresses offer advantages such as convenience, portability, and cost-effectiveness. They are great for travelers, apartment dwellers, and those who don't want bulky, permanent mattresses in their homes.
Are folding mattresses comfortable?
Yes, folding mattresses are quite comfortable. They are available in various levels of firmness and can be made of different materials, such as foam, latex, and cotton. 
Are folding mattresses suitable for everyday use?
Yes, folding mattresses are suitable for everyday use, but they typically have shorter lifespans than traditional mattresses. It is important to note that folding mattresses may require more frequent replacement than traditional mattresses.
How long do folding mattresses typically last?
It depends on the type and quality of the mattress. Generally speaking, folding mattresses can last anywhere from one to three years, depending on usage and care.
---
The Bottom Line
This guide is supposed to help you find the best folding mattress for your needs. It has turned out to be much more complicated than anticipated, as many factors need to be taken into consideration. But we have done all our research and come up with some great models and some tips that will help you get the best deal possible.