Brief: Best Air Mattresses For Back Pain
Introduction: The article focuses on the importance of choosing the right air mattress for back pain relief, emphasizing the need for proper spinal alignment and pressure distribution.
Top 5 Air Mattresses for Back Pain:

Best Overall: SoundAsleep Dream Series Air Mattress – Notable for its firmness, 40 internal air coils, and quick inflation with a powerful pump.
Best for Everyday Use: Insta-Bed Raised Air Mattress With Never Flat Pump – Features a NeverFLAT pump for constant inflation and 35 circular coils for comfort.
Best for In-Home Use: King Koil Queen Air Mattress With Built-In Pump – Offers coil beam construction, a suede top, and a built-in pump.
Best for Taller People: Best Inflatable Bed By Fox Airbeds – Suitable for all sleeping positions, includes an internal pump for comfort and support.
Best Soft Plush Top: Coleman Air Mattress – Noted for its 18-inch height, coil construction, and durability.

Reviews:

Detailed reviews of each product include features such as firmness, support, and unique aspects like the NeverFLAT pump or soft plush top.

Buying Guide:

Firmness Level: Emphasizes the importance of finding the right level of firmness for back pain relief.
Size: Consideration of body measurements for selecting the appropriate size.
Pump: Importance of a pump for adjusting firmness.
Sleeping Position: Recommends considering the preferred sleeping position for optimal comfort.

FAQs Addressed:

Benefits of air mattresses for back pain sufferers.
Safety considerations.
Specific features suitable for back pain relief.
Longevity of air mattresses.

Conclusion: Stresses the effectiveness of air mattresses in managing back pain through adjustable support and comfort, guiding readers to choose the best option for their specific needs.
When it comes to easing back pain, the best mattress for back pain is one that gives you the support you need. This can seem like a daunting task when you realize how many mattresses there are to choose from. The best way to find the right is to find one that will provide you with proper spinal alignment. Air mattress will for back pain distributes the pressure evenly throughout your body, alleviating tension in your back.
---
Top 5 Best Air Mattresses for Back Pain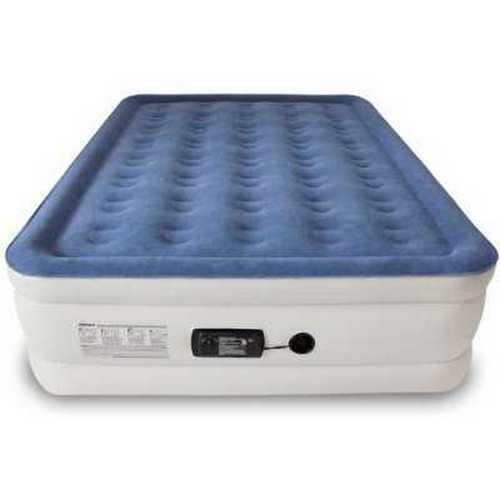 SoundAsleep Dream Series Air Mattress
Sizes: Twin, Twin XL, Full, Queen, King
Weight Limit: 500 Pounds
Materials: Eco-friendly PVC and top flocking
Price: $$
---
If you suffer from back pain, you know that it can be difficult to find a comfortable sleeping position. But it doesn't have to be that way. With an air mattress for back pain, you can get the support you need with an adjustable firmness that can conform to your body. You'll wake up feeling refreshed every morning since you won't have to toss and turn or wake up with a sore neck. And, because they come in a wide range of sizes, you can find one that is perfect for you.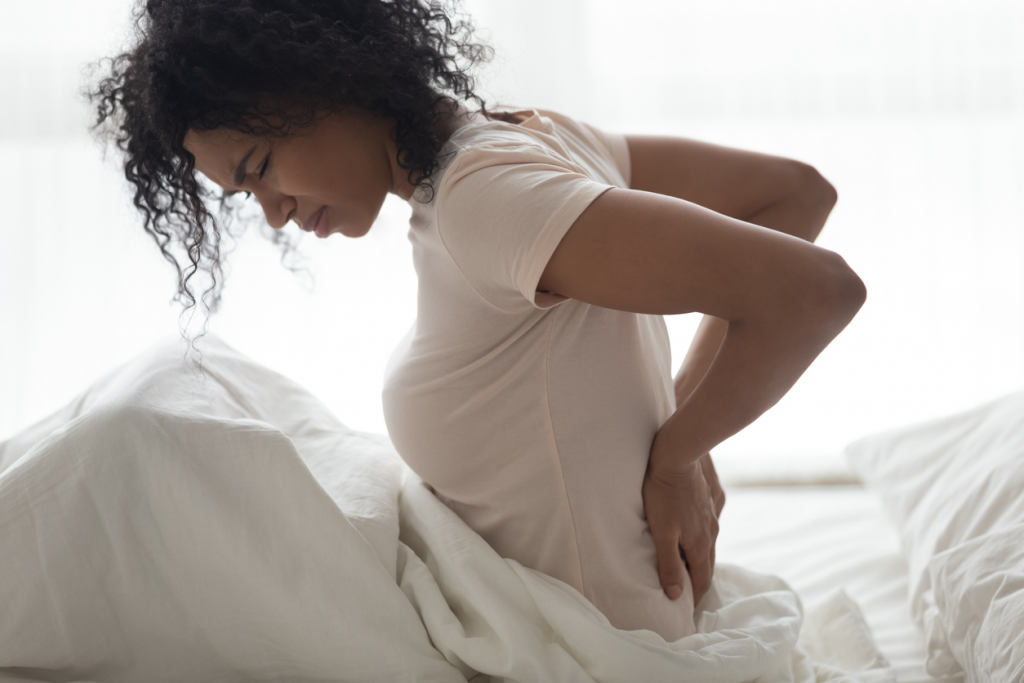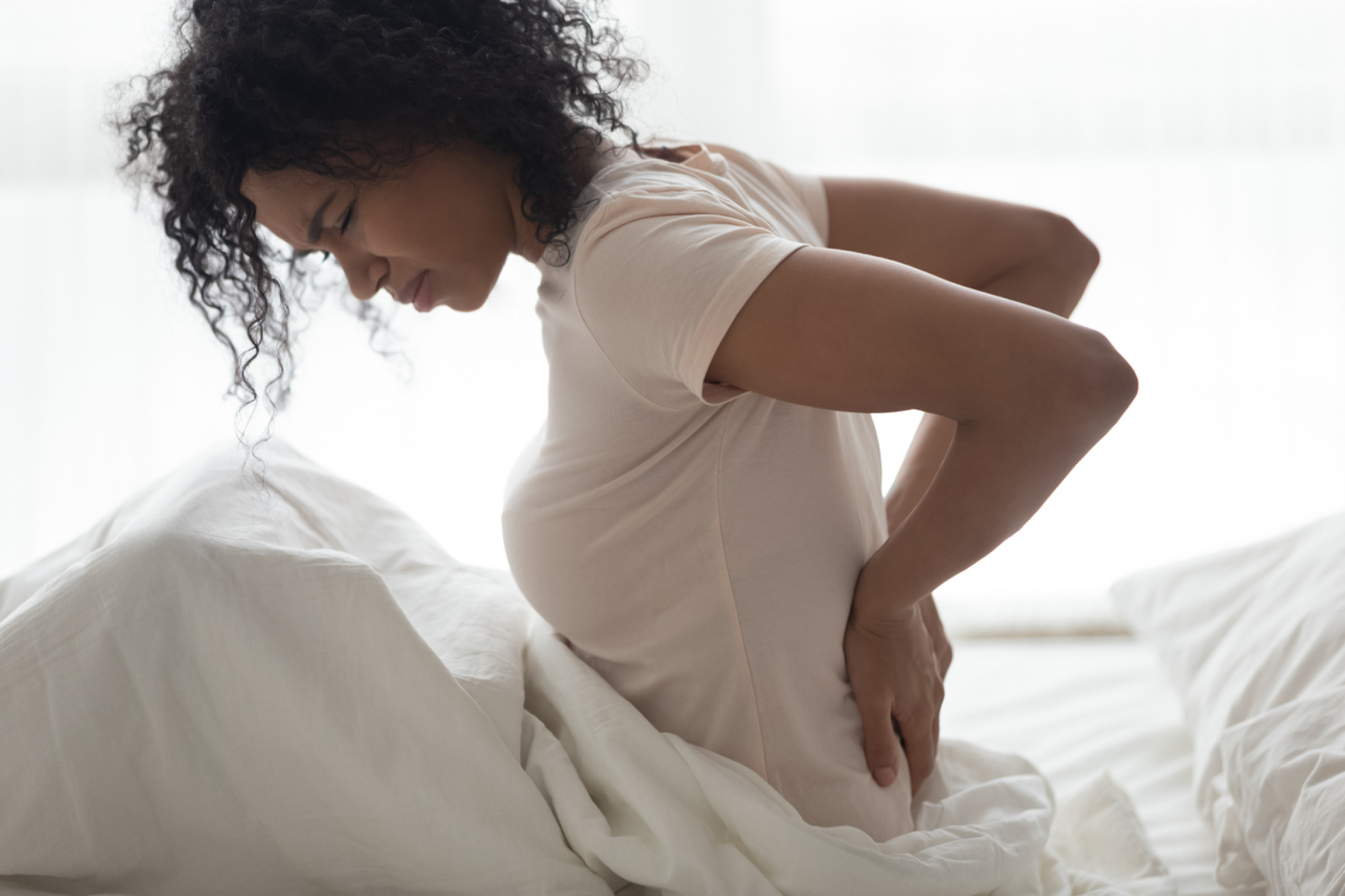 You might be considering an air mattress as a temporary solution to your back pain issues, but choosing the right one is very important. If you get a mattress that is too firm, your back pain will just get worse. The key is to find an air mattress that is supportive but still soft.
Also, there are a few factors you should take into consideration:
You will want to make sure that you are getting a quality product.
You will need to decide if you use the mattress for medical purposes or simply as an extra sleeping space.
Furthermore, you will want to make sure that you are purchasing the best air mattress for your needs.
We have considered several factors and have created a list of air mattresses that are great for back pain.
---
Best Air Mattresses for Back Pain Reviews
SoundAsleep Dream Series Air Mattress
Best Overall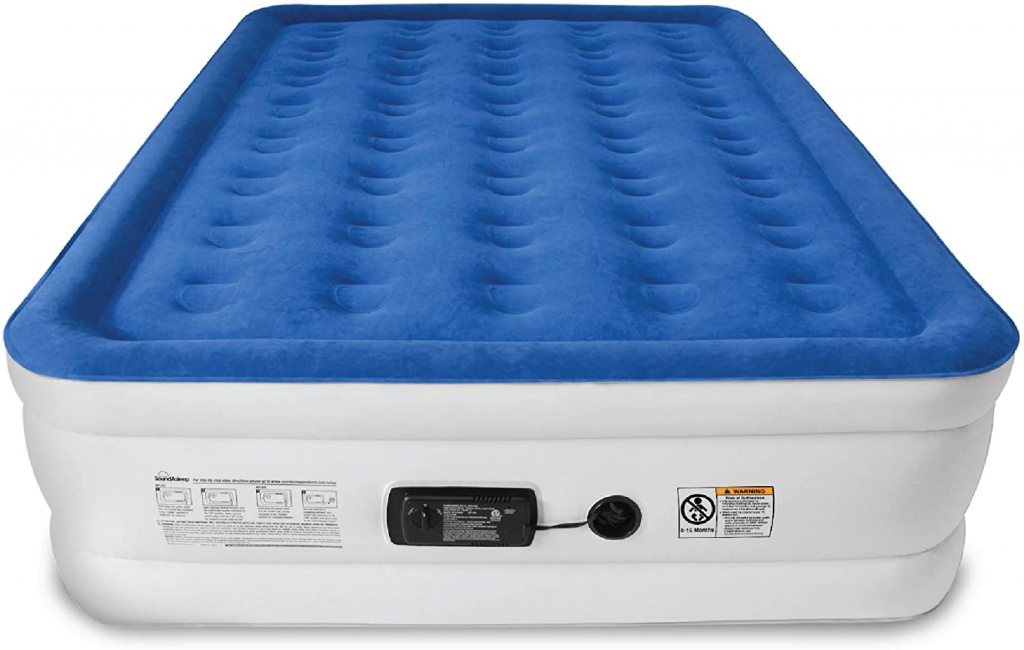 If you want to make sure that you can get comfortable sleep and the right amount of firmness, then the SoundAsleep Dream Series Air Mattress is the mattress you should get.
Thanks to its 40 internal air coils, the mattress is extremely firm and will not slump down like other air beds. The pump included with this air bed is very powerful and can pump up the mattress to its full height in only 4 minutes.
It boasts a thick, waterproof flocked top that is designed to feel soft and comfortable.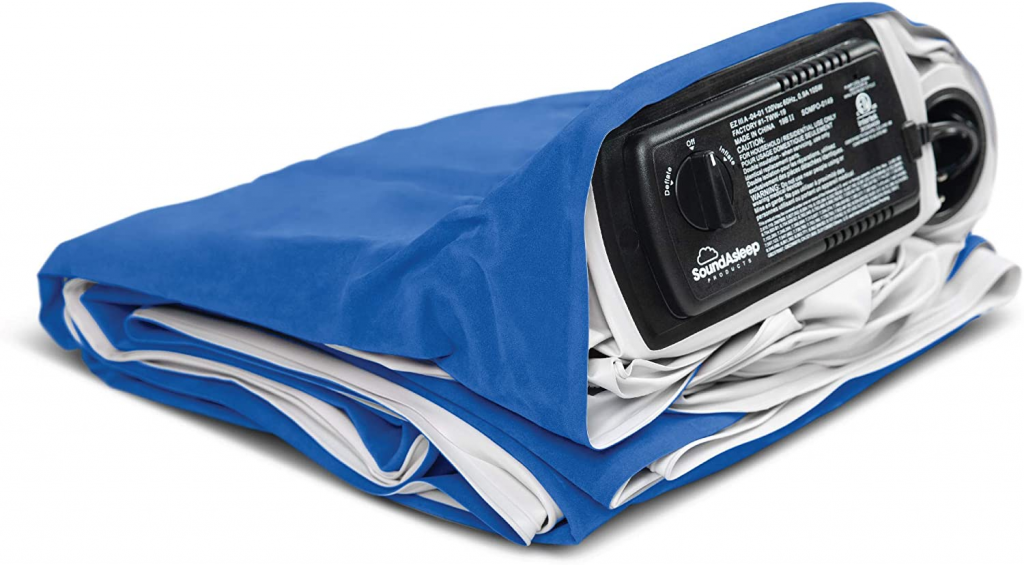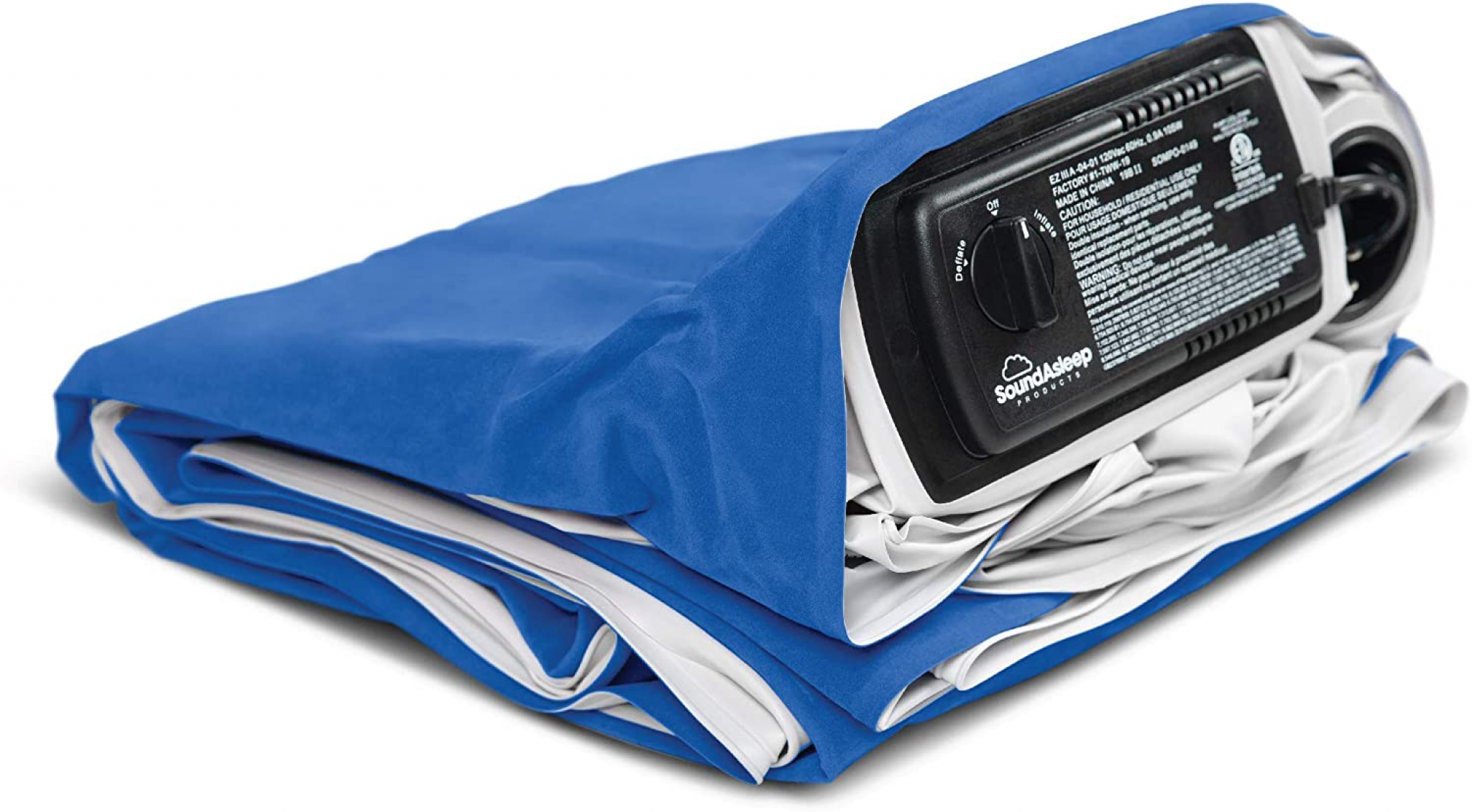 SoundAsleep believes that every customer should be able to sleep well. SoundAsleep's proprietary ComfortCoil technology provides the necessary support while allowing you the comfort and luxury you want to have a great night's sleep.
What I Like:
The most impressive feature of the mattress is its flocked top that is both waterproof and breathable.
It is also distinguished by its raised outer frame and patented 1-click internal pump.
It is designed to be more durable than traditional air mattresses, and it is designed with a special grip bottom that prevents the mattress from moving while deflated.
---
Insta-Bed Raised Air Mattress with Never Flat Pump
Best for Everyday Use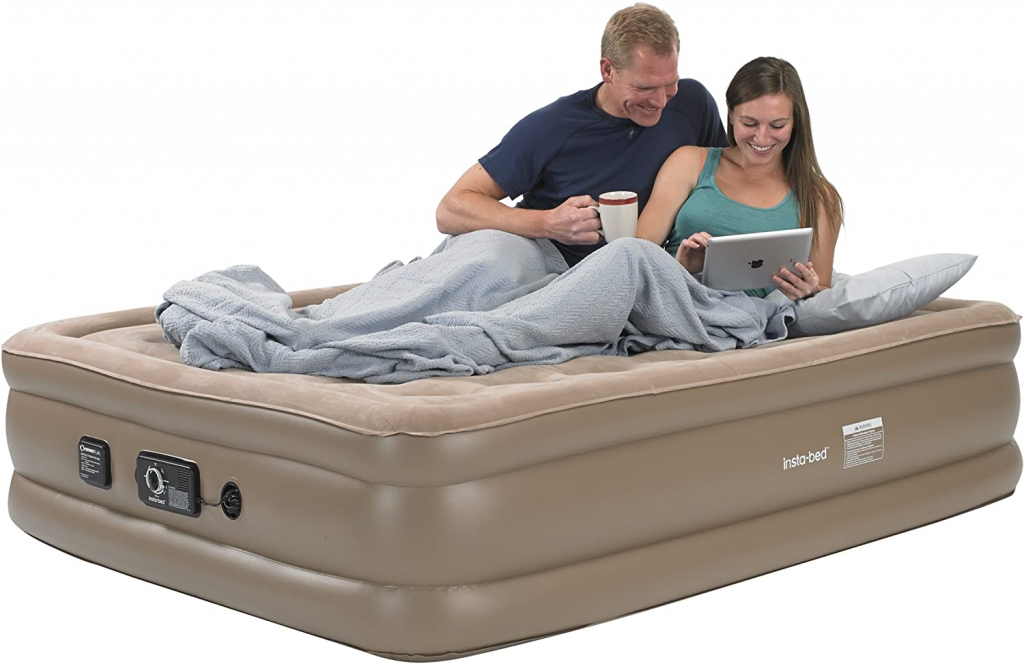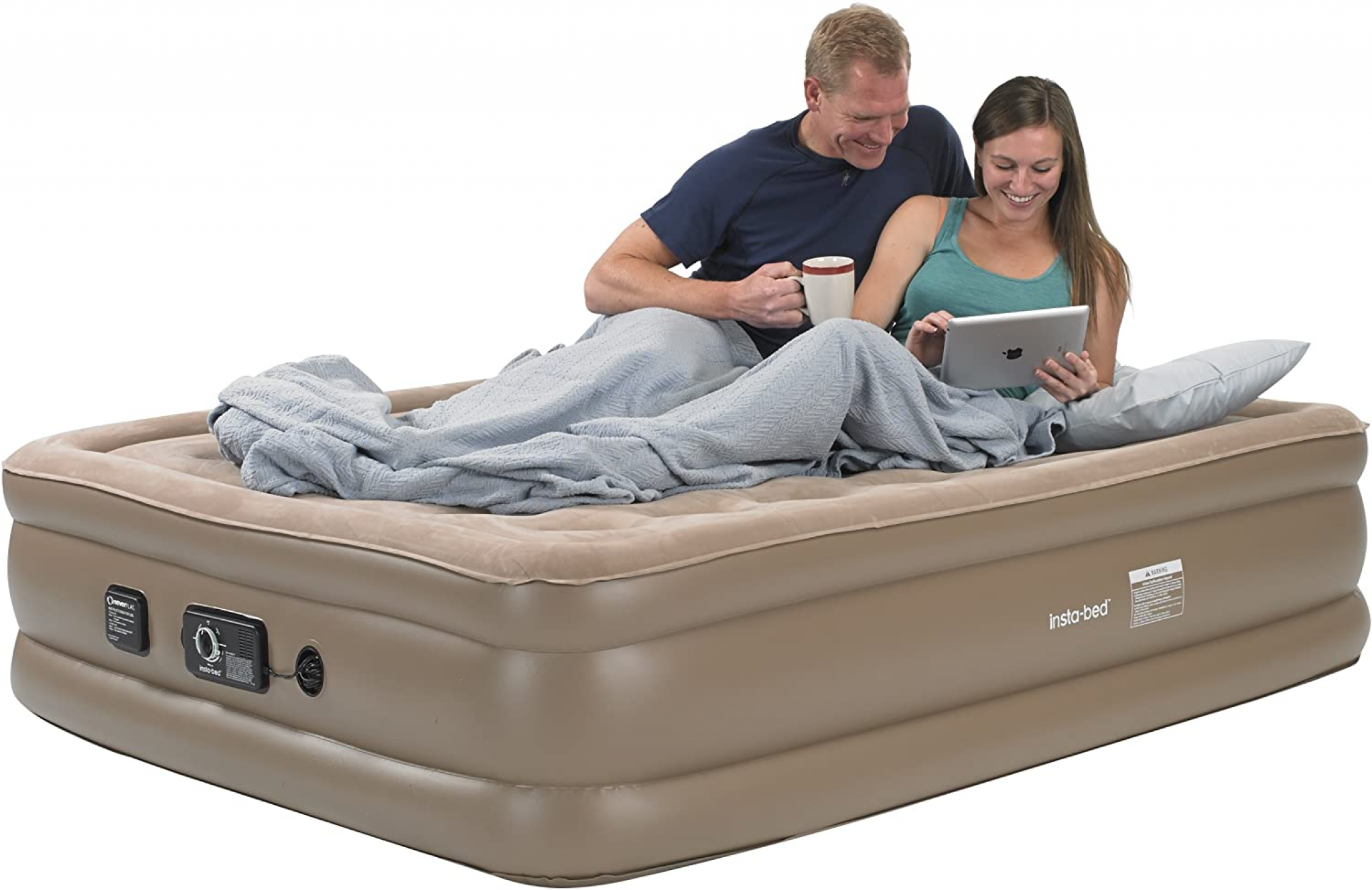 Suppose you're looking for a reliable, comfortable, and affordable air mattress. In that case, you need to check out the Insta-Bed Raised Air Mattress with Never Flat Pump from Insta Sleeper.
It is one of the newest air beds on the market. This mattress has some interesting features you may not see on other airbeds. The first feature you will notice is the NeverFLAT pump.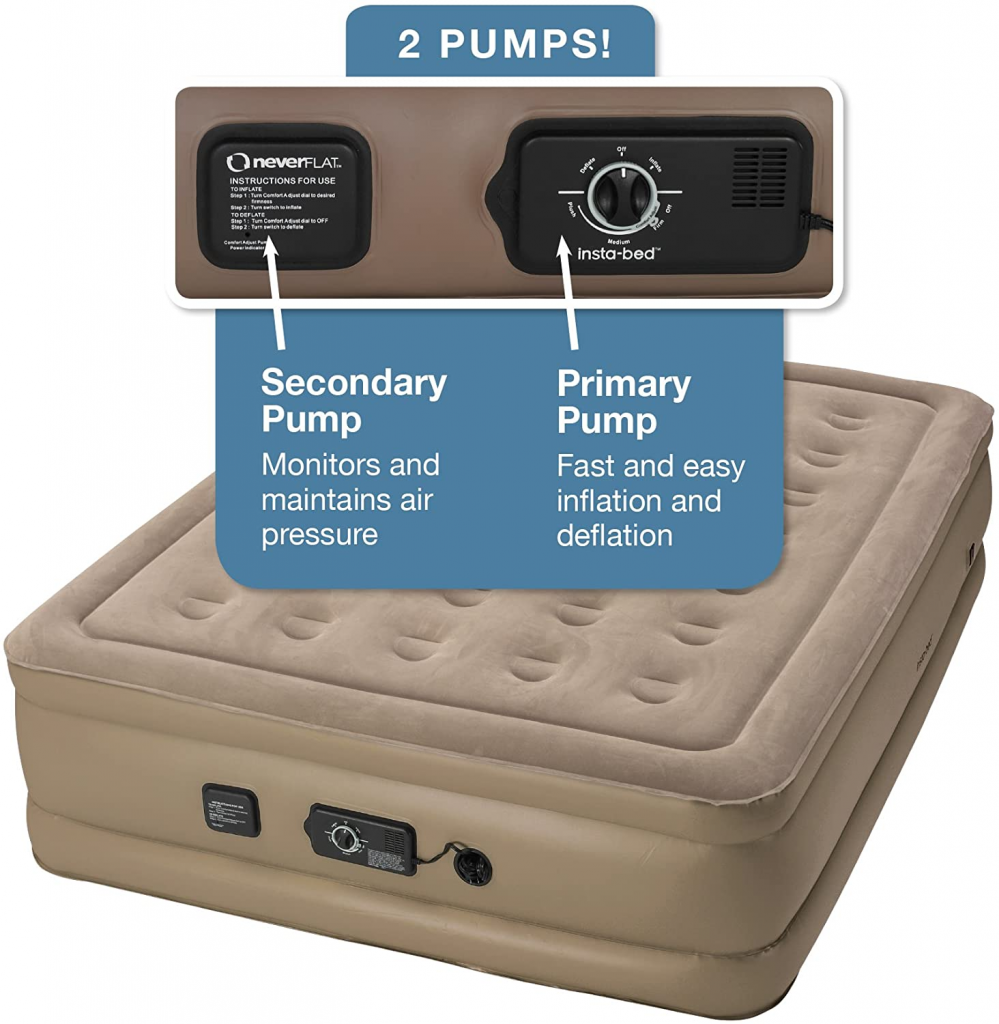 The NeverFLAT pump system silently keeps your air bed inflated all night. The primary pump automatically inflates and deflates your airbed in less than 4 minutes. The secondary, never-flat Pump monitors and silently maintains the air pressure to your desired comfort level while you sleep.
It's also perfect for those who want their mattress to be at a specific level since its 18″ height can be adjusted.
What I Like:
NeverFLAT pump is supposed to keep your mattress inflated all night so you don't wake up with a flatbed.
It has 35 circular coils on the Queen size and 21 circular coils on the Twin size for more comfort.
---
King Koil Queen Air Mattress with Built-in Pump
Best for In-Home Use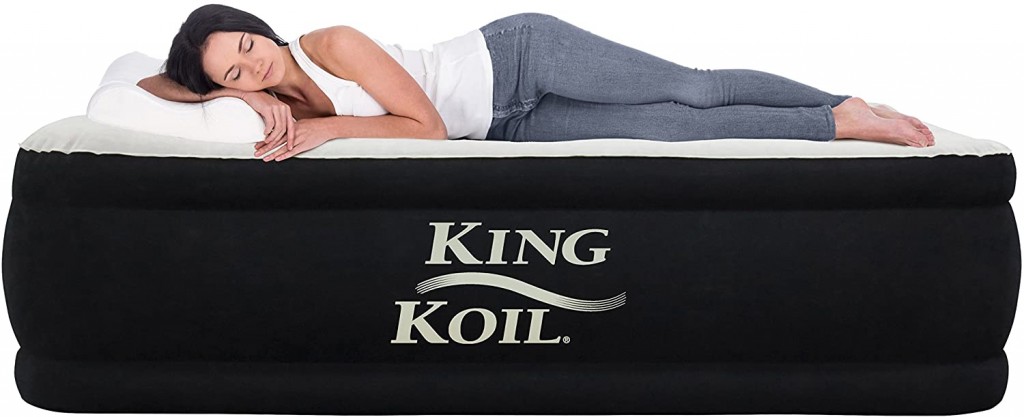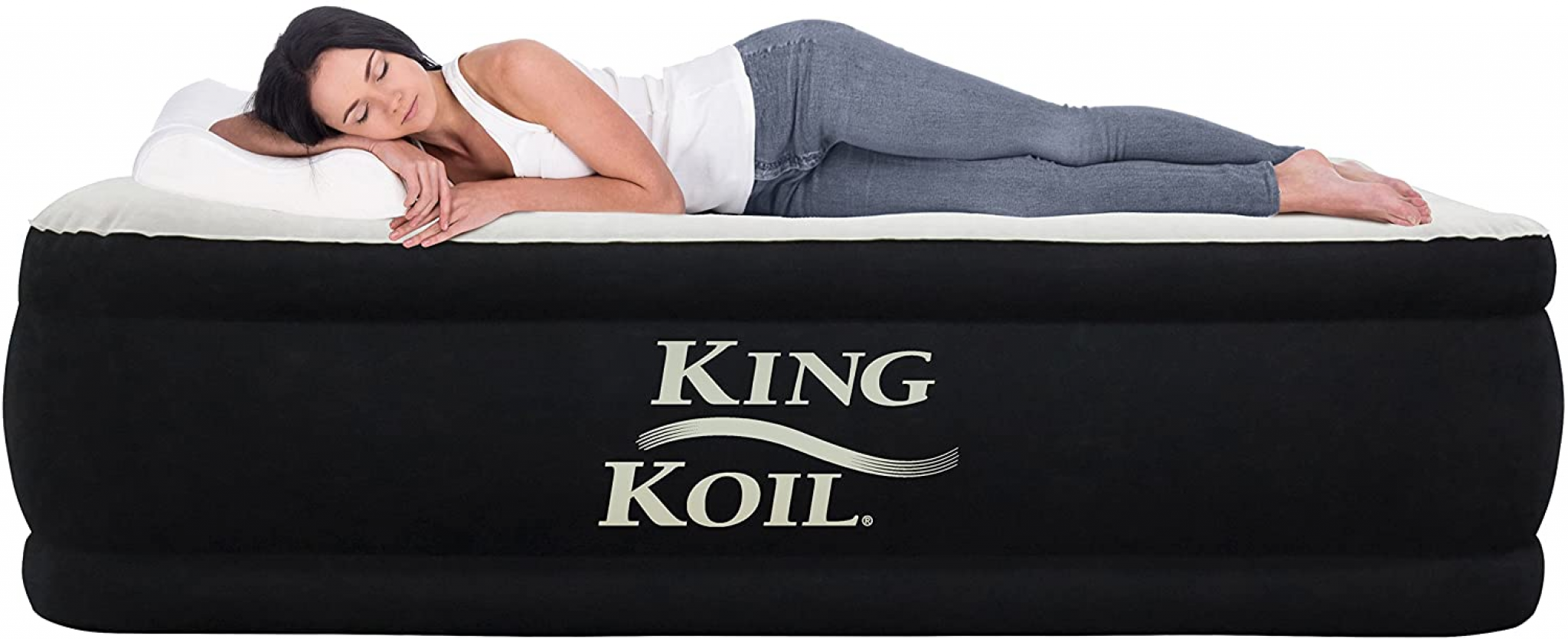 The King Koil queen air mattress with a built-in pump is the answer to your problems! This revolutionary mattress is designed to provide your body with the proper support you need for a long, full, and healthy life.
The King Koil queen air mattress features the latest technology in air mattresses: coil beam construction. This construction uses coils to support the mattress, so you get a firm mattress that won't sag. This mattress features a special air chamber that automatically maintains the bed's air pressure and increases support.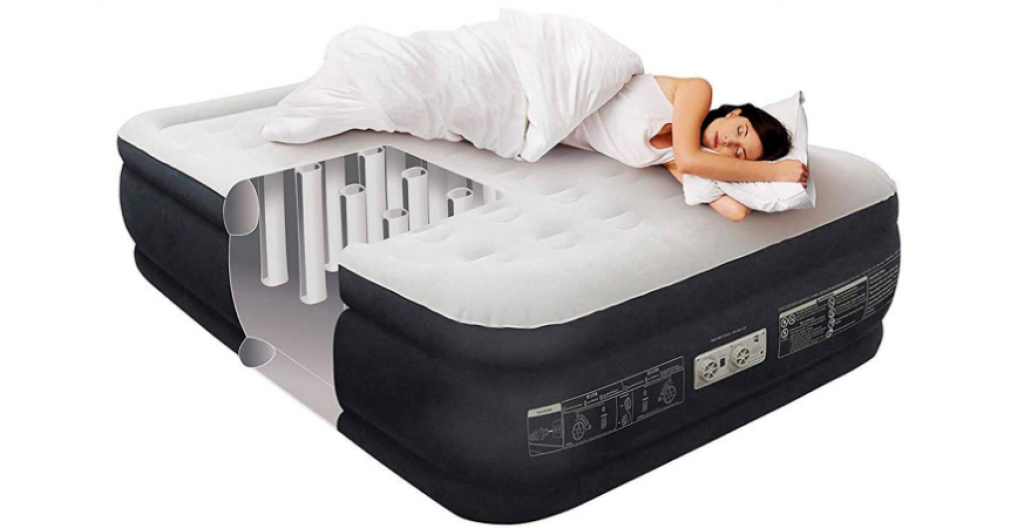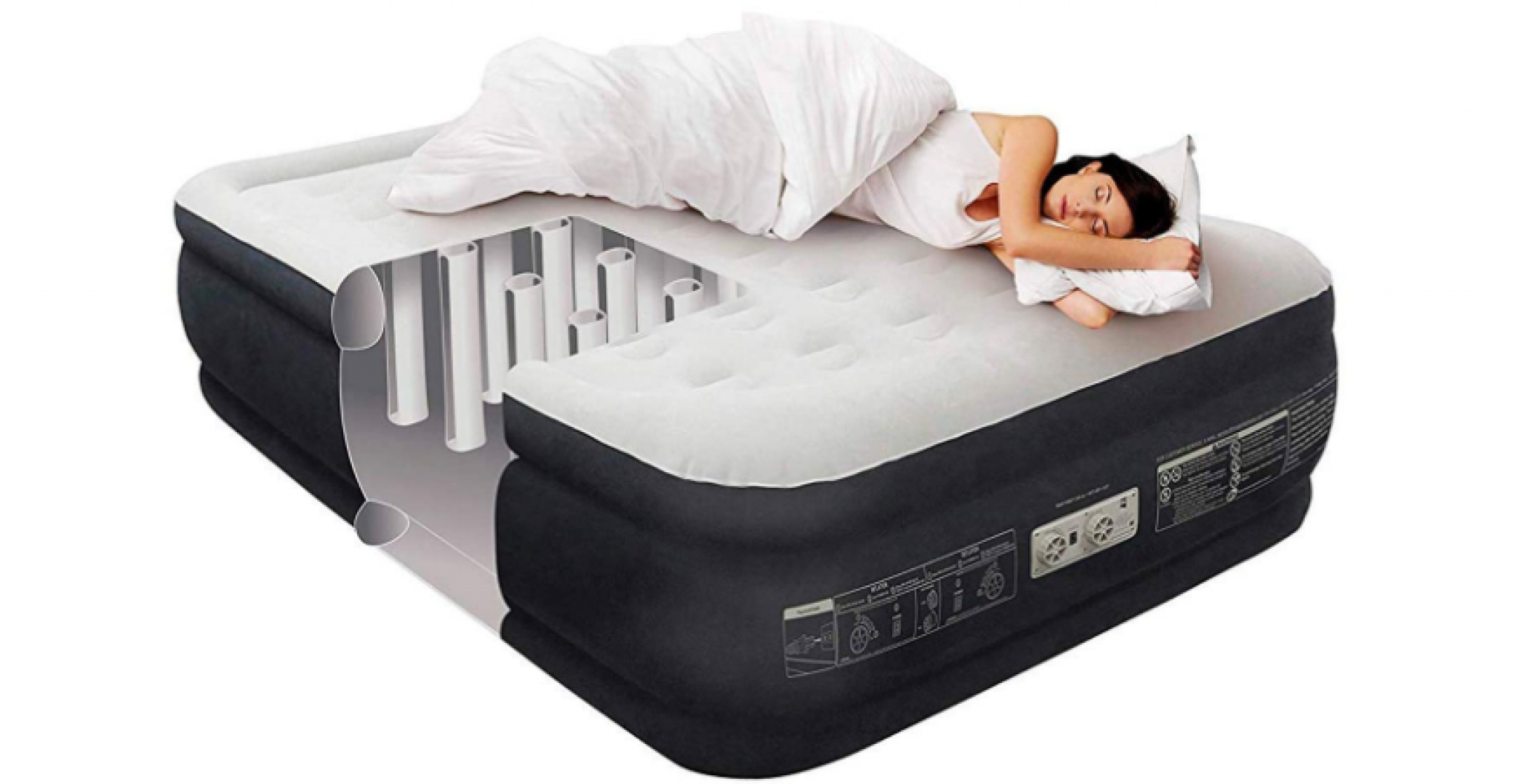 The air mattress has many features that make it an excellent choice, but its best feature is its suede top that keeps sheets and comforters in place while you are sleeping. It is very durable and comfortable and is sure to last.
What I Like:
The King Koil air mattress is designed for home use and is perfect for overnight guests, friends or relatives, and camping trips.
It stays firm and never loses its shape.
The mattress reaches full inflation in under 2 minutes.
---
Best Inflatable Bed by Fox Airbeds
Best for Taller People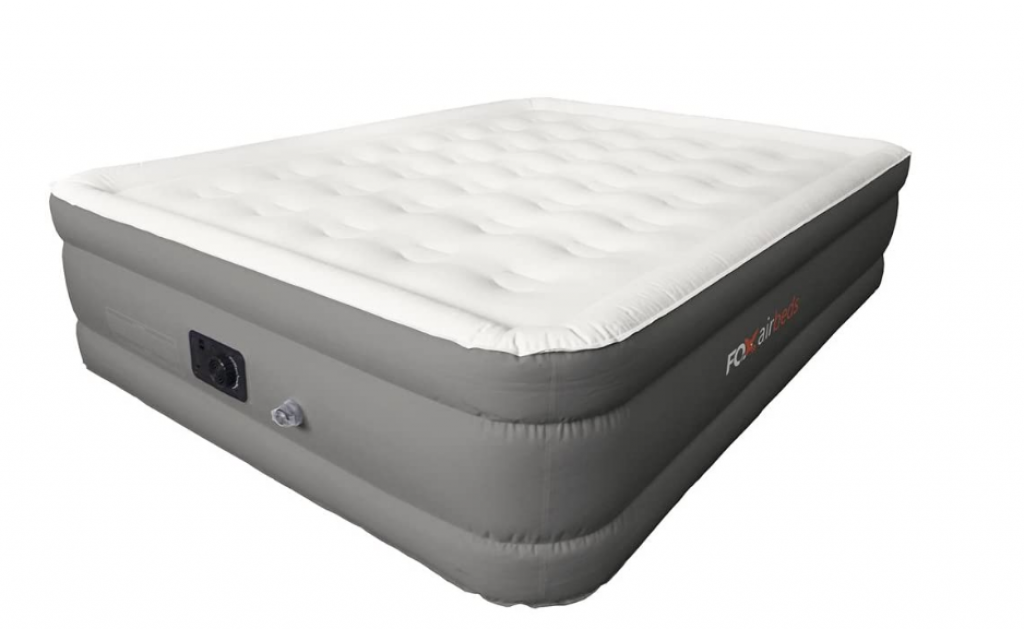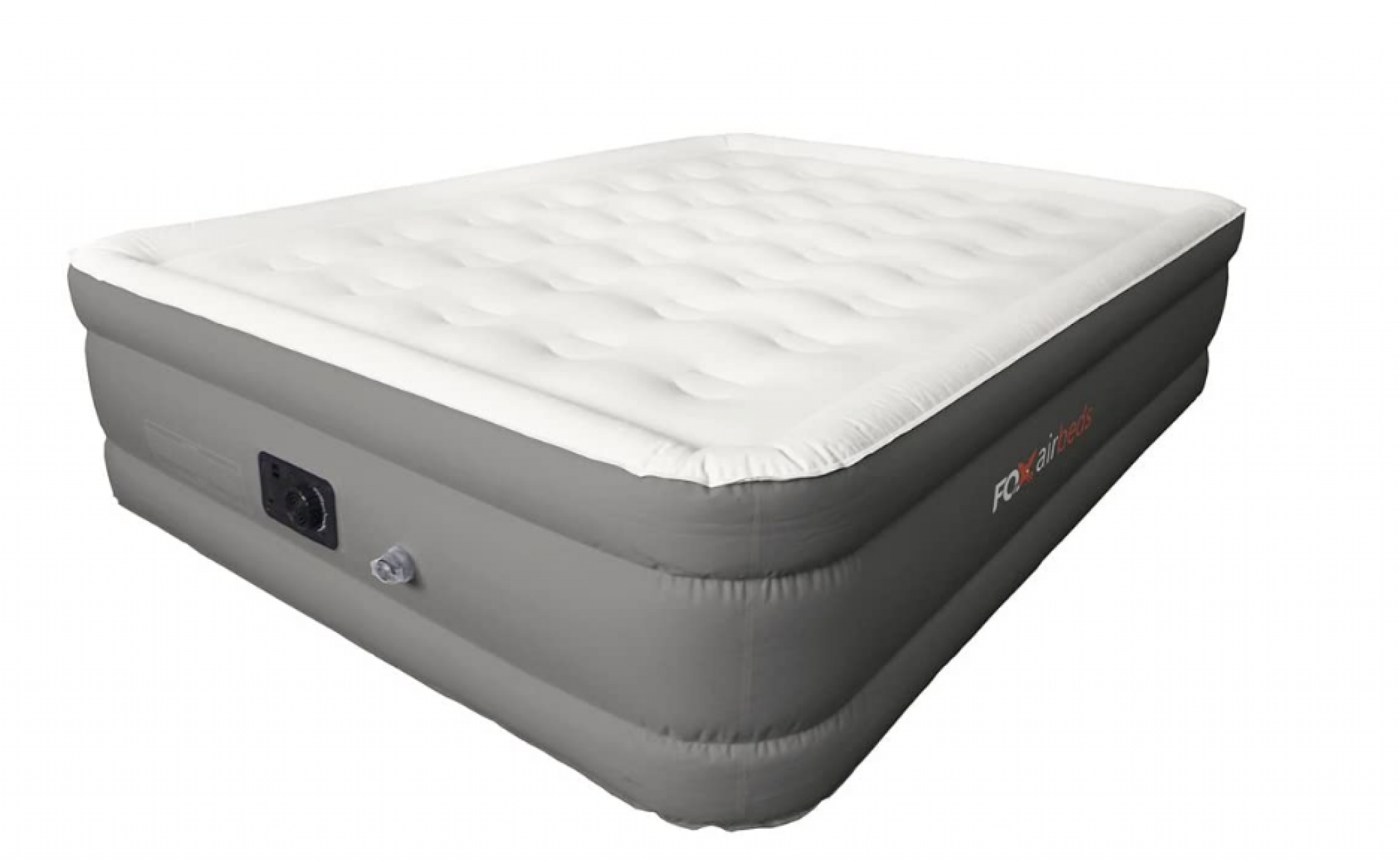 This queen-size inflatable bed by Fox Airbeds is a great choice for anyone looking to add comfort and convenience to their home. By using the same high-quality materials and manufacturing techniques as your full-size bed at home, we ensure your guests will have the same restful sleep as if they were sleeping in their own bed.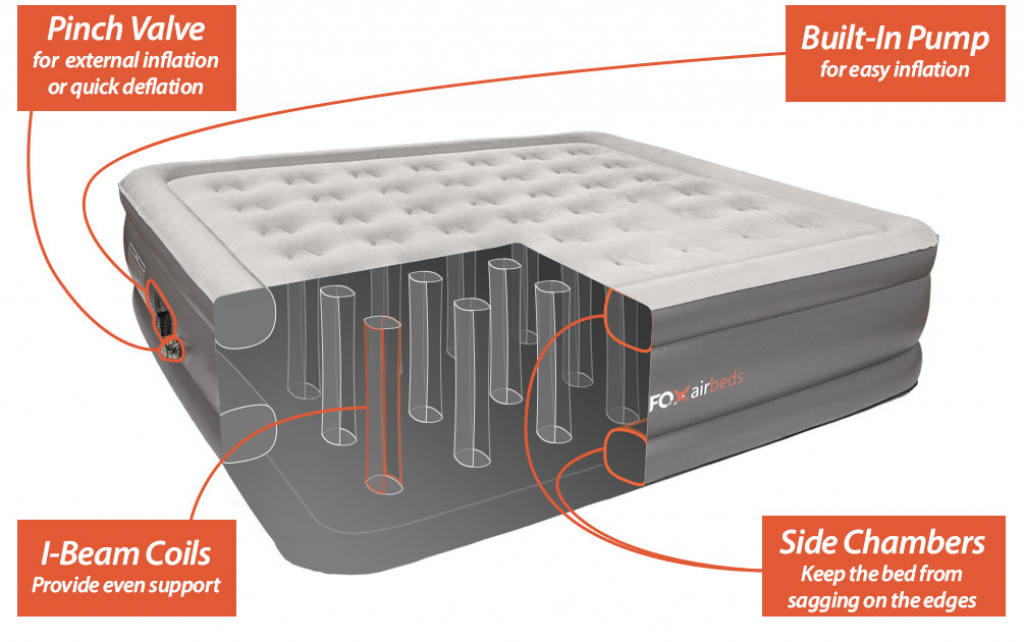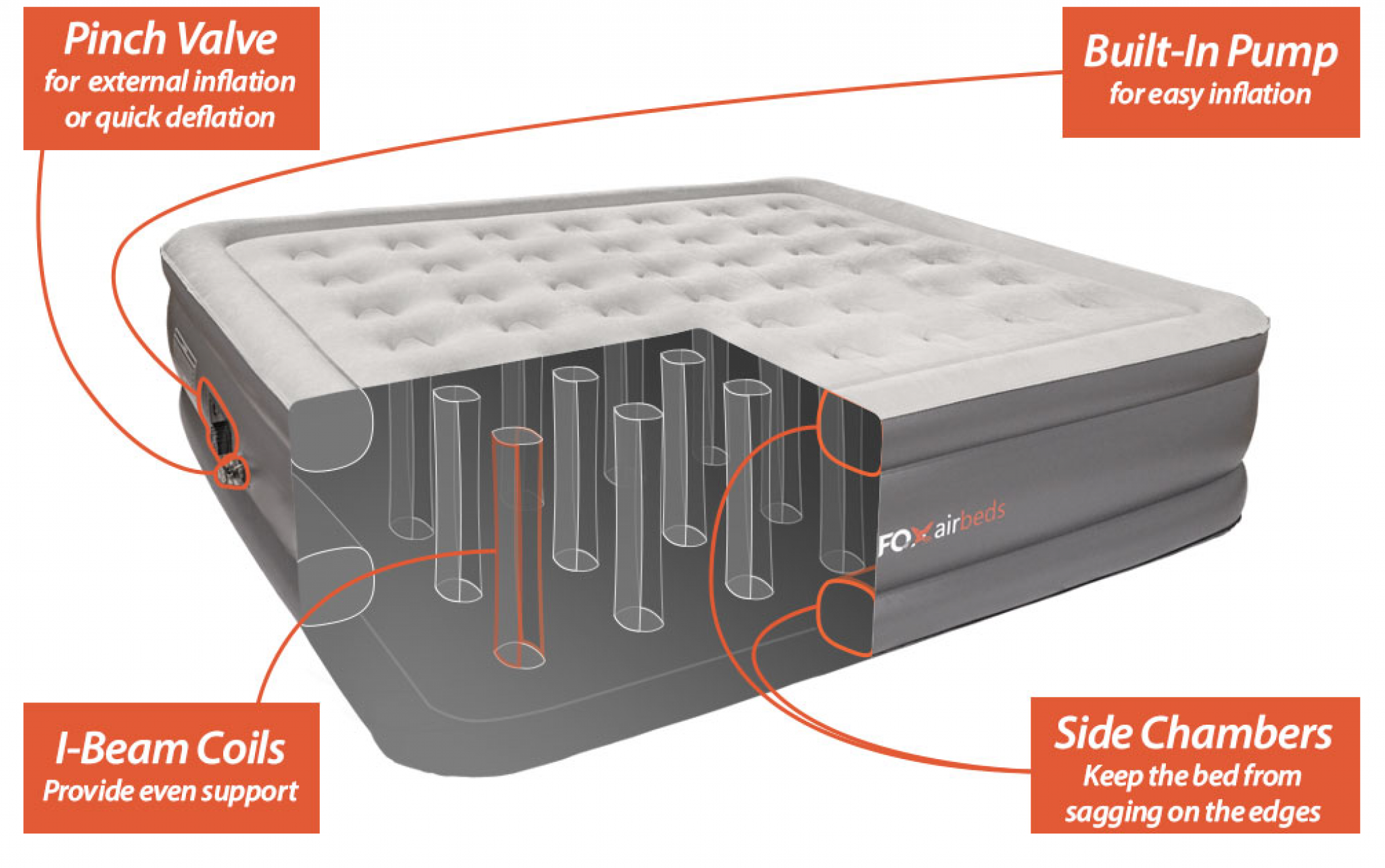 It doesn't matter how you're sleeping – on your side, stomach, or back – this Fox Airbed is comfortable and supportive. The internal pump is designed to provide maximum comfort and support, which means you'll wake up each morning feeling refreshed and ready to take on the day.
What I Like:
The Fox Airbed is the ideal solution for guests or for anyone who wants a bed that they can move around the house as they please.
It features a pump that inflates the bed in no time at all and deflates in only a few minutes.
It provides strong support and is better at resisting punctures than competitors.
---
Coleman Air Mattress
Best Soft Plush Top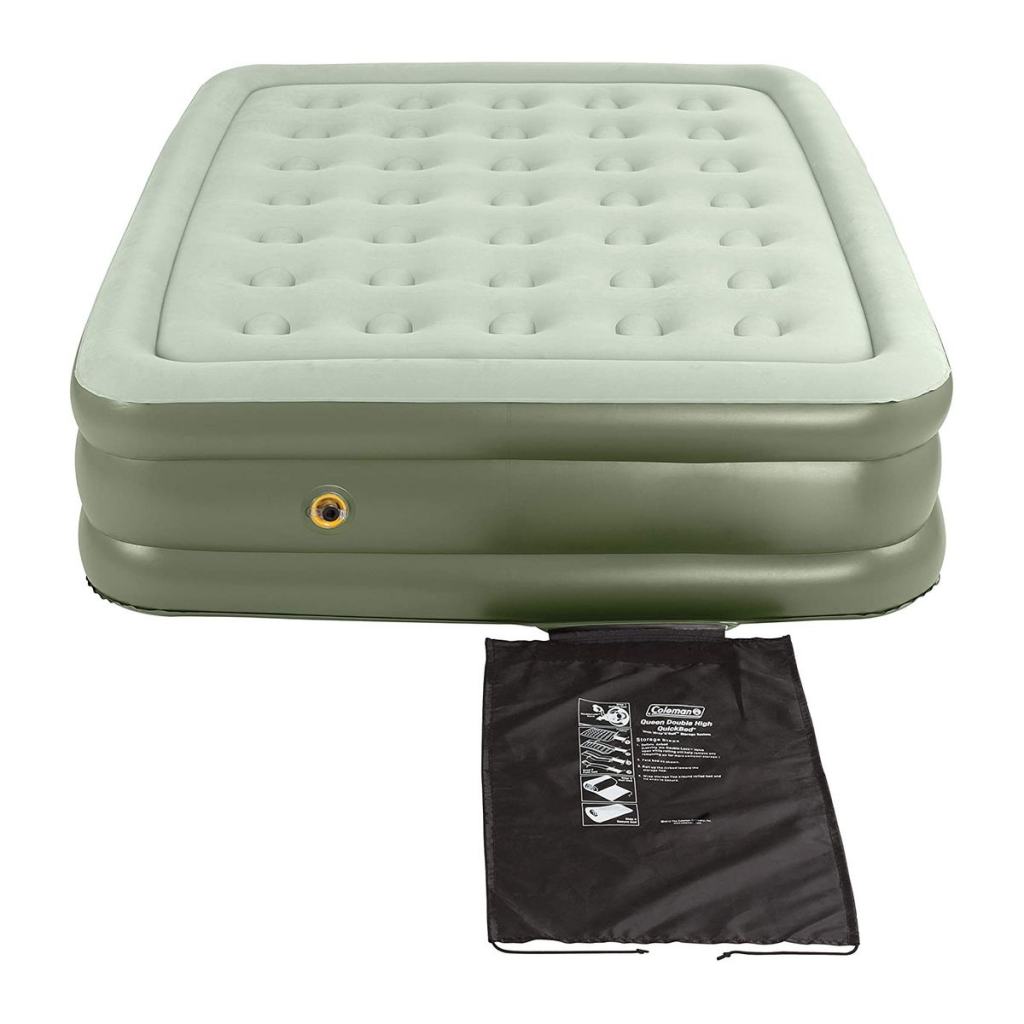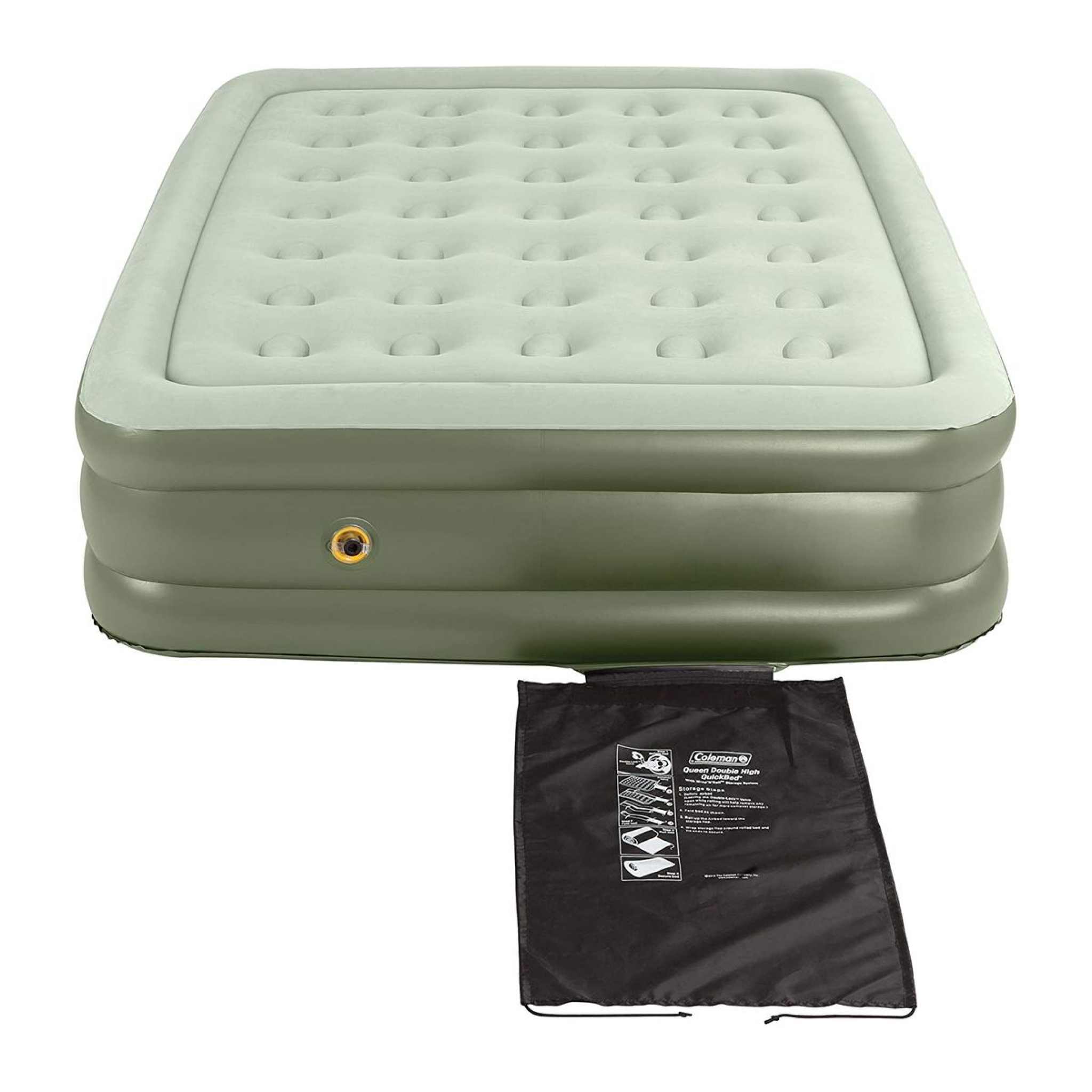 Coleman is best known for its outdoor gear, but the company also makes air mattresses, which are among the most popular mattresses in the market today.
The company says its air mattresses are designed to make camping comfortable for everyone—not just the hardcore campers.
Mattresses are one of the main things you buy for your home, and the last thing you want is to toss and turn all night trying to get a good night's sleep. The Coleman Air Mattress gives you that good night's sleep you've been looking for. The soft, plush top is paired with a durable construction that ensures stability and long-lasting comfort.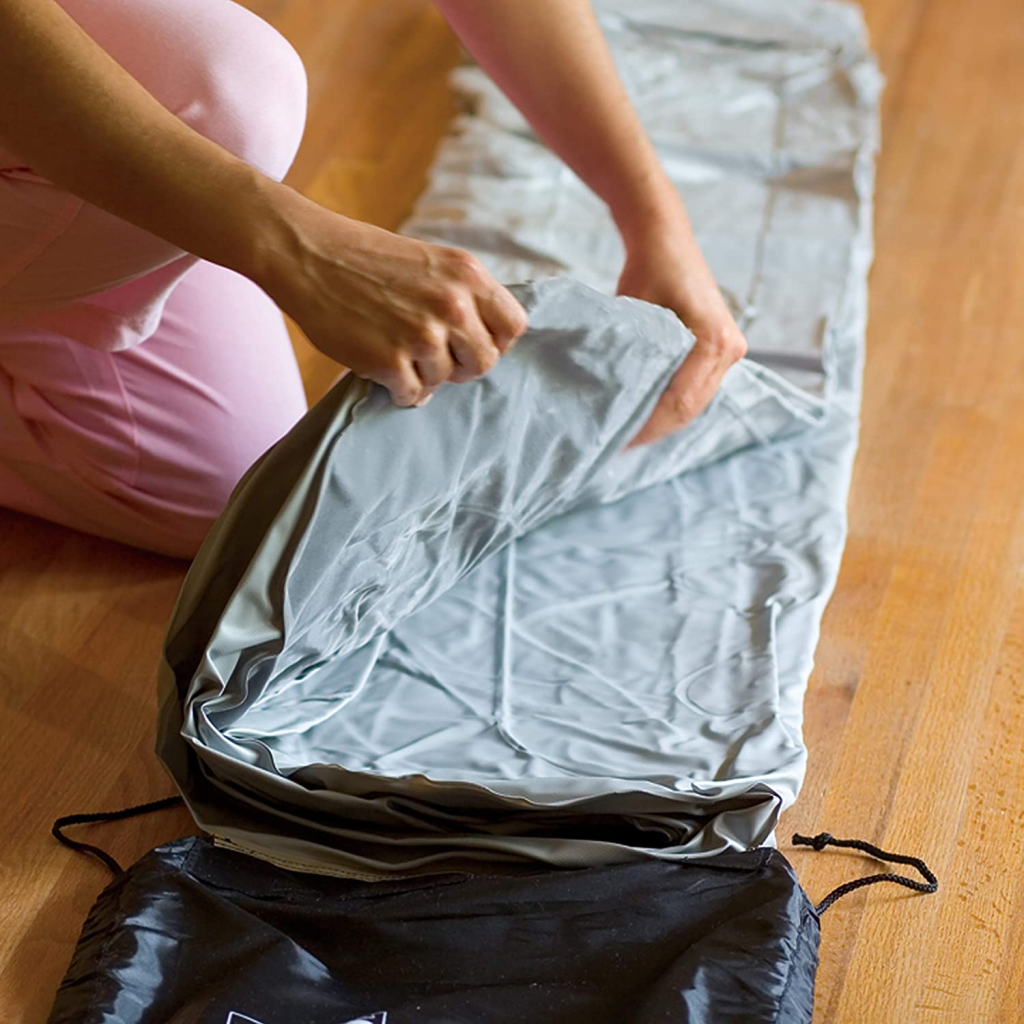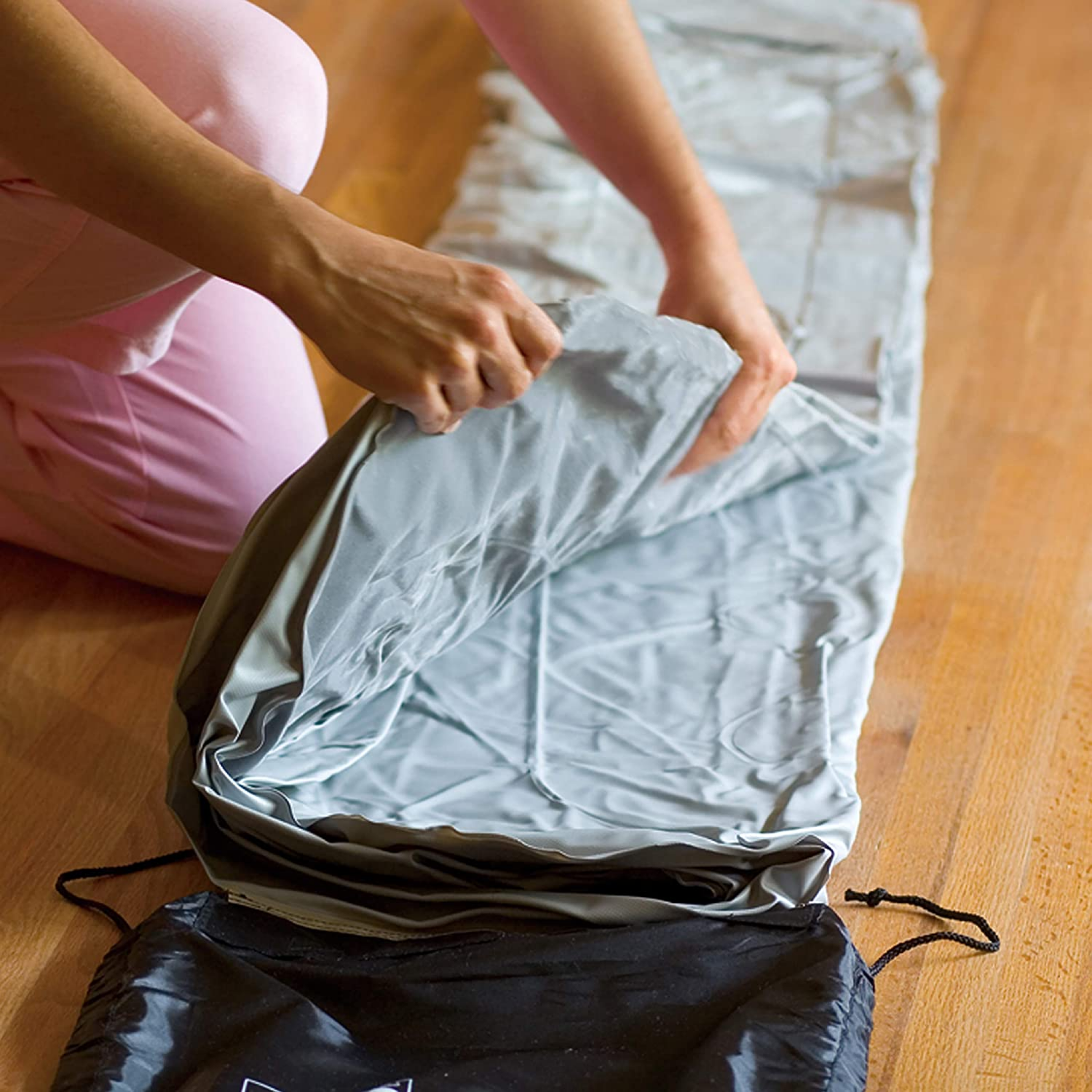 Well, it has a few features that make it stand out from all the other mattresses on the market. First, it has a high-rise height of 18 inches, which means you'll be able to get into and out of bed easily. Next, it has coil construction, which makes it more durable than cushioned mattresses.
What I Like:
The height of the product makes it suitable for people with health problems.
Holds air well.
The small size makes it easy to store and transport.
---
How To Find The Best Air Mattress For Back Pain
If you suffer from back pain, getting a good night's sleep is critical to managing it. But a mattress that offers proper support can be expensive. Luckily, some options provide similar support without the high price tag. One of the best is air mattresses, which provide similar support to a traditional mattress without the cost. Air mattresses work by distributing your weight over a large surface area. This helps to alleviate pressure points that cause pain.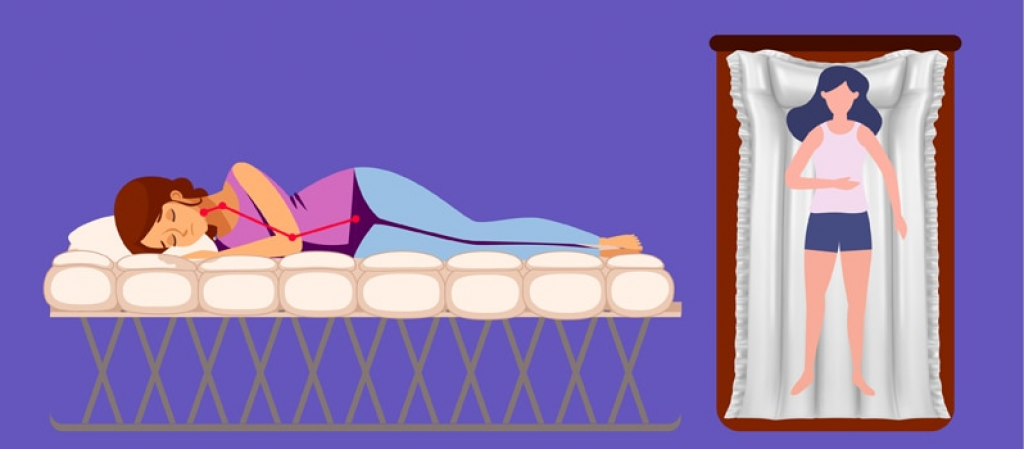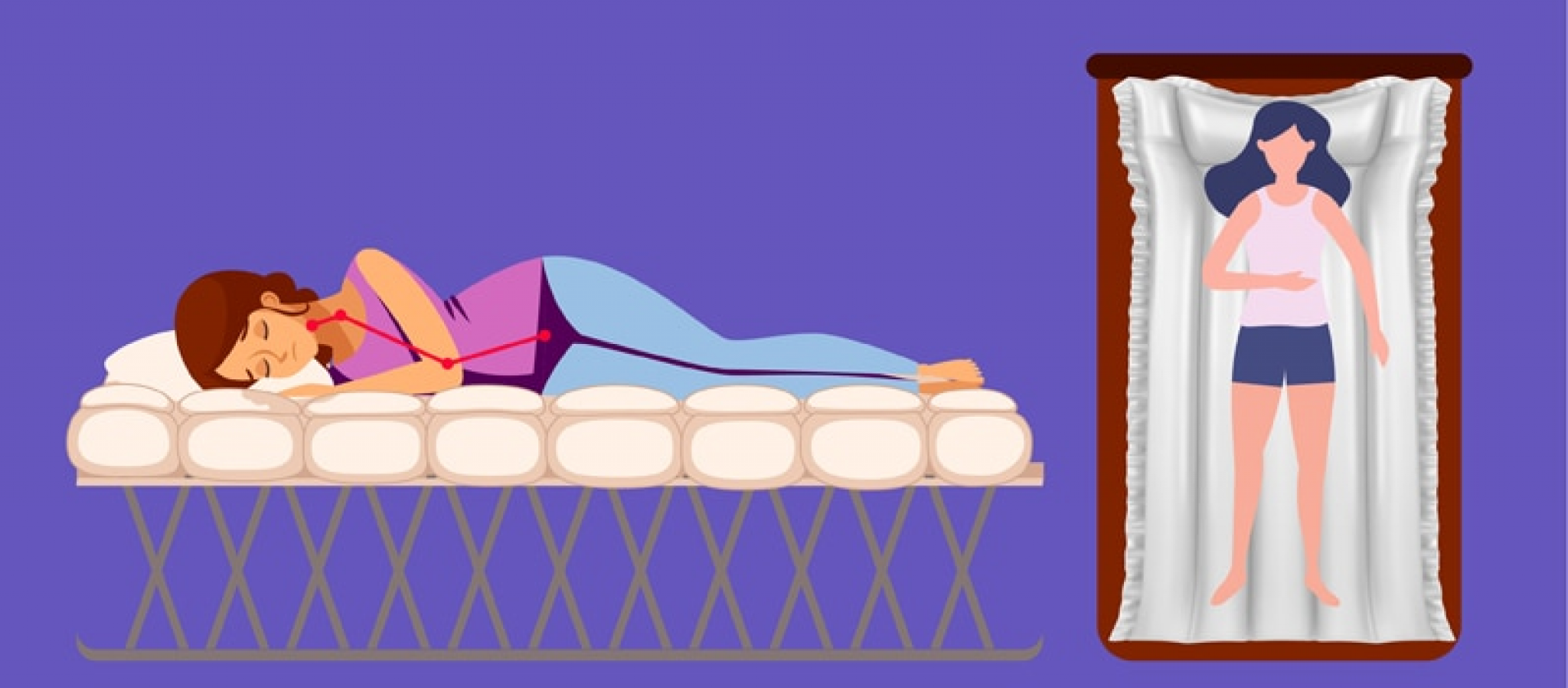 Finding a good air mattress for back pain is not easy. There are several things to consider when looking for a mattress. Some have features that can help reduce back pain.
Firmness level
The level of firmness in an air mattress can make a big difference in the quality of sleep you get while trying to relieve back pain. It can also make a big difference in the level of back pain you have during the day. For this reason, it is very important to find the right level of firmness for you. It is also important to note that an air mattress's level of firmness can vary from one brand to another.


There are many types of mattresses available today, and each type has a different feel. It would help if you found what is right for you.
Size
An air mattress should accommodate your body, which is why it is important to measure your body size before purchasing one. If you are a side sleeper, you should look for a mattress with a width of between 20 and 24 inches. A mattress with a width of between 24 and 28 inches is ideal for back sleepers, while a mattress with a thickness of between 6 and 8 inches is best for stomach sleepers.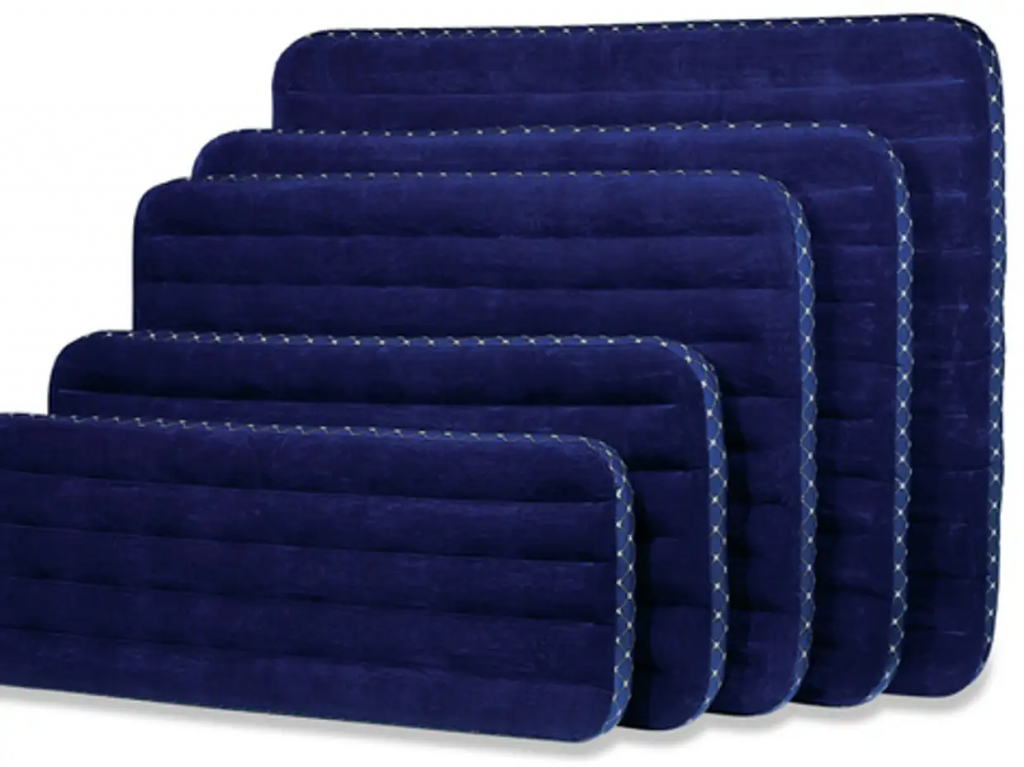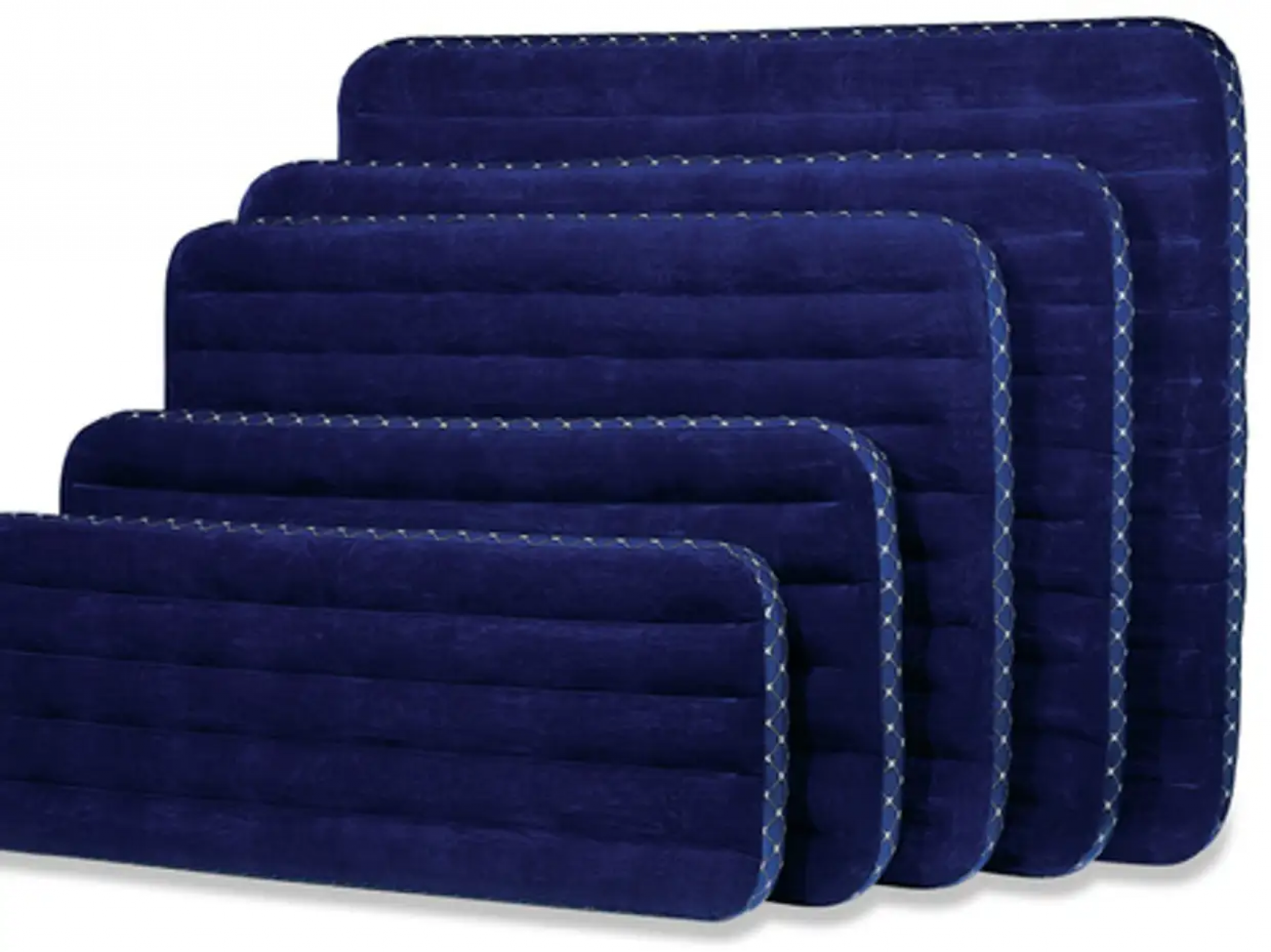 To find the best mattress for your needs, you will need to determine what size mattress you need. To do so, you should take three measurements of the space in that the mattress will be used. These measurements will help you determine the width, length, and depth of the mattress.
Pump
An air mattress is a great alternative to a traditional mattress, but it can be tricky to choose the right one for your needs. If you have back pain, one of the features you should look for is a pump that allows you to adjust the mattress's firmness.
Sleeping position
When you suffer from back pain, it is hard to get a good night's sleep or even get comfortable on your mattress. That means getting a good night's sleep is even more challenging as you toss and turn trying to find a position that won't aggravate the pain. However, a good night's sleep is important for your health and the health of your back.

A good mattress will provide both comfort and support and may be a critical factor in reducing your back pain. A bad mattress, on the other hand, may be a major cause of your back pain.
The most comfortable position for sleeping on an air mattress is on your side with a pillow between your legs.
---
Air Mattress vs Foam Mattress
People with back pains are always looking for new ways to alleviate some of their symptoms. For some people, an air mattress provides more comfort than a traditional mattress. One of the reasons for this is that it helps to relieve pressure and support the lower back.
Mattresses come in many shapes, sizes, and materials. However, foam mattresses are increasing in popularity. It's no surprise, as these cushy slabs are more affordable and durable than other kinds of sleep surfaces. Air mattresses are also a top choice for consumers. But unlike foam mattresses, air mattresses are not as durable.
Air beds are often seen as an alternative to a regular mattress. They can also be a great option for people who want the benefits of a regular mattress but don't have the space or budget for a traditional model.
Air mattress
The most important thing an air mattress can do is relieve back pain. How does it do this? Well, to start, it provides a firm, supportive surface that cradles your body, taking the pressure off of your joints and spine. This is especially important if you're a side sleeper whose spine is weaker and less protected than a back or stomach sleeper or a combination sleeper (side and back). Also, the air mattress's ability to support your body without giving in to pressure points is a big benefit to back pain relief. No matter what position you sleep in, the air mattress won't sag or give in to the pressure point of your hips, waist, shoulder, or other body parts.
However, not all air mattresses are made equally. While some can help reduce back pain, others can make it worse.
Foam mattress
Foam mattresses are known for their ability to relieve back pain, but how does it happen? The answer lies in the foam's ability to conform to the body's pressure points and align the spine. Foam mattresses are made of viscoelastic foam, which has a soft, smooth feel and is designed to cushion and support the body. However, its viscoelastic nature allows it to conform to the weight and body pressure placed on it. This type of foam can conform to the shape of the sleeper's body, creating a flat, even surface over the mattress's entire surface. The viscoelastic material can also align the spine, as it will mold to support.
---
F.A.Q.
What are the benefits of an air mattress for back pain?
An air mattress is an effective way to provide support for people with back pain. It can be adjusted to the perfect firmness to provide the level of comfort that the person really needs.
Are there any dangers associated with air mattress use?
It is important to check regularly the condition of the mattress and its components. If the mattress is degrading or the internal components are damaged, the mattress may lose its effectiveness and cause discomfort or harm.
Are there any specific features that make an air mattress suitable for back pain sufferers?
Yes, air mattresses are designed to provide adjustable support so that they can be customized to the individual's needs. It also has pressure points relieving technology and helps with pain reduction.
How long can the air mattress be used?
An air mattress is a low-cost sleeping method that is perfect for short-term use while you are camping or hosting guests in your home, like for a holiday or wedding. It is lightweight and easy to transport, leaving you with a bed wherever you need it. Some air mattresses are self-inflating, while others require manual inflation.
One important factor to consider when purchasing an air mattress is how long you plan to use it. A standard air mattress is constructed with a P.V.C. vinyl material or polyurethane is not intended for long-term use unless you are using it as a temporary solution while traveling. The best air mattresses are constructed with flocked tops that provide a soft, comfortable sleeping surface.