Editor's Note: Idle Sleep is no longer in business. For a good alternative, take a look at our Plushbeds Botanical Bliss Organic Latex Mattress Review.
Idle Hybrid Mattress is a new type of double-sided mattress with two firmness levels to choose from. It's the first hybrid mattress on the market that provides two different firmness options, letting you adjust it to your own personal sleep style. Idle offers support for all sleep positions and relieves pressure points, creating a more comfortable night's sleep. Keep reading to know more about the advantages of this luxury mattress.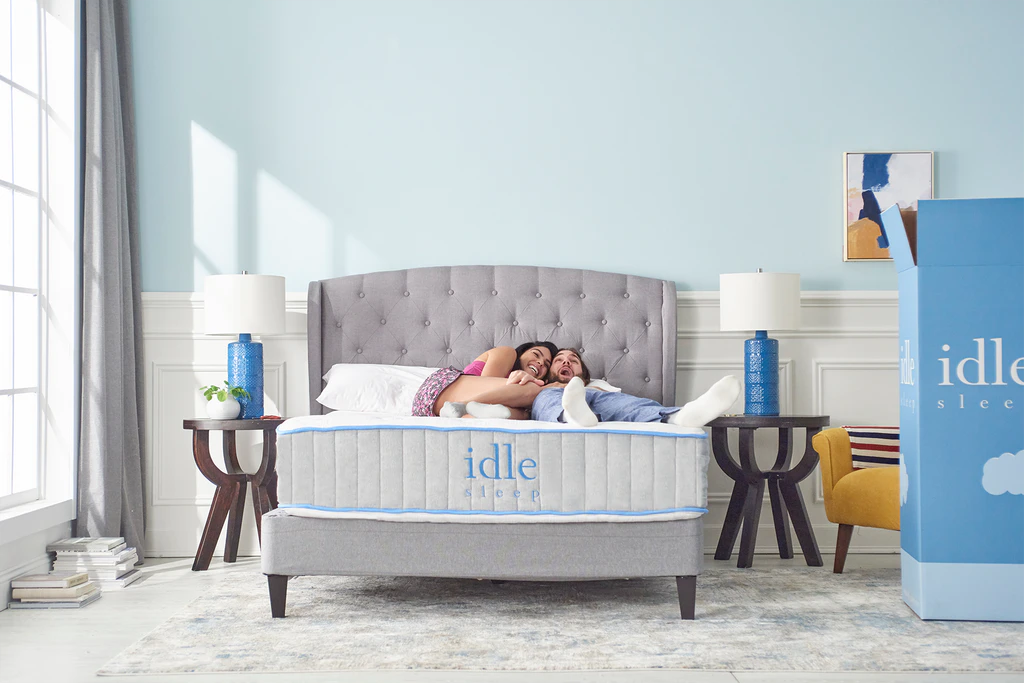 ---
Who Is The Idle Hybrid Mattress Good For?
The Idle Hybrid mattress is suitable for those who want a balance of support, firmness, and comfort. With two different firmness levels, it's the best of both worlds for all sleep types. Whether you're a back sleeper, side sleeper, or stomach sleeper, you'll find the right firmness for your sleeping style.
The mattress is perfect for:
Couples looking for a durable mattress with motion isolation.
Persons who need a high-quality mattress at an affordable price.
All-type sleepers.
---
Is The Idle Hybrid Mattress Good For Back Sleepers?
Idle Hybrid Mattress is great for back sleepers. It contours to your body and molds to the natural curvature of your spine. Plus, with its unique support system of individually wrapped coils, you'll never feel like you're sinking too low or too high.
Suitable firmness levels allow back sleepers to find the right amount of support they need for a healthy spine alignment. Their unique system allows better airflow and promotes airflow through the layers to keep you cool and comfortable all night long.
---
Is The Idle Hybrid Mattress Good For Side Sleepers?
Idle Hybrid Mattress is amazing for side sleepers! Your body weight sinks into the mattress and gets distributed evenly, so no part of your body sinks more than any other part of your body, and there's no pressure on any particular area either.
---
Is The Idle Hybrid Mattress Good For Stomach Sleepers?
Idle Hybrid Mattress is perfect for stomach sleepers. The extra soft top layer of the mattress conforms to your body without losing support or pressure relief so that you get the support you need while still feeling comfortable.
---
What Is The Idle Hybrid Mattress Made Of?
Idle Hybrid Mattress is made out of supportive polyfoam, memory foam, and wrapped coils. As the mattress is double-sided, you may find the same layers from both sides. The cover is designed with temperature control in mind. Patented Termcool technology helps feel warm when you're cold and cool when it's hot.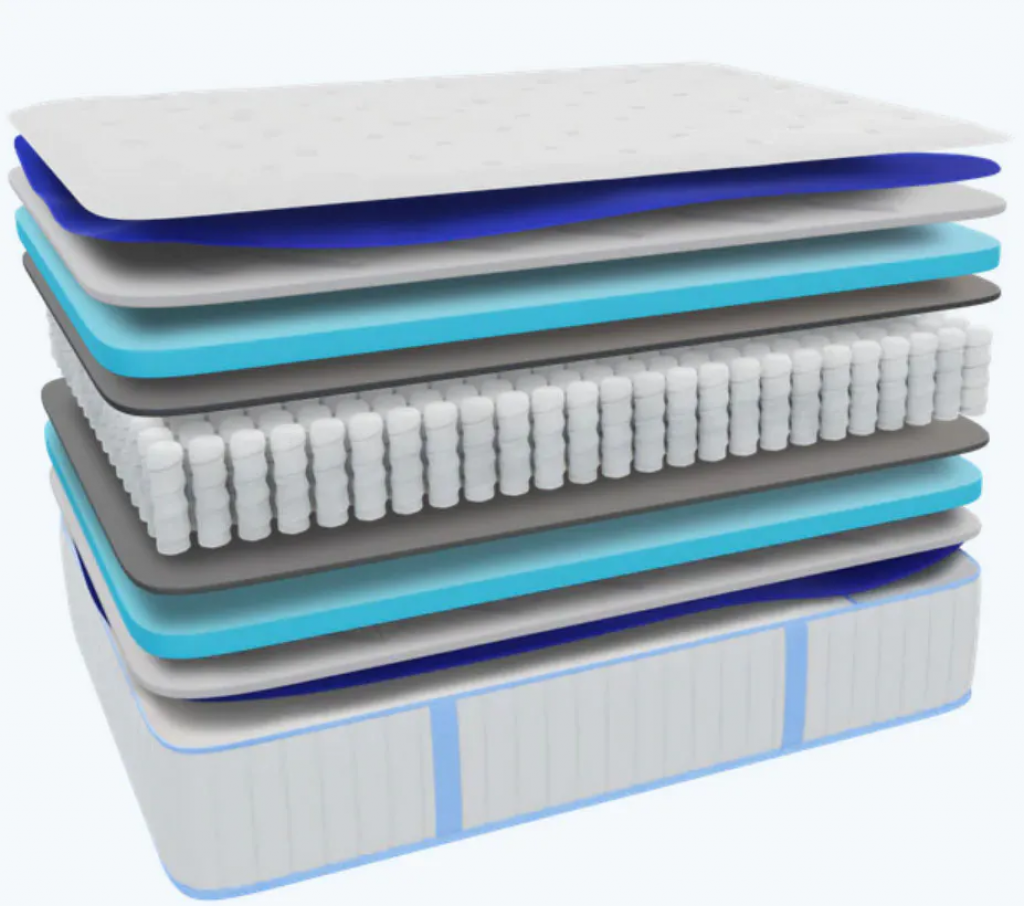 The next layer is a natural fire-resistant barrier that is toxic-free and doesn't contain carcinogenic chemicals, gases, HCN, HCI, bromine, etc. A 1-inch contouring foam layer adds your mattress support and extra comfort.
Then comes 2-inch cooling foam that provides pressure relief and does its best for hot sleepers. A 1- inch supporting layer made of solid foam makes your night's sleep just amazing. The 6-inch wrapped coils layer offers world-class body support and reduces motion transfer.
---
Is Idle Hybrid Mattress Non-Toxic And Eco-Friendly?
Idle Hybrid Mattress is non-toxic and eco-friendly. The polyfoam and memory foam used in the mattress are both natural materials, making them safe for your health and better for the environment. It is also CertiPUR-US certified, meaning it does not contain TCEP or PBDE flame retardants or any ozone-depleting substances – it's completely safe for you and the planet.
---
Mattress Prices And Sizing
| | | |
| --- | --- | --- |
| Size | Dimensions | Price |
| Twin | 38″ x 75″ | $858 |
| Twin XL | 38″ x 80″ | $898 |
| Full | 54″ x 75″ | $1,099 |
| Queen | 60″ x 80″ | $1,299 |
| King | 76″ x 80″ | $1,498 |
| California King | 72″ x 84″ | $1,498 |
| Split King | 76″ x 80″ (2pcs.) | $1,747 |
---
Is Idle Hybrid Mattress Worth It?
Overall, the Idle Hybrid Mattress provides an excellent value for its price. It is comfortable enough to sleep on without it giving you aches and pains, but also sufficiently firm to provide support.
With an average price, it's also an affordable option for people looking to make the switch to a mattress with no major upfront costs. The product can cost a lot of money, but it is a decent value for the money. The mattress is very comfortable and comes with a warranty for a period of time that ensures that you can get a new mattress or even your money back if you are unhappy with the bed.
---
How Firm Is Idle Hybrid Mattress?
Most people will report that the mattress is very comfortable and feel no pressure points or bottoming out when on the mattress. The mattress provides support on all sides of your body while you sleep so that each part of your body feels supported.

This is a flippable mattress and provides different firmness levels depending on the side. The first side is medium-firm, and the other is a luxury firm.
---
How Long Does Idle Hybrid Mattress Last?
The mattress is made of memory foam, a durable material, so it will last for years if you look after it. The bed has a high durability rating, so it might have the potential to last for years.
The manufacturer offers a lifetime guarantee, including body impressions and sagging. This is a great deal if you're looking for a new mattress for your bed.
---
Idle Hybrid Mattress Features
Motion Isolation
Motion isolation is a feature that most people do not think about when buying a mattress. The motion isolation of the Idle Hybrid Mattress is very good.
If you have a partner who moves around a lot when they sleep, you will not be bothered by their movements because the mattress absorbs some of the motion and makes it feel like you are sleeping on a single mattress. If your partner gets up in the middle of the night, there won't be any noise from them moving around on top of you that wakes you up.
Pressure Relief
The Idle Hybrid Mattress is great for relieving pressure points in the body. This is one of the most important aspects of a mattress, and it can break most competitors.
If you have an issue with your hips, the mattress will help relieve any pressure in your hips and make sleeping on it very comfortable. The bed also will help to maximize airflow into your body while you sleep so that any hot spots can be eliminated and you can stay cool during the night.


Temperature Control
The Idle Hybrid Mattress has cooling features that allow you to adjust your body's temperature when it is too cold or hot around. The mattress will absorb your body heat and use the gel foam in the mattress to keep you cool and comfortable throughout the night.

Edge Support
The edge support of the Idle Hybrid Mattress is one of its best features. Most mattresses will not support you when you sit on the edge of the mattress or when you try to sleep in that area of the bed.
The Idle Hybrid Mattress has outstanding edge support and can allow you to lay down in any area of your bed without getting uncomfortable or falling off in the middle of the night.
Sex
This mattress is excellent for couples to have sex. Because of its perfect motion isolation and edge support, the mattress supports bodies and offers excellent comfort in any sex position.
Off-Gassing
The quality of the Idle Hybrid Mattress is very high. The off-gassing that occurs when you first open the mattress is very minimal. Most people will not notice any type of odor or smell coming from the bed once they have opened it.
Several layers in the mattress need time to expand before they reach their full potential, but this process does not give off any type of odor or unpleasant smell during this period.
Sleep Trial
Having an 18-months sleep trial period gives you peace of mind when you purchase an item online, especially something as expensive as a mattress. The sleep trial period allows you to sleep on the bed for more than a year so that you can see how it affects your sleep. You have time to adjust to any issues with the mattress and return it if necessary.
Warranty And Return Policy
Idle Hybrid Mattress has a very impressive warranty policy and lifetime period that can cover most defects found in the mattress. The manufacturer is committed to making sure you are satisfied with your purchase at all times, so if there are any problems with the mattress, they will work with you until you are completely happy.
---
The Bottom Line
The Idle Hybrid Mattress is an excellent value for anyone looking for a new mattress. It will provide you with the comfort you need while still being soft enough to allow you the ability to move during the night without feeling like you are not supported correctly or that there is pressure on your body.
The firmness of the mattress means that it will help relieve any pain problems that may be occurring in your back or joints. The memory foam gives you the best of both worlds, allowing your body to feel supported yet still responding to how you move while you sleep. It will give your body exactly what it needs so that it can get a great night's rest.
This is one of the best hybrid mattresses available online today, and I highly recommend it for anyone who wants to try out a memory foam mattress without overpaying for it.