Dealing with an air mattress can be a pain. There's usually that moment where you're first sleeping on it, and the mattress is nice and comfy, but after just a few hours, it starts to deflate. And for those of us who like to sleep in until noon on weekends, this is often the perfect time for the bed to start going flat.
Below there's a guide about how to inflate an air mattress with no fuss. You will learn different methods as well as tools that can help you to do it quickly.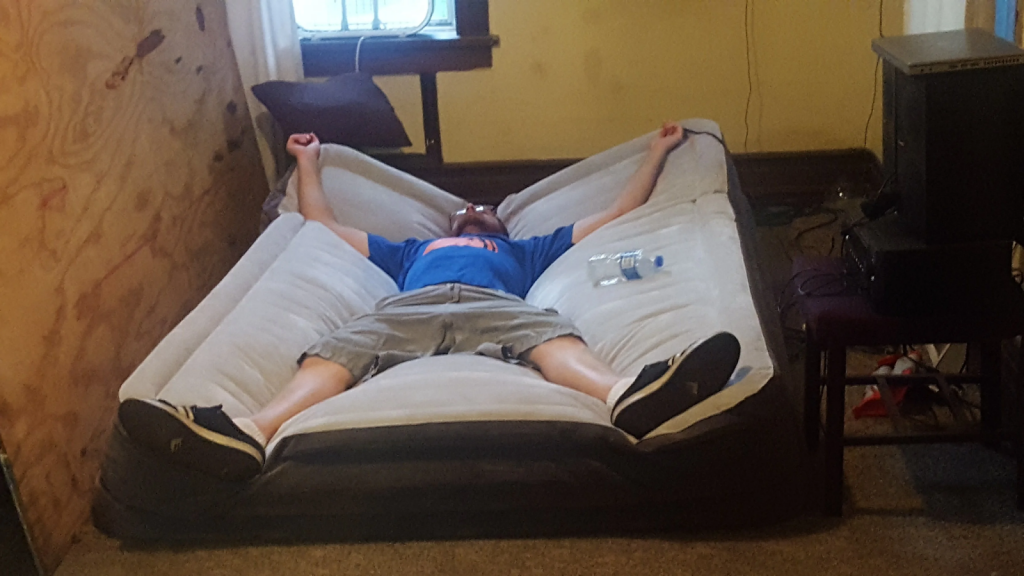 ---
Things That Can Help To Inflate An Air Mattress
There are plenty of devices you can use to make your air mattress even more comfortable for you. Whether that be an air pump, a portable pump, a car charging socket pump, or an electric air pump, having one of these will make your bed even more awesome.
Built-in Air Pump
Many air mattresses come equipped with a built-in air pump that allows you to inflate the mattress without any help from a separate device. For some people who just want an extra layer of comfort or want something for camping, this might be the option for them.
What's more, this pump can also be used to deflate the bed and roll it up into a much smaller package for storage or travel.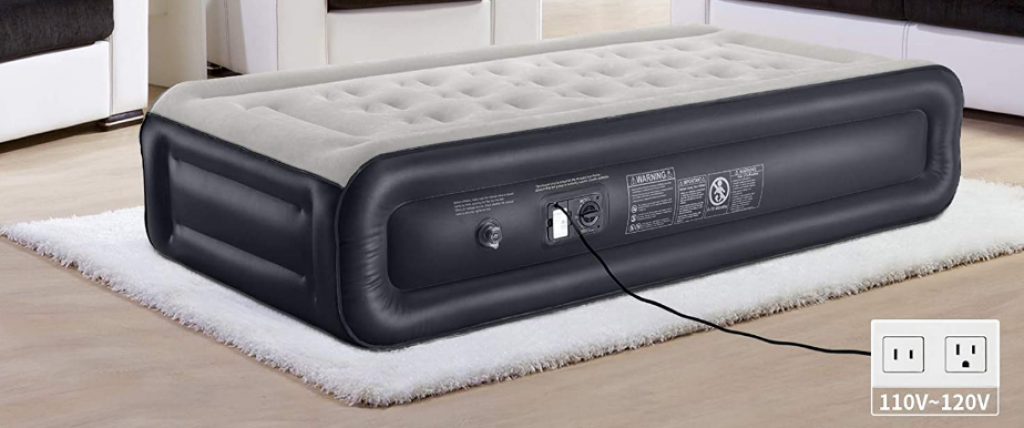 Portable Pump
Portable electric pumps are probably the most popular option for those who have an air mattress that doesn't have a built-in pump. They're handheld, relatively lightweight, and come with several different options for inflating your mattress, such as the AC plug-in or battery pack version. Though portable pumps don't have to be used indoors – they can be great for camping trips as well!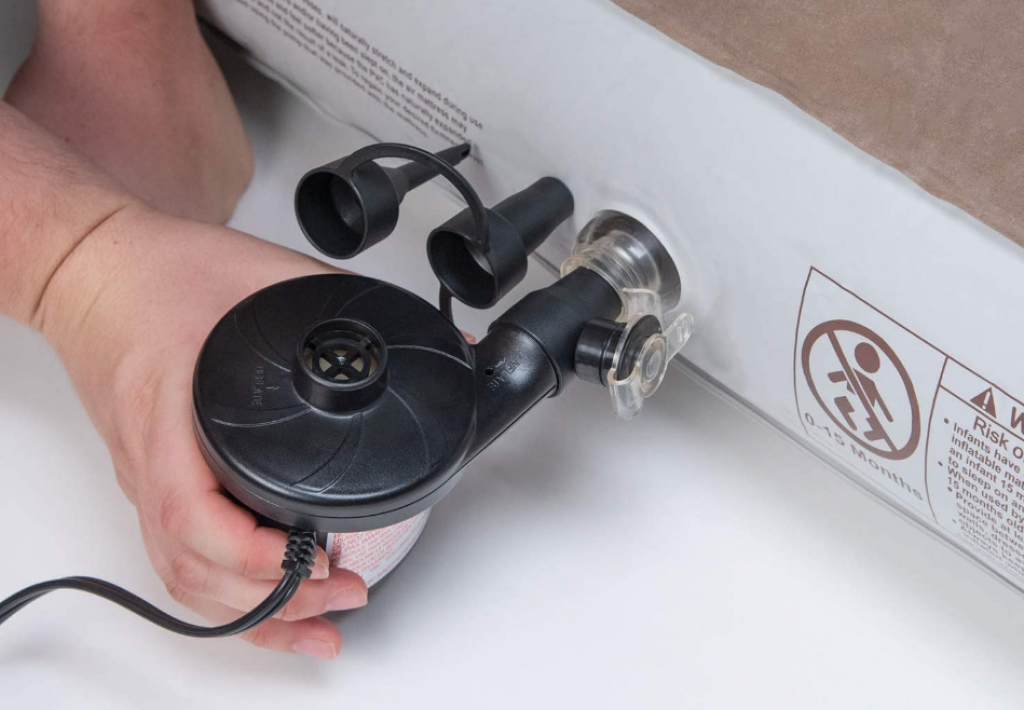 Car Socket Pump
TThe unit plugs into your car's 12-volt socket and inflates a mattress in several minutes. This setup also has an automatic shutoff feature that prevents your mattress from being damaged due to over-inflation.
Electric Pump
If there happens to be an electric air pump in your house already, you can use it for a quick and easy fix when it comes to quickly inflate or deflate your bed. These units tend to be more expensive than the ones mentioned above, but they are more powerful and can inflate a mattress within seconds.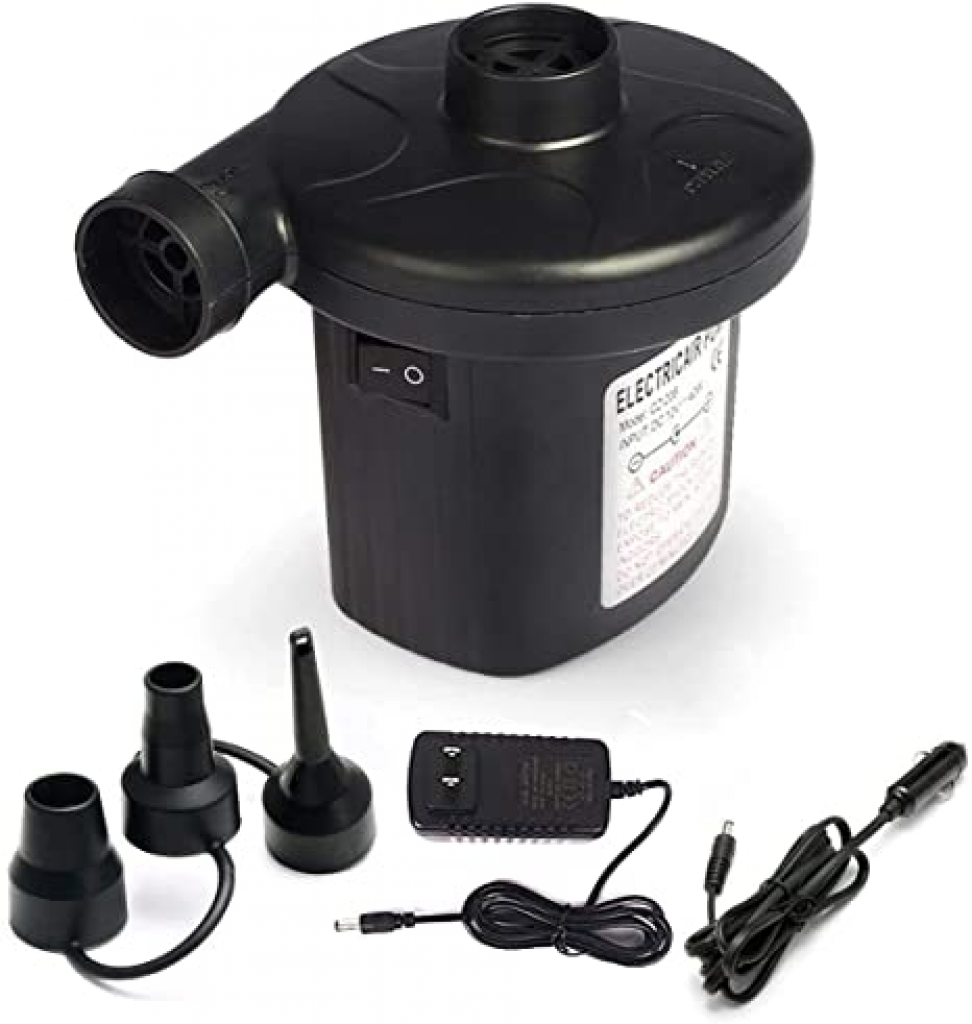 Hand Pump
While it can be a pain to re-pump your mattress from a flat state every few hours, hand pumps are convenient because you don't need an electric outlet or batteries to operate them. The unit often comes with a gauge on top that allows you to see how much air is in bed at any given moment during the inflation process. You'll have to do some manual work to achieve maximum inflation.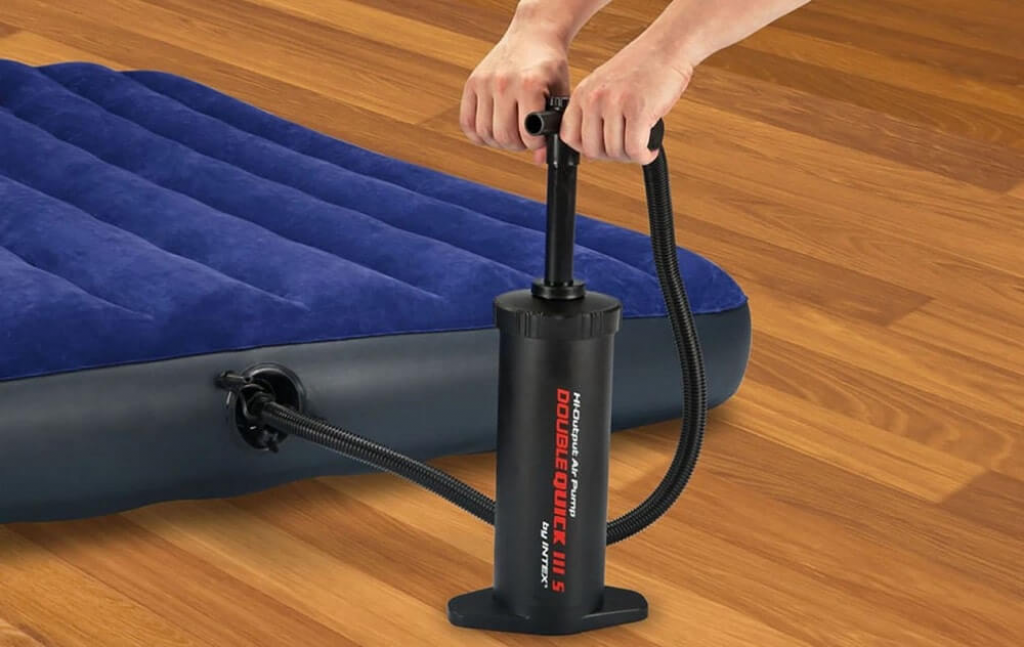 Hair Dryer
If you're going to use a hairdryer, make sure that you get one with low wattage. The goal is not to heat the air but to increase the air pressure as it's being blown out. Once you've connected an extension cord, turn on the blow-dryer and aim it directly at the mattress.
Air Compressor
If all of this sounds like too much work (and expense), an air compressor is another option to consider when trying to find a quick fix for your deflating mattress problem. A 12-volt air compressor inflates a mattress in about three minutes. This device is useful for cars, motorcycles, bicycles, inflatables, sporting equipment, and more.
---
How To Inflate An Air Mattress: 2 Easy Ways
There are plenty of ways to inflate an air mattress by using pumps. Both are simple, but using a pump is much faster and doesn't require much physical effort.
Inflating With A Pump
Using a pump to inflate your mattress is pretty easy, but it takes a little bit longer than the other method and requires some physical effort on your part. Three steps using an air pump to inflate your mattress:
Ensure the cord is plugged into the pump etc. (If you have a powered pump, make sure it's on).
Let the pump run for a few minutes.
Stop the pump and put the nozzle onto the valve of your bed. Flip over and start to push. The nozzle will inflate the bed while you lie on it, making it much quicker and easier than doing it by hand.
Inflating Without A Pump
If you're going on a camping trip or somewhere where electricity isn't readily available, you can still have a great bed to sleep on! All you need is the air mattress and this method. Three steps to inflating an air mattress without a pump:
With gentle pressure, blow air into the valve of the mattress and open it up. You'll want to flip it over and put air on both sides so that it's not lopsided to either side.
You can use a foot pump or hand pump to add more air if you feel your bed is too flat.
Once the bed seems comfortable, you can stop pumping.
---
How To Deflate An Air Mattress
Deflating a mattress is much easier than inflating it. You can use a pump or just simply let all of the air out by hand. 3 Ways To Deflate Your Air Mattress:
Using The Pump: All you need to do is insert the nozzle of your pump into your valve and press a button on the pump to let all of the air go out. It's as easy as that!
Putting Air Through The Valve Slowly By Hand: Take off your cap from the valve and push a few bits of cloth through it until there's no more air in it. Then, put the cap back on the valve, so you don't lose it.
Letting The Air Out Simply By Tying Up The Valve: This method takes a bit longer because you have to tie up your valve using string or a strap of some kind. Make sure to put a cloth over your valve when tying it; otherwise, you'll get blisters from the friction between the string and your skin.
---
FAQ
How Do You Inflate An Air Mattress Without A Pump?
You can use the air from your lungs to inflate the mattress. Inflate it at one end, put on your weight, and let it deflate. Roll this "balloon" of air to the other end of the mattress. Then put on your weight again and repeat this process until all parts of the mattress are inflated with air.
Can You Manually Inflate An Intex Air Mattress?
Yes, an Intex air mattress can be pumped manually. You just need to use the foot pump provided with your air mattress. By pumping the mattress up, you will make it lighter and more firm and prevent deflation of the mattress from occurring. It's also recommended that you use a ball valve to keep it from going too high or deflating while sleeping on it for safety concerns.
How Do I Inflate My Intex Air Mattress?
To inflate your air mattress, pull out all of the plugs from the valve on top. Then, find a plug's nearest matching socket in your home or outside to plug it in. Fill the mattress with air until you feel slight resistance. You should be able to see that if you pump air into the mattress, it begins to fill up and expand outward.
You may want to revisit some parts of the article