The Amerisleep AS3 Mattress is a medium-firm all-foam mattress designed to offer the best of both worlds by combining the cooling benefits and pressure relief and bounce of memory foam.
It is an excellent choice for those who prefer a firmer feel but still want good support without bottoming out too much – which can be particularly advantageous for side sleepers. Keep reading to learn about all the benefits of the Amerisleep AS3 mattress.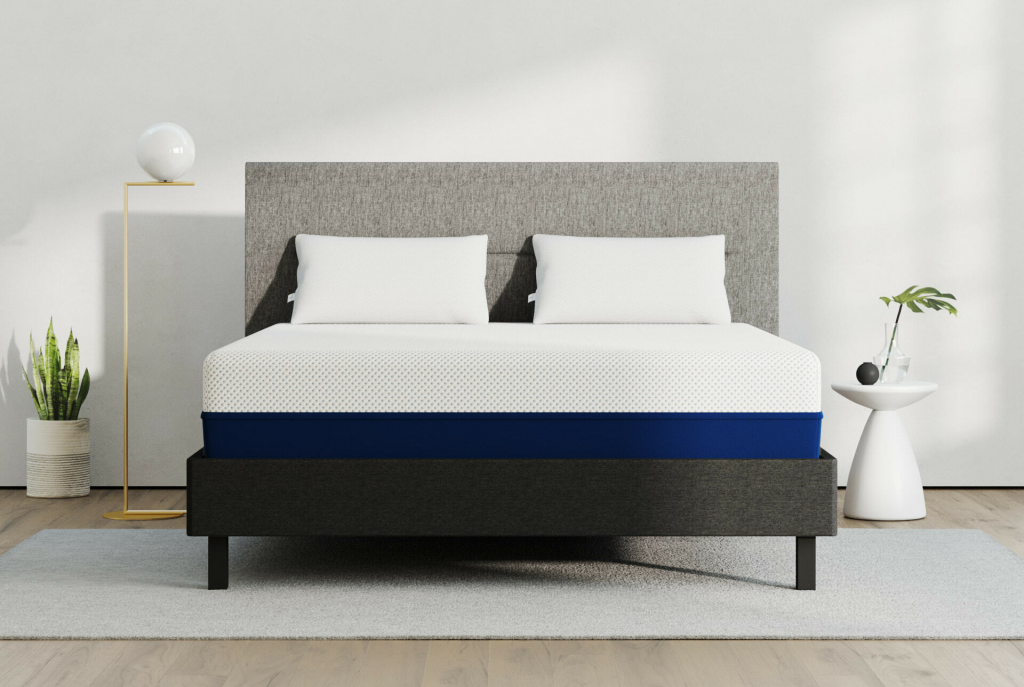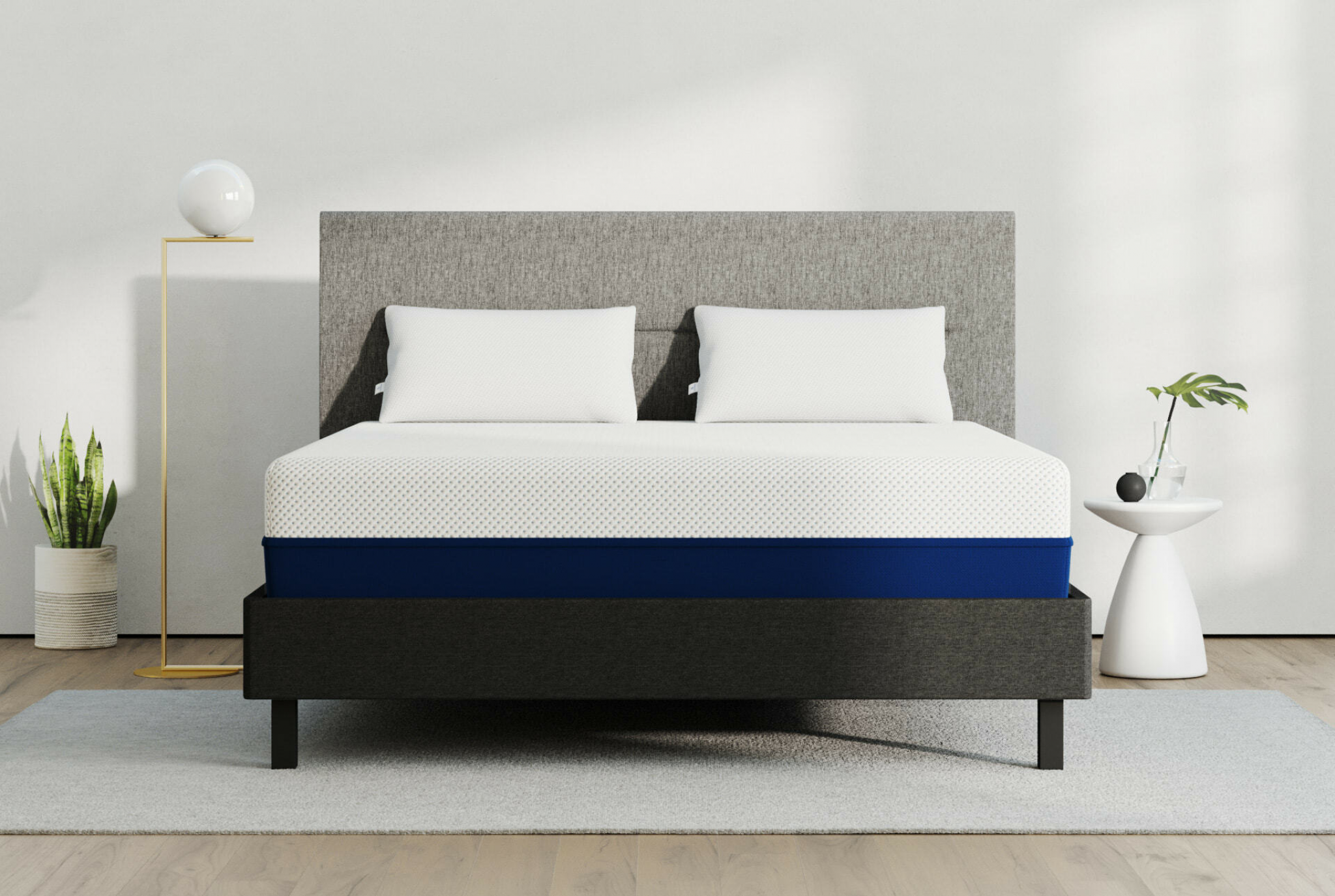 ---
Who Is The Amerisleep AS3 Mattress Good For?
The Amerisleep AS3 is ideal for sleepers who prefer a medium-firm mattress with a responsive feel and the cooling benefits of memory foam. The combination of its two layers makes it an especially good fit for side sleepers, who are less likely to be bothered by pressure points that may occur when lying on top of memory foam.
This means that they will have more support and less pressure with good airflow through their system, preventing or minimizing things like night sweats and hot flashes.
The mattress is perfect for:
All-type sleepers who weigh over 130 pounds.
Couples, especially those who are looking for lower motion transfer.
---
Is The Amerisleep AS3 Mattress Good For Side Sleepers?
The firm, tactile core of the Amerisleep AS3 helps it to give great support for side sleepers. By distributing their weight more evenly over the mattress, side sleepers are less likely to experience pressure points when moving around in their sleep.
Better support can also help reduce snoring in this position. Side sleepers tend to want more firmness in their mattresses than back sleepers, so this is an especially good option for them.
---
Is The Amerisleep AS3 Mattress Good For Back Sleepers?
While the Amerisleep AS3 is firm enough to provide effective support for most back sleepers, its quilted top does have less sinkage than most foam mattresses not made of memory foam. This means that its edges will be firmer than those of other mattresses, which can make it more challenging to move around if you tend to be a particularly restless sleeper.
---
Is The Amerisleep AS3 Mattress Good For Stomach Sleepers?
Due to its quilted foam top, the Amerisleep AS3 is a perfect mattress for stomach sleepers. Because it offers less sinkage than traditional memory foam models, it can keep your hips and shoulders from sinking too far into the bed. This helps prevent the excessive rotation of your spine that can cause back pain in this position while also reducing pressure points that can lead to hip pain or numbness in the arms and hands.
---
What Is The Amerisleep AS3 Mattress Made Of?
The Amerisleep AS3 is a 12-inch tall all-foam mattress with three layers. The AS3 mattress has a medium firmness and sits right in the middle of Amerisleep's product lineup. The memory foam will provide pressure relief for your back, while the poly foam underneath should provide support. Amerisleep mattresses are CertiPUR-US Certified. This means they don't contain harmful chemicals or pollutants.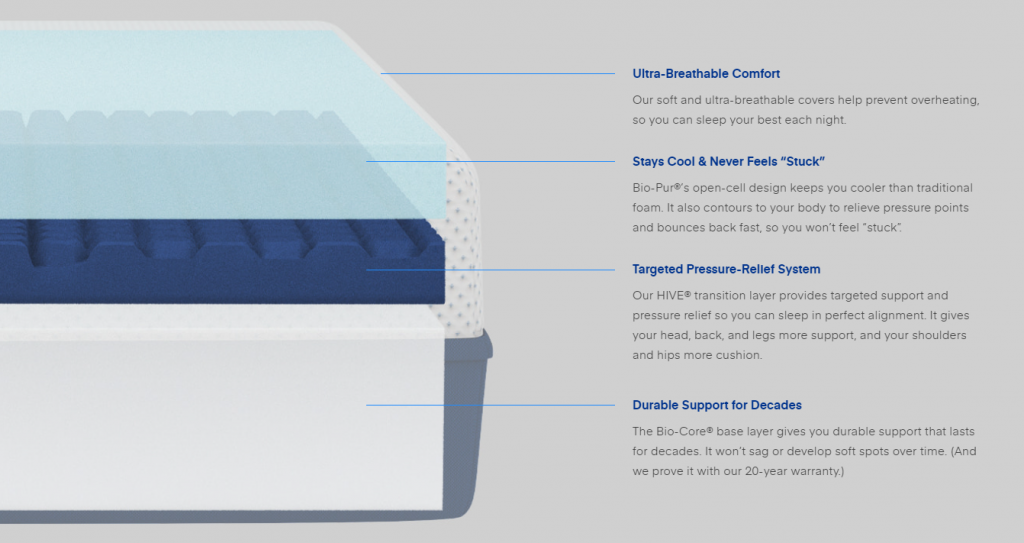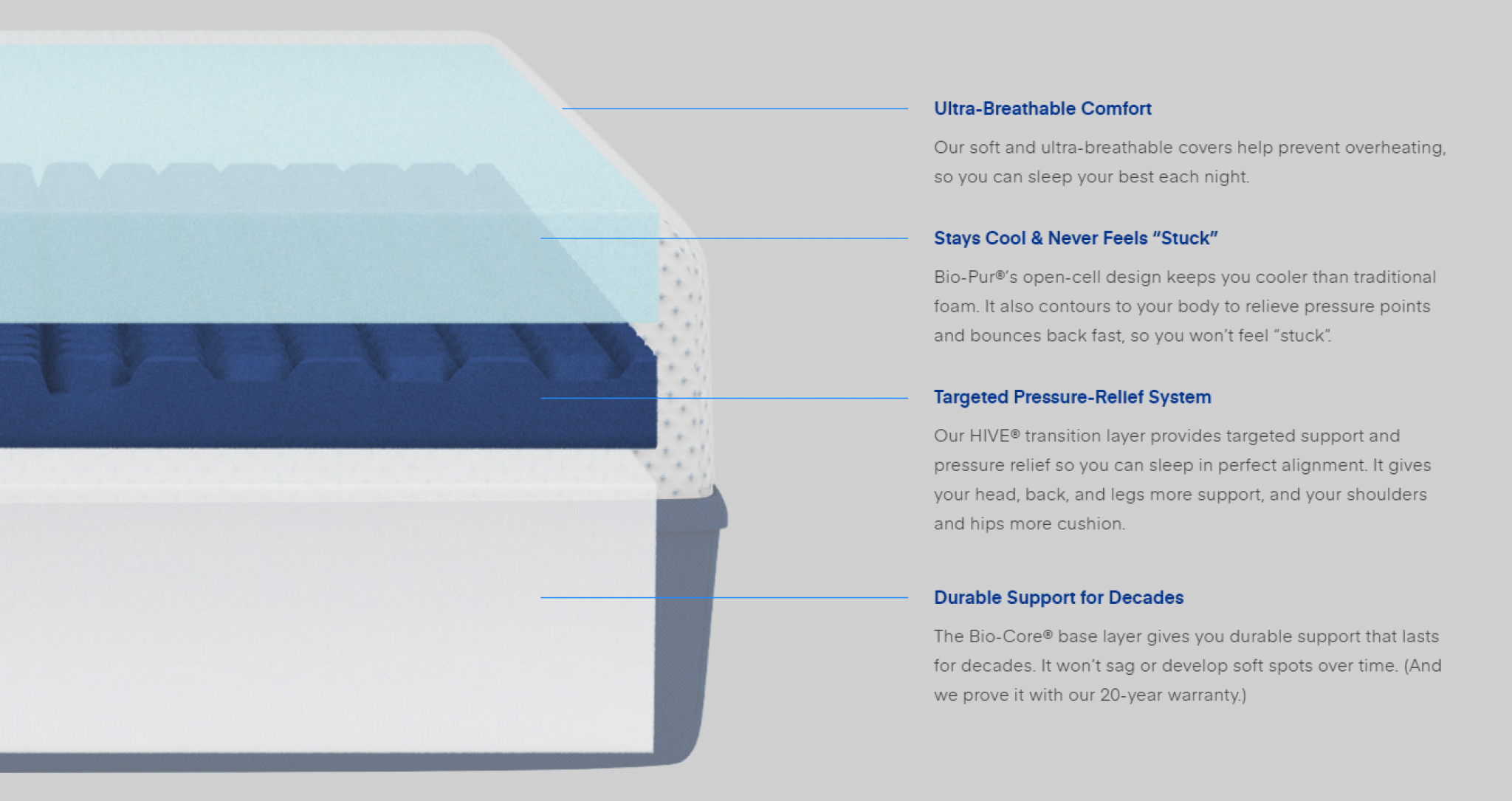 The Amerisleep AS3 is a hypoallergenic mattress. The cover is made of a soft, lightweight, and breathable blend of cotton and polyester. The botanical-based Bio-Pur memory foam feels like a cloud as you lie down on it, giving you the perfect sleep experience every night. It also features Bio-Core polyfoam that's cooling and breathable for ultimate relaxation.
The Bio-Pur memory foam is ideal for people who prefer firm beds. The organic plant oils nourish your skin and small of the back while providing more than enough support for your back. This blend has an open-cell structure that gives it a plush feel while retaining body heat.
---
Is Amerisleep AS3 Mattress Non-Toxic And Eco-Friendly?
Yes, the Amerisleep AS3 mattress is certified as CertiPUR-US. It exceeds the stringent chemical flame retardant standards set by the American Society for Testing and Materials (ASTM). It has been tested by independent laboratories utilizing various tests for durability, including flammability, reaction to fire, off-gassing, particle emissions during production and after product use.
Mattress Prices And Sizing
| | | |
| --- | --- | --- |
| Size | Dimensions | Price |
| Twin | 38″ x 74″ | $804 |
| Twin XL | 38″ x 80″ | $839 |
| Full | 54″ x 75″ | $944 |
| Queen | 60″ x 80″ | $1,049 |
| King | 76″ x 80″ | $1,329 |
| California King | 72″ x 84″ | $1,329 |
| Split King | 76″ x 80″ (2pcs.) | $1,678 |
---
Is Amerisleep AS3 Mattress Worth It?
In a word, yes. This is a good mattress for someone who has been looking for a budget-friendly sleep solution. Many of its competitors come with excess materials and custom customization options that cost more but provide very little value compared to the AS3's base model.
It can be challenging to find a customer-friendly option about simplicity and innovation without cutting too many corners. Still, Amerisleep has managed to do it with its approachable design and accessible price tag, thanks mainly to some great online reviews from happy customers who have been recommending them.
---
How Firm Is Amerisleep AS3 Mattress?
Firm AS3 offers a very strong and durable mattress. It is made from a high-density foam that provides medium-firm feels with support and cushioning. The AS3 is not as firm as the other products from this manufacturer, but it still offers excellent support for those who like to sleep on their stomach or side. The firmness level is about 5.
---
How Long Does Amerisleep AS3 Mattress Last?
Amerisleep AS3 lasts up to twenty years with recommended care. Such warranty covers material and craftsmanship defects. But it's usually recommended to change the mattress once every 5-7 years.
The mattress is fire retardant and is manufactured in the United States. It is made of comfort foam with a luxury feel and support. It cools naturally through air ventilation, has a two-sided zoned stretch cover, and uses state-of-the-art technology for edge support and stability; it meets or exceeds all federal flammability standards without any added chemicals for flame retardance.
---
Amerisleep AS3 Mattress Discounts And Deals
---
Amerisleep AS3 Mattress Features
Motion Isolation
The Amerisleep AS3 is a 12″ mattress that provides a good level of motion isolation, reducing the disruption to a sleeping partner from movements made by someone on the other side of it.
Pressure Relief
A great deal depends on what you're used to sleeping on now. Still, as a general rule, those with high sensitivity to pressure will be looking for mattresses that have conforming abilities as well as some degree of softness so that the sleep surface is compliant enough with your body's needs without being overly soft or bouncy.
The Amerisleep AS3 combines a good balance of conforming assistance with the responsiveness of memory foam to provide both pressure relief and motion isolation in one package.


Temperature Control
The Amerisleep AS3 mattress has a long list of components that work together to provide a thermal neutral sleeping surface that minimizes heat retention and heat transfer through the bed, as well as a good level of breathability to help you stay cool.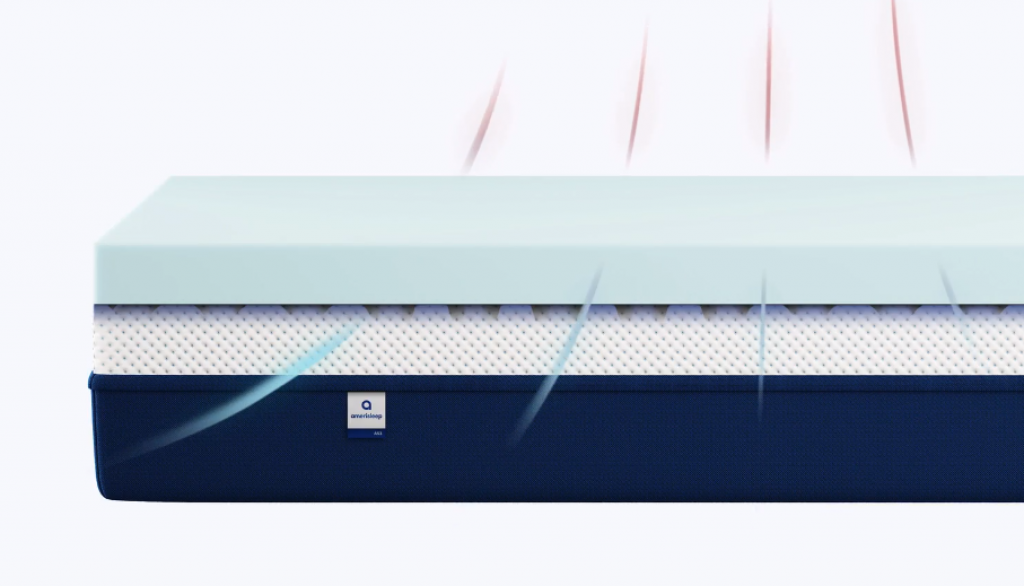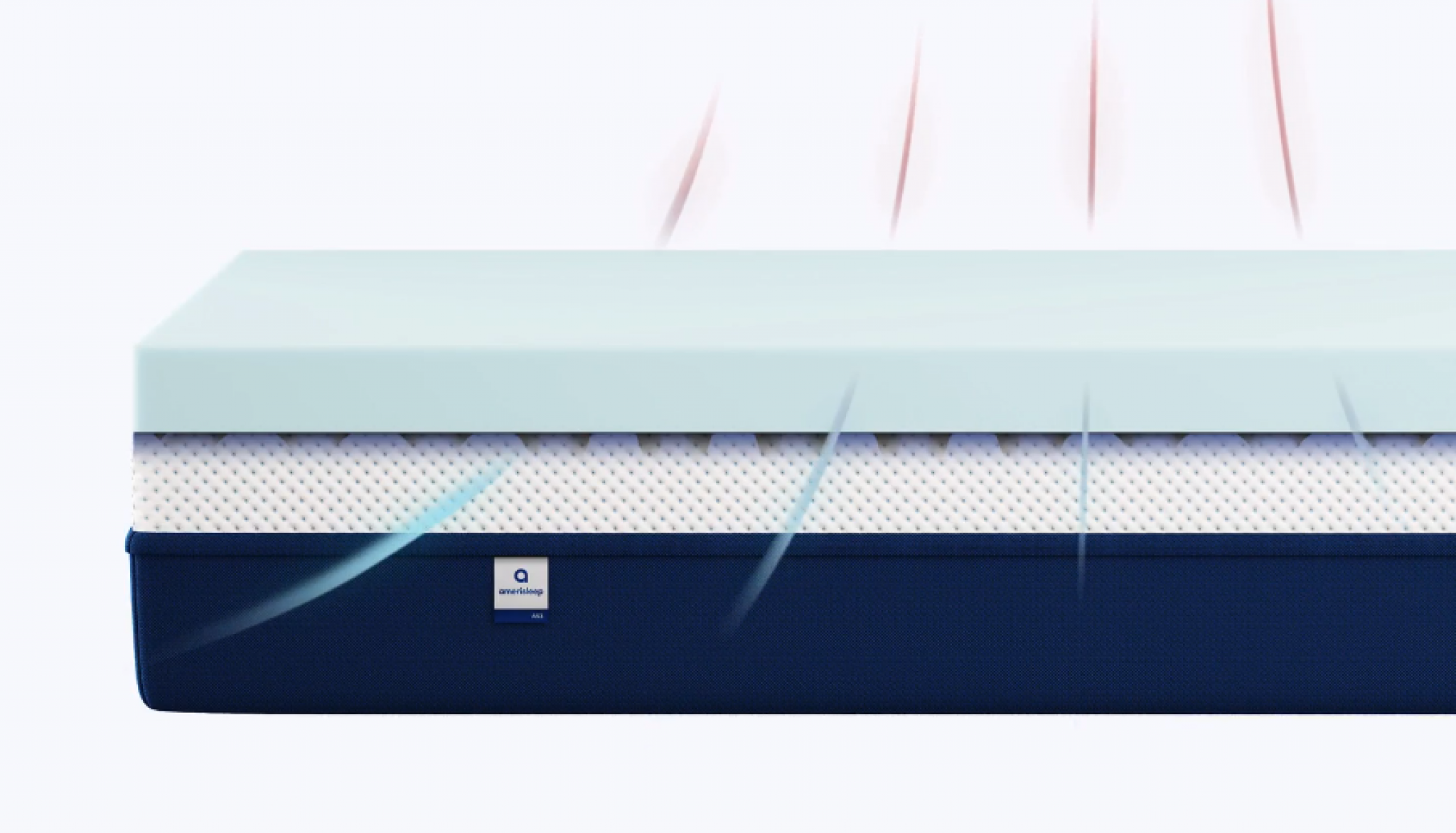 Edge Support
This mattress has relatively good edge support compared to most other 12″ mattresses. It works great, especially for a foam mattress.
Sex
The Amerisleep AS3 mattress is best for side sleepers and couples. Those who like doing sex laying on the side will appreciate this product.
Off-Gassing
There is a bit of off-gassing associated with the Amerisleep AS3 mattress, but it is fairly minimal and should dissipate fairly quickly.
Sleep Trial
The Amerisleep AS3 mattress has a 100-night risk-free sleep trial. The company has a lot of trust in their product, and they recommend you sleep on it for at least 30 days before making any decisions. If you change your mind, the return process is hassle-free. There will be no questioning about why you're returning the mattress, and there is no restocking fee.
Warranty And Return Policy
The Amerisleep AS3 mattress comes with a 20-year warranty. This warranty covers any manufacturer and quality issues.
---
The Bottom Line
The Amerisleep AS3 mattress is an excellent choice for side sleepers and those who like to sleep on their back or stomach. It features a 12″ tall, multi-layer construction that provides ample support by conforming well to your body's unique shape. The quilted cover has a soft cotton feel, and the mattress offers proper spine alignment while cradling your hips and shoulders.