The ReST Original Smart Bed is an airbed upgraded with smart-controlled air chambers that may automatically adjust the bed surface to fit your body and sleeping position. The mattress has been designed to support all types of sleeping positions for side, back, and stomach sleepers.


With a streamlined design and access to cutting-edge technology, the ReST Original Smart Bed is an affordable choice for many different bedroom needs. Keep reading to learn more about this product, its benefits, and its main features.
---
Who Is The ReST Original Smart Bed Good For?
The ReST Original Smart Bed is designed to support all sorts of sleepers, whether they're based on their weight or their sleeping habits. It's based on the notion that there are different ways to sleep on a mattress. Instead of creating one customizable design for everyone, ReST believed it'd be better to create the bed with adjustable firmness that'd fit every type of weight and sleeping position.
The mattress is perfect for:
Overweight sleepers.
Back sleepers who suffer from back and neck pain.
Persons who share the bed with a partner.
---
Is The ReST Original Smart Bed Good For Back Sleepers?
Yes! The ReST Original Smart Bed provides ample support for back sleepers so they can experience deep, sound, restful sleep while you enjoy the benefits of technology. It's designed to melt the pressure points that cause pain and discomfort on a mattress.
In turn, it helps prevent tossing and turning, which allows you to get a good night's sleep every night. The ReST Original Smart Bed features FoamCool gel memory foam, creating a cooler sleeping environment for people who suffer from overheating issues.
---
Is The ReST Original Smart Bed Good For Side Sleepers?
While the ReST Original Smart Bed is designed with both stomach and back sleepers in mind, it can also be used by those who sleep on their sides as well. Side sleepers often experience pain as they toss and turn to find a comfortable position during the night.
The ReST Original Smart Bed is designed to evenly distribute pressure points and relieve tense muscles, which gives you a better chance of sleeping soundly.
---
Is The ReST Original Smart Bed Good For Stomach Sleepers?
One of the criticisms about sleeping on your stomach is that it can put a lot of pressure and stress on your neck, back, and spine. This is especially true if you're heavier or tend to sleep with your neck bent forward, putting added pressure on the front of your neck.
This isn't an issue with the ReST Original Smart Bed because it's designed with a softer side for those who sleep face up and a firmer side for those who sleep face down. Moreover, adjustable air chambers inside the mattress help to fit the bed to your body's needs.
---
What Is The ReST Original Smart Bed Made Of?
The ReST Original Smart Bed is made of memory foam, which is environmentally friendly and completely non-toxic. It's also very durable, reduces the risk of pressure sores, and helps relieve pain without medication or medication side effects.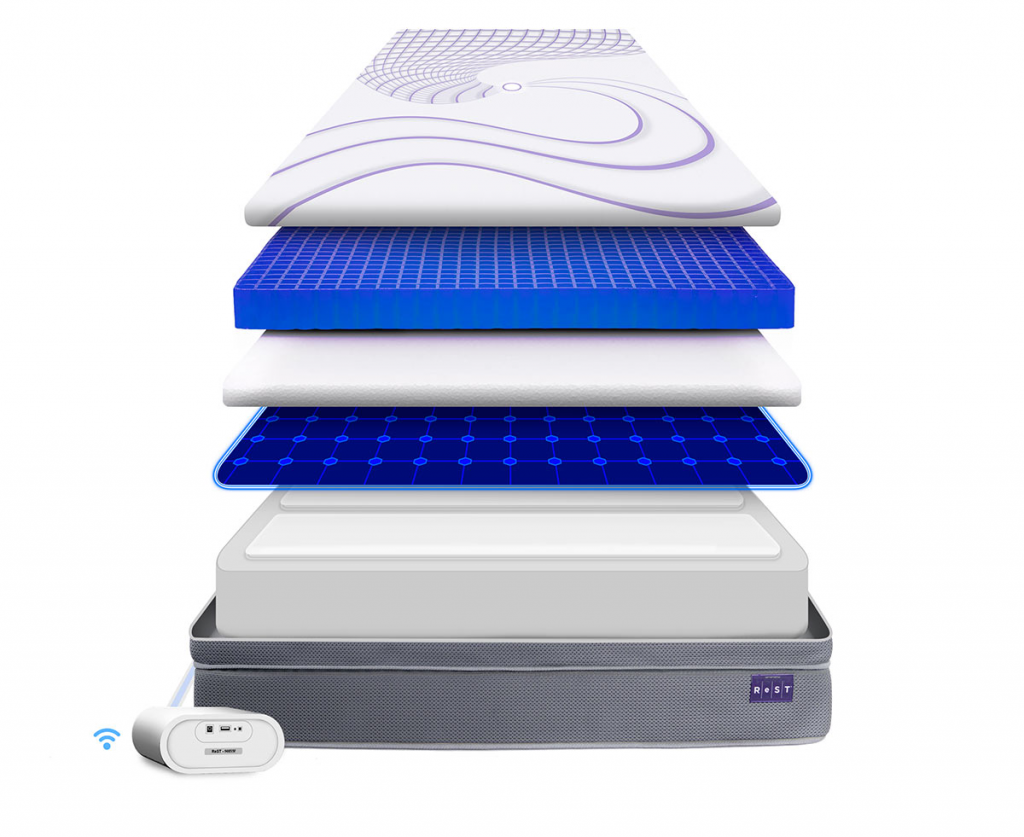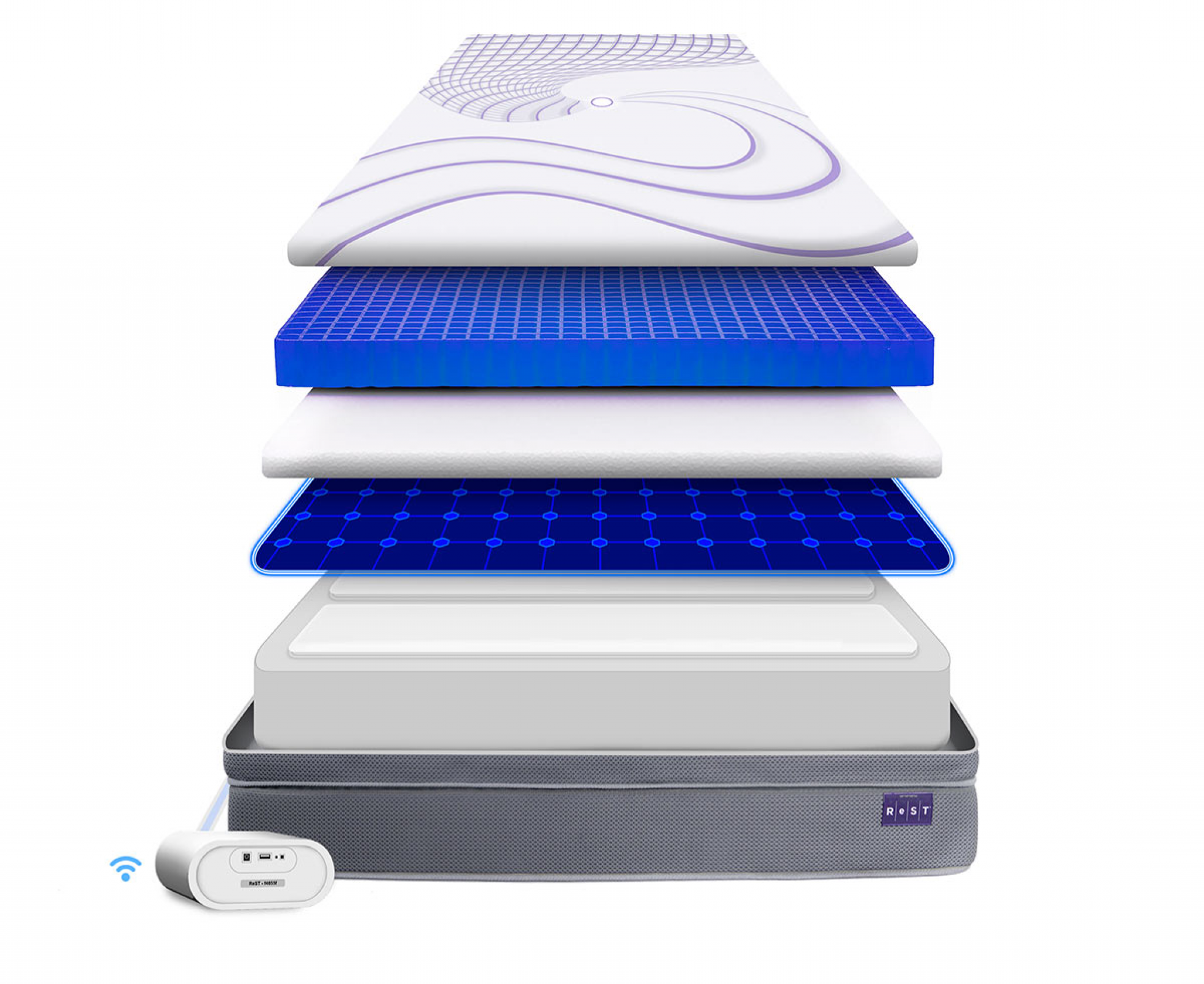 The upper layer is made of a performance fabric that is breathable and has a comfortable feel. The comfort layer is 4-inch gel-infused memory foam. This material provides a cooling effect and removes the heat from your body during sleeping.
The support base is made of 5 air chambers that can be operated automatically to hold your sleeping position in a proper way.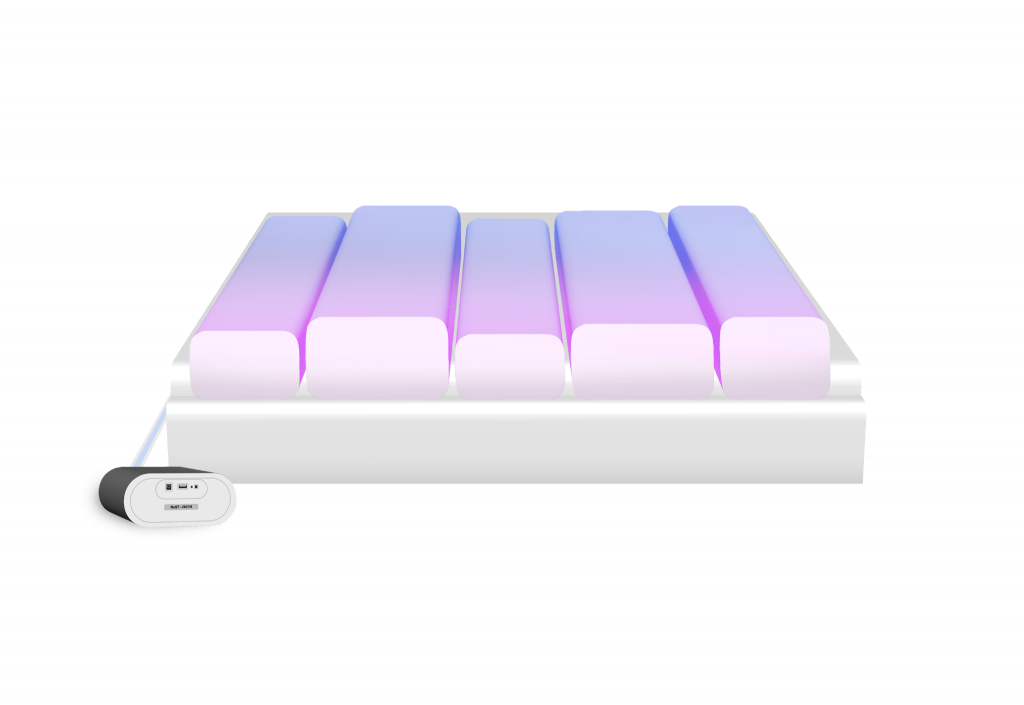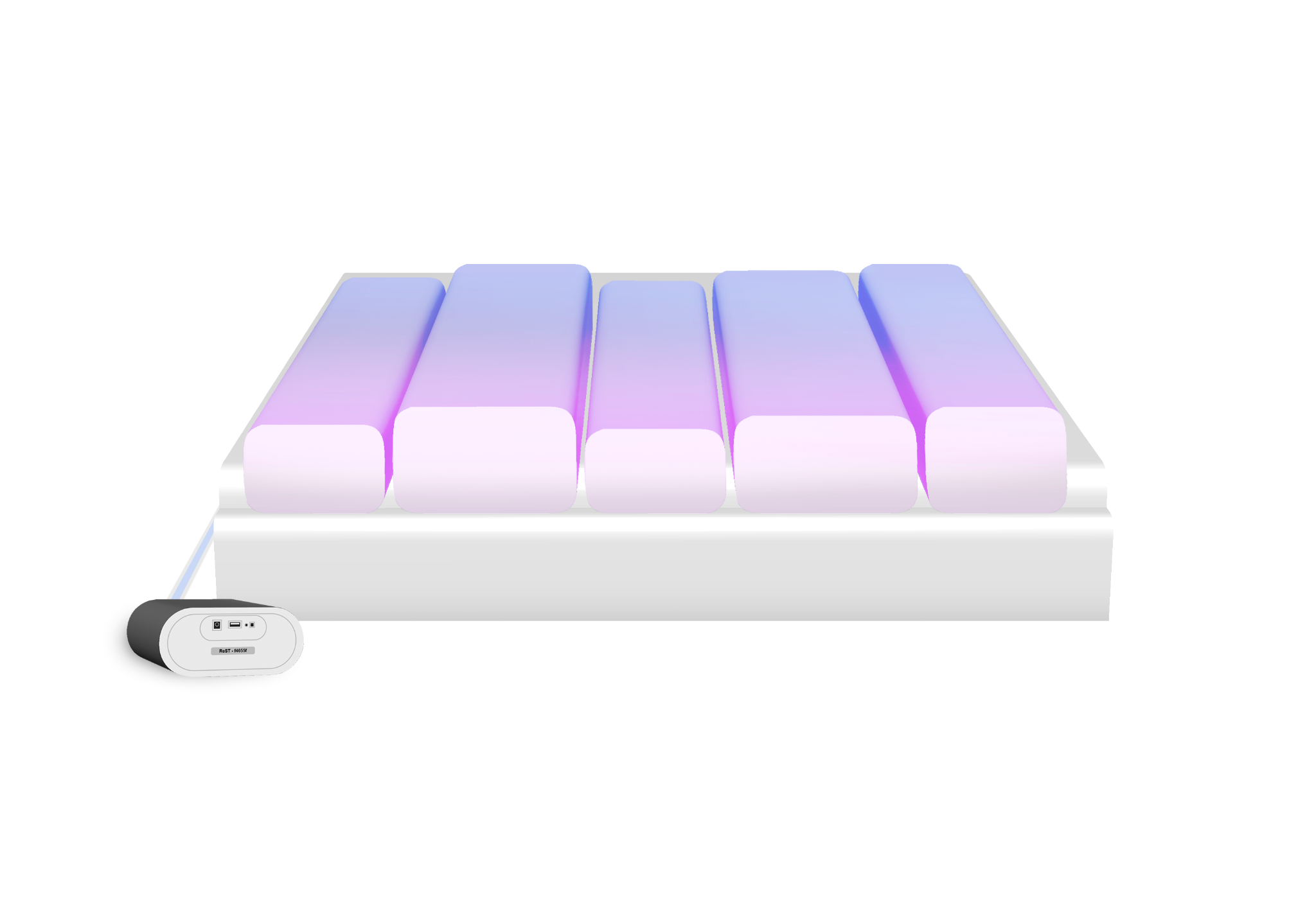 Additionally, this mattress has three operation modes:
Automatic
In this more, you just need to choose the general firmness from soft to firm and let the bed adjust each air chamber in real-time according to your unique pressure distribution.
Manual
Adjust each air chamber by yourself according to individual preferences and enjoy the sounding sleep during the whole night.
Position
Lock the settings according to the preferred sleeping position. While you will change the position during the night, the mattress will automatically adjust for you.
---
Is ReST Original Smart Bed Non-Toxic And Eco-Friendly?
The ReST Original Smart Bed is indeed non-toxic and eco-friendly. This means it doesn't contain any harmful chemicals like carcinogens, toxic flame retardants, or heavy metals. What's more, it doesn't have any PVCs, lead, cadmium, or other environmental pollutants either.
---
Mattress Prices And Sizing
| | | |
| --- | --- | --- |
| Size | Dimensions | Price |
| Twin XL | 38″ x 80″ | $4,449 |
| Queen | 60″ x 80″ | $6,099 |
| Eastern King Split Top | 76″ x 80″ | $7,099 |
| California King | 72″ x 84″ | $6,699 |
| Split King | 76″ x 80″ (2pcs.) | $8,898 |
---
Is ReST Original Smart Bed Worth It?
The ReST Original Smart Bed is a reasonable amount of money to spend if you're looking for a mattress that can support your weight and your sleeping style. If you're looking for an adjustable airbed with numerous firmness settings and automatic body support, then it's also the best choice.


---
How Firm Is ReST Original Smart Bed?
The ReST Original Smart Bed comes with adjustable firmness settings from soft (3 points) to firm (8 points). This gives you the freedom to choose the firmness that's right for you. For example, if you sleep alone, you might want a softer mattress to give your coils the support they need. However, if you're a couple or have kids with whom you share your bed, then a firmer mattress could be more suitable.
---
How Long Does ReST Original Smart Bed Last?
The ReST Original Smart Bed is made with durable materials to withstand years of use. You may use it at least for 8-10 years. Its non-toxic materials also ensure that the mattress won't emit any harmful gases or chemicals, so you can rest easy knowing your health is being taken care of.
---
ReST Original Smart Bed Features
Motion Isolation
Motion isolation helps to separate you from features in your bedroom. The ReST Original Smart Bed helps to provide a separation between you and what's happening outside of the bed, providing a separate sleeping experience and an easy transition back to your bed when you get out of it.
This feature can be especially helpful to those who regularly wake up in the middle of the night and need to get back into bed without disturbing their other half.
Pressure Relief
The ReST Original Smart Bed has been designed to both provide pressure relief and better transfer your weight onto the mattress itself, reducing any stress placed on your body during sleep – making it easier to wake up in the morning and ready for whatever the day brings.
Temperature Control
Temperature control is an essential part of any mattress. Not only for sleeping during the day- but also for your quality of sleep at night. The ReST Original Smart Bed has been designed to maintain a cool temperature throughout the entire night.
Not only can this help you to sleep better, but it can encourage a better sense of well-being the following morning. It is because the gel-infused memory foam layer that helps to control temperature and not to overheat at night.
Edge Support
Edge support is a feature that many mattresses have struggled to maintain. The ReST Original Smart Bed has been designed to help better support your body when you're sleeping near the edge of the bed, including when you're sitting up in bed during the night.
This can be helpful for those who regularly change positions throughout the night and need a comfortable surface on which to rest themselves. It can also help those with an active partner or children, providing a sturdy resting place near the edge of the mattress and preventing them from falling off of it entirely.
Off-Gassing
Off-gassing is a common problem with mattresses, especially with new ones or has recently been purchased. The ReST Original Smart Bed is designed to minimize the long-term effect of off-gassing due to its breathable nature, allowing you to sleep on it for months or years with little worry about the smell, no matter how often you use it previously.
Sleep Trial
A quality mattress should allow you enough time to see how it feels in your bedroom, especially after a few weeks of regular use. The ReST Original Smart Bed has been designed with a 90-day sleep trial so that you can get familiar with your bed and ensure you're getting the best possible night's sleep from it.
Warranty And Return Policy
The mattress is guaranteed against manufacturing defects and will help minimize most types of off-gassing problems that can bother customers who've purchased new mattresses before. The manufacturer provides a 10-year warranty for defects, but it doesn't cover normal wear and tear.
---
The Bottom Line
The ReST Original Smart Bed is designed to work with you 24 hours a day. From side to back, from the stomach to face, it's been uniquely designed to provide you with comfortable sleep, no matter how often you need it.
Its breathable and responsive design can help you with pressure relief and improve your sleep quality for years on end, thanks to its durable design and extended sleep trial. Whether this is your first mattress or your twentieth, the ReST Original Smart Bed provides an affordable solution for nearly every sleeping position with the latest technology available today.