Mattress sheets are bedding accessories that are often overlooked by many people. The most common reason for this is that it is taken for granted that a mattress set should have sheets. However, this should not be the case. The best mattress sheets should work well with the mattress and should be high-quality. But what are mattress sheets, and what do they do?
---
Top 5 Best Mattresses Sheets
Brooklinen Luxe Core Sheet Set
Sizes: Twin, Twin XL, Full, Queen, King, Cal King
Includes: 1 Flat Sheet, 1 Fitted Sheet, and 2 Pillowcases
Materials: 100% long staple cotton
Price: $$
---
Sleeping on a mattress that is in optimum condition is not only comfortable but also healthy. To do so, you need to look after it properly, such as proper cleaning and maintenance. It is also vital to protect the mattress from dust mites. To protect it, you should change your mattress sheets at least once every one-two weeks. Here's my list of the best mattress sheets to protect your bed and extend the mattress's life.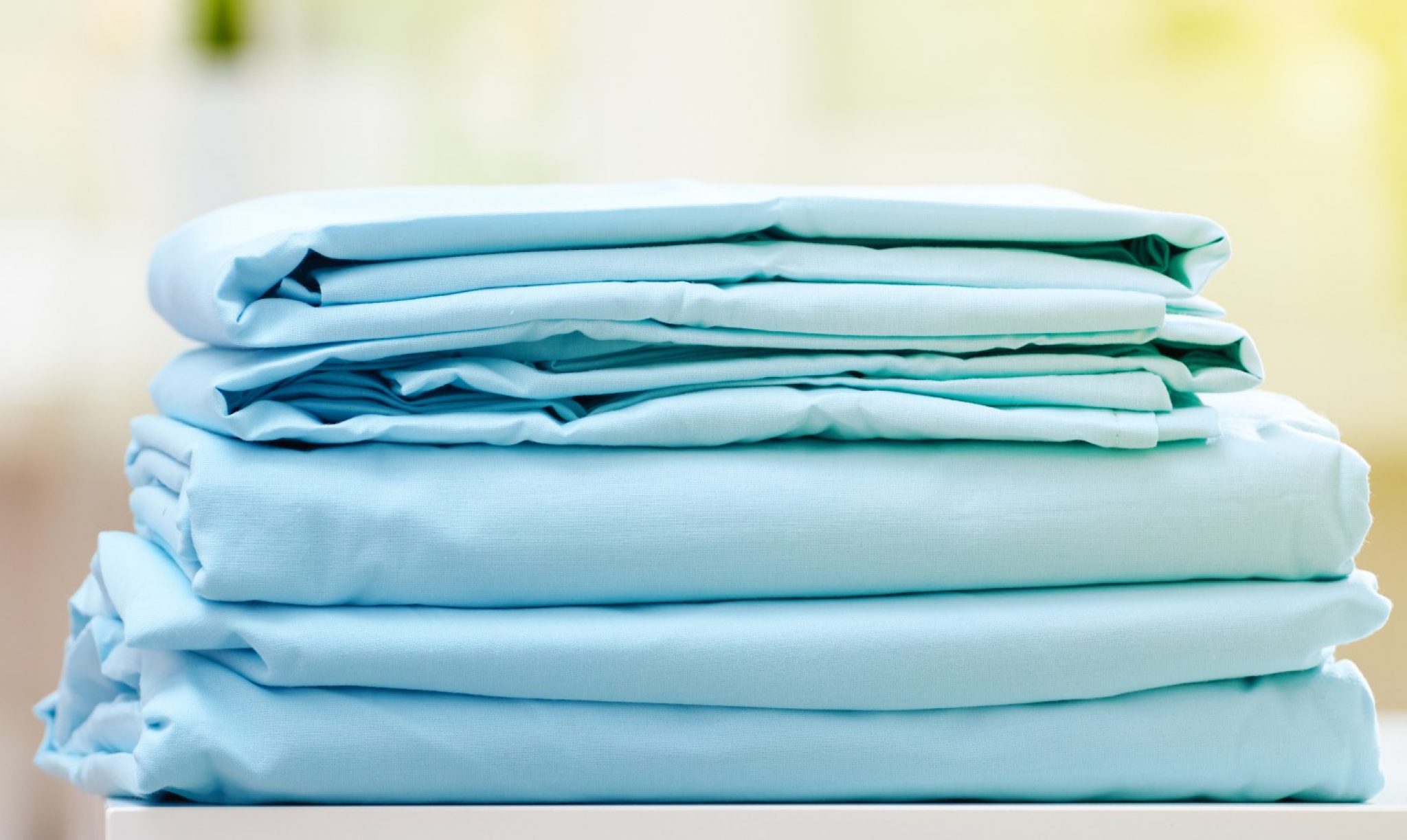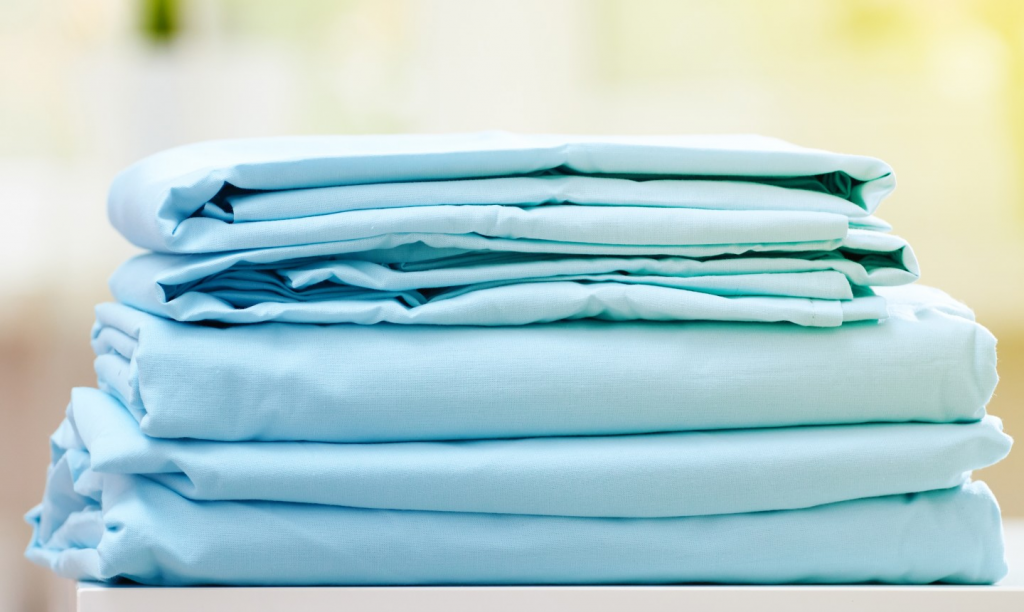 ---
Best Mattresses Sheets Reviews
Amazon Basics Microfiber Sheet Set
Best Overall
The Amazon Basics Microfiber Sheet Set is a budget-friendly option for those looking to replace their old threadbare sheets. These sheets are made from polyester microfiber material, so you know they won't be too fragile for everyday use. On top of that, the sheets boast all-around elastic on the fitted sheet, allowing it to fit a wide range of mattress depths. These sheets can fit the mattress up to 16″ thick.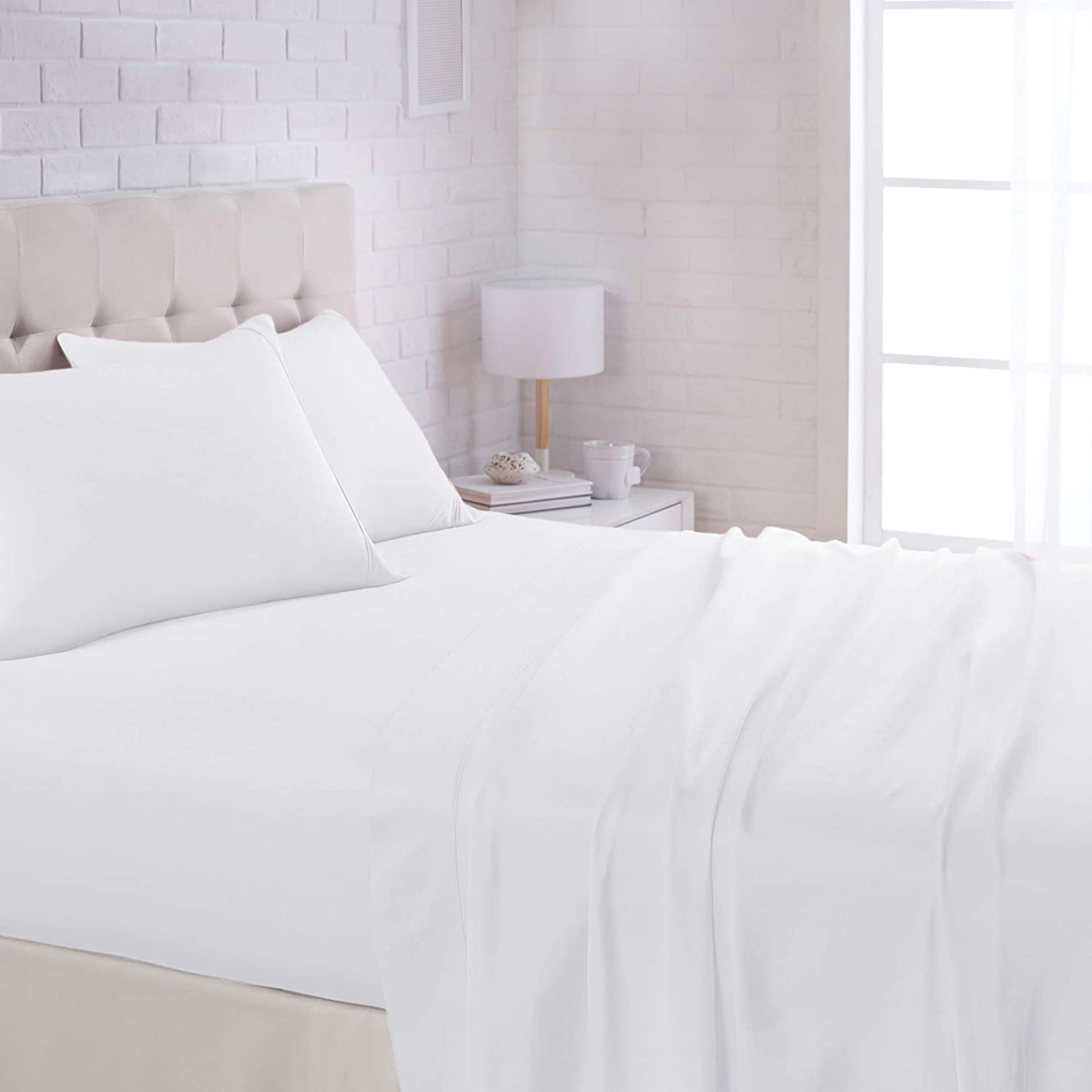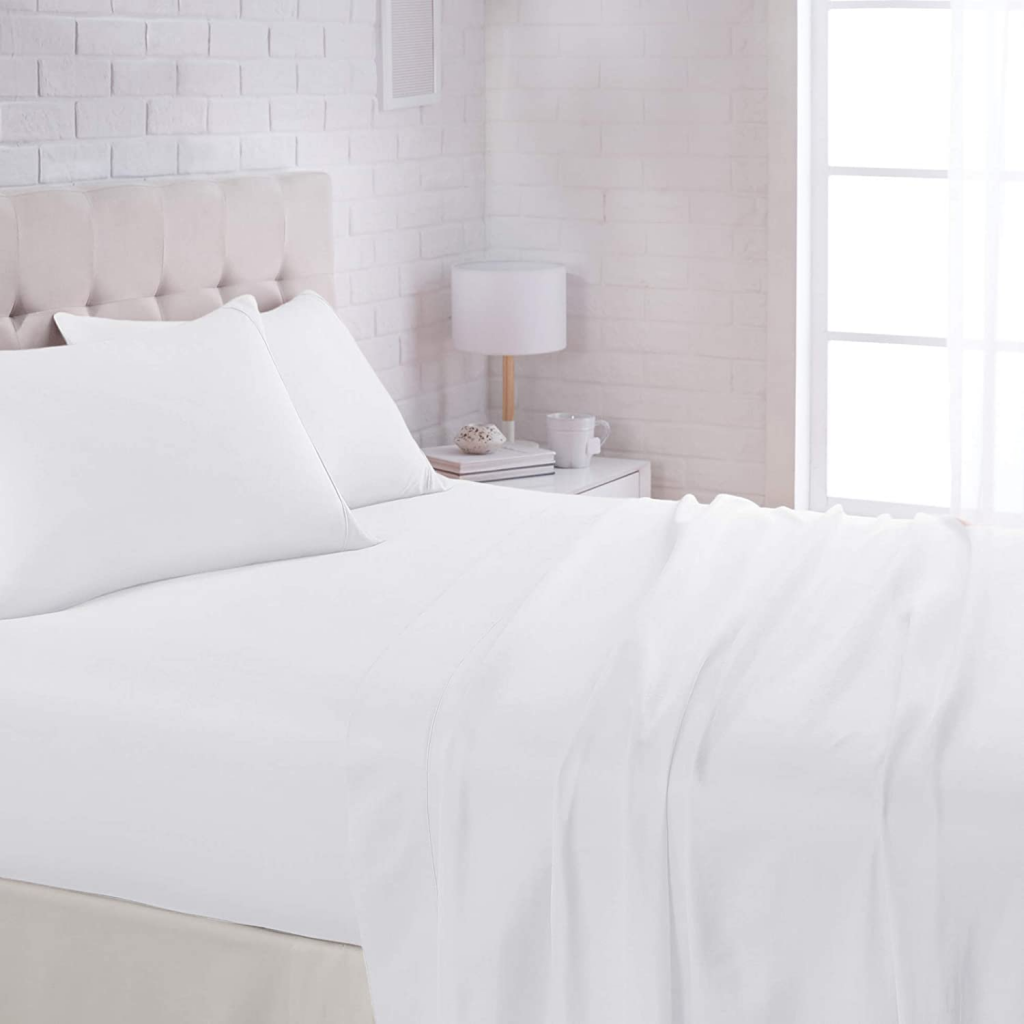 The Amazon Basics Microfiber Sheet Set is a thoughtful and economical solution for those on a budget. This sheet set is an excellent choice for anyone looking for a simple, no-frills set of sheets for their guest bedroom or occasional use. With this set, you get a solid sheet, fitted sheet, and two pillowcases.
The sheets are made from polyester microfiber material that is comfortable against the skin. This product is also machine washable and dryer friendly. The fitted sheet is big enough to accommodate any bed and is elasticized around the entire edge so that it fits snugly even on the thickest mattress.
What I Like:
The AmazonBasics Microfiber Sheet Set is super soft, comfortable, and breathable.
This is an affordable solution. Durable mattress sheets are comfortable and easy to apply on the Queen-size mattress of almost any depth.
---
Brooklinen Luxe Core Sheet Set
Best Soft Weave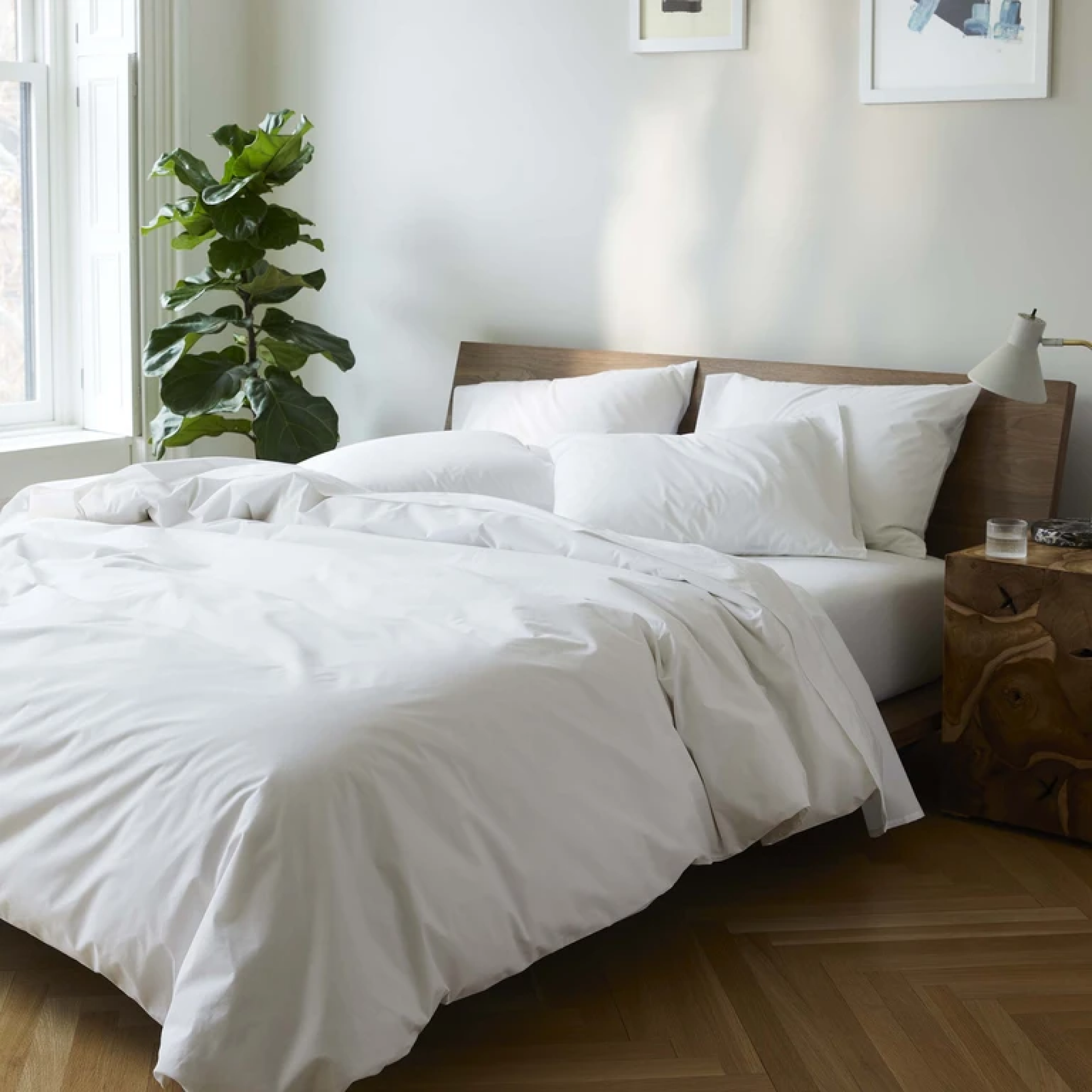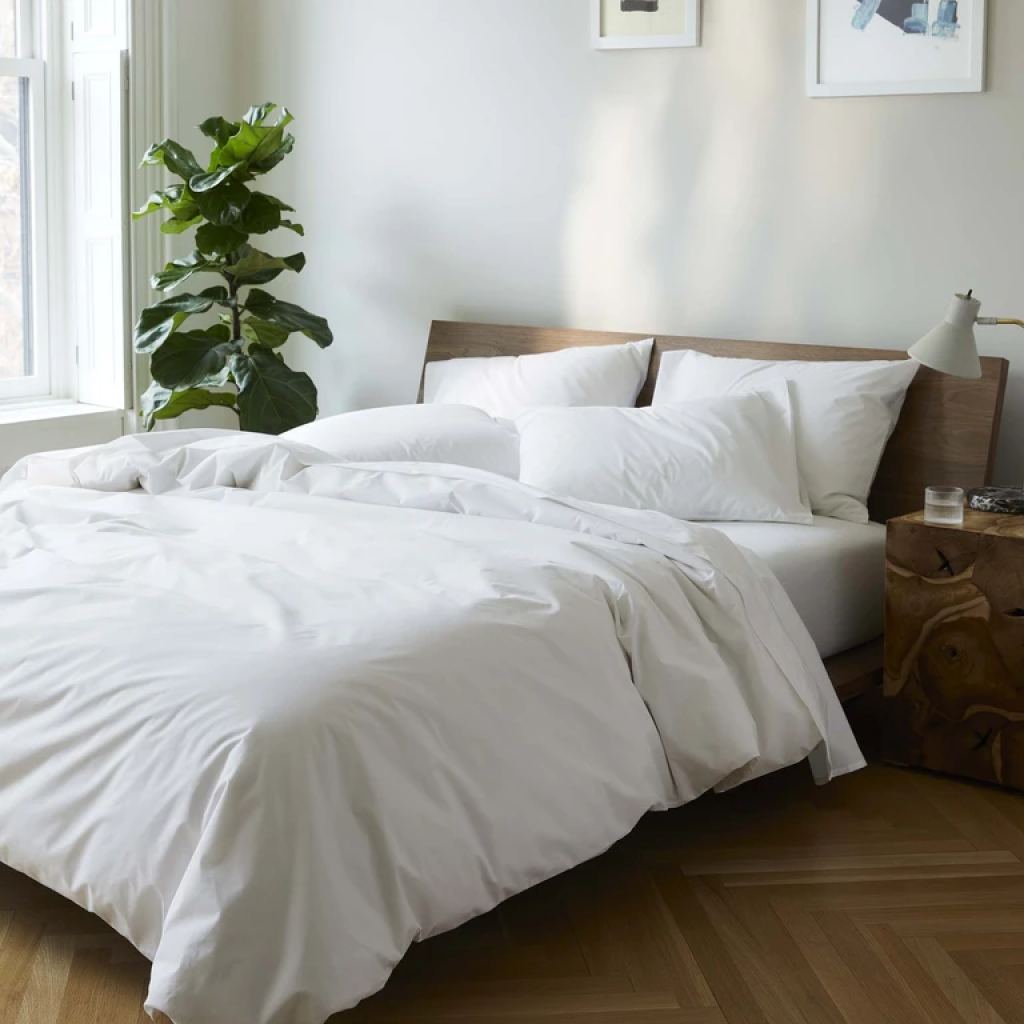 The sheets are made up of OEKO-TEX® certified chemical safety material. The texture of the sheets is buttery smooth and made for cuddling. It is a medium-thickness core sheet set that is suitable for all seasons and is wrinkle resistant. The sheets are very soft, and they have a good hand-feel.
The fitted sheet is elasticized along the sides, so it stretches nicely over the mattress without any bunching. The fitted sheet is also deep enough to fit most mattresses without any problems. The sheets come in various colors and are offered in Twin, Full, Queen, King, and California King sizes.
What I Like:
The Brooklinen Luxe Core Sheet Set is a high-quality option for a mid-priced sheet set, with various benefits.
The core sheet set includes a flat sheet, a fitted sheet, and a pair of pillowcases.
---
 Linens & Hutch Essential Sheet Set
Best Value
The Linens & Hutch Essential Sheet Set is a very basic and classic sheet set available in a variety of colors and sizes. The product is made of double-brushed microfiber that is silky soft to the touch. The sheets are wrinkle-resistant, which makes them easy to care for, and they are available in a variety of colors.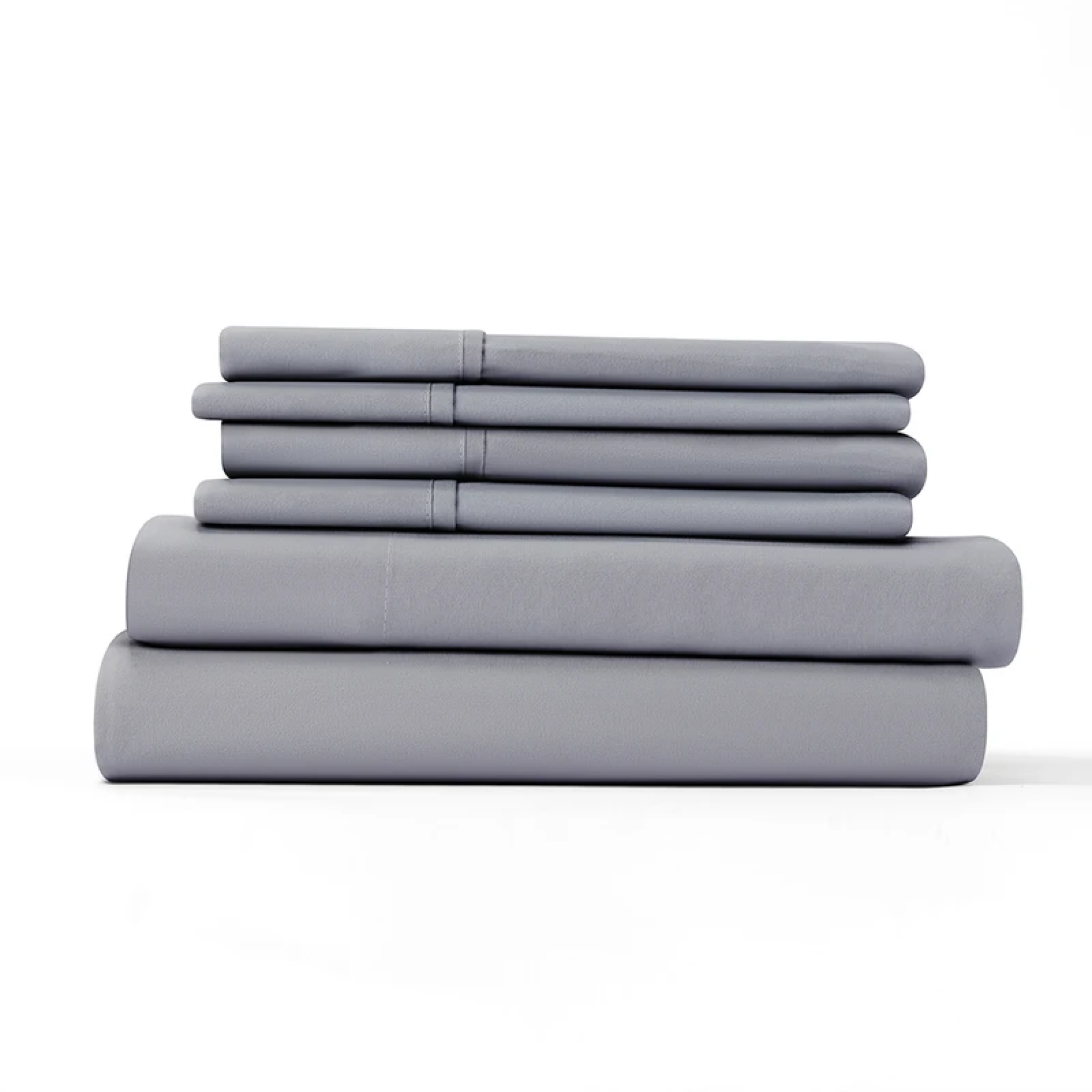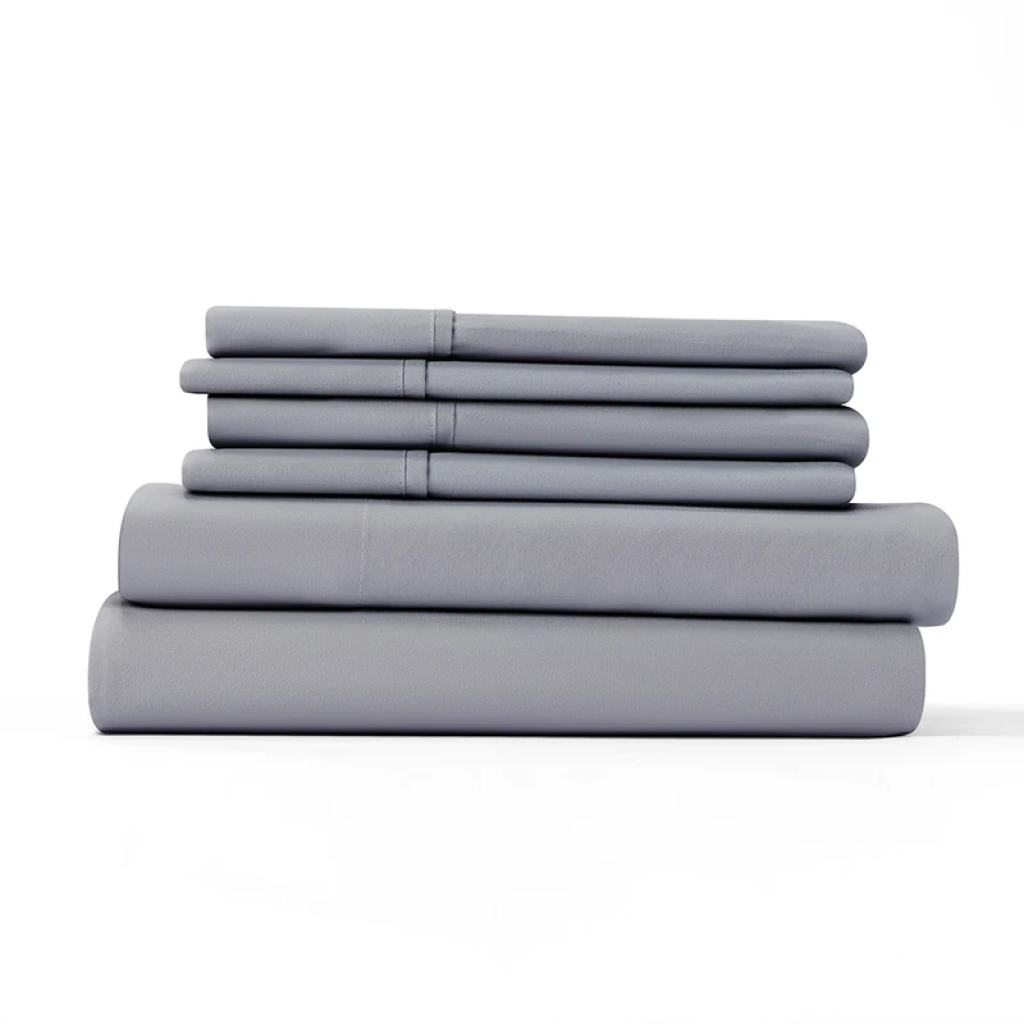 The set includes one flat sheet, one fitted sheet, and four pillowcases. The twin and twin XL sets include one flat sheet, one fitted sheet, and two pillowcases. The fitted sheet has deep pockets that easily fit over the typical mattresses. The pillowcases are a good size and fit over most pillows with ease. The flat sheet is generous in size and easily covers the top of the mattress.
What I Like:
The Linens & Hutch Essential Sheet Set is a perfectly priced set of sheets with its affordable price and high quality.
The soft material is not only comfortable but also wrinkle-resistant and hypoallergenic.
---
MOLECULE Percale Performance Sheets
Best for Hot Sleepers
Percale Performance Sheets are unique in that they are a truly breathable product that can be used year-round. The MOLECULE design is a sheet that features a percale top layer with a fiber that draws moisture away from the skin. In contrast, the second layer is a microfiber layer that provides superior comfort and durability.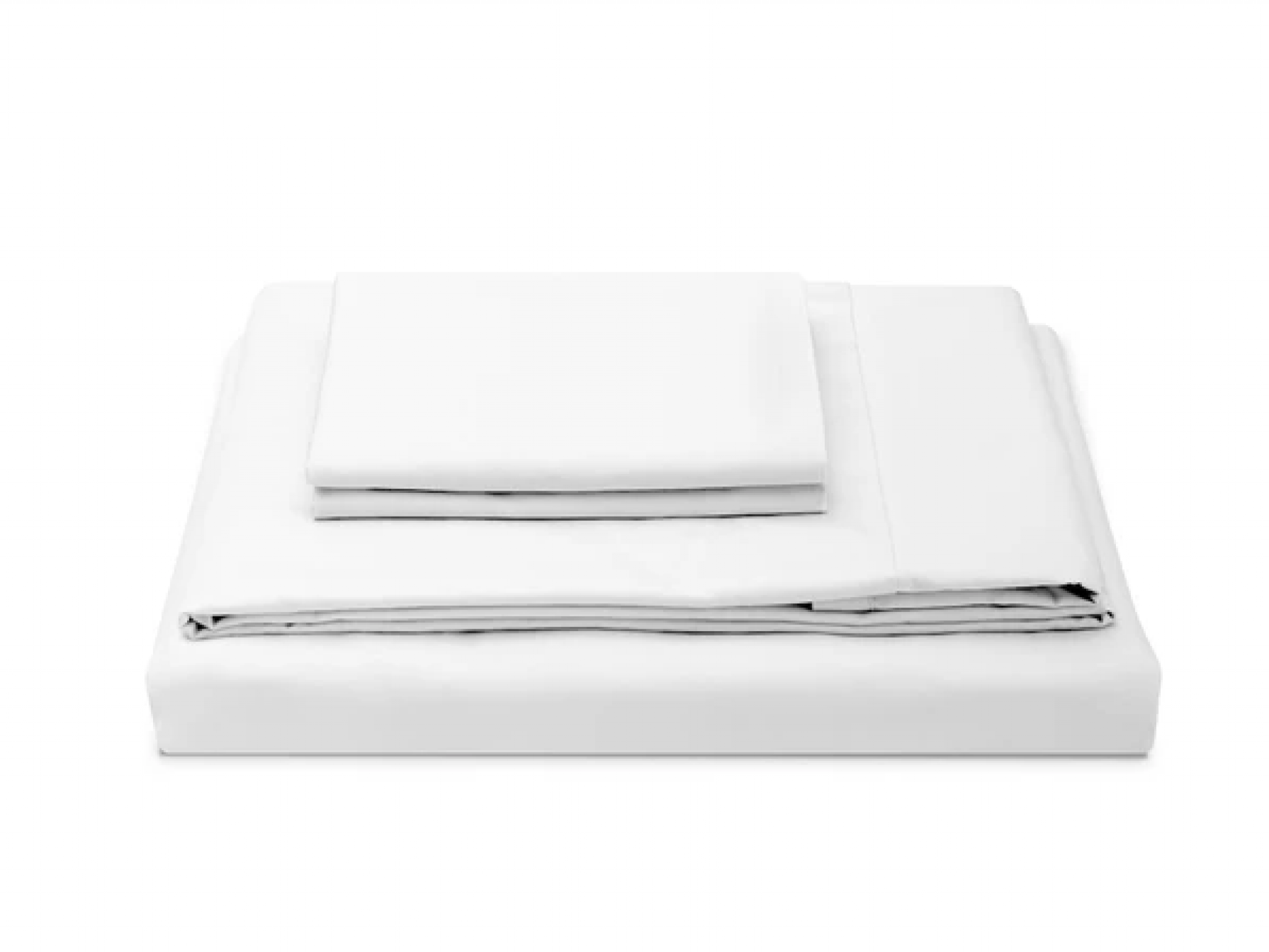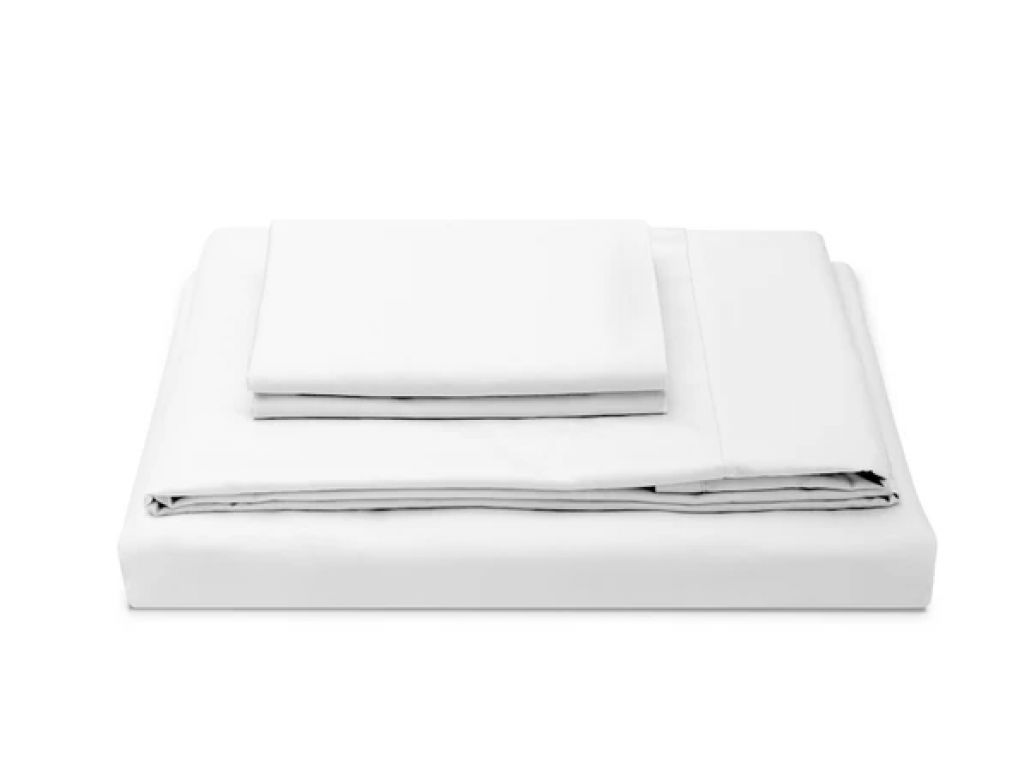 These sheets do an incredible job of keeping you cool, clean, and comfortable throughout the night. From the moment you slip into the soft, cotton-rich fabric, you can feel the quality. The sheets have a smooth, silky feel that is a joy to feel against your skin. Waking up in the morning, you'll be refreshed and ready to start the day.


The MOLECULE Percale Performance Sheets offer a slim fit and a soft feel. They're very wrinkle-resistant, so they don't need to be ironed. They're also very soft and breathable, which makes them ideal for people who have sensitive skin.
What I Like:
The MOLECULE Performance Sheets set is designed with a cool, crisp feel; this performance sheet set will give you a great night's sleep while helping you feel cool and comfortable all night long.
---
Casper Percale Sheet
Best Organic Cotton
If you are a fan of the Casper mattress, you probably also know how popular their sheets are. The percale weave is so soft and breathable that you almost don't need to use a blanket. The 300 thread count makes the sheets so durable that you don't have to worry about them getting old or worn out quickly.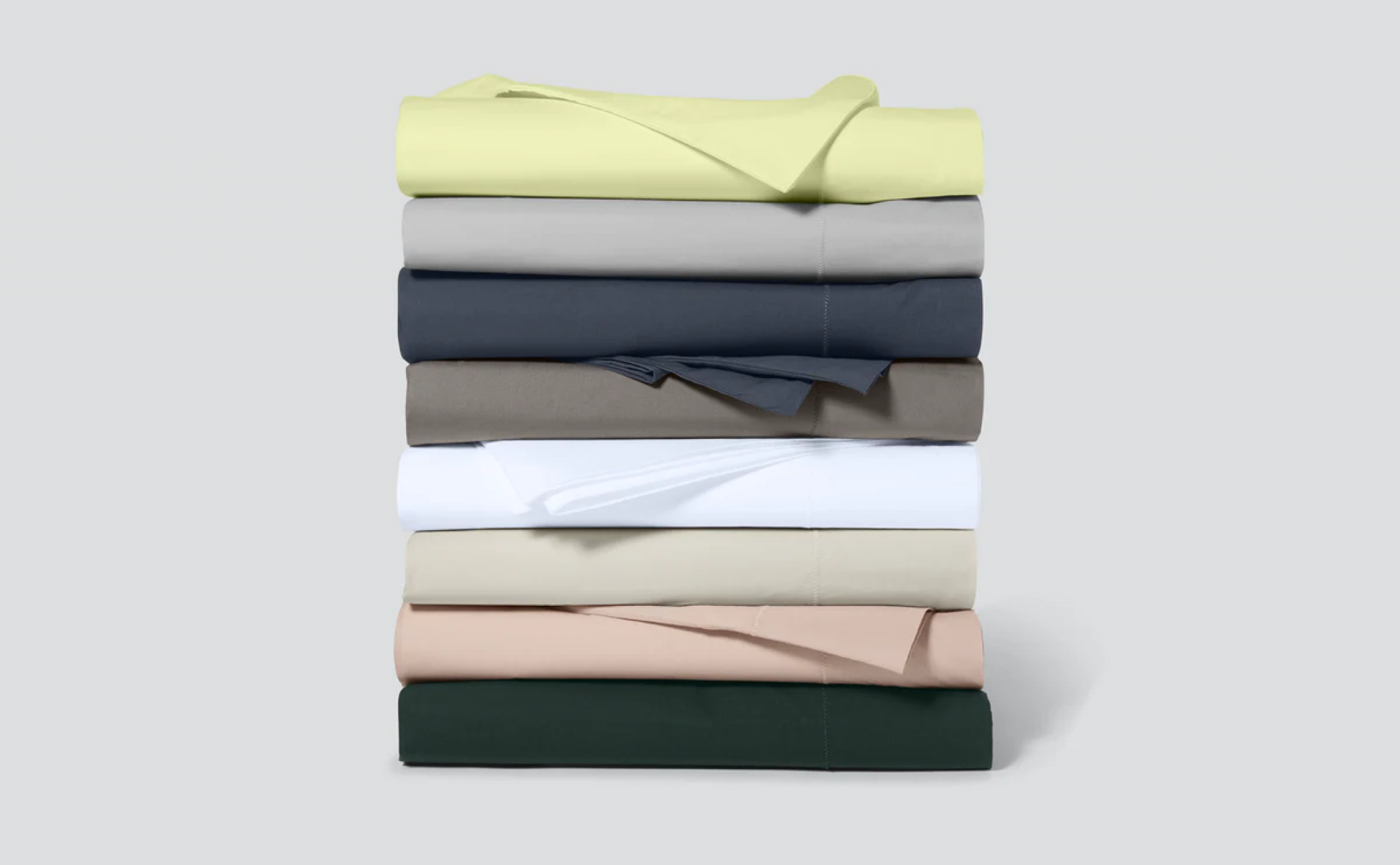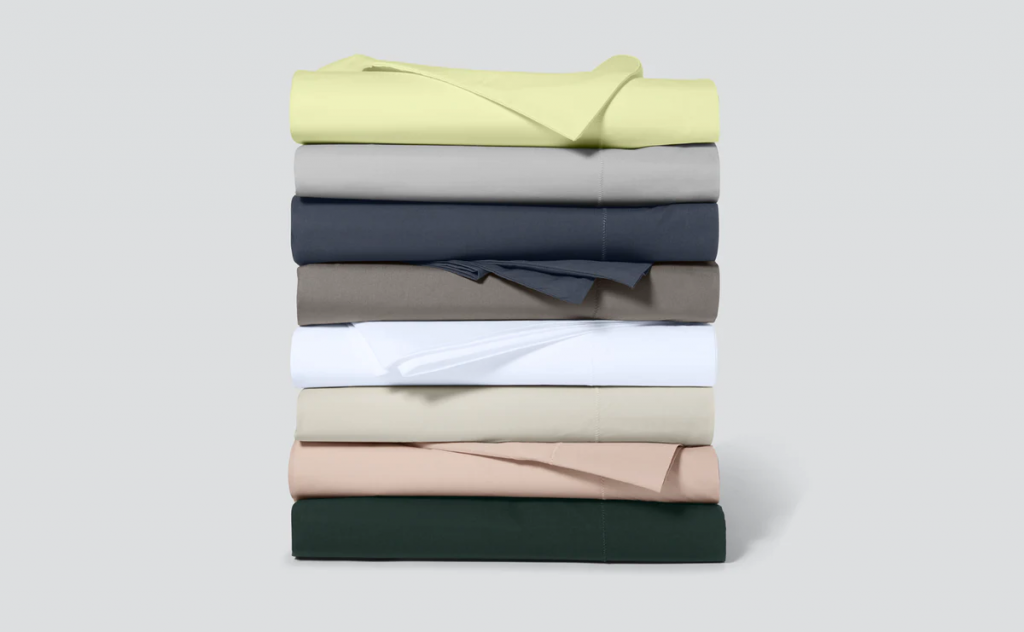 Organic cotton provides comfort and protection from all the allergens that may be in your home. Casper sheets are hypoallergenic, breathe really well, and are super soft. They are light and come in a variety of colors and patterns. The pillowcases are a perfect length and fit nicely under my pillow.
The fitted sheet fits the mattress great. It stays in place well and is breathable. The duvet cover is really soft and fits our comforter well. The Casper Percale Sheet's breathable weave is said to keep you comfortable year-round and is sure to last beyond your first night.
What I Like:
The Casper Percale sheets are made of 100% organic cotton and a breathable percale weave for a soft, crisp feel that lasts night after night.
They're available in four colors and come in a set of 1 flat sheet, two pillowcases, and one duvet cover.
---
Buyer's Guide
How does a person figure out what mattress sheets are the best with so many options out there? And what makes one set different from another? As you can imagine, this is a very popular question. But don't worry, some of the most highly-rated sheets out there are less expensive than others. In fact, some are highly affordable.
So, if you've been struggling with the question of what type of sheets you should buy, then you're in good company. Many others have gone through the same process. Here I provide you most valuable information about mattress sheet types, materials, and things to consider while shopping for the best mattress sheets for your needs.
---
What Type Of Fabric Is Best For Sheets?
I know that when you're shopping for sheets, it's easy to get overwhelmed. That's why I'm here to help you learn everything you need to know about sheets, from thread count to fabrics. Before you start shopping for sheets, you should learn about their fabrics. The most common types of fabrics used in sheets include cotton, microfiber, flannel, bamboo, and polyester. Each of these fabrics is unique, meaning they have their pros and cons, so it's important to know about each of them before you start shopping.
Fiber Content
The fiber content of the mattress sheets is an essential factor to consider when buying a new mattress. The quality and type of fiber used to affect the comfort of the bed, durability, and more. There are many fiber types, and each of them can also be used in different ways to construct various types of bedding:
Cotton: Cotton mattress sheets feel soft to the touch, but other factors consider when shopping for bedding. For example, cotton is breathable, but some find this quality to be a drawback for bedding. The fabric does not absorb moisture and other bedsheet materials, so it can lead to uncomfortable night sweats, especially for people who sleep hot.
Polyester: Today, most sheets are cotton, but many people have begun using polyester instead. Polyester sheets are lower maintenance than cotton sheets, and they don't wrinkle as easily. They're also easy to launder. However, they can sometimes feel a bit flimsy.
Linen: These sheets are made from a lightweight, breathable fabric that makes for a much cozier bed than synthetic sheets. They're also more durable than traditional cotton sheets, so they don't pill or wear out after just a few washes.
Silk: Silk mattress sheets are a type of bedding that is made from silk fabric. They've been used in Asia for centuries. They're made from silk thread that's spun to form a delicate, strong, and smooth thread. Silk sheets are considered to be the finest type of bedding. They're much softer than cotton sheets. They have a silky smooth texture that feels cool and comfortable against the skin. Silk sheets are durable and strong. They don't shrink or wrinkle easily, and they're considered to be hypo-allergenic.
Bamboo: Bamboo mattress sheets are just one of the types of sheets made from bamboo, known as the "green gold" or "king of the grasses." Using bamboo to make bedding is a more recent trend. According to bamboo sheets reviews, bamboo sheets, and bamboo cotton blend sheets are known for their softness and breathability. The sheets can also be beneficial for those with allergies. Bamboo naturally resists dust mites and mold, making it easier to combat allergies than other materials.
Construction
While choosing the best mattress sheets, you need to pay attention not only to fiber content but also consider fiber construction:
Percale: Percale sheets are made from a closely woven cotton fabric. They are famous for their crisp and smooth feel. They can be simply described as crisp due to their tight weave and smooth due to the absence of any woven loops. In fact, it is mainly due to this weave that they are some of the most breathable sheets you can find. They are almost as cool as linen sheets but much stronger. Most of them are crisp but still soft and smooth. As a result, they are perfect for those who are sensitive to the feel of fabrics. However, they do not stretch well, so if you are looking for something that is also soft and comfortable, you should look elsewhere.
Sateen: As you may know, sateen is a type of cotton textile produced using a special weaving technique. Sateen mattress sheets are made by weaving two sets of yarns, each yarn running in opposite directions. This creates a smooth, lustrous surface, which is stronger than ordinary cotton sheeting. Sateen sheets are known for their softness and are used in the production of bedding.
Flannel: Flannel is actually short for flannelette, a knitted fabric usually brushed on one side. This side is made of extra-fine fibers designed to trap air, making the material soft and warm.
Microfiber: Microfiber is a human-made, mechanical fiber that is very thin. They are made in different lengths and thicknesses. They are made out of polyester, nylon, rayon, and even bamboo. They are very durable and add comfort to the sheets.
---
What To Consider When Buying Sheets?
Shopping for sheets is an experience that's simultaneously exciting and utterly baffling. Being able to rest your head on a perfectly fitting new sheet is so satisfying, you may feel like your whole life is complete. And yet, so many factors go into buying sheets – budget, material, thread count, color, you name it – that it can feel impossible even to figure out where to start. Here are some tips on picking the right sheets.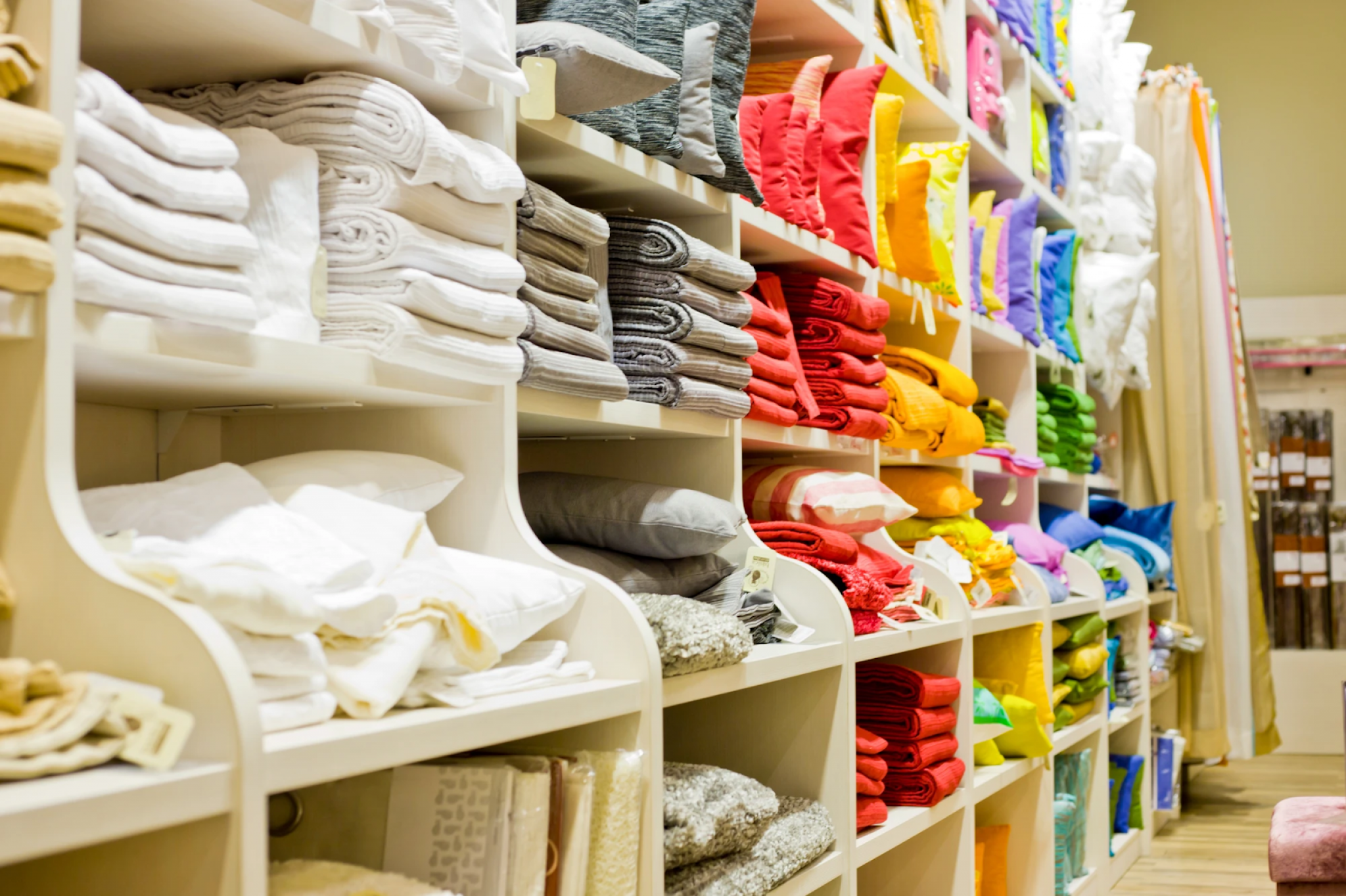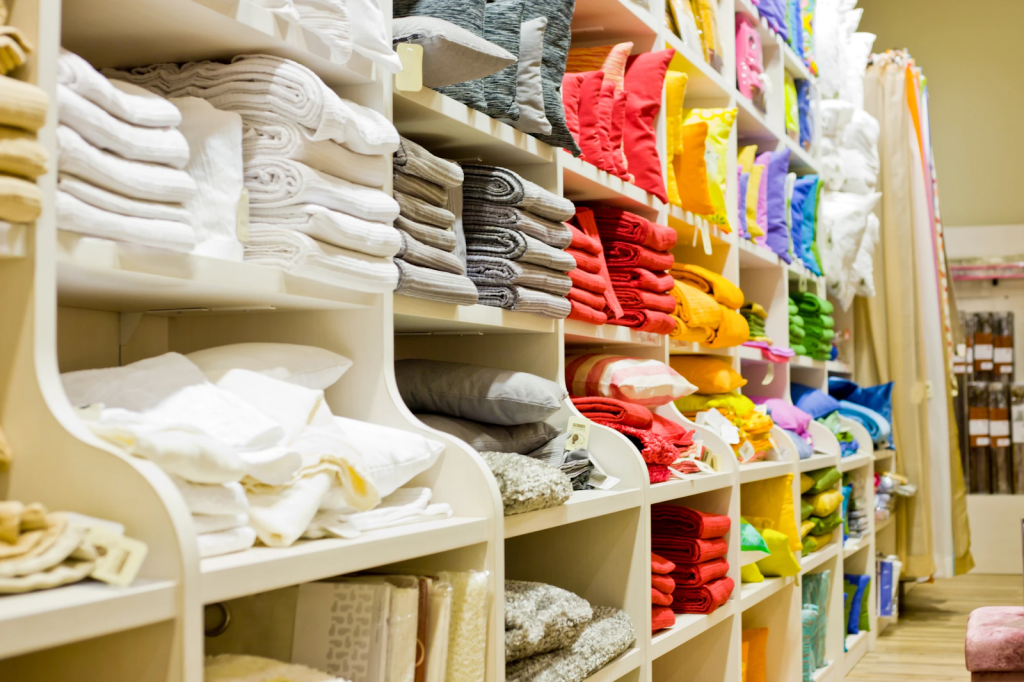 Material
When you are buying mattress sheets, it is important to consider what they are made of and how they will affect how you sleep. A handmade mattress sheet will be made from materials such as cotton, wool, or other materials. The bottom line is that mattress makers will use different materials to create the best mattress for their customers. For example, if a person suffers from an allergy, they should look for mattress sheets made of cotton or wool. If the person has sensitive skin, they should look for hypoallergenic products that use neutral materials.
Weave
When you are ready to buy mattress sheets to match your mattress, you should consider the sheets' weave. Although both percale and sateen sheets are woven, this doesn't mean that they're woven in the same way. When sheets are woven, the threads cross each other, which creates the feel of the fabric.
Breathability
There are many things to consider when looking for mattress sheets. Breathability is one feature of the sheets that you must consider. The more breathable the sheets, the more comfortable and healthier you will feel.
Durability
Durability is something you should consider when you purchase a set of sheets. If you buy a set that is not very durable, you can expect to spend more money on replacements. This is especially true if you go for a cheaper brand because the odds are that it will only last a short while, irrespective of how much you pay for it. Quality is the key to durable sheets. If you want to buy a set of sheets that will last you a long time, select from the known brands for quality. These brands are more durable and will last you for a more extended period.
---
FAQ
Are Egyptian Cotton Sheets Worth It?
Egyptian cotton sheets are a luxury that many people enjoy. They are softer than regular cotton, better for your skin and hair, and more durable, but cost more than most sheets you can buy.
How Long Do Sheets Last?
A well-made set of sheets can last anywhere from 2 to 5 years, depending on the quality and how they are cared for. The best way to get the most out of your sheets is to change them frequently, wash and store them properly.
How Often Should I Change My Sheets?
The recommended amount of time to be spent between bed sheets changes depending on the type of sheet you have. But it's highly recommended to change mattress sheets every two weeks. However, certain circumstances can make you change your sheets more frequently than you normally would. Those include:
– Being sick
– Sweating excessively
– Being very stressed
– Spilling something on your sheets
– Having pets in the bed
– Smoking in the bed
– Having your sheets cleaned.
Changing your sheets often will help you get the highest quality of sleep possible.
---
The Bottom Line
So, what can I say about the best mattress sheets? It's not easy to find the right sheets for your mattress, especially if you've been living with the same sheets for years! If you've been looking for something fresh, however, look no further. With these picks, you have everything you need to make an informed decision.
In addition to helping you choose the best sheets for your mattress, my bedsheet buyers' guide will help you find the perfect sheets to match your bedroom decor.